Cozy Christmas Decor Tour (Our Living Areas)
Hey there! How is your week starting off? We had a great weekend full of crafting, entertaining, and even some snowfall Sunday night! In between the crafting, I finished putting out our Christmas decor around our living room and kitchen. If you're interested in our little abode, come take a look! It's not HGTV perfect, but everything is well-loved and well…. just fits into our home.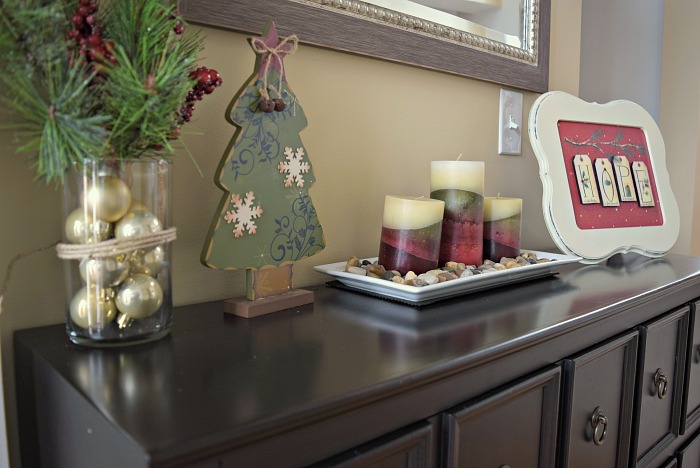 One of the biggest issues I came across this winter was picking through what I owned and what I really liked. Makes no sense? Yea, me either. Jordan & I love a great sale, so we aren't always consistent in a certain style when we pick up items. The theory was that we were always trying to fill this house, which was great. But now… I've become selective and therefore decorating with a bit less than usual (the rest is in totes!) in order to find things that I really enjoy.
This post contains affiliate links. If you shop from my blog, I may be compensated for clicks or purchases that you make. Read my disclaimer page for more information.
Our Cozy Christmas Foyer Decor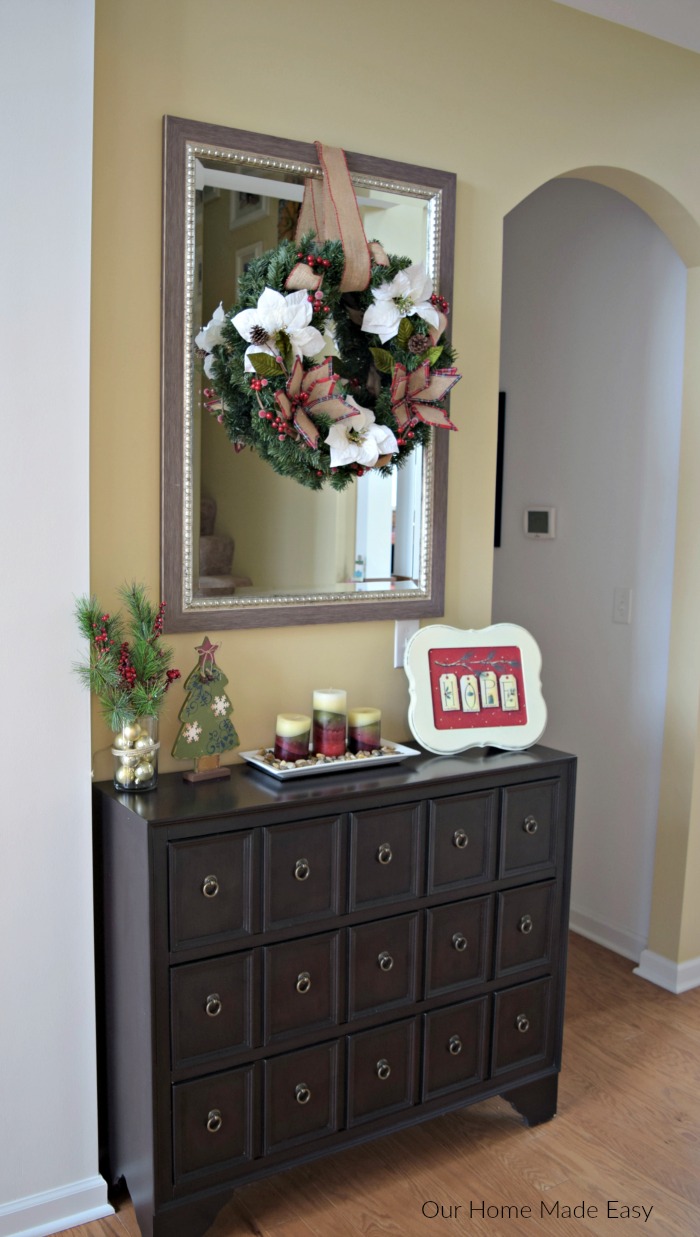 Pointsettia Wreath | Vase Greenery | Gold Ornaments | Vase | Mini Wood Tree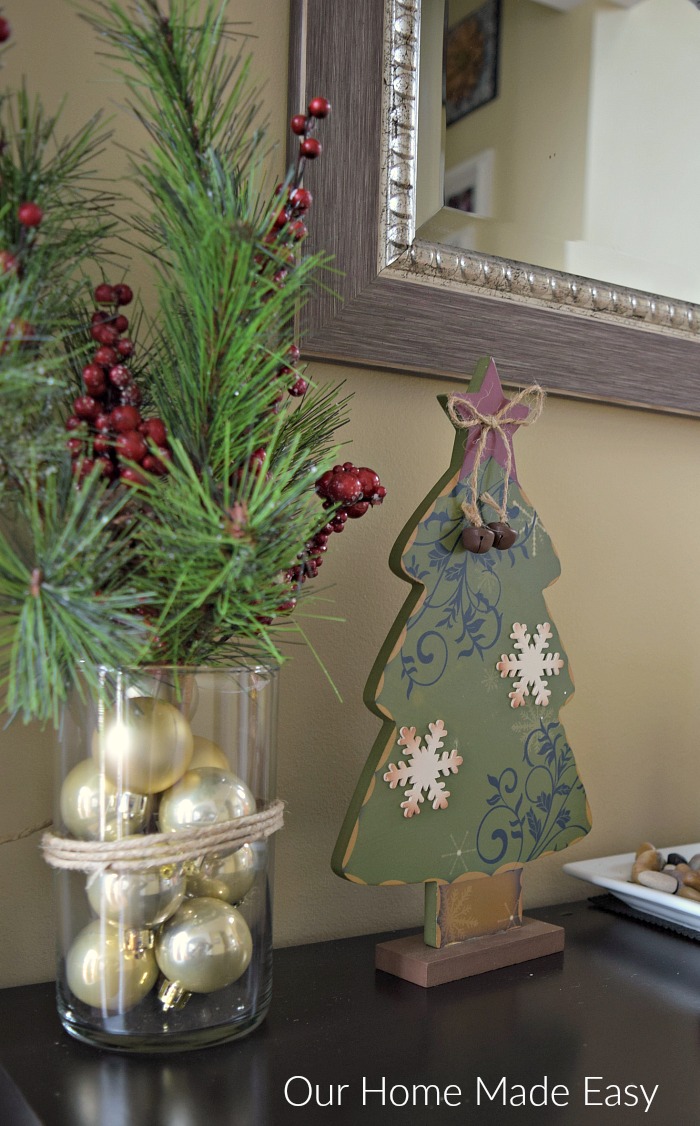 Our Cozy Christmas Living Room
This is probably the simplest I've ever done our entertainment center. I still haven't figured out how to make it look fabulous without going super overboard. Right now, this works and fits the budget.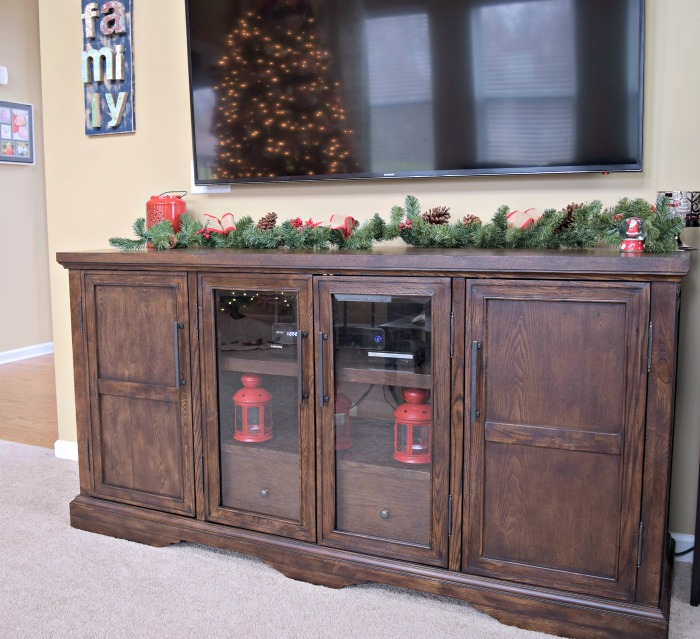 6′ Burlap Garland | Lanterns (Target Dollar Spot) | Ceramic Holder (similar) | Family Sign | Entertainment Center (similar)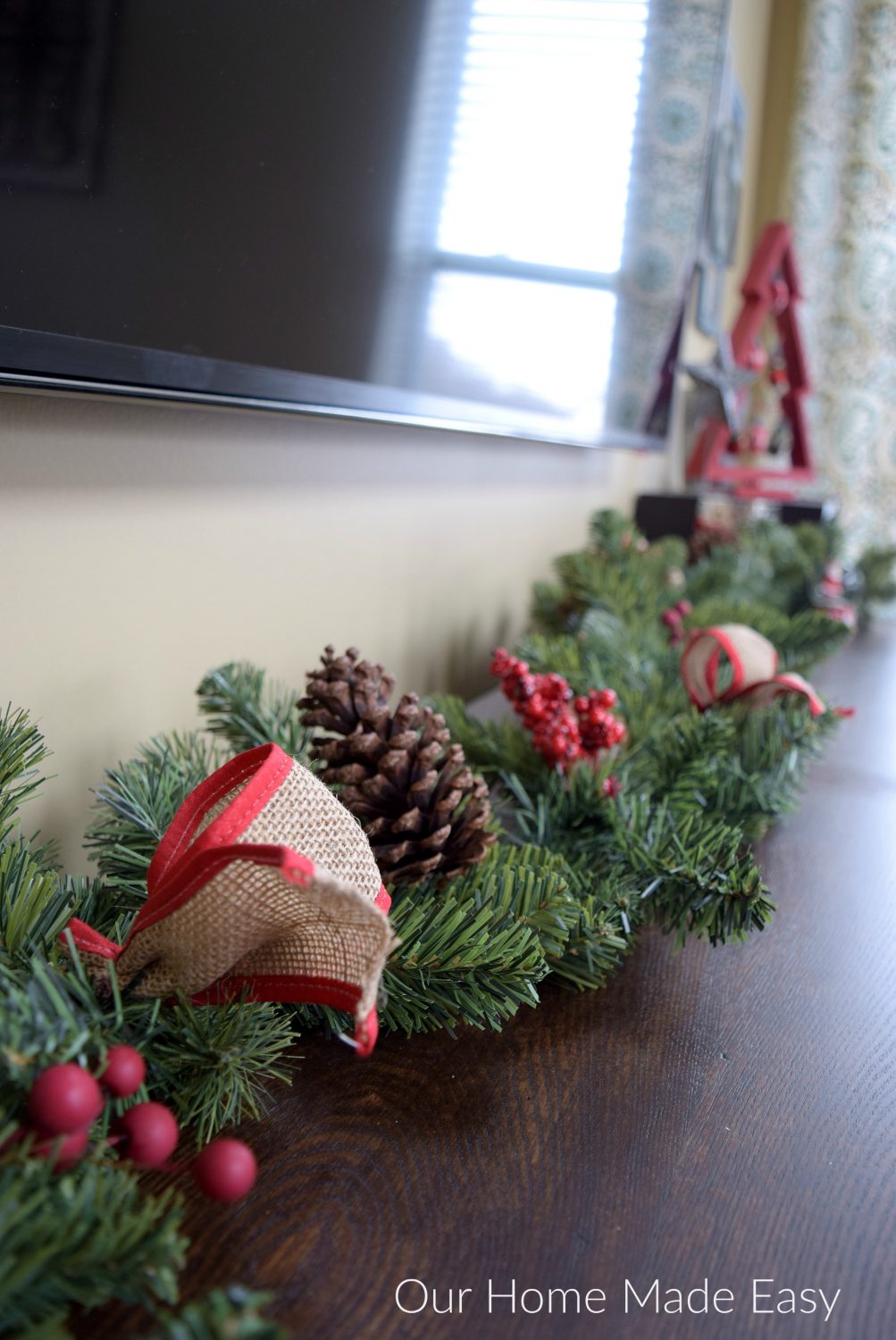 Story behind this little ornament tree? I found one I really liked from Pottery Barn, but couldn't justify the cost. Knowing this, Jordan found it at Target after Christmas (total steal!) and made my day.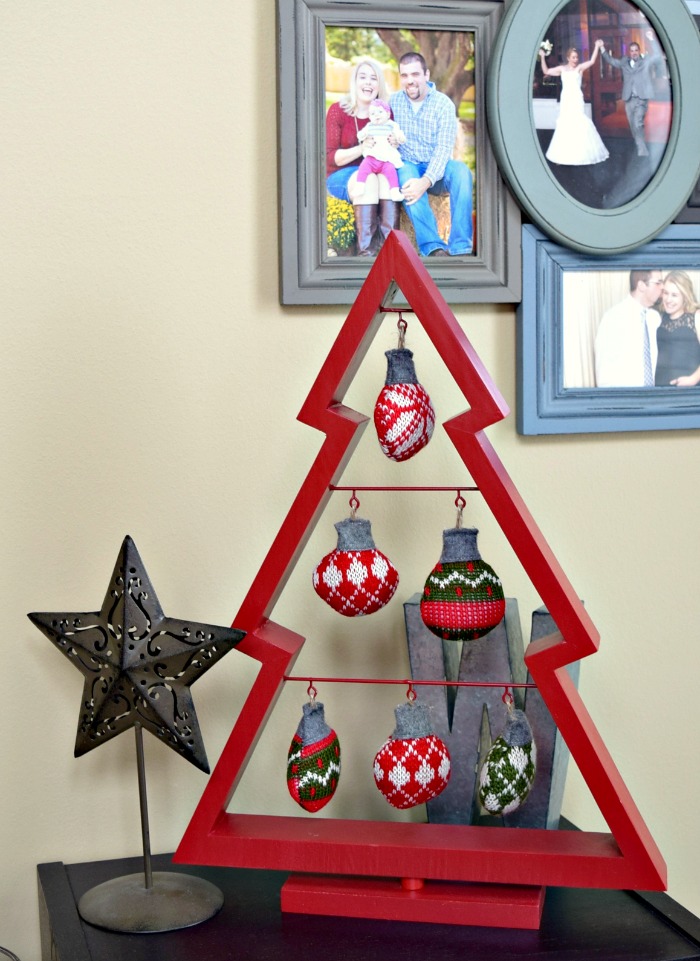 So real life in this house means we don't have a mantle….. yet. Someday we'll get there (or so says Jordan). We've been in this house for 2+ years and it's always been a to-do. But Jordan wants to DIY a stack stone fireplace up 18 feet and then add a mantle. I just want somewhere to hang stockings.
For our first Christmas in this house, he found an IKEA shelf and hung it up so that his 5 month hormonal pregnant wife would have a home for the stockings. Pretty cheesy, right? But hey, it's bought him some time. 😀 😀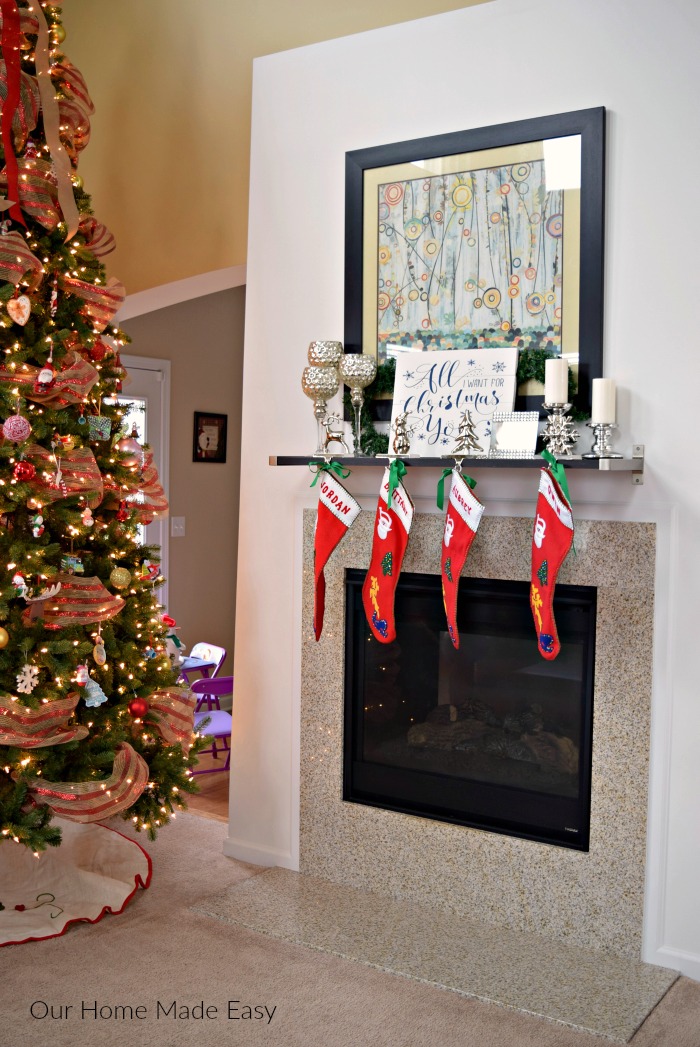 Stocking Holders | Mercury Glass Globes| 15″ Wreaths | Candle Holders (Gift)
See those wreaths behind my pallet project? They were a dollar apiece! I think this faux mantle needs some extra sparkle. So anything that sparkles go here 🙂 And that pretty frame? Wedding gift and re-homed from the foyer to the mantle for Christmas.
And can we talk about our stockings? They were made by Jordan's mom. She's made both of her son's and their families. Aubrey loves pointing out her name and telling us that "Grandma Julie made this!" I can't imagine how old Jordan's stocking is ( 😉 ), mine has been around for years and as the kids are born, they receive one in time for their first Christmas.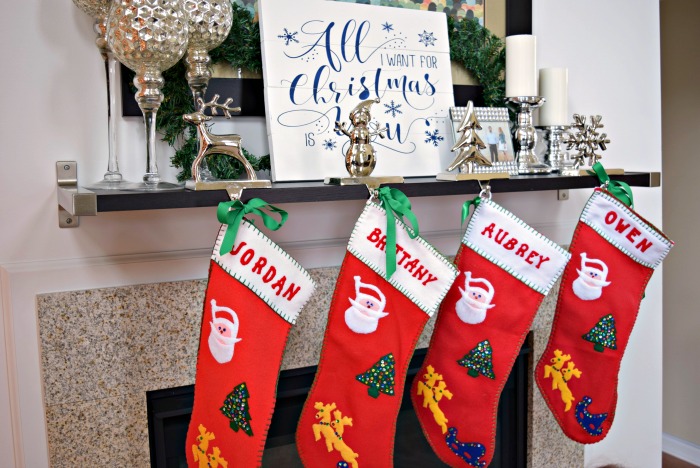 And these old pillows? They are soft and comfy and well-loved. So well-loved that two of them are probably seeing their final years. What you don't see is tufting coming out of the snowman and then of course the well-loved presents. Every item is fair game, here.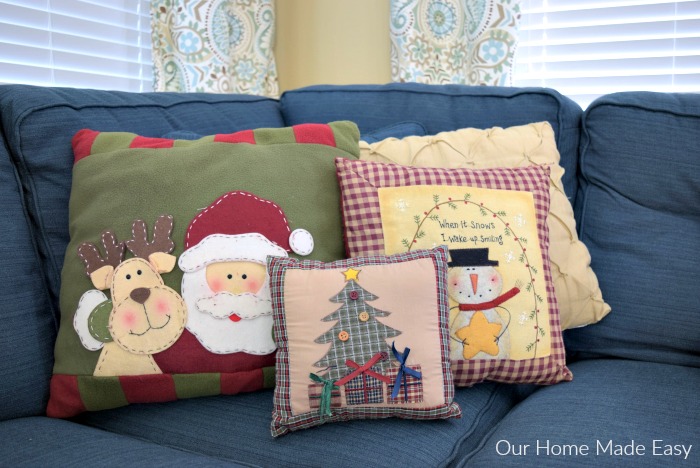 Decorating a Kitchen Island for Christmas
I'm embarrassed to admit. This isn't my doing. Jordan was annoyed that I bought too much stuff at several unmentionable stores (*cough cough* Michael's, Jo-Anns, & Dollar Tree). Confession… I have a small hoard of Christmas stuff in the closet (it's all gone now, promise!). He was tired of moving the bags out of the way when he opened the door and decided to do something about it. Boom. Insta-vignette and nicely done.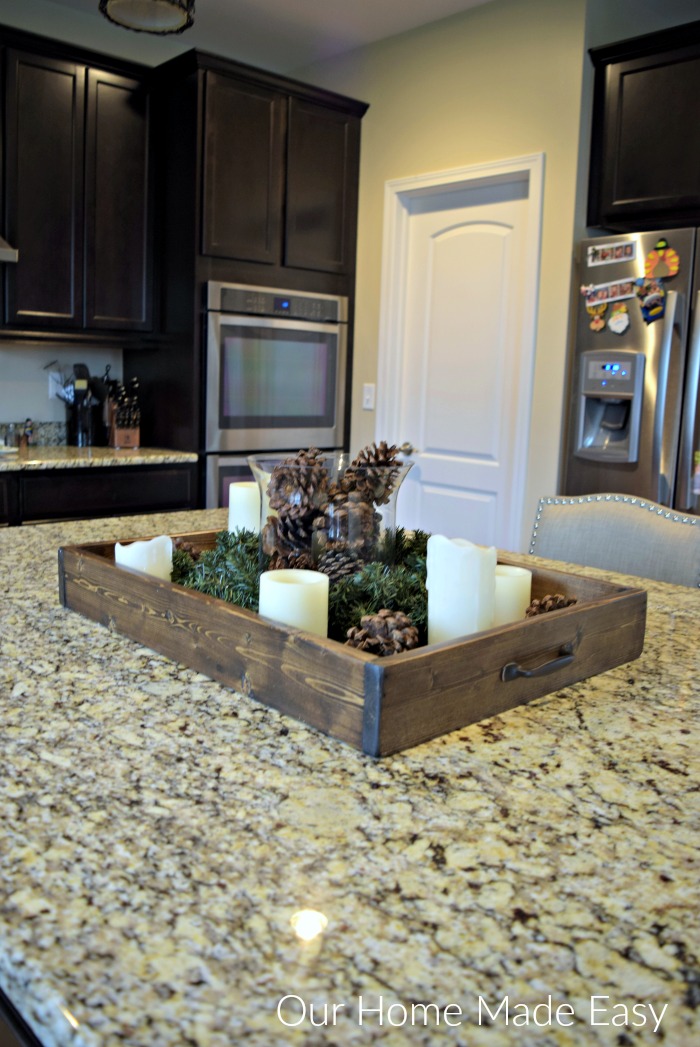 Wood Tray | Wreath | Candles | Pinecones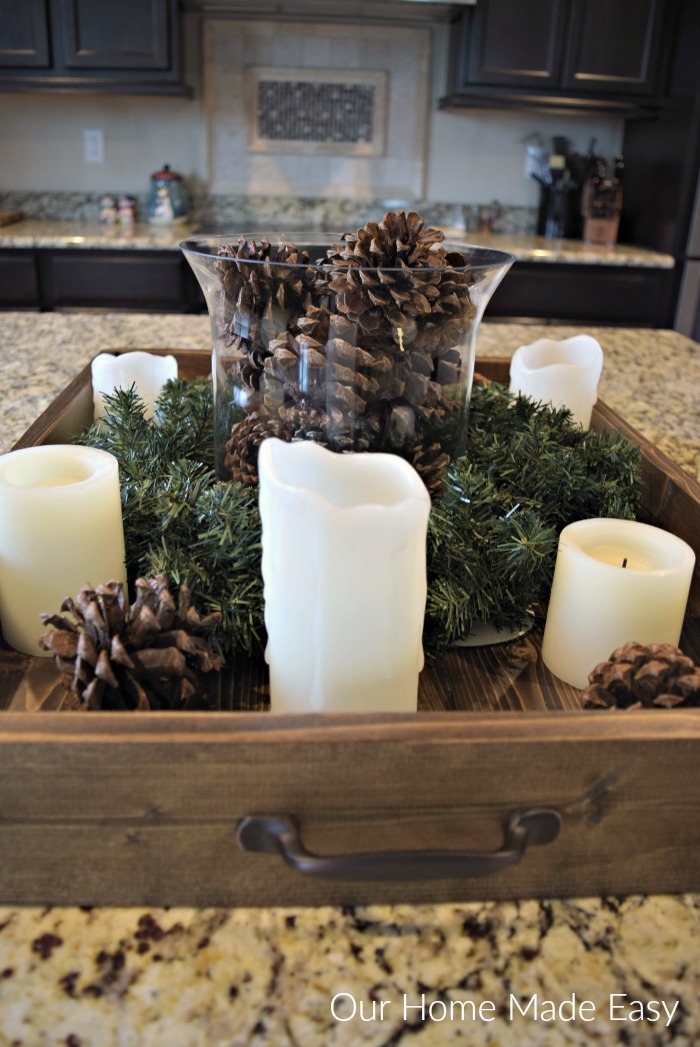 This picture makes me smile. Although I had to turn off football in order to keep it from being too distracting. What? You thought we live in a perfectly cleaned kitchen and home? Nope, only when the kids are napping. 🙂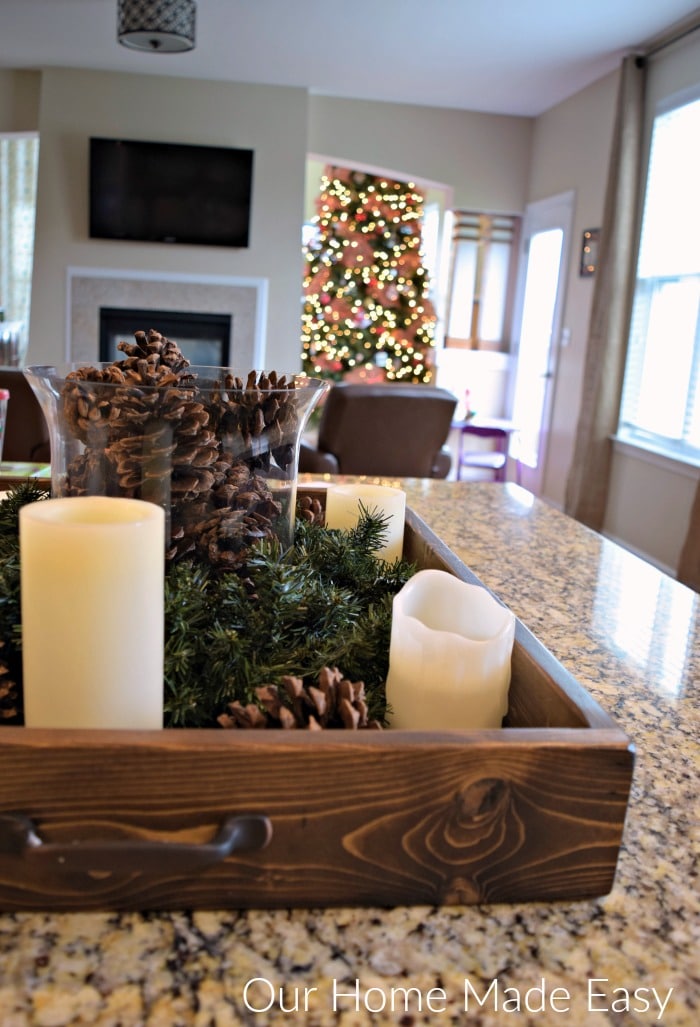 After reading this, I've realized I owe a big thank you to Jordan for helping me accumulate all of these things over the years. Even after being picky, we still have a lot of things to be thankful for this year.
Our Cozy Christmas Hearth Room
This space is so lived in. We love to cook and the kids love to be nearby. So sure, everything is straightened up, but it's so lived in and enjoyed by the four of us.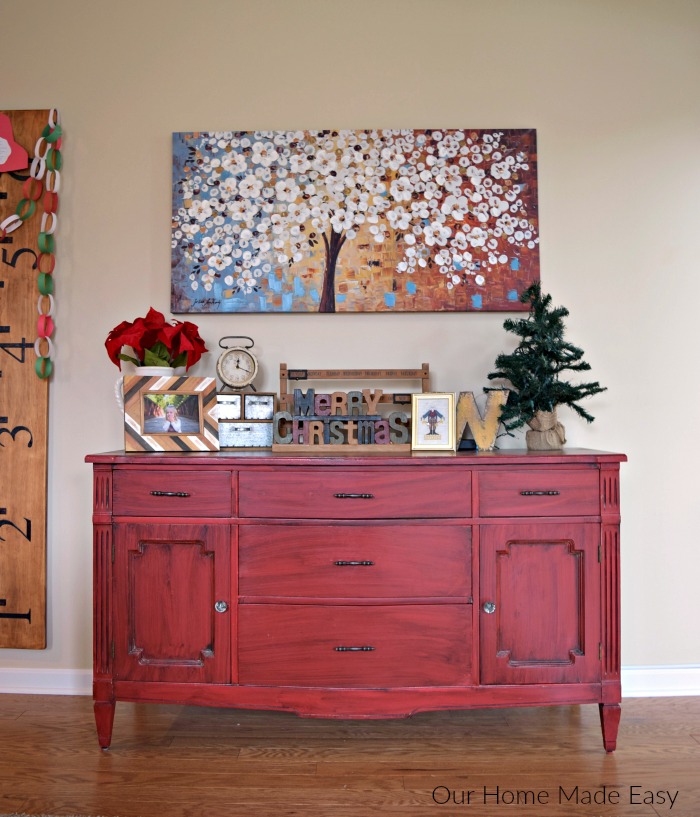 Poinsettia Stems | Growth Chart | Merry Christmas Decor | All Other Decor from Jo-Ann Fabrics
Can you tell I'm having a thing for greenery this year? Is it a classic? Because I'd like for it to stay around for awhile.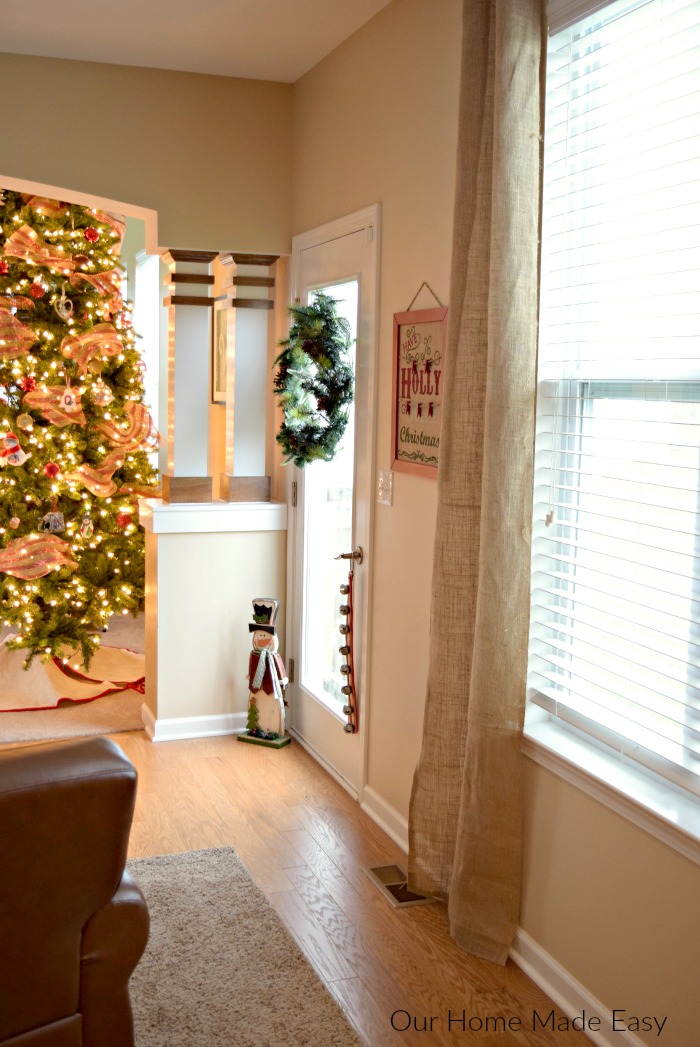 Wreath (similar) | Bell Door Hanger | Burlap Curtains | Burlap Sign (Craft Show) | Snowman (Craft Show)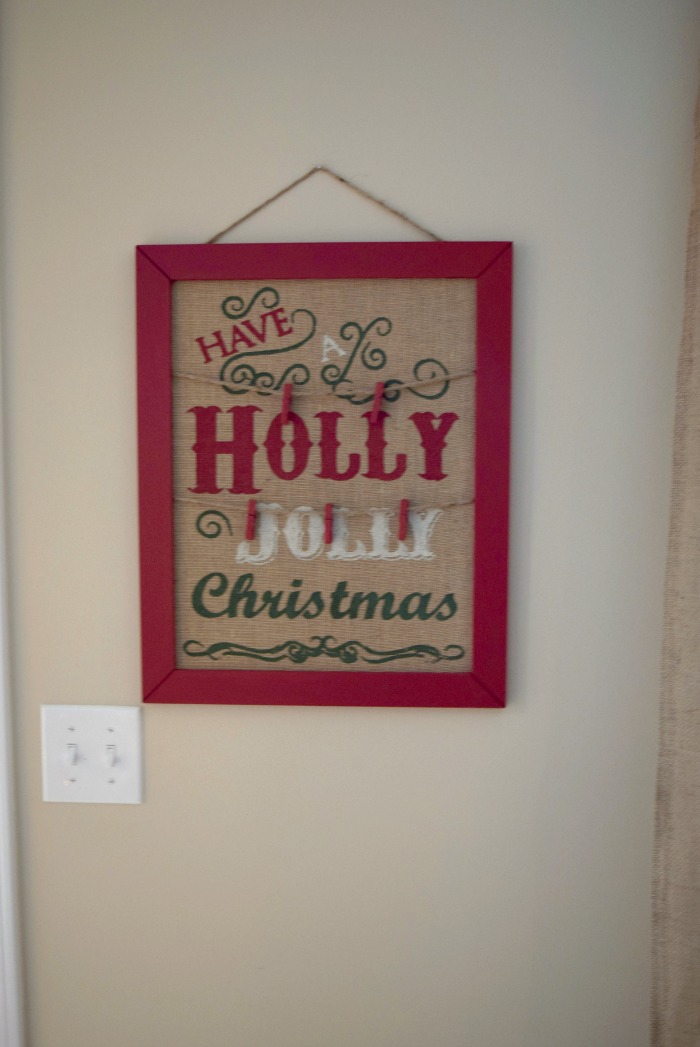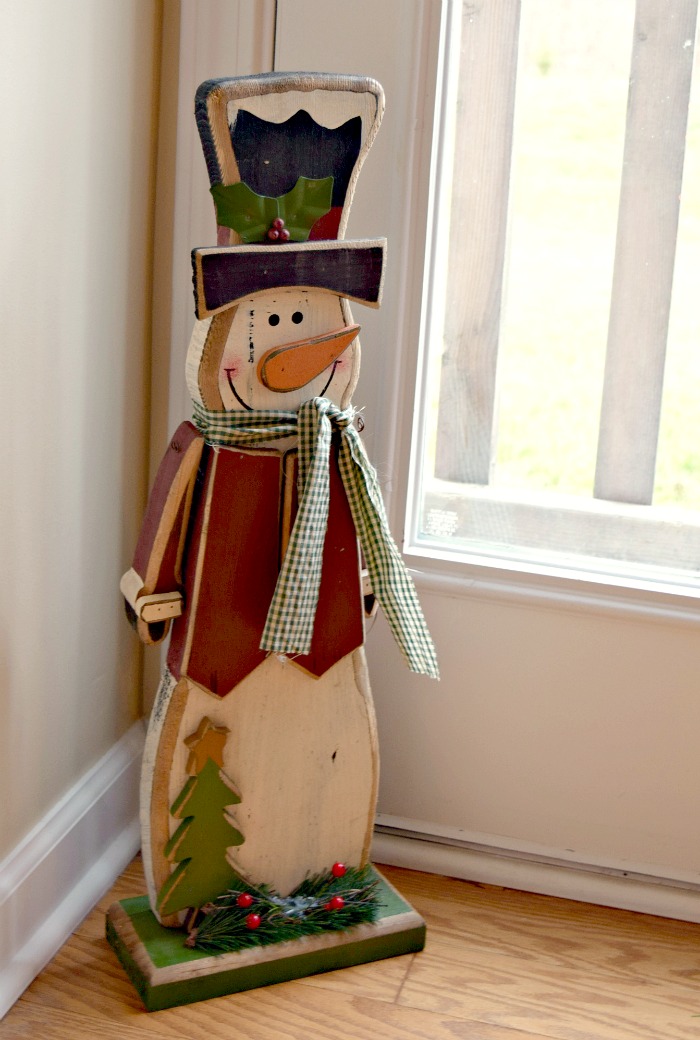 Thanks for stopping by for a few minutes! I hope that you find enjoyment in your Christmas home decor this year, too!
If you want to pin for later…..