7 Super Easy Ways to Dress Up Your Fall Front Door
Make your home feel welcoming with these super simple Fall front door ideas! No worries about if you don't have a full porch, these ideas will make your front door look amazing no matter what your style is!!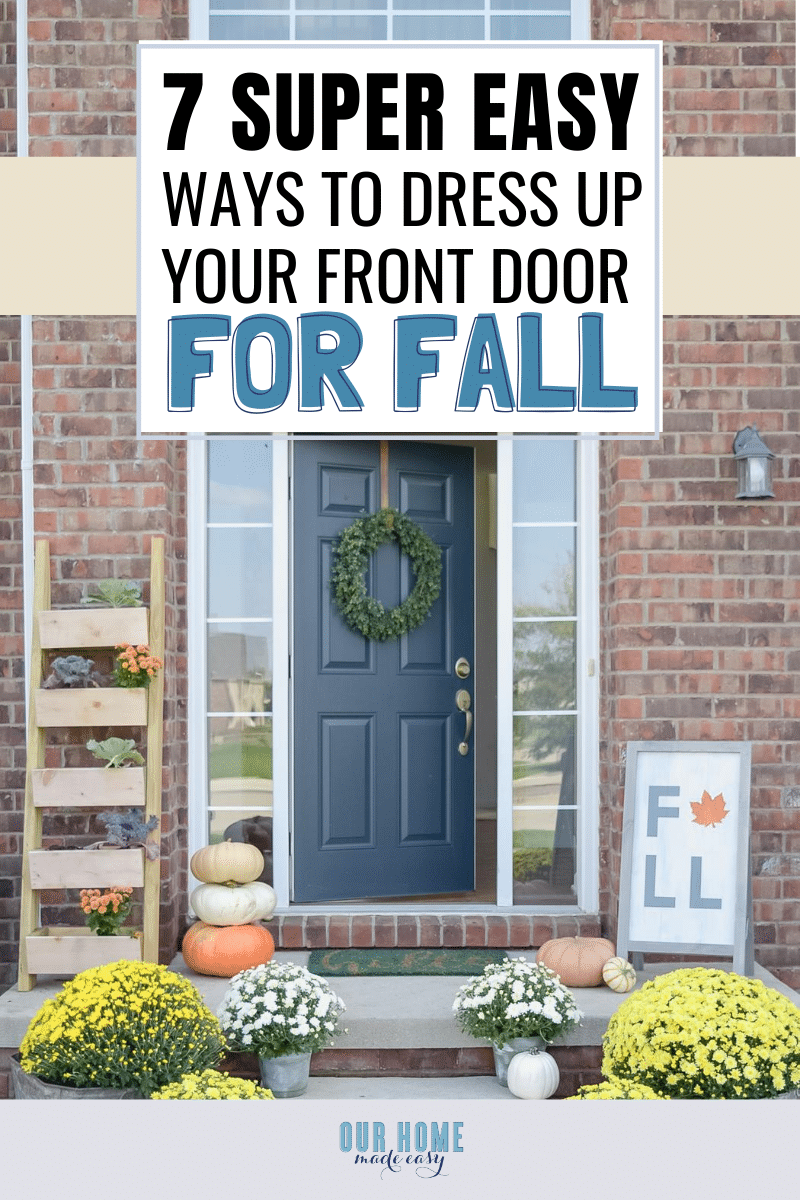 (This post contains affiliate links. Please see my Disclaimer for more information)
Are you ready to welcome in all things Fall? After such a long & hot Summer, I'm more than happy to say "See ya!" to these hot temps!
This is our second Fall in our new home here in Phoenix. Big porches are NOT a thing in the Southwest, so my previous years of decorating have been pared down to only my door.
If you're in a similar situation or simply want to start decorating but don't know where to start, you're in the right place! I'll keep you updated on how I end up styling our doorway once the temperatures drop below 100 degrees…
One of the easiest and most impactful ways to decorate for Fall is starting with a simple Fall front door! You'll love how you can keep the basics throughout the years, add-in 1-2 new items, or change out the super-trendy items without feeling like you need to completely blow the budget!
My Favorite Stores for Finding Fall Decorations
Each year I like to browse through Pinterest and browse online to see what it's trendy AND what I can re-use from previous years of decorating. I'm a firm believer in changing just one or two items a year, not spending too much on decor AT ALL. HERE IS MY ABSOLUTE FAVORITE WAY TO GET FREE DECORATIONS EACH YEAR.
My favorite stores for Fall Decorations & Inspiration:
(Save time and shop online and choose curbside pick-up!)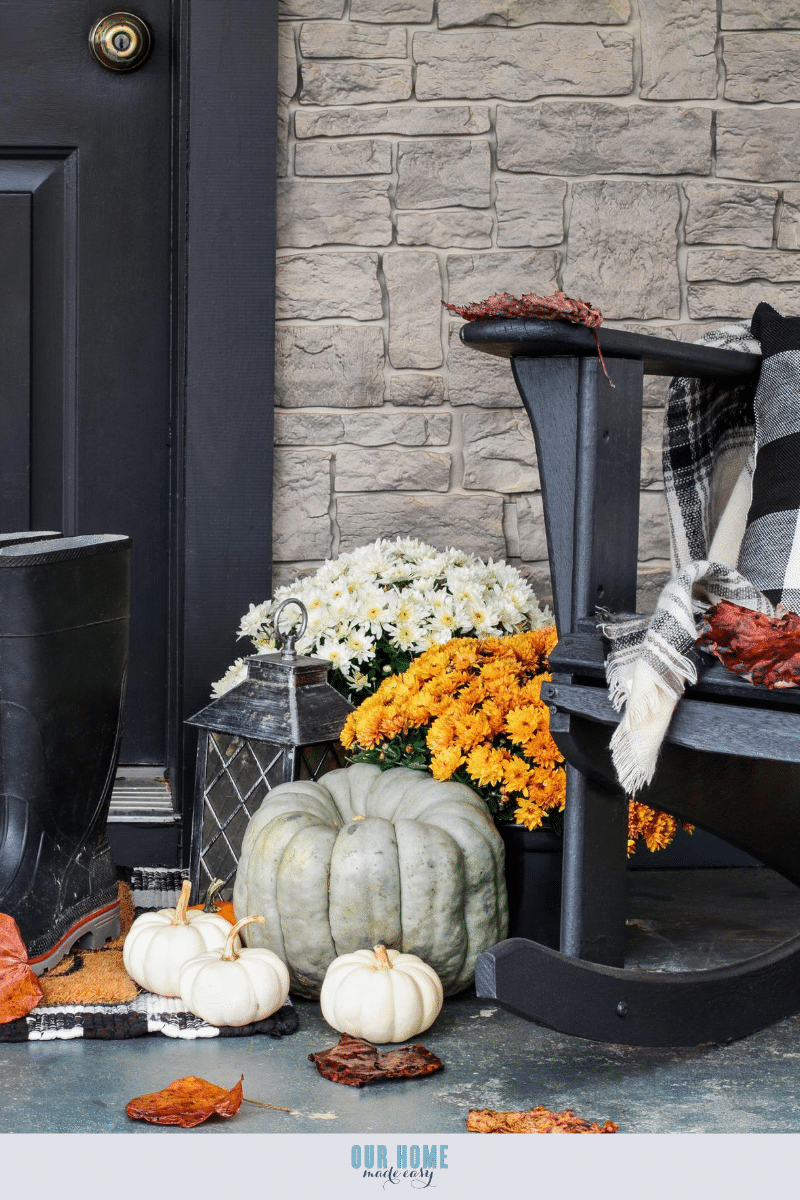 My Favorite Tips and Tricks for Fall Decorating…
Before we jump to decorating your Fall front door, I wanted to make sure you didn't miss all the other fun ways to decorate your home for Fall this year!
Alright, let's start decorating your front doors today!
7 Super Easy Ways to Dress Up Your Fall Front Door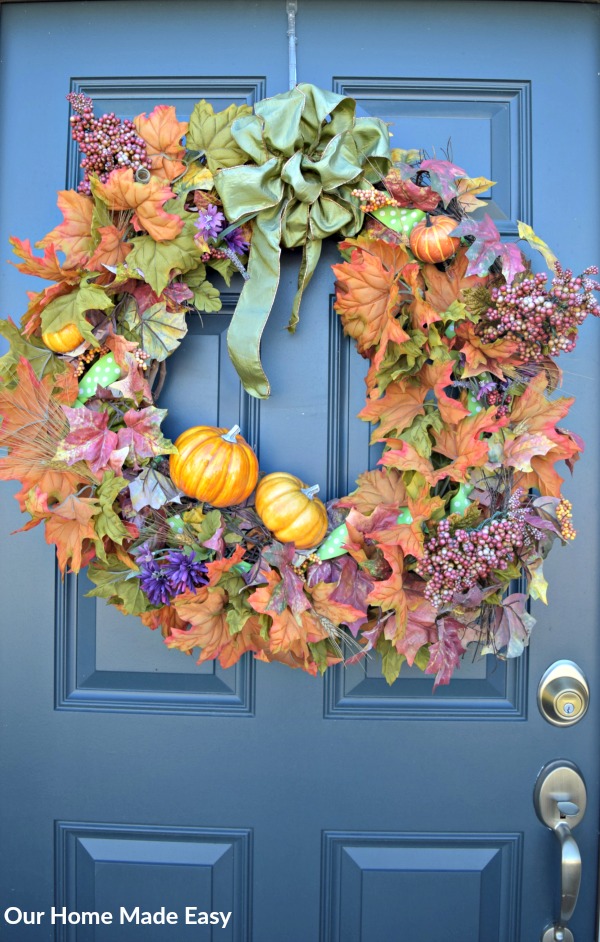 Start With a Fall Wreath
Adding a wreath to your autumn door decorations makes a statement without almost ZERO effort. You can make one with this super quick 2 step Fall wreath tutorial or pick one up just about anywhere.
What I love about choosing a Fall wreath is that you can go very minimalistic with a faux boxwood wreath that looks good year-round, or you can go all-in on Fall leaves, gourds, and ribbons!
Something as simple of a swap out of wreaths…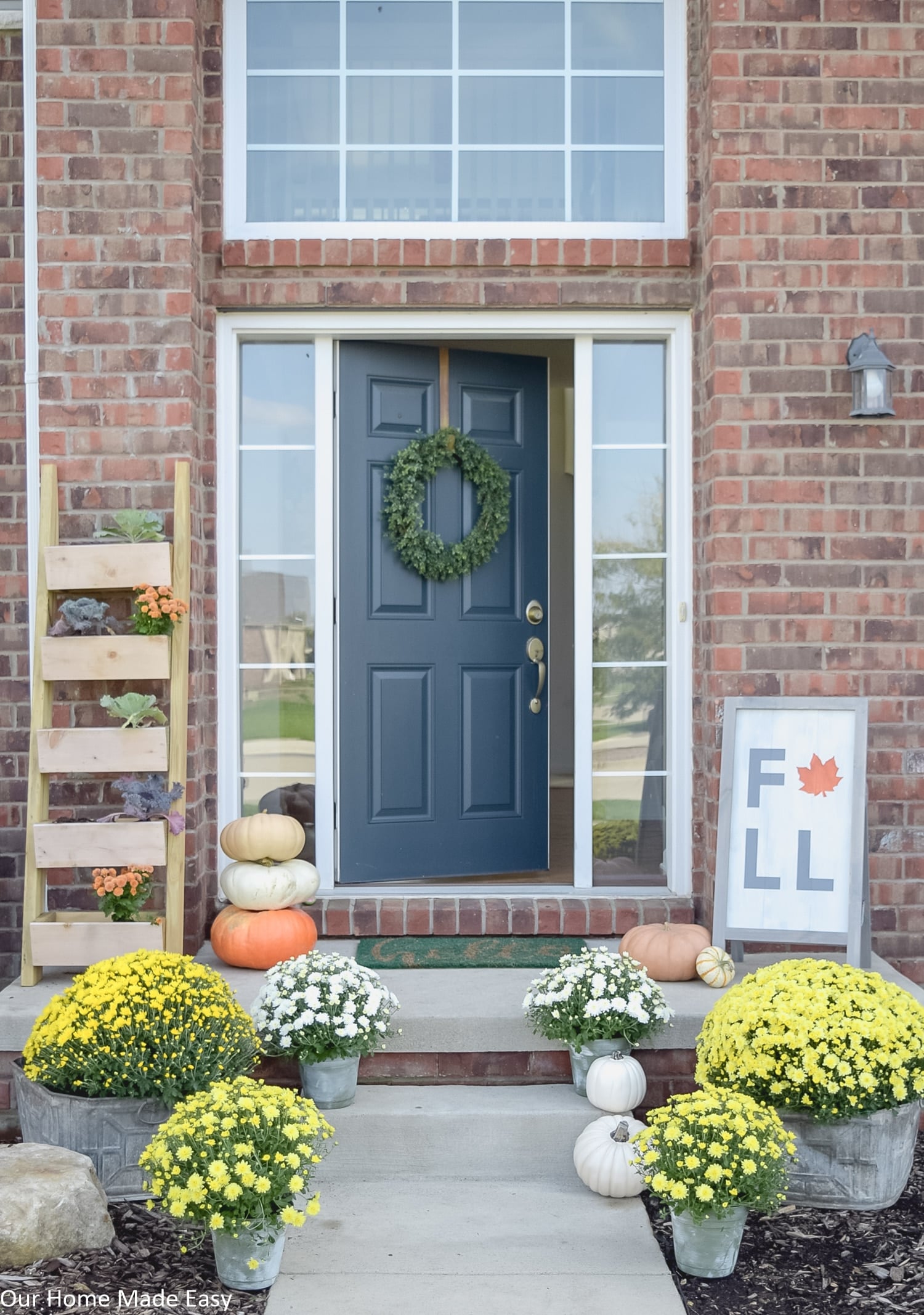 can change the look each year…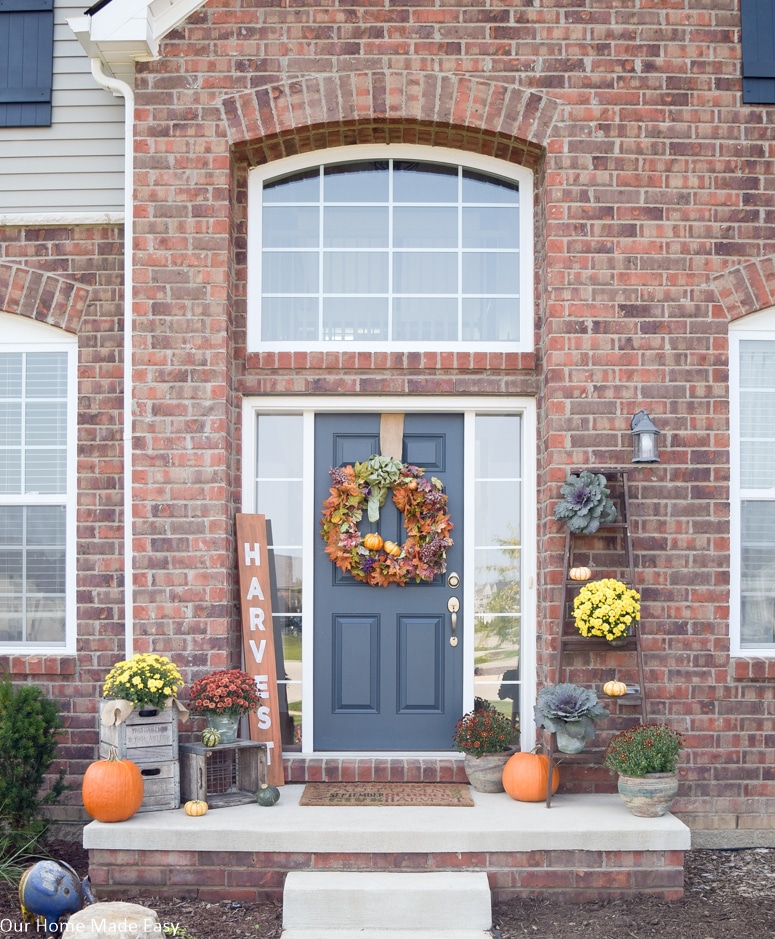 Ways to dress up a Fall Wreath: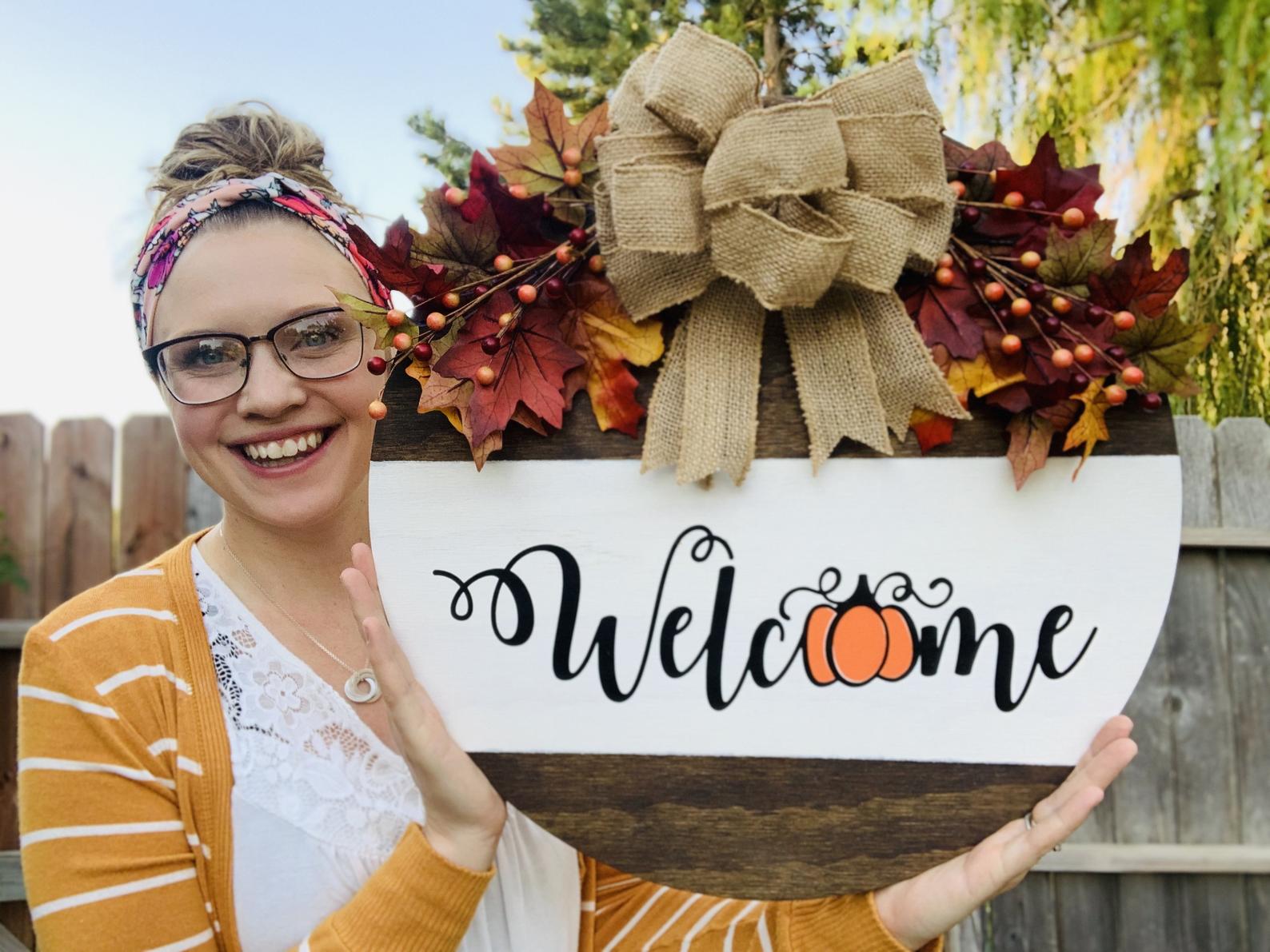 Photo Credit: Sweetie Pie Collection via Etsy
Hang a Wood Sign!
Do you find yourself scrolling through Pinterest looking at front doors who have signs rather than wreaths? You can exchange one out for the other!
Adding a sign gives you the ability to provide a 'pop' of interest and allow yourself a little more personalization. You'll find SO MANY awesome ideas on Etsy.
My Favorite Etsy shops for lovely hanging on the front door signs: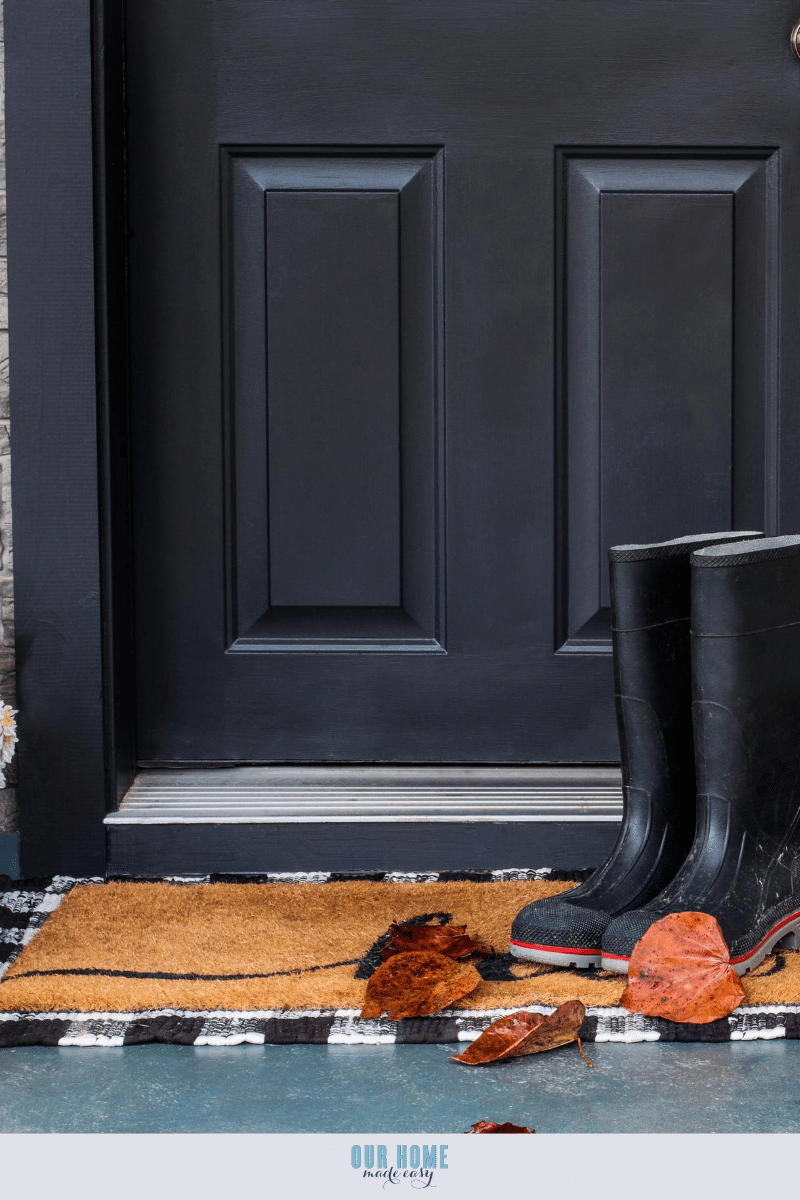 Lay a Punny Welcome Mat
Who says Fall front door decorations need to be uptight?
Let your cheeky side show with a punny welcome mat to usher in Fall. Make your front door look especially Pinterest-y with a larger buffalo check welcome mat. It will frame your seasonal mat and make your space just that much more ready for the holidays. (Keep the larger welcome mat out all year long!)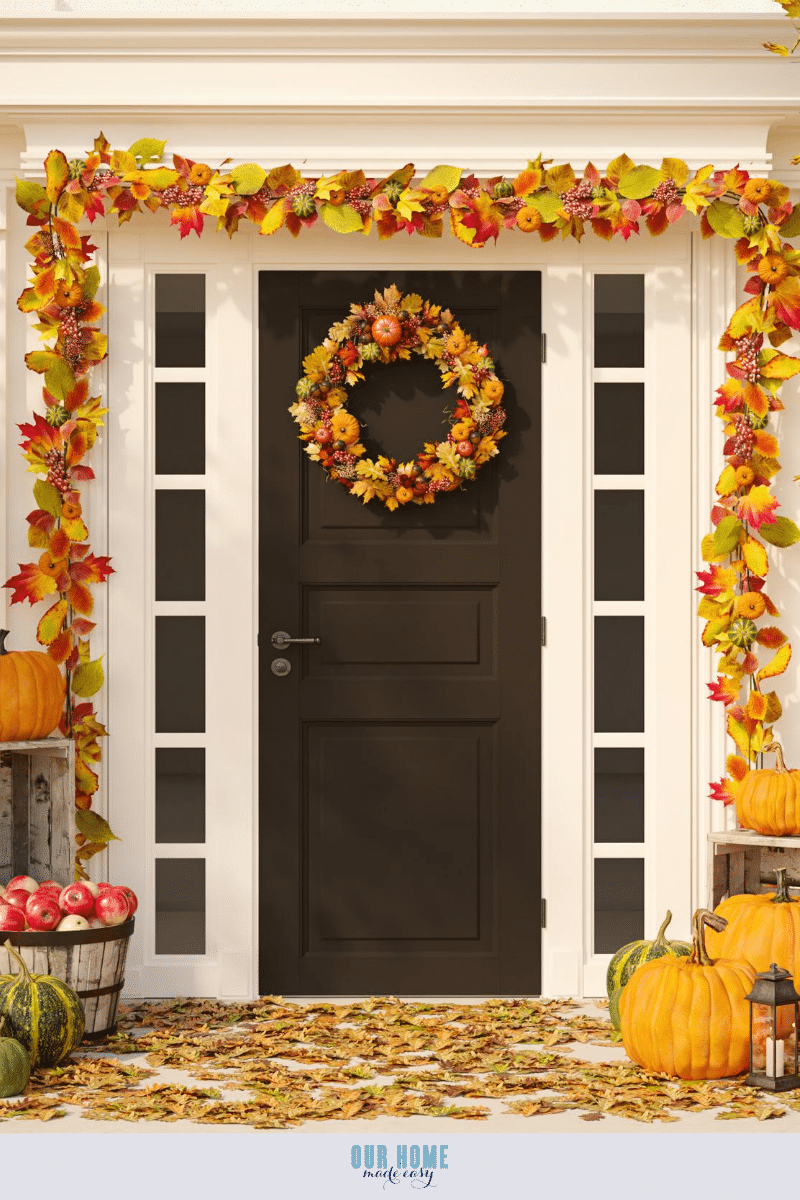 Hang Some Swag
Does your front door need just a little something extra? Or you have lots of vertical space to play around with but not much porch area?
Have fun with some autumn decor swag. You can find swag from the Dollar Tree to Michaels Craft store to Pottery Barn. In that case, make a budget (and a plan!) ahead of time. Pay attention to lengths to see how many pieces you'll need to cover the sides of your doorway and the door itself.
Pro Trick: Hammer in 2-3 nails above your front door and the corners. This will help you attach the swag with floral wire or twine! Also, test applying some clear weather protectant on your swag to keep it looking like new for several seasons!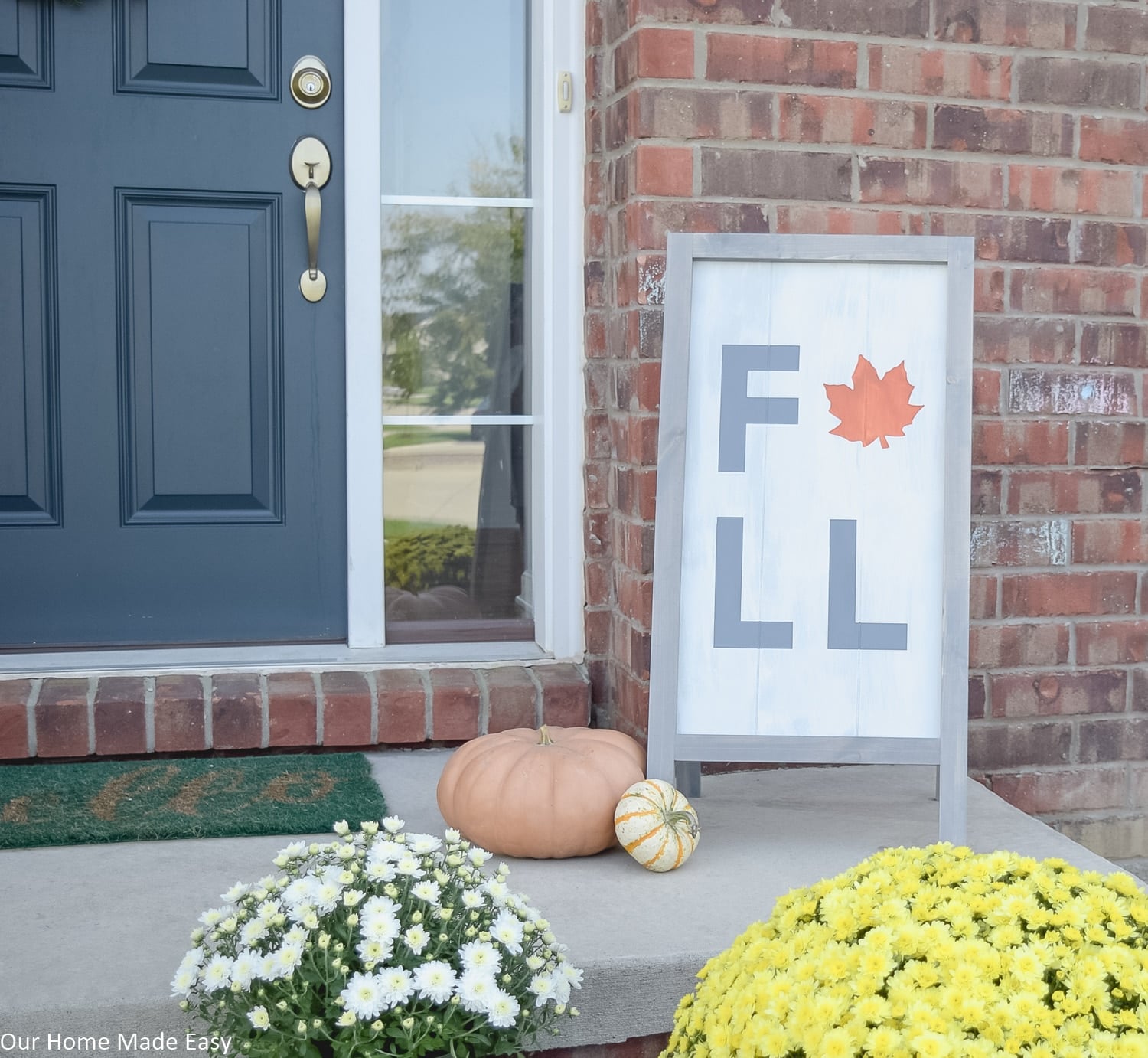 Decorate with Fall Signs Next to Your Door!
Don't have a big front porch? Add a tall vertical FALL SIGN to lean against your house. Have a larger space? Consider adding a free-standing FALL SIGN!
If you love a great craft project, you can make either of these wooden fall decoration signs easily! Simply choose your favorite stains, paints, and then stencil!
Own a Cricut? Make this reversible vertical welcome sign!
You can find so many great tall vertical Fall-themed signs for leaning against the doorway at Etsy, Michaels, Hobby Lobby and Jo-Ann Fabrics. Shop online and pick up in store for the ultimate convenience.
Need more FALL SIGN INSPIRATION? Make one of these easy 10 DIY fall wood signs this weekend! Not only are they adorable, but they are the best way to add fall decor on a budget!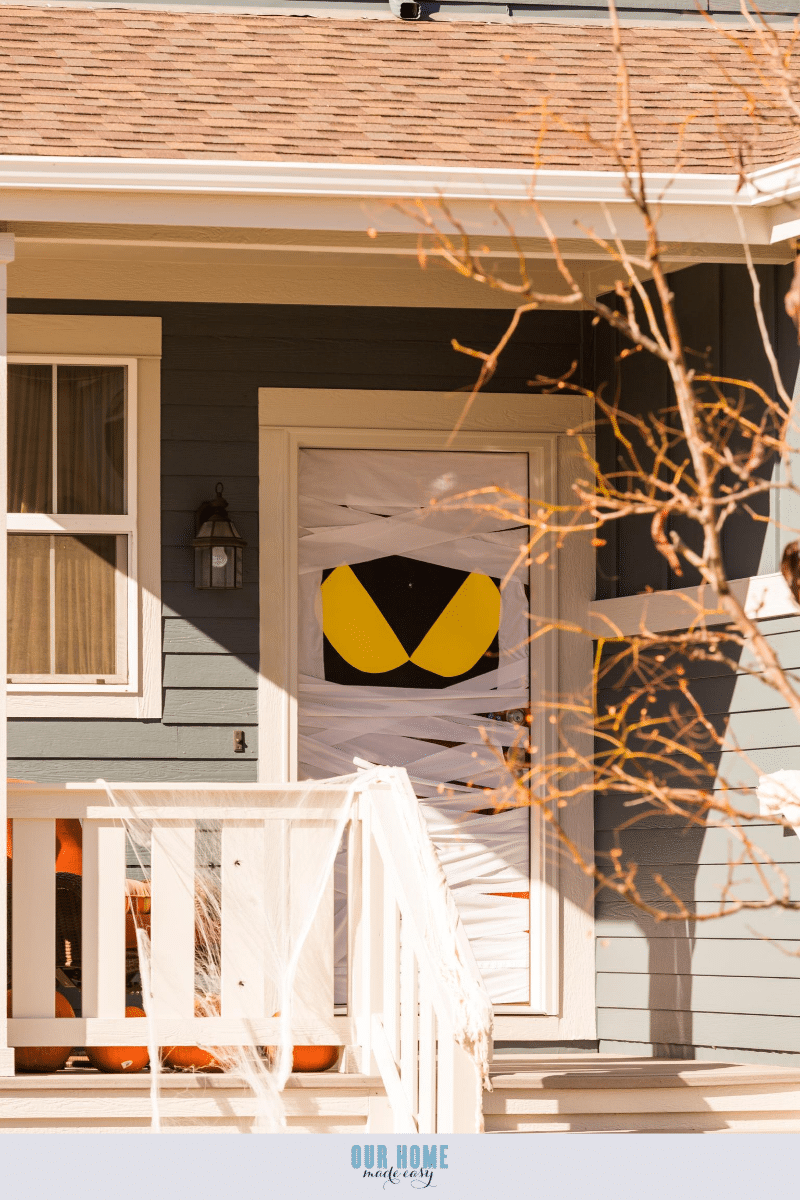 Get Spooky!
Love Halloween more than Fall decor? Turn your plain ol' door into a frightful display! You could DIY your Mummy like the photo above with some toilet paper and construction paper eyes.
Have a solid, dark door? Hang up a skeleton using a nail to create fun, simple, but effectively spooky sight!
Want an even easier idea? Buy a pre-made door cover to decorate your door for Halloween in just a few minutes!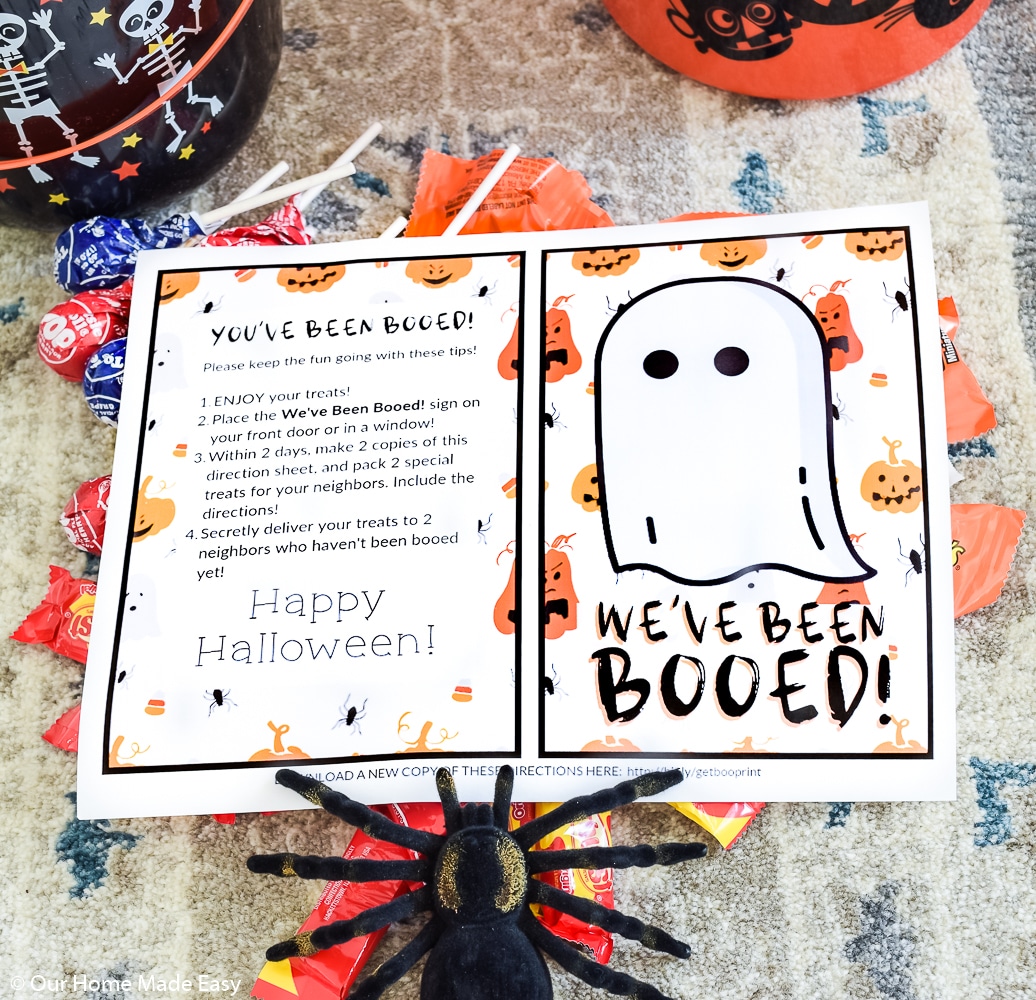 Hang a Boo Sign!
Has this year been tough and you want to jump-start some community fun?
Boo your neighbors! [This is the ultimate guide to doing it right!]
Once you've been Boo'd, hang a simple 'We've Been Boo'd' sign on your door to let neighbors know that you've already had your fun.
Already a part of our Our Home Made Easy community? Then you already have that Boo sign at your fingertips in the printables library!
You can tape you sign under your wreath or above your door handle. Place it low enough so that the little ones in the community can quickly see if you need some extra treats this year.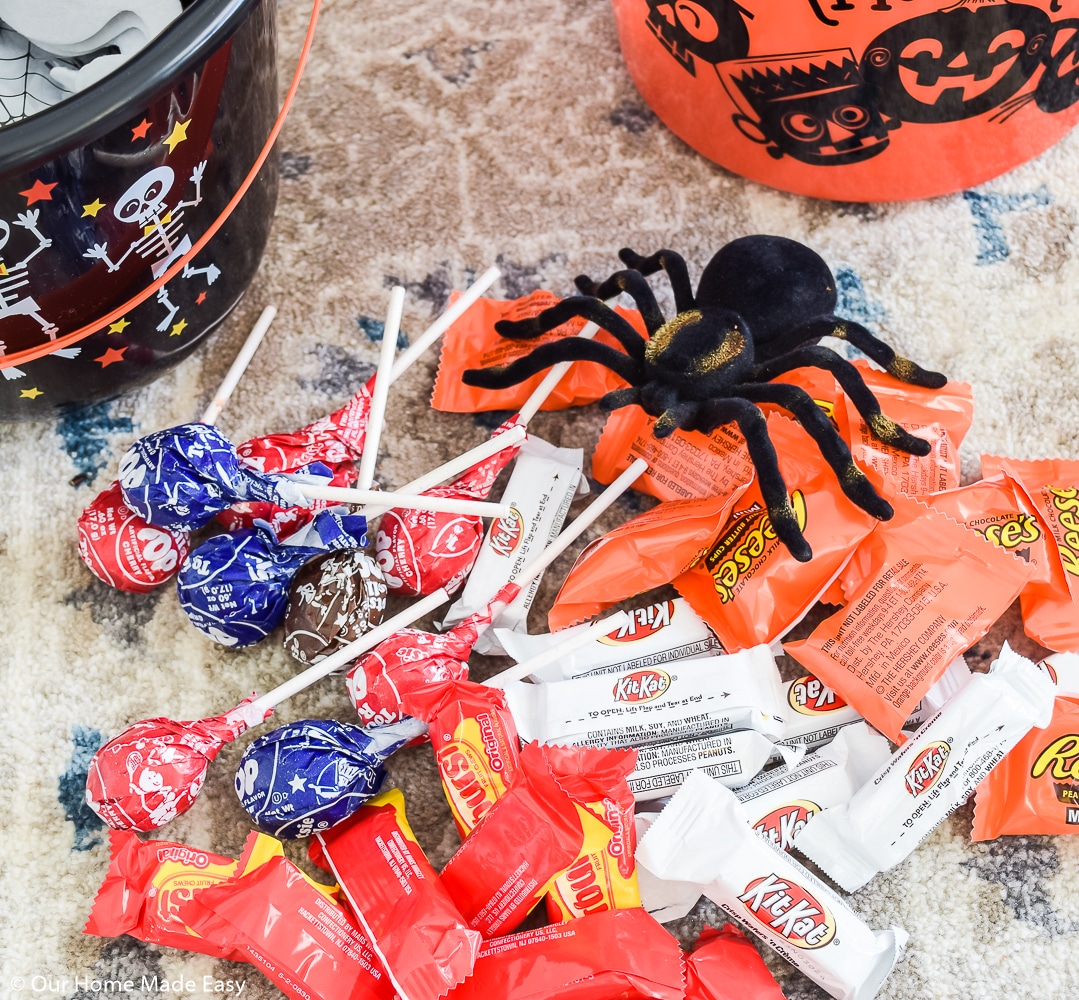 No time for Halloween? No worries–we've got you covered! Don't miss these simple Halloween ideas that can all be done in 15 minutes or less!
Which idea is your new fall decorations favorite? Share your Fall front door with me online by tagging @ourhomemadeeasy on Facebook and Instagram! I cannot wait to see what you design yourself!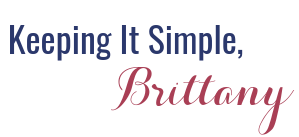 PIN FOR LATER: