How to Meal Prep a Full Week of Healthy Kid-Friendly Lunches
Looking for ideas for kid-friendly lunches? Simplify your weeknights with these easy ideas for make-ahead lunches that kids will love.
You know Sunday nights when you realize you've got the whole work week ahead? I often end up wondering what the heck I'm going to pull together for the kids' lunches (not to mention Jordan's and my own's).
As a busy mom, you probably know the weekly dilemma—how are you going to pull together kid-friendly lunches? Let alone come up with healthy items that they will actually eat?!
Well, I'm here to tell you, it's not as hard as you might fear! Here's how to meal prep a full week of healthy, easy, kid-friendly lunches on the weekend (so you can forget about it the rest of the week). Full disclosure: these lunches are parent-friendly, too.
If you're hoping to save time and money, these make-ahead lunches will free up your weekday mornings and get you out the door!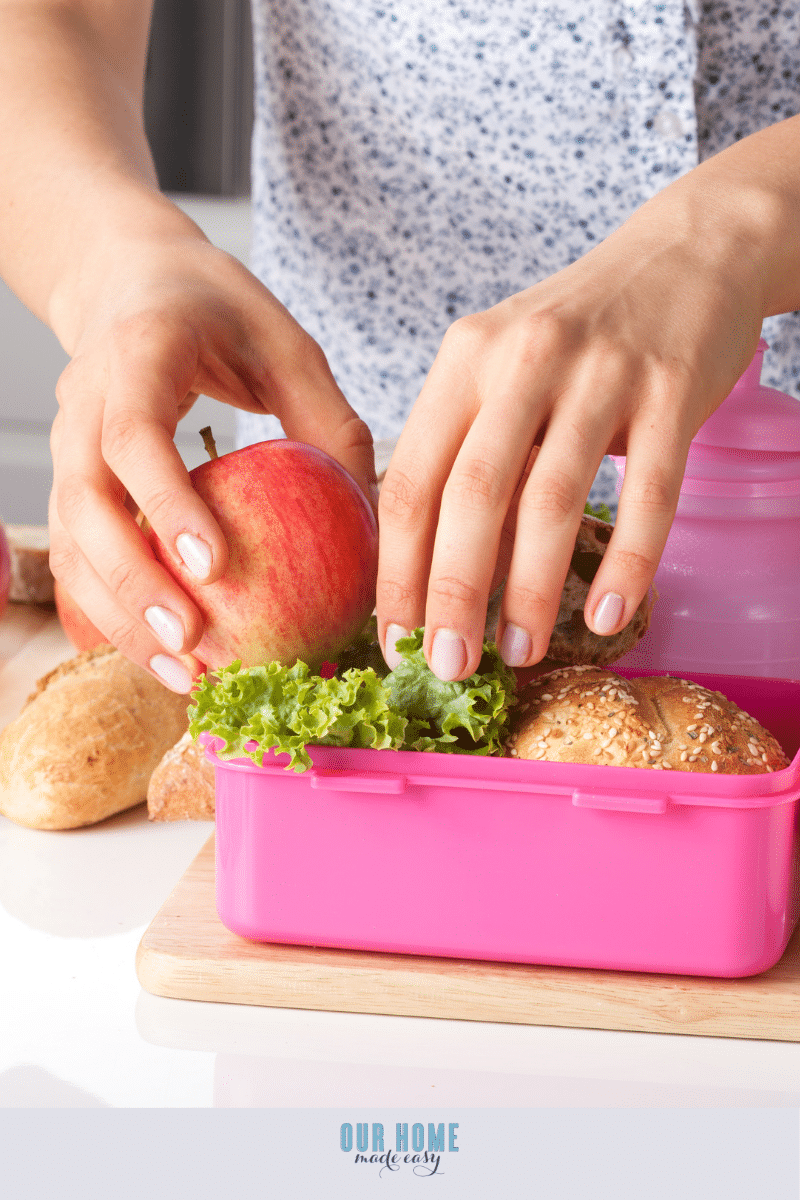 Why Make-Ahead Lunches Work for Busy Weeks
I know weekends get busy, and most of us can't fit in a full day of cooking and meal-prepping. But if you're already pulling together a few easy weeknight dinners, then adding lunches to your meal prep routine shouldn't take too much extra time.
When my husband's gone out of town or we have a hectic week ahead, I'll often do some weekend meal prep. Not only does it help us avoid the drama of the drive-thru, but it's cheaper and healthier to boot! Plus, I like having that extra personal touch of putting dinner on the table (even if it's a last-minute meal).
On the same note, make-ahead lunches give you a healthier, less expensive option for lunch. Some daycare centers and schools request you send kid-friendly lunches with your child. Others offer a hot, homemade lunch, but some kids are picky or prefer their made-at-home meals.
Making lunches ahead streamlines your routine and gives you peace of mind. When you have a drawer or section of the fridge cleared out and ready to go, all you need to do is open the fridge on your way out the door. Easy and simple!
For older kids, you can even create a kid-friendly section of your fridge or pantry, so kids get to enjoy the autonomy of selecting a snack on their own!
More Meal Planning Tips & Tricks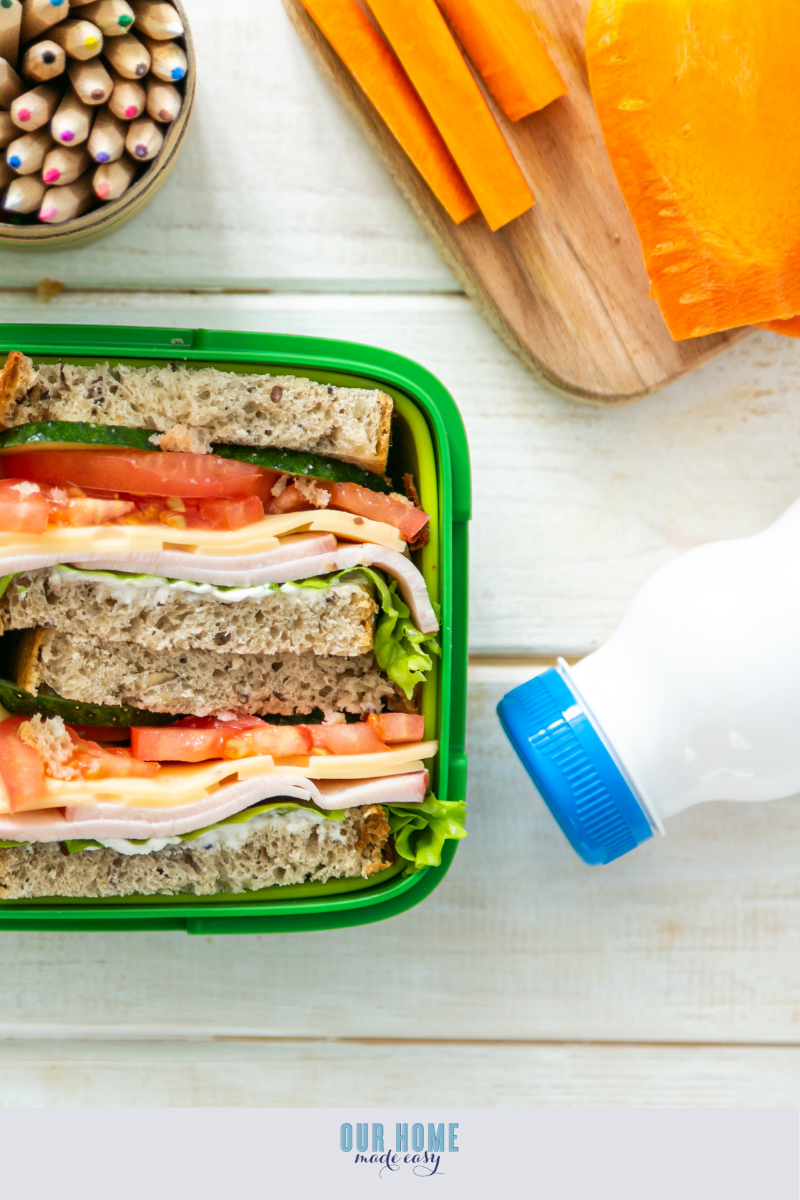 12 Easy Kid-Friendly Lunch Ideas
There are plenty of kid-friendly lunch ideas out there. Pretty much anything your kids enjoy is fair game. Of course, the lunch should be easy for your kids to open and navigate on their own (within reason).
Fussy preparation can be a hassle for teachers, daycare workers, and even your kids. Most lunches need to be enjoyed cold, assuming your childcare center won't be able to microwave a dozen meals at lunchtime.
All these lunches can be made ahead and then boxed or bagged for the week. If you like to go with reusable lunch containers, just prep these ahead and put them in one section of the fridge. Each evening or morning, pull from the container to fill your lunch pack.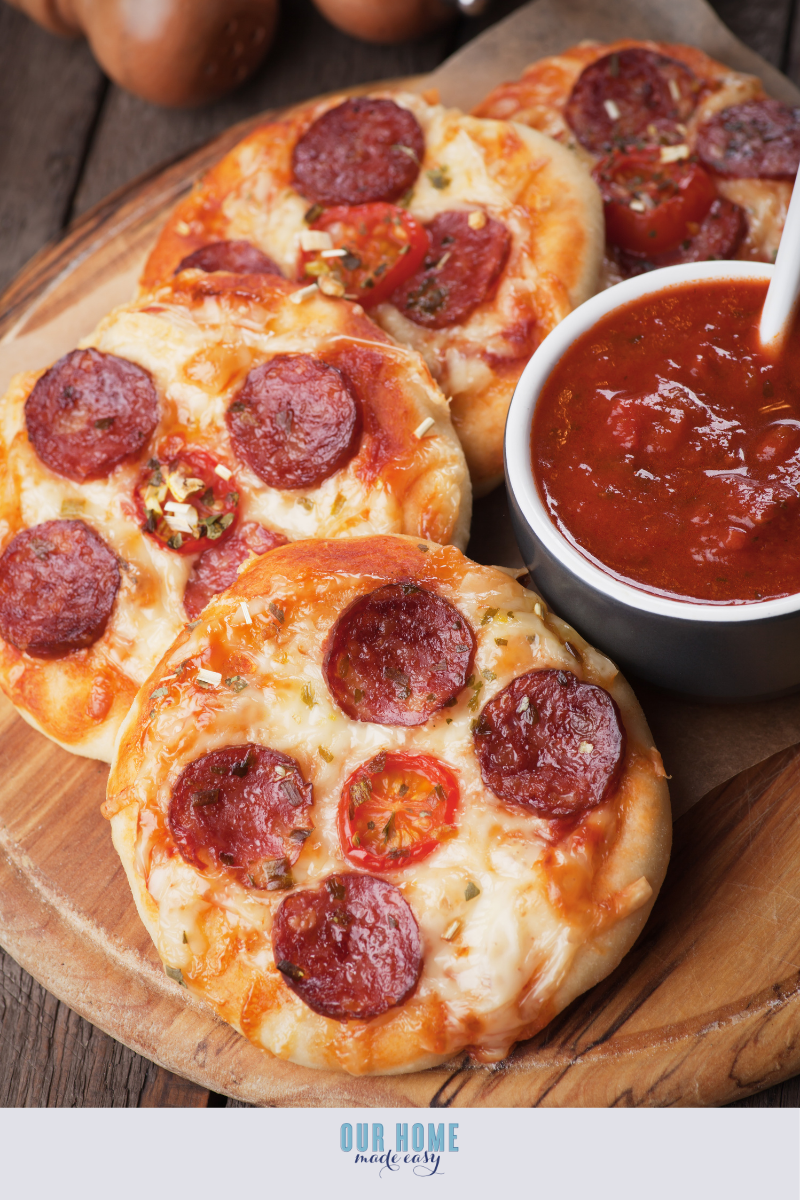 12 Fast and Easy Kid-Friendly Lunches
Sunflower butter and fruit preserve on wheat bread. (Make these ahead and freeze for the whole month!)

Sliced hard-boiled eggs, crackers, and cheese slices

Tortilla with cheese, refried beans, chicken, and salsa (can enjoy cold)

Cottage cheese with veggies and crackers

Deli slices or pulled chicken on wheat bread

"Rollup" tortillas with cream cheese, pickle, and deli slices

Hummus with pretzel crackers, carrot chips, and pepper strips

Mini pizzas on English muffin halves (can enjoy cold)

"Overnight" oatmeal with berries and chia seeds

Barbecue pulled chicken on wheat bread

Macaroni salad (made with wheat noodles, olive oil or dressing, and chopped vegetables)

Frittata or egg bites with vegetables and protein
A couple of points to keep in mind: many child centers and schools have guidelines about snacks and foods. Most childcare places don't allow peanuts due to allergies. Some centers may have other restrictions, so it's important to check with your childcare provider's administration to make sure you're not sending anything that could present an issue.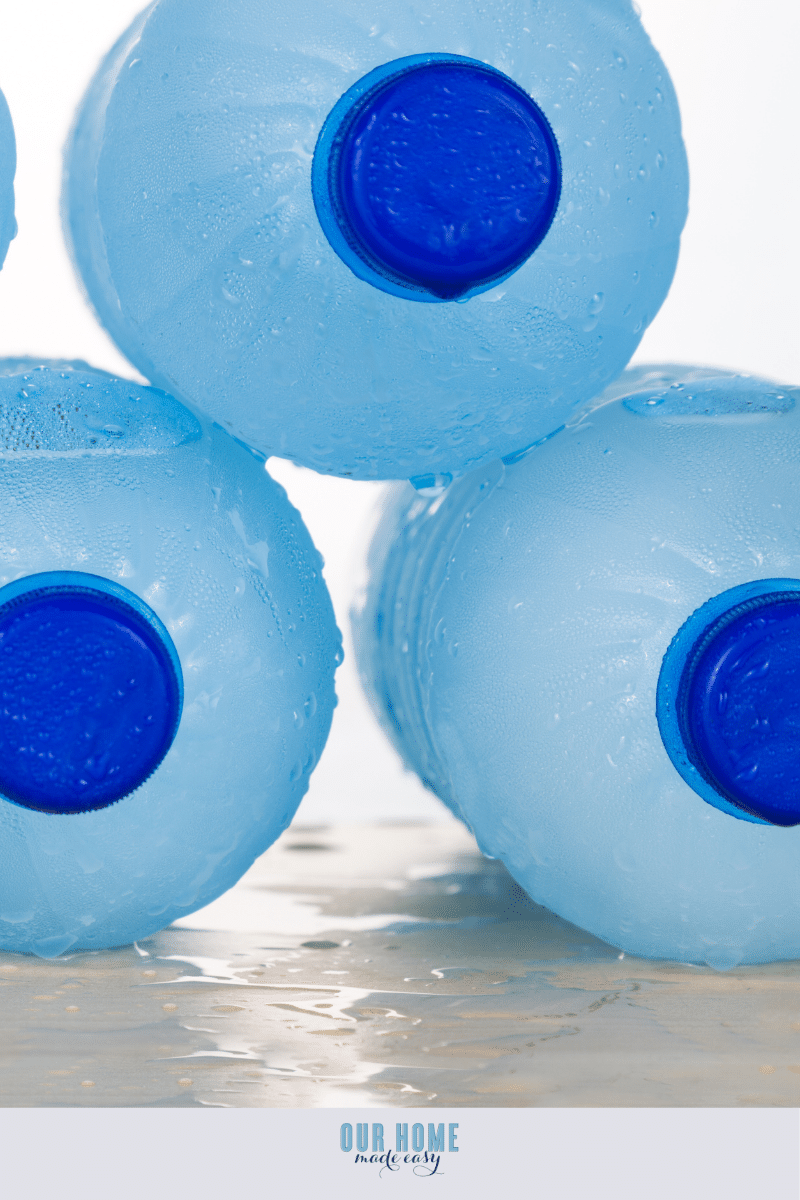 The other thing to remember is that most of these items will be okay in an insulated lunch box for a few hours, but it's a safe idea to include an icepack inside the lunchbox as well. Another easy solution is to freeze a few partially full bottles of water (remember ice expands). Slip one of the icy bottles into the lunch box, and your kid will enjoy a drink too.
Ice or cold packs are especially important if your childcare center doesn't have a large refrigerator (most school classrooms don't have a fridge available). Play it safe and use an ice pack when packing easy-to-spoil items like fish and other foods that may not fair as well at room temperature.
Once you've created these kid-friendly lunch mains, fill out the rest of the menu with fruits, vegetables, and maybe a treat or two!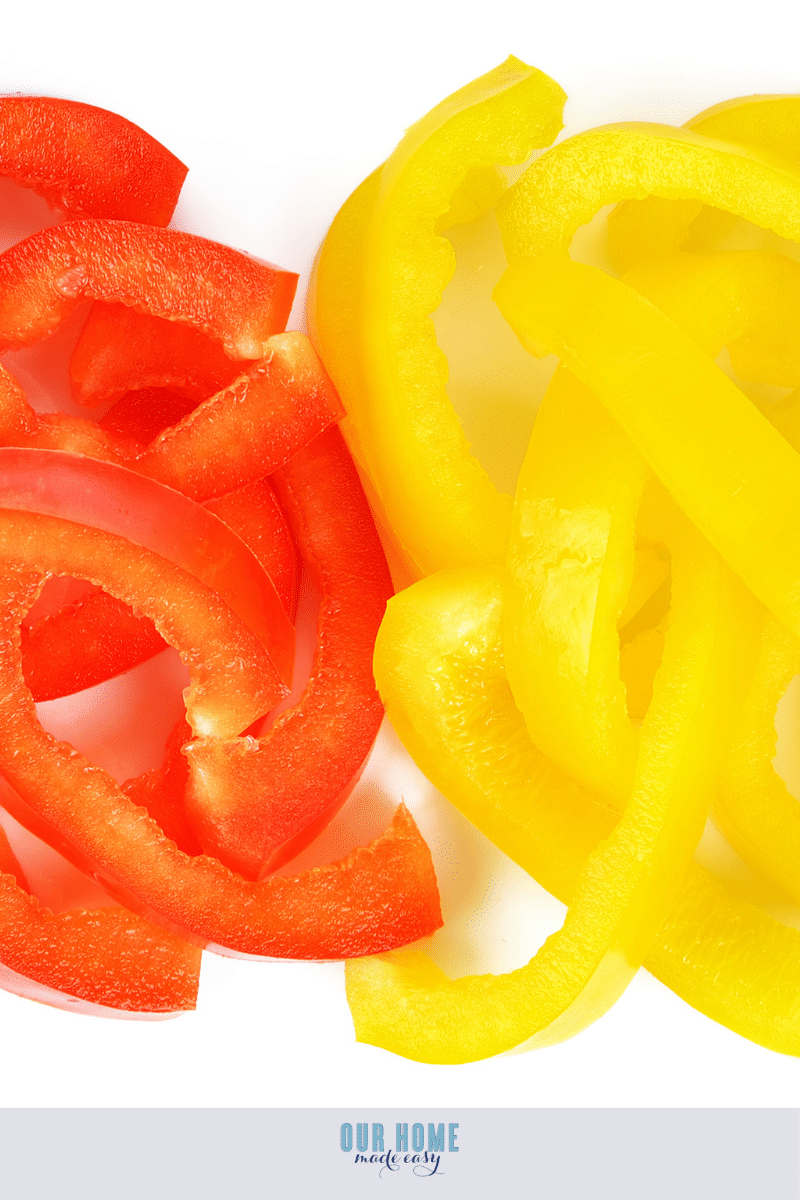 Make-Ahead Sides for Kid's Lunches
When choosing side dishes for your kids' lunch, there are many kid-friendly lunch items you can prep ahead for the week to make mornings simple.
Fresh fruits and vegetables are at the top of the list, but it can be tough to know where to start—most kids like carrots, snow peas, pepper strips, chopped cauliflower, or broccoli. You know what your kids like best. Of course, be sure to cut vegetables into bite-sized pieces, especially for younger kids.
Kid-Friendly Vegetables for Make-Ahead Lunches:
Carrot chips

Snow peas

Bell pepper strips

Sliced celery

Chopped cauliflower

Chopped broccoli

Blanched green beans

Blanched asparagus

Mini corn (canned or frozen)

Grape tomatoes

Pickles

Cucumbers (note: Persian mini cucumbers will stay fresh for the week, if unsliced)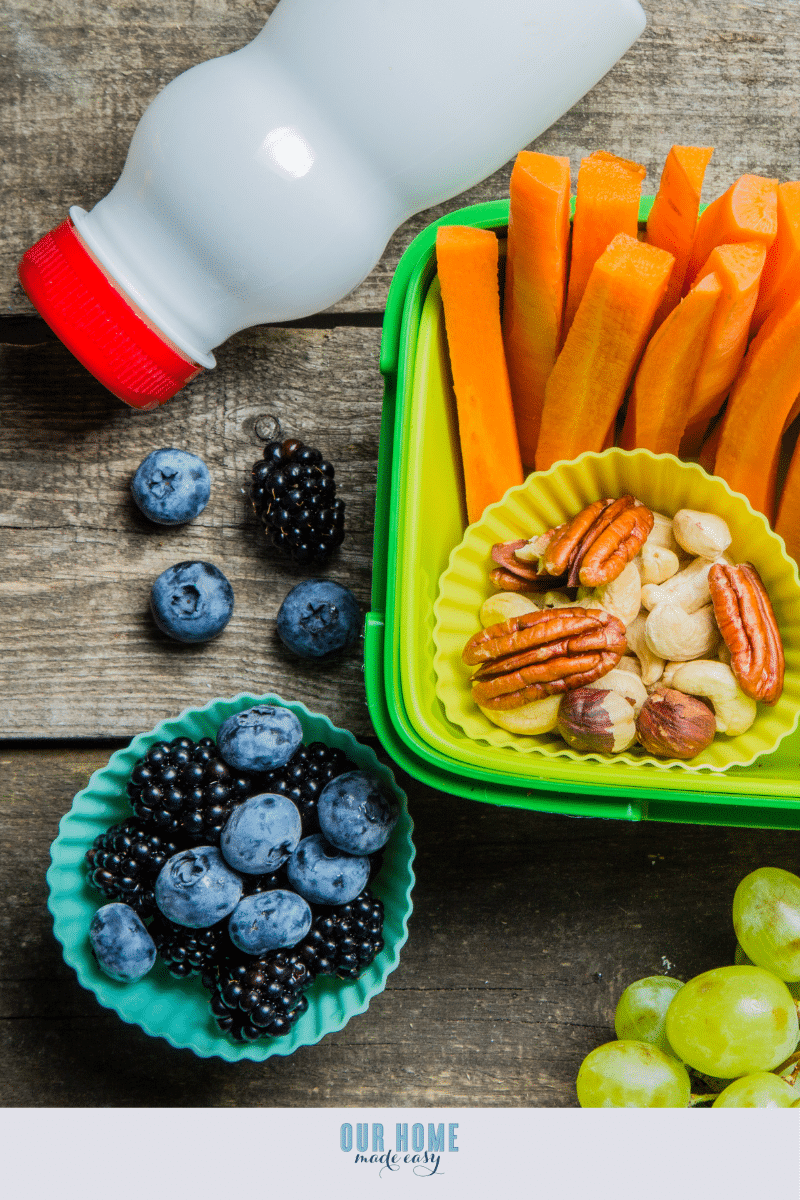 Kid-Friendly Fruit for Make-Ahead Lunches
Clementines (if your child is old enough to peel on their own)

Unsweetened fruit cups

Berries (don't store damp)

Grapes (cut in half, for young children)

Dates

Kumquats

Dried apple slices

Other dried fruits such as raisins, figs, prunes, mango, apricots

Natural fruit snacks or fruit rollups
Most of the kid-friendly fruits and vegetables can be chopped and prepped ahead. I didn't include apples, bananas, or pears on the list (even though they're kid-favorites) because they don't hold up well all week when sliced, but if your child enjoys eating whole fruits, then you may want to include them as well. Use an apple slicer, sprinkle with a little lemon juice, and then use a rubber band to hold the apple together (leaving the peel on). The fruit should stay fresh for a day or two. Oranges are also popular but can be challenging for small kids to peel on their own.
To round out your kid-friendly lunches, look for a few fun sides to add. If you've already included a main dish, a fruit, and a veggie, a side will round out the meal. Some childcare centers request a snack or two as well. These can make great snack options. If your child has an afternoon snack time, send a snack that doesn't require refrigeration.
Easy-to-pack lunch sides for kids:
Low-fat string cheese

Whole-grain crackers

Natural, nut-free granola bar

Clif Kids Z-bars or energy bars

Vegetable chips

Fruit bars

Whole-grain cereal

Beverages (if needed) such as 100% juice, flavored water, or milk
Bringing All Together: How to Make It Easier to Pack Kid-Friendly Lunches
If you're one of those people who struggle to get out the door in the morning (I know sometimes I do), then do yourself a favor and take care of lunch the night before. Bonus points for taking care of as much of it as possible on the weekend, so all I need to do is grab and go.
For more on streamlining your workweek routine, don't miss The Ultimate Parent's Guide to an Organized Work Week.
Depending on your office kitchen situation, you may want to include your lunch in the make-ahead meal rotation too. You can prep salads, portion soups in containers, stack yogurts, and put oatmeal in jars in the fridge. If you have access to a breakroom microwave, there are quite a few healthy options that will keep you away from the food truck or lunch cart.
Any task you can complete ahead of time will help you feel more pulled together and less frazzled during a busy morning.
If you have older kids, you can create a special snack section of your fridge and pantry. Each morning as your kids pack up, have them select a main from the fridge, and pick out sides and snacks to take along with them. Having the responsibility of choosing their own food will help them feel excited about eating it at lunch. They'll know that it was their choice.
Of course, not every kid likes the same foods. Part of finding kid-friendly lunches is finding out what works best for your kids. Sometimes you have a kid that won't touch eggs or suddenly decides that broccoli is the worst. A friend of mine has a son who will eat only (plain) macaroni and pizza. Most younger kids grow out of pickiness eventually, so try to be patient. I've found if you keep items available and keep offering them, maybe something will stick!
So if you're looking for easy, healthier lunch solutions, try these make-ahead kid-friendly lunches. Destress your morning routine by meal-prepping lunch options on the weekend, so you don't have to worry about packing lunches and getting out the door.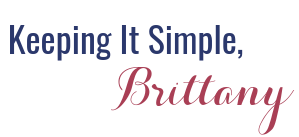 PIN FOR LATER: