Make this DIY wooden serving tray quickly! It makes for adding an extra level of coziness to your room or even a great inexpensive homemade gift!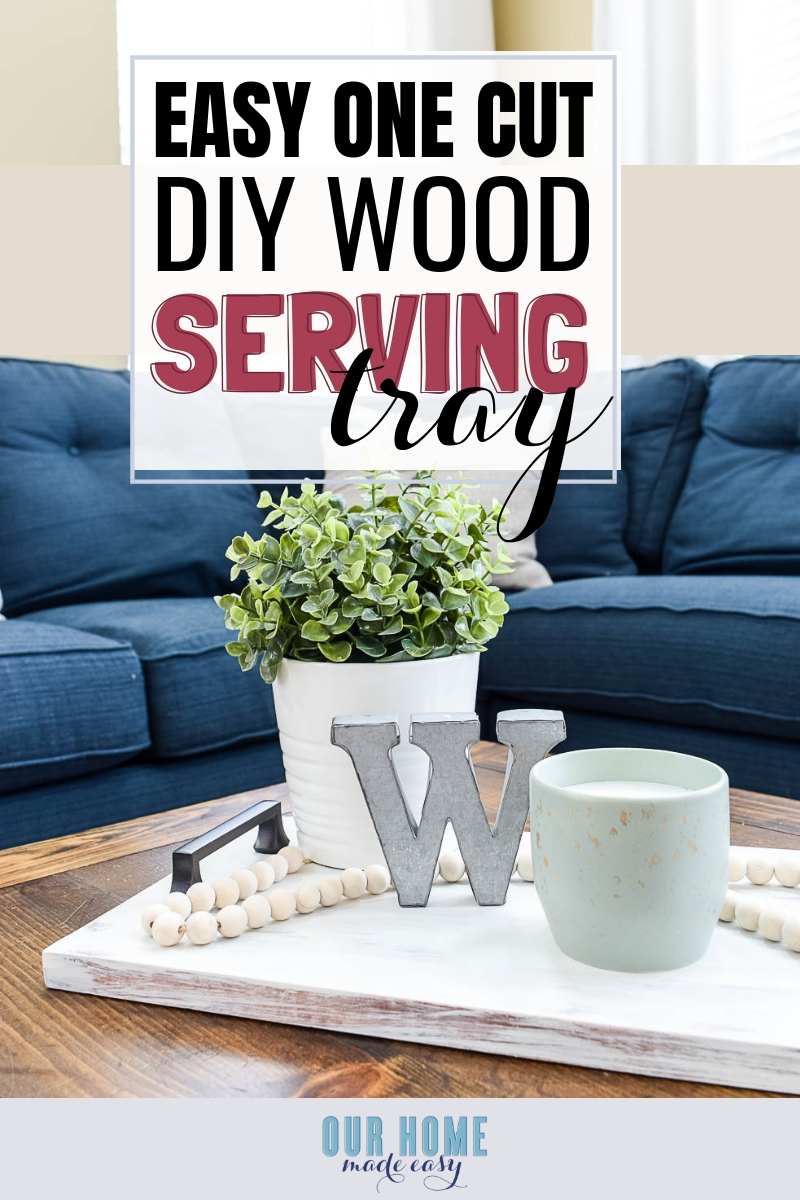 (This post contains affiliate links. Please see my Disclaimer for more information.)
One of the biggest concerns from fellow overwhelmed moms I hear is, "How can I make my home 'cozy' or feel put together? How can I make it look good but without much time & effort??"
You know the kind of feeling I am talking about… "Oh, this just all feels cohesive. This feels comfortable."
A quick way to do this is to use serving trays throughout your space. Not the kind that you actually serve food on though– the kind that adds an extra texture to a coffee table, dining room table, or nightstand.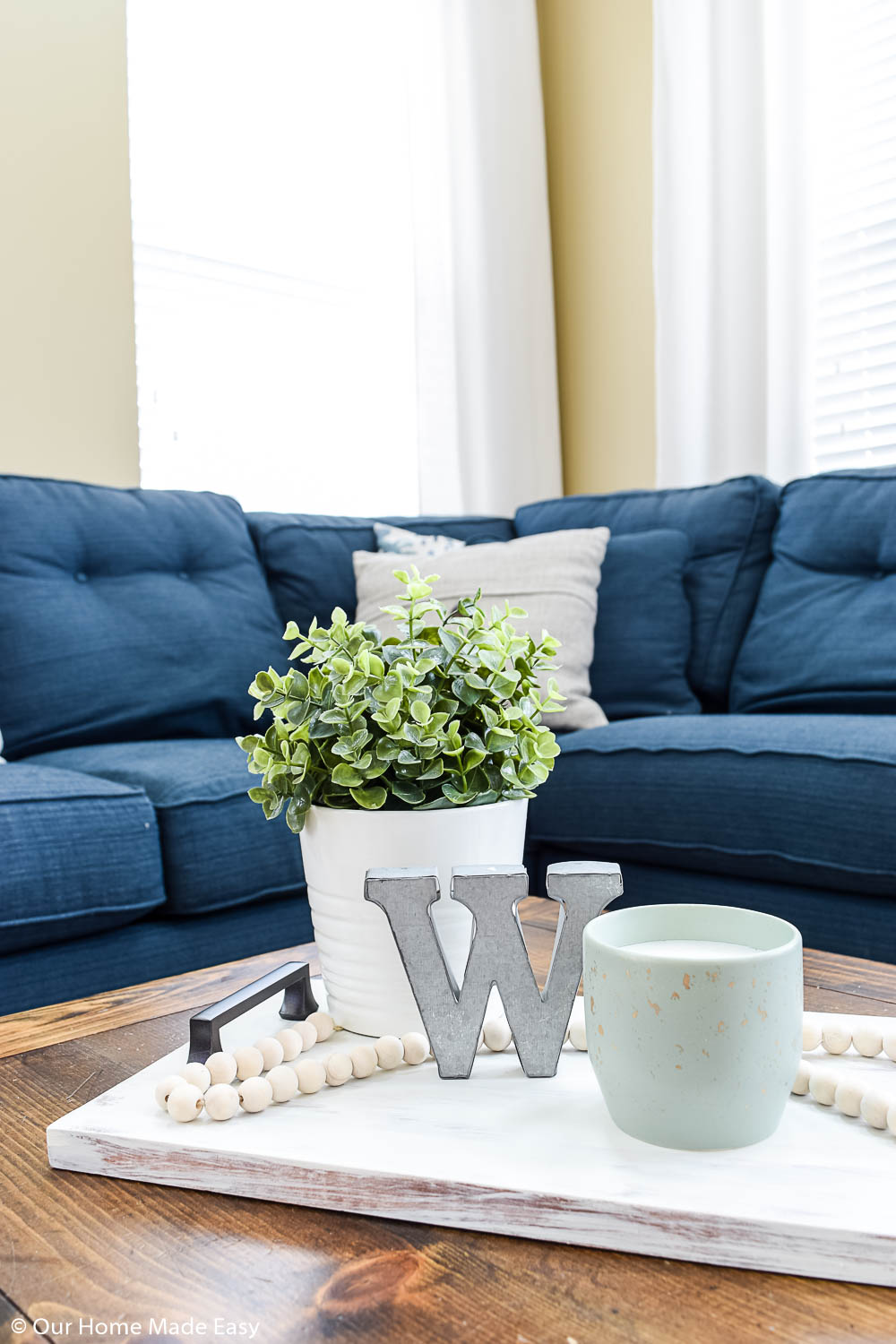 Whether it's one you find at Home Goods, Target, or DIY yourself, they add instant style without much effort. You can choose warm wood tones or pick a neutral white to let your decor items pop! Even if the kids' toys accidentally end up in the middle of it. It all works, I promise.
And I realized that I've never shown you how quick it is to make one for yourself! The biggest cost is $2-$3 you'll spend on cabinet handles. That's it.
Admittedly ashamed we haven't talked about DIY serving trays yet on the blog.
Please forgive me.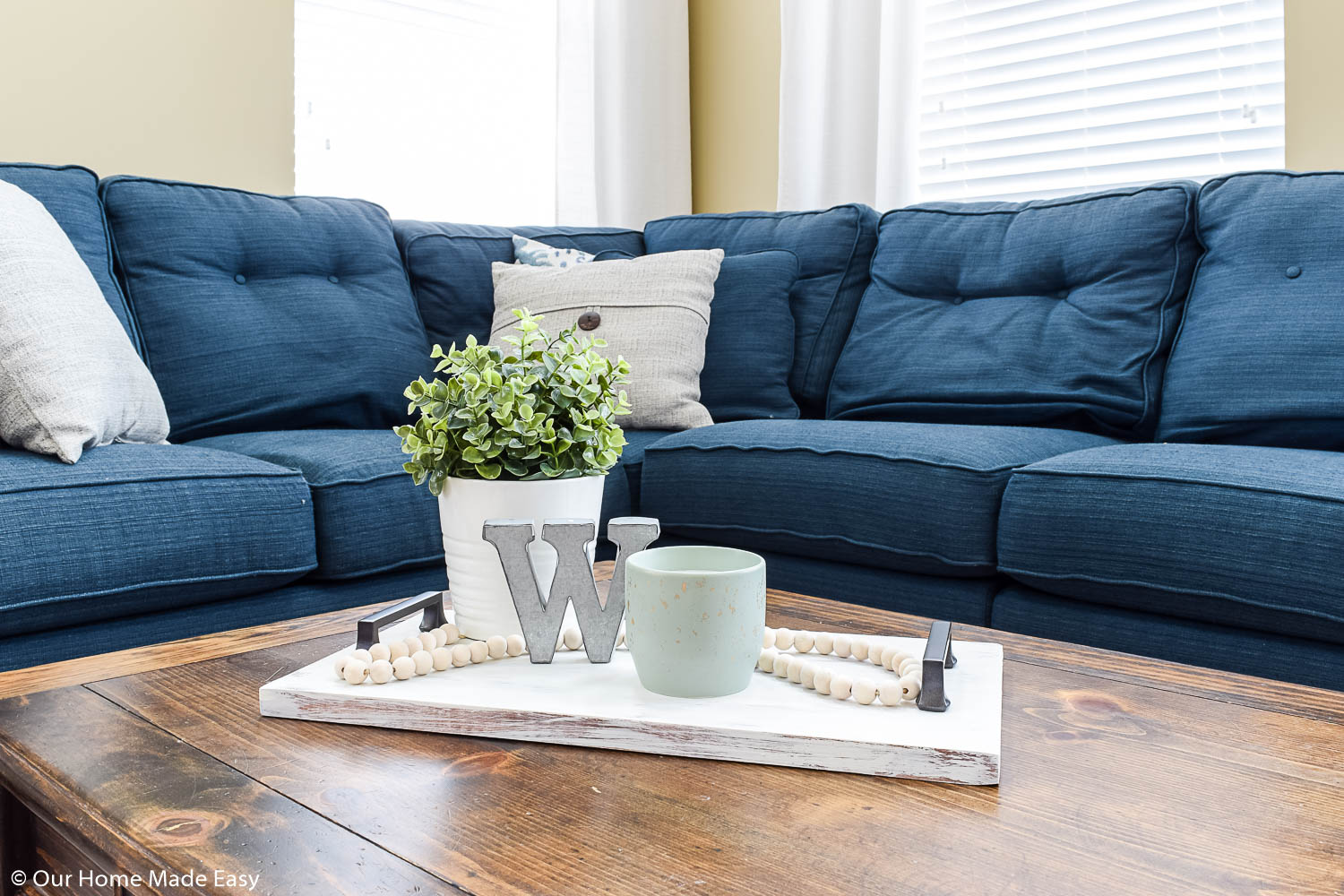 DIY Wooden Serving Tray
This serving tray tutorial allows you to customize your tray size, color, finish, and handles! Follow along to craft your perfect tray, over & over again. Super quick & simple!
Supplies Needed for Your Serving Tray
Tools Needed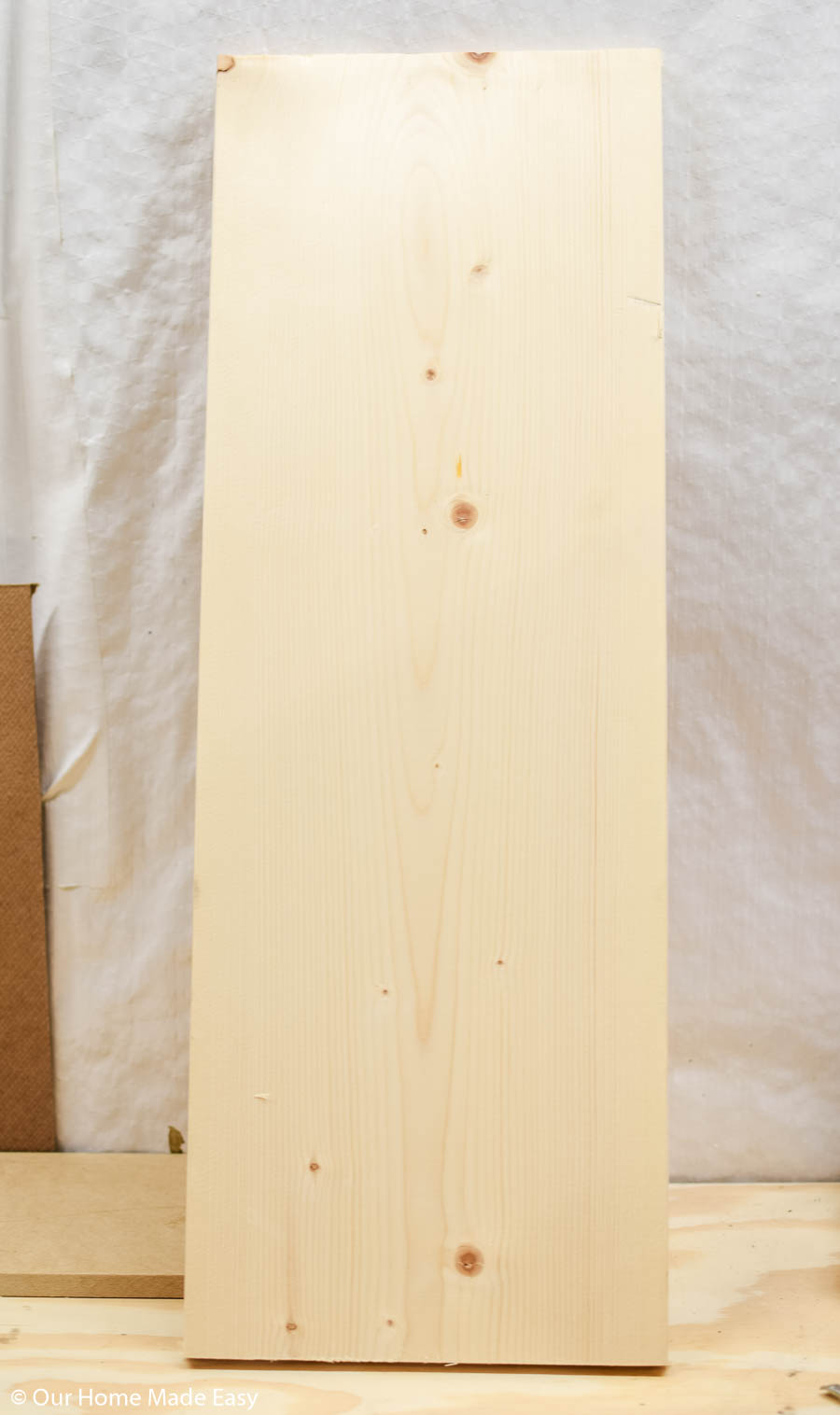 Cut Your Board to Size
Using a miter saw, cut your wood board to preferred size. For mine, I made it 17″ long. If you have a smaller table, you may want to choose 14″ or if you are covering a larger area, you could easily make your tray 20″. It's always easier to go longer, test the board on your surface, and then trim it down if needed.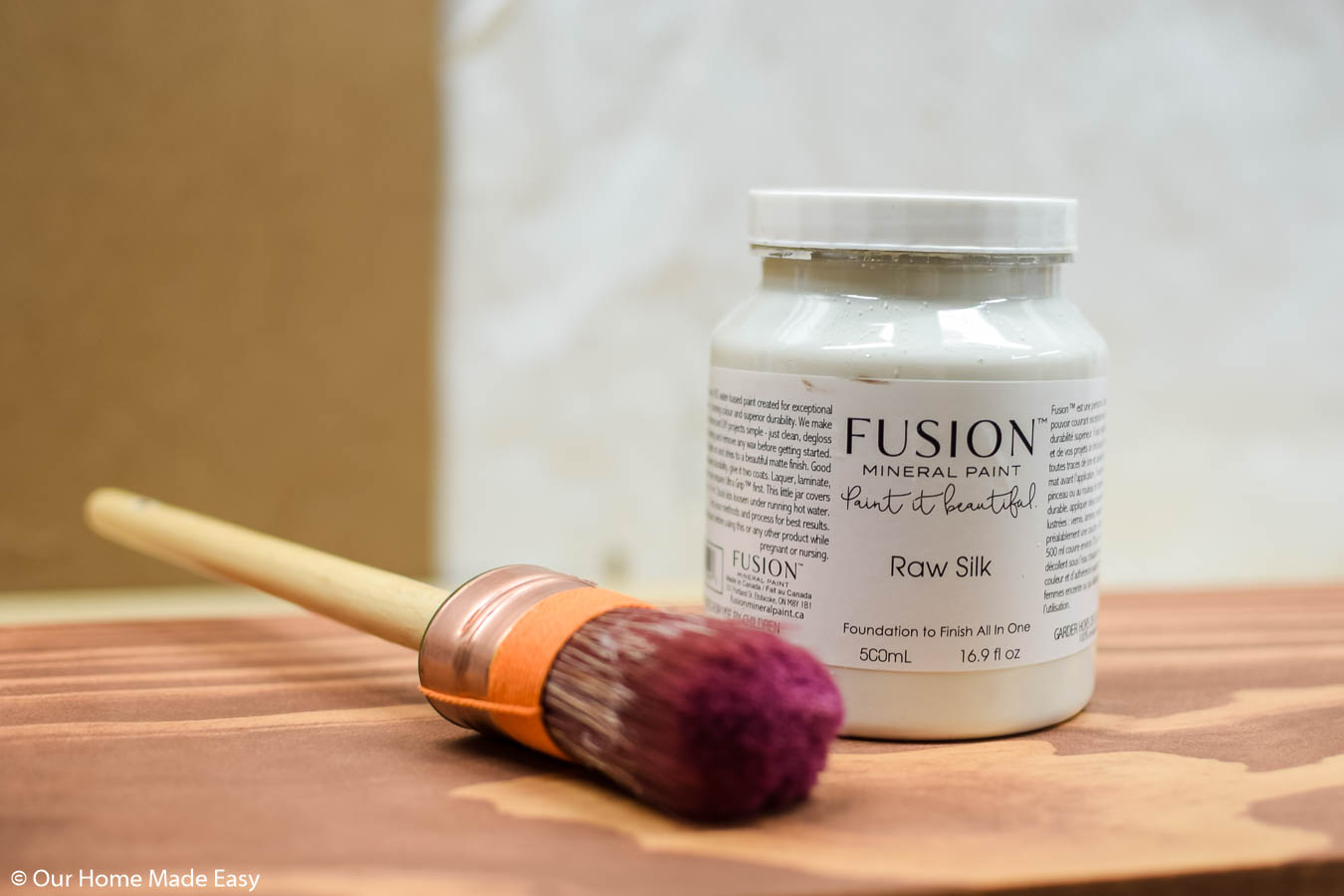 Sand Down Your Board
Once you are satisfied with the board length, quickly sand down any rough edges. If you have an orbit sander handy, this can be done in less than 3 minutes. If you are using a sanding block, simply softens the edges to avoid any splinters.
I like to sand down the short sides and along the top of the long sides to give it a softer look. It's totally up to your preference.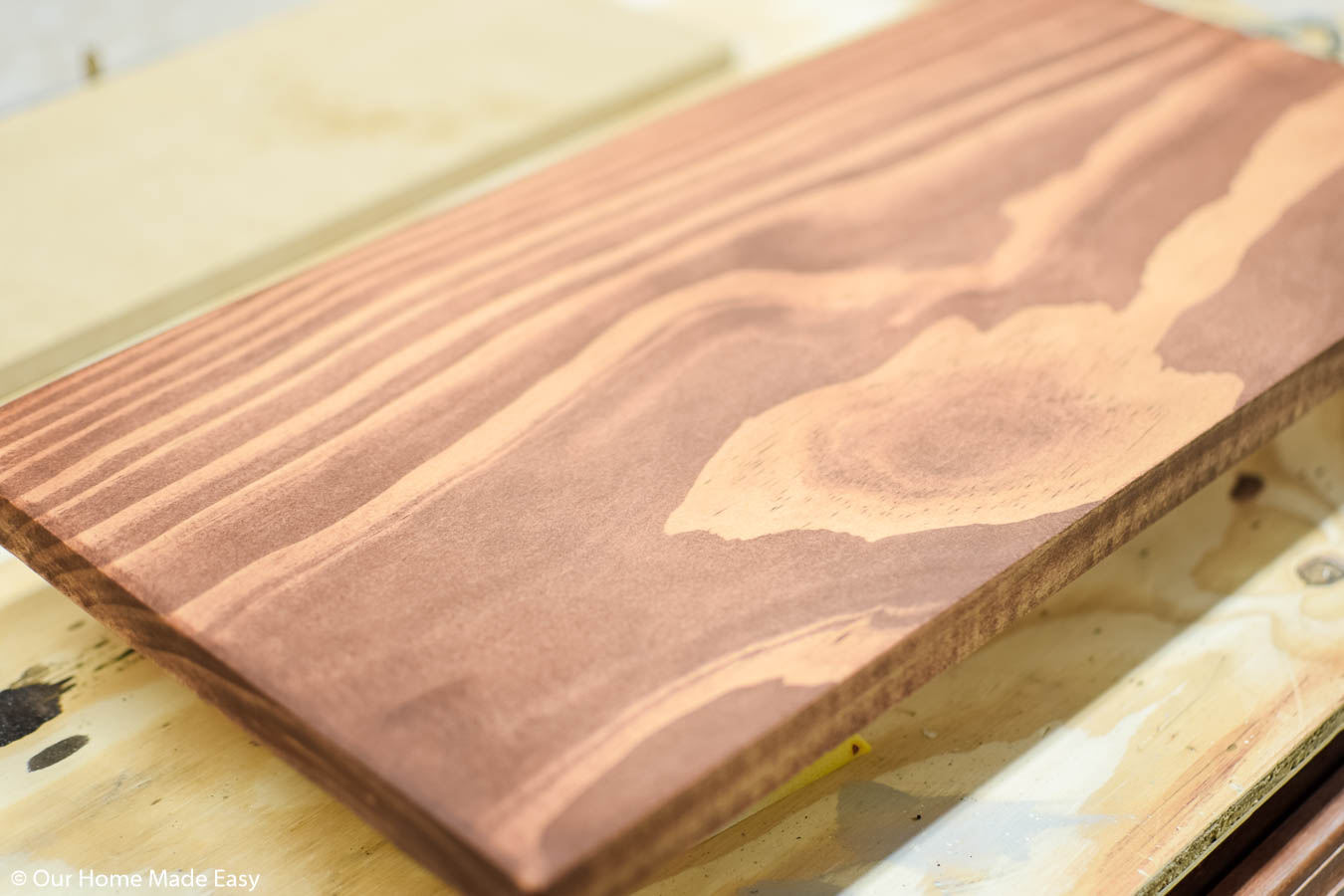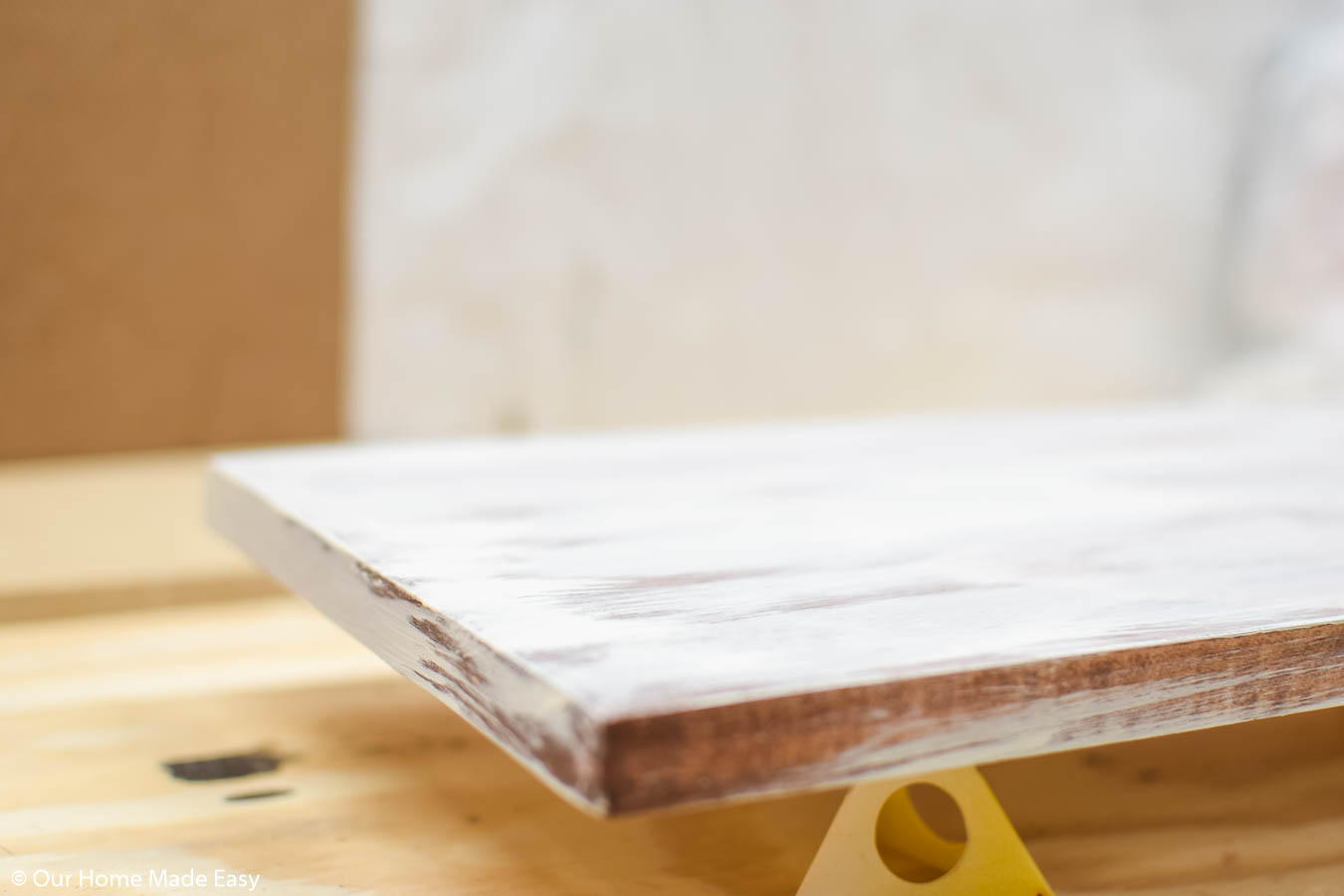 Stain or Paint Your Board
Once your board is smooth, it's time to start decorating it! You can add stain and leave it as is, or you can paint it. For this particular wood serving tray, I stained it first. It turned out a bit more red than I preferred, so I covered it a thin coat of paint in Fusion Mineral Paint's Raw Silk. Once the paint dried, I roughed up the surfaces with a sanding block.
Allow your stain or paint to dry and you're just about finished!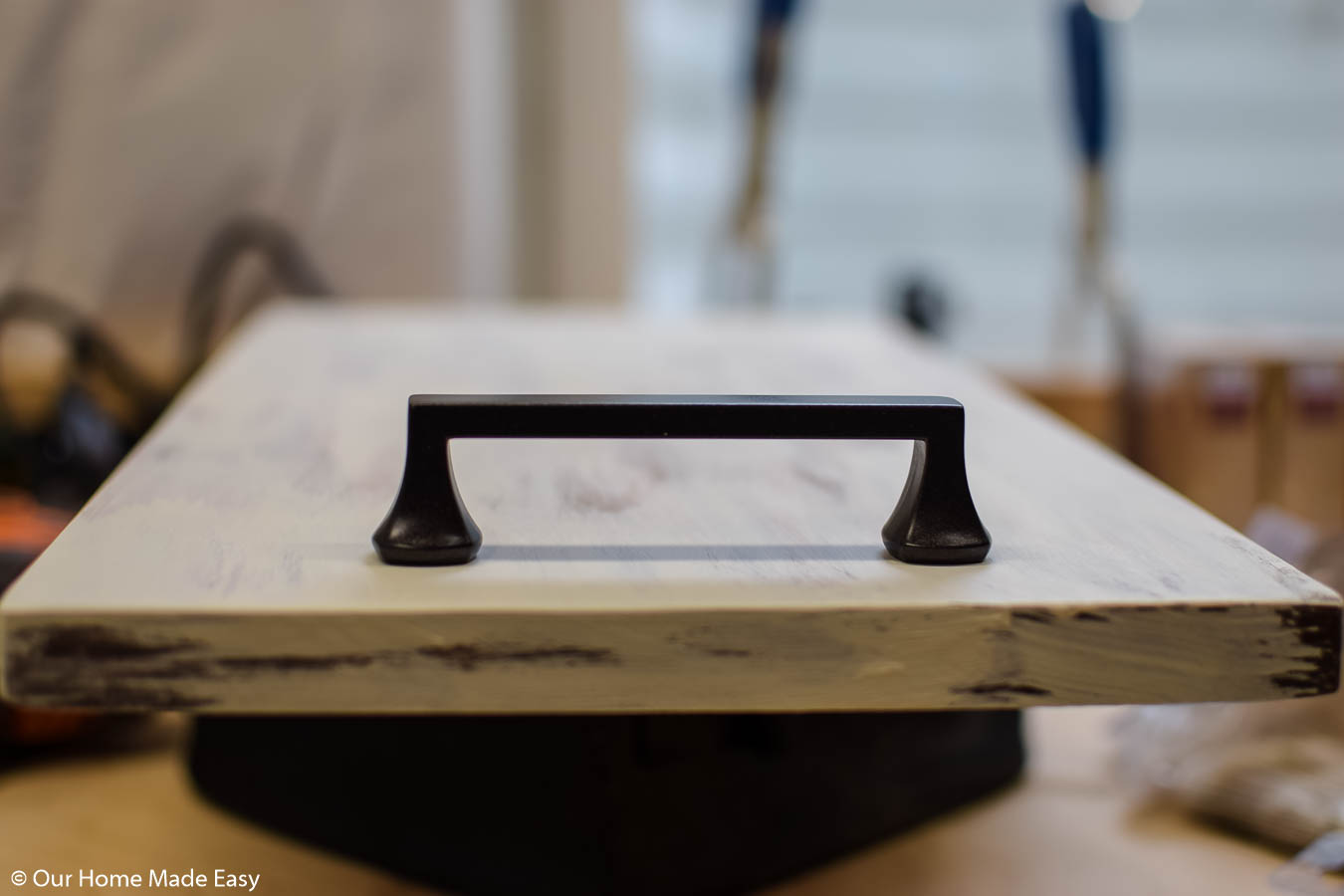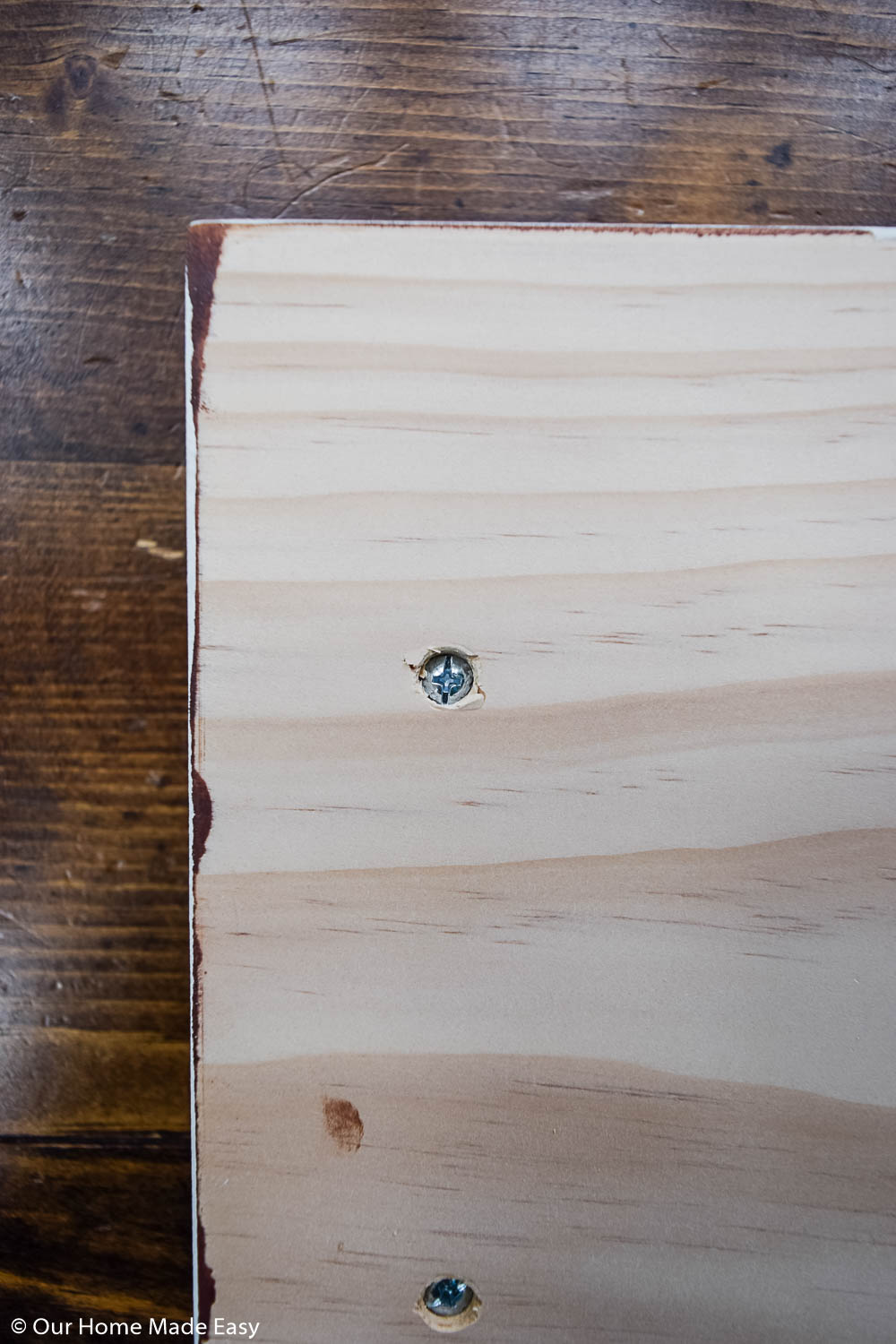 Add Your Handles
Now it's time to add your handles. Unless you're adding some extra decor (keep reading below), this is your final step!
Turn over your serving tray to the unpainted side. Line up where you would like your handles to go. Mark with a pencil and remove your handles. Using the hardware from the handles, drill the screws into your penciled marks.
Attach the handle to the front side of the serving tray. Repeat for the second handle.
Add Some Decor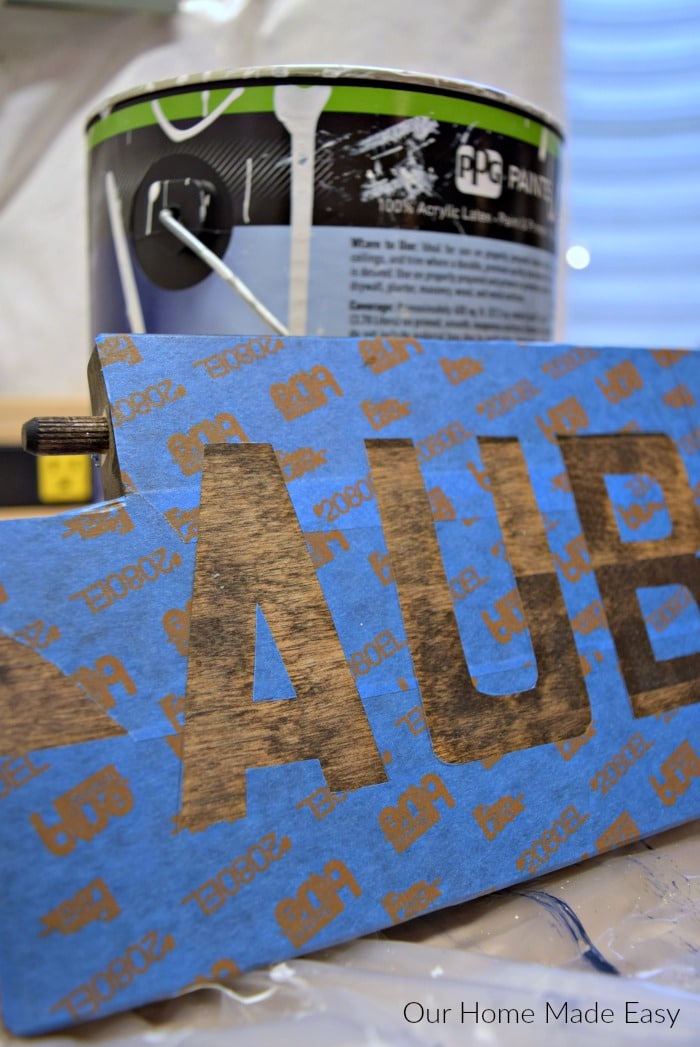 This is completely optional. You could add a monogram using this no-cutter needed stencil method. Or you could find a farmhouse saying transfer and add it to your serving tray!
For this serving tray, I ended up keeping it plain without any extra decoration.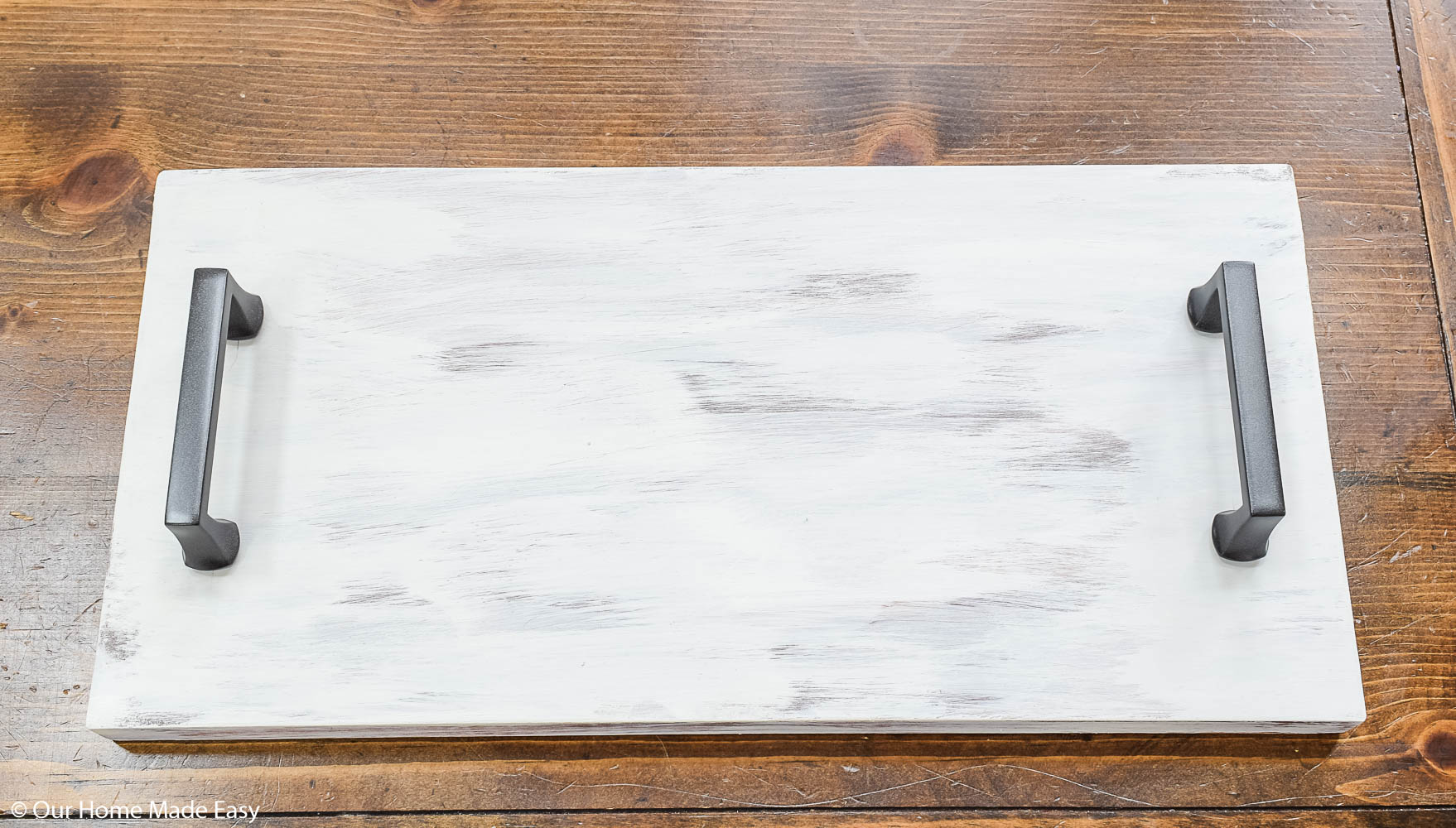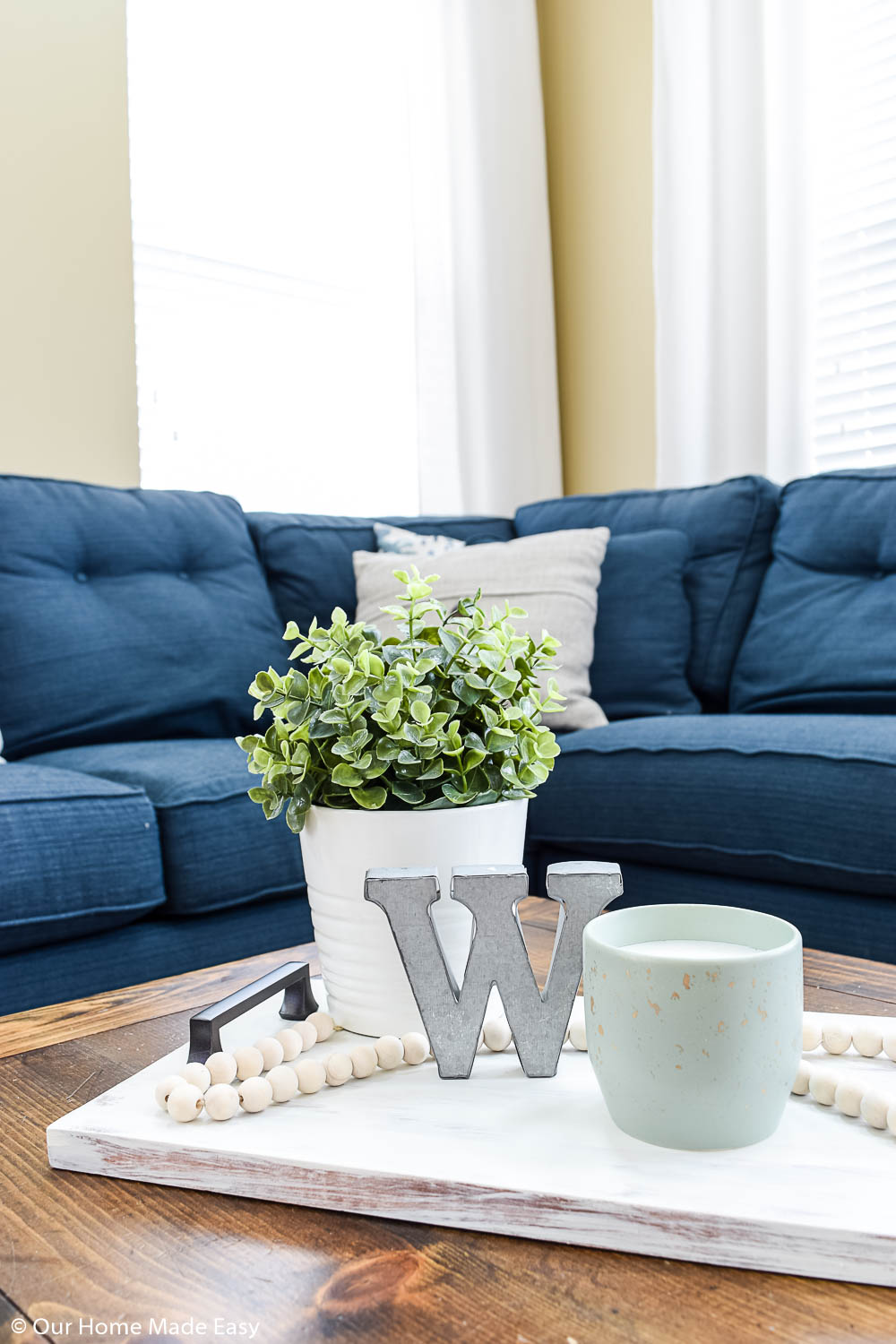 How cute did this quick craft turn out being? When your serving tray is ready to go, add some greenery, a pretty candle, and another knick-knack. I'm a total sucker for monograms (love for my time in Alabama) and wood beads. I am already thinking of different ways we can use them throughout the house.
And that is it! This serving tray is a really great way to build up those layers in your home to make it feel cohesive & complete– without breaking the bank. Do you love simple serving trays around the house? Or do you have another favorite way to add some coziness?
Love a great DIY project? Be sure to grab your list of my favorite weekend warrior projects below!