This tasty pimento cheese dip will wow your guests! Make it ahead of time and serve it cold with pretzels! Makes for a great appetizer combo with 3 ingredient black olive dip.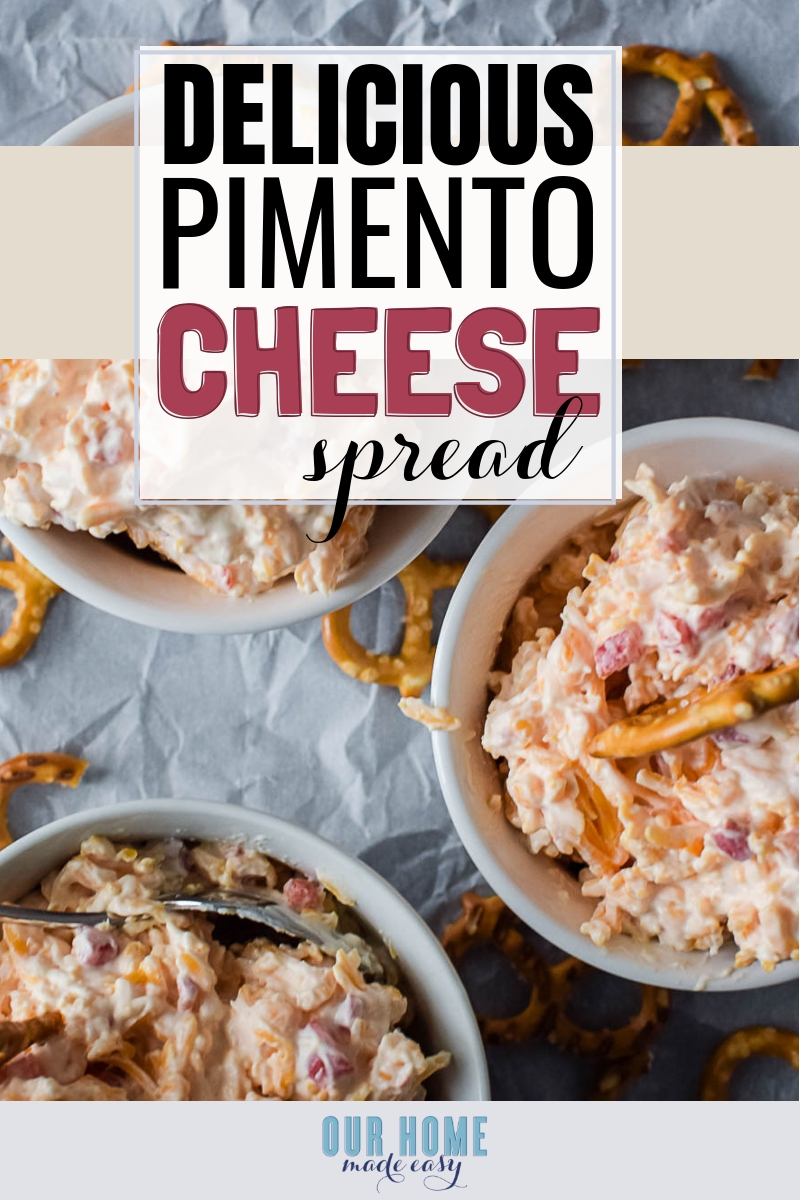 (This post contains affiliate links. Please see my Disclaimer for more information)
Do you ever have one of those recipes that makes you think "YESSS! Where have you been all my life?" Mildly dramatic, but so true.
This my friends, in one of them– yummy pimento cheese dip!
And I have to tell you, I don't particularly care for pimentos OR Tabasco sauce, but put together with some fresh cheese. Downright amazing.
Trust me, please. Make this for your next party.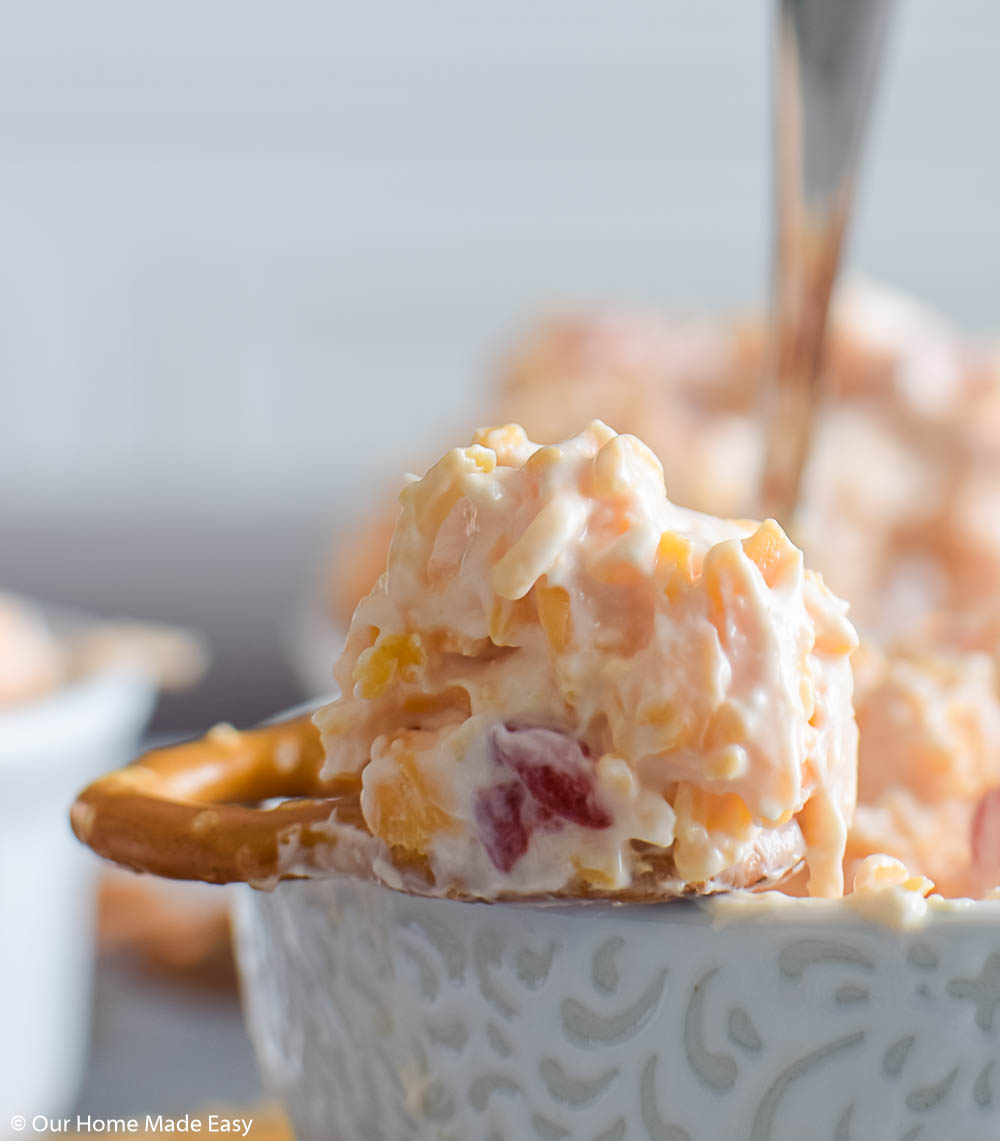 As a bonus? This is no bake so you can prep it ahead of time (which is ideal to let everything firm up) and pull it out of the fridge when it's party-time.
Pimento Cheese Dip Recipe
While I firmly believe this dip deserves to be eaten chilled with pretzels, I won't judge you if you pile it on top of your next grilled burger. Because that is definitely how we jazzed up our little slider burgers this week. #sorryNotSorry
I'm that big of a fan and thankfully Jordan is, too!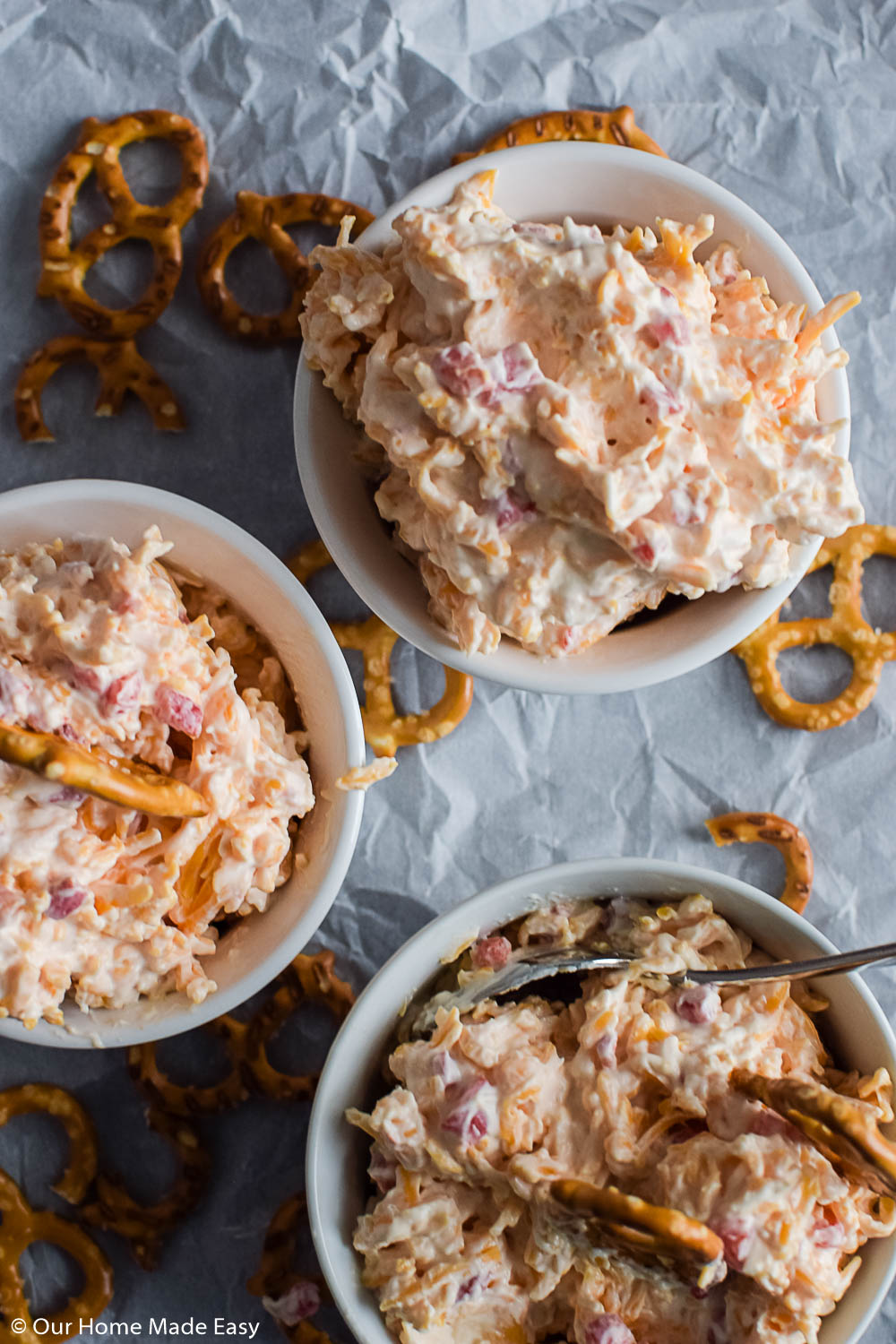 If you've never had pimento cheese dip before, it's a traditionally Southern dish served on sandwiches. While I loved our time on the Gulf Coast, I don't think that I ever discovered pimento cheese dip until we moved to Michigan.
Which is probably the best for my waistline.
I would've happily toured my way through Mississippi & Alabama in pursuit of the best pimento cheese dip.
One of my close Southern blogging friends recently shared her own pimento cheese dip recipe. It looked so good that I thought, we really need to try this for ourselves!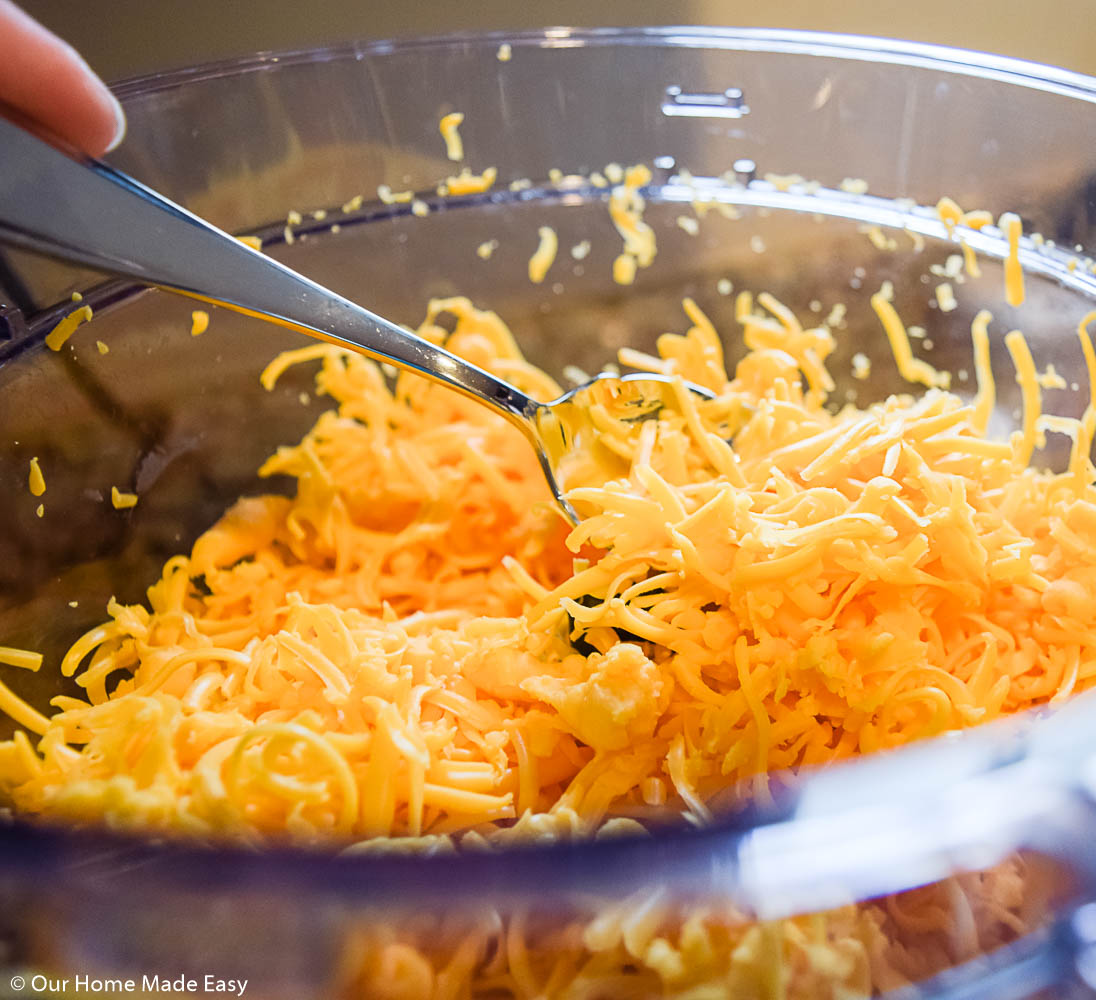 One of the ways to kick up this dip is to use freshly grated cheddar cheese. Before you internally groan (I see ya!), get yourself a rocking food processor and let it do the hard work for you! Each Sunday we grate a large chunk of cheese from Costco and store it in a gallon size resealable bag.
If you are insistent that packaged shredded cheese is the only way to go, I ask you to try it just once. Pretty please! I've found that freshly grated cheese makes every semi-homemade dinner taste so much better.
And besides, have you ever seen pre-packaged cheese melt? It's kinda gross and it's full of fillers. That's saying something for this shortcut loving momma.
You can toss all the food processor parts in the dishwasher when you are finished. The extra few minutes for freshly grated cheese make for a much better dip.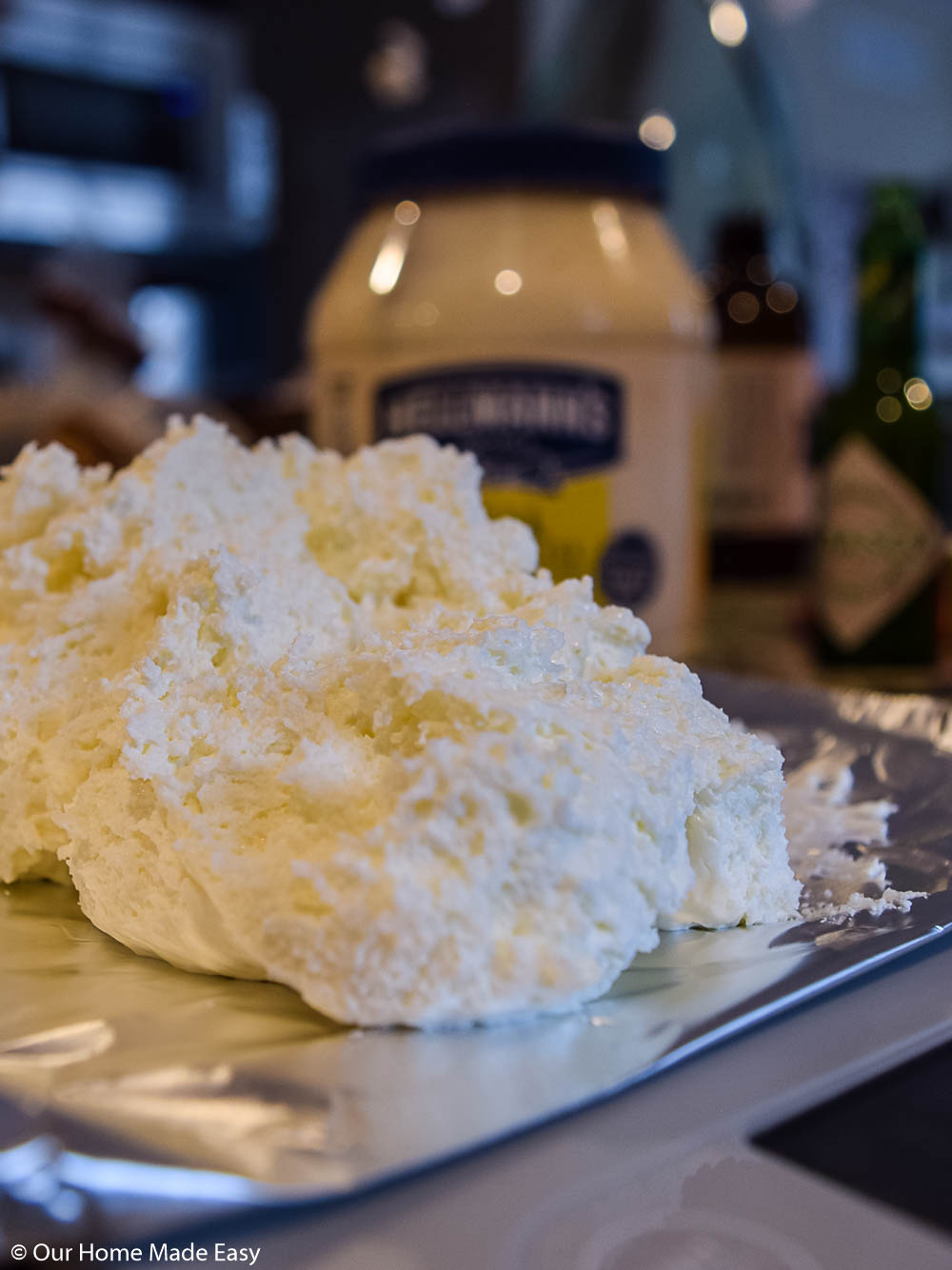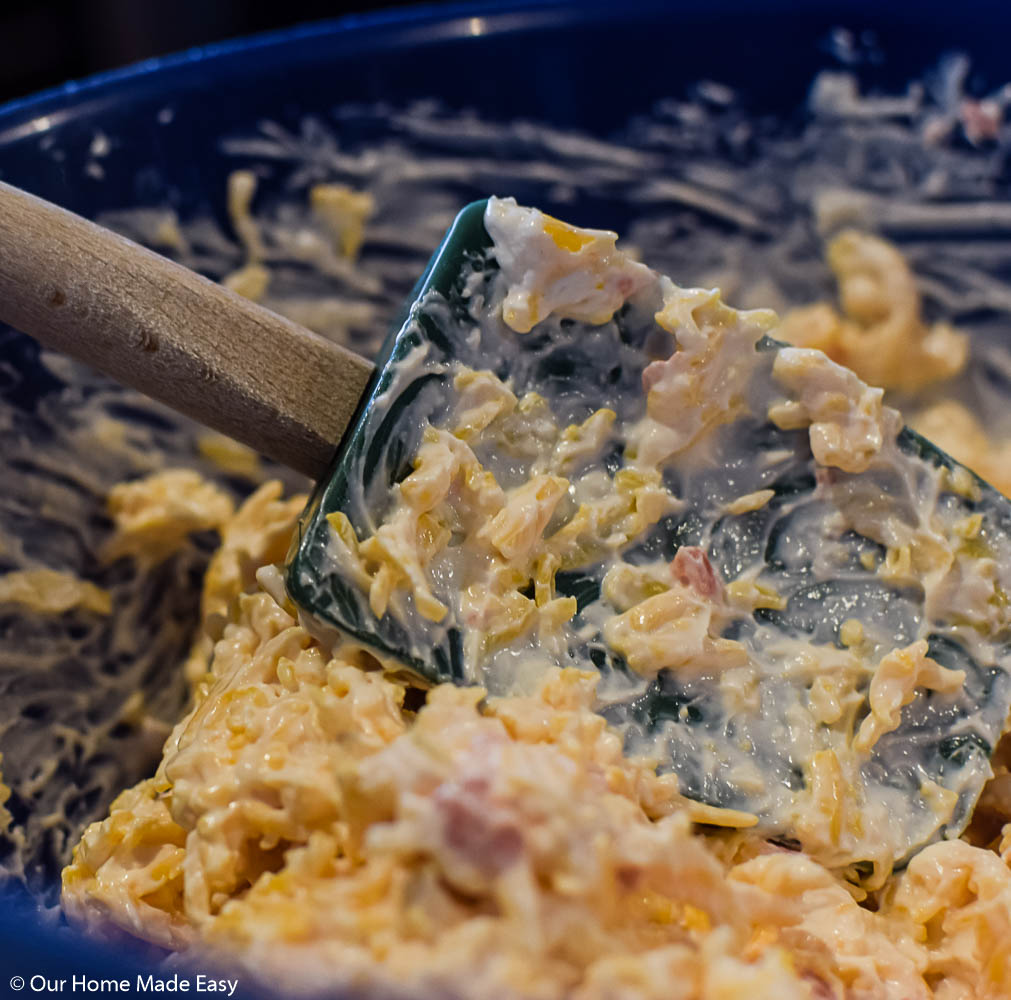 Mix in your fresh cheese with some whipped cream cheese and it's almost like heaven. The calories don't count today my friends!
Enjoy! I hope you find this pimento cheese dip recipe super easy and if you can, splurge on the time to have freshly grated cheese. You'll love it!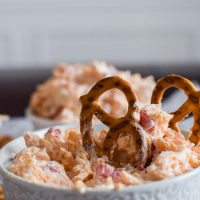 Yummy Pimento Cheese Recipe
Total Time:
2 hours
20 minutes
This yummy pimento cheese recipe will be the hit at your next party! Throw it together with only 6 ingredients and even make it ahead of time, too!
Ingredients
2 Pounds Cheddar, Freshly Grated
1 Pound Whipped Cream Cheese (1 container), softened
1 Cup Mayonaise
1 Cup Pimentos, chopped
2 Tablespoons Green Tabasco Hot Sauce
Instructions
Mix together all ingredients except for the cheddar cheese.
Once mixed together, fold in cheddar cheese, until well combined
Store in covered container for up to 5 days.
Notes
Chill in refrigerator for at least 2 hours before serving.
Recommended Products
As an Amazon Associate and member of other affiliate programs, I earn from qualifying purchases.
PIN FOR LATER: