The Easiest 15 Minute Appetizer [Columbus Craft Charcuterie]
This is a sponsored post written by me on behalf of Columbus Craft Meats. All opinions are 100% mine.
It's the last days of summer. We are feeling a little exhausted from trying to enjoy every last moment of Michigan summertime. And I don't know about yourself, but these days the last place I want to be is in the kitchen cooking near a stove. It's truly the dog days of summer! When it comes to enjoying food– we are still doing that, but on a much easier side. And when it comes to entertaining, I felt compelled to share this easy charcuterie recipe with you. Wait– before you roll your eyes, you guys, it's no bake and is put together easy-peasy. I wish I started making these years ago!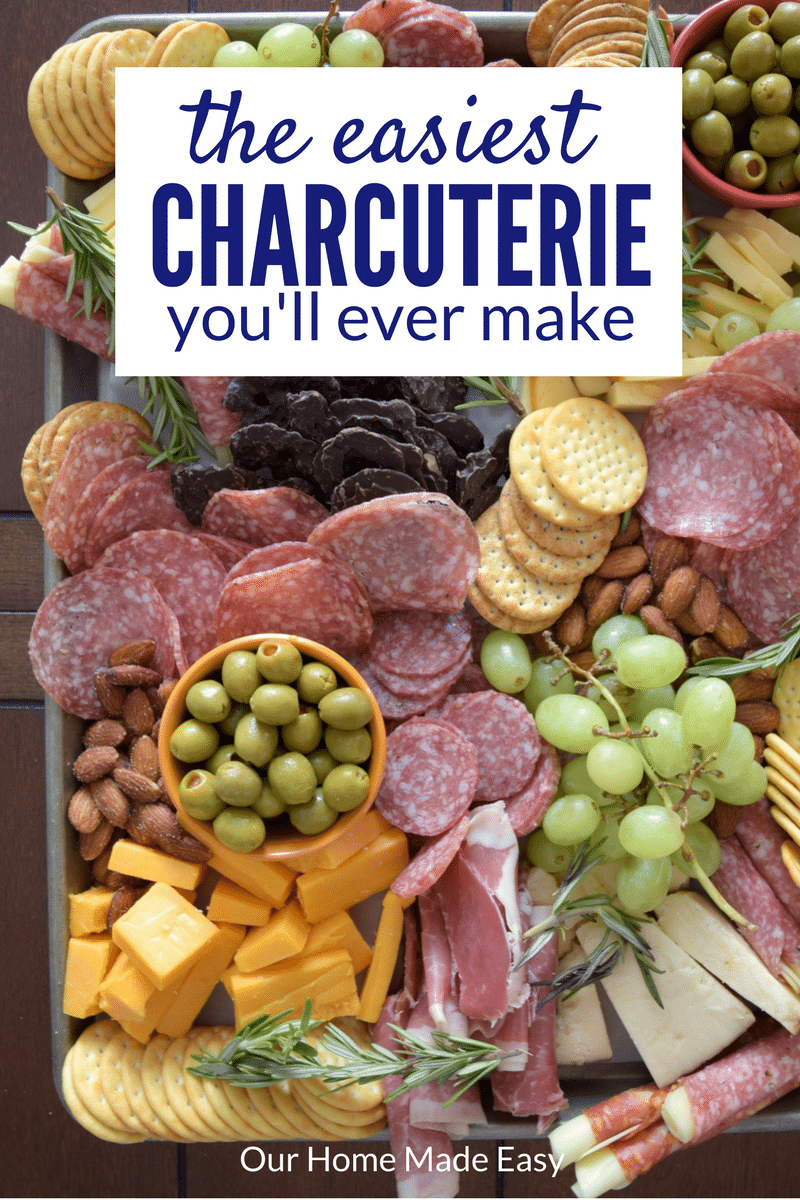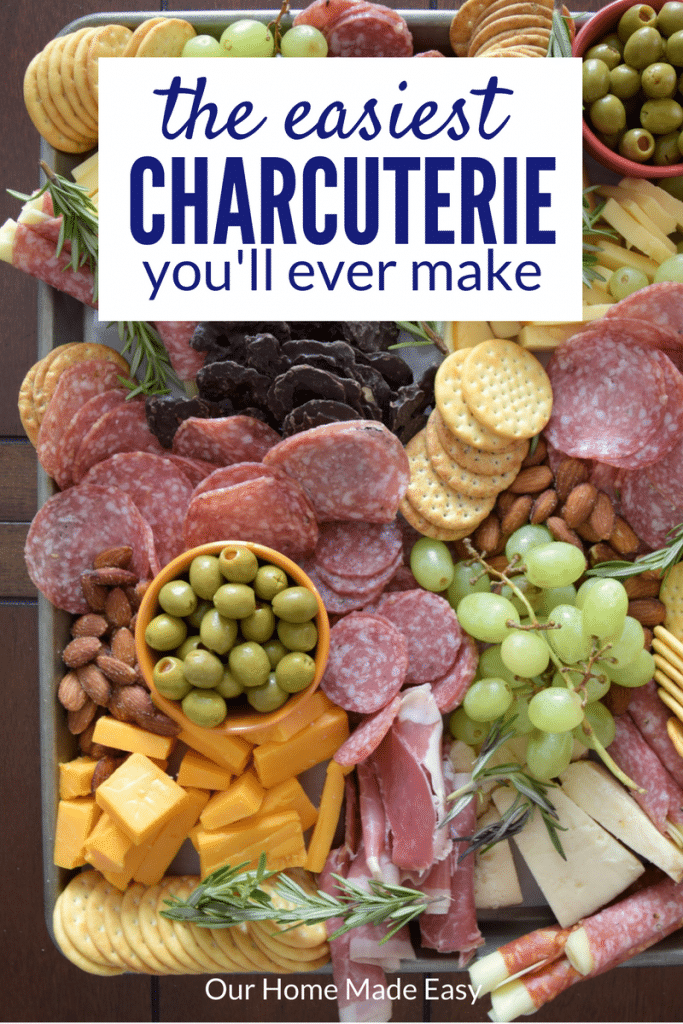 I know you're thinking that a meat & cheese tray is so boring, but I promise, you can make something really cool– without a lot of effort. The best part? You simply stack everything together and it looks perfect– you'll have fun because it doesn't need to be perfect and you can pick out what works best for your family! Before you can start building your fancy meat & cheese tray, you need to decide on some great ingredients for your tray. For this tray I am using Columbus Craft meats. I think I ended up using more than 6 types of meats (and I'll show you a shortcut for these options). Columbus Craft meats started in 1917 in San Francisco. I really enjoyed these meats because they are made of the best ingredients, only using whole cuts of meat, and they slowly prepare them for the taste and quality they are known for. And it showed in our tray.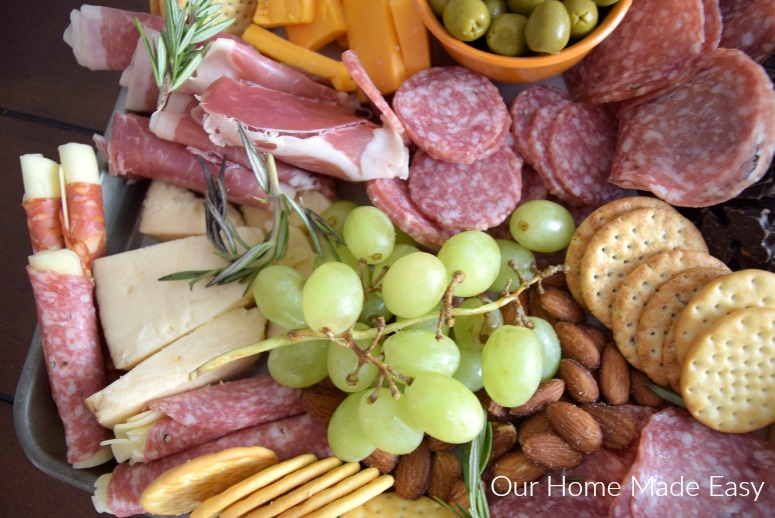 Are you drooling yet?
How to Build the Easiest 15 Minute Charcuterie
First, you need to sit down and make a small game plan before you head to the grocery store. The main components for a charcuterie are:
Meat (2-4 options)
Cheese (3-5 options)
Crackers & Bread (1-3 total options)
Salty (1 option)
Sweet (1 option)
Fruit (1-3 options)
Accent (Completely Optional, I used Rosemary and it was amazing)
The Charcuterie Meat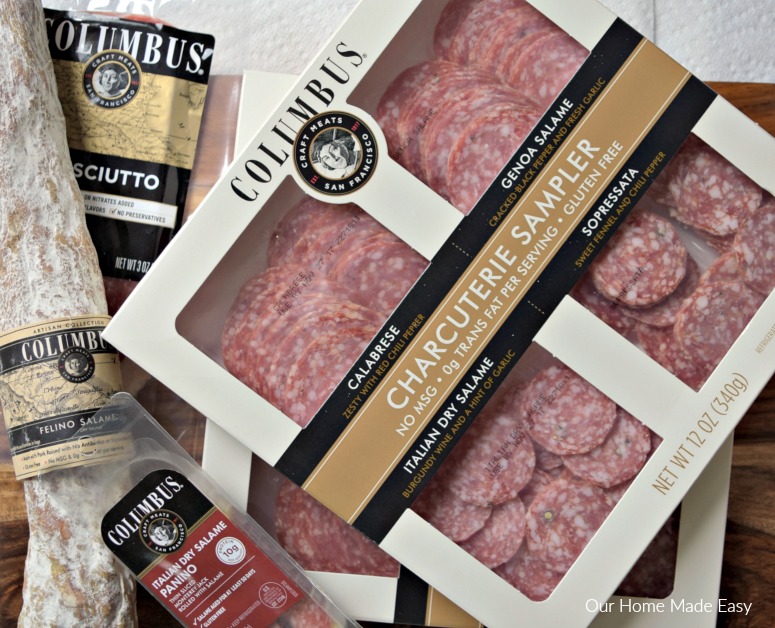 Here I promised you a shortcut— I used the Charcuterie Sampler from Columbus Craft Meats. It came with 4 meat options, already pre-cut. I loved having that convenience! In addition the sampler, I included Columbus Craft Meats Prosciutto and Salame Paninos. To save yourself the most amount of time, find pre-cut meat and buy a small amount of each!
Want to know more about Columbus Craft meats? Follow Columbus on Facebook!
The Charcuterie Cheese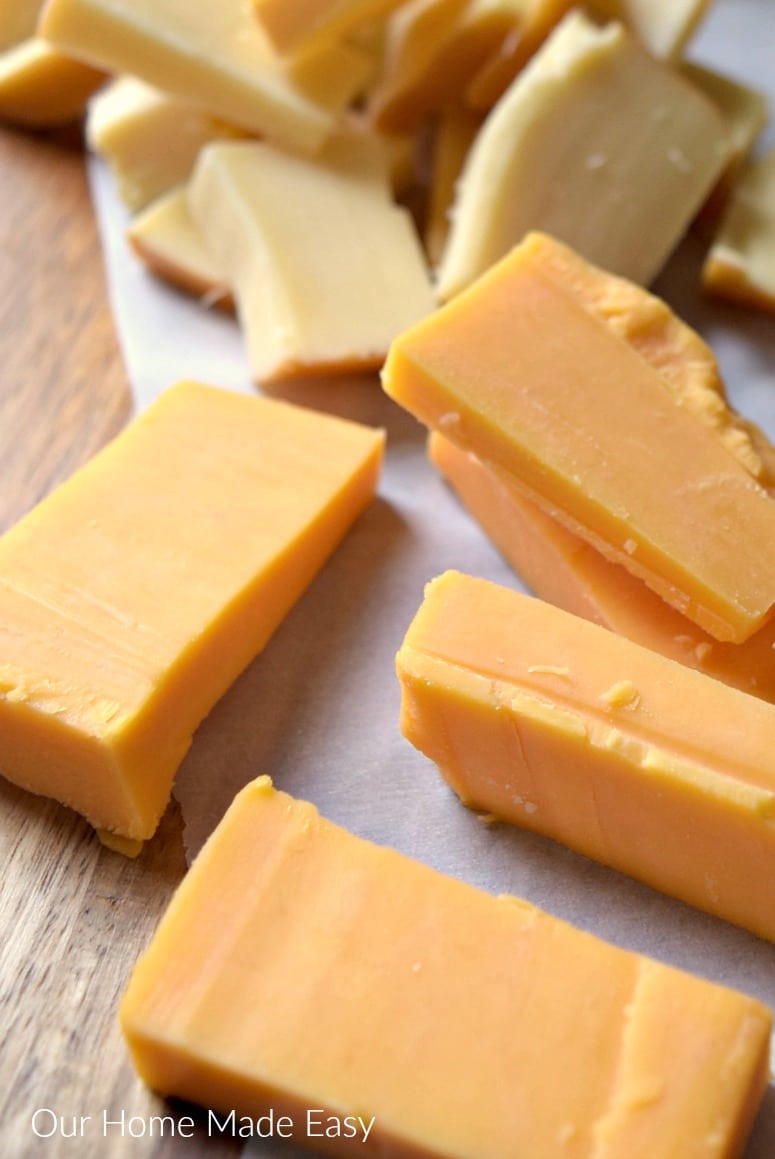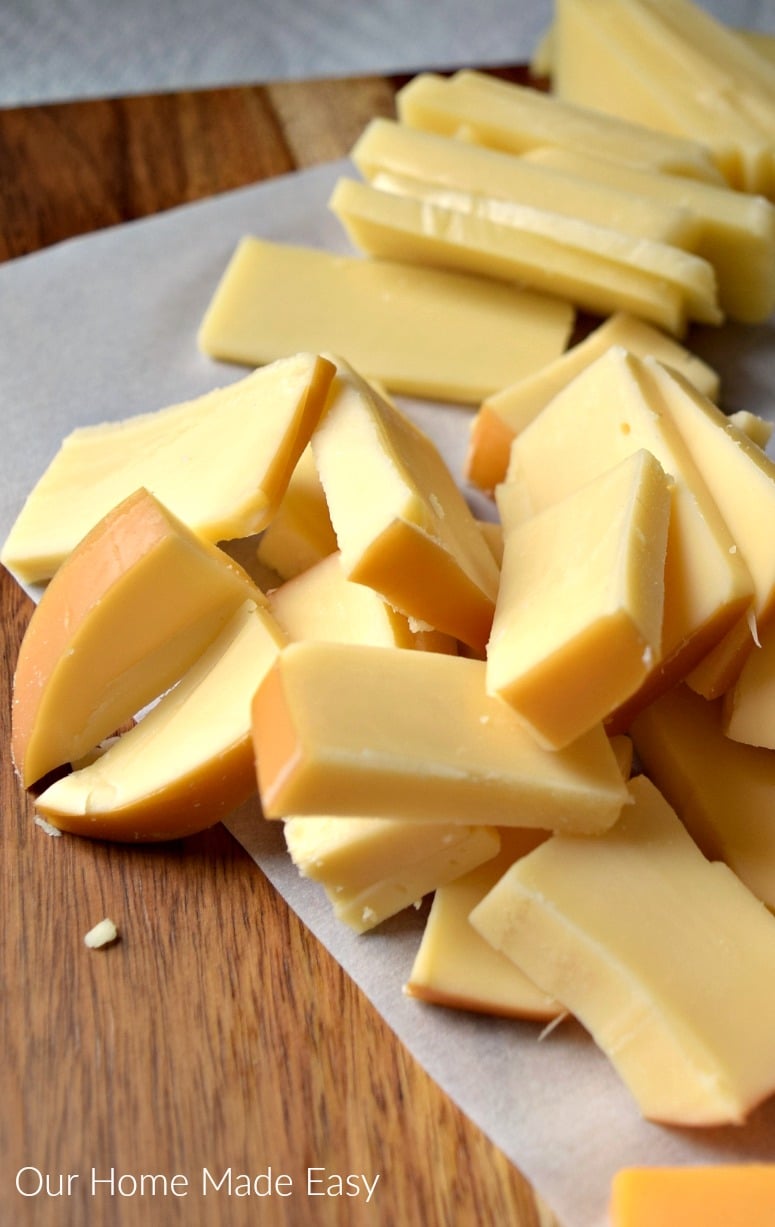 Some may say cheese is the most important part of the tray, but I half-disagree! I think meat, cheese, and crackers are equally important. 🙂 For cheese, you'll read rules of buying certain types. But I'd recommend buying what your family likes. For us, I like to play it safe with 2-3 well loved cheese and add in a new one for tasting. If you have a local grocery store that sells the end of wedges, you can pick up a few fun pieces for cheap. For this charcuterie, I used a partial block of Sharp Cheddar & Swiss (the well loved), added in a softer cheese– smoked Gouda and then used a fun new cheese, a balsamic mix.
The Crackers & Bread
For this tray, you can cut up a baguette or go the easy route– simply use crackers. I used 2 different types of crackers for our tray.
The Charcuterie Sweet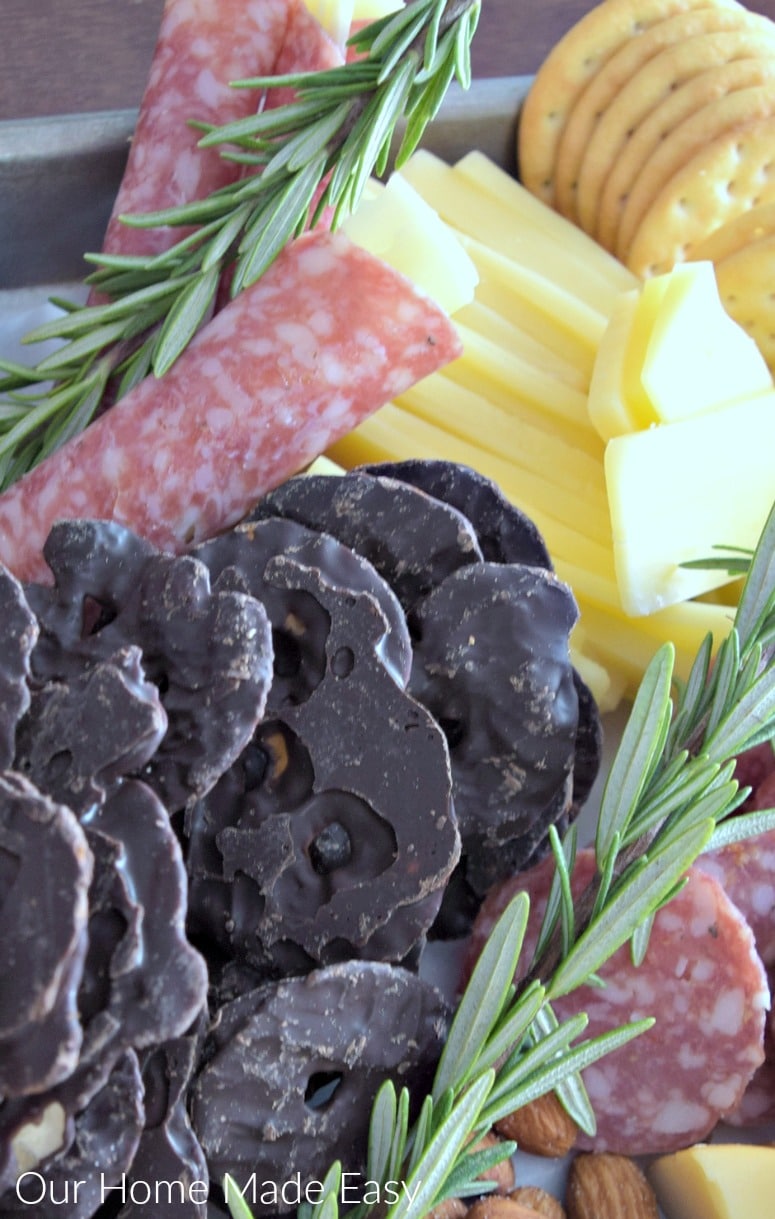 If there is one thing I didn't realize about charcuterie's, it's that they always include a sweet. I found this out at our first winery tour and I've been hooked ever since. You could used a few pieces of chocolate. I used thin chocolate covered pretzels. They held up well in the charcuterie and I love them on their own— so that bag disappeared quickly!
The Charcuterie Fruit
This one could become exotic quickly. To keep it simple, use grapes or strawberries! If you're feeling adventurous, you could choose figs.
An Accent
In 2 tiny bowls, I added in green olives. While I'm not a personal fan of olives, I knew they worked well with the cheese & meat. I simply drained the container and divided the olives into the bowls. I nested the bowls into crannies that looked like they could fit just one more item. 🙂
This is completely optional, but adds that extra special touch and involves almost no additional time! I bought a plastic case of fresh Rosemary at the store. I placed it around the tray and it gave a wonderful aroma, looked fancy, and added a great tasting finish to our tray. Now that you're grocery list is complete, it's time to start building your charcuterie!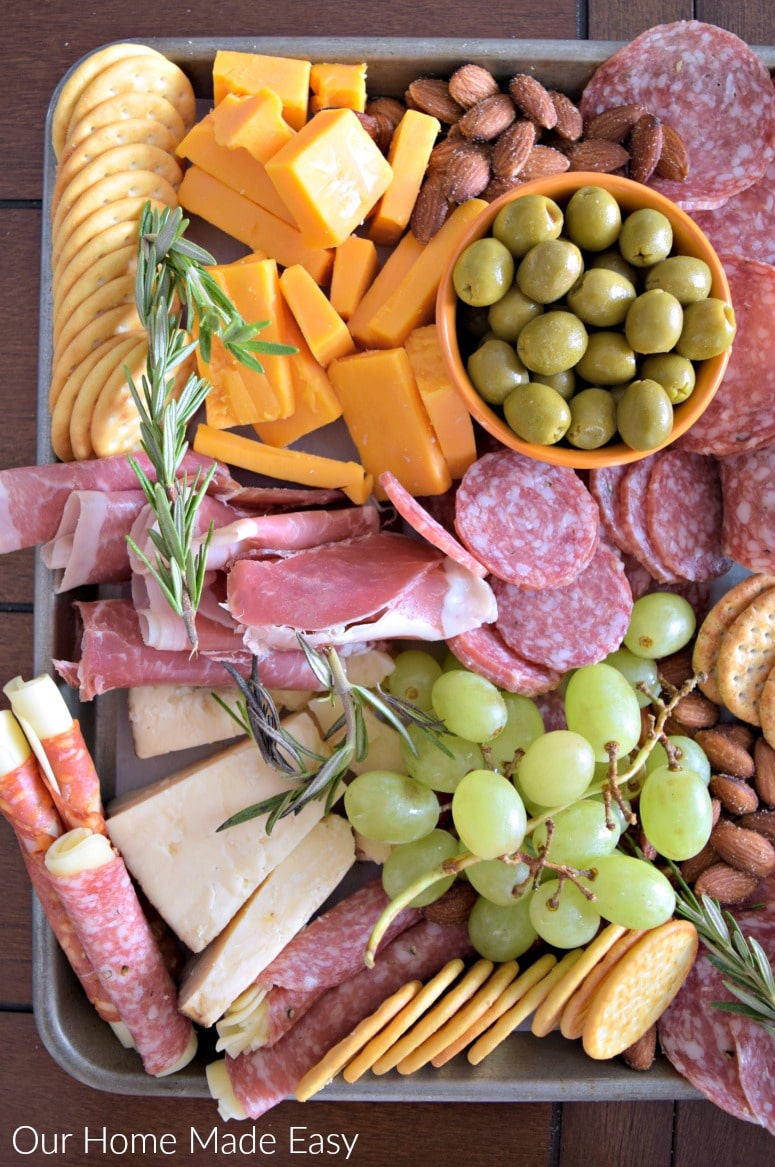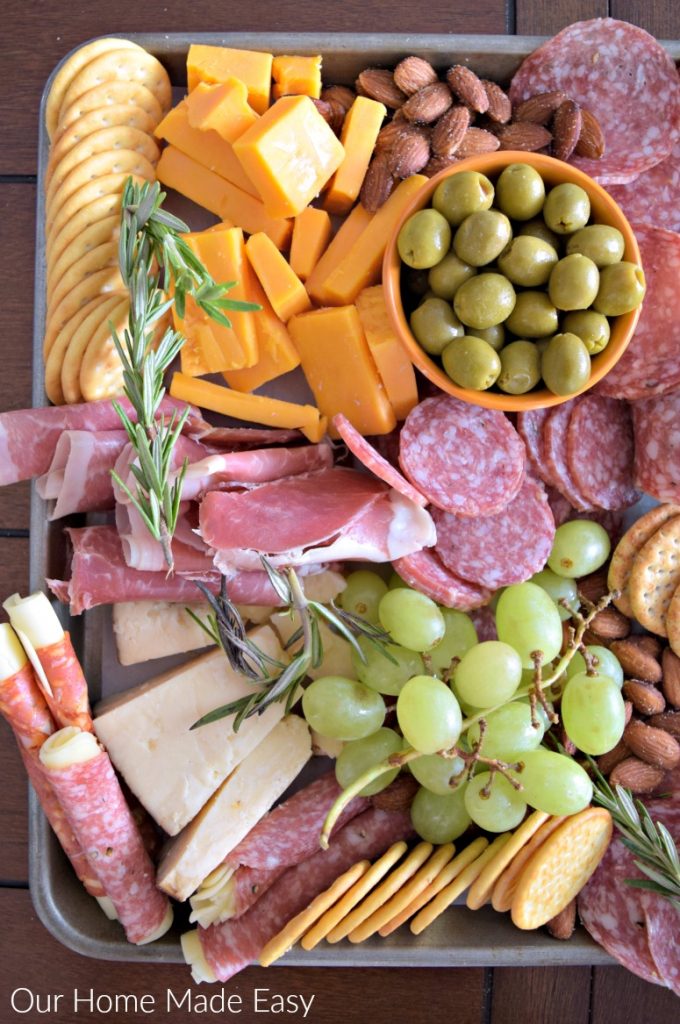 How to Put Together an Easy Charcuterie!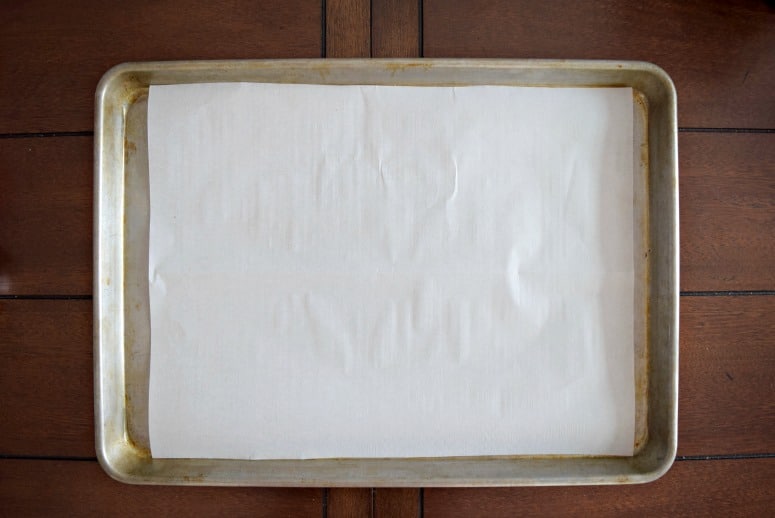 I know that they are supposed to be served on fancy wood platters— but that's not us. In this case, I used a large baking sheet– and it was perfect! I lined the tray with parchment paper and started building. I'll walk you through the steps of creating your own 15 minute charcuterie!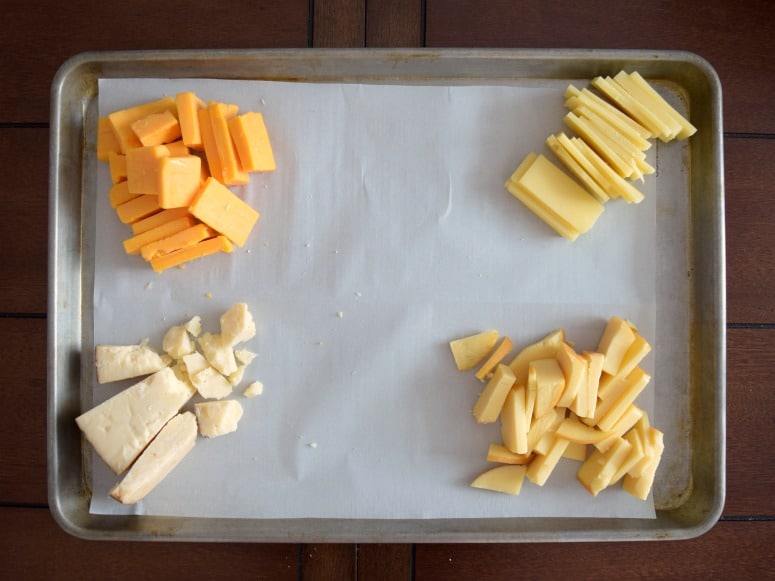 First, place your cheese in tight piles in opposite corners of your tray. They don't need to be perfectly aligned. Give yourself room around the cheese (kinda like little islands).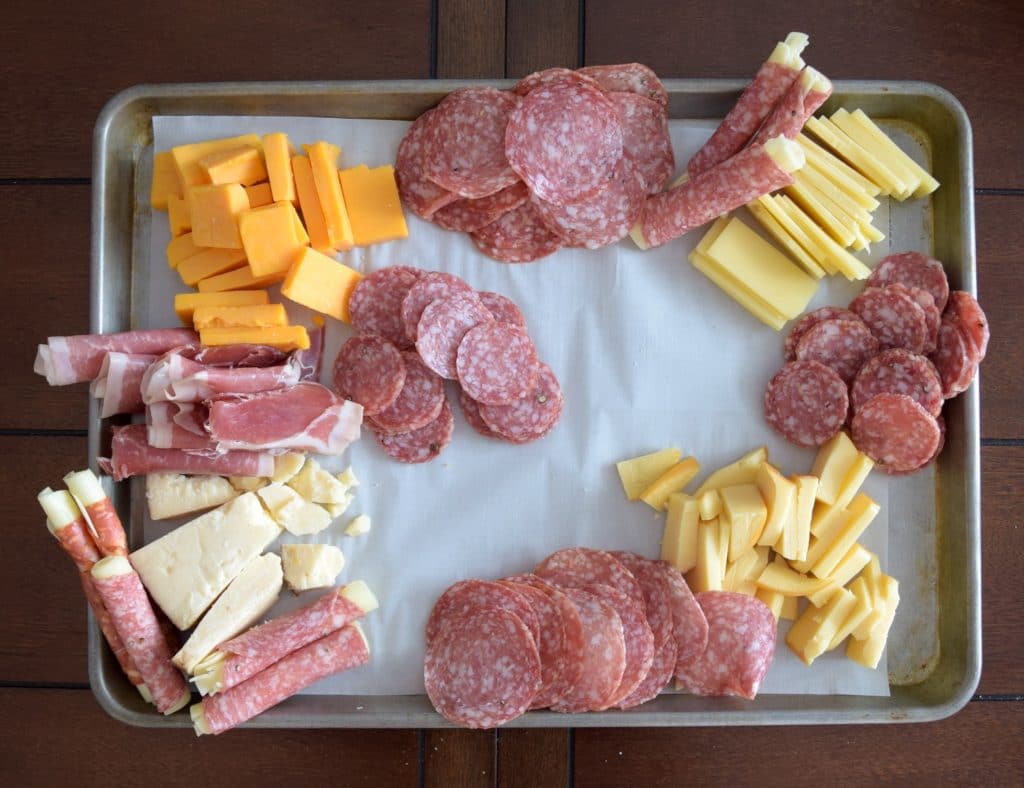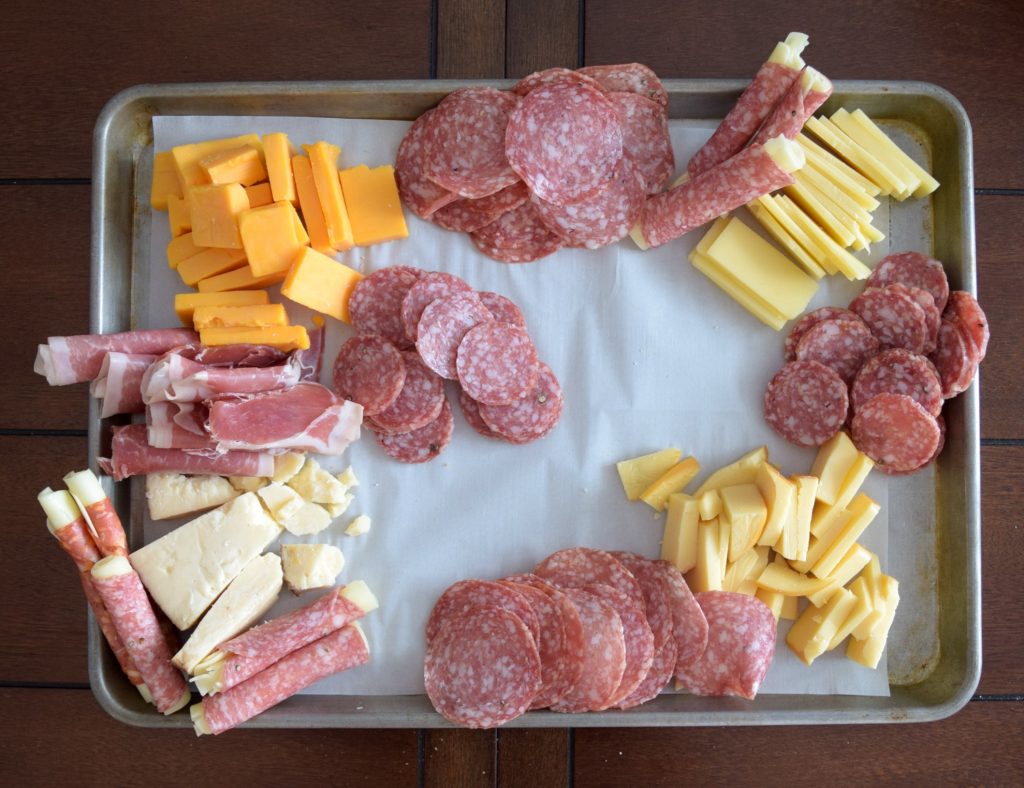 Then, place your meat in the biggest open spaces. To make the Columbus Craft Meats prosciutto look extra special, I simply rolled each slice up and laid next to the cheddar cheese. A Simple trick that will make you look like a rock star entertainer!
To save yourself even more time, pick up the Columbus Craft Meats Italian Dry Salame Paninos. They are already pre-rolled with Monterrey jack cheese!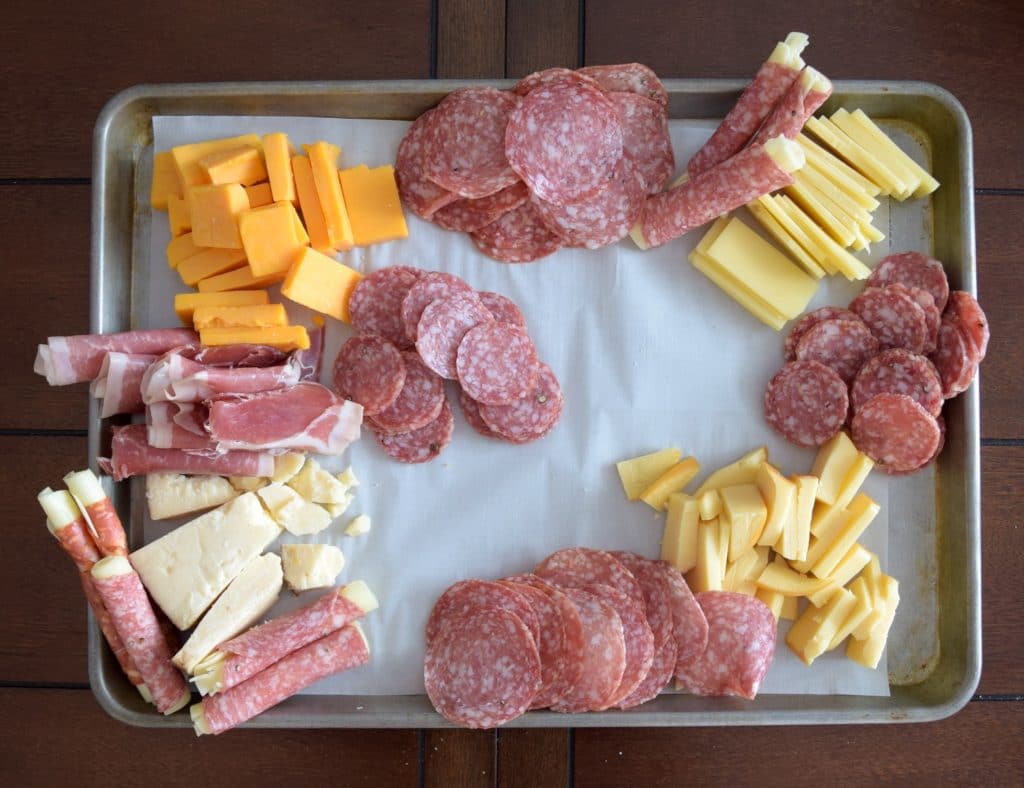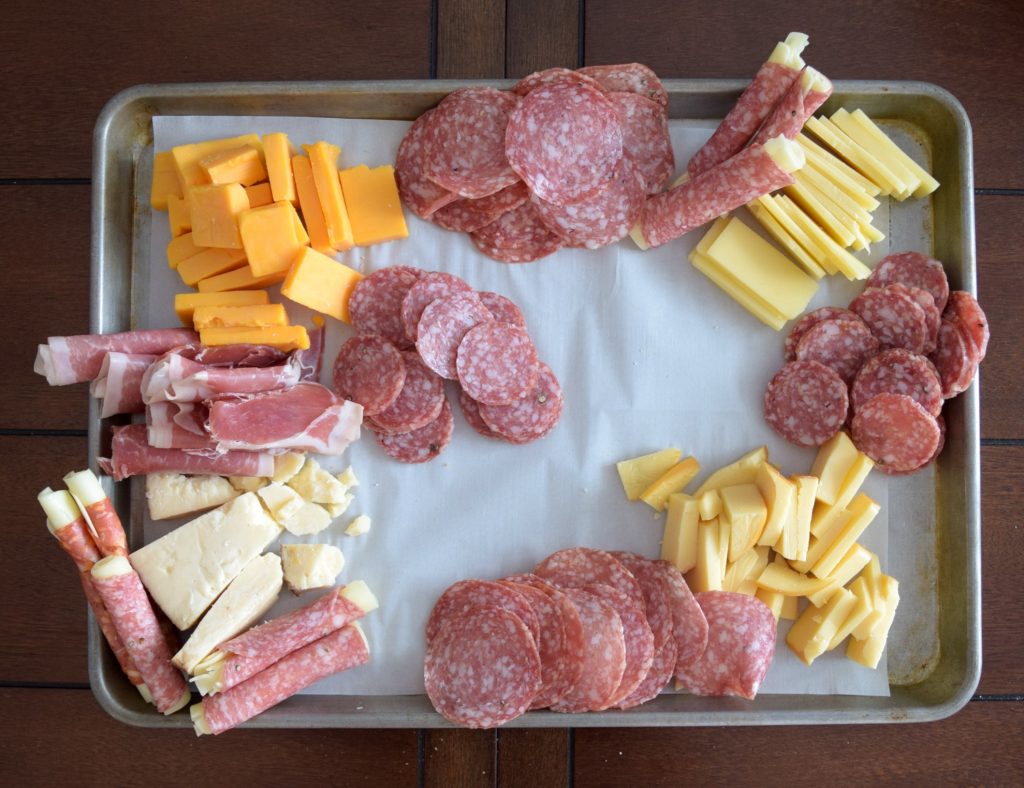 Next you add in your crackers and nuts. Keep everything in little mounds. You're looking for texture rather than perfectly straight lines! 🙂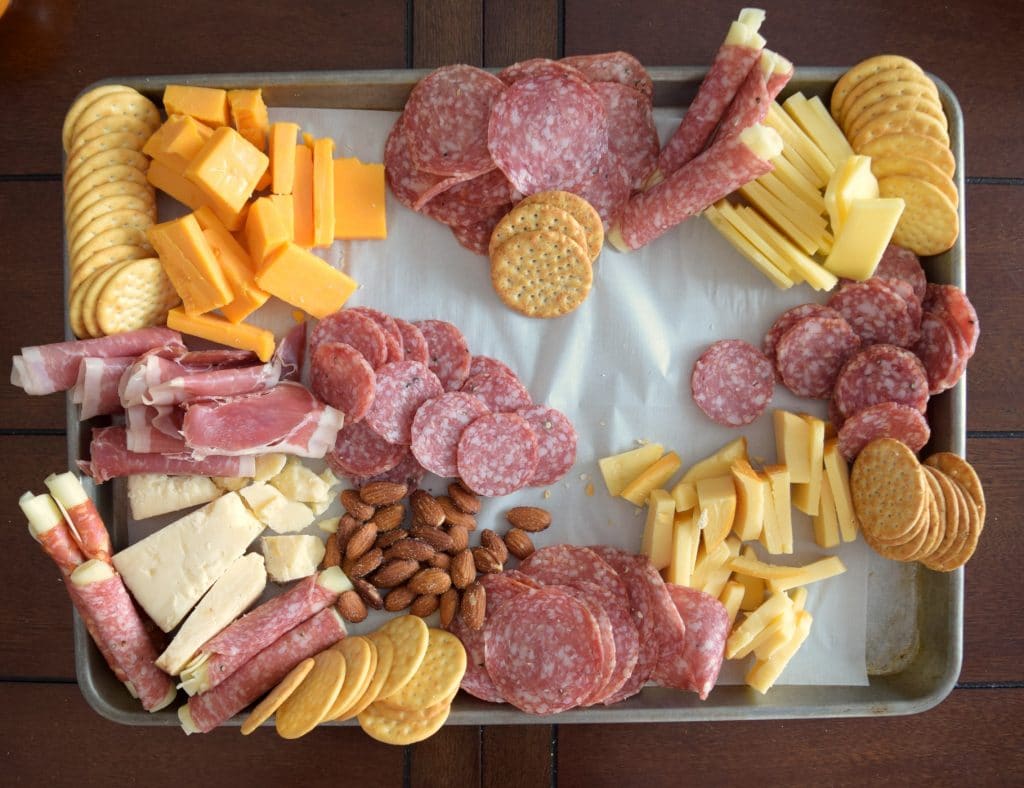 Next, add in your sweet item to an empty space and a little bit of fruit to lay over some cheese and meat. The last part is adding your favorite olives and any herbs you might have!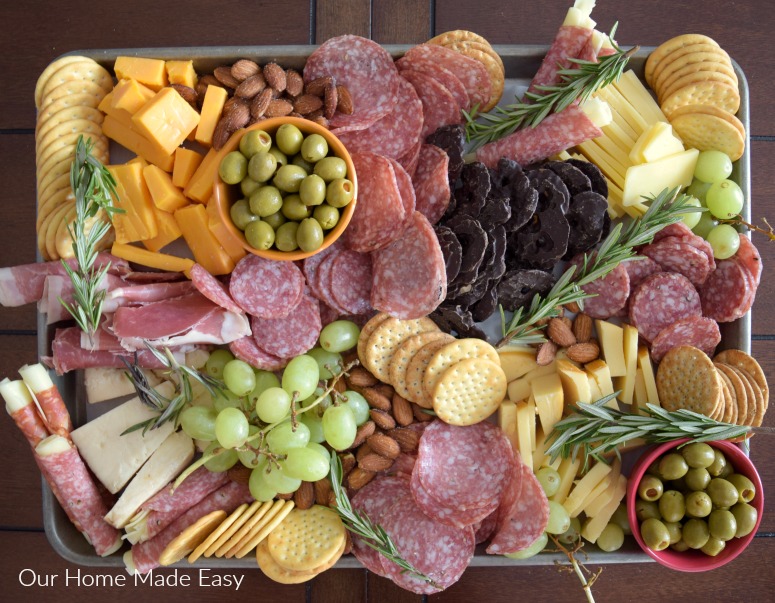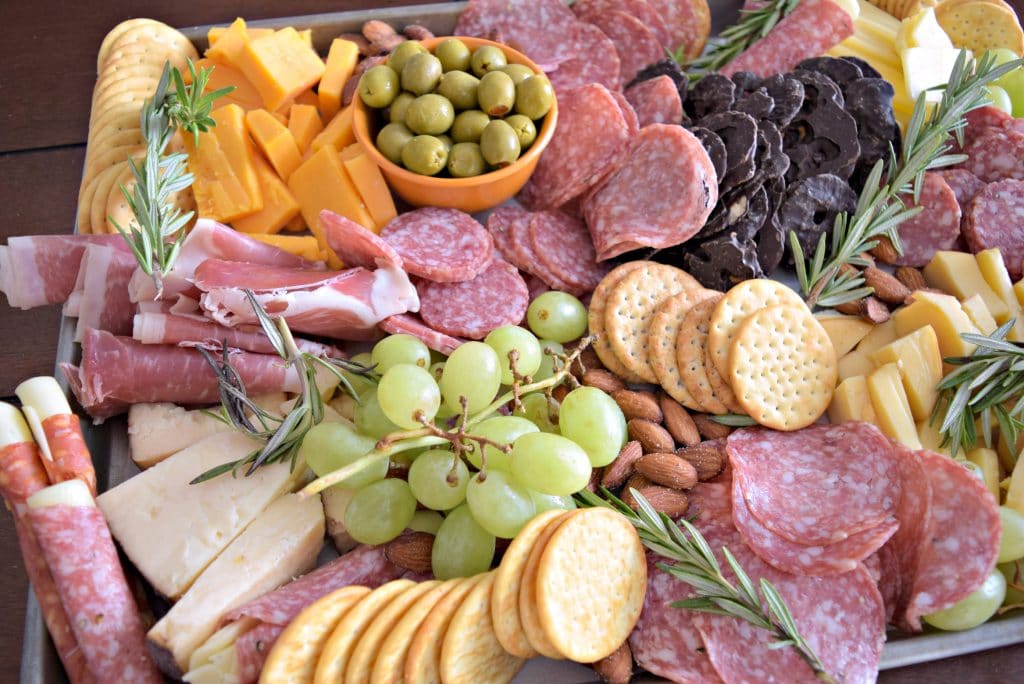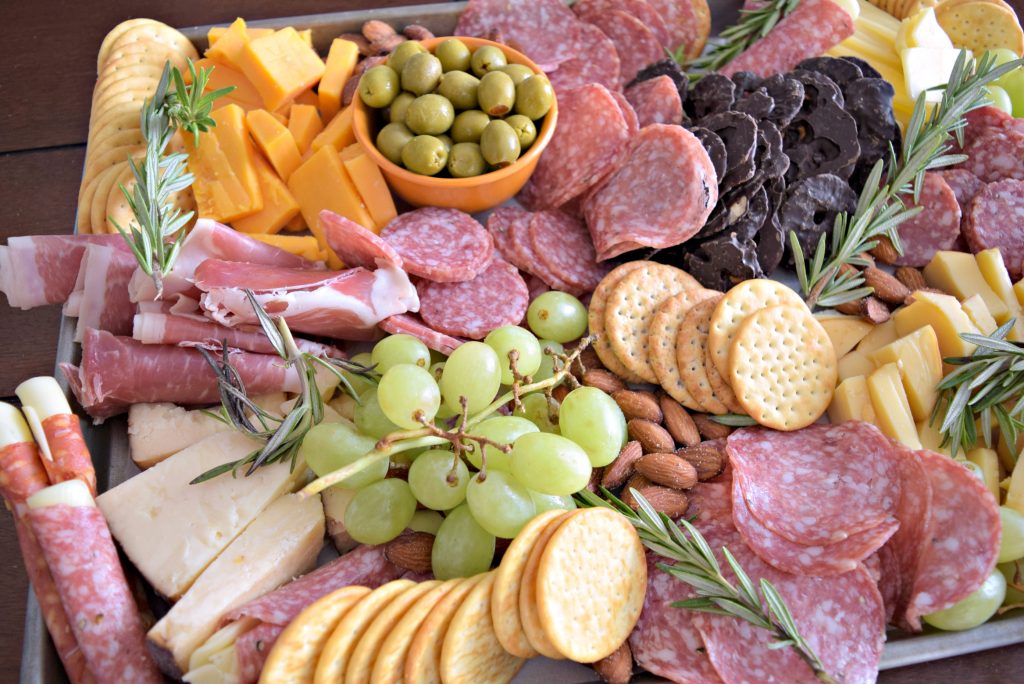 And that is it! An easy charcuterie is your best secret to having guests over without having to bake a thing! Simply pickup some great quality ingredients, a few oldies but goodies, and one or two new items to try out. Have fun assembling it and know that even if you feel like you're "doing it wrong," it will turn out beautifully!
Don't forget to follow Columbus on Facebook!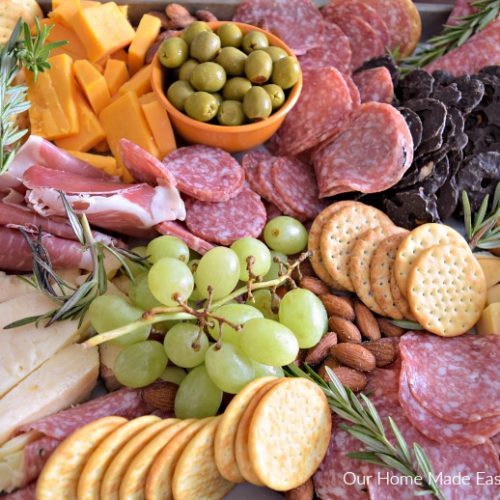 15 Minute Charcuterie
This is the easiest no bake appetizer ever! Simply use high quality ingredients for the best tasting charcuterie.
Ingredients
3-4 Cups Cheese, Various
1-1.5 Pounds Cured Meats, Various
1 Cup Nuts
1 Cup Sweet Item, Fill-In as Necessary
1.5 Cups Fruit
1 Cup Olives, Divided
Sprigs Rosemary
Instructions
Line a Baking Sheet with Parchment Paper
Build a Small Pile of Sliced Cheese
Add Sliced Meat to the Tray; Roll Meat for Extra Variation
Place Crackers or Baguette Around the Meat & Cheese
Add in 2 Small Groups of Nuts
Add Small Bowl of Olives
Fill In Empty Space with Sweet Item & Fruit
Finish with Pre-Washed Herbs
Notes
This recipe is scaleable for the size of crowd you are serving! Add in regular favorites of cheese and a few new ones to try!