A Dreamy French & Industrial Inspired Dining Room
Can we talk about window shopping for just a minute? Some days I feel like I need to wrap my head about where we want to go with our home over the next year. If you recall from my 3 year new home anniversary post, there is still lots to do around here! And today, I want to you to walk with me as I window shop for our french & industrial inspired dining room!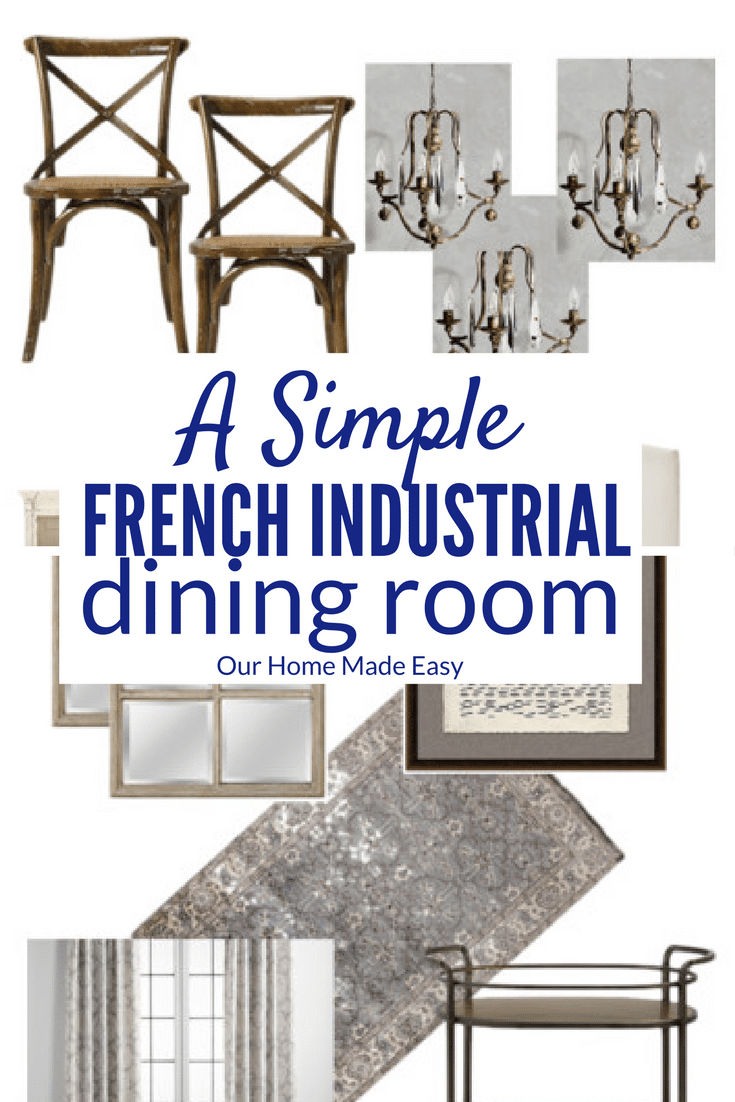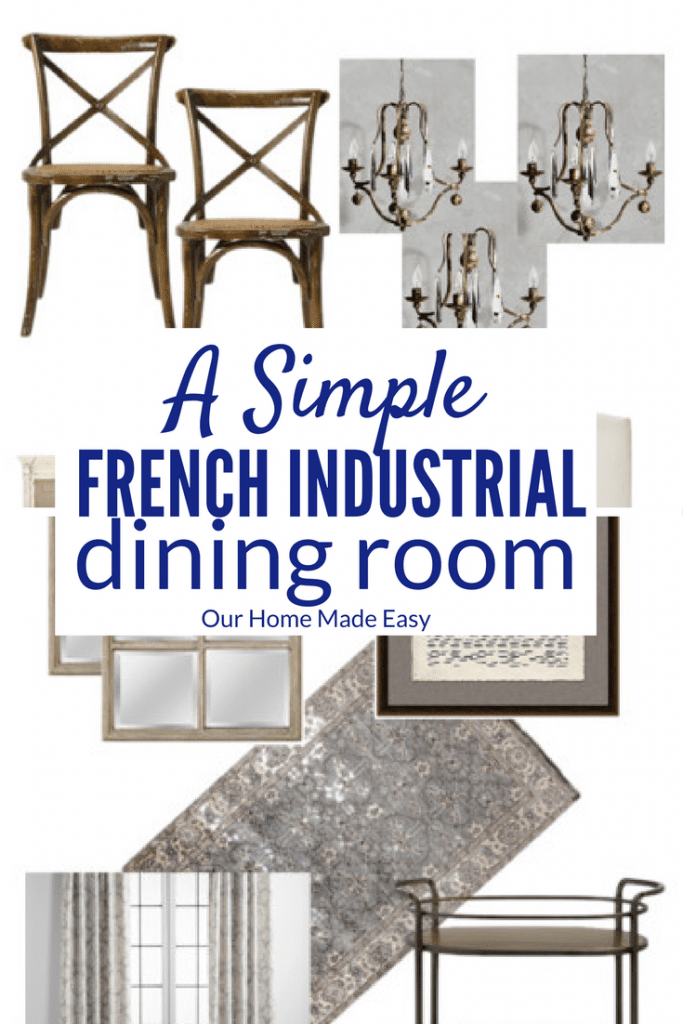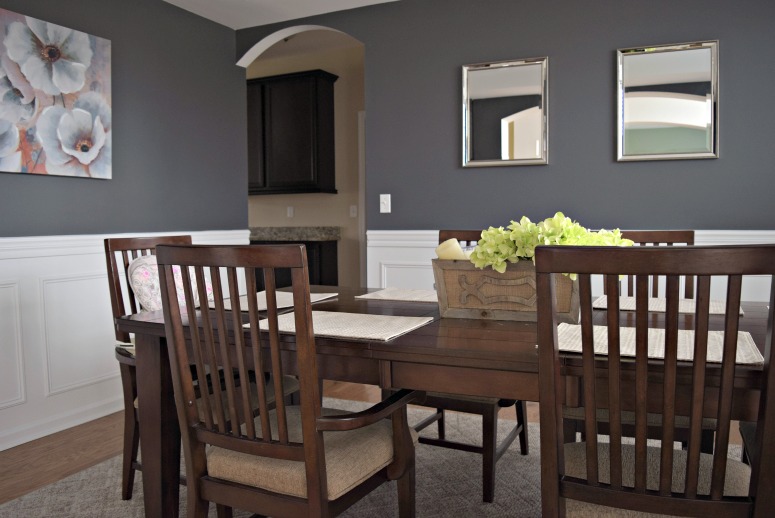 Our Dining Room these days
In January, I talked about how I finally discovered our own unique decorating style when I read Chelsea Coulston's Don't Wait, Decorate eBook. Our style can be pretty much summed up as French inspired with a dash of industrial touches to keep it from being too feminine. It's not farmhouse-esque (love them, but wouldn't always work in this traditional Colonial).
Since I am not an interior decorator, I need inspiration. And that's when I finally stopped by the Arhaus Furniture store here in town to check out their dining room furniture selection. I drive past it everyday to work and thought, why not see what is inside? So with a few extra minutes after work, I walked in and looked to see if anything caught my idea for own home.
Bad idea.
Well— I'm now a professional window shopper of all the things. Opps. I found a spot in our home for most of the store! But it was so helpful to actually look at furniture, rather than thinking in my head "what would look best?"
I wrote down some of my favorite things while perusing the store. Then I came home and created images for what I saw. When it comes to Jordan & I communicating well, we both need to see what each other prefers and to make sure that we are on the same page.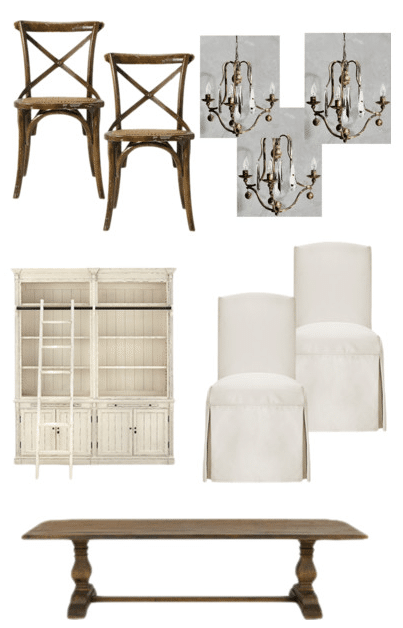 First I picked out a few of my favorite pieces of furniture. I was attracted to strong neutral colored pieces that would work for any season. I've always wanted a big farmhouse table and mismatched chairs! Our room is 16′ long and I thought a large buffet would work well behind the table. While the finish is 'chippy,' the creamy color looked more French with a gray wall color than farmhouse style.
I would place the cream fabric colored chairs at the head of the tables and fill-in the rest with the wooden chairs. Am I crazy with two young toddlers? Probably, but we are window shopping and planning for the perfect dining room, not the most practical (which would be plastic chairs. #reallife).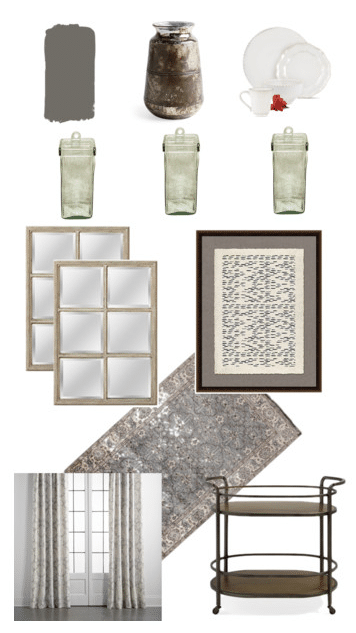 I found these in store, but you should be able to find it all online at Arhaus
Then, I had some fun picking out my dream decor to add to the room. We need curtains and a beautiful rug, right? #amomcandream I really like the shape of the bar cart to fill in one corner. I thought it added a nice masculine touch to the room. The rug is blue toned, but isn't overpowering. I could decorate for any season and not feel like we are looking like a hodge podge of decor.
The glass vases hang on the wall. I thought I could change out the greenery based on the season.
What do you think? Could you enjoy dinner & friends in this french inspired dining room?
And that's my 20 minutes of day dreaming. Thanks for walking through the room with me. 🙂
If you haven't allowed yourself to window shop lately, let your mind wonder. It may give you an idea of what you really want in your home— not what someone else pinned lately. Have fun and don't blame me if you catch the room planning bug! 😉