Learn how to look put together and get dressed faster every single day! Use this formula for never thinking about what you should wear again. Not only can you get out the door faster in the morning, but you'll look forward to mornings again!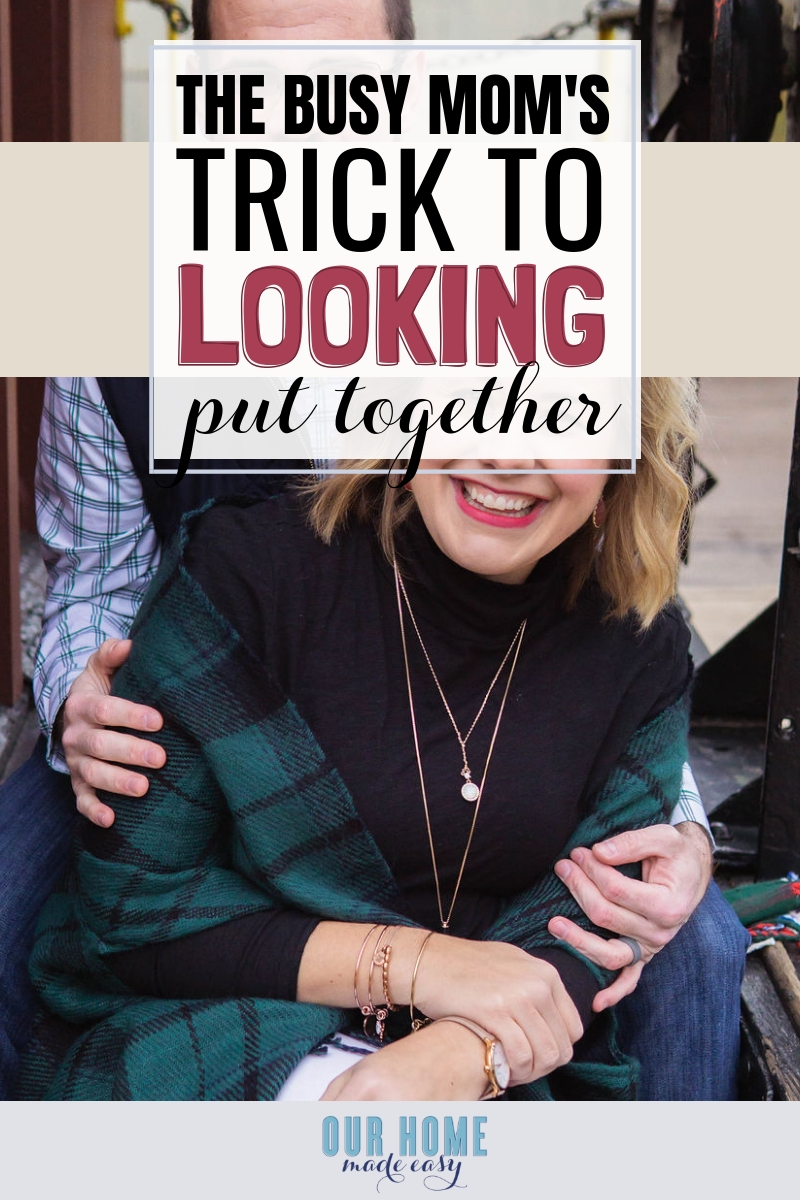 (This post contains affiliate links. Please see my Disclaimer for more information)
Let's be very clear, I am not a fashionista. I can't keep up with my favorite TV shows, let alone what's in style for clothing. It's something that I've been really bad about for the past several years.
I used to buy clothes because they were on sale and the rack said they were in-season, but I never knew how I could actually wear them. So they stayed in my closet, never worn.
Or there were numerous times where I didn't I love my post-baby (I mean, he's almost 4 years old!) body enough to make the effort.
Anyone else feeling in a mom rut?
---
Looking for the fastest ways to get out the door on time in the mornings? Please download your own "7 Ways to Get Out the Door Quicker in the Morning" cheat sheet by entering your email below!
---
Please ignore my poor selfie skills, but you know I wanted to share exactly how I look put together every day and how I get dressed faster in the mornings!
The Only Way You Need To Look Put Together & Get Dressed Faster
If you've been reading Our Home Made Easy for a while, you know that we are more than just the stuff in your home. We are about making your life easier to manage. We are here to serve you creating your own extraordinary home.
And that includes you, too.
Do you get frustrated standing in front of your closet every day?
The Frustration With Creating Outfits
Over a year ago, I was feeling a little hopeless about clothes, and why it should even matter anymore. I was 32, a mom of 2, working my behind off at work. It didn't matter.
But it really did matter to my well-being, I just didn't realize it.
After mom-ing it up for so many years, caught in the busy-ness of everyday life, I lost the joy in choosing an outfit for the day. I wasn't feeling confident about how I presented myself. And I needed some help re-capturing that joy.
So I did something completely un-Brittany like.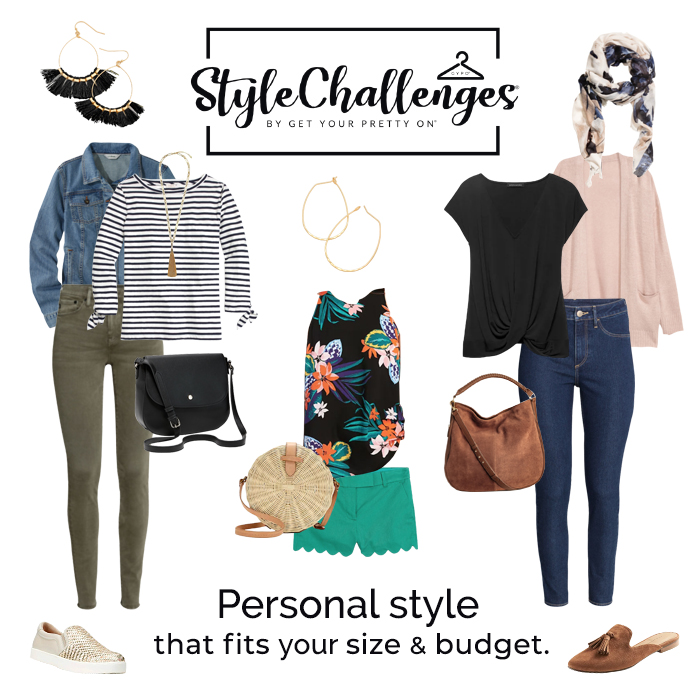 Style Challenges
I went and found some help to pull myself back up! I joined my first ever Style Challenge in the Spring of 2018. It's hosted by Alison Lumbatis from Get Your Pretty On. [aka…GYPO]
Since then, I have access to multiple Style Challenges and Alison's Big Book of Outfit Formulas (keep reading below)…
When I signed up for my Style Challenge, I got the following tools to help me on my style journey:
A capsule wardrobe shopping list of on trend items and classics basics (you're free to shop where you want and spend as much or as little as you want!)
Links to shop for recommended items online or in store (we've done the work for you by choosing items to suit every budget and body type!)
A daily outfit idea created from pieces on the shopping list sent to your inbox so you know exactly what to wear every day (this makes getting dressed the easiest thing you'll do all day!)
A beautifully designed printable outfit guide so you can hang it in your closet when you need inspiration
Style Challenges by GYPO can help anyone stuck in a style rut or in need of a style update. Members include women of every age and stage of life:
BUSY WORKING MOMS: who don't have time for a fight with their closet each morning
WOMEN WHO WORK FROM HOME: where it's easy to get caught up in work and let style fall by the wayside
STAY-AT-HOME MOMS: who often dress more for utility than style because they have to
MID-LIFERS: who aren't sure what's in but want to look stylish and age-appropriate
EMPTY NESTERS: who finally have time again to focus on themselves and want a fresh look
WATCH THIS VIDEO TO LEARN MORE ABOUT HOW STYLE CHALLENGES WILL HELP YOU LOOK PUT TOGETHER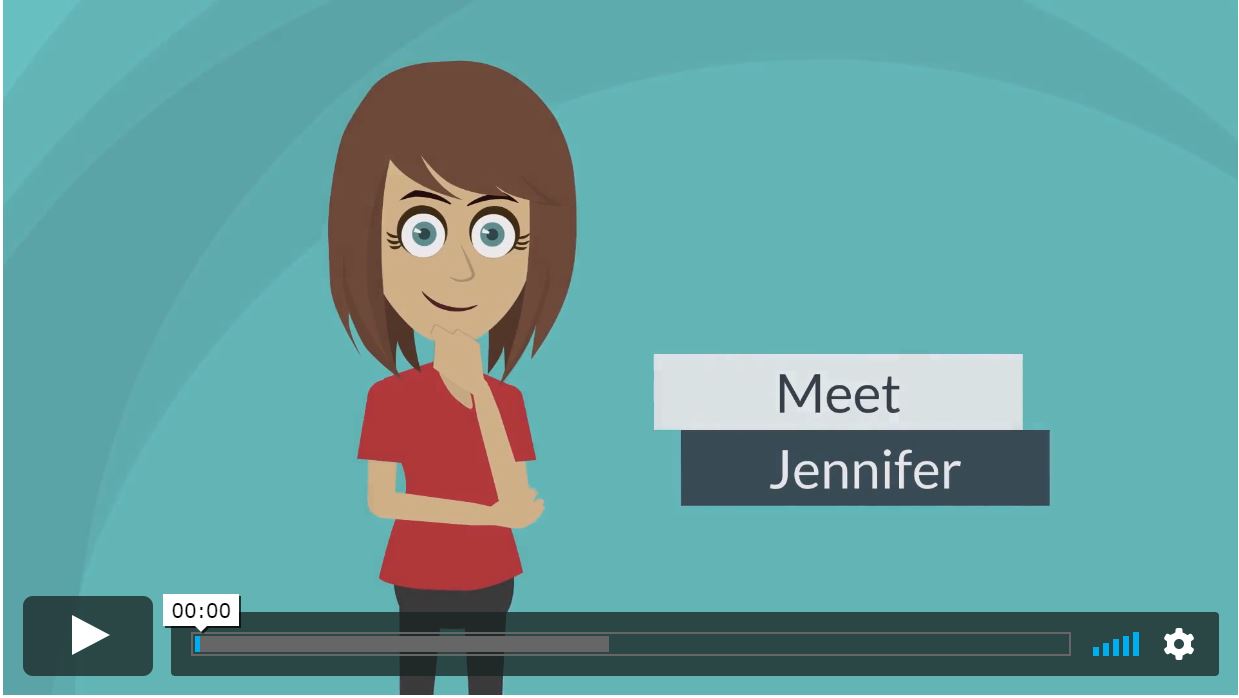 It's the easiest way to rebuild your wardrobe and always be on top of seasonal trends. It's called a 'challenge' because you're challenged to get out of your comfort zone and try new styles. Members include women of every age and stage of life. Most of the women are between the ages of 35-65 in all beautiful sizes from petite 0 to plus.
You don't have to be wealthy to have your own personal stylist, the Style Challenge is at a price point that anyone can afford. Whether you've forgotten what pretty feels like, are ready to rediscover your style or just want looking put together to be a little easier, you're at the right place!
You can register for the latest Style Challenges for just $39 here.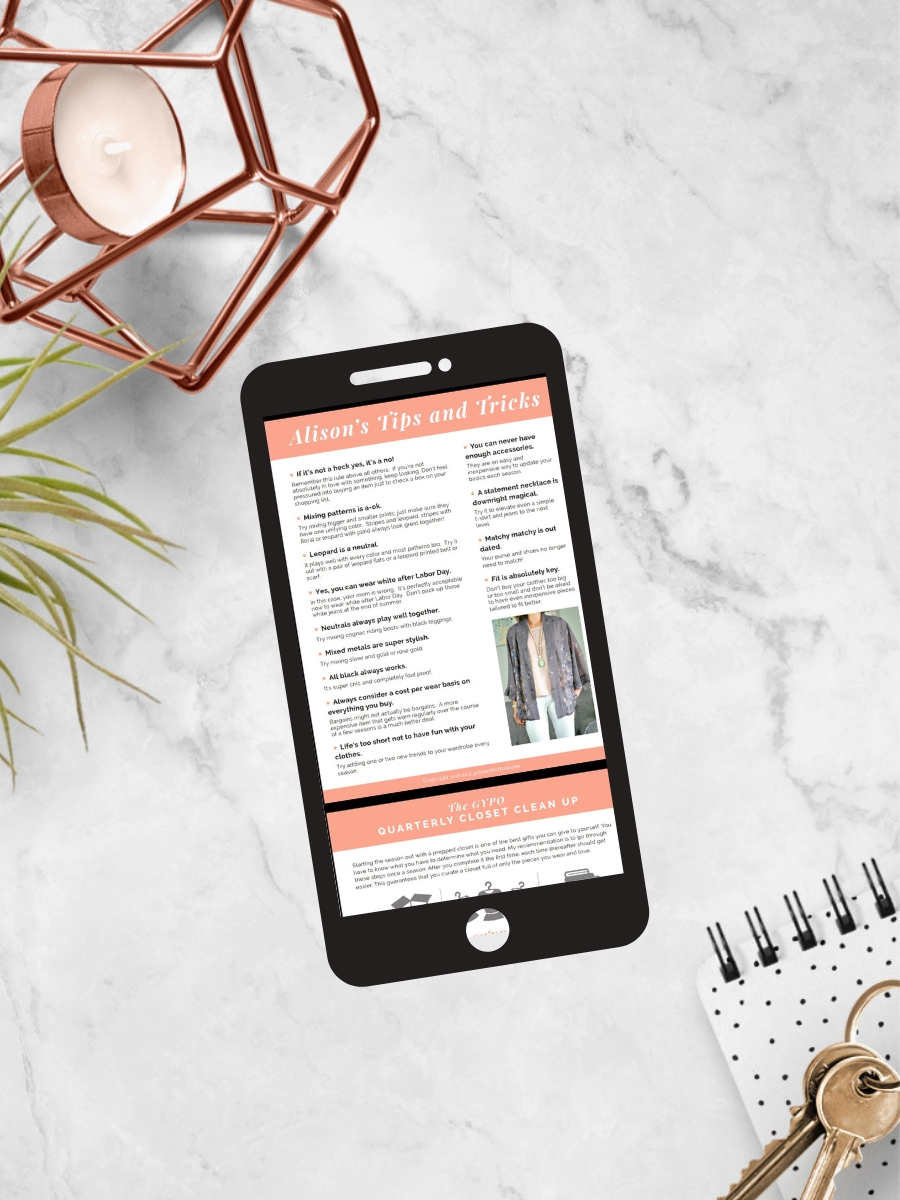 The Big Book of Outfit Formulas
In addition to hosting Style Challenges, I downloaded a copy of Alison's Big Book of Outfit Formulas. Inside the book, she has more than 300 outfit combinations for any woman.
You simply follow a formula each day to build your outfit. And it's been so inspiring!
The Big Book has more than 2 year's worth of Style Challenges for you to use for outfit direction. Inside each day, Alison offers advice on how to dress up an outfit for work or dress down an outfit for the weekend. It's easy-peasy.
A+B+C= An well put together look.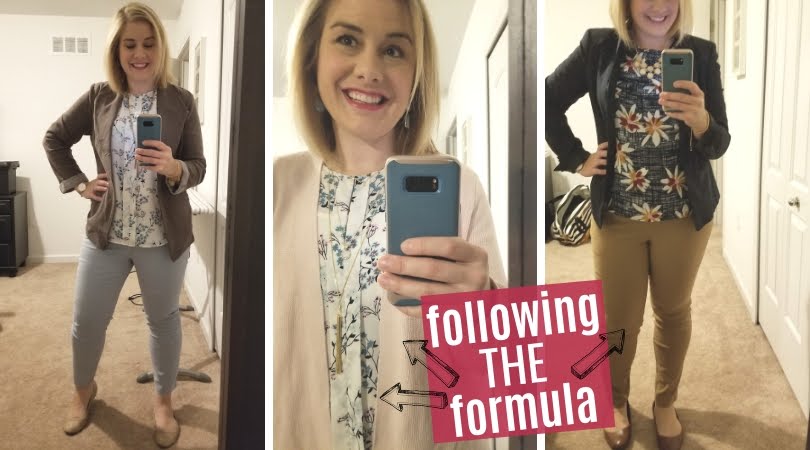 These days I am receiving compliments on how put together I always look. One nurse told me last week that she liked finding me every day to see what kind of outfit I was wearing.
It's been life-changing.
Dramatic, I know, but really, when you enjoy something at 6 am in the morning, it makes you feel confident all day long.
12 months later, I am still referring to the Big Book on my phone at least 3 times a week! The other days– it's second nature. But sometimes I want to try something new.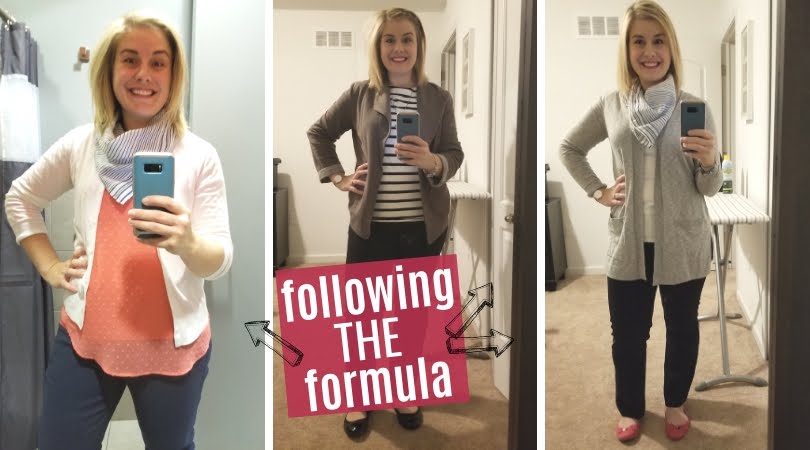 Why This isn't Stitch Fix
So let's talk about Stitch Fix. Style Challenges are not fixes. Stitch Fix sends you a selection of items. Style Challenges gives you an outfit for each day. It's up to you to gather the clothes ahead of time.
And yes you can love both!
But you may not necessarily need your fixes in the challenge!
For the Style Challenges, you'll receive a "recipe card" of clothes 2-3 weeks before the challenge starts. Alison encourages you to shop your closet first. Then she encourages you to check out local thrift shops, Target, Old Navy, or Nordstrom Rack.
And each style challenge has basic pieces that overlap each season.
Alison encourages us to buy higher quality closet staples that will last more than a year, but your budget is in your control. And that's what I really liked about my first challenge!
It was like a fun scavenger hunt to find everything ahead of time and do it as inexpensively as possible!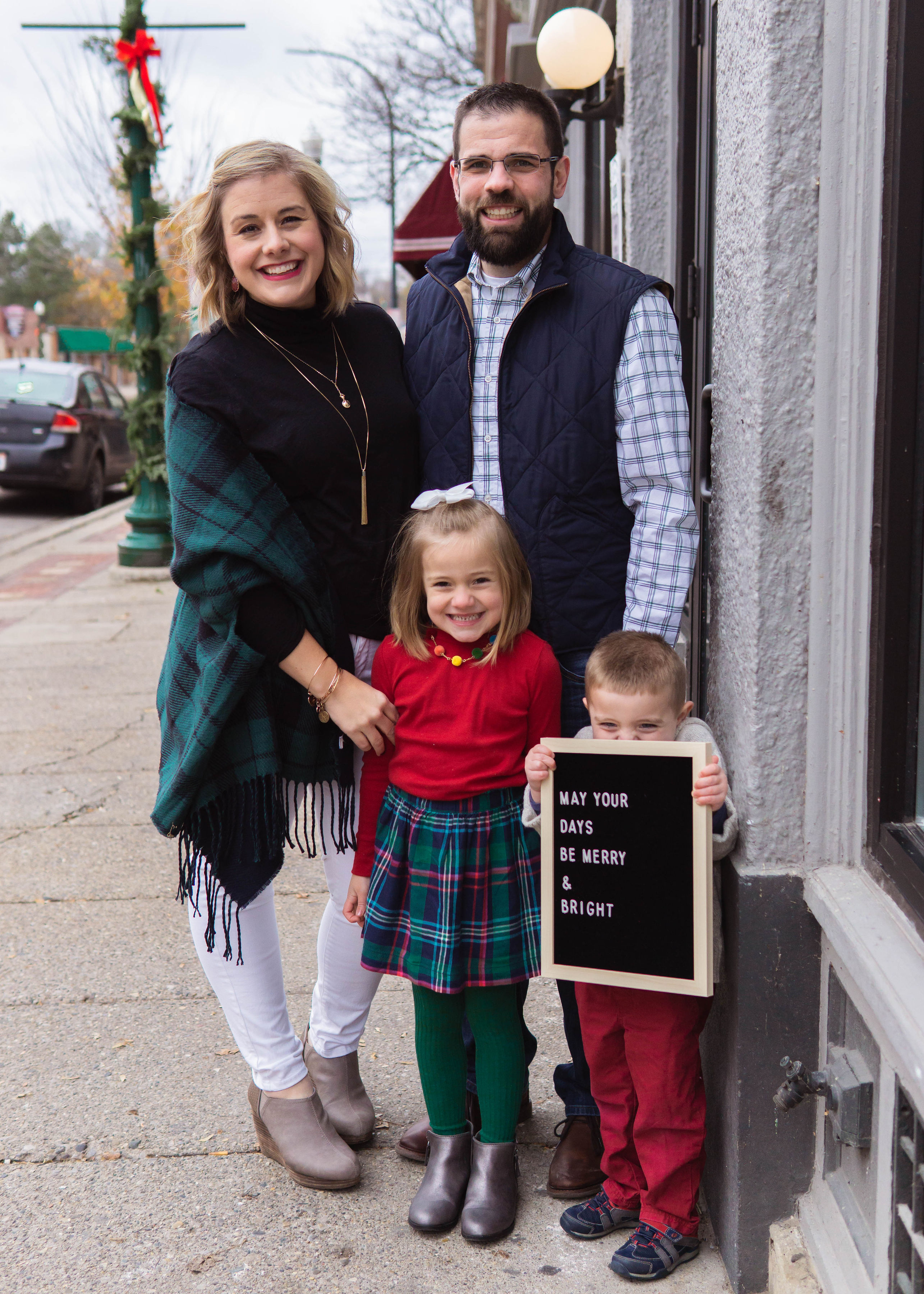 Using Alison's formula, I threw together everyone's outfits in about 35 minutes at the mall the afternoon before this photo was taken. It was zero stress– big hint::: I started with me, then Aubrey… and then those cute guys!
Why this Works
Because it gives you an instant direction.
I don't know about you, but the mornings are already full of me telling little people what to do and what not to do. The last thing I care to do is stare at my closet for several minutes.
Now, I can take my Style Challenge for the day and make the outfit! (You can do this on your phone OR printing off the challenge days and tape them to your wall.) <<< that might've happened 🙂
I'm not wasting time wondering through my clothes in the mornings.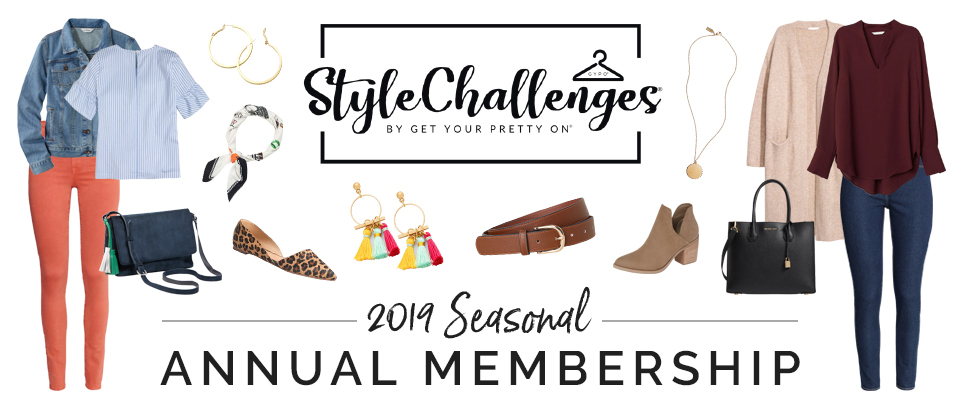 Find Your Tribe
The GYPO community for the style challenges was something I wasn't expecting! When you join each Style Challenge, you'll join that challenge's pop-up Facebook group.
Inside the group, you can share deals & steals for items in the challenge. You can ask questions about which of your finds looks better. What's better than getting nice suggestions on what would look best on you?
If I relied on Jordan's feedback, you can be assured that most of my outfits WOULD NOT be work appropriate and look better in a club. #NoThanks
Each day of the challenge you're encouraged to post your outfit inspiration. While you certainly don't have to, you'll find that so many women of different walks of life, say "Heck yea, look at me & my smile!"
It's encouraging. And some days are plain hard. You deserve a smile every day.
Imagine having something to look forward to doing at the start of your day, every day!
What Would it mean to you to look put together?
You could have this whole community of fellow busy women encouraging your new outfits! Not only will you feel great, but you have a little extra bounce in your step when you're getting dressed.
I still can't believe that I posed in front of a mirror and took selfies over the course of a year, but I really wanted to show you how awesome Style Challenges are! I promise it's a really fun experience to do.
Whether you are running out the door to drop-offs or work, you can still look put together without much effort! Start today by signing up for your first Style Challenge. You'll thank yourself tomorrow! Getting dressed faster has never been easier using the GYPO formula!
PIN FOR LATER!