Decorating your home doesn't need to always include DIY projects. Did you know you can easily refresh your home for less than $10? Check out these easy ways to decorate your home! Makeover your home right now with these tips & tricks!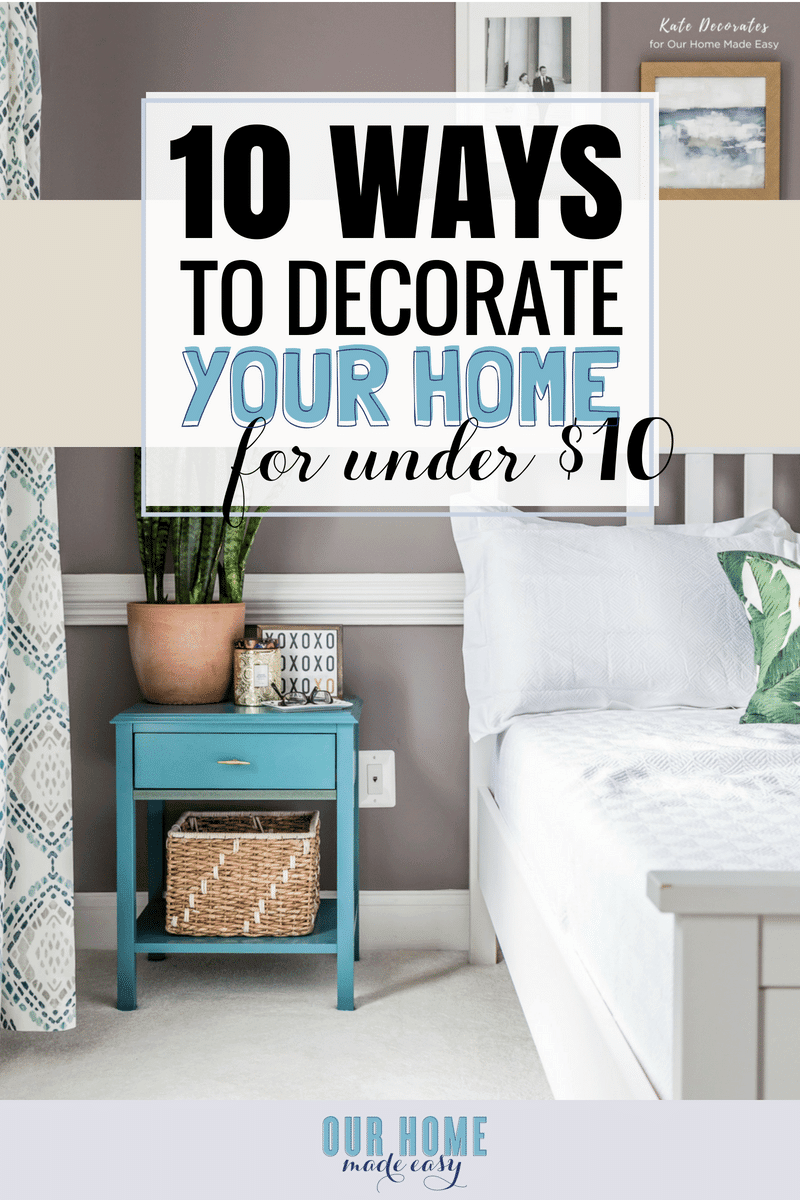 (This post contains affiliate links. Please see my Disclaimer for more information)
Hi everyone! I am super excited to have another great blogger on Our Home Made Easy today. While I love a great DIY project, sometimes the easiest projects require zero power tools! My friend Kate is going to show you today how you can makeover your home with less than $10!
Let's welcome Kate!
Hey there! I'm Kate, and I am thrilled to be here on Our Home Made Easy today. Just like you, I'm a busy mom juggling soccer practices, conference calls, meal planning, laundry, and so much more. When you lead a busy life, I know that sometimes it feels tough – if not totally impossible – to create a home that's real yet beautiful, and do so on a realistic budget. But I'm a firm believer that creating a stylish, comfortable home for your family is much easier than you think, and that's exactly why I share practical decorating ideas over at Kate Decorates.
There are plenty of benefits to practical decorating, but one of the things I love most is that seemingly simple changes have the ability to make a huge impact on your home and the way you feel about your space. And the best part is that they don't require a ton of your time or hard-earned money.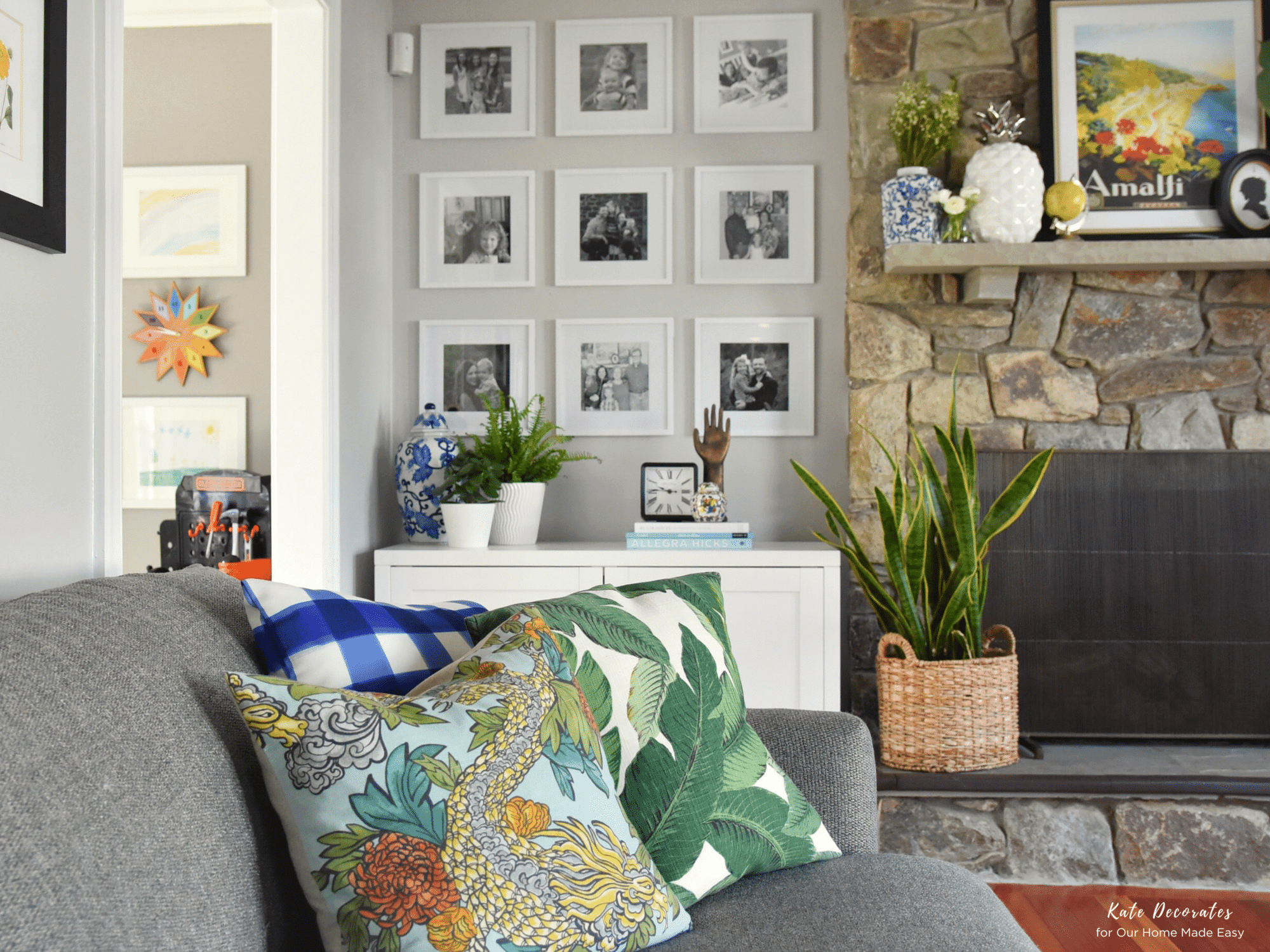 This rings true when it comes to seasonal decorating, too.
But before I share with you some of my favorite, super easy seasonal decorating ideas, I have a confession to make: For years I avoided most seasonal decorating like the plague. I convinced myself that seasonal decorating was time-consuming and expensive, and rolled my eyes at most of the DIY spring wreath tutorials I found on Pinterest. Who's got time for that?! I thought to myself.
However, over the years I've discovered that seasonal decorating doesn't mean there's a mandated DIY project involved. There isn't some required a trip to HomeGoods to buy up every last pineapple-printed melamine tray and brightly colored throw pillow. (Although let's be real, I don't think I have EVER needed convincing to hit up my neighborhood HomeGoods….)
For busy moms like you and me, here's the best news ever: Seasonal decorating can be so simple, and you probably already have access to (almost) everything you need to refresh your home.
10 Easy Ways to Decorate Your Home for Under $10
These 10 seasonal decorating ideas are quick, easy, can translate to any season, and won't cost you more than $10. (Some are even free!) You're just a few minutes away from giving your home a renewed fresh and happy vibe.
Bring the outdoors in.
If you have a yard with trees or flowers of any kind, you've already got a lovely and free seasonal bouquet waiting for you! In the summertime, I love clipping our hydrangeas and popping them in a vase, or even grabbing several branches of one of the lush green trees in our backyard. (Yes, even a handful of plain ol' tree branches can make a gorgeous statement in your favorite vase.) As the months get cooler, evergreens are where it's at — I clip a few pieces of our pine trees and add them to several small vases around my home.
Treat yourself to a pretty bouquet.
If you don't have a yard, or you want florals with a sunny splash of color, pick up a pretty bouquet of flowers the next time you go grocery shopping. Pro tip: When displayed in large quantities, florals that are typically billed as "vase fillers" can be just as gorgeous as traditional bouquets made of a variety of flowers, and are often less expensive. Score!
Print new family photos for your existing frames.
There's no better time like the start of a new season to refresh the photos you already have in your home! Go print a recent photo of your children, or grab a couple of your favorite snapshots from a recent family event or vacation to display as part of your gallery wall. With a high-quality printer at home, you can print your pictures until your heart's content. Or if you're like me, you'll get to know the cashier at your local CVS Photo by name. (One-hour photo services for the win, guys!)
Pop a new printable into a wall frame.
Pinterest and Etsy make it easier than ever to score beautiful wall art at a super affordable price point. I recently shared a few of my favorite shops for downloadable and affordable wall art, and have an entire Pinterest board dedicated to free printables. I also recently created a trio of large-scale vintage-style botanical wall art prints that you can download for free right here.
Get creative and make your own wall art.
If you've been following Brittany and Our Home Made Easy for a while, you may have seen her brilliant post about creating a kids' birthday poster using Canva. Guess what? You can also use Canva for creating your own wall art — no artistic talent required. Simply open a new file, choose your dimensions, and use the search feature to browse for different imagery (this is not 80s clip art, people….it's a million times better). Add a watercolor-esque pumpkin to your blank canvas, or a palm tree, and then download and print. Easy peasy.
Switch up your centerpiece with a quick supermarket trip.
This tip might be my favorite! If you have a beautiful bowl that you love, fill it with seasonal items to create a quick centerpiece. I have a Crate & Barrel bowl with a ruffled edge (I'm obsessed!) that I received as a wedding gift years ago, and it still has a prominent place in the middle of our dining table. In the summertime, I fill it with crisp green apples or vibrant lemons, and in the fall and winter months, I go for red apples, miniature gourds, and even those fabulous-smelling cinnamon pine cones. The best part? You can pick up the "ingredients" for your new centerpiece during one of your regularly scheduled errands: grocery shopping.
Test drive decorative accents in a new room of your home.
Sometimes simply moving decor into a different room of your house makes a world of a difference. Try using your living room throw pillows in your bedroom, or taking decorative objects from your mantel and moving them to your built-in shelving or a console table. The best part is that shopping your own costs nothing, and can give your place a refreshed look.
Go green by adding houseplants.
In my opinion, there's nothing that makes your home feel fresher than the addition of a new houseplant. My favorite hard-to-kill plants are the snake plant (the official name is "Sansevieria") and the Chinese evergreen, both of which can usually be found at your local supermarket or big box home improvement store. Aside from looking great, many houseplants like the I mentioned are excellent air cleaners — bonus!
Add a single, seasonal throw pillow to your sofa.
I don't go overboard with seasonal throw pillows, but I absolutely appreciate a single, pretty nod to the season. I've found many a seasonal throw pillow at HomeGoods and TJ Maxx for a total steal. One is all you need to bring some fresh vibes into your home.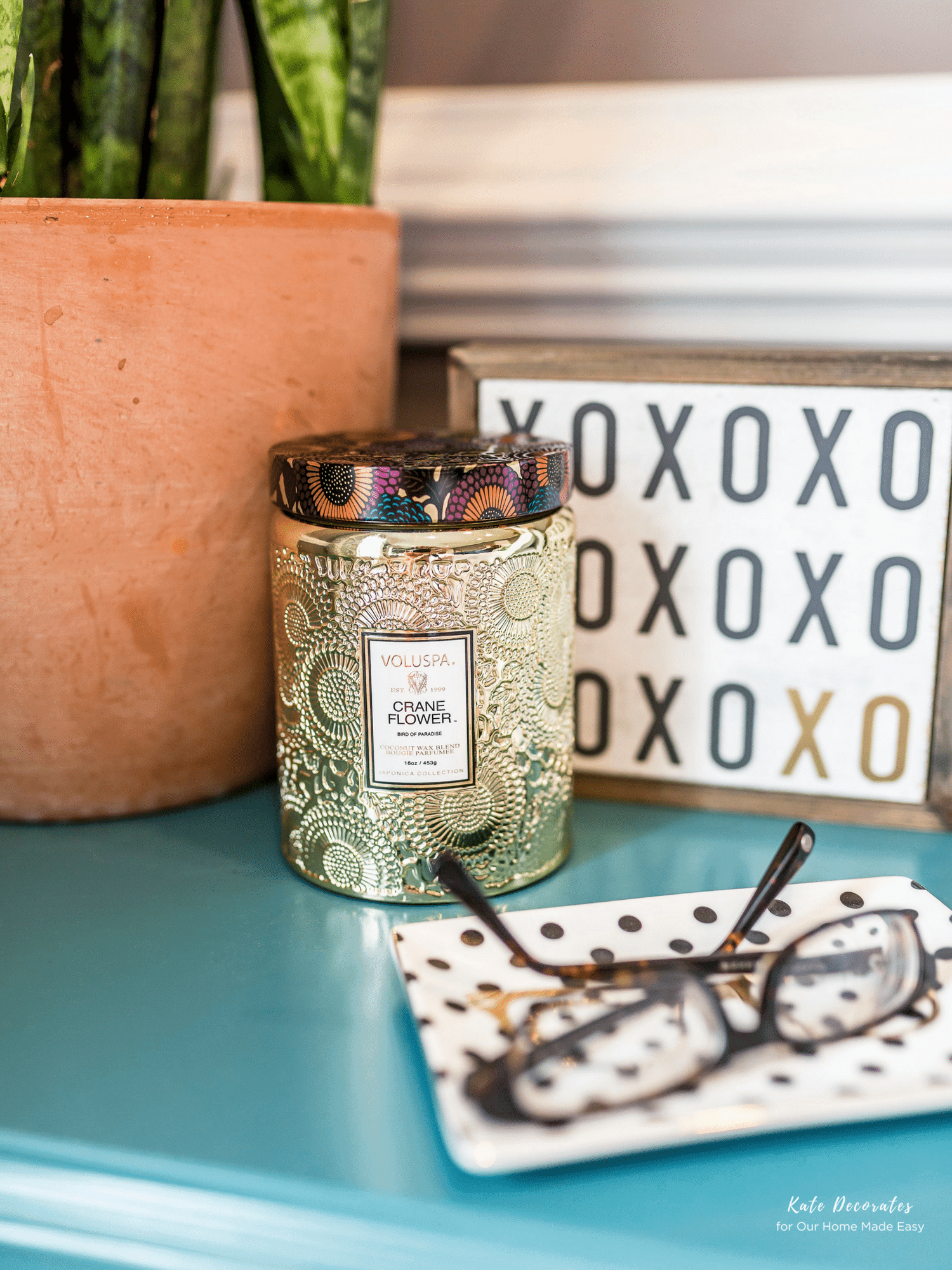 Snag a scented candle.
There's nothing better than your home being filled with the aroma of pumpkin and cinnamon in the cooler months, or having a citrus-infused candle at the ready during summertime (this one isn't exactly under $10 but is hands-down my favorite). Grab a candle or two during your next HomeGoods or Target trip to ring in a new season.
I promised you these ideas would be stylish, simple, and affordable, and I stuck to my word!
So tell me… Is there an idea above that you're thinking of trying?
What's your favorite way to decorate your home as the seasons change? Leave a comment below!
Thank you, Kate, for sharing your easy ways to decorate your home! I am feeling inspired to refresh our summer spaces, too! If you haven't already taken a look at Kate's blog, check out her home featured in Houzz!
PIN FOR LATER: