5 Tips for the Perfect At Home Date Night Ideas
Staying in? These at home date night ideas are guaranteed to be as fun as a night out — and a great way to save money!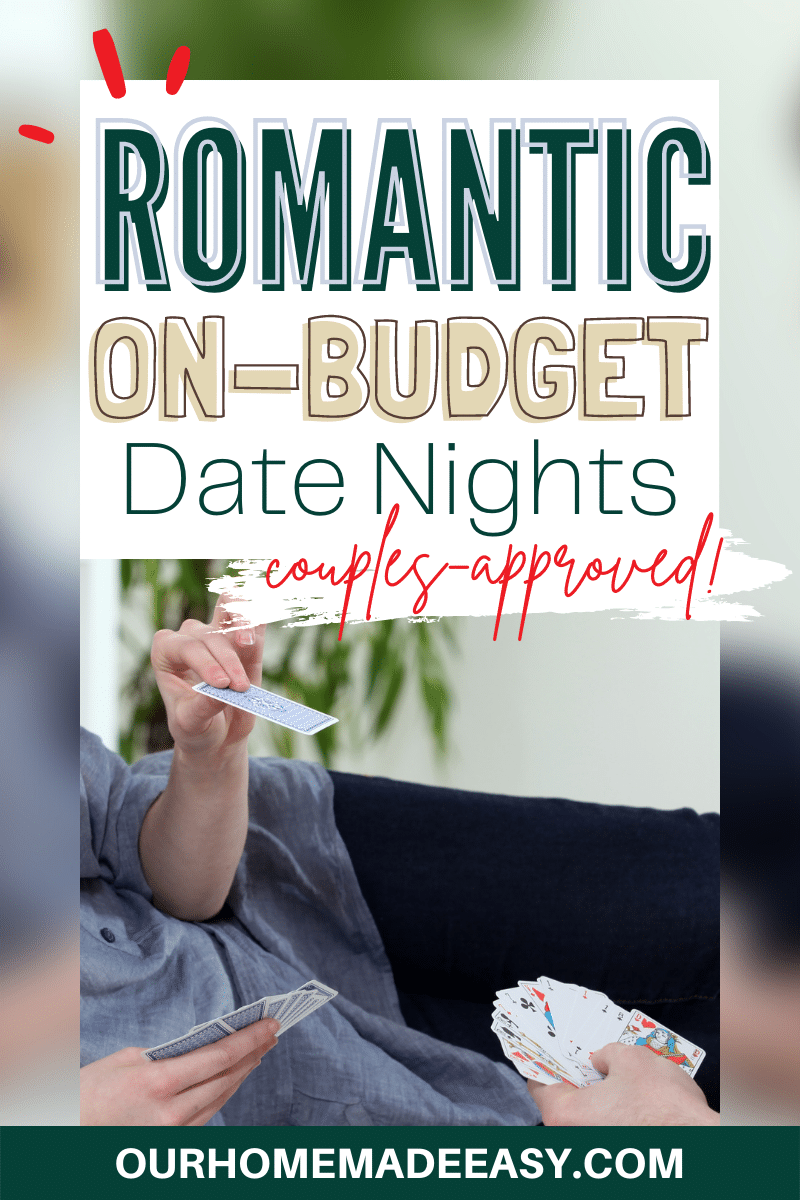 (This post may contain affiliate links. Please see my Disclaimer for more information)
Imagine it… A butler ushers you to an outdoor evening table, donned in a sheer white tablecloth with candles lit in crystal holders. Wait, no, this isn't a romantic fantasy prince-whisks-me-away novel! 😊
In real life, especially after a few years of dating or being married to the same person, dates can get a little less fancy and a little less frequent. Then, you add kids and their schedules into the mix, finding time to spend together can be downright difficult!
However, that doesn't mean that date nights are a thing of the past!
It's perfectly feasible and magical to plan a perfect at-home date night, complete with candles, romance, and quality time after the kids are tucked in for the night.
How to Make the Best At-Home Date Night Ideas
Here are a few of our favorite at home date night ideas from dinner to board games, just shy of a romantic castle getaway. 😉
Taking Time to Get Date-Ready, Together
I know, an at-home date night isn't exactly a call for your fanciest night out on the town evening dress. But it's a bit more special than our TV dinners on the couch, right? One of the most underrated parts of going on dates with our partners is "getting-ready" time.
Schedule at least 30 minutes to get ready for the date together, with your partner. This also doesn't necessarily mean that you have to be in a dress and matching suit, but rather the time spent getting into a relaxed, date zone will make the night even more enjoyable.
If you're feeling fancy, however, don't let me stop you! We explored some ways to easily prepare for Awesome Family Photo Outfits & Sessions previously and these tips will serve you well for a slightly-less hectic date for two, too.
Plus, dedicating time to getting ready together protects you both from subconsciously feeling neglected if one person spends time getting ready while the other comes home after work and plops into a chair saying, "let's get this over with." Talk about a mood ruined!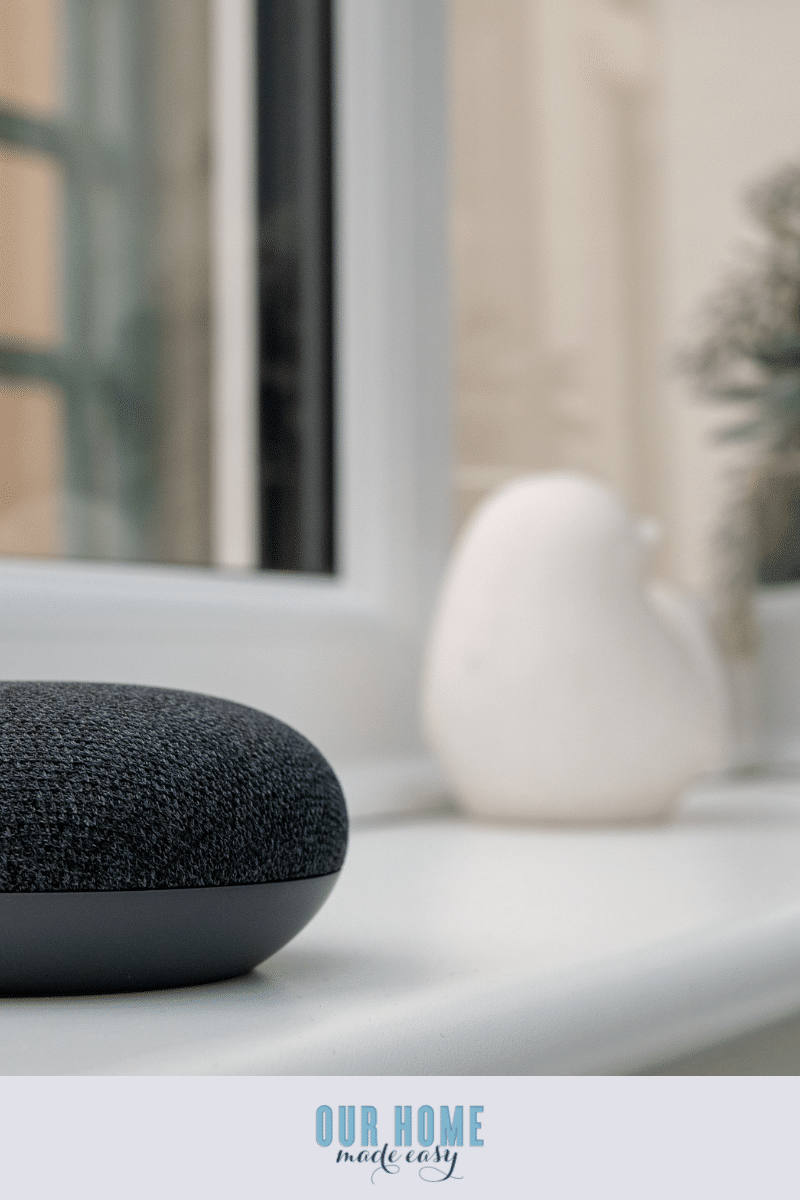 Date-Night Playlist
Getting ready for the date is a perfect time to throw on your favorite date playlist! Any music genre will do, as long as you both love it. Some classic recommendations include lo-fi music, classical music, and jazz music.
Instrumental-only music is popular to provide ambiance during dates without accidentally overpowering conversations. Play whatever makes you happy and excited for the date ahead!
Love Spotify? Check out their date night recommended playlists. You might find yourself with an impromptu dance party!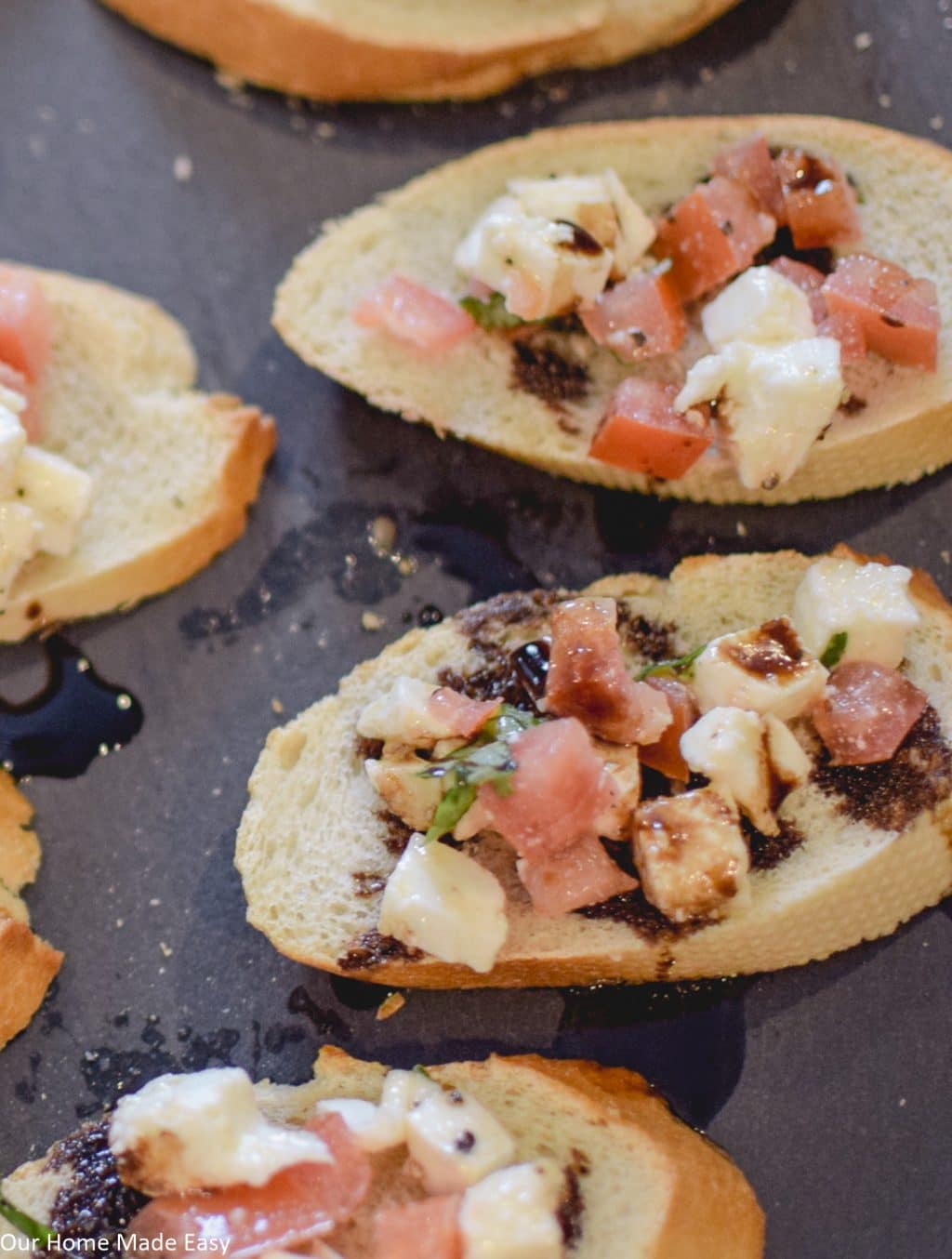 Food Delivery vs. At-Home Favorites
This choice will depend on you and your partner and your love for (or lack of love for) cooking! Some couples absolutely love cooking intricate dishes together, while others find the most joy out of grabbing foods from their favorite local mom & pop restaurant.
As an appetizer, put together a super simple charcuterie or a Balsamic Caprese bruschetta. I love finding some small cheese wedges at the grocery store or a DIY Charcuterie at Costco. Arrange 3-4 cheese and 1-2 meats with some crackers on a cutting board and you're all good to go.
If you're grabbing something from a restaurant, don't feel like you have to go out of your way to hit a new high price range. Dates don't have to be monetarily stressful to be successful. In fact, sometimes date nights are the perfect excuse for a "cheat day" and apropos fast food is in order.
If you're feeling something a bit more homey, try our Easy Instant Pot Beef Roast recipe that is bound to make your mouth water in about an hour. This dish is heavy enough to feel like a special treat but homey enough to invoke feelings of a warm hug for a date at home.
For dessert, pick up a treat at the grocery store that you wouldn't normally indulge in. OR—order cookies from Crumbl or another app for baked to delivery freshness.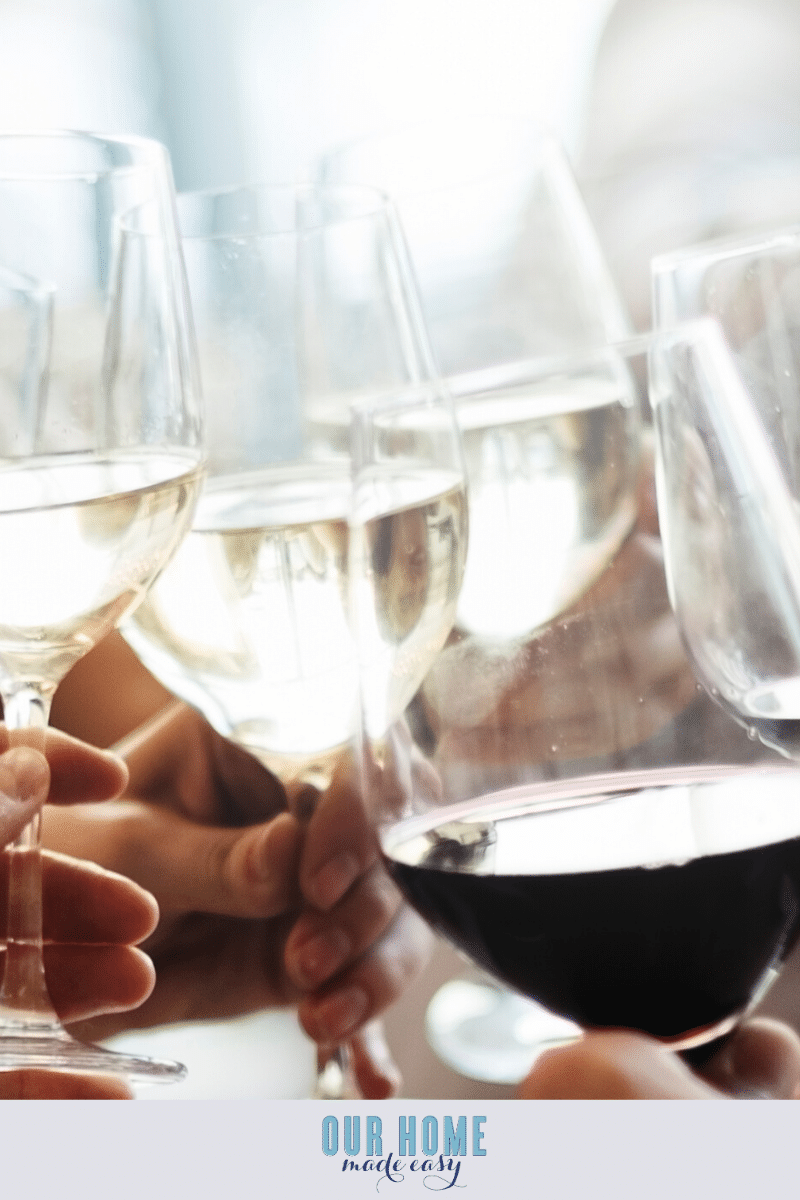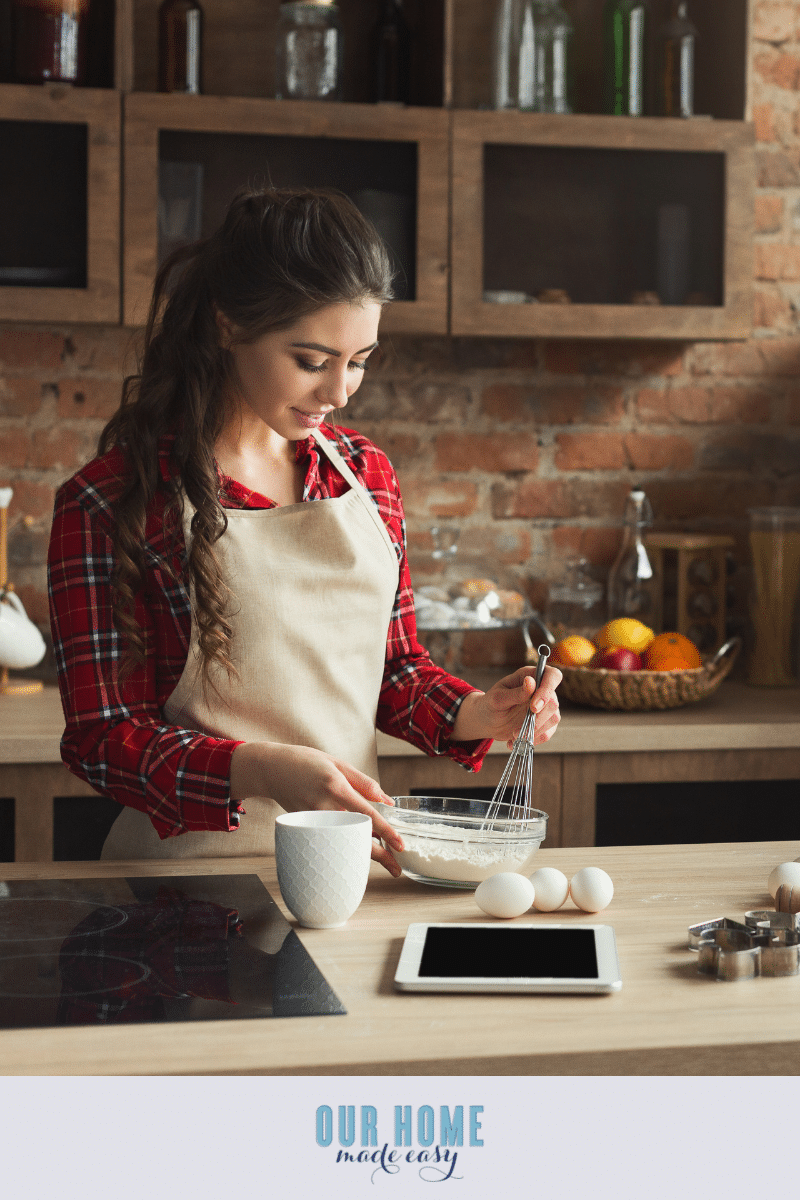 Learning a New Skill Together
In our post on 9 Really Fun Ways to Catch Up with Old Friends, I shared how taking a baking class with friends as an amazing way to combine friendship with sugary delights. Why not apply this to date night as well?
If neither of you is a fan of cooking but both still have a taste for sweet things and a need for another activity after dinner, learning to bake a fruit tart or croissant together could be a wonderful challenge. If you're feeling up to the task of creating an additional mess, you can even have a friendly baking competition to see whose creation turns out best!
And don't worry, this can apply to learning skills outside of baking, too. Try following a Bob Ross painting tutorial together instead, or a simple two-player video game. Bob Ross videos are known to calming and soothing and even invoke ASMR "tingles" according to Craig Richard, professor of biopharmaceutical sciences at Shenandoah University.
Let's face it- the only thing better than a thrilling night out on the down is a comfy, relaxing one at-home with a loved one.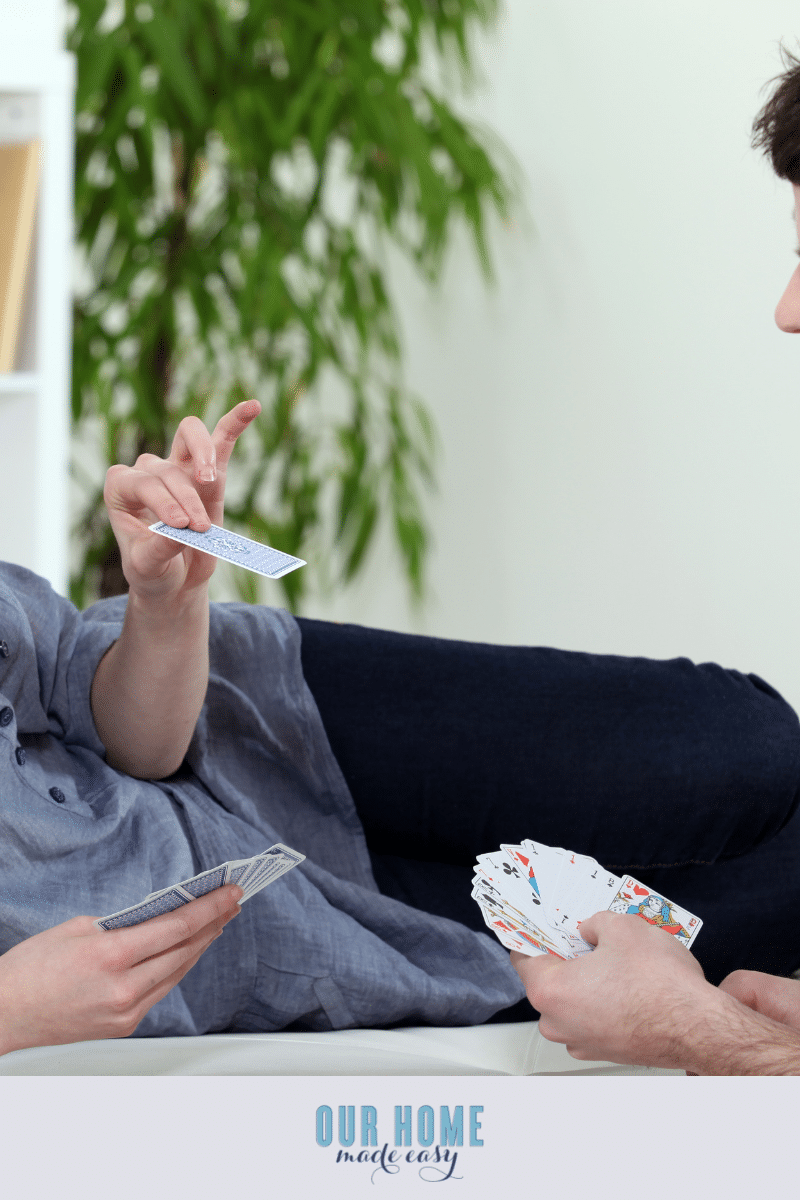 Board Games for Two
Our next date night activity at home is a classic! Board games & card games are often forgotten in the age of digital video games and movies. But sometimes immersing ourselves in a 2D world on paper is exactly what we need to get away from a busy day (or week, or month) at work!
There are countless board games out there for 4+ players, and it's a common misconception that games for only two are too simplistic for long-term fun.
Collaboration games can offer you and your partner space to critically think in fantasy or sci-fi realms. Much more preferable to a repeated conversation on how the kids are doing in school!
Love playing cards, too? Here are 50 card game ideas for 2 adults.
If you are looking for Board Games for 2 Adults, a few of my favorite board games for two include Codenames: Duet and Mansions of Madness. Codenames: Duet is a spinoff of the Codenames game series, in which you team up to identify imposters and spies within a roster.
Mansions of Madness is a comparatively heftier option for a board game that is immersive with long-lasting replayability. It is a physical board game that plays alongside a mobile application and fosters collaboration to save different scenarios from monsters. Sometimes all you need is some good old-fashioned fantasy fun to de-stress, together.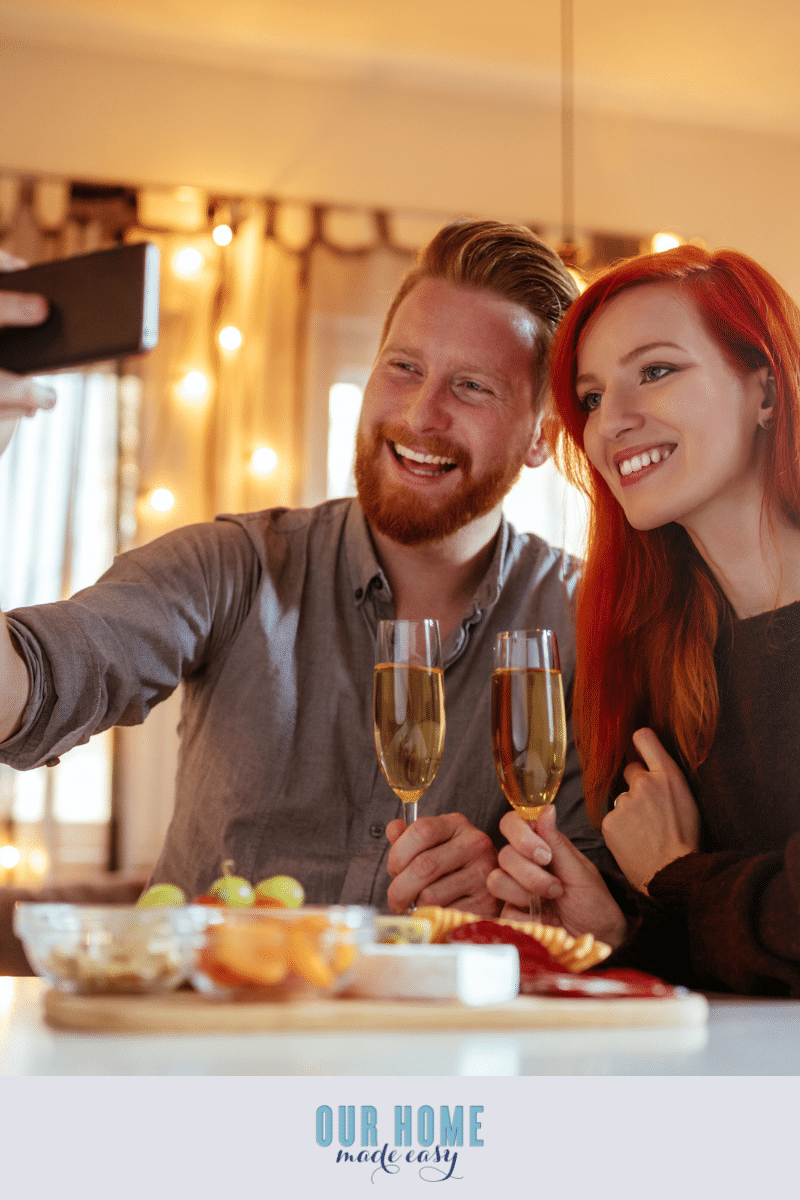 At-Home Date Night Success
No matter the food and activities you plan for a date night at home, the most important thing you can do is communicate with your partner. Date nights are only fun when each person involved has a say!
So next time you need a little break from your hectic life, plan an at-home date night together and enjoy! Go ahead, get fancy, pour a glass of wine and just enjoy time alone together!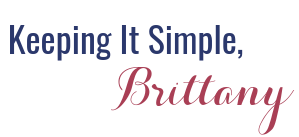 PIN FOR LATER: