These work from home outfits will make you feel professional while staying comfortable!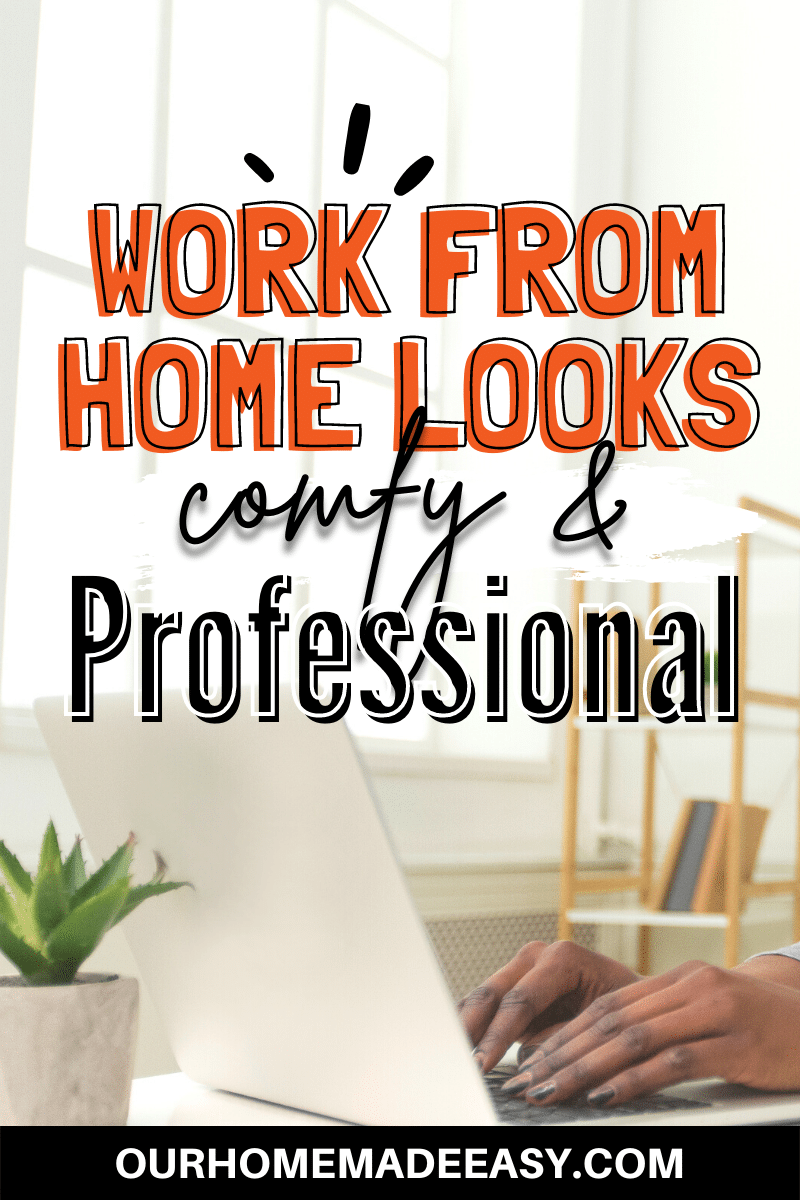 (This post may contain affiliate links. Please see my Disclaimer for more information)
After almost two years of working from home, are you concerned that the line between office-ready and bed-comfy is getting blurred? This can be a struggle when it comes to Zoom and video calls with clients! And even if we can get away with cozier and less business-ready outfits, doing so for too long can get us down morally, too. Something that I don't feel like is discussed enough—especially after 2 years of being away from the office.
The Best Ideas for Work From Home Outfits
Getting out of our pajamas can be a morale boost for us, too, and set us off on the right foot for the day. Here are 5 of my top work-at-home outfits and style tips for feeling on top of the world. These are also great transition outfits if you are slowly going back into the office for hybrid-style workplaces.
Need more outfit inspiration? This is my cheat sheet for how to look put together and get dressed faster every single day!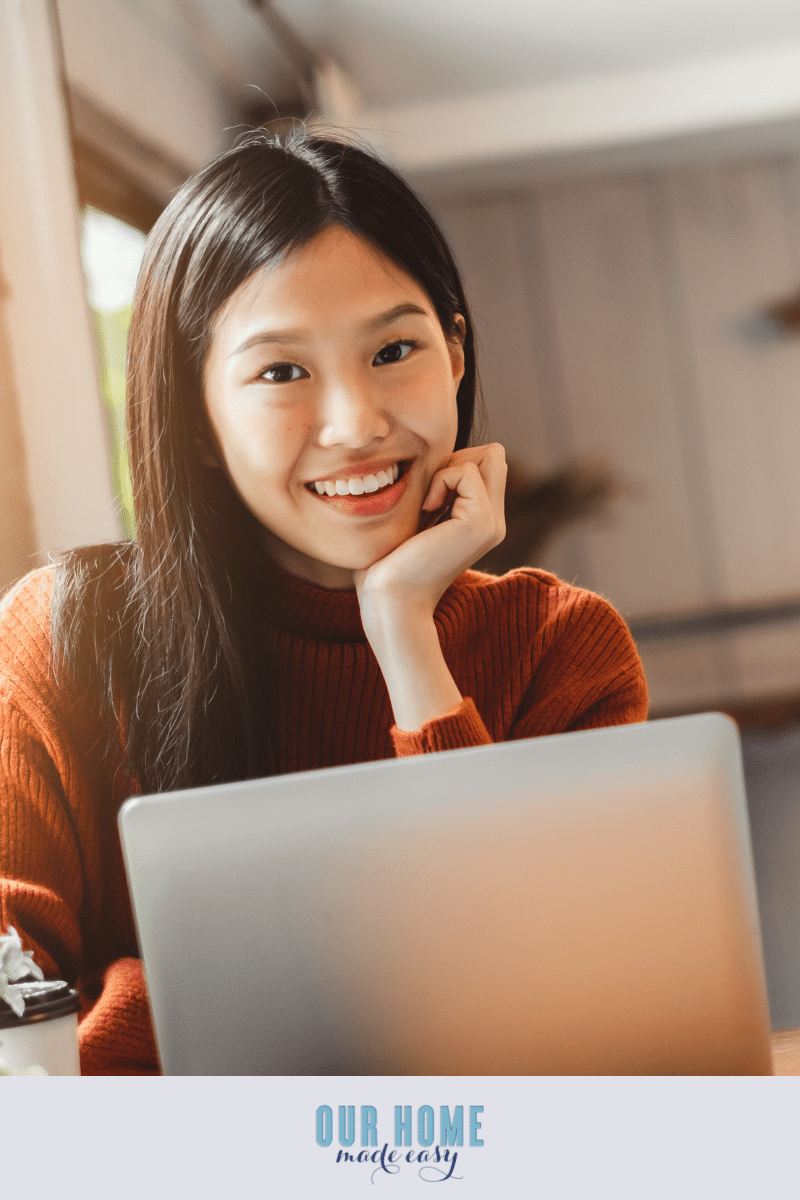 Classic Oversized Sweater + Leggings
Our first look is one of the comfiest! Who doesn't love an oversized sweater and stretchable leggings? While legging may get a bad rep when it comes to business formal, business casual looks rock leggings, especially with oversized tops. (These are my absolute FAVORITE lounging leggings!)
Leggings are soft, easy to pull on in a tired morning, and easily interchangeable. Forget about making sure the perfect pants are ready on the morning of. Grab any pair of black leggings and you're good to go!
Having interchangeable clothes options are a wonderful way to alleviate your laundry woes, as well. Give our article on 9 Sure-Fire Ways to Make Laundry Easier a read to ease your laundry schedule and organization around the house. While the perfect solution for you may still be to pay to get your laundry done elsewhere, having multiple pieces of similar clothing can help quicken your mornings no matter the schedule!
Oversized sweaters are also wonderful options that won't have you worrying about straps hanging out at random times or self-conscious about body lines. They are comfortable and fashionable and make wonderful backdrops for necklaces and more accessories.
My favorite places for finding inexpensive cute & comfy sweaters:
Cute Dress + Cardigan Or Chambray
Another classic option for a work-at-home outfit is a casual dress paired with a cardigan or a chambray shirt. I love finding inexpensive dresses on Amazon for less than $30. They are cute, comfy and make me feel more put-together than just the usual yoga pant + tank.
Cardigans, Chambray tops, or even a denim jacket ensure that you won't be cold but can still wear your favorite sleeveless dress options. I have three button up chambrays purely for this! Arizona is hot 8 out of 12 months, but indoors is still cool because of all the air conditioning. While you're sitting at a your desk, grab an extra layer in a neutral white, cream, beige, brown, or black staying comfortable all day.
Need some visual inspiration? Check out this cute floral dress option I paired with a cream cardigan for our 7 Last-Minute Ways to Get Awesome Family Photo Outfits blog post.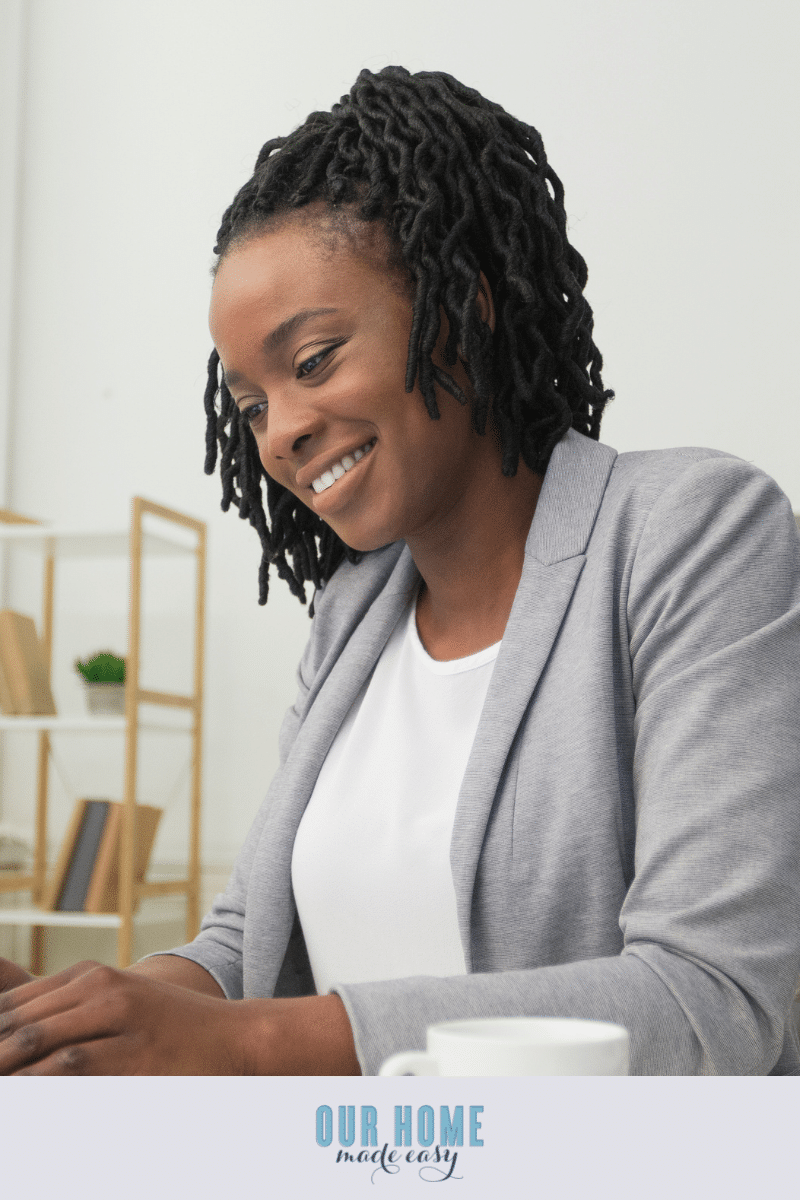 Oversized Blazer + Tee
Another iteration of the classic layering of dress and cardigan is the pairing of a tee and an oversized blazer. While t-shirts are definitely more casual than not, they provide comfort and are typically accepted for work-from-home video chat runways.
This is especially true when they are paired with an oversized blazer! These days, you'll look especially on-trend when you mix a tee or a tank, jeggings, and a neutral blazer. I would start finding blazers in neutral colors, like Navy, Camel, Black, Cream, or Gray.
Pop the blazer If you're feeling like looking a bit fancier from the waist-up on video calls, pair a blazer with your favorites striped tee. You can wear sweatpants on the bottom, too. I won't tell!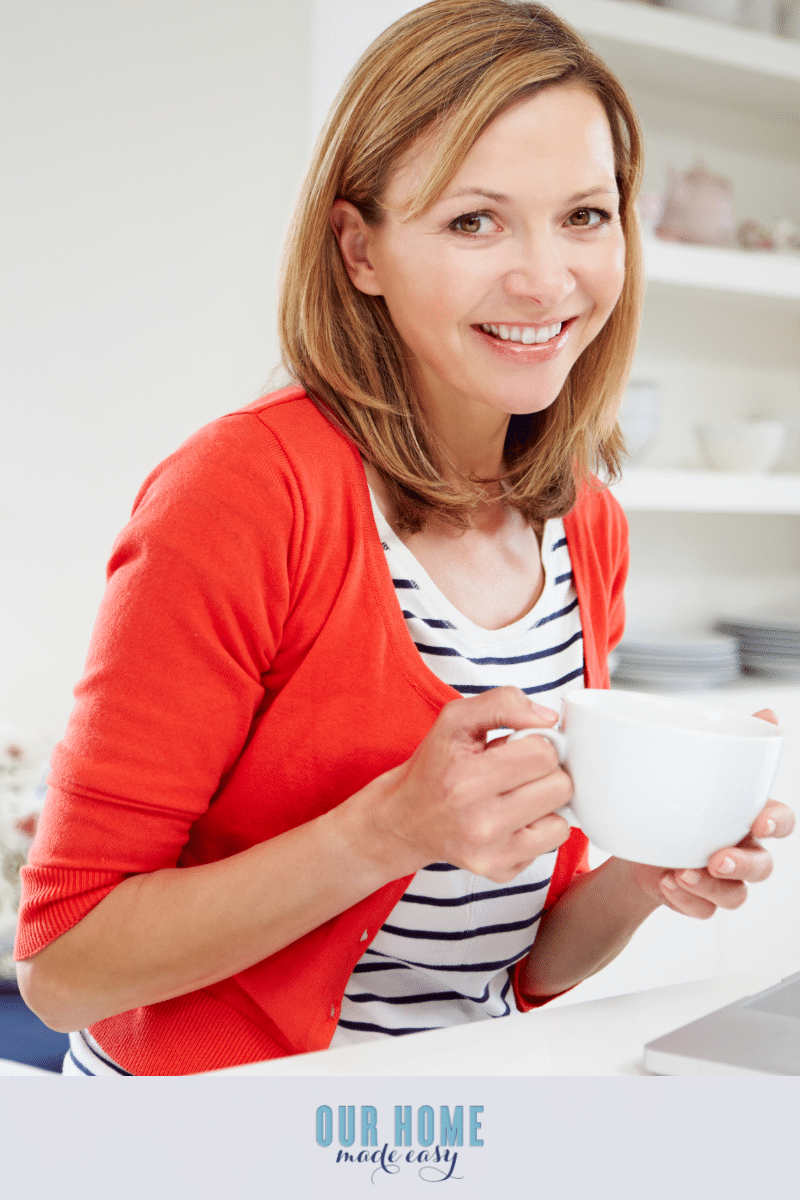 Jumpsuits Are Convenient and Powerful
One of my favorite things about jumpsuits is how easy they are to throw on before a 9 a.m. meeting. What shirt? What pants? One-step and one zip later, a fashionable jumpsuit is on my body and I'm looking just as fancy as its print. (This is one of my favorites!)
Jumpsuits have a wonderful way of accentuating our silhouettes and feeling elevated and semi-formal, without the bells and whistles of innumerable clasps and buckles. Better yet, you never have to worry about your top matching your bottom with this one. Well, unless you want to!
Interestingly enough, jumpsuits were actually first designed for parachuters and aviators. They were often a choice staple during wartime for household chores. Today, jumpsuits are finding new popularity and representing feminine power and freedom. Sustainability expert Alice Wilby said, "You can literally do anything in a jumpsuit: fix a car, climb a tree."
For the next time dropping off the kids at school while balancing a 9:30 a.m. meeting an 11 a.m. deadline feels unbearable, consider throwing on a jumpsuit for an extra boost of power and inspiration.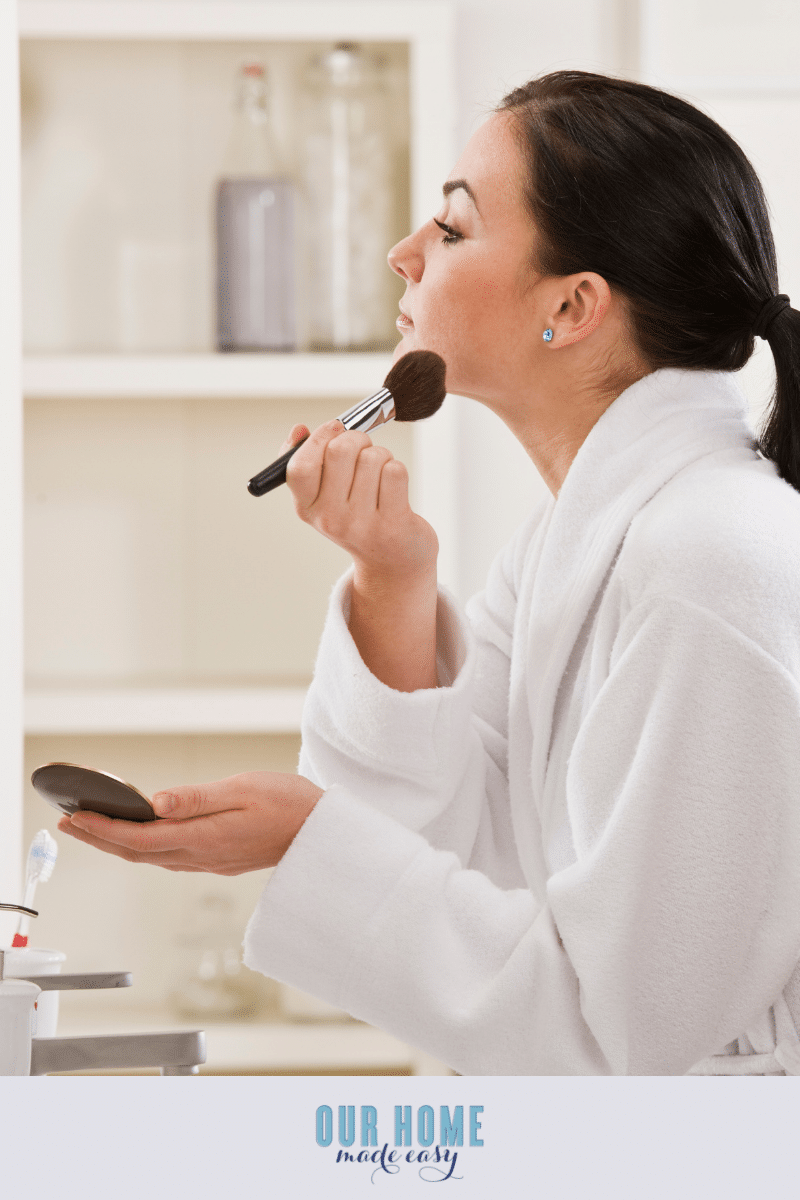 Comfortable & Easy Makeup
While the category of makeup isn't an at-home outfit alone, many of us feel pressured to put on a "full face" even when we're working from home. Video call meetings are not kind to our up-all-night with the kids under eyes or tired faces, after all! Thankfully, there are some ways to make us look less zombie-like without having to spend a ton of time on a full face of makeup.
Sure, when going out to a fancy location or a date, concealer, foundation, eyebrow tint, eyeliner, and mascara are popular choices for a full-coverage makeup look, but that's not needed for work these days. For more casual days of chores and working from home, you can give your skin a break.
Wearing a small amount of foundation under your eyes instead of using concealer and foundation can help erase eye bags without drowning the rest of your skin in all-day coverage. Similarly, depending on your eye shape, wearing mascara alone can help make you look more alert without the added work of eyeshadow and eyeliner. If you want more one more added finish, add some long-lasting lipstick and you're feeling ready for the workday! (I'm a huge fan of this foundation and this under $5 mascara!)
At-Home Outfits and Makeup
When it comes to both outfits and makeup, remember that your goal is to be comfortable in what you wear. There is no shame in wanting to dress up or down, and there is no right answer for everyone! Take your comfort level, your fashion style and what the day's meetings look like into consideration to choose what feels right for you.
The Our Home Made Easy Facebook group is a wonderful source for all things working moms. If you haven't already, join us! My goal is to help you feel more powerful and in control of an often hectic life. Check out my Complete Schedule Overhaul workbook today to start reducing overwhelm and bring orders back to your home!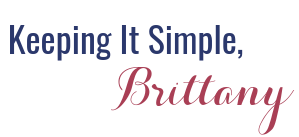 PIN FOR LATER: