Make meal planning easy with these healthy make ahead freezer meals!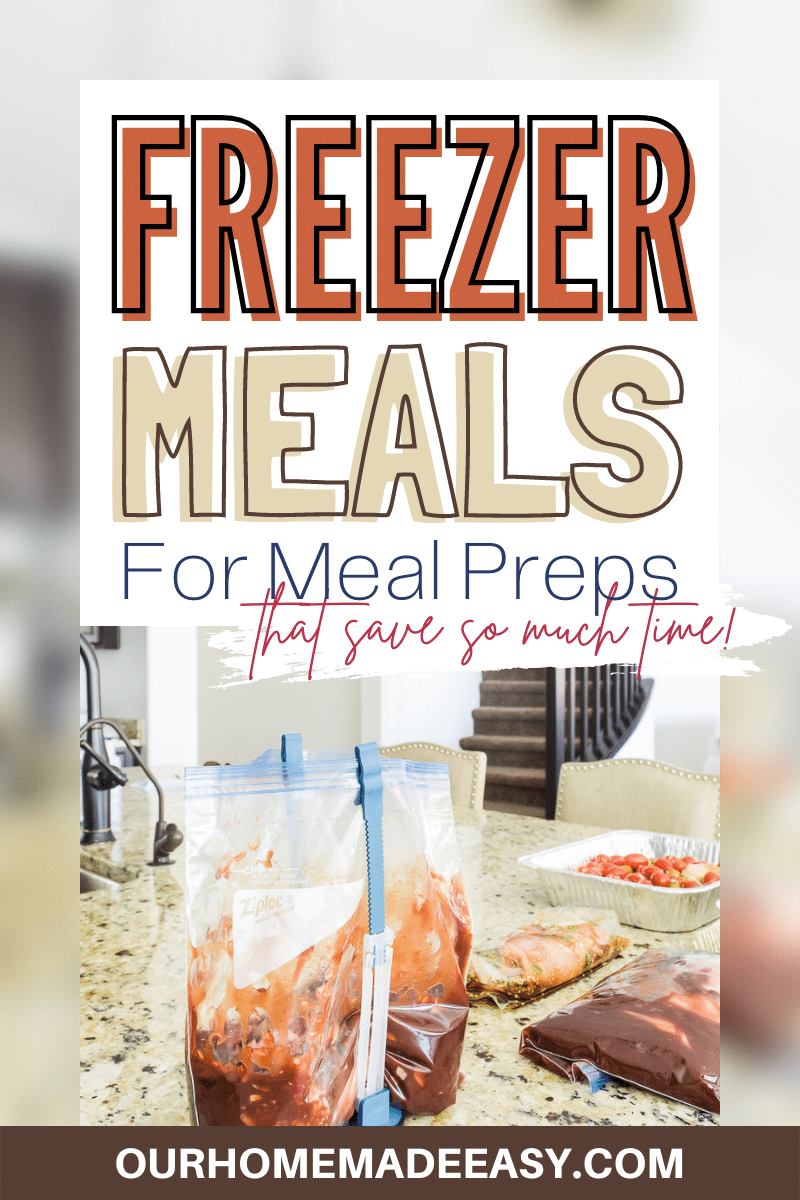 (This post may contain affiliate links. Please see my Disclaimer for more information)
I know how exhausted it feels to arrive home at night after picking up the kids and thinking" It's on me for dinner, what are we going to have?"
And I don't want you to feel that burden!
There are a million reasons to incorporate meal preparation into your weekly routine. Doing so can cut down on the overall time spent on preparing food in a week by frontloading work and can also prevent unnecessary fast-food purchases and last-minute grocery shopping.
Today, we're exploring 4 healthy make ahead freezer meals that are ideal for busy weeknights at home, as well as our top tips on getting started with meal preparation.
Brand new to freezer meals? Don't miss this ultimate guide to freezer meals, then!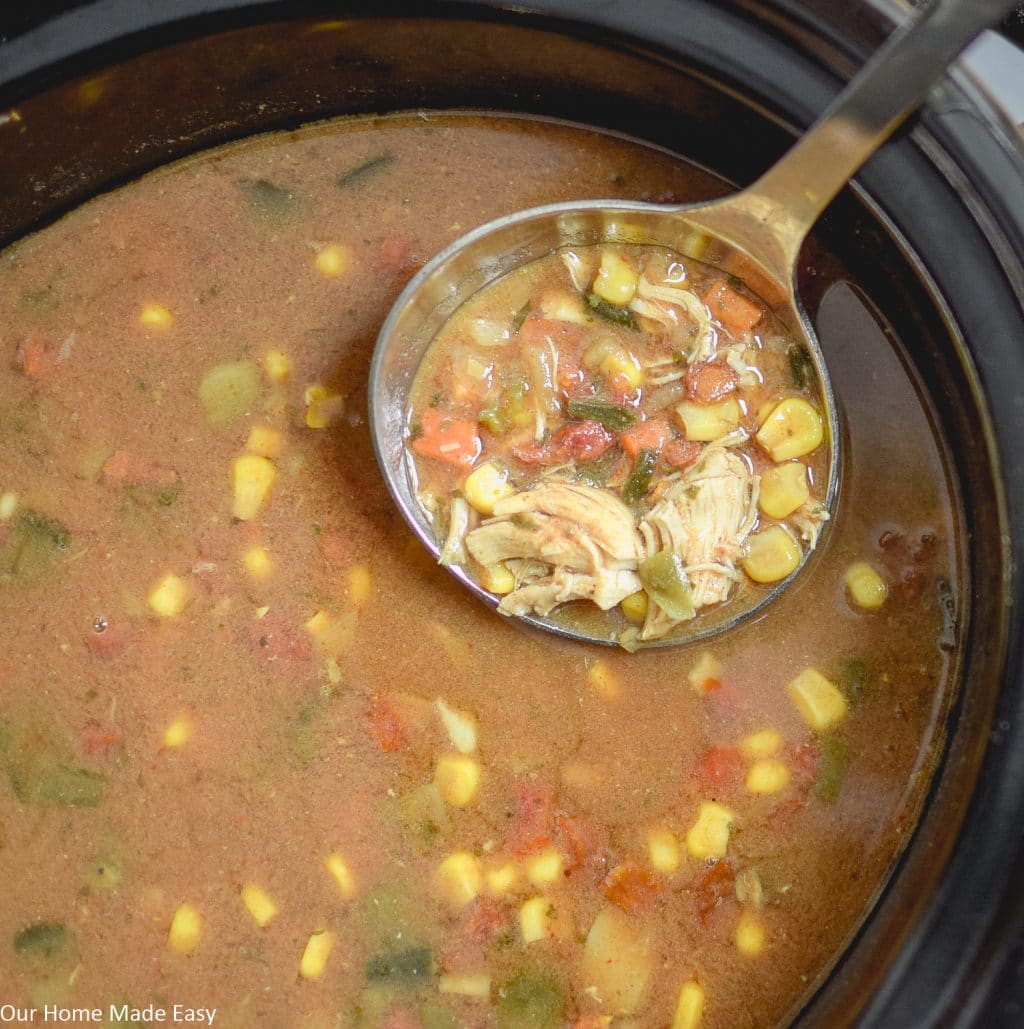 Chicken Chili: Ready to Store
One great thing about chili soups is that they keep well in the freezer. Tomato-based meat chilis tend to keep longer and easier than vegetable white chilis that rely on creams for consistent flavor.
A classic freezer chicken chili soup features chicken breast meat, diced tomatoes, and chicken broth "white" sauce. Most versions have great Northern beans, kidney beans, or black beans as well, to make up the bulk of the soup. Garlic cloves, chili powder, cumin, and cayenne pepper are also popular choices for flavor.
Finally, coriander and parsley are popular options for soup toppings, but these should be left out if you're planning to freeze the entire soup.
Some of us like a few extra carbs in our chili soups, whether that's in the form of bread, croutons, rice, or even pasta. However, these kinds of foods rely heavily on their texture to taste heavenly. If you're looking to include carbs alongside your freezer meal, make sure you avoid textures that could get too soggy.
Read more on how to go about freezing your soups on my post on The Surefire Way You Need to Make Freezer Meals in Minutes!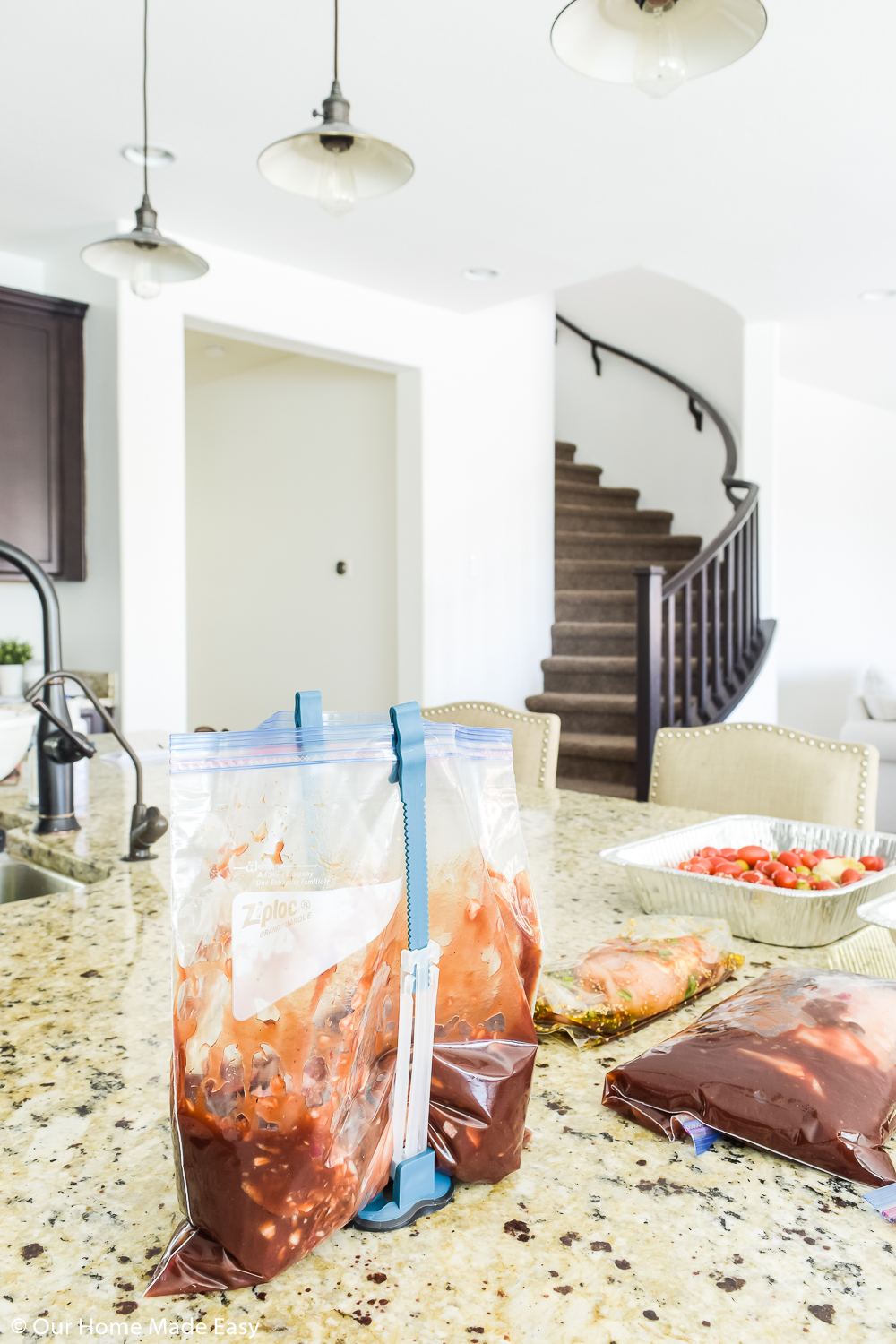 Hearty Baked Potato Soup
I know, I know. We just talked about how carbs are a dangerous spot when it comes to freezable meals! You don't want the best part of a crispy crouton or al dente pasta to turn into mush. But when it comes to baked potato soup, this smooth texture is actually ideal for meal prep because of its versatility.
For this one, you'll want to be doubly sure your freezer is in operation as the ingredients are heavy in dairy products. This includes butter, cream, and cheese. Onions, garlic cloves, and chives offer signature flavor alongside chicken broth, salt, and pepper.
For extra breakfast vibes, bacon bits are a popular topper and can be added from the fridge if you'd like to fry them ahead of time and keep them crisp.
This recipe does require partial dethawing the night before and is best reheated in a saucepan. Take a closer look at this version by Molly Seidel for exact measurements.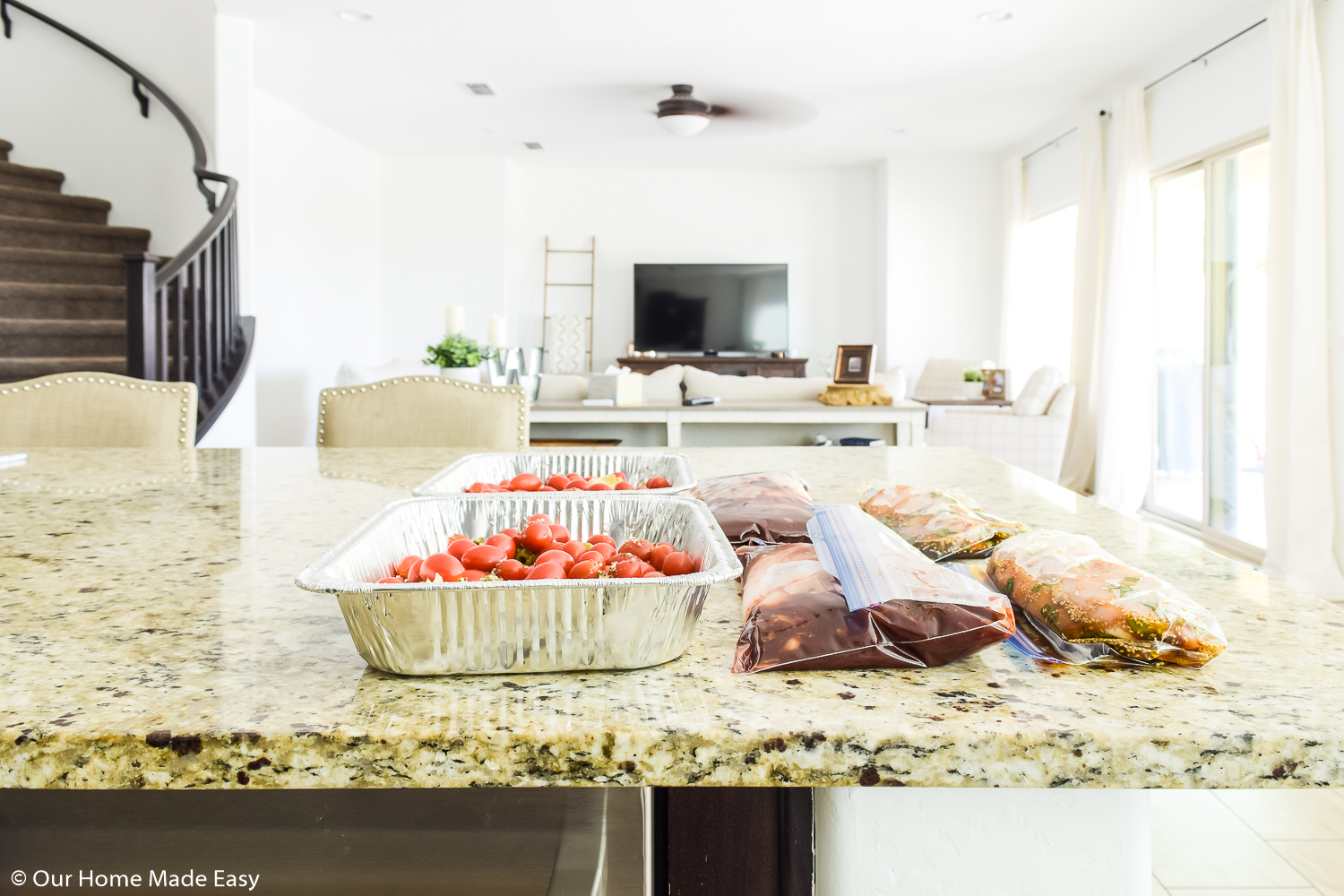 Ready-to-Go Lasagna Casserole
Believe it or not, lasagna casserole can be a perfect option for a freezer meal that feels any but last-minute. Sure, lasagnas are very pasta-dense. But since the dish doesn't rely on a crisp texture, freezing pre-cooked lasagna casseroles with the pasta and meat portions already cooled is a great time-saving measure.
When freezing this meal, you'll want to leave the last bake of the casserole undone until it's time to eat. This typically means during preparation you'll only have to cook any beef or chicken, alongside pasta. Combine the two in layers with cheese, and then freeze the entire dish in an oven-safe container.
When it's time to eat, partially thaw the container overnight before baking in your oven on the night of. Throw any leftovers into the fridge for the rest of the week. Yum!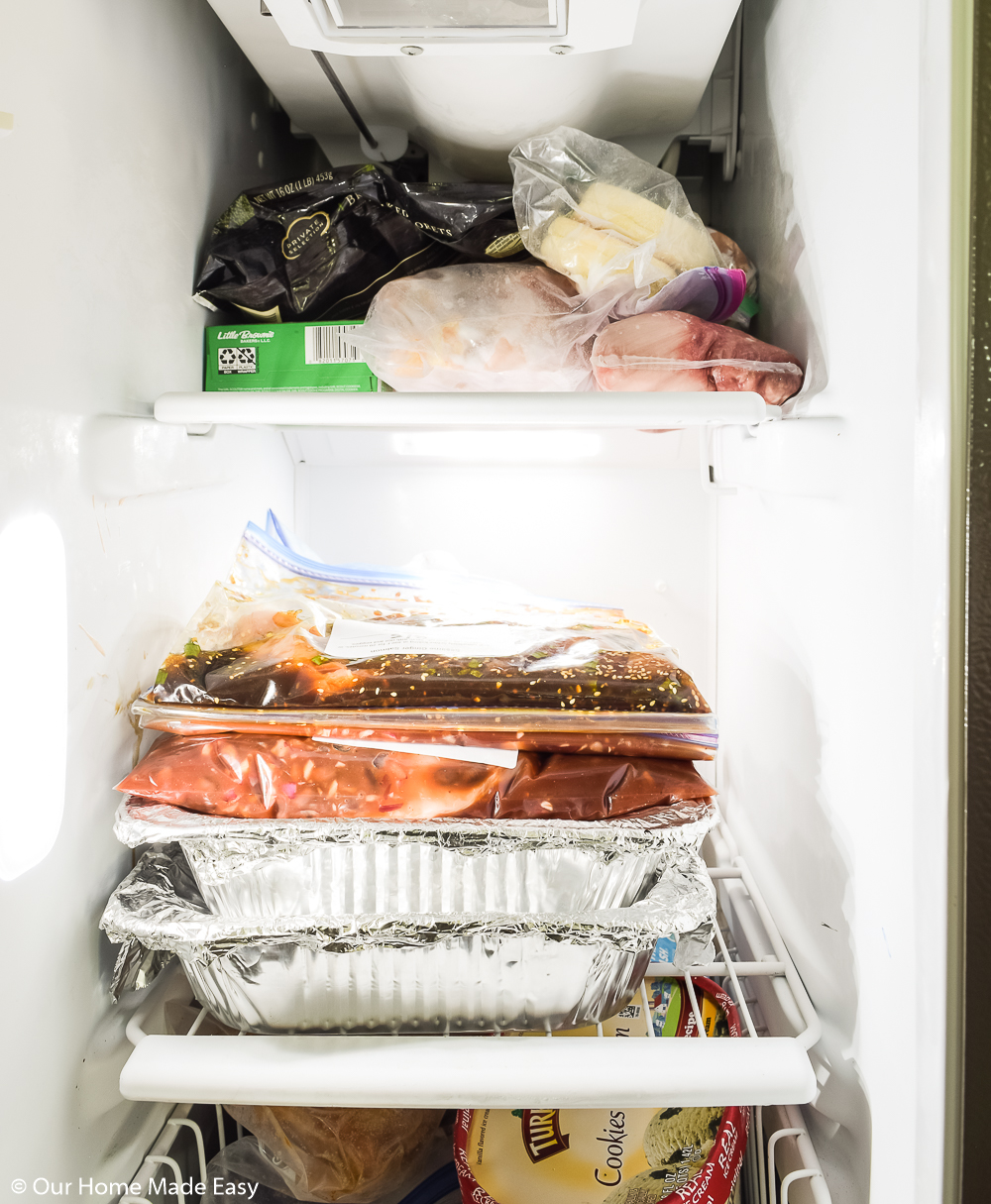 Beef and Broccoli Freezer Meal
Our last freezer meal idea for the day requires a bit more handiwork but rewards you with an experience closer to a dining-out option. Beef with broccoli is a deliciously savory dish pairing its named ingredients with teriyaki sauce. The sauce is both savory and sweet and a fan favorite at Chinese-American restaurants for good reason.
To prepare this as a freezer-ready meal, you'll want to purchase thinly-sliced steak and prepare it in its own plastic bag with a simple marinade. The only needed ingredients here include sugar, soy sauce, and cornstarch. However, sesame oil, garlic, and sesame seeds are also popular options.
You'll store this marinated beef while it is still raw, alongside a separate baggie of homemade teriyaki sauce and broccoli. Make sure to remember to thaw the meat in the morning before you want to enjoy this dish at night!
Cook the beef first in a pan, before adding in the sauce and broccoli when the beef is medium to medium-well. Pro tip: many grocery stores even have premade teriyaki sauce to save you even more time on this one.
Need to save time grocery shopping and wondering if grocery delivery worth it? Here are 10 tips for grocery shopping online that will help you save money and time!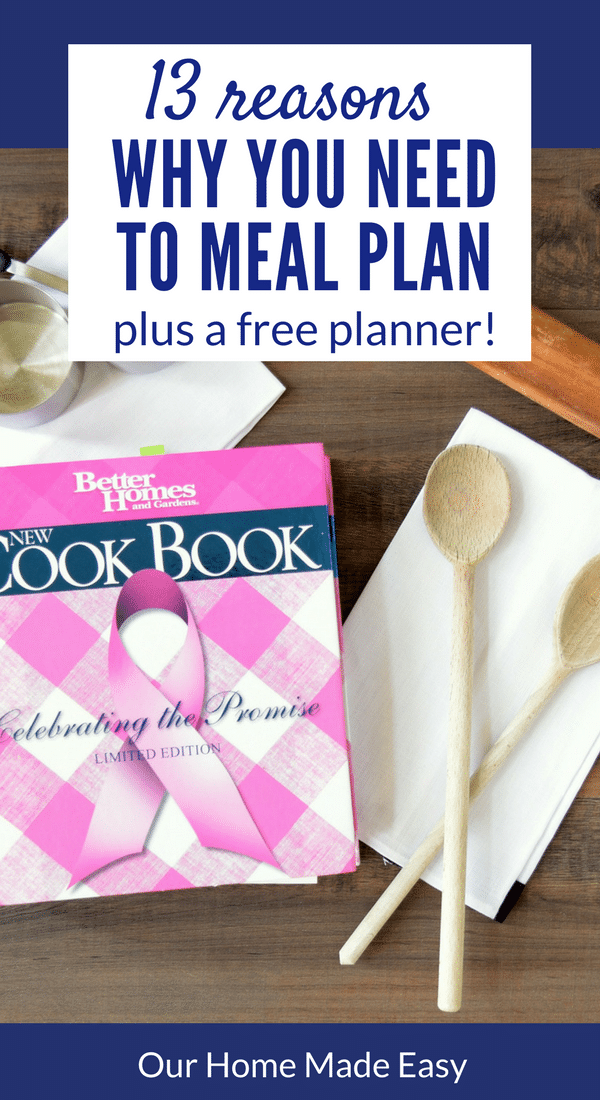 Meal Planning Organization
Feeling inspired by some of my favorite meal prep ideas above? Getting that stomach rumbling is the first step! Next, we're going to put these ideas into practice by getting organized.
The only way to actually ensure that you put these ideas into practice is to dedicate specific time blocks to doing so each week. You can also expand this planning by-month if you're feeling confident!
Here at Our Home Made Easy, I make this process incredibly easy. The Working Mom Command Center binder is one of my most popular packages that offer an expansive collection of printables for all things Mom at home. It includes printables for grocery shopping lists, meal planning, and monthly meal planning
.
You'll even get additional bonuses including recipe cards, recipe organizers, expense tracking printables, and more! I also offer one-off digital downloads and an easy 20 Dinner Recipes for Weeknights downloadable to get you started.
Other Posts You'll Love:
No matter the organization tools you use to get started, meal preparation requires scheduling. Start with preparing one recipe for all of your dinners for only one week. You'll find yourself becoming efficient and wanting to tackle harder recipes and side dishes in no time.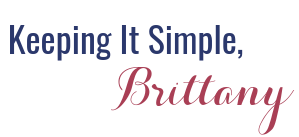 PIN FOR LATER: