Tips for Meal Planning When Your Husband is Traveling
Check out part one of this post in how we manage to make it out of the house in the morning!
Last week my husband was lucky enough to visit Columbia for several days. This had me thinking of how we manage his time away while minimally affecting the kids. Back at home, our evenings are pretty chaotic when my husband is out of town. After a very long commute home, dinner time is the number ONE thing both kids have on their minds. In order to make the weeknights alone a little easier, we meal plan the week prior. Even though my husband is away, I don't like to disrupt the kids' routine and that includes dinnertime. If you ask my mother, she will tell you that I should order carside-to-go. But the pragmatic side of me always has dinner at home and prepped by me instead. Hey it's cheaper, just as quick, and hopefully healthier. Besides, our family is not great at waiting in drive-thrus.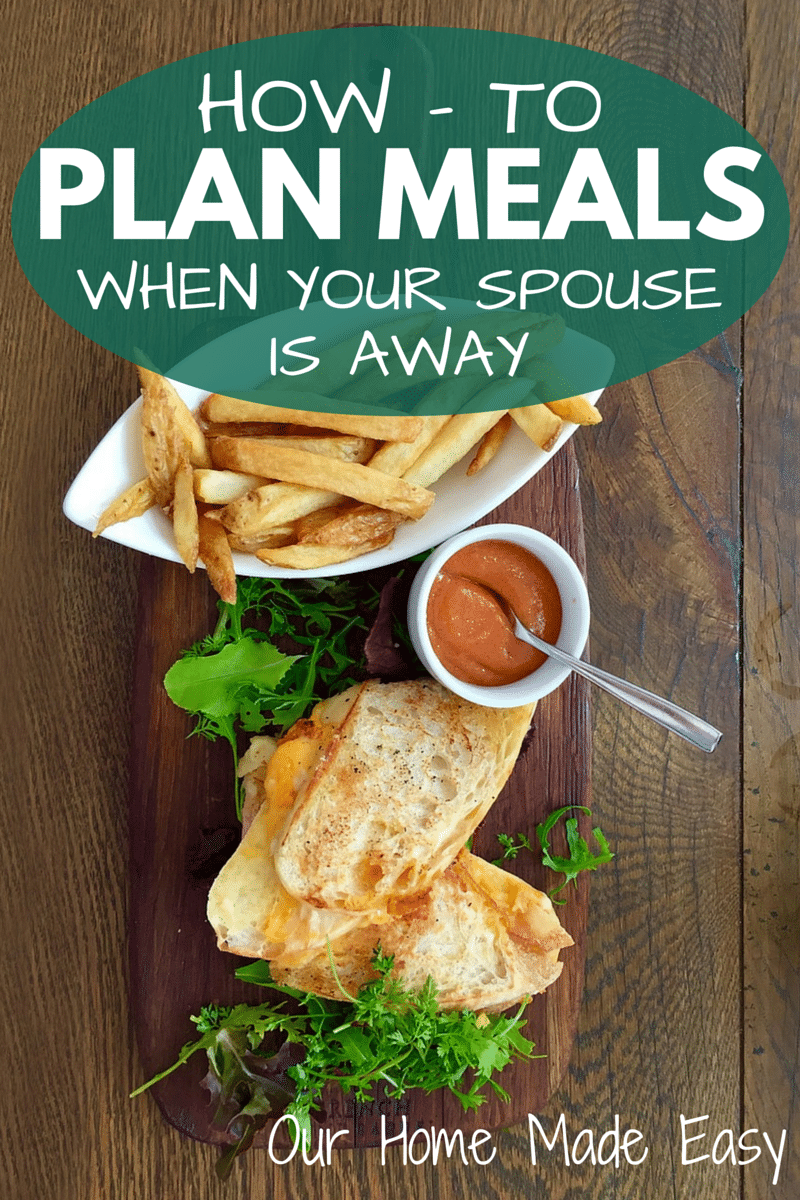 Want to learn more about meal planning? Enroll in my FREE Simply Easy Meal Planning Mini Course!
How do I pull off a home cooked meal each night? It's easy and I promise you will find it simple to do too!
Meal Plan: The week before he is scheduled to travel we meal plan an extra week. If the trip covers a weekend we add the extra week to the earlier week's grocery list. By planning out meals, it's one less thing for me to think about when I get home. Let's devote that energy to pulling toddlers out of the pantry.
Cook Ahead of Time: Yes, it's still cooking. But rather than collect your ingredients and spend the precious time in the evenings cooking dinner, do it ahead of time. The night before my husband leaves, we've been known to make a project of cooking 3 or 4 dinners simultaneously. Of course this always occurs after we just cleaned the kitchen. I've seen friends who go to meal prep parties for home-based companies do this and it just makes sense.
Organize the Meals: If the entrée isn't on the menu for the next night or so, I label the dinner and freeze it. For example, one night we will have beef stroganoff. It's a reliable favorite right now. I will make the stroganoff ahead of time and then prep the noodles when needed. Which leads me to the next step….
Want to learn more about meal planning? Enroll in my FREE Simply Easy Meal Planning Mini Course!
Prep Dinner in the AM: If you need noodles, rice, or tortillas for dinner, pull the ingredients out in the morning before you leave. I've even been known to set a covered pot of water on the stove so that when we get home all I need to do is turn on the burner. Boom, dinner is already started before I unpack the baby's bottles.
Use Leftovers: If you're like us and detest eating leftovers more than once, freeze them. They make perfect meals that you need when your spouse of out-of-town. There is always one night where we choose a meal already in the freezer on the menu.
Pack Lunch: After dinner pack up any leftovers for lunch later in the week. Not only does it avoid you having to waste food, but it helps you get out of the house that much quicker in the mornings.
And that is it! Not too difficult, it just takes some planning in order for it work. If you haven't already signed up for my resource library, please do! You'll find printables of the various items (including our meal planner) that will make your life a little easier!
This is Part 2 of a series on how we make our busy lives easier when my husband is out of town traveling. For Part 1, click here.