32 Easy Homemade Christmas Truffles Recipes
Enjoy more than 32 delicious Christmas truffle recipes. Learn expert tips, shortcuts, and easy decorating ideas to make this holiday season truly delightful!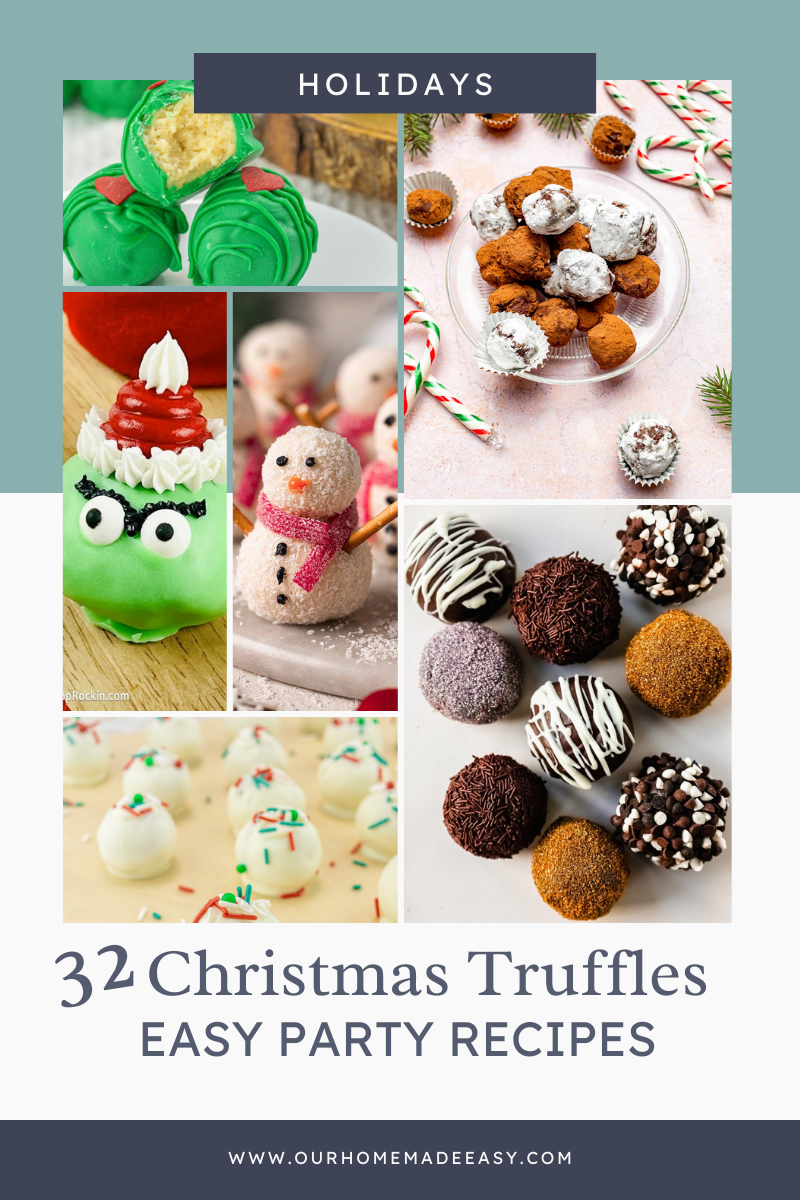 (This post contains affiliate links. Please see my Disclaimer for more information)
The holiday season is upon us, and what better way to celebrate than by indulging in delectable, homemade Christmas truffles? These bite-sized treasures are perfect for gifting, sharing at festive gatherings, or simply savoring with your loved ones.
Whether you're a seasoned baker or a beginner in the kitchen, you'll find these Christmas truffle recipes a joy to make and an absolute treat to enjoy later.
From classic flavors to unique creations, these truffles will add a touch of sweetness to your holiday season.
If you're feeling nervous about making your own Christmas truffles, I've also included some tips and shortcuts to help you master the art of truffle making and make your Christmas prep a little easier.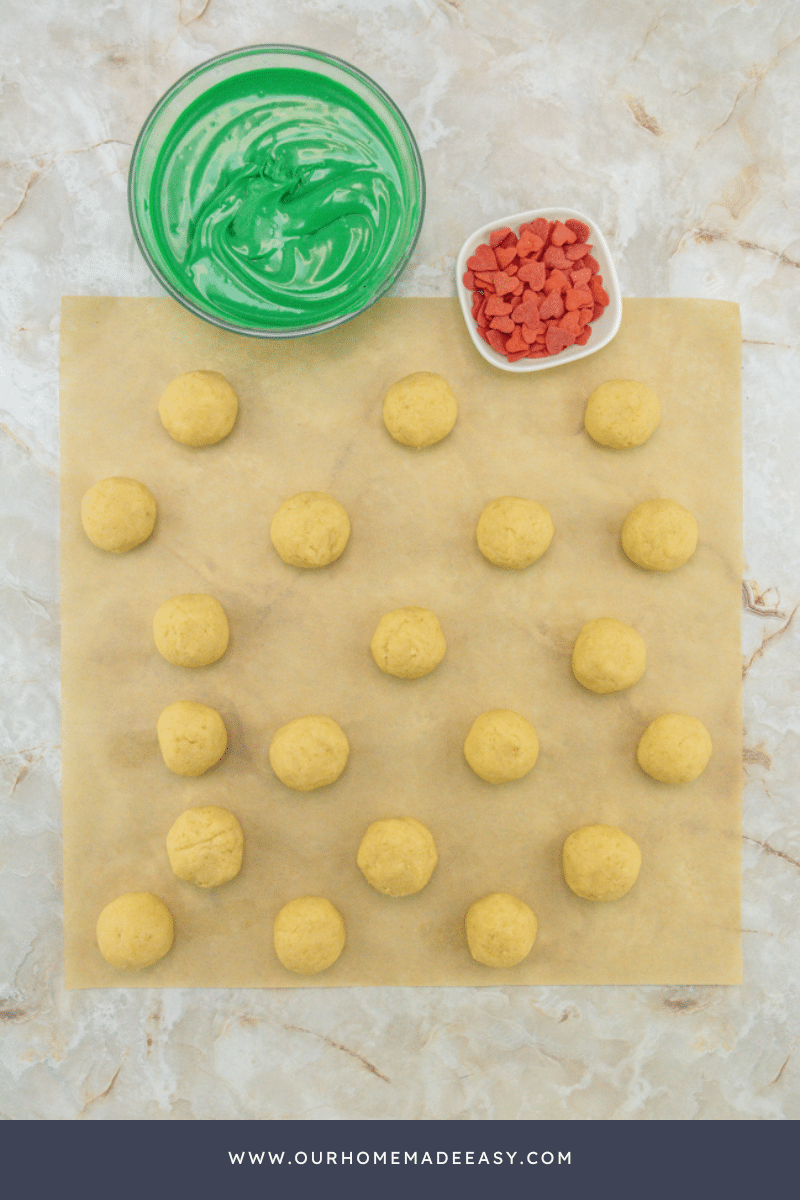 How to Roll Perfect Truffles
Before we dive into the delicious world of truffles, let's talk about how to make them look as good as they taste. Rolling truffles can be a bit tricky, but with a few tips, you'll have perfectly round, uniform truffles every time:
Keep your hands clean and slightly moist. Damp hands will prevent the mixture from sticking to your palms.
Use a melon baller or a small cookie scoop to portion out the mixture evenly. This will make it easier to create uniform truffles.
Roll the mixture into a ball gently, ensuring it's not too tight or too loose.
After rolling, place the truffles on a parchment-lined baking sheet and refrigerate them for about 15-30 minutes. This step will make them easier to dip in chocolate.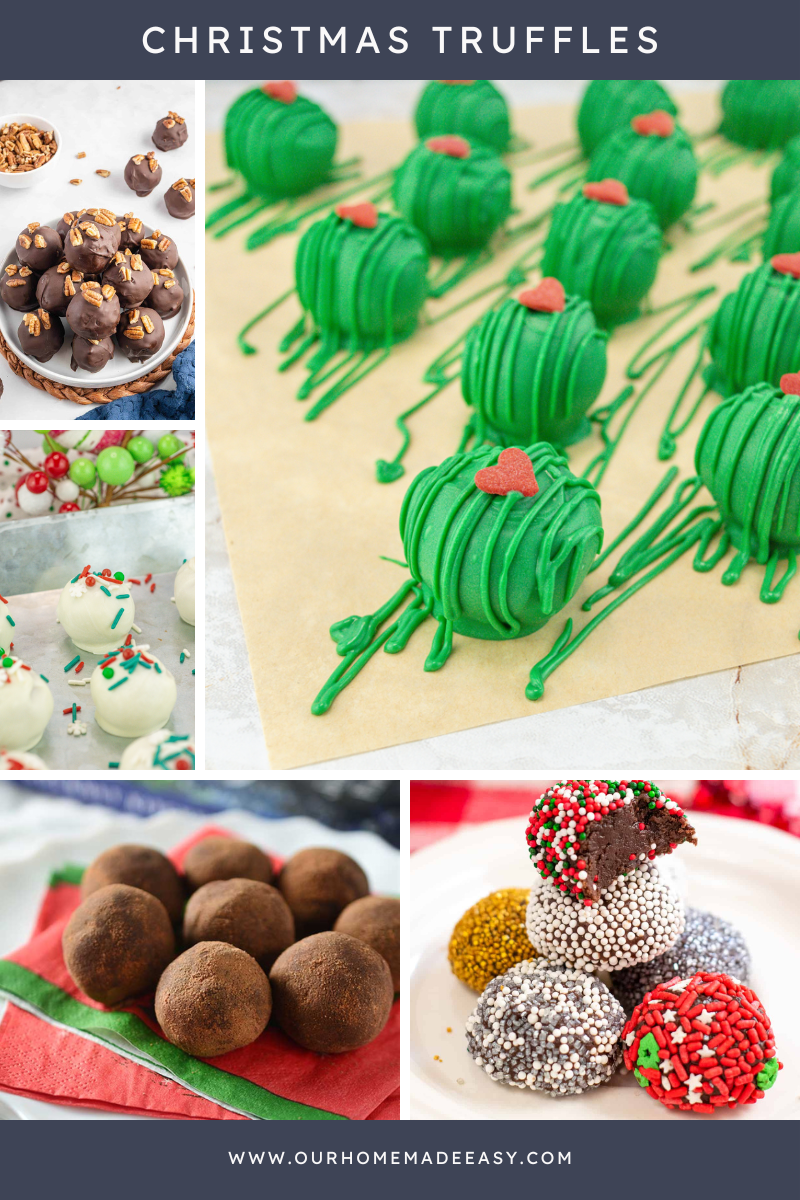 Shortcuts and Truffle Pro Tips
We all have a million things to do during the holiday season, so I'm here to help you save time and still make truffles that will impress everyone. Consider these shortcuts:
Pre-Made Fillings: Using pre-made fillings like cake crumbs, cream cheese, or nut butter can cut down on prep time.
Dipping Hacks: If you're short on time, dip your truffles in chocolate bark or almond bark. It's quicker and easier than tempering chocolate, and it tastes just as good.
Sprinkle Magic: Don't have time to decorate each truffle? Simply roll them in festive sprinkles, crushed nuts, or cocoa powder to add a splash of holiday cheer.
Double Duty: Make your life easier by repurposing holiday cookies or leftover cake into truffle fillings. (Check out my 3 ingredient truffles which use store-bought sugar cookies!)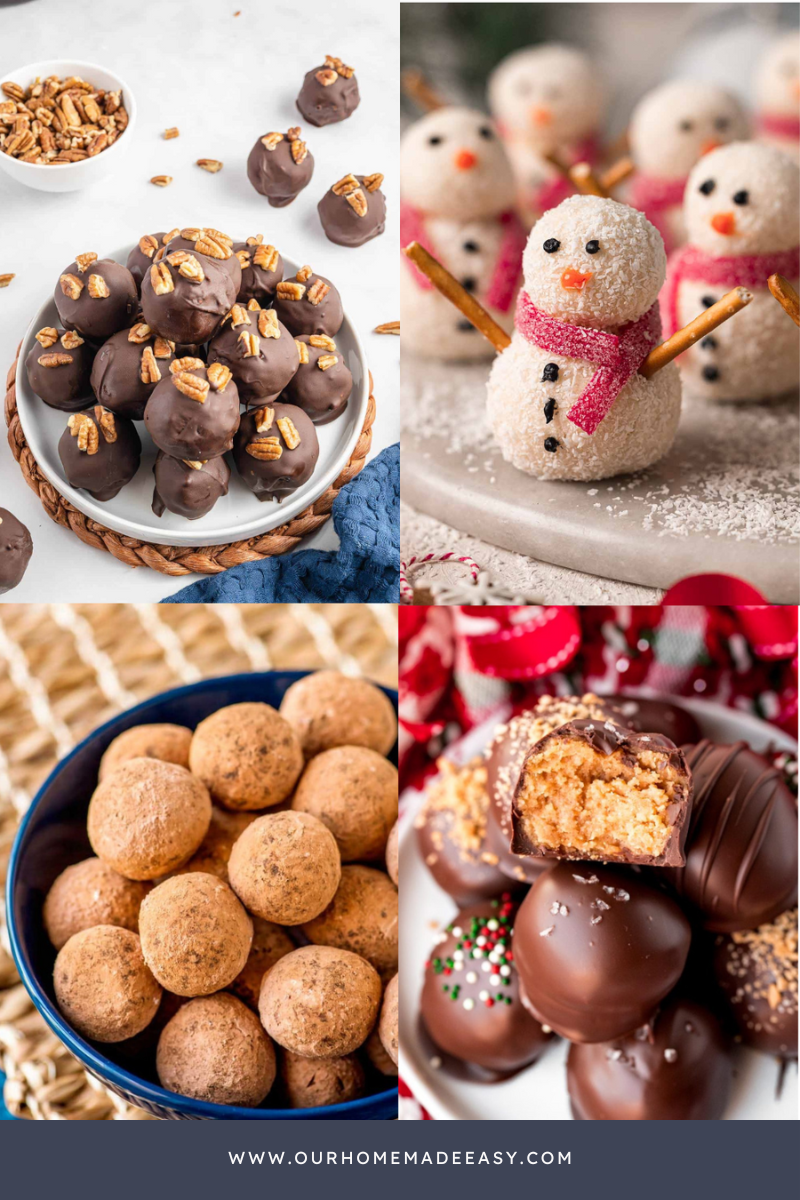 Decorating with Ease
Once your truffles are ready, it's time to give them that extra festive touch. Consider these quick decorating ideas:
Festive Drizzle: Melt contrasting chocolate (white, dark, or colored) and drizzle it over your truffles. It's easy and adds a pop of color.
Sprinkle Sensation: Roll your truffles in holiday-themed sprinkles for an instant Christmas upgrade.
Dust with Cocoa: A light dusting of cocoa powder gives your truffles an elegant and decadent appearance.
Crushed Candy Canes: Crushed peppermint candy canes are a classic holiday topping. They add a refreshing, minty zing.
How to Store Your Christmas Truffles
Remember to store your truffles in an airtight container in the fridge to keep them fresh and delicious throughout the holiday season.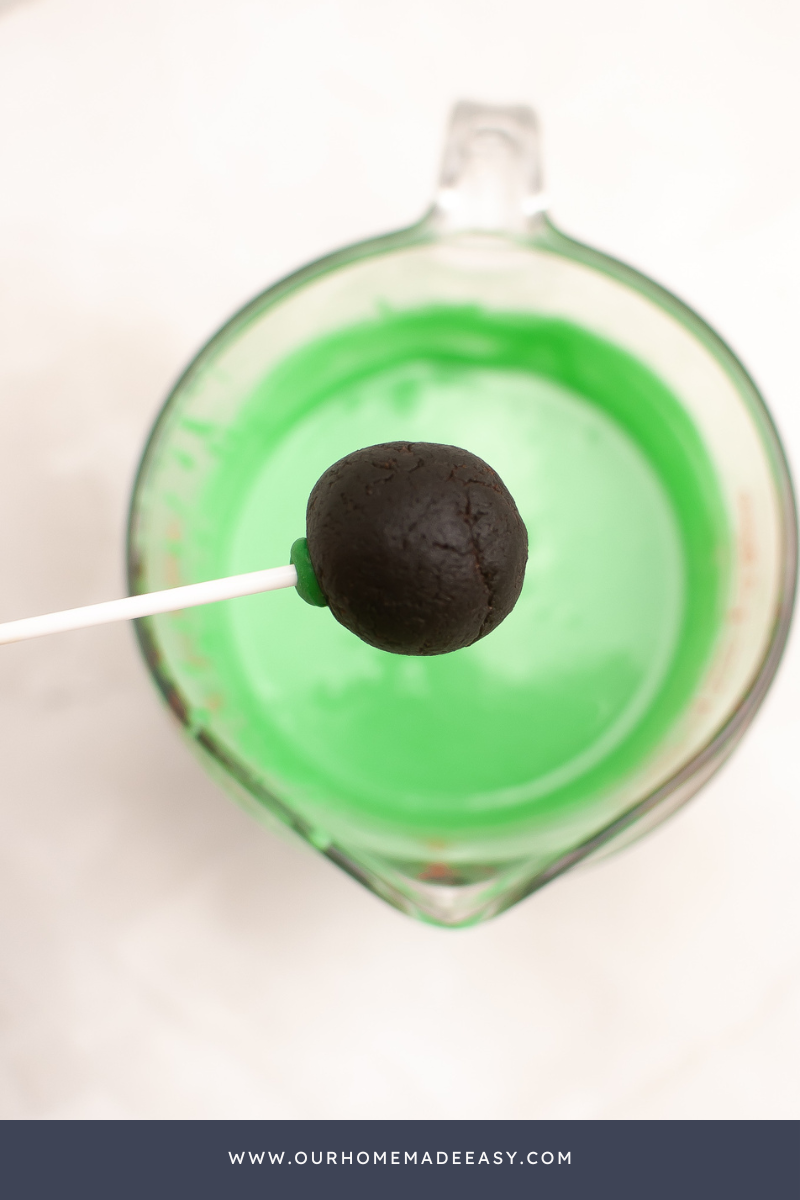 Transform Your Christmas Truffles into Adorable Cake Pops
Want to take your Christmas truffles to the next level? Why not turn them into delightful cake pops? They're not only charming, but they're also easy to make. Here's how you can do it:
Extra Ingredients and Tools You'll Need:
Christmas truffles (made from one of the fabulous recipes we've got for you)
Lollipop sticks
Melting chocolate or candy coating
Sprinkles, crushed nuts, or decorations of your choice
Styrofoam block or a tall glass for drying
Steps to Make Christmas Cake Pops:
Prepare Your Christmas Truffles: Start by making a batch of your favorite Christmas truffles using one of the yummy recipes we collected below. You can use a single flavor or mix it up with a variety to create an assorted collection of cake pops.
Chill Your Truffles: After rolling your truffles, refrigerate them for about 15-30 minutes. This helps them firm up and hold their shape during the dipping process.
Melt the Chocolate: Melt your chosen chocolate or candy coating. You can use a microwave or a double boiler. Make sure it's smooth and ready for dipping.
Dip Your Cake Pops: Take a lollipop stick and dip about half an inch into the melted chocolate. Insert the stick into the center of a truffle, about halfway through. This will help secure the stick to the truffle. Now, carefully dip the entire truffle into the melted chocolate until it's fully coated. Allow any excess chocolate to drip off.
Decorate Your Cake Pops: Before the chocolate coating sets, you can decorate your cake pops with sprinkles, crushed nuts, or any other festive decorations. This is where you can get creative and give each cake pop its unique holiday look.
Let Them Dry: Stick the cake pops upright into a Styrofoam block or a tall glass to allow them to dry completely. This ensures that your cake pops look their best when you present them.
Serve or Gift: Once the chocolate has hardened, your Christmas cake pops are ready to serve, share, or give as gifts. Package them in festive bags or boxes for a beautiful presentation.
With these easy steps, you can quickly turn your delicious Christmas truffles into charming cake pops. They're perfect for holiday parties, or as sweet, edible gifts for your loved ones. Plus, their irresistible taste and eye-catching appearance will make you the star of the season. Enjoy the magic of cake pops and happy holidays!
Please note that storing cake pops is similar to storing truffles. Keep them in an airtight container in the fridge to maintain their freshness.
Now that you're prepared with truffle-making wisdom, let's dive into these 32 mouthwatering Christmas truffle recipes. Get ready to be the star of your next holiday gathering or delight your loved ones with delightful homemade gifts. Your kitchen is about to turn into a magical truffle factory, and your heart will be filled with the joy of the season!
So, let's not waste any more time and unwrap the magic of the holidays, one delicious truffle at a time. Happy truffle-making!
Other Christmas Treats You'll Enjoy:
32 Easy Homemade Christmas Truffles Recipes