Who has been to a birthday party where they had super cute chalkboard posters? I should ask, who has not?? We all have. And they are super adorable. Most moms assume they are expensive to design, or out of their tech range for creating on their own. But they aren't! I can't wait to show you how to design one for free and print it off quickly!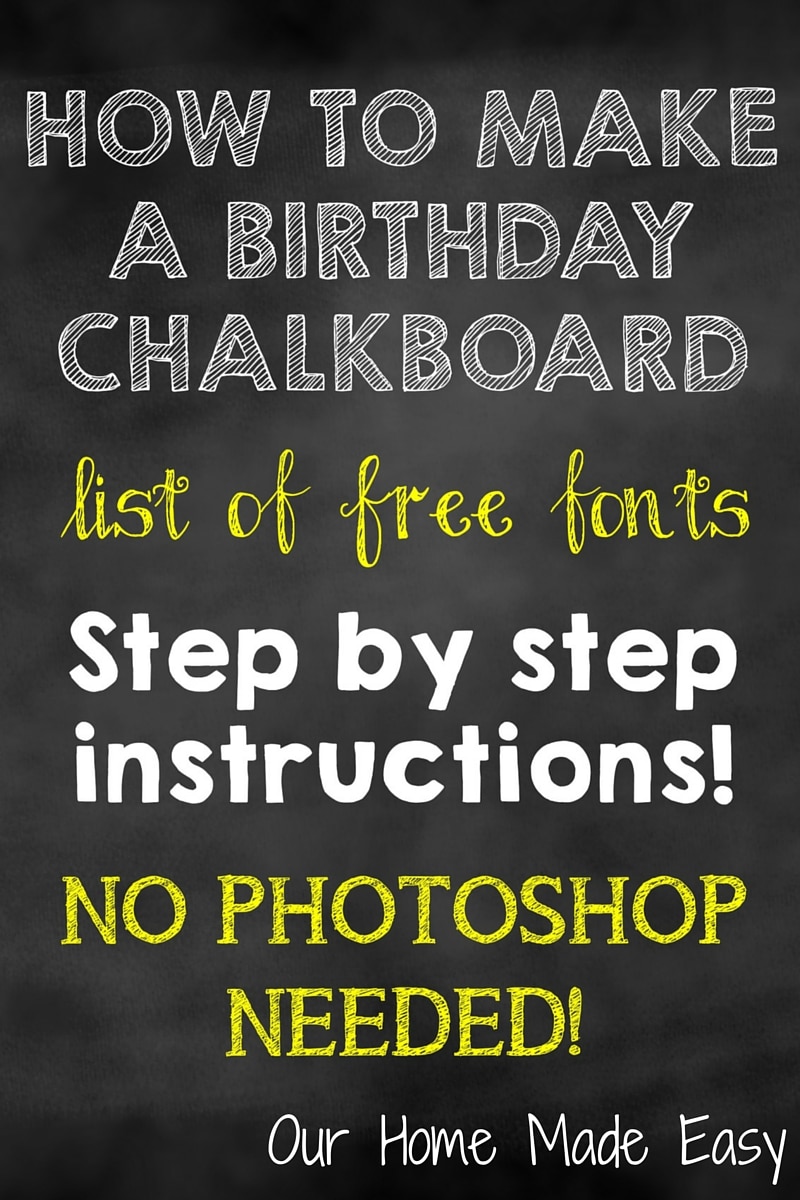 (This post contains affiliate links. If you shop from my blog, I may be compensated for clicks or purchases that you make. Read my disclaimer page for more information.)
I love Etsy. LIKE WAY TOO MUCH. And when it comes time for a first birthday party, I really want to have one of those cute chalkboard posters that you can buy from Etsy. However, my budget doesn't allow me to buy everything I want from Etsy. So what is a mama to do? Make her own! You might be thinking, now I don't have Photoshop to make one of those.
Well, guess what, Momma, neither do I!
It's not a must-have for this woman and you don't need it either for this project! I will step you through how to make the poster in.. wait for it… PowerPoint. Yes, that PowerPoint!
What You'll Need for Your DIY Birthday Chalkboard
Downloading Fonts
Since you will use only PowerPoint to build this chalkboard, you will need to download several free fonts and dingbat fonts. What is a dingbat? It's essentially a little design in place of a letter. For instance, in "Sleep on the Moon" font, the letter 'j' is cute little airplane! The dingbats allow you to go overboard and personalize your chalkboard!
I used these free fonts to build my chalkboard:
Dingbats:
To download a font:
Click on the link –> Download –> Open the file in your downloads –> Click Install SUPER EASY!
Now, when you open up the file to Install, take a look at all the characters. This is what your font looks like! This is a quick cheat to see your dingbat characters and learn which letters create which dingbat. Keep this handy when you are designing!

Related:

Setting Up Your Design
Next, you will need to open up PowerPoint and change the slide size. Start with 16″ x 20″ portrait to give you a nice sized poster. The larger you build, the lower the resolution. Do as I say, not as I do as I've always printed off 24″ x 36″ <– Sorry for the bad influence!
Keep in mind that you truly do not have the entire surface to play with. Be generous and give yourself atleast 1/2 – 1 inch around the outside for printing guidelines.
Adding the Chalkboard Background
Next you'll need to download a chalkboard background. I use this one, here. To ensure full resolution, click on the link pf the image and click on the image once to zoom in. Right mouse button, 'Save As' and save the file.
This image is extremely large. If you don't need a 3MB file (seriously), search for chalkboard background, click once to zoom in and save. If you do the search make sure to filter your Google Images to items, 'Extra Large.' You need it to be clear, not grainy.
Back in PowerPoint, go to the Design tab and choose format background. Insert your chalkboard image. If the chalkboard looks too perfect, you can rough it up a bit by changing the transparency, adding an artistic effect, or change its Brightness Preset. Experiment, you can really change it to your own personal taste.
Decorate the Birthday Chalkboard!
Now, begin inserting text boxes. Use the boxes to add your fonts and dingbats. This is the time to go overboard and fill it with all kinds of silly objects. Just remember to leave a generous border of background around the outer edge.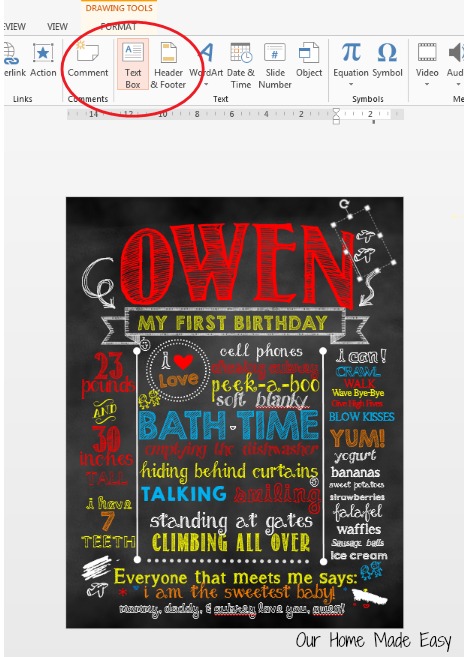 Insert lines and other shapes to help separate your columns. Take advantage of the line designs that you don't normally get to use. Change the transparency and start/end points.
For the banner surrounding Owen's "My First Birthday," I found a free chalkboard clip art banner. Google your keywords and like, the background, you will find LOTS of options!
You may end up changing the text colors several times before you find the right balance. To add more pizazz, add chalkboard images that coordinate with your party theme!
Send it to a Printer
Save the file as an image. PowerPoint will ask you if its only the current slide. Say yes and rename it. Now it's in a .JPEG or .PNG file that is ready to be printed!
Print Options:
Office Depot has print pickup which is great too for busy moms! You upload your image and order it online. Then it's ready about an hour later (they keep you updated). If you have several days to wait for your print you can choose Shutterfly or Walgreens. All places print these off well enough and quickly.
In addition, they both use a printing software that doesn't force the image to fit a certain size like other photo places do. For instance, my printed posters always have a white border on the tops and bottoms because they become too wide (learn from my mistakes!).
Rather than forcing the height fit correctly like some other places, they will print it as white spaces and you can simply trim off the excess. Thus you do not have to worry about smushing or distorting an image.
Your printing options could be as simple as a poster or you could choose foam board. Foam board is excellent for stability. While the poster paper has to be hung up on a wall or placed in a poster frame on an easel.
Before you checkout online, take a look and see if any if the stores have a coupon. There is usually a percentage off your order. Yes!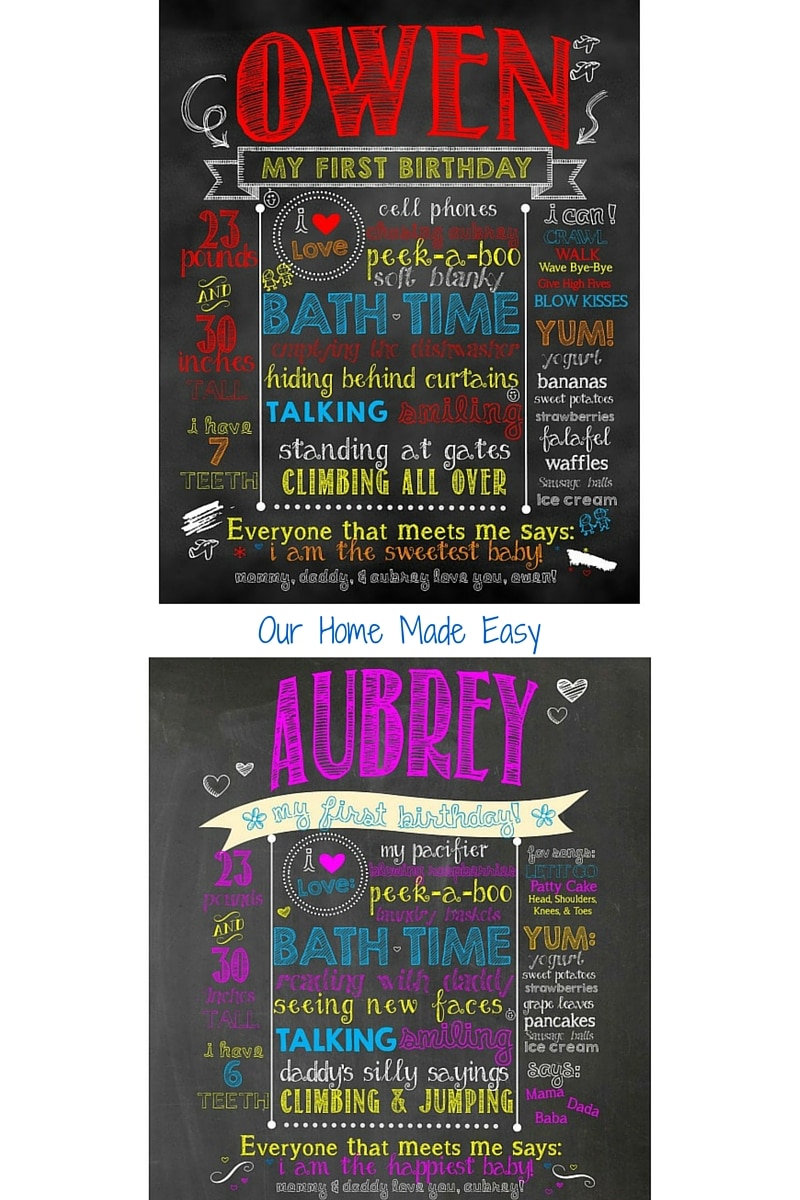 I can't wait to see your artwork!
I hope that you've found this tutorial helpful in creating your chalkboard! You'll find that personalization does not have to be expensive and with a few minutes time, you can create something super special for your little one! Be sure to download the fonts, install them, and order the print. It's so fun displaying (and taking birthday kid pictures with, too)!
PIN FOR LATER: