8 No Fail Ways to Update Old Furniture
Found old furniture and want to bring it back to life? These 8 no-fail options will bring joy back to your piece and make it perfect for your home! So many great DIY furniture makeover ideas from buffet makeovers to bright & fun pieces!!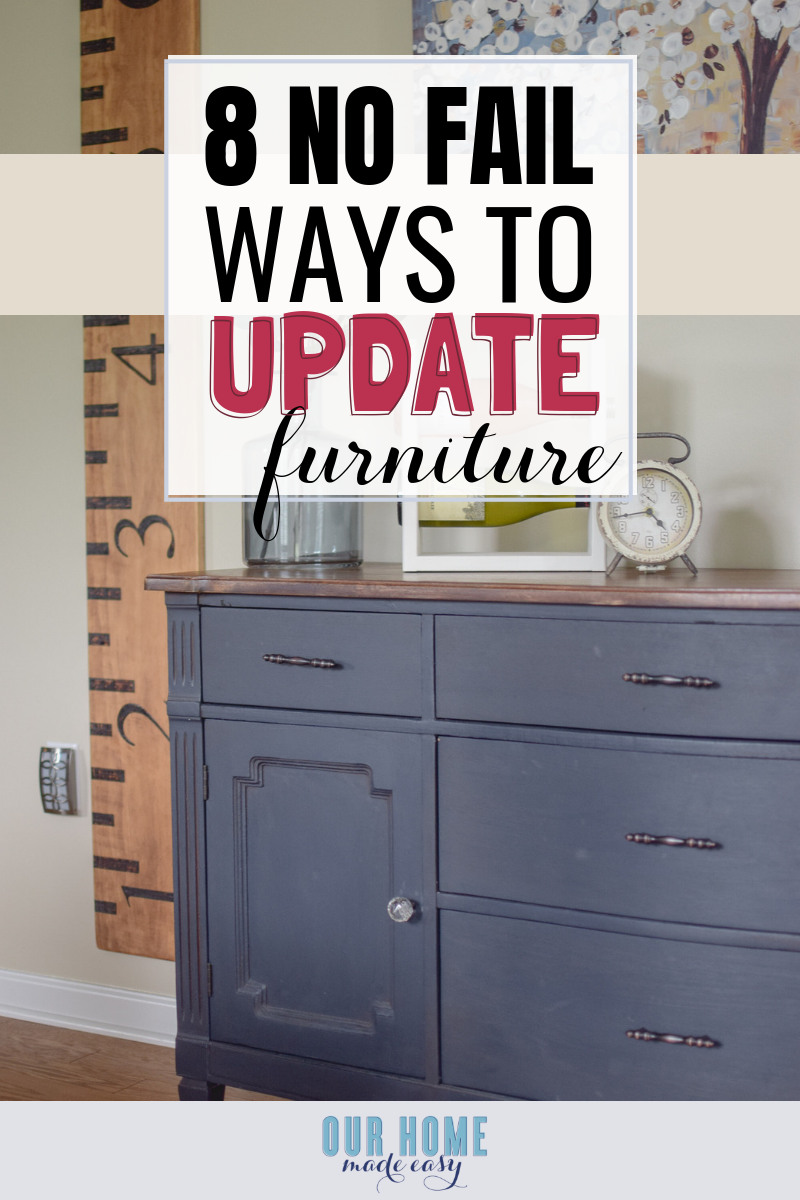 (This post contains affiliate links. Please see my Disclaimer for more information)
When it comes to furniture over the years, I haven't been afraid to get my hands a little dirty— but within limits.
Jordan builds, while I love a great painting project. He knows that I am always looking for old furniture to makeover. I enjoy it– and the house looks just a little less cookie-cutter. And on a budget! How could he ever disagree? ? [For the record? Often.]
And I'm here to say that if this busy, no skill mom can make ugly old furniture beautiful so can you!
8 No-Fail Ways to Update Old Furniture
The next time you find scroll past an ugly piece in Facebook's Marketplace, a Buy/Sell group, or even if you've been meaning to finally do something about a piece in your home, I wanted to share 8 ways you can update a piece of furniture!
And all are relatively easy. They'll cost you your time and muscle power, but that's about the extent of it.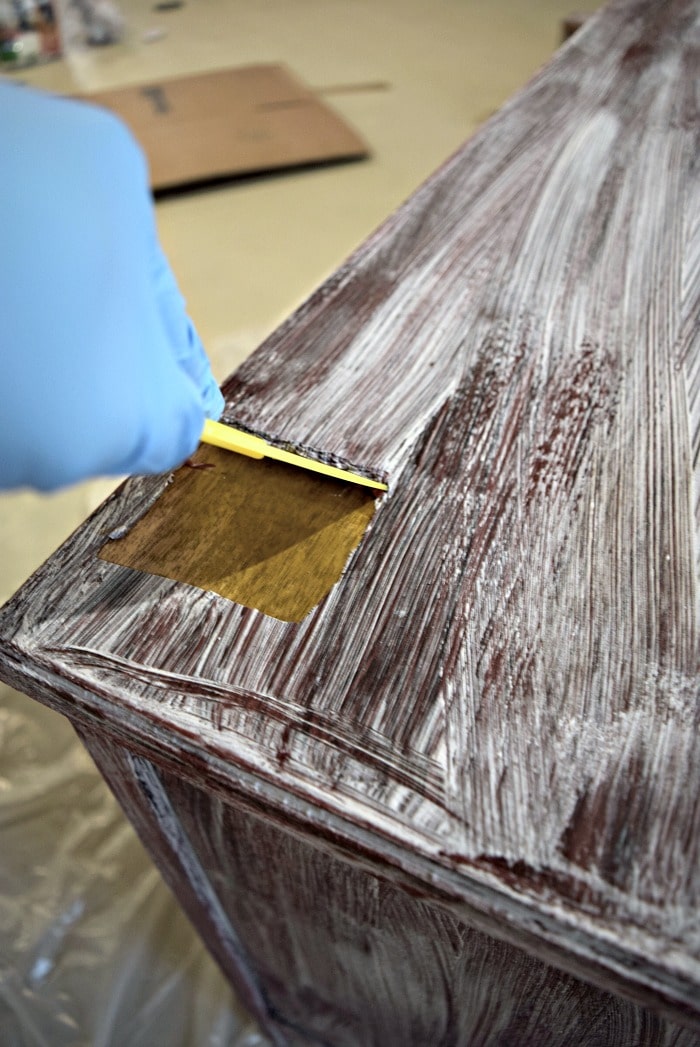 1. Strip the Paint & Add a Clear Wax
If you're a complete lover of all things wood, this may be your best option. Skip if your piece of furniture isn't real wood, or is made of particle board. For our buffet makeover, I stripped the entire piece using this paint stripper.
Once you have your entire piece stripped, use a natural wax to bring it back to its best days. I like to use clear wood wax because not only does it protect the wood, but it shows off its natural colors. Keep reading below if you want to add a darker color.
2. Paint It
Jordan will probably roll his eyes at this one, but I love painting everything I can get my hands on. My go-to paint is always Fusion Mineral paint. It makes beginners like me have projects that look amazing. I used FMP for the bottom of my beloved buffet makeover in Midnight Blue.
Related Fusion Mineral Paint Posts You Might Like:
You can read all about my Fusion Mineral paint review above and also see 13 Fusion neutrals next to each other if you're debating between colors!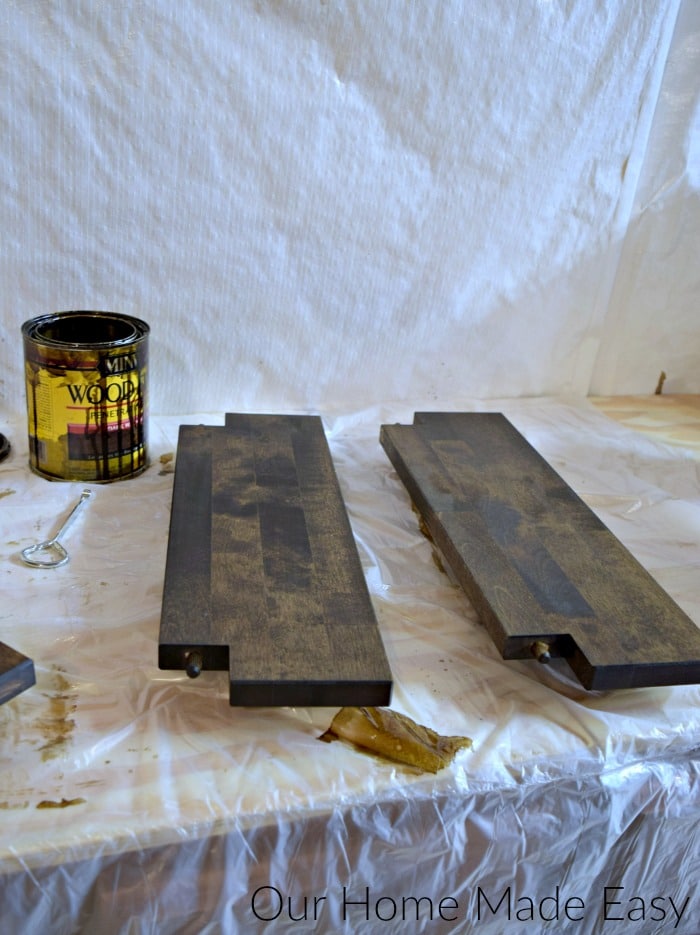 3. Stain It
Right behind painting, I love making over the furniture with stain. But be warned— test out your stain in a small spot to see how the stain takes to your piece.
While we have a favorite stain, we know that it can look very different on different types of wood. To overcome this, we will stain our piece 2 different colors to give the shade we love so much.
You can choose to buy your stain from any big box retailer or you can make your own! I've never made my own recipe, but you can find several great ideas here.
Staining a piece versus painting furniture is definitely a personal preference! You can find warmth and modern tones of stain, just like you can go classic all-white paint or something bright like yellow.
Have I mentioned how much I love restoring furniture?
It's the easiest way to make a custom piece that is for you– and you can do it in one weekend!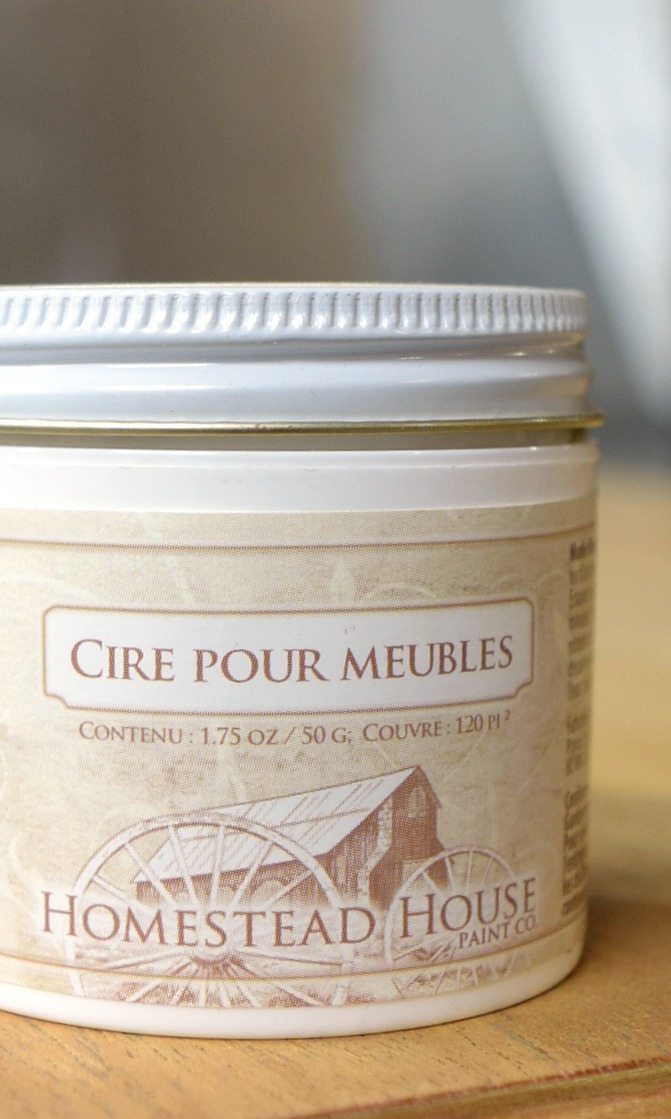 Download your furniture refinishing shopping list right here! You can keep track of supplies and planning your step all in one place!


4. Add Furniture Wax
If you have a piece that is stripped already or just could use new wax, consider adding a darkened wax to it. First, clean your piece and follow any prep directions for your wax.
When I painted my buffet a few years ago, I topped it off with Espresso Wax from Homestead House. It made the entire piece look a little darker and less perfect. I wiped wax across the entire piece and wiped it off. I left a little extra wax where it would naturally 'age.'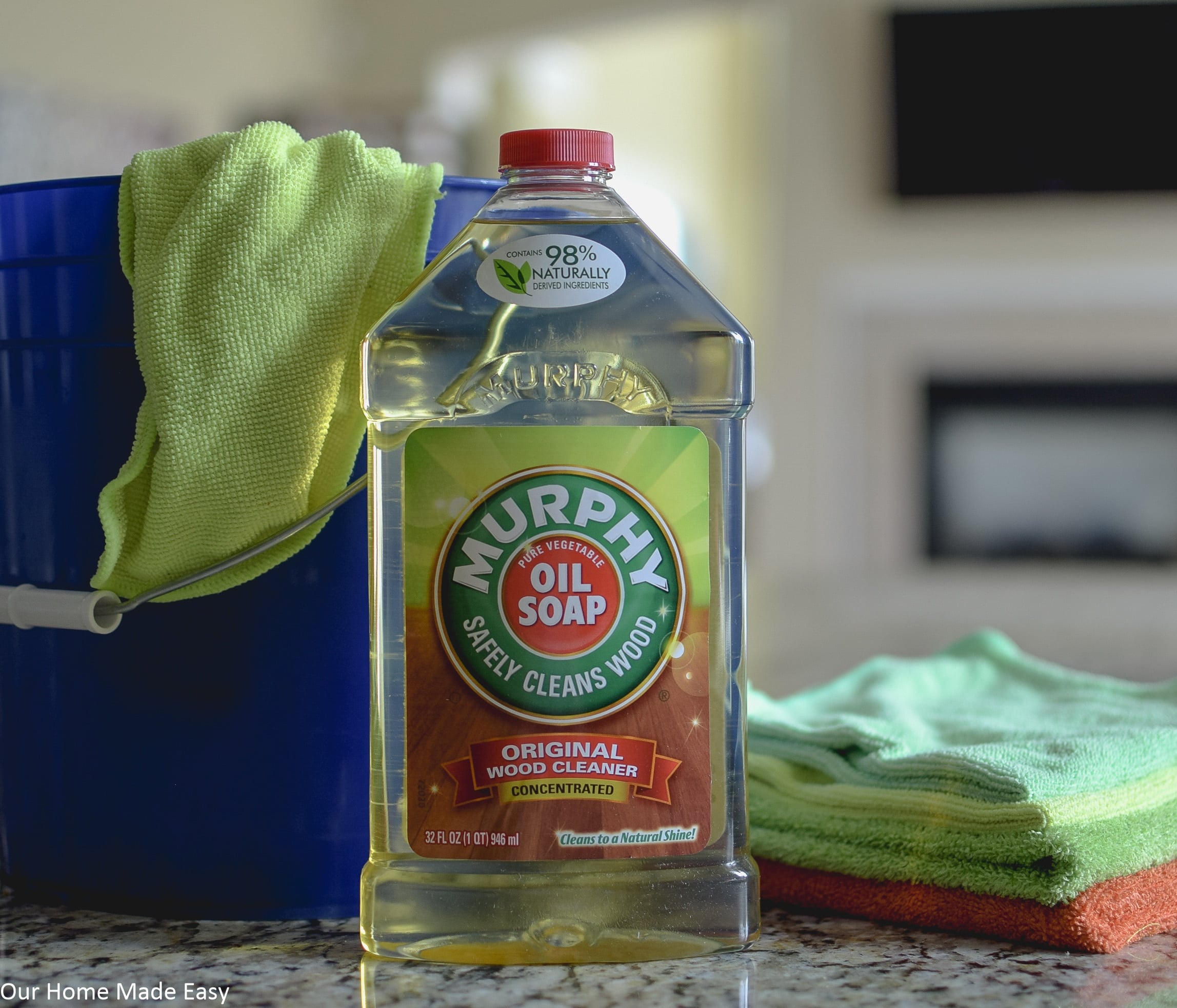 5. Clean It!
Sometimes, all your next project needs is a good scrubbing.
You may already have a favorite cleaner, but I like using Simple Green for most outdoor / non-wood furniture. Lauren from Bless'er House showed pretty impressive results when she cleaned her new trash to treasure find!
If you have a power washing system, you may be able to get even better results (on the stuff that can handle it of course).
The next time you see a buy/sell post with old furniture, think of the possibilities with just some elbow grease! No paint or wax needed!
6. Spray Paint Secondhand Furniture
I think of spray paint as being the final option for making over great furniture. The biggest reason? While it's incredibly cheap, I struggle to avoid the drip lines. And honestly, Jordan is way better at being patient with spray painting than I am.
However, a can of spray paint can do wonders to the furniture you already have on-hand! You can choose to make a piece bright and shiny statement piece, or you can even use matte spray paint to make it look aged.
The fun part about spray paint is that there is usually minimal prep work and you can be finished in an afternoon. Pick a punchy color for small pieces like tables and plant stands! Wouldn't this color look great all year long?
Spray paint options are so large that this isn't your dad's bright red color anymore.
If you're ready to tackle a big spray painting project, I've found this How to Flawlessly Paint Spray Furniture tutorial super helpful.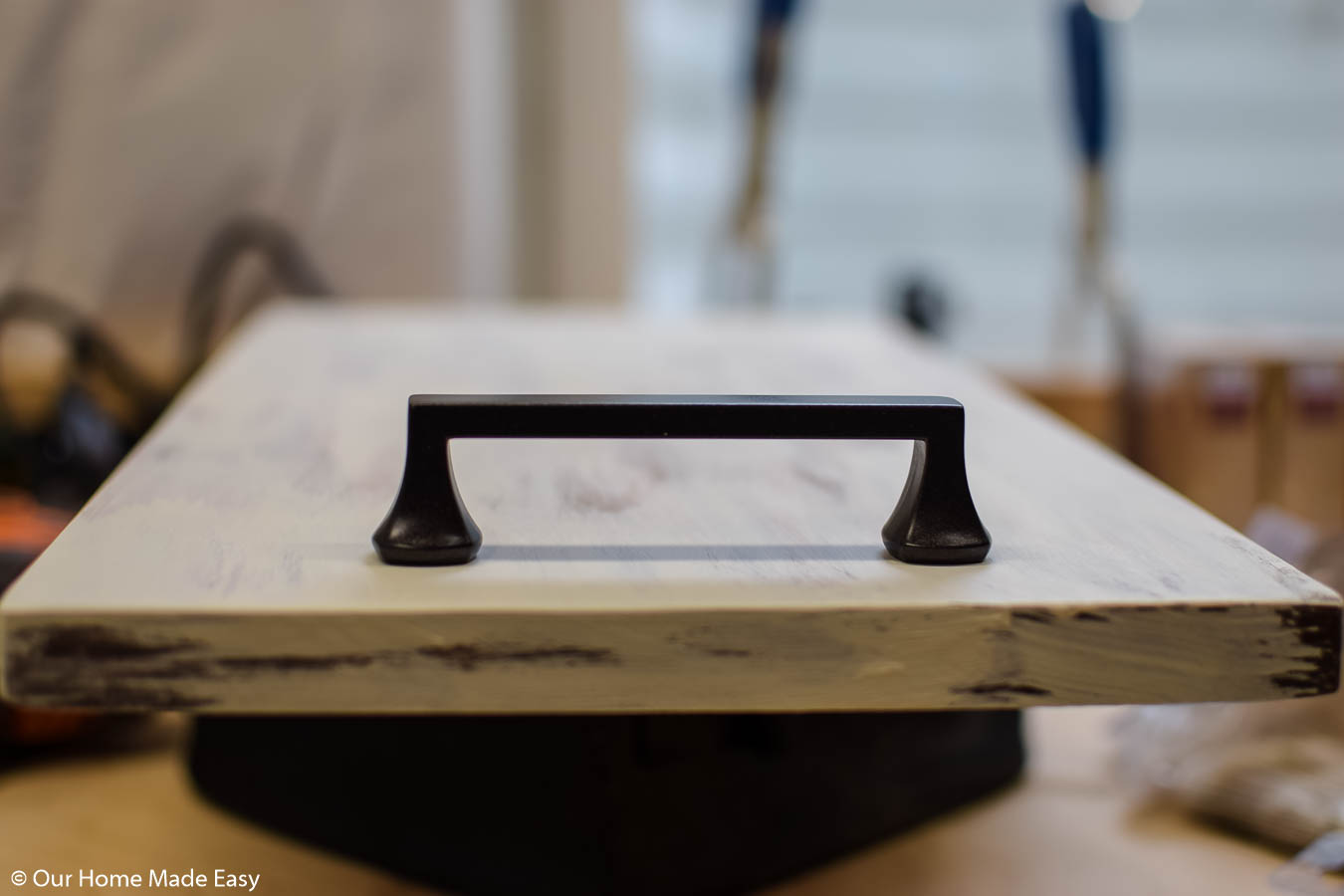 7. Add New Hardware
If you find yourself liking the color of a piece already, but think there's something about it that seems outdated, consider swapping out the hardware.
You can add lots of personality from stores like IKEA, Restoration Hardware, Crate & Barrel, or even Lowe's.
For less than a few dollars a pull, swapping out hardware can make a big impact without taking too much work.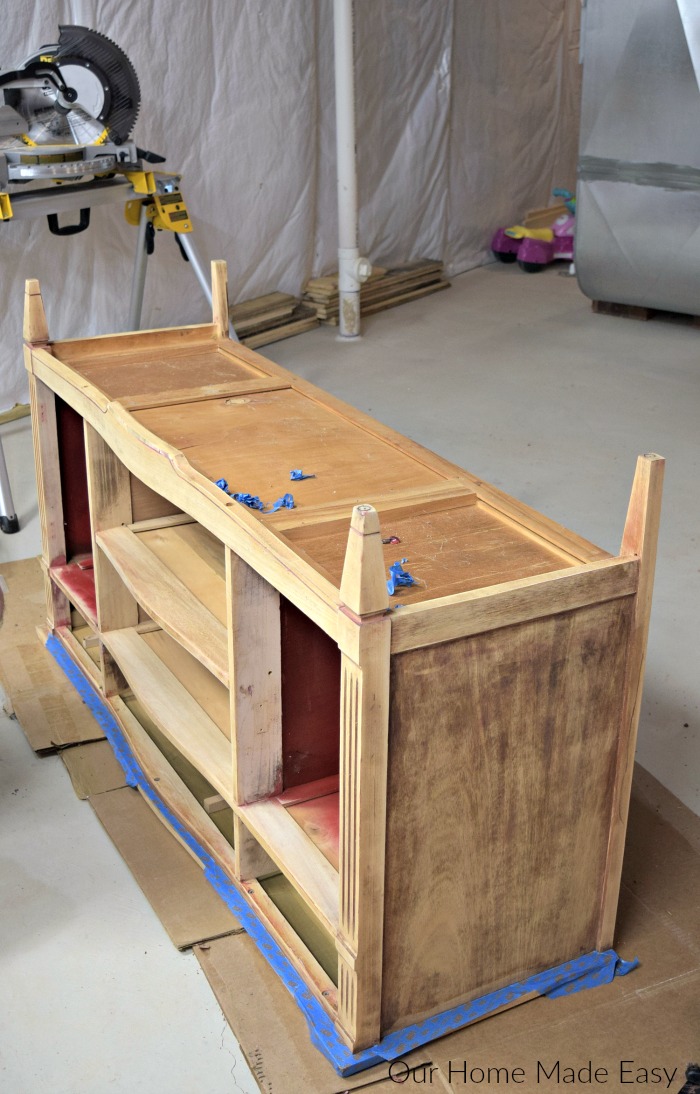 8. Swap Out the Legs
Add a little extra pizzaz by changing out your piece's legs. Before you do this, turn your piece on its side to see what it would take to remove the current legs. If it looks simple enough, you can buy fun hairpin legs, modern legs, or even some craftsman style legs online. Take this opportunity to change up the piece's height to make it fit your space.
Need more convincing? This article shows 19 Before & Afters to show how much impact swapping out furniture legs can do for your piece!
Now that you have these 8 ideas for updating old furniture, you can make a piece fit perfectly in your home in no time. The next time you feel compelled to make something with your hands, find an old chair or buffet and start cleaning! Secondhand furniture doesn't need to look drab, modernize it today.
Don't forget to download your furniture refinishing shopping list right here! You can keep track of supplies and planning your step all in one place!


PIN FOR LATER: