The Ultimate Guide to Creating Family Christmas Cards
Did you just ace your last family photo session? It's time to use those happy photos for your family Christmas cards! Here is everything you could ever need to know about the best place to order Christmas cards! Send them out on time and without feeling overwhelmed with the Holiday chaos.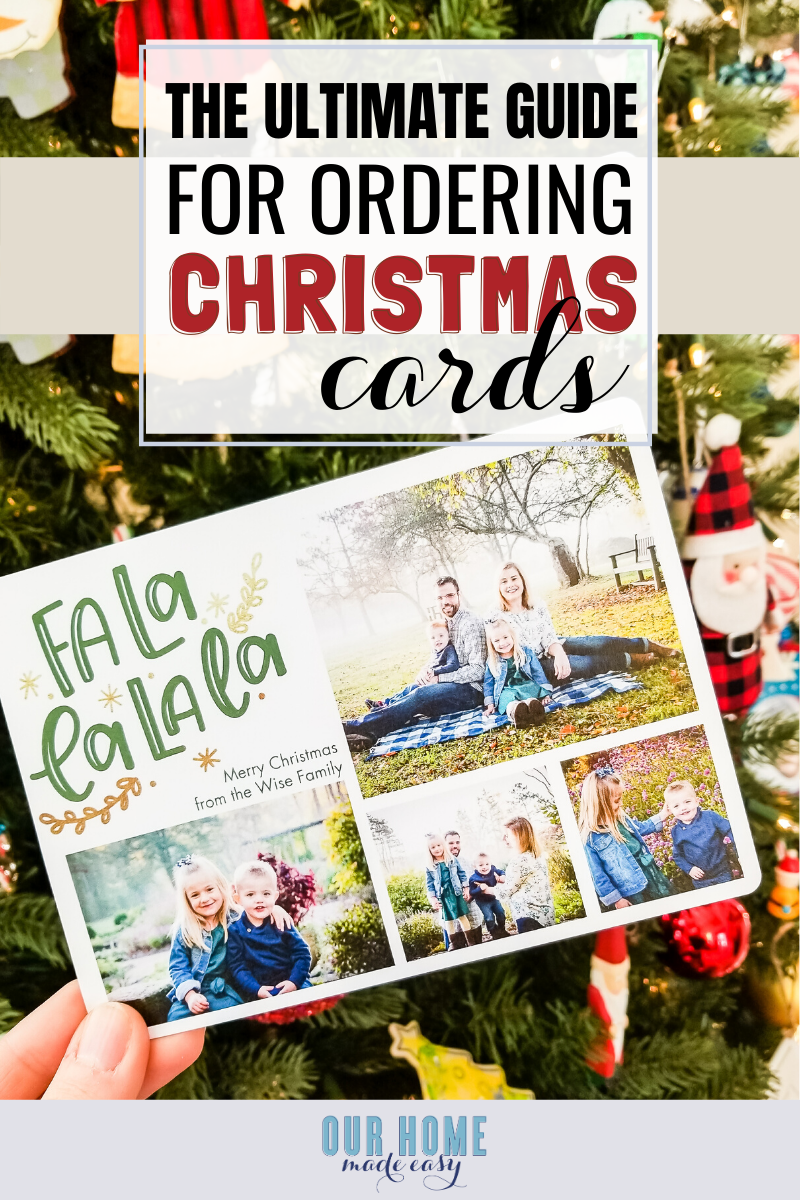 (This post contains affiliate links. Please see my Disclaimer for more information)
Do you catch yourself hurrying at the last minute to order family Christmas cards?
Or do you find yourself overwhelmed with the number of choices to choose from each year?
Yea, me too!
It's a complete exercise in logistics to coordinate family photos, downloading photos, choosing a cute photo holiday card, and then sending them out in time. It can make any busy mom feel overwhelmed. You are not alone.
We just ordered our family Christmas cards this year and I wanted to share how exactly we do it to save a ton of time. No tears of frustration the year– finally!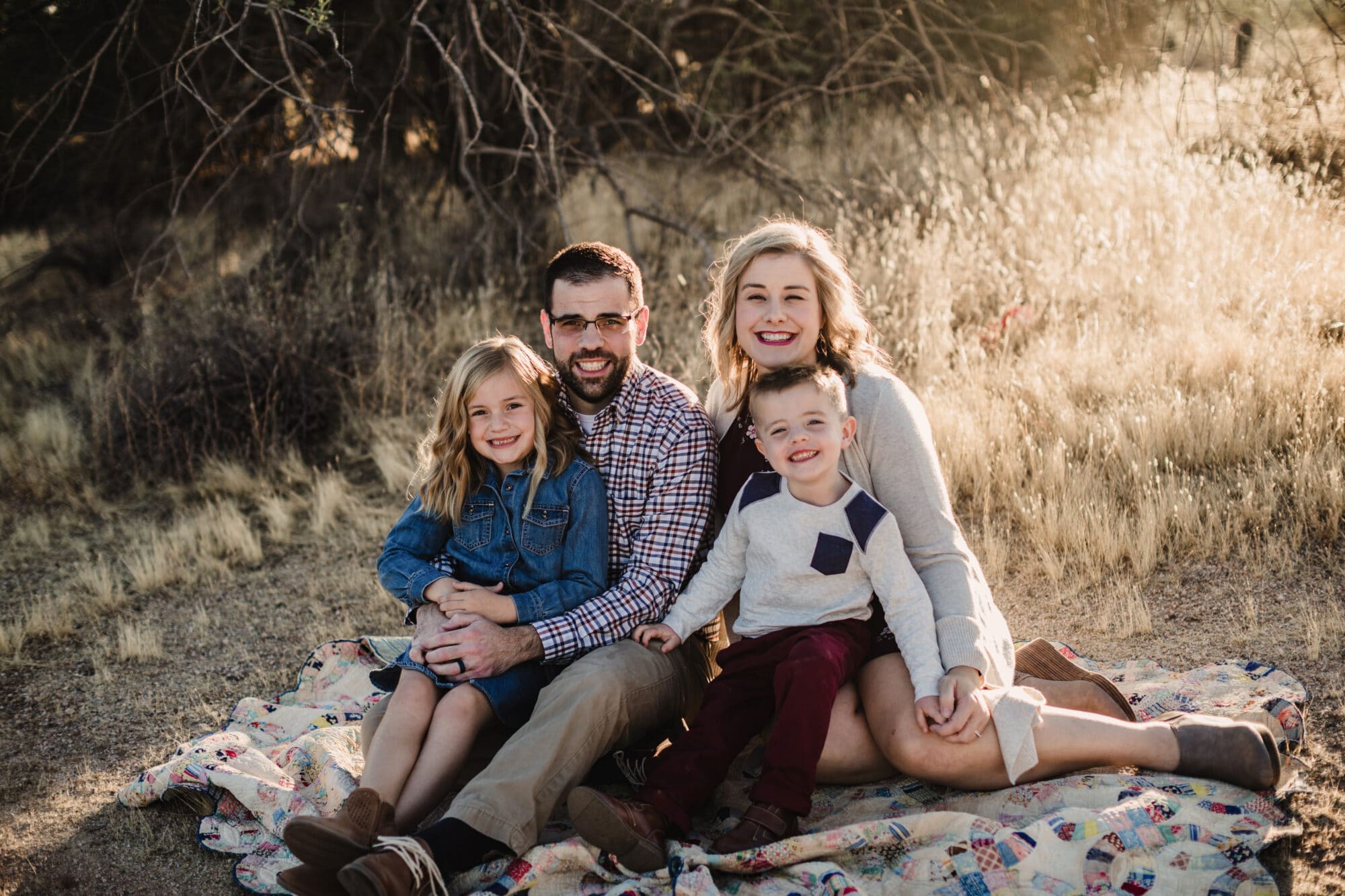 Which Photos Should I Use for My Christmas Cards?
You may be worrying if you don't have those super cute "everyone in holiday PJs" photos. You don't need them to make a beautiful card! You'll be surprised at how you can create a beautiful card with almost no Christmas specific photoshoot.
Photo Ideas for Your Christmas Cards
Silly Photos of Each Kid
Family Photos From Vacation (find one with an interesting background)
Family Photoshoot Photos
Outakes from a Photoshoot
Family Characteriture/Cartoon
Candid Snap of The Kids & Your Pets
The Family Wrapped in a Cozy Blanket
Have a Stranger Take a Photo While You're Picking Out the Christmas Tree (on your phone of course!)
The silliest photos can make the BEST Christmas card photos! They share joy. 🙂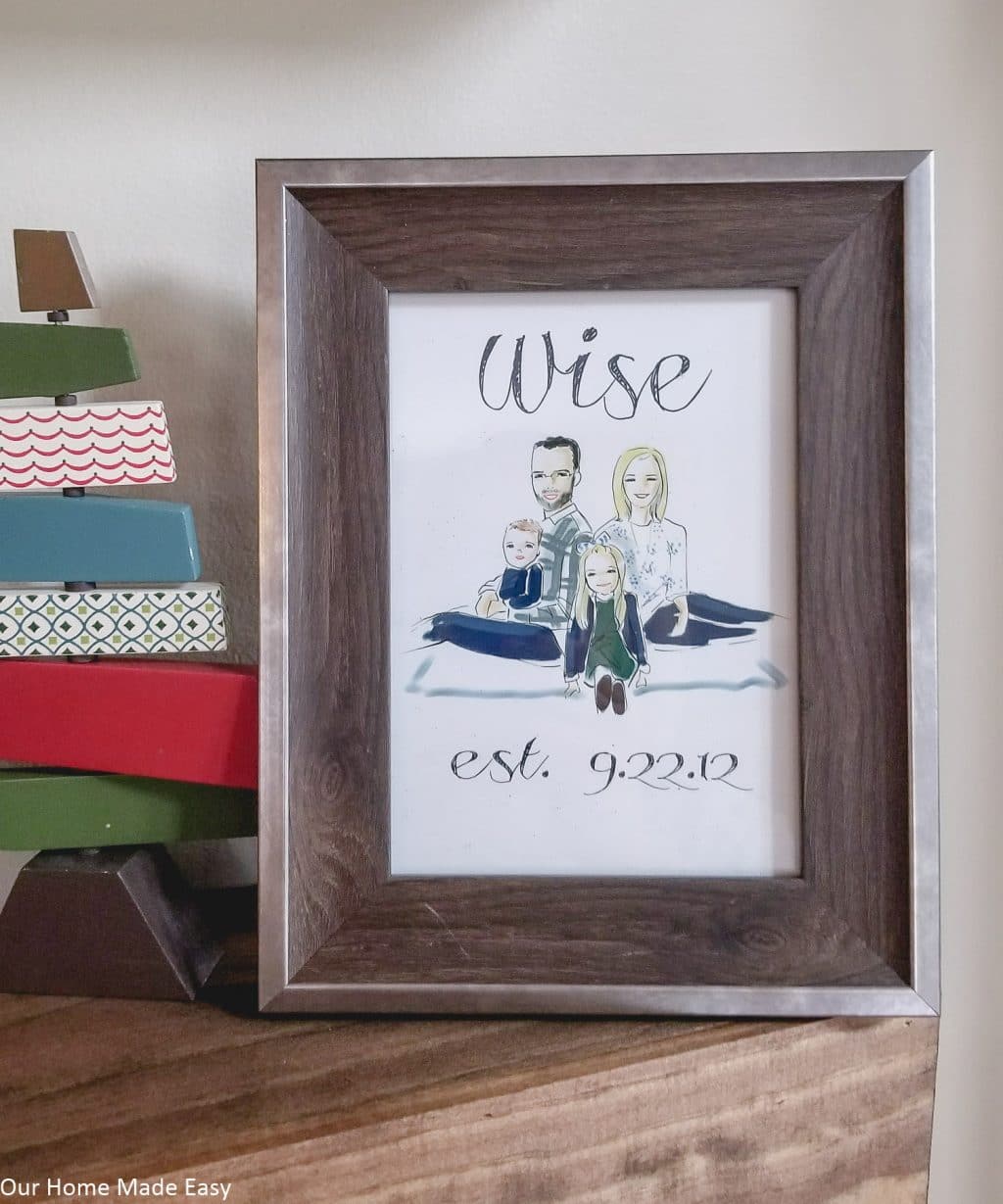 Fun Family Christmas Card Ideas That Don't Have Photos
If you cannot find a family photo that you love or getting everyone together at one time is near impossible, there are some creative ideas for you to do this year!
Create a year in review card! Check out this card. Isn't it cute? Consider brainstorming 6 or 8 items that were fun and you'd love to share this year. It could be new jobs/promotions, big life events, or even losing a tooth and a baby sleeping through the night. Celebrate the small moments that will make your card recipients smile.
Use a family drawing! Our neighbors sent their cards like this one year and they were adorable. I immediately asked her who she used because they captured her family SO WELL.
Other Posts I Think You'll Enjoy: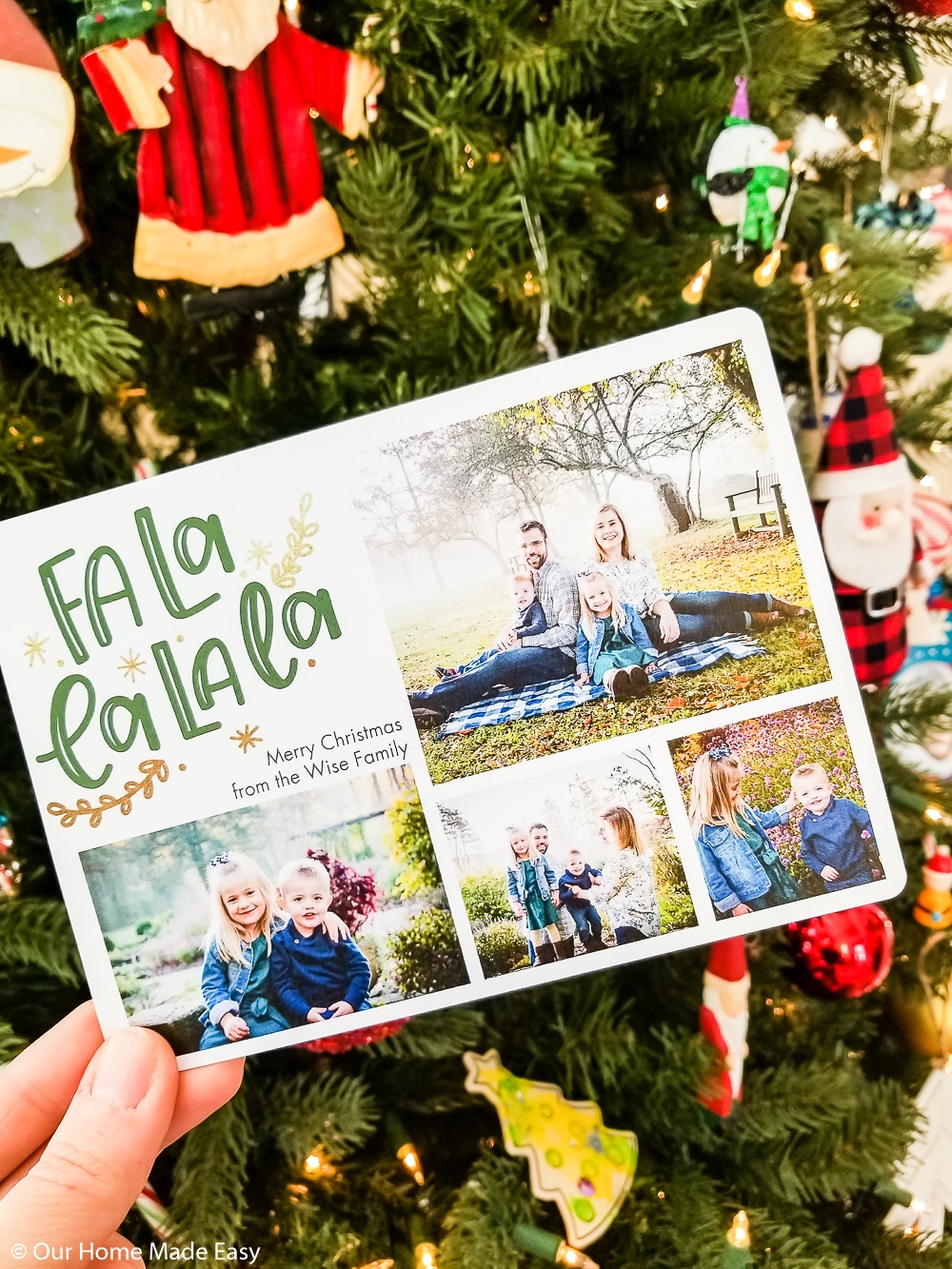 When Should I Order Christmas Cards?
I would order your cards as early Mid-November to make sure they arrive with plenty of time for you to mail them out! You'll likely find lots of Black Friday specials for print ordering and usually, that is plenty of time to mail out your cards.
If you are waiting for early December, be sure to plan to fill the envelope and mail the cards in one night! You'll likely only have a few days between receiving them in the mail and wanting to send them out.

When Should I send out my Holiday Cards?
Usually, the goal is to get them out in the mail by mid-December to make sure they arrive before Christmas. I like to give at least 10 days before Christmas to give the Post Office A LOT of time to make those deliveries!
Have you recently moved into a new home?
If so, you may want to send out your cards earlier than usual to give everyone plenty of time to update their address books before they mail their card to your old address (thankfully mail forwarding should cover any missed items!)…
Did you order your family Christmas cards pretty early?
If you had a Fall family photo session, you're likely ahead of the game when it comes to ordering holiday cards! If you ordered your cards in Mid-November, wait until after Thanksgiving to send out your family Christmas cards.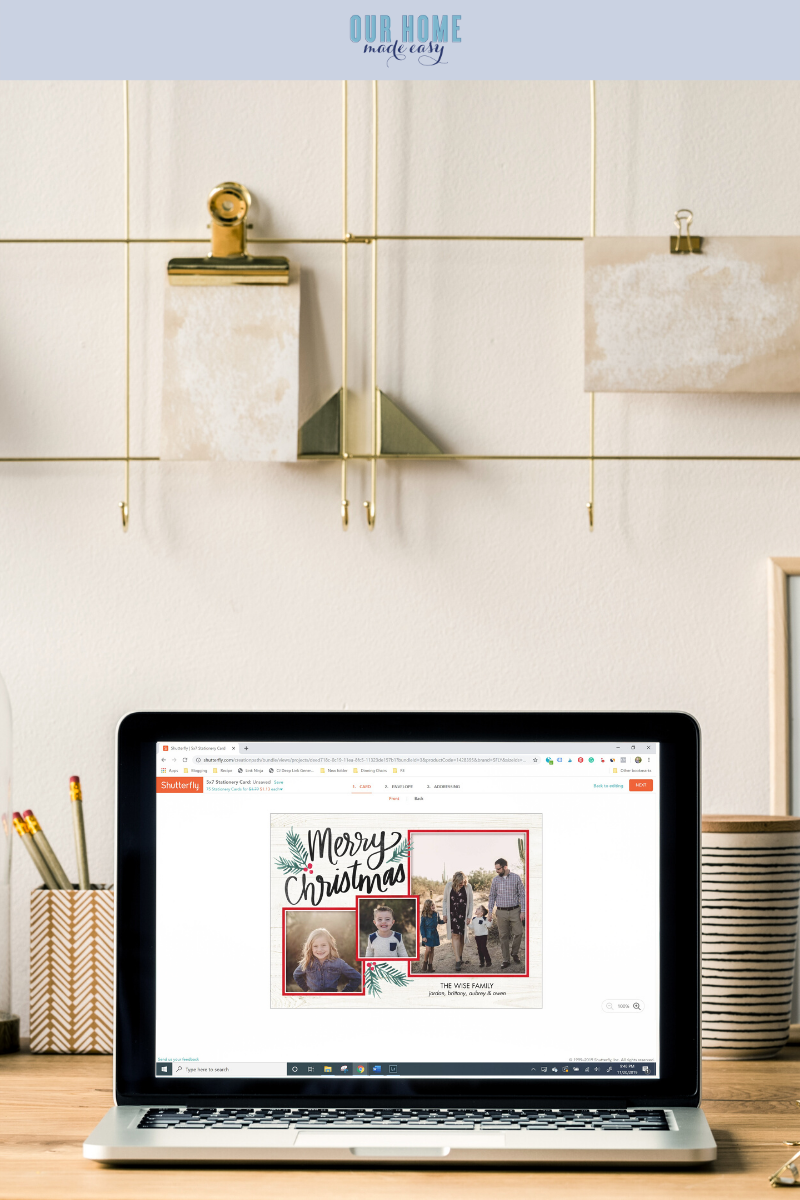 The Best Places to Order Christmas Cards
Regardless of where you order your holiday cards, be sure to find promo codes to save even more money. If you're worried about time, be sure to double-check shipping times. You'll want to make sure that there is plenty of time for them to arrive at your home and your turnaround time to get them out in the mail!
Costco (No longer an option as Costco has removed their Photo services and redirected customers to Shutterfly)
A Cheat Sheet for To Skip Writing Out Addresses
Do you have a copy of Microsoft Office?
Great! Set this up while you're binging on Shonda-land one night and you'll save hours every single year!
Create an Excel Sheet with your list of addresses. Create a column for Name, Street Address, City, State, and Zip Code. Fill them all in with your list. Then buy a standard pack of clear Avery labels.
Open the Avery template listed on your label packaging. Follow the Avery instructions to mail merge your Excel document into the labels! You can add a little icon/image or leave them blank. Print them off and you'll have your Christmas cards ready to go in just a few minutes.
Repeat each year with your cards!
Ordering this year's family Christmas cards should be a breeze! Upload some of your best family photos and don't forget about that promo code to save yourself some extra cash. I can't wait to hear about what your cards look like this year! Feel free to tag me on IG or Facebook at @ourhomemadeeasy!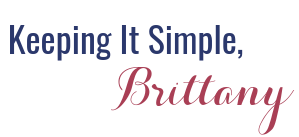 PIN FOR LATER: