This is a sponsored post by EGO Power+. All opinions are my own. A review of the EGO Lawn mower in a small yard. Find out about the battery-powered lawn mower and why it's a great choice for busy families!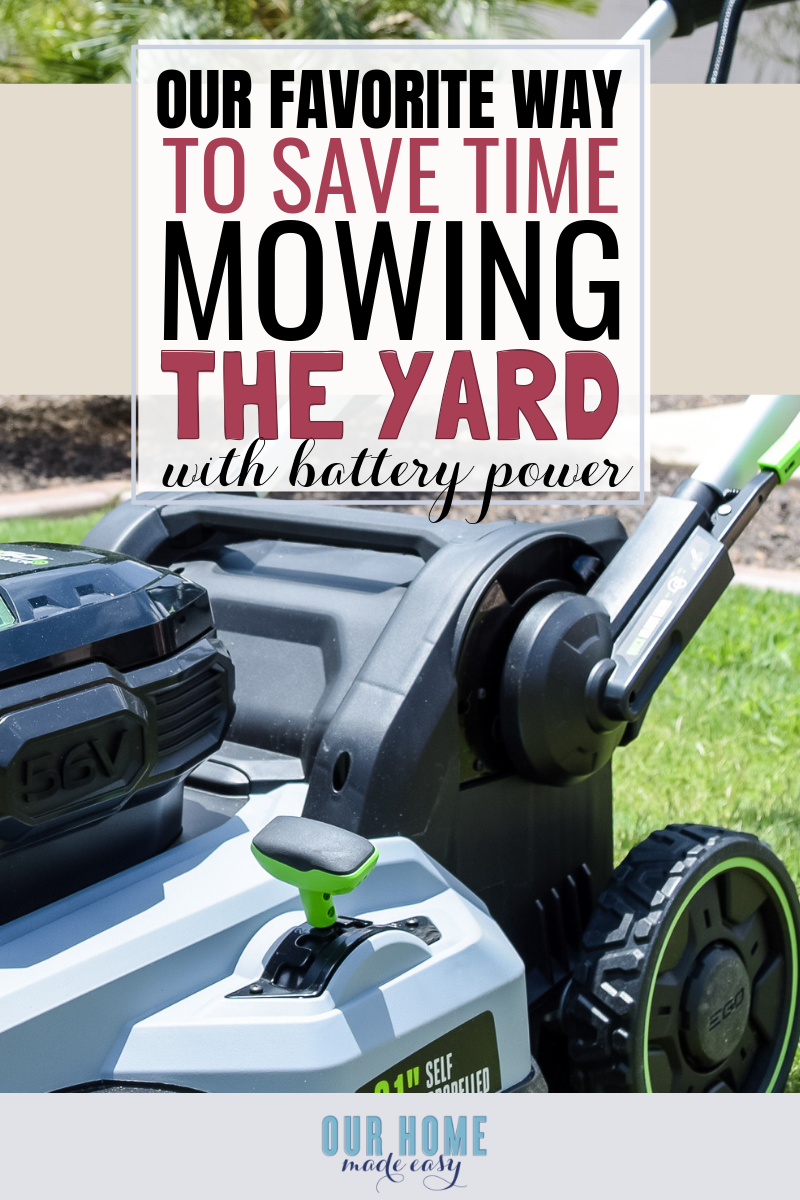 (This post contains affiliate links. Please see my Disclaimer for more information)
When we recently moved into our new home in Phoenix, Arizona, we needed a new lawn mower for our cute little backyard. Over the past few years in Michigan, we used a lawn service since Jordan was traveling so often during the week and our cul-de-sac yard was HUGE.
We decided to save our pennies here in Arizona and keep the yard work "in-house" and we started lawnmower shopping right after we moved into the new house.
But rather than choose a traditional gas-powered lawn mower, we wanted to look into something that would make cutting the grass seem less like a chore and feel environmentally better about it too.
EGO Power+'s lawn mower fit what we were looking for in a product and I wanted to share what we've experienced so far with the lawnmower.
FYI: We took photos at my parent's house because it's 110+ degrees and Jordan & I are still learning how to water our yard correctly. While it's still being mowed, it's a little brown. ?
However, my parents? Their yard is perfection after years of living in the desert.
Thankfully, my parents were okay with us offering to mow their yard in exchange for letting us snap a few photos. As a matter of fact they looked pretty cool and relaxed inside while we did some of their yard work. #tradeoffs
And Aubrey & Owen? Well, they were enjoying themselves in the background. ?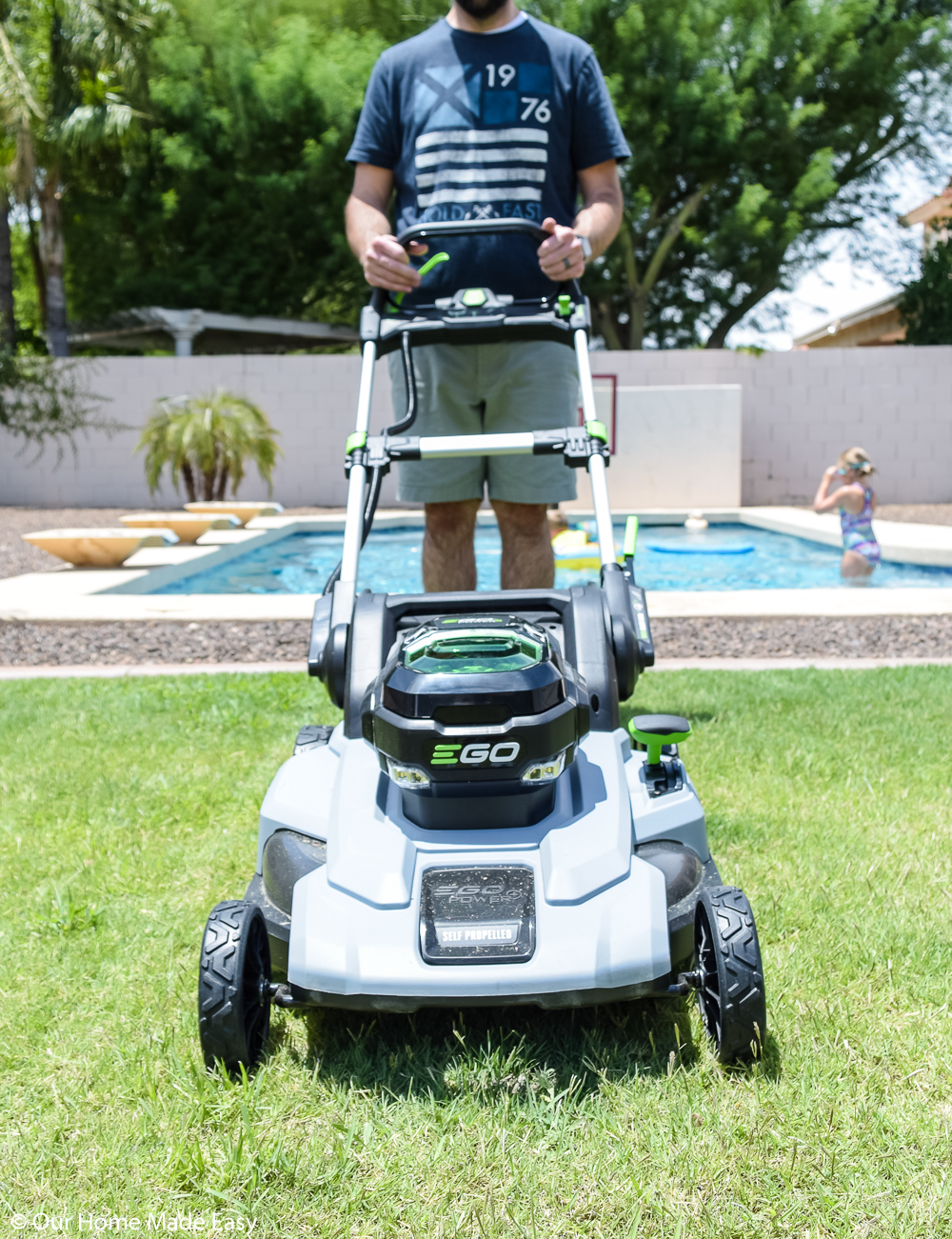 Why the EGO Lawn Mower is the best way to save time mowing your yard
Before we start talking about the lawnmower, I wanted to share why we partnered with EGO Power+. It's really important to me that we share products that we absolutely love with you that will help you save time around the house!
We chose to work with the EGO brand because we are already an EGO household. We already have an EGO Cordless Blower and enjoy the convenience of being battery powered.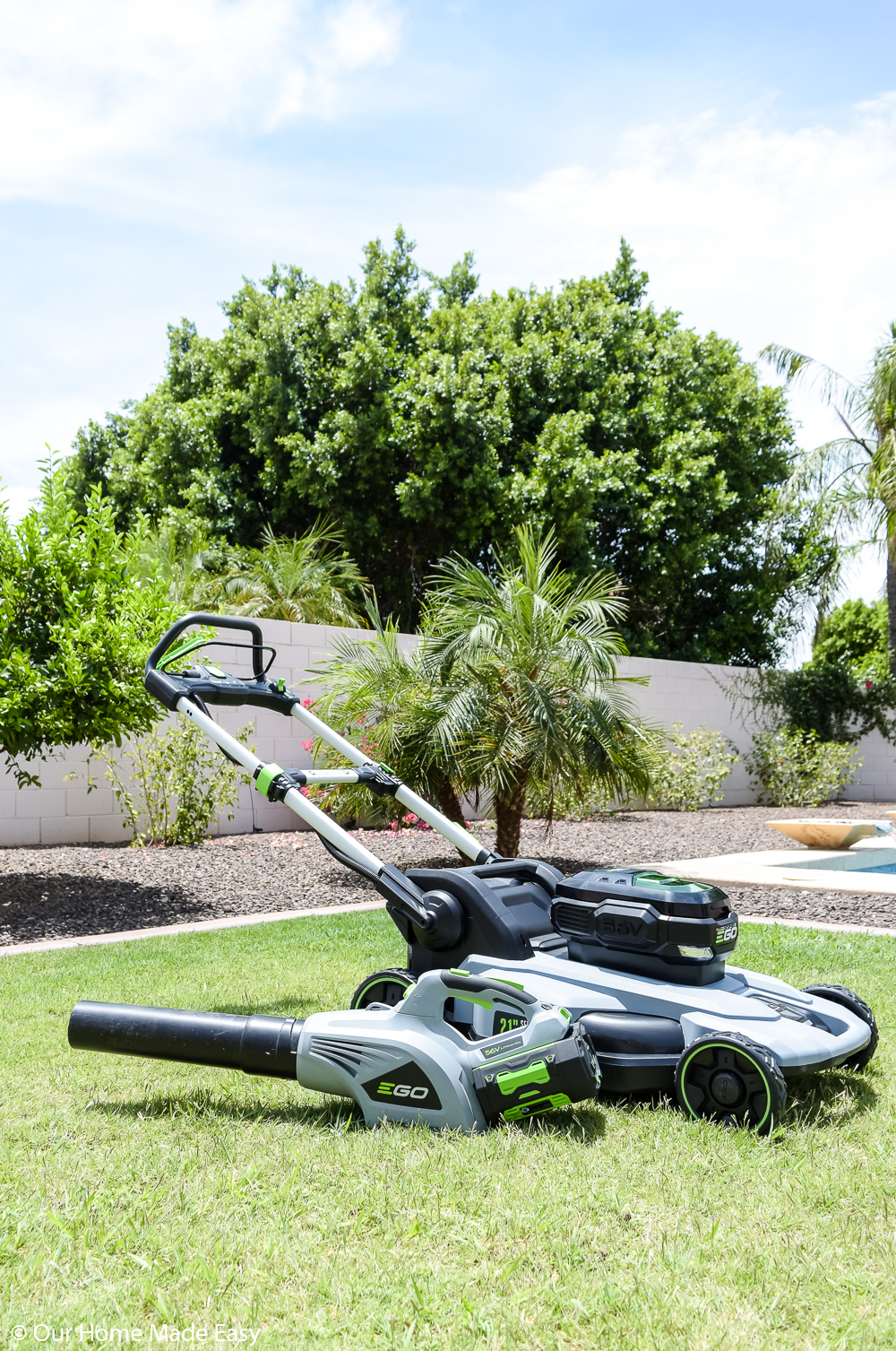 Other Posts I Think You'll Enjoy:
Over the years of using our EGO cordless blower, it's been reliable and always takes just a quick charge to get the blower started. We liked the idea of choosing one brand over multiple brands so that we could interchange batteries for many tools. It's always easier to have a backup charged in case the one you are using runs out of power.
As we were researching brands, continuing with EGO products turned out to be a no-brainer. Jordan definitely geeked out with this new mower. He is already considering adding to our collection the string trimmer or multi-head tool to go totally electric in the garage.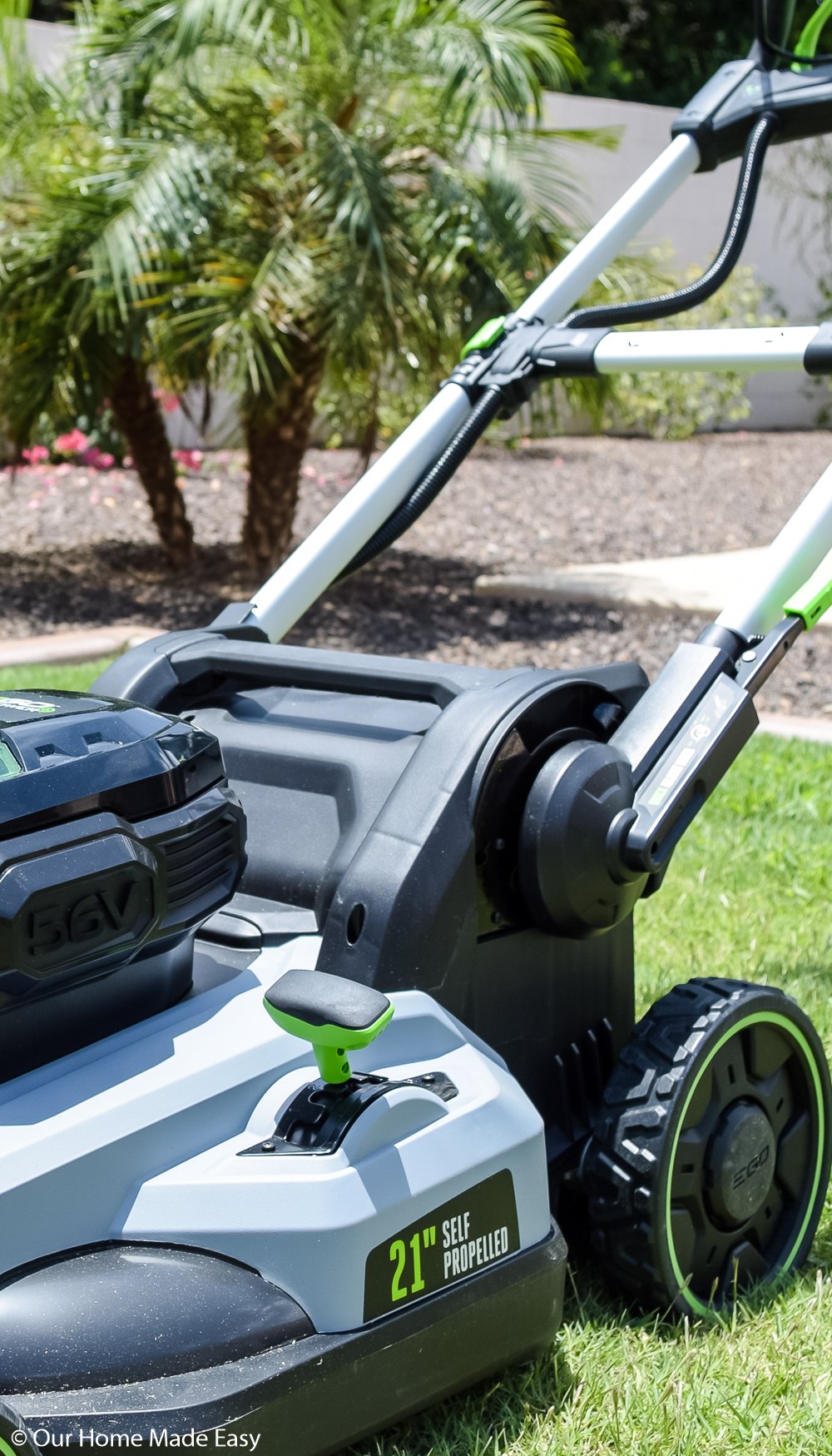 What We Really Liked About the EGO Power+ 21" Self Propelled Mower
The Setup
Ease of initial setup, pulled straight out of the box ready to go, minus charging the battery (it takes about 60 minutes to charge out of the box!)
The Engine
No concern with over flooding the engine during startup
Easy to adjust self-propelled speed, variable speed
Quiet operation, compared to gas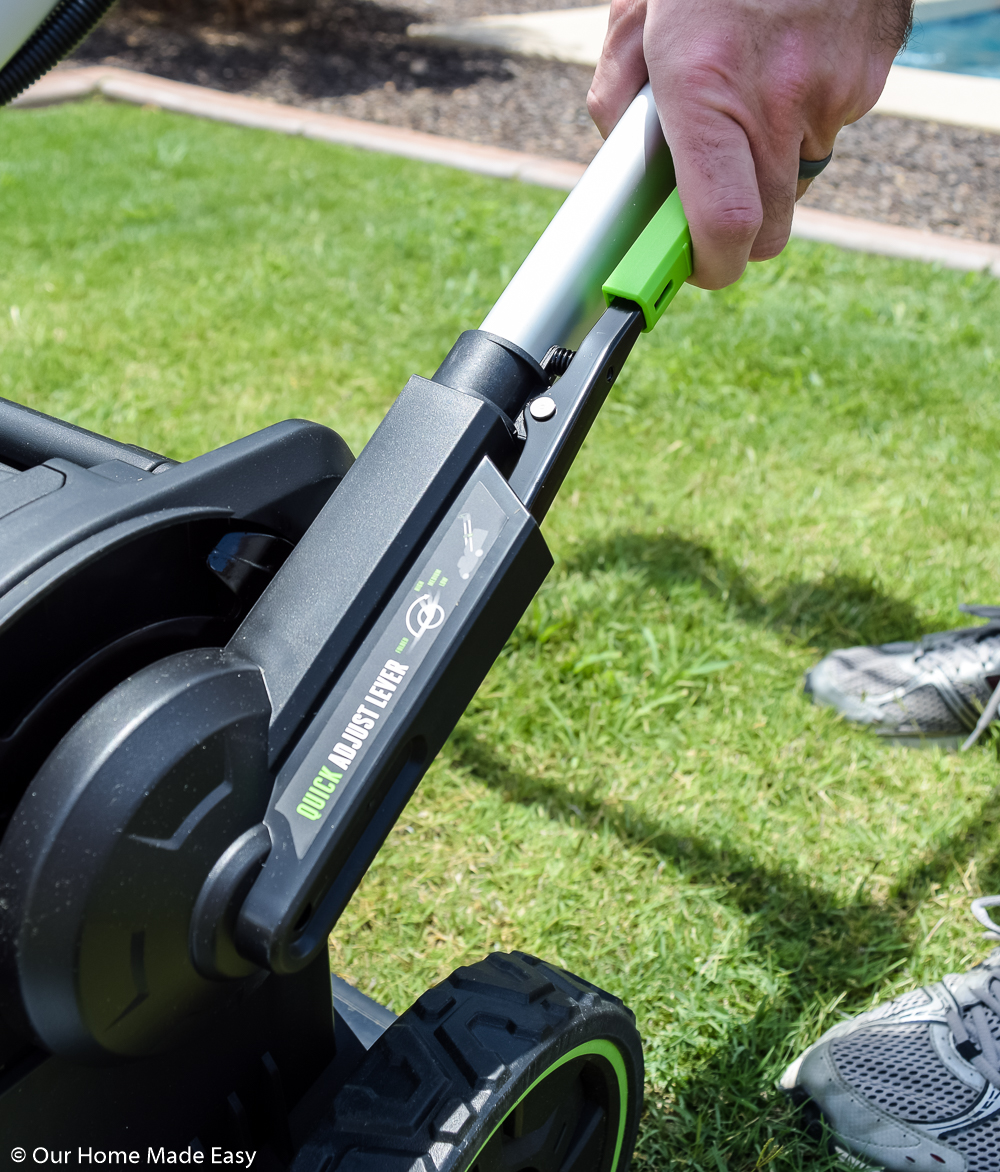 The Position Options
The handle can be positioned at three levels for different person heights
The lawnmower deck height can be adjusted with one handle and is very simple, no more adjusting each wheel separately.
The Storage
Easy storage, handle collapses with ease and store vertically to stay out of the way.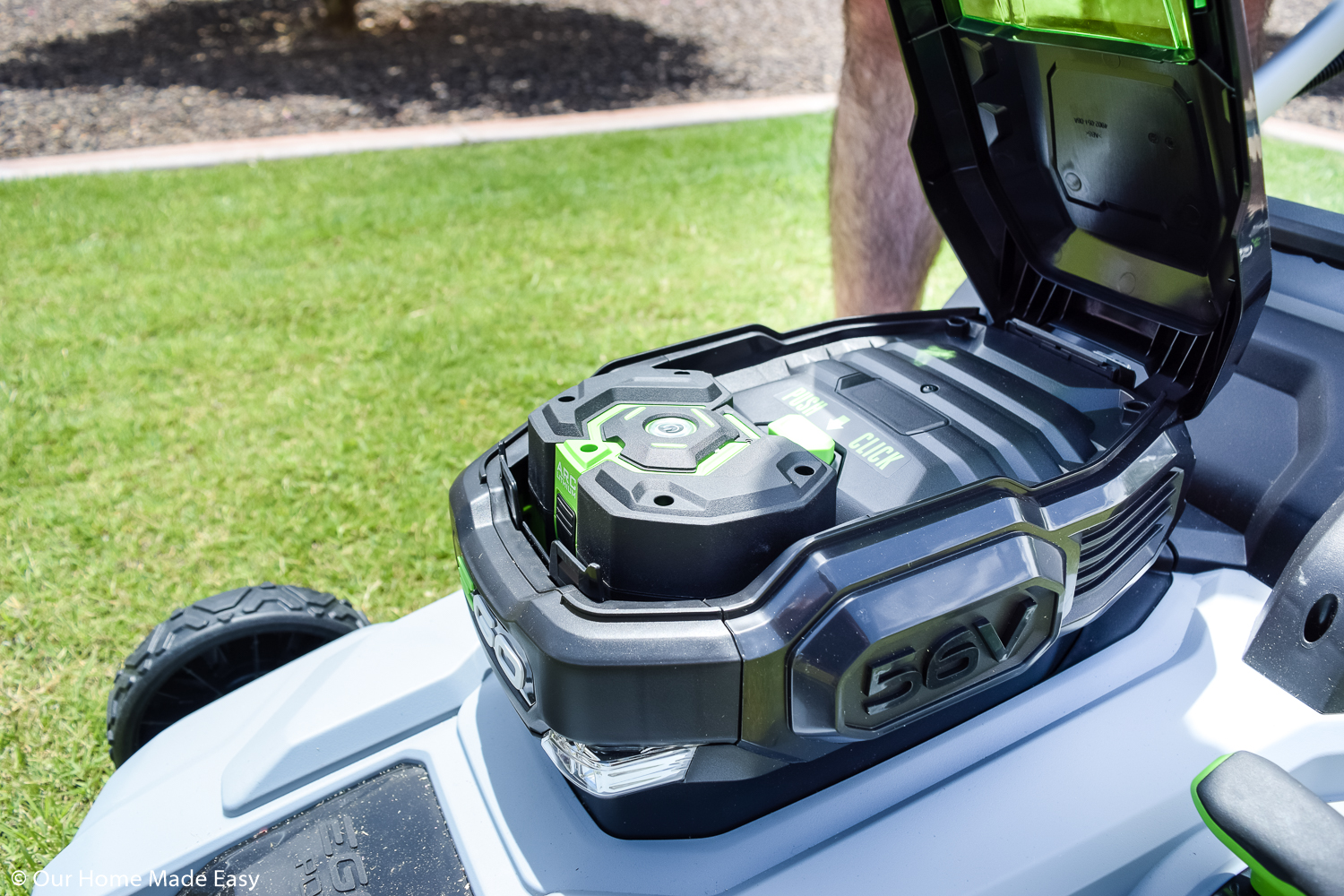 Why We Feel Better About Using the EGO Mower
As we've gotten older, Jordan & I have both started becoming more environmentally conscious. We are by no means great at being green, but when we have choices, we try to choose the more environmentally safe route.
And that's how we decided we wanted to choose an electric lawn mower versus a gas powered one. When you choose an electric lawn mower, you don't need to be concerned about stale gas. You also don't need two gas types and mixing them.
When we had a gas powered lawn mower, we had a gasoline container for the mower and another one for the blower. Since we didn't refill the containers often, it was challenging remembering what the correct ratio was for the oil/gas combinations in blowers and string timers
When we did need to refill the gas containers, it was always after I sent the kids outside to play while Jordan was in the garage and ready to start yard work. When he ran out, inevitably there were tears from the kids to come back inside and extra hassle for Jordan to run to the gas station.
A two-hour chore suddenly turned into an almost three-hour project fairly often.
Knowing how much effort it was to have the gas-powered lawn mower when you don't have much time to spare, we really wanted to find an electric one.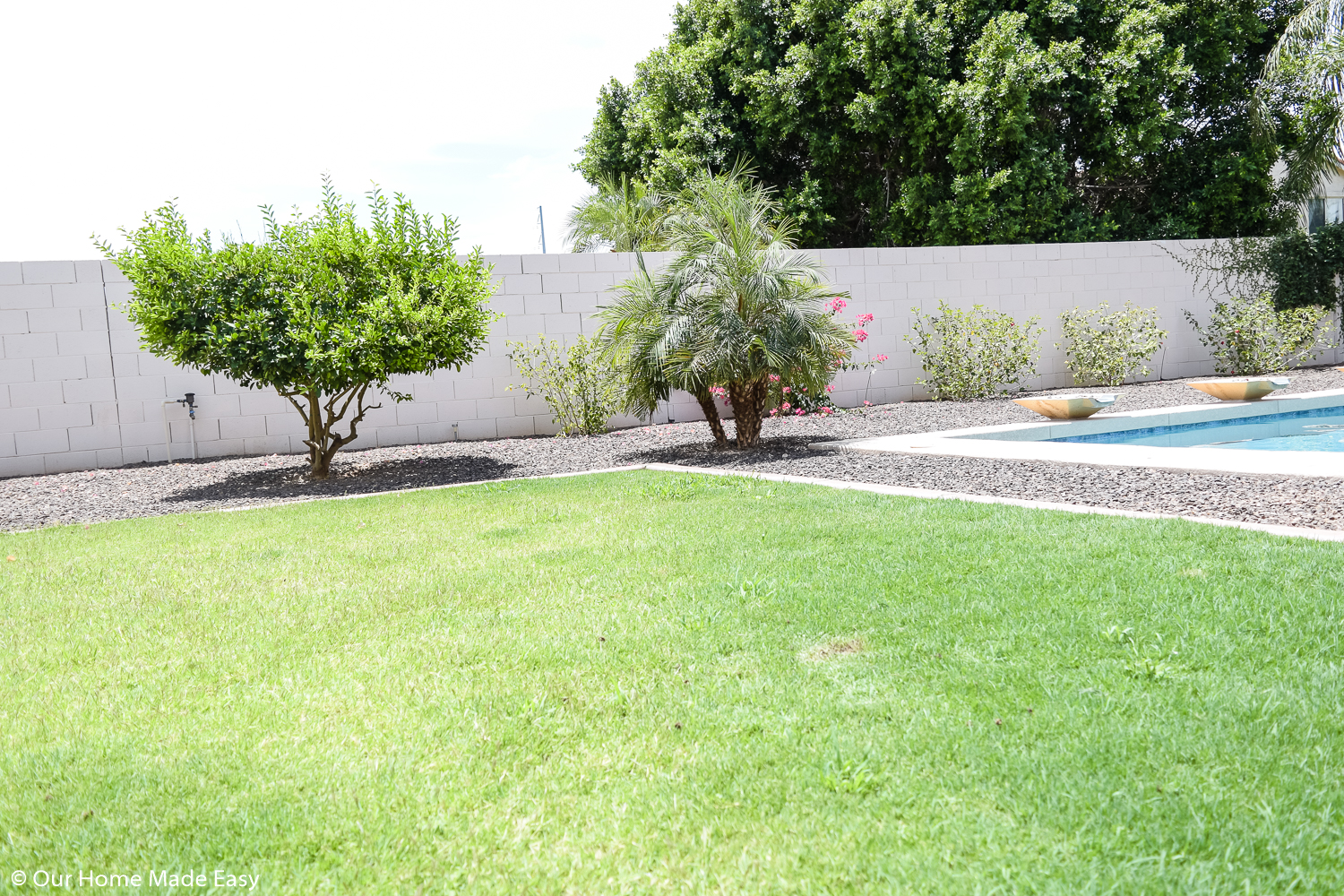 And it wasn't entirely for the environment's sake. I preferred to not have any gas cans lying around with the kids and I like that Jordan could run outside, mow the grass, and be finished without taking up our entire evening.
Jordan appreciated that the EGO is an immediate start. He always held his breath on our last mower in Michigan on whether it would start in the first few attempts.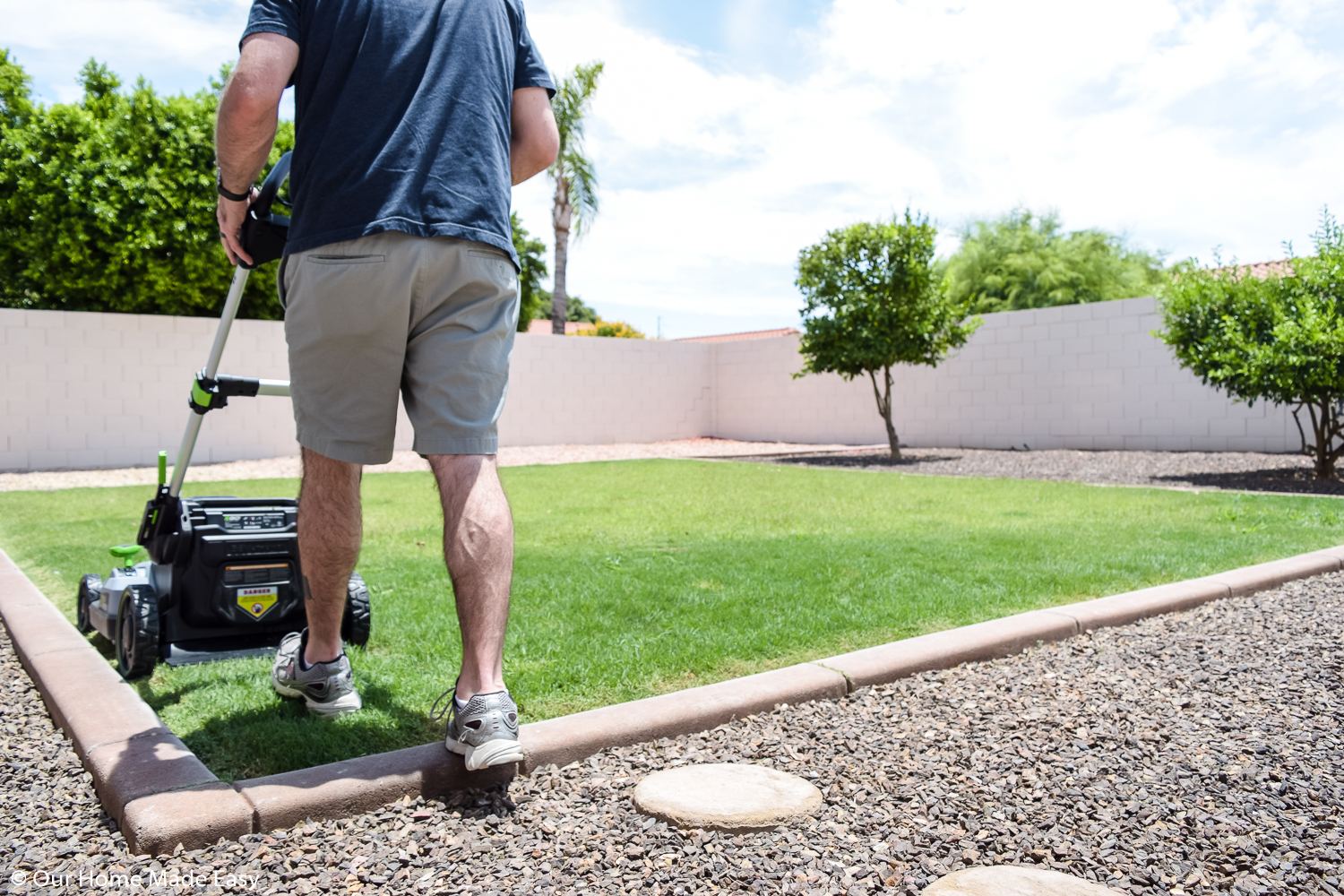 What We Haven't Tested Yet!
Life of lithium battery charge — there was still battery left after mowing our yards! EGO Power+ claims that the battery will last for 60 minutes of cut time. Our yards are so small out here that we are nowhere near the 60 minutes combined.
Using the bag or discharge chute, we only kept the mower on mulch setting.
Use of headlights (because… Arizona! ?)
Cutting very tall or wet grass. We cut on a dry day and average height grass. We would like to see how it handles thick tall grass, like our yard in Michigan.
Strength and durability of decking material. After an extended Arizona season of mowing our yard, I'll update and let you know how it stands up!
If you're thinking about ways to save time in your weekly to-dos, a battery-powered lawnmower is excellent for those of us with less than an acre! You won't waste time with maintenance or unplanned trips to the gas station. Consider this a smart purchase that just makes your home a little bit easier to manage!