Make your own pallet Christmas trees quickly! You can paint them any color and add some fun decor!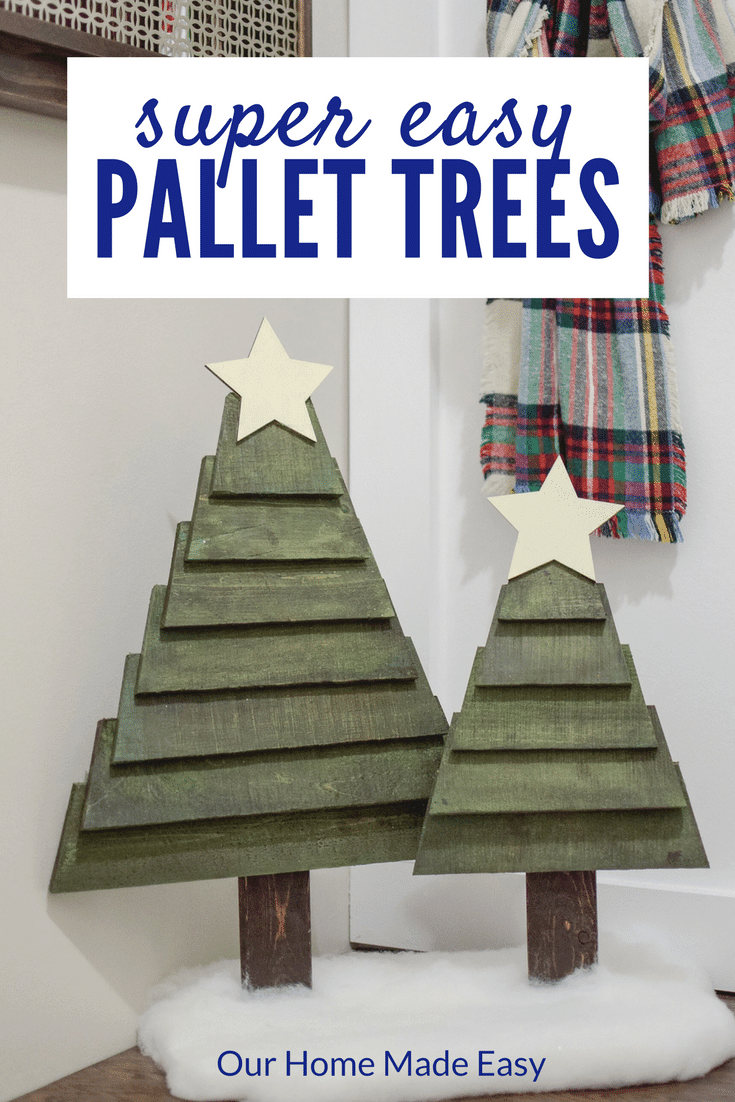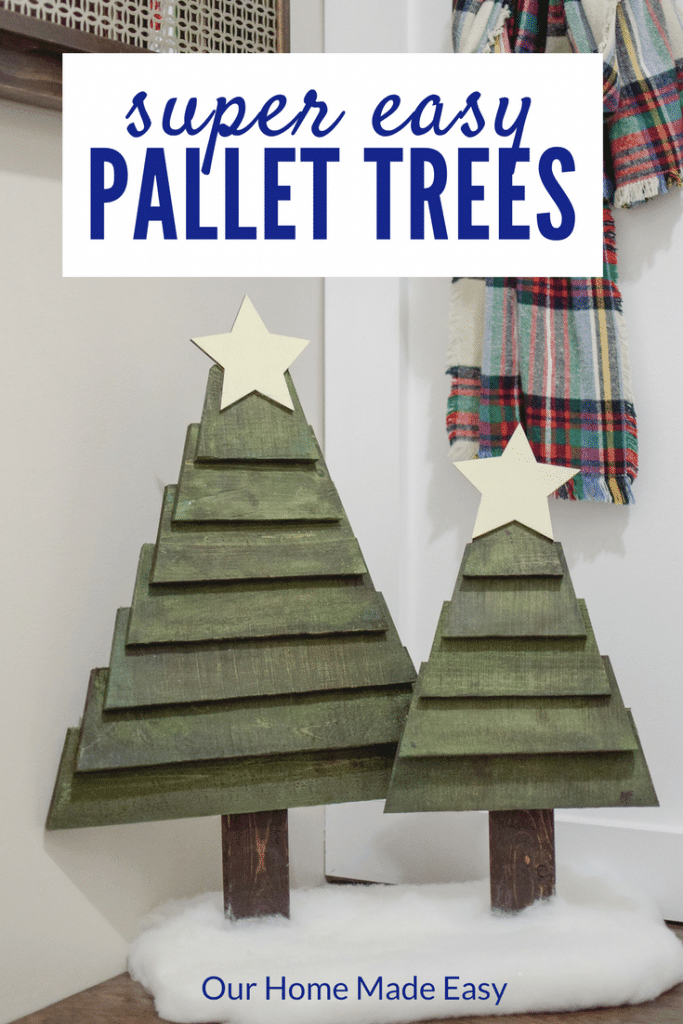 Affiliate links provided for convenience. Please see my Disclaimer for more information.
When it comes to decorating for the holidays, we all need a break from over spending on holiday décor. But that doesn't mean we should sacrifice some style! Luckily one of my favorite craft items is to the rescue. Yes, another pallet project for the win and it looks so good turned into a Christmas tree pallet project!
I know we only have a week until Christmas Day, but I still wanted to share one last fun project for you to make.
This week I am working like usual taking Friday off work. Since we aren't going out of town and it's the four of us on Christmas Day, we won't need too much time for ourselves. But before the craziness of Christmas, we are looking forward to so many fun events like Christmas Cookie Decorating. It's more frosting & sprinkle mess than actual cookies.
For those who love sweets, I'll be making a few batches of my yummy Butter Pecan Brittle. Seriously yummy.
But back to DIY projects— I am excited to inspire you with one more easy DIY this year!
This little Christmas tree could be used outside if you have a covered porch and use outdoor rated acrylic paint. If you are using it inside like we are, it's great to sit next to a buffet or in a corner of your home!
How to Make Pallet Christmas Trees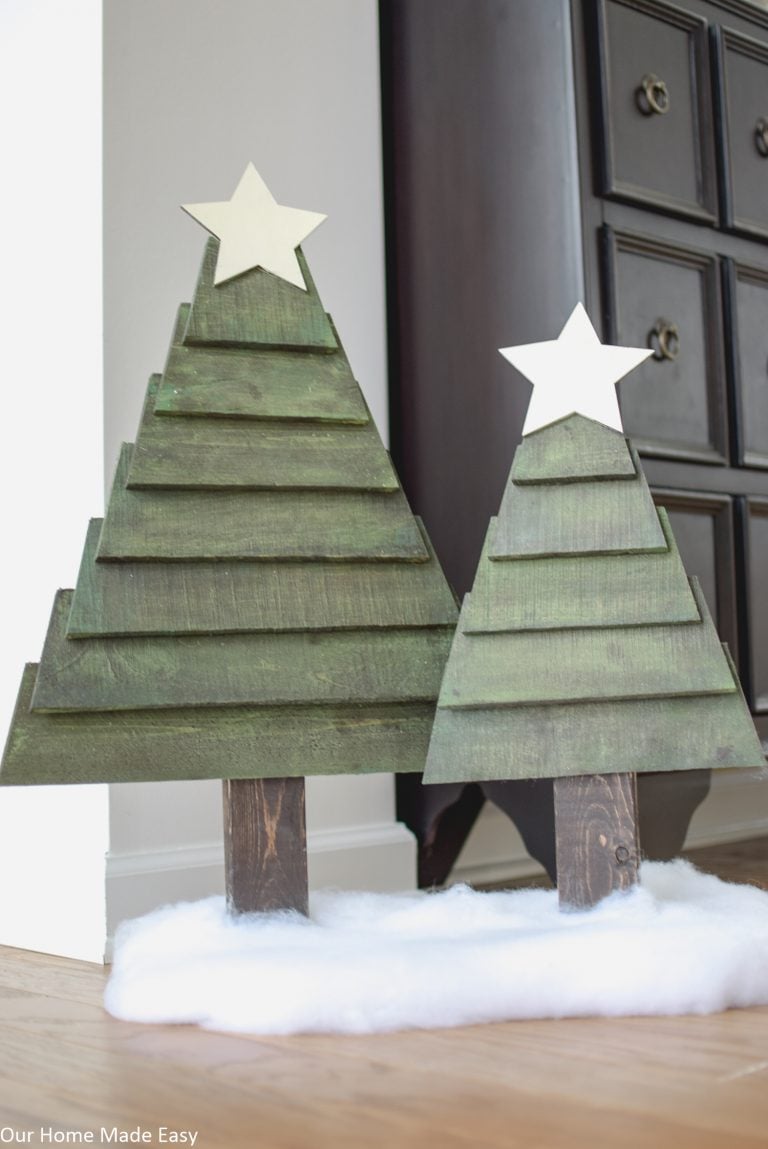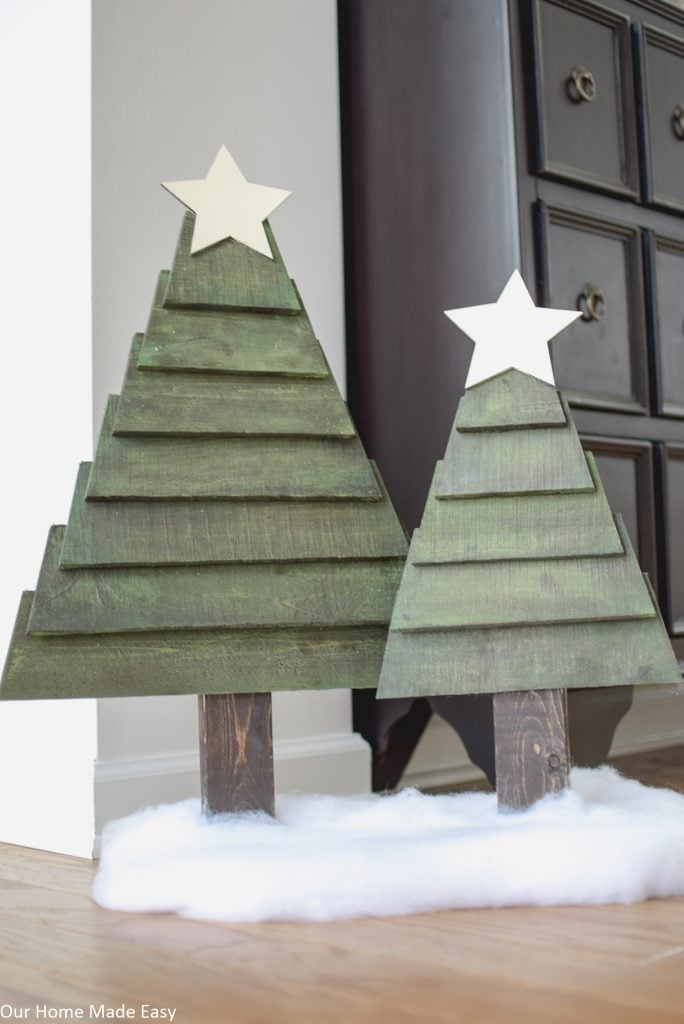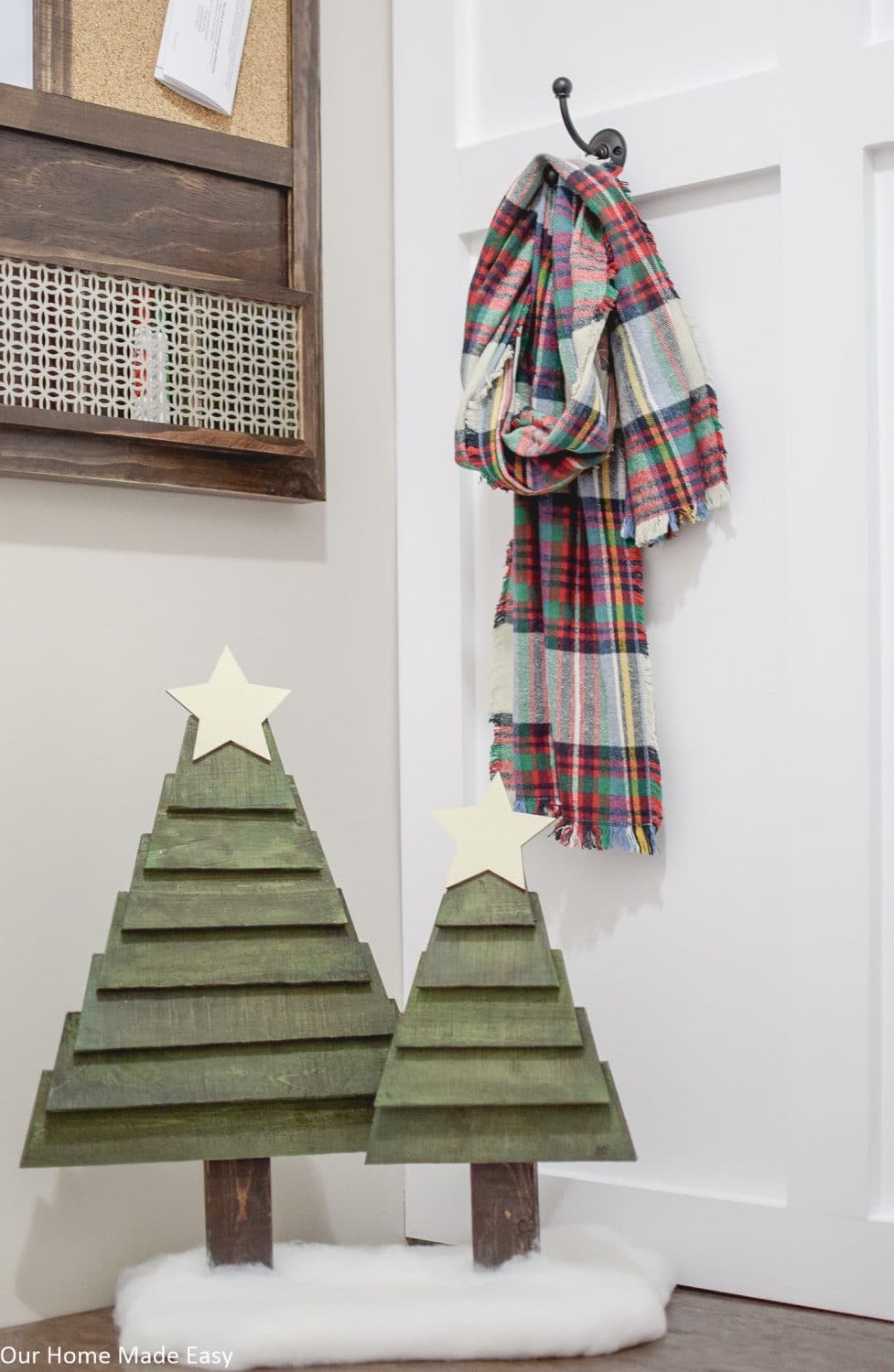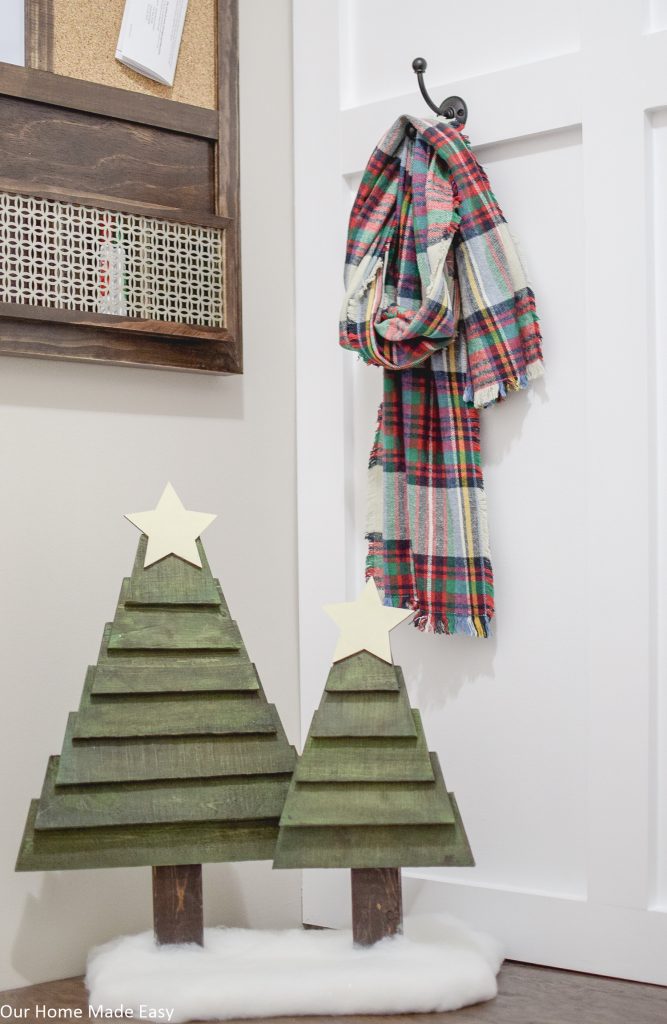 I'm still deciding if the trees look better in our Christmas entryway or in our mud room. Which do you like?
They definitely add some fun décor punch without costing a much money. I think I spent about $12 on these trees! [And I have a ton of green stain leftover for another project]
Supplies Used for the Pallet Christmas Trees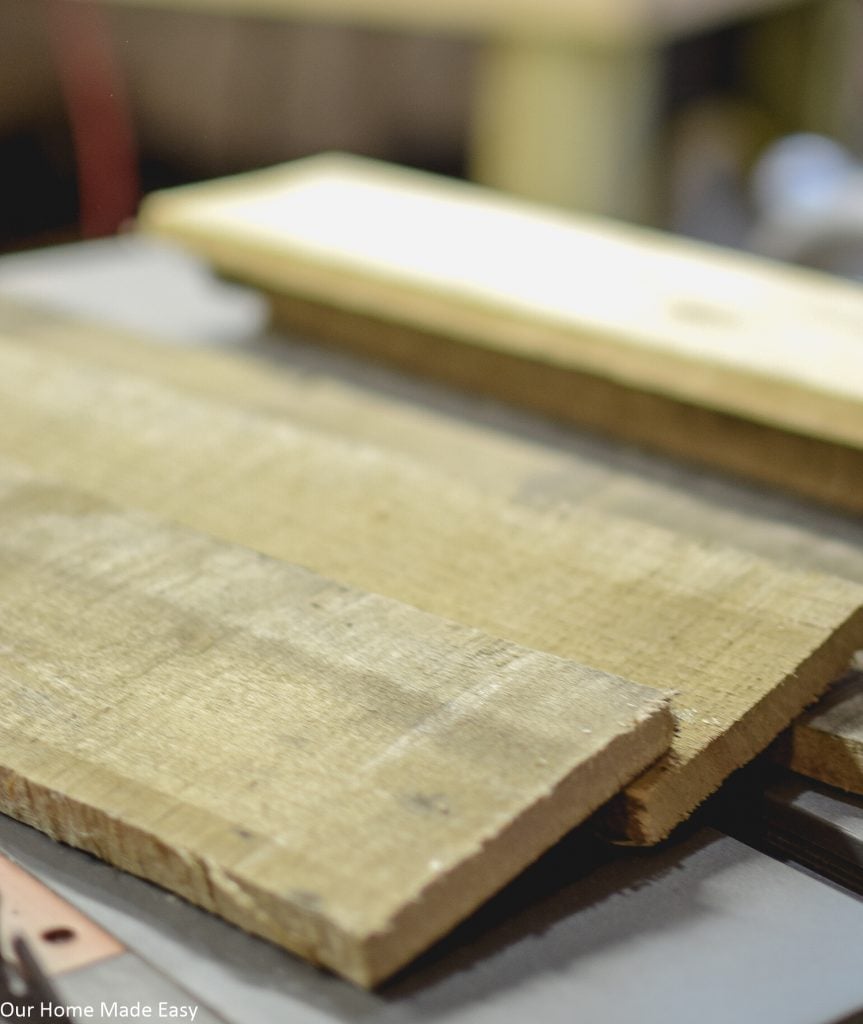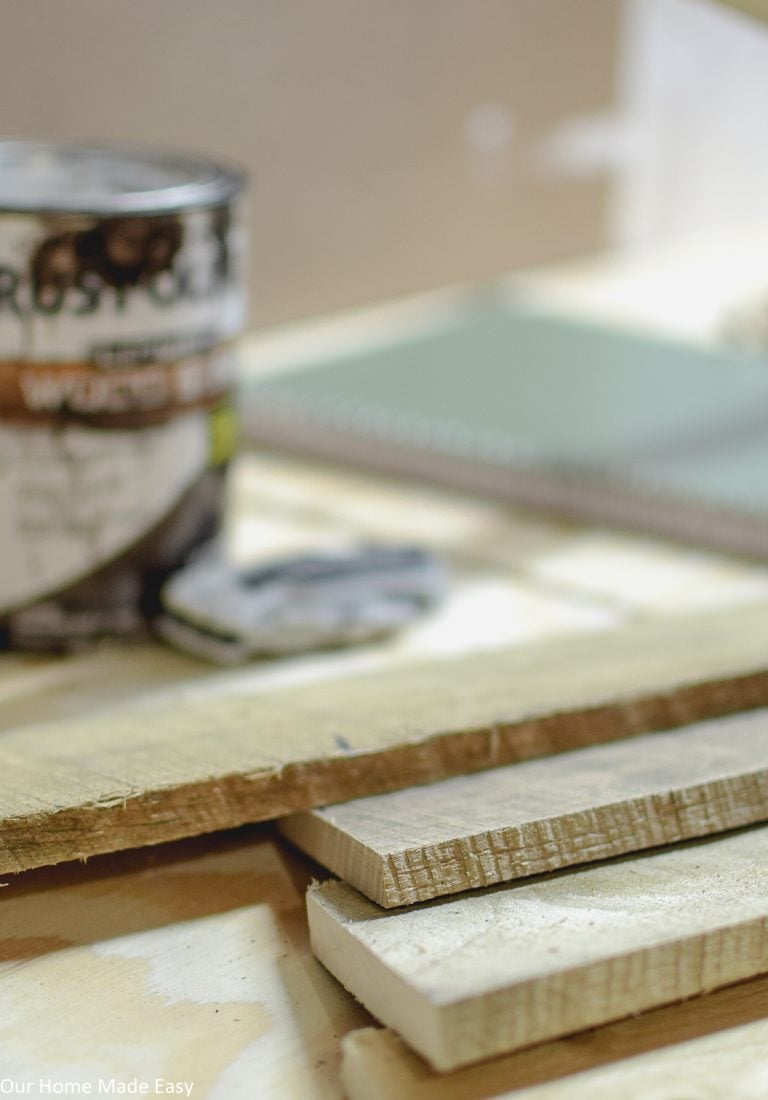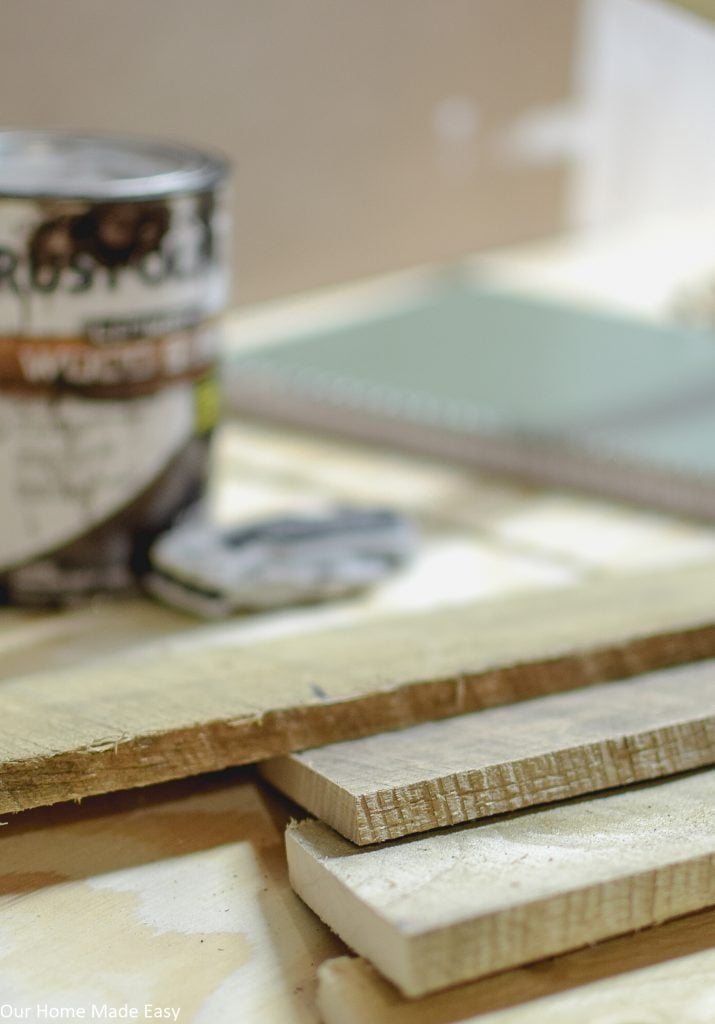 Cut Your Pallet Pieces
Decide how many pallet pieces tall you'd like your tree. You're going to overlap the pieces so add an extra level if you are debating between two options.
Using a miter saw, cut your pieces at 10 degree angle. This part is really easy because it doesn't need to be perfect!
To give you an idea  of your cuts…
For the bigger tree:
Furring Strip 21″
Bottom Pallet Width at Bottom 15.5″
Top Pallet Width at Bottom 4.5″
For the smaller tree:
Furring Strip 16″
Bottom Pallet Width at Bottom 10″
Top Pallet Width at Bottom 3.5″
Stain Your Pieces
For this project, we stained each piece green, allowed it to dry, topped it with a wood stain, and then green stain again. You can see in the picture above how each piece looks after each layer. You have the freedom to choose which option looks best in your home!
Stain your furring strip a dark wood color on all 4 sides.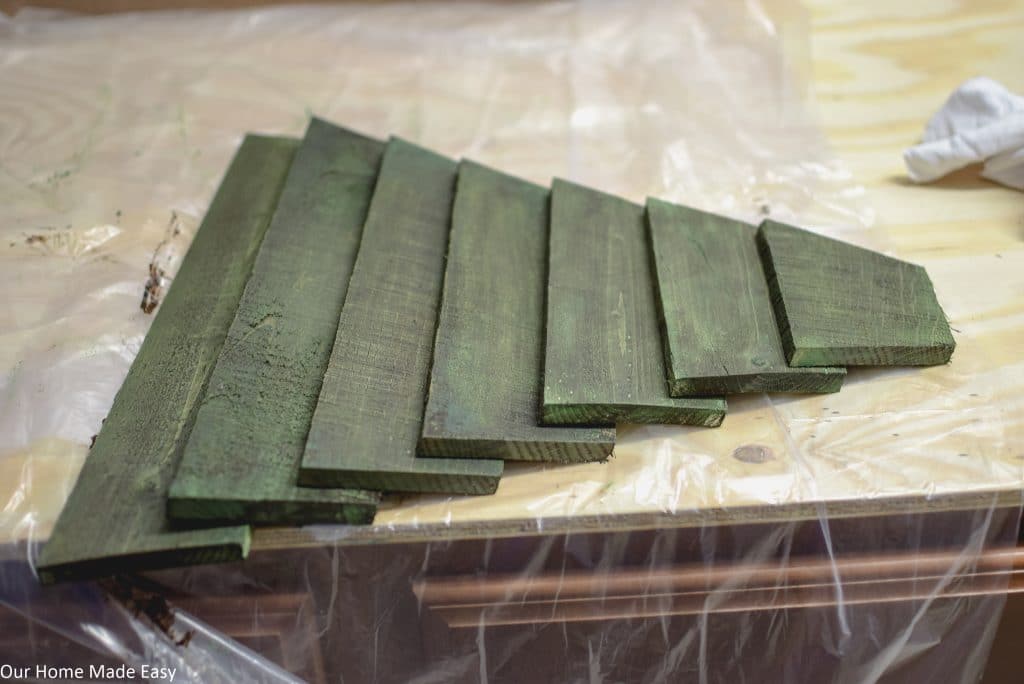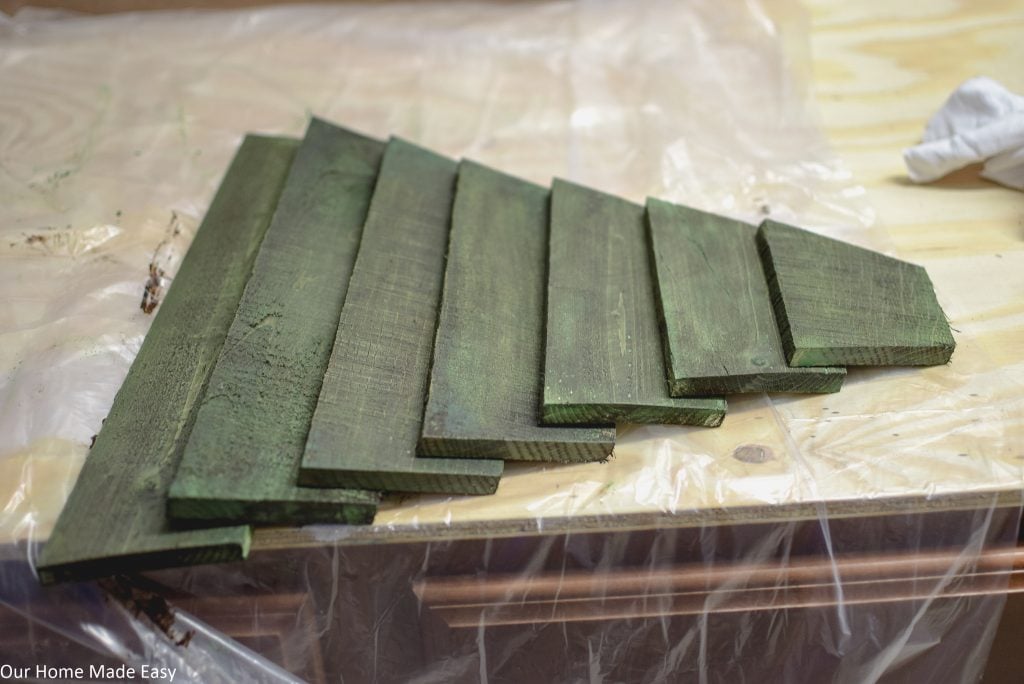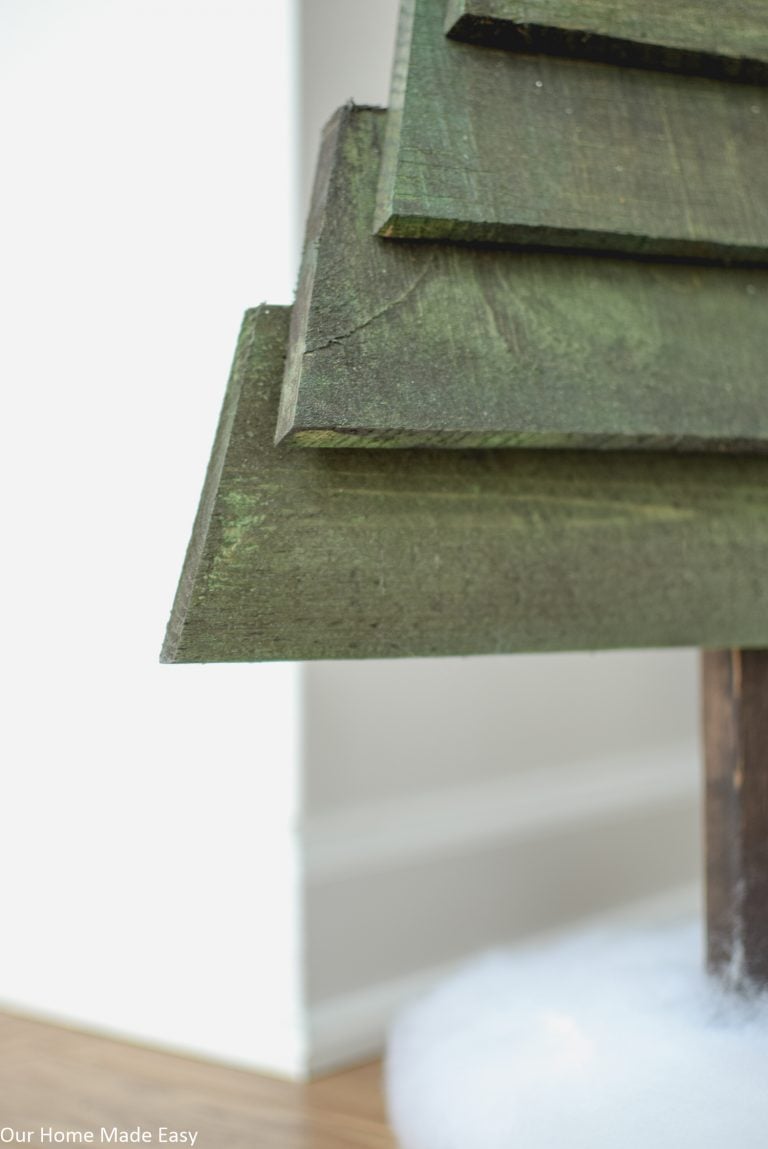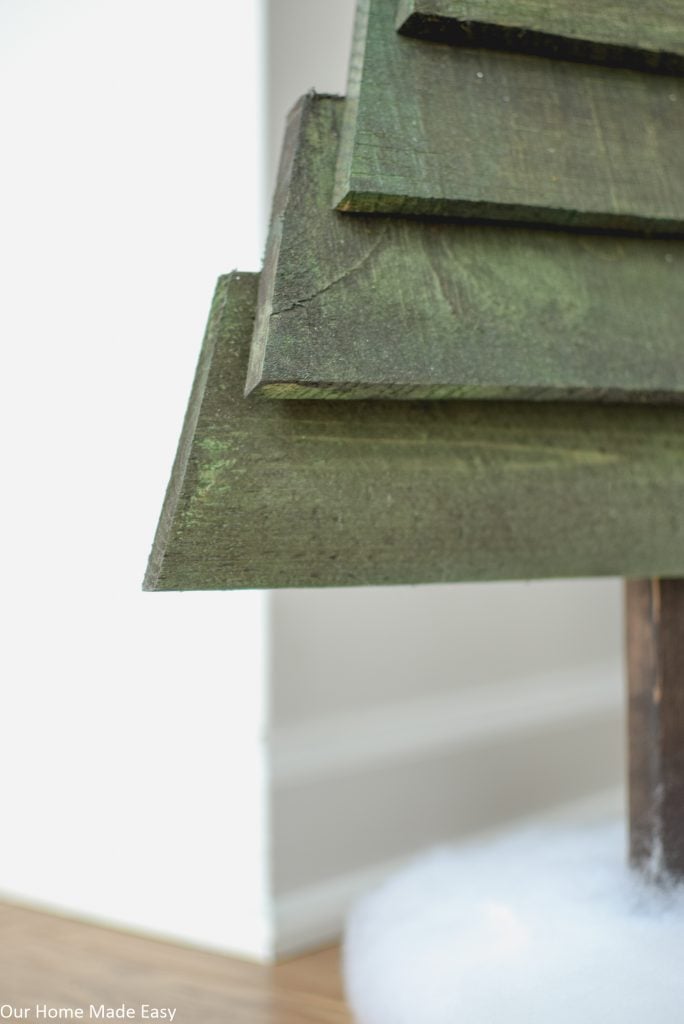 Assemble the Pallet Christmas Trees
Take your furring strip and lie down your pieces like in the photo above. They overlapped about 3/4″. Continue building up until you've reached the height of your tree. Using a pneumatic nailer, nail your pieces into the furring strip.
Paint your wood star and use wood glue to attach it to the top of your tree.
Add Some Snow [Optional!]
Place a small amount of white acrylic paint on a plate. Lightly drip your chip brush in the paint. Carefully flick the brush over your tree to flock it. You could build up the white snow in a few rounds rather than accidentally throwing on too much at one time.
Another option to dress these pallet Christmas Trees up a bit: Stipple on ornaments using different colors of craft paint!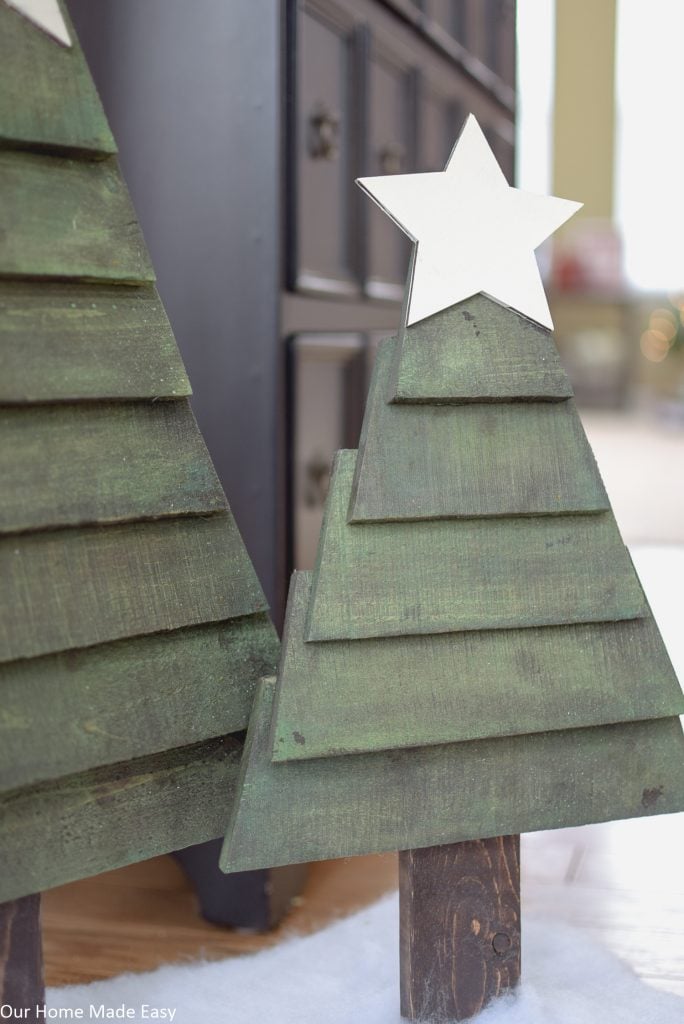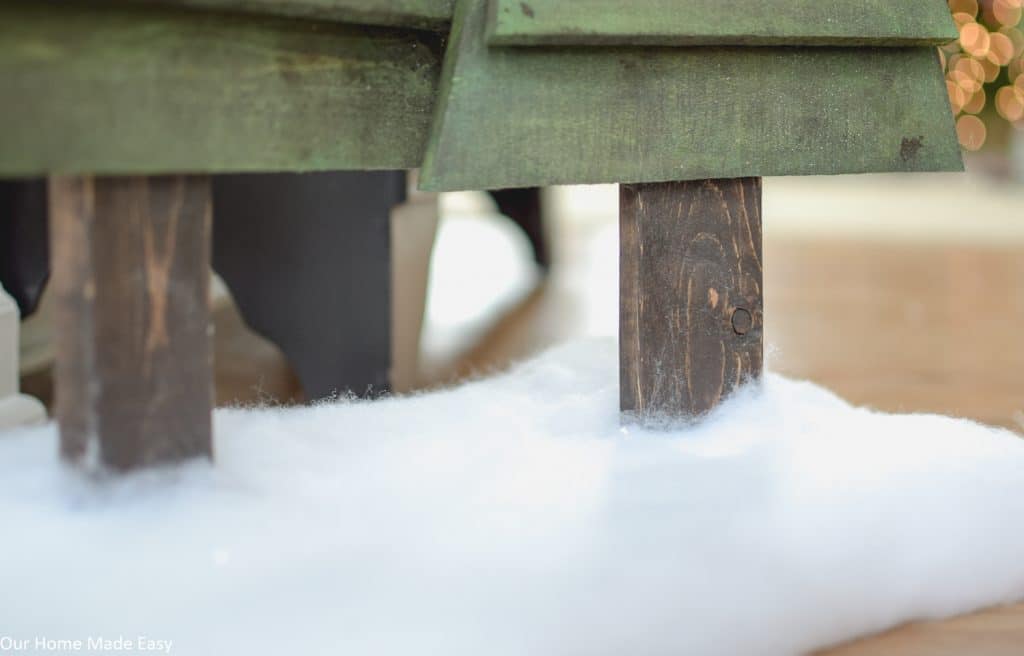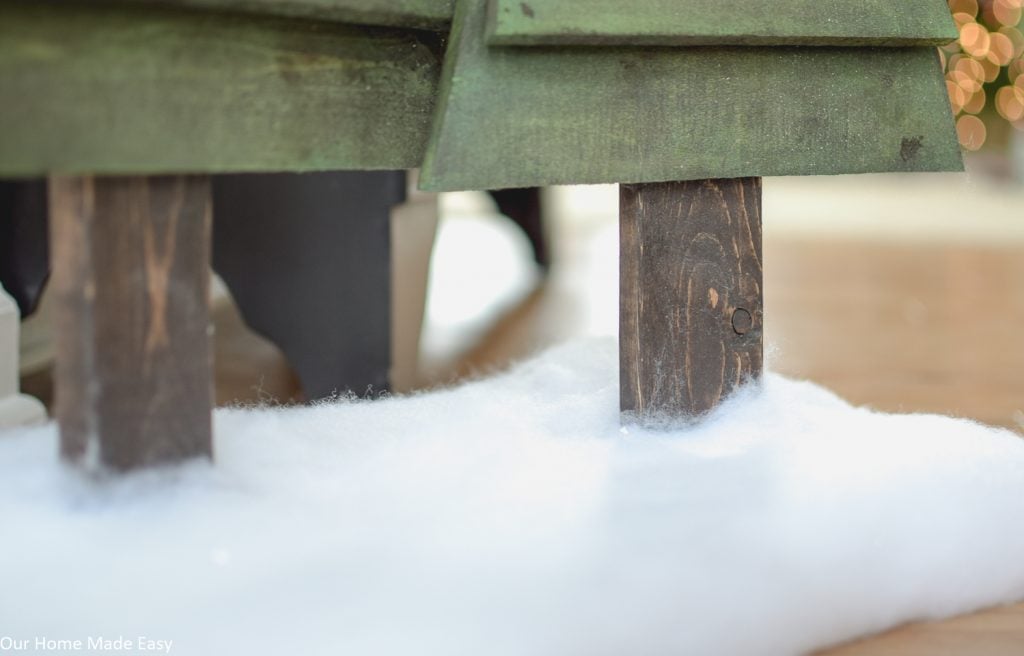 Build Your Base
Cut a base out of some left over plywood. You could make it a wavy shape or leave it rectangular. Paint it white.
Attach the trees to the base using the Kreg Jig. Aren't they looking super cute? I added some fun faux snow to soften the base. I thought it looked a bit too bare without it. But definitely your choice. 🙂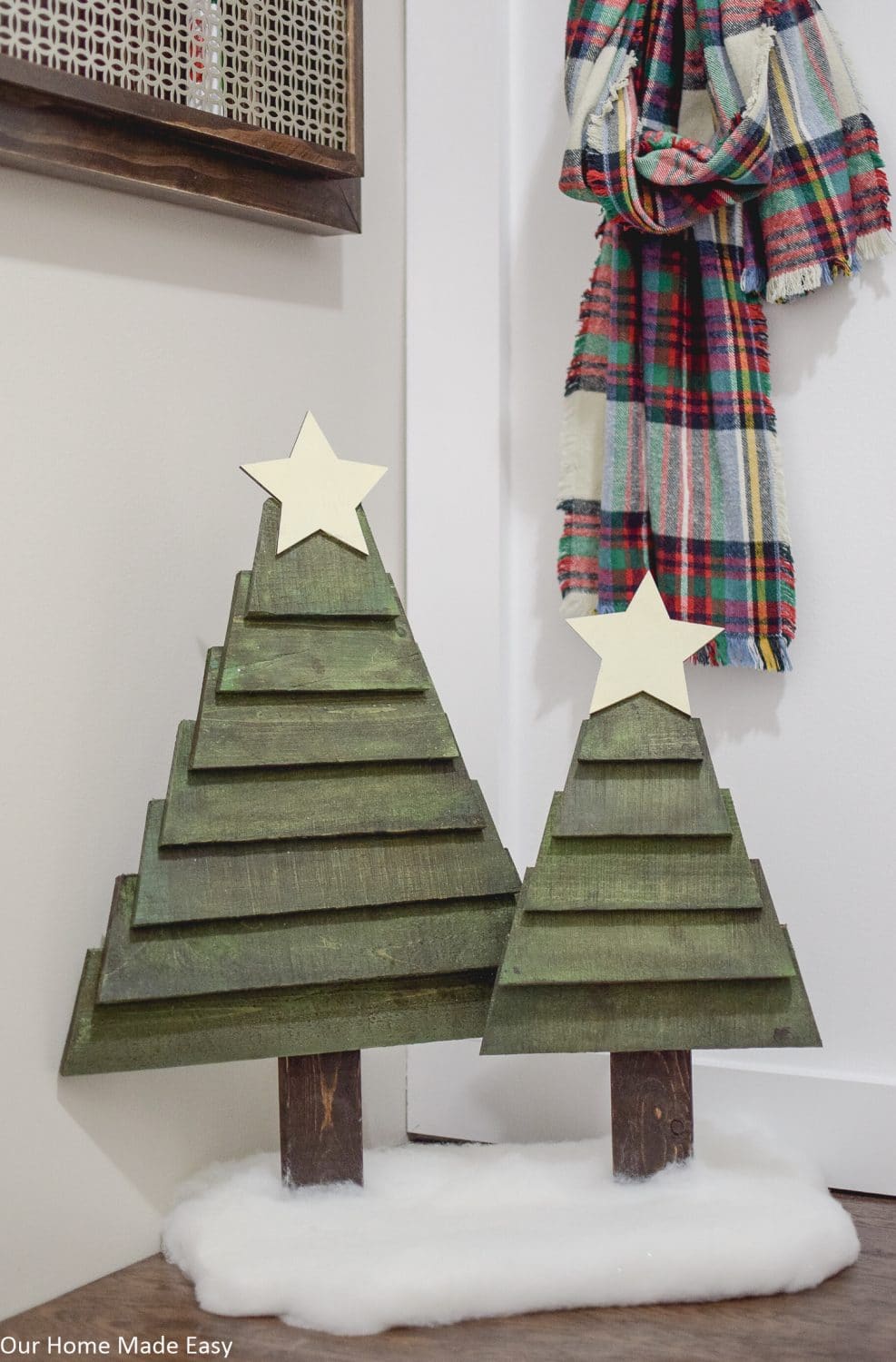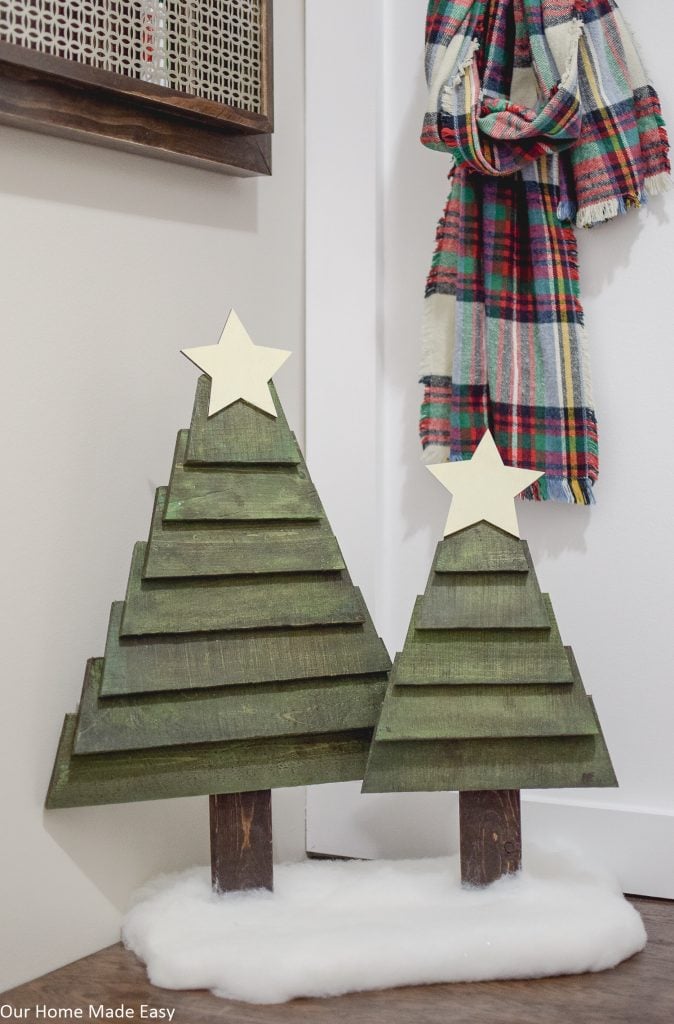 Who could've imagined something so cute came out of a pallet? I love how well it fits in our Christmas décor this year! You can make this project in a weekend and if you have a fellow pallet loving friend, you could quickly cut twice as many pieces to share!
PIN FOR LATER: