Gift Guide: Ideas for your BFF Coworker
What's going on this week in our home? It's time to start looking for gifts for a co-worker. Cue the collective groan. This is such a hard topic, do you know the recipient or is one of those white elephant games where you need a nice, but not personable gift? And you want your gift to be passed around, right?? These can be soooo difficult to choose! Ahh, it's such pressure. 🙁 Since I know these gifts will be needed super soon for both Jordan & I's work parties, this morning I'm giving my top choices for your co-worker who is your BFF and also some great choices for the white elephant games (things you'll want to win)!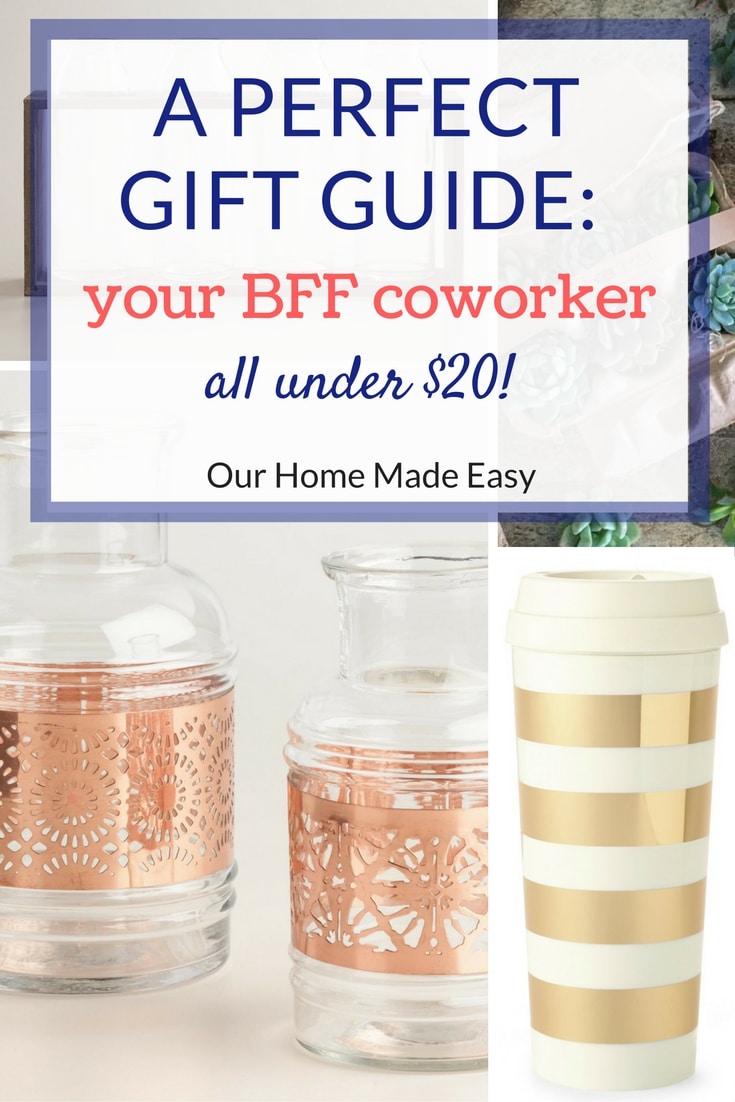 This post contains affiliate links. If you shop from my blog, I may be compensated for clicks or purchases that you make. Read my disclaimer page for more information.
Let's get started…. my gift guide for your favorite coworker! <<< And a few great White Elephant choices!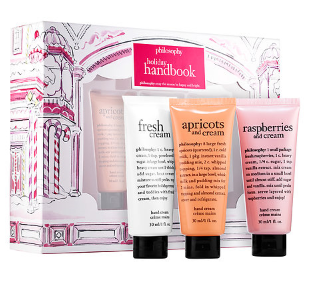 The Philosophy Holiday Handbook — I love all things Philosophy. I've been using their items for years now and always know that no matter what I buy from them will be superb. This handset shows up in my shopping basket every single year because its really good lotion and it actually smells great– not too sweet. Gift this to someone who loves a little extra pampering.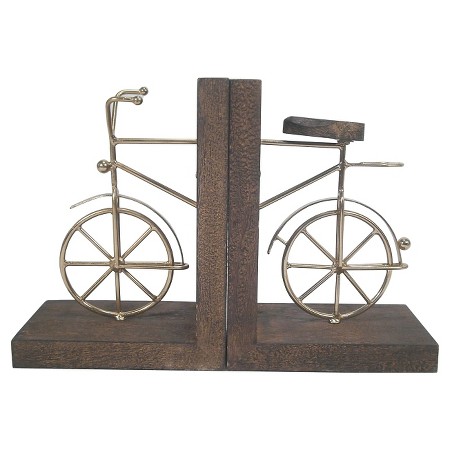 Farmhouse Style Bicycle Book Ends — Aren't these adorable for those who love the industrial farmhouse decor? I think they'd look great on a bookcase wither office or at home. These are universal enough to appeal to a large group and would make a fun white elephant gift.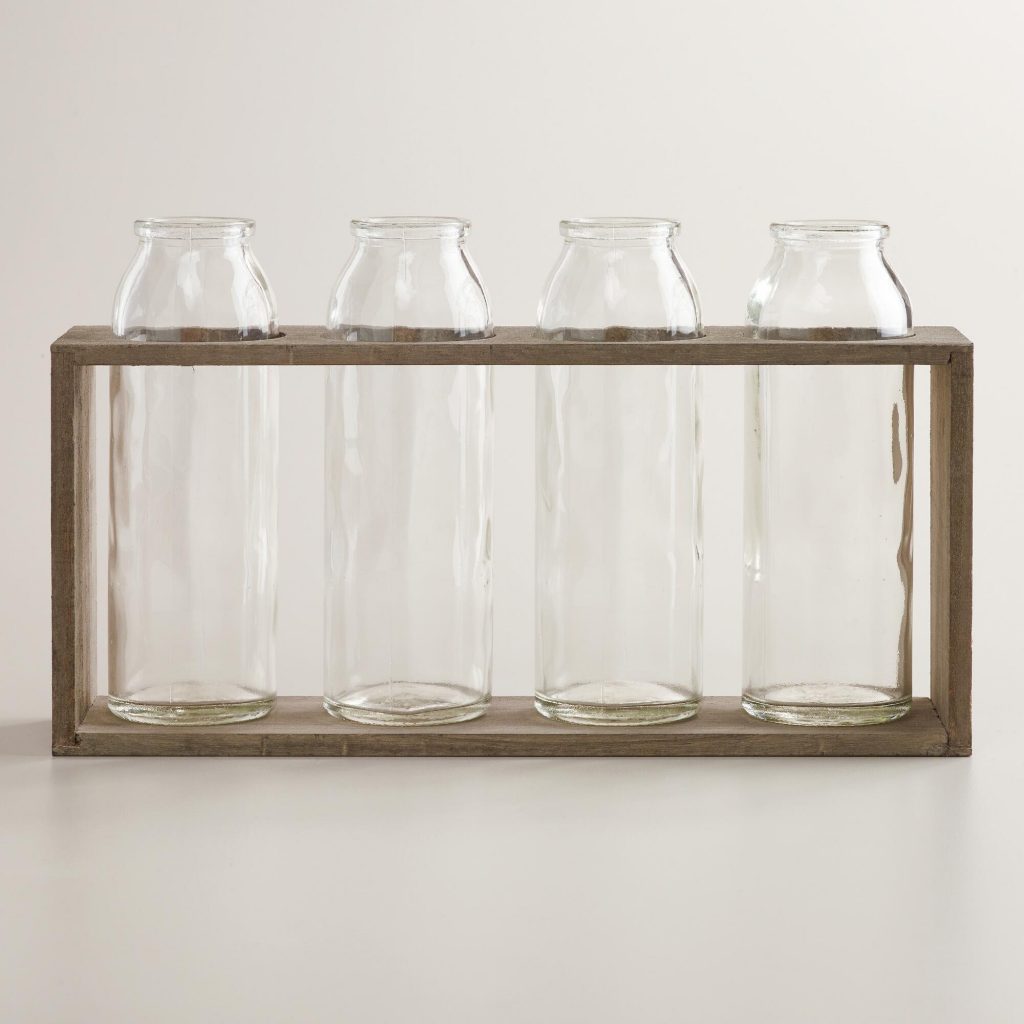 Set of 4 Bottle Vases with Wooden Holder — Do you know a friend who loves the Fixer Upper look? When I saw these, I thought they were too adorable to pass up! Like the pretty copper vases, these would add some serious style to a plain desk or even at home.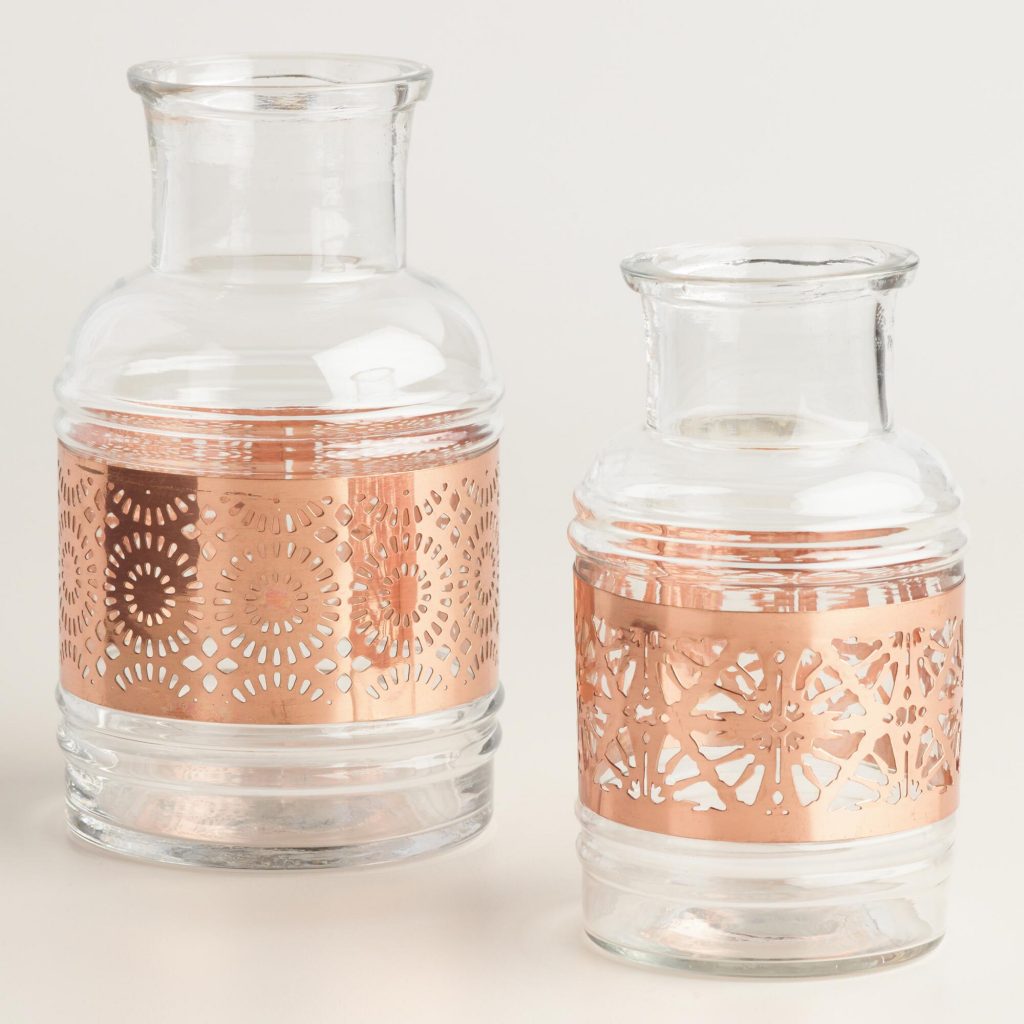 Copper Laser Cut Glass Vases — For less than $20 you can pick up two of these to add a little sparkle to a friend's office! Toss in a few flowers or if you're like silk (I do not have a green thumb) and they'll be perfect to admire during afternoons.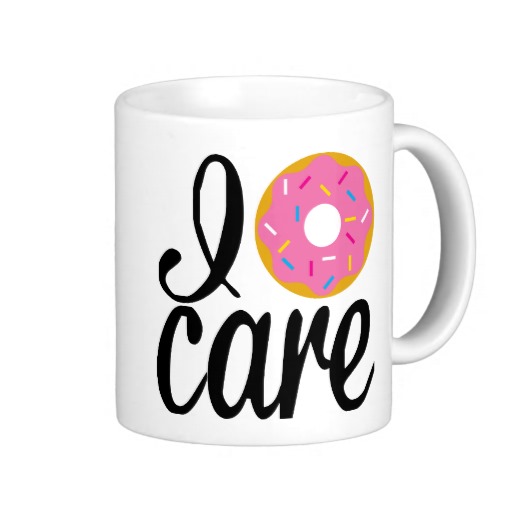 I Donut Care Mug — This is a great gift for the pass around white elephants! And it will be even funnier to see who ends up with mug at the end. How can you have a bad morning with this greeting you at your desk?
Kate Spade Gold Stripe Coffee Mug — I'm loving the luxury of the gold stripes. Do you know a coworker who love to have this extra sparkly mug? Did I mention it's Kate Spade AND less than $20??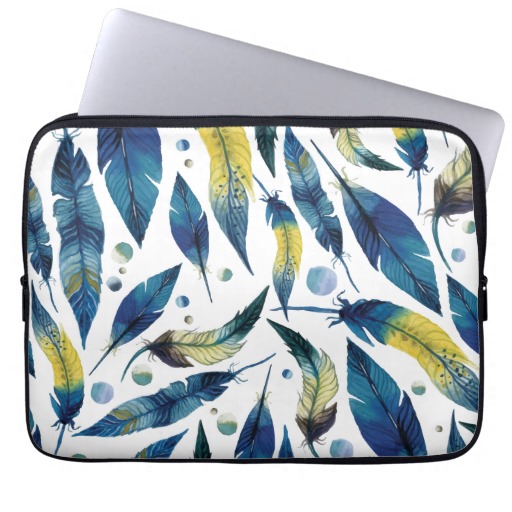 Watercolor Computer Sleeve — Isn't this lovely? As a blogger, I love having my computer nearby and this just makes it look like a beautiful accessory! This would be great for those who want style and still be connected– like me!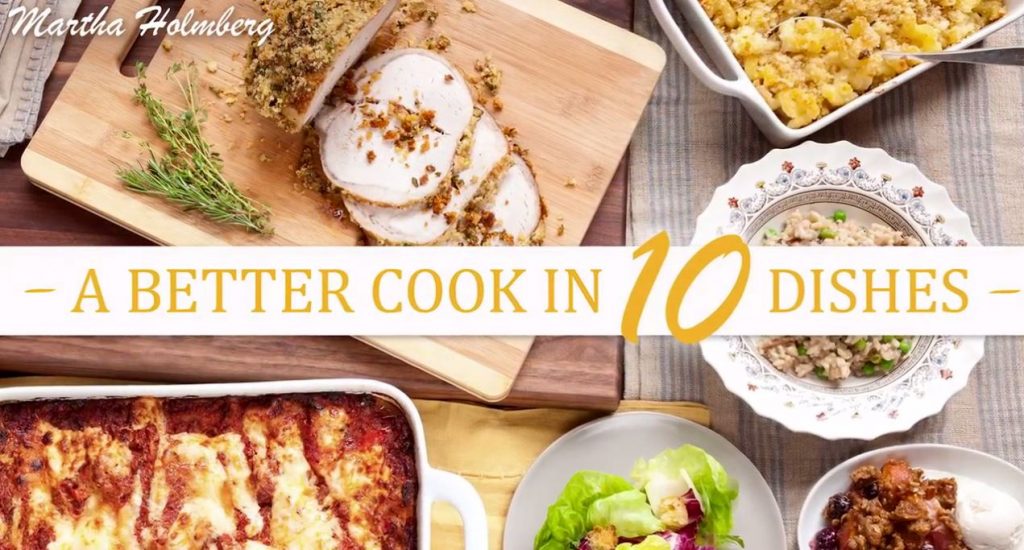 An Online Cooking Class: We all know that one person who wants to start making dinner more at home for several reasons. How cool would it be to give them something totally unexpected and useful? I love the idea of an online class gift! It shows that you really considered what they want and you're showing that you're supportive. *And maybe you'll be invited for over a delicious dinner 😉 *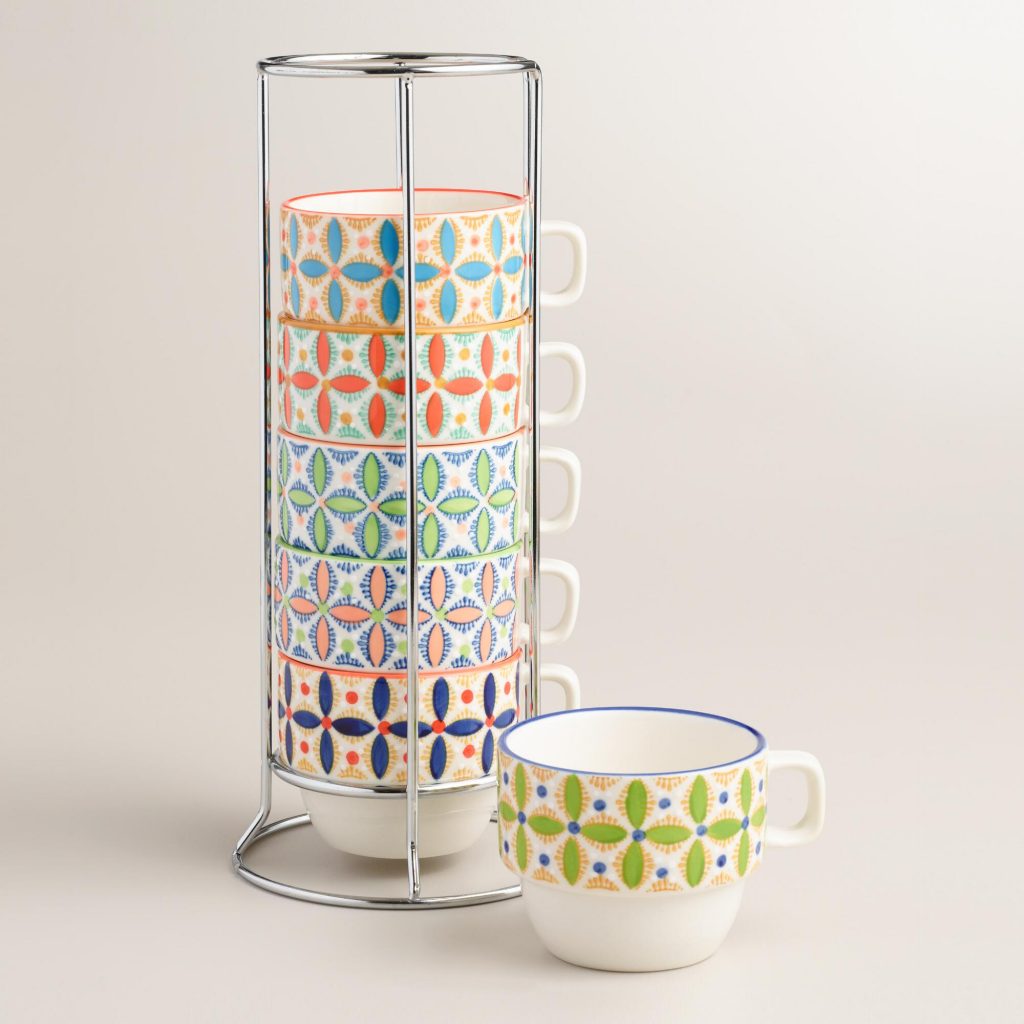 Stacking Set of 6 Mugs — I love these hand painted stacking mugs because they instantly make a chic looking piece of art in a small kitchen. We've had a set of six for several years now and they always make smile. They are definitely something that you may not splurge on for yourself, but such a treat to have!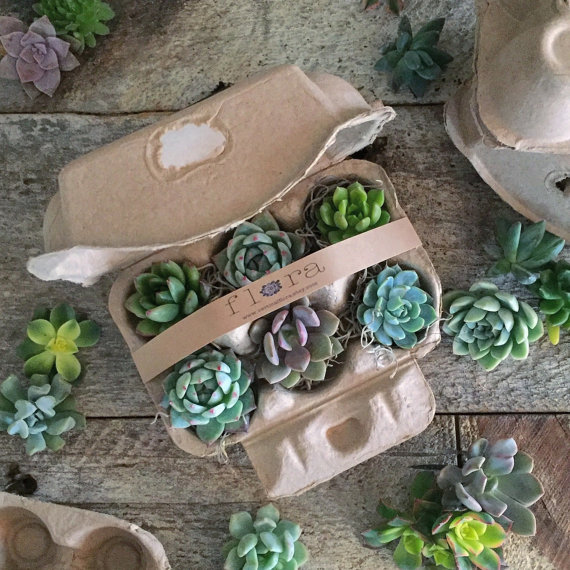 Succulent Starting Kit — How cute is this gift?? Succulents are so hard to ruin and look adorable in dreary offices. I think this is perfect for the coworker who likes making their office feel like home.
What types of gifts do you like to buy your coworkers? Let me know in the comments!