Good Morning! I feel a little off writing this post. Well, it's 80 degrees here in Michigan… in mid-October. We should really be feeling fall / early winter and it hasn't happened yet. Check in with me on Halloween, because I feel confident that the snow will suddenly make its appearance. Grrrr…
I am really enjoying all the things we have to look forward to here over the next few months. One of those is Christmas. Ahhhh you're probably groaning, but here me out. It's only 2 months away. EEEEKK… If you're an early planner like me, it's time to start thinking about picking up a few things here an there for the holiday. You know I like a great deal and details that look like fun but without lots of cash. And Christmas décor is no different.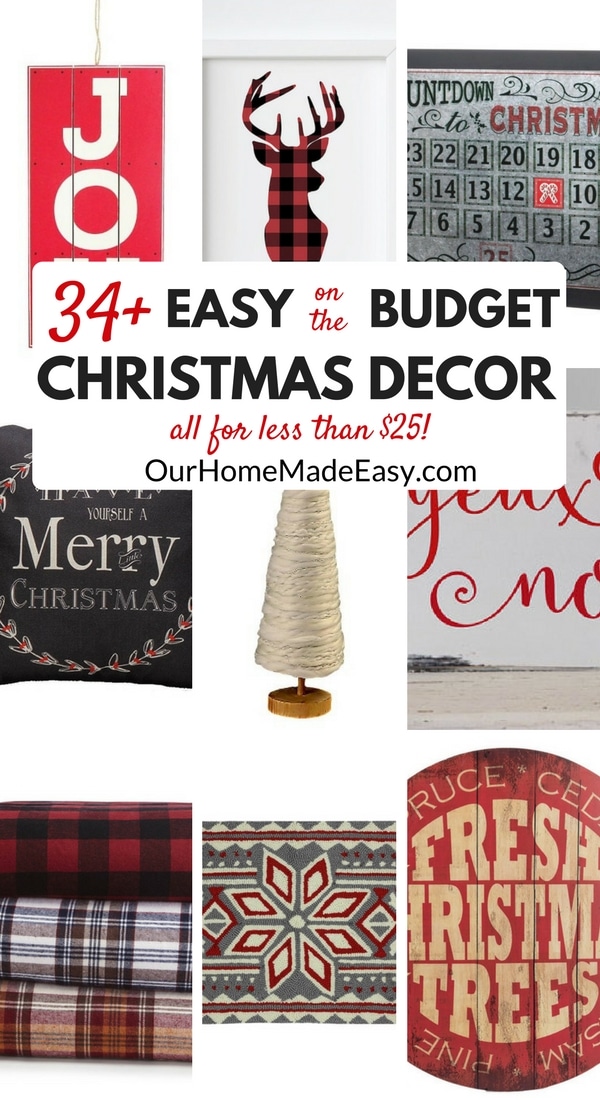 I can only imagine that our decorations will come out super early this year because once the kids realize Santa is on his way… well we need to be prepared. And let's be honest, it's fun to see them so excited and eager for the holiday. Fall time is all about my decorations, the kids own Christmas.
So today I am sharing more than 30 items that add some cheer to your winter… but without costing a small fortune to spend. Because if it's only staying up for 1-2 months, it needs to be affordable! Here are my ideas for Christmas décor under $25… and most of it is half that cost (yayyy)!
This post contains affiliate links. If you shop from my blog, I may be compensated for clicks or purchases that you make. Thank you for supporting 'Our Home Made Easy!' Read my disclaimer page for more information.
Related: 13 Favorite Places to Buy Holiday Decor on the Cheap!
I broke up the Christmas décor ideas into semi fun categories….
Click on any image to be taken to more information!
Cozy Pillows & Throws
---
Rustic Wall Art
---
Festive Tree Skirts
---
Decorating Table Tops
---
Fun Little Trees
---
Dressing Up the Furniture Garland
---
Cheery Welcome Mats
I hope that you found something that you adore! I'm off to pick up a few things myself. 🙂