Favorite Bathroom Closet Organization Items
These bathroom closet organizational items make getting organized enjoyable! Not only are the baskets & hampers super functional, but they are really trendy, too!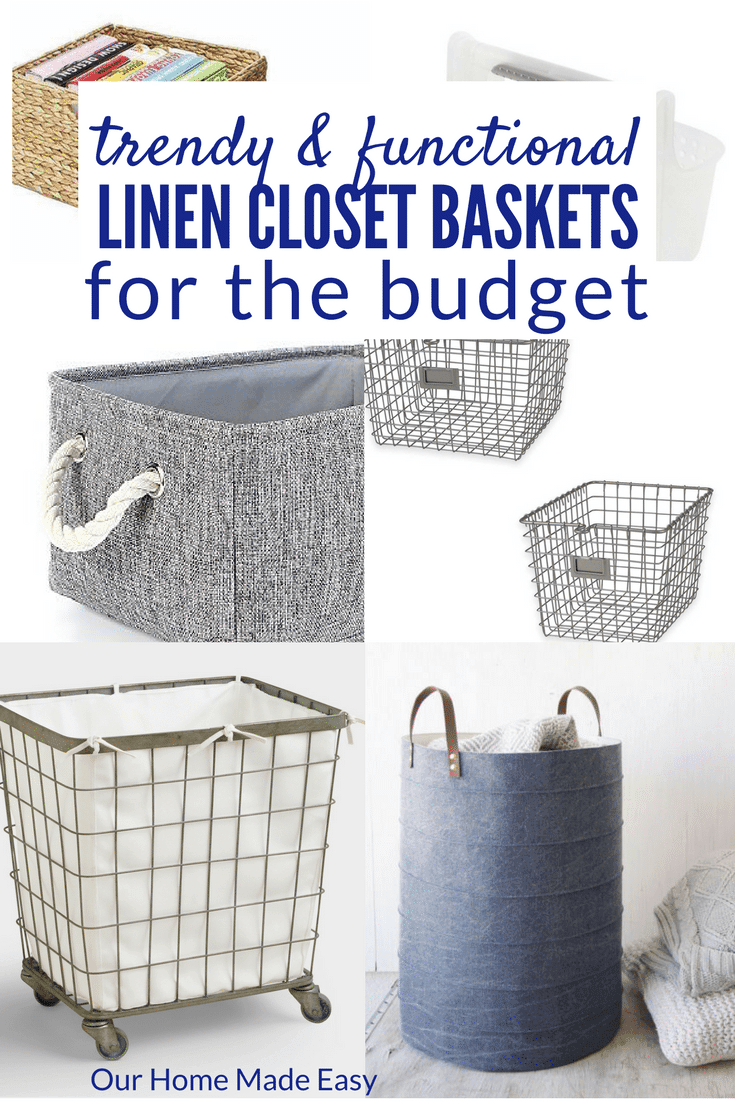 Over the past month, we've been really busy with our full time jobs, snow storms in Michigan, and trying to keep everyone mostly healthy! Whew. Unfortunately, some of our DIY projects were put on hold until we all felt better and had some time to start working on our to-do list for the house.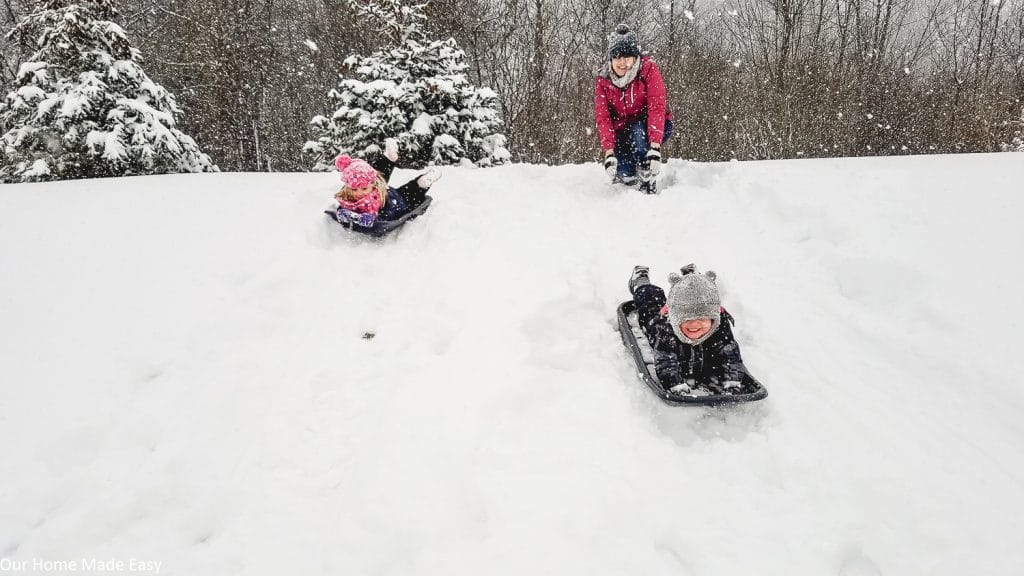 Our next project involves a room that I've never really shown here on the blog — our master bathroom! You can see pictures of the bathroom from our 3 Year Home Anniversary post, but nothing about it has changed since we moved in years ago.
Here is the bathroom closet now….
It's a sad room that is the stereotypical builder grade. And it needs a lot of love!
The wire shelving came with the house. Unfortunately the angle brackets mean that I can't really use any space because the brackets are close too close together. Unless I can find enough narrow ones, we've never able to use baskets in the closet.
Also a problem? When I do set items on the shelves, they usually fall over. My hair spray bottles and makeup do not stand up well against the wire shelving.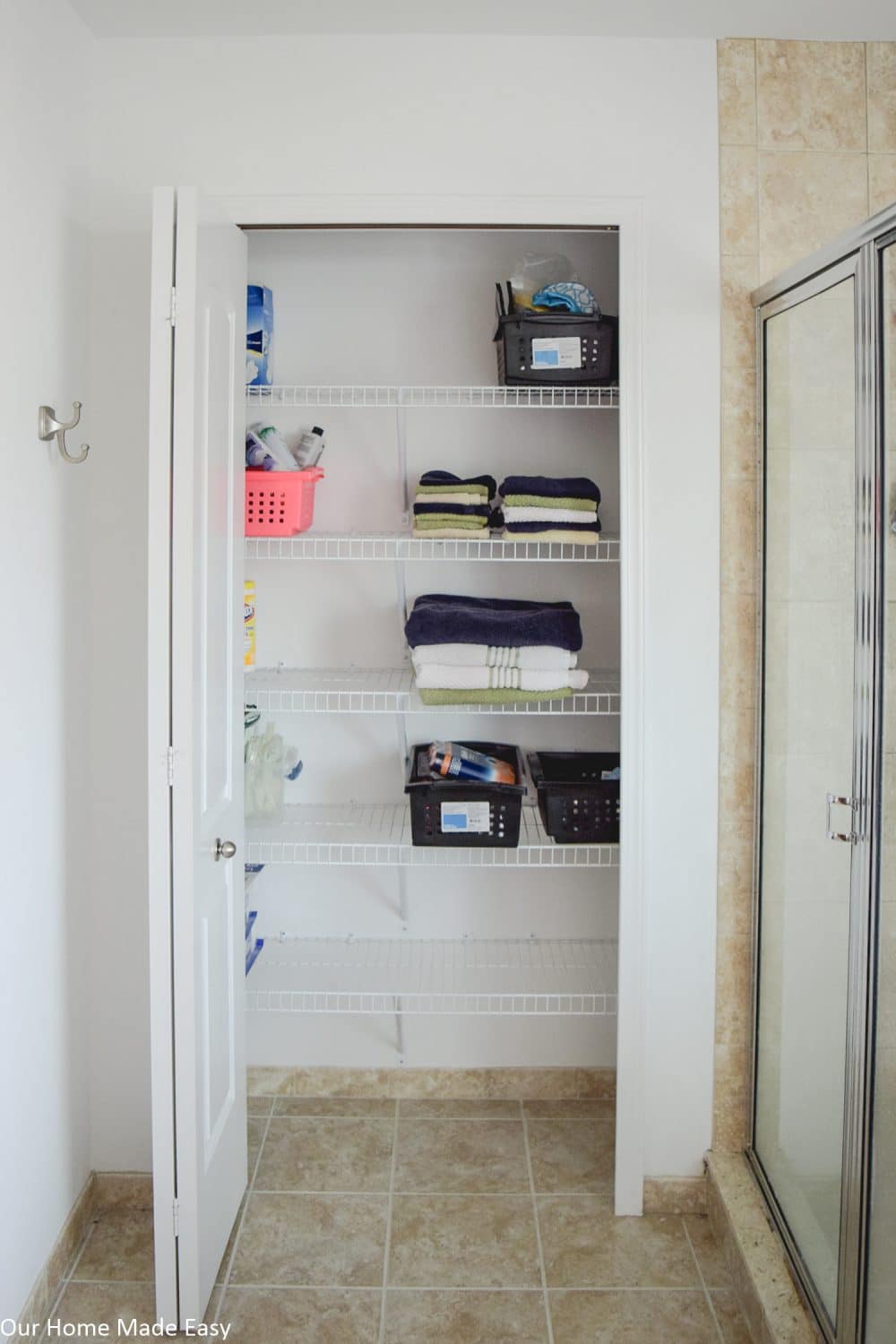 Pretty un-inspiring, right? Sigh.
I appreciate having our own closet in the bathroom, but it's not ideal right now. I'll explain in a future post about our DIY plans to update it and give it a builder up-grade!
The entire bathroom needs some major attention, but we are going to start small with focusing on the bathroom closet organization.
While I am working on updating the bathroom closet organization & style, I wanted to share some of my favorite finds with you! We've been searching for baskets, big & small, and even hampers for updating the space.
I want to keep the entire project for making over this closet under $300. It would be great to rip out the shelves and do it all for $250, if possible.
It also doesn't hurt if the baskets I find are pretty to look at, too. After all, keeping everything organized long term isn't easy! I am hoping that by keeping the bins orderly, Jordan & I will keep everything in their place for quite awhile!
Affiliate links are included below. Please see my Disclaimer for more information.
Want to join us in getting organized? Join the 6 week declutter challenge here!
My Favorite Budget Friendly Bathroom Closet Organization Items….

Which do you like? I'm thinking of finding 2 or 3 options and using them throughout the closet. I really like the wood crates and wire baskets. Share your favorites in the comments!