Easy DIY Thanksgiving Table Decorations [Free Printable]
Make your Thanksgiving Table Decorations an easy DIY this year! Avoid spending too much money by using what you have on-hand and printing off a free 'Gather' tag.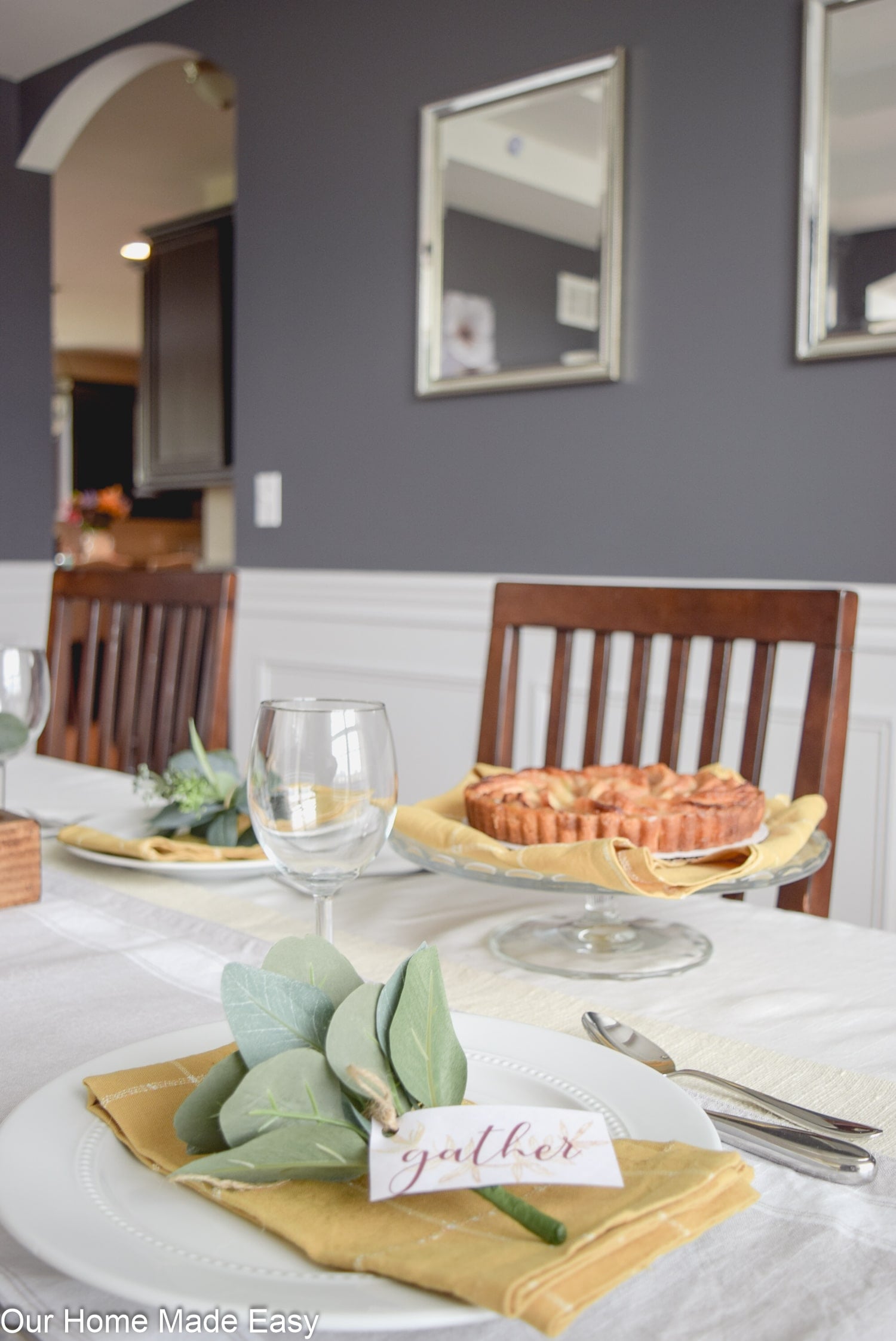 (This post contains affiliate links. Please see my Disclaimer for more information)
Do you ever feel excited to host a dinner because it's the perfect excuse to pull out all those Pinterest ideas you've saved over the year? Or does it mildly terrify you?
I love having all the guests over, but I like to make it as simple as possible. And one of the last things on my priority list? Tablescapes.
Yea, I've never really used that term until now. It makes me think of someone who is way more put together than this mom. The word sounds like a great plan & design……
But here I am, wanting to show you how to use what you already have on-hand to make something simple & pretty. It can be the last thing on your mind, too if you have keep these easy DIY Thanksgiving table decorations nearby!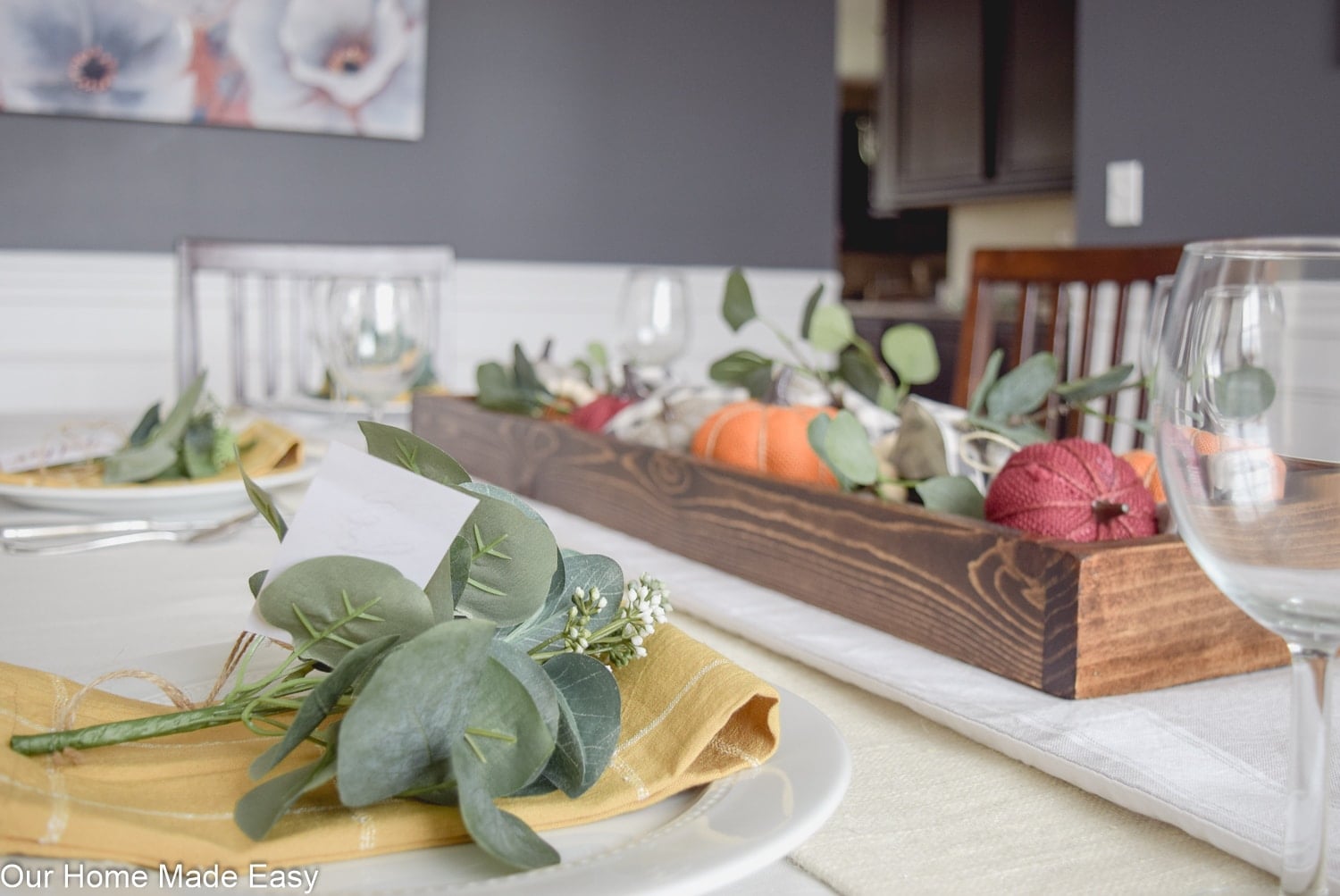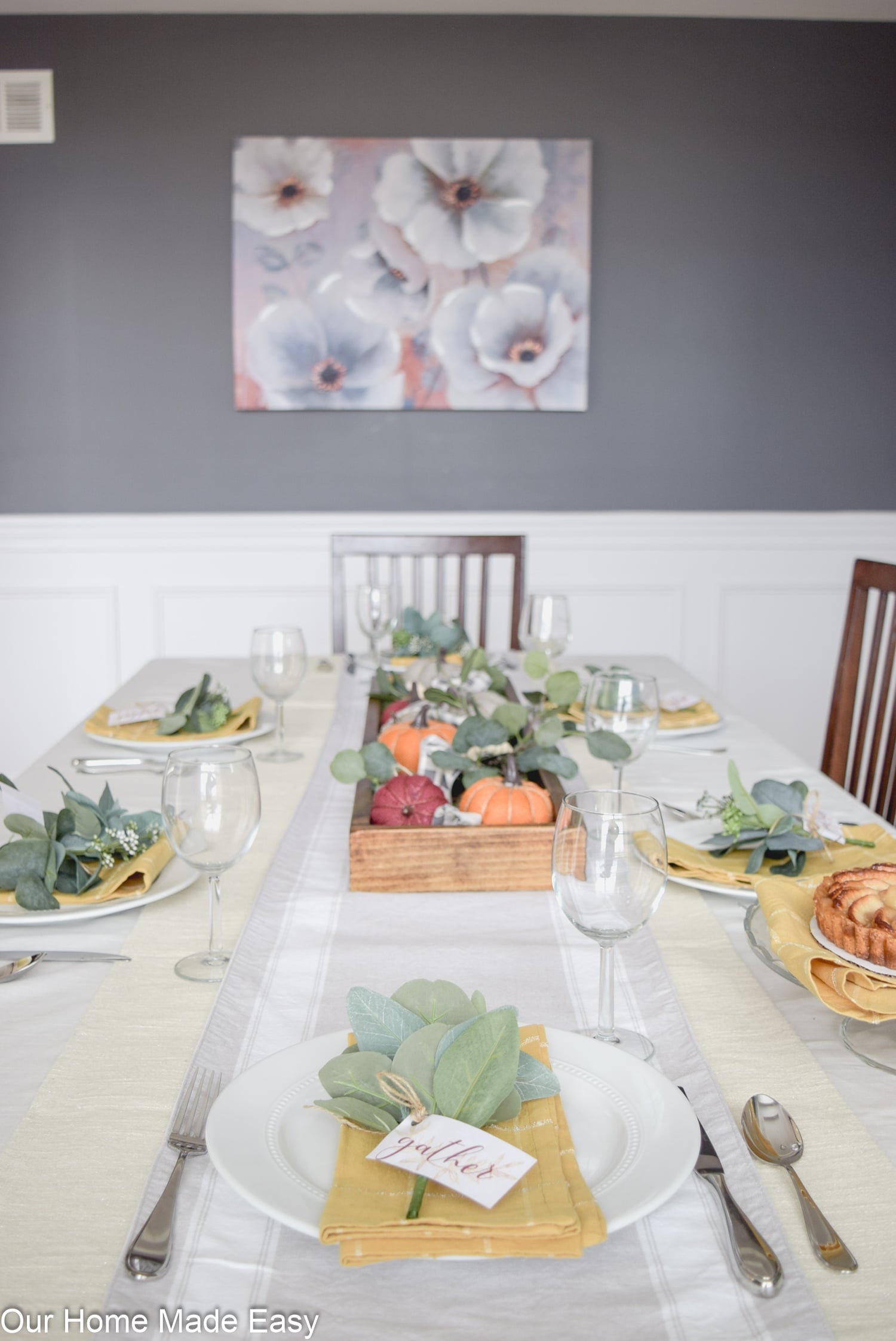 Easy DIY Thanksgiving Table Decorations
I am a big fan of reusing home decor as much as possible. It's why I love whites, greens, and blues so much. They 'work' in just about any space in our home. Do you have similar colors that could fit just about anywhere?
Now that we are in the full swing of hosting dinners, I'm gathering up all the basics and adding a few seasonal touches.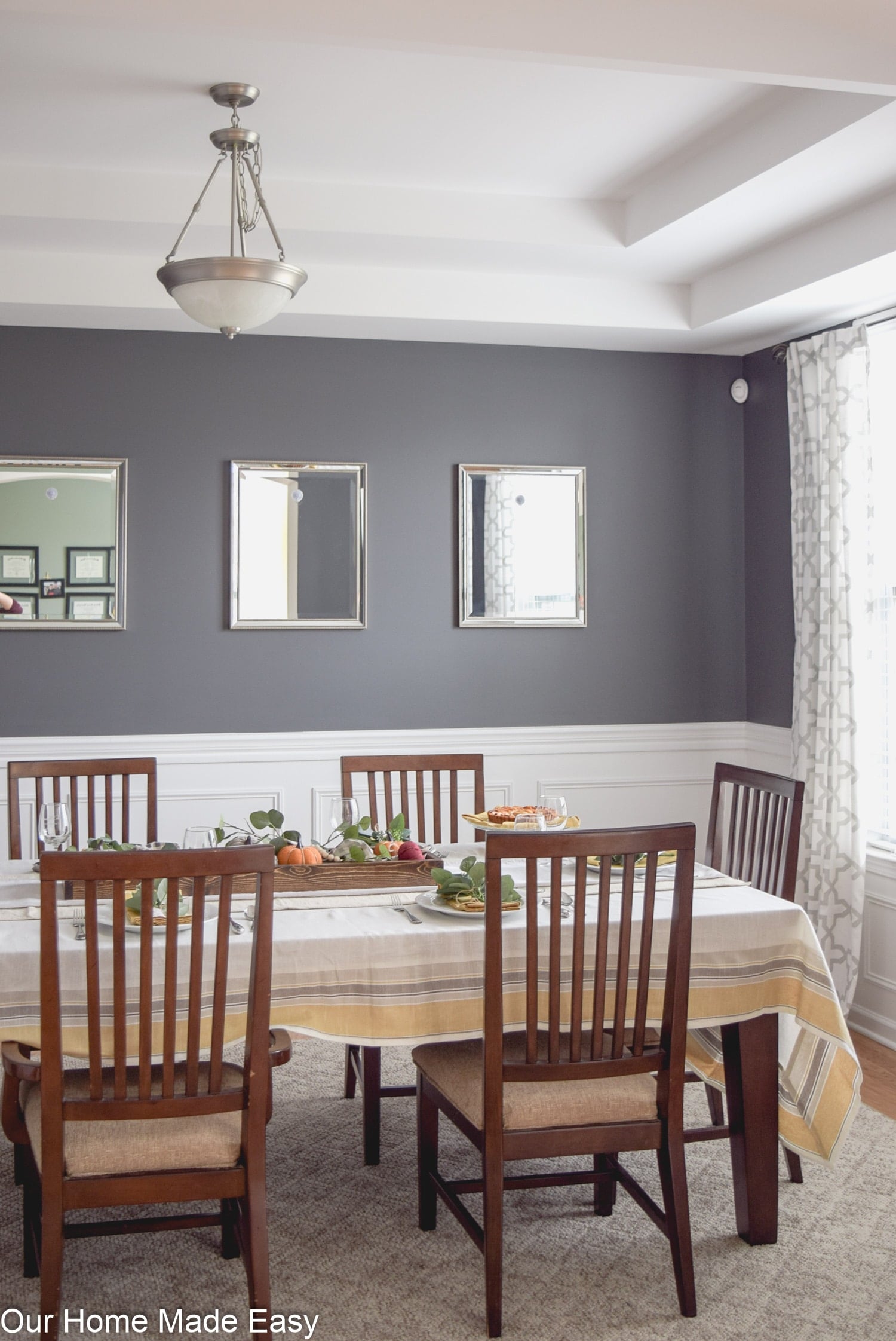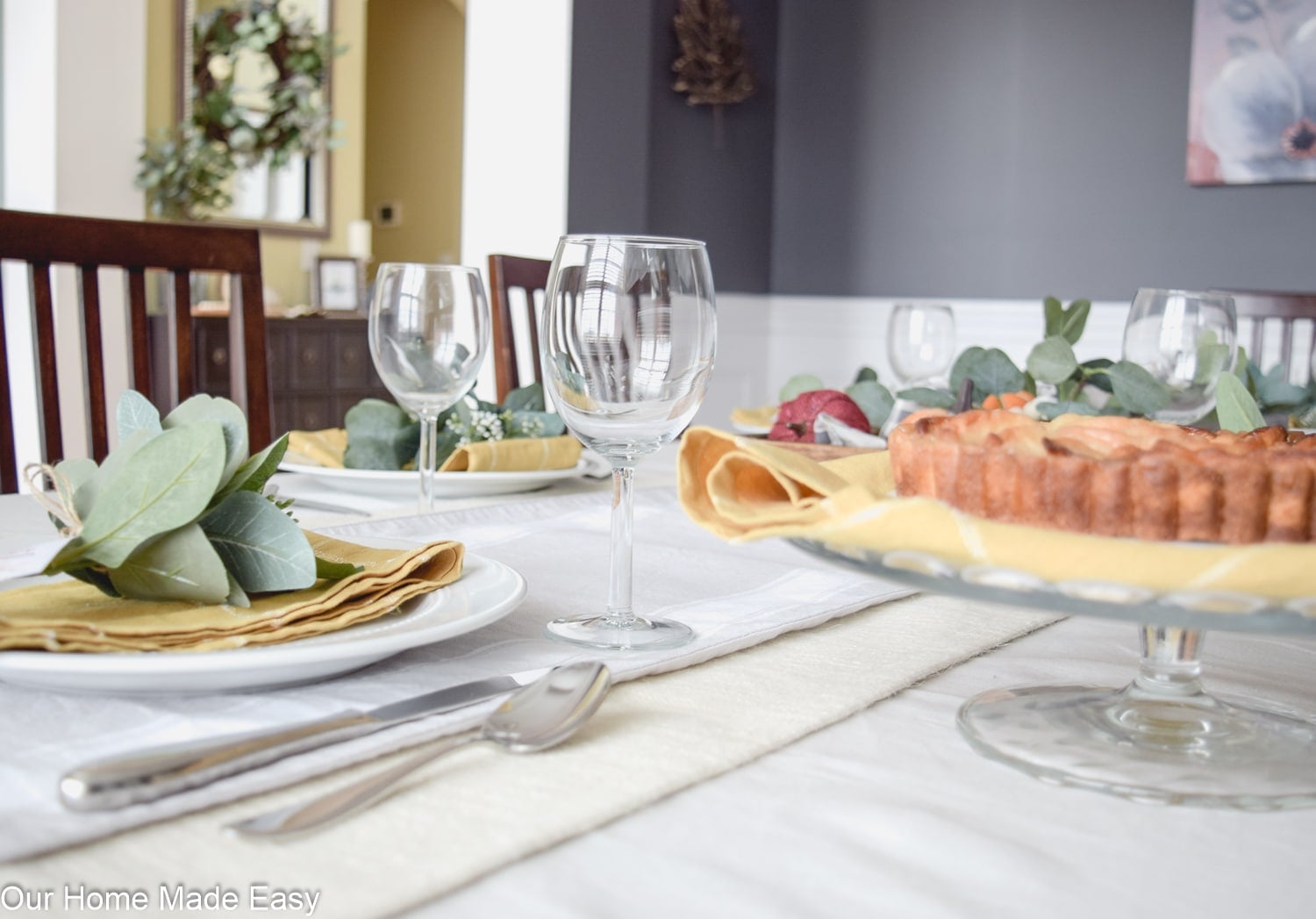 First, I started by laying down a neutral, but still warm, tablecloth. I know so many people cringe at the thought of tablecloths and kids, but really, they are totally washable! Why not use them? (But keep more than 1 tablecloth so that you aren't rushing to launder the first one because you don't have a backup handy)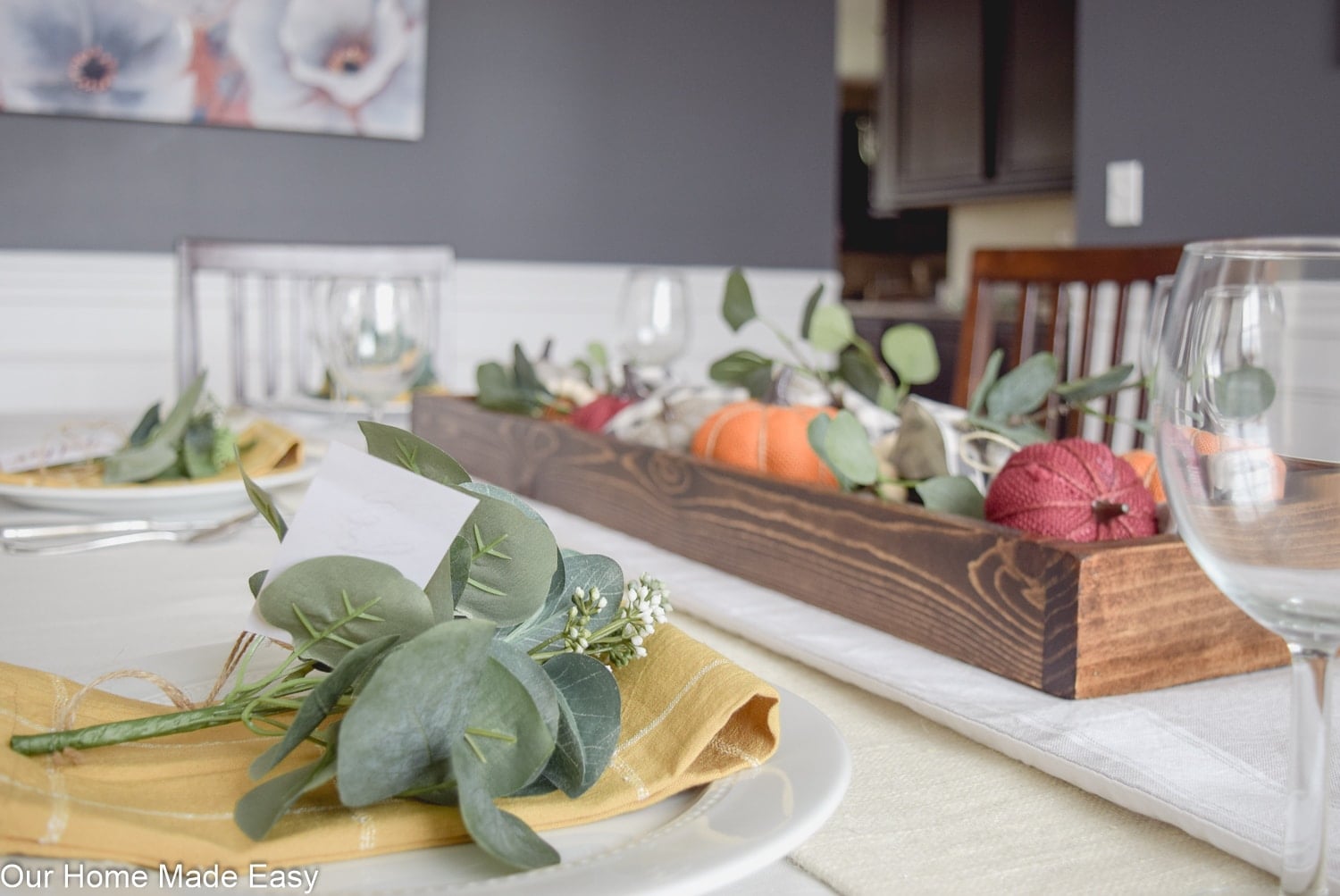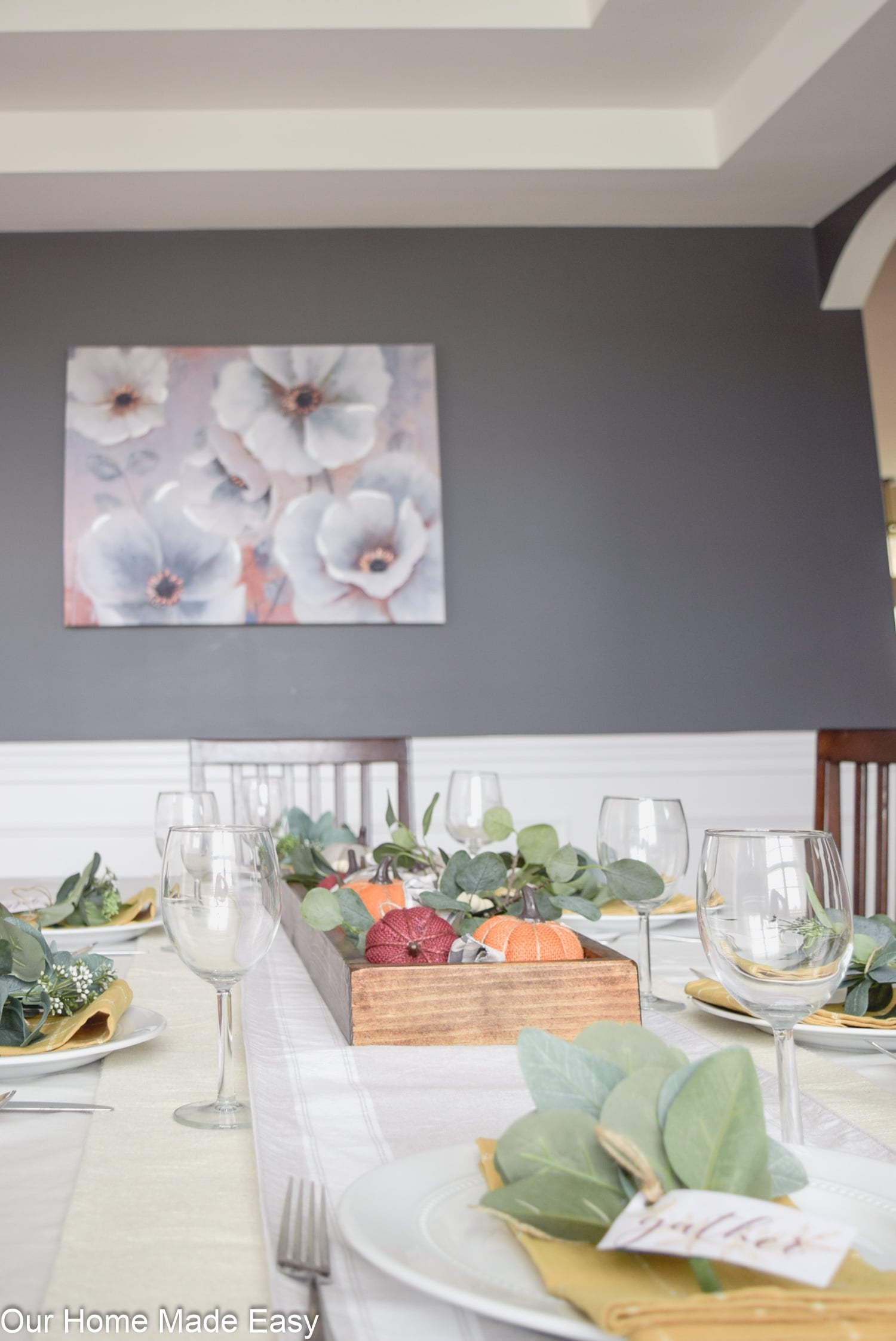 Then, I filled the DIY Wood Tray Jordan made last year with a bag of burlap pumpkins and a few pieces of eucalyptus from IKEA. If the eucalyptus, wood beads, & gingham ribbon look familiar, it's because they are totally are! I used both in our fall entryway this year and took the leftovers for this tray.
Then, I used the runner we already had on hand (we used it last Spring in this DIY centerpiece), and laid it under the wood tray. [Under that runner? I found an extended width runner at Target last year after Christmas. It has gold threads in it to give it a little extra 'oomph']
I'm a little embarrassed this is so simple. I hope you weren't expecting anything remarkable. Focus on building layers rather than 'stuff.'
Lastly, my favorite dishes are plain white. That means no frills, no matching, and zero effort. They always work for hosting dinners.  And every season! Extra bonus? You don't need complete sets. If dishes break, you can always find round white dishes. #MomLife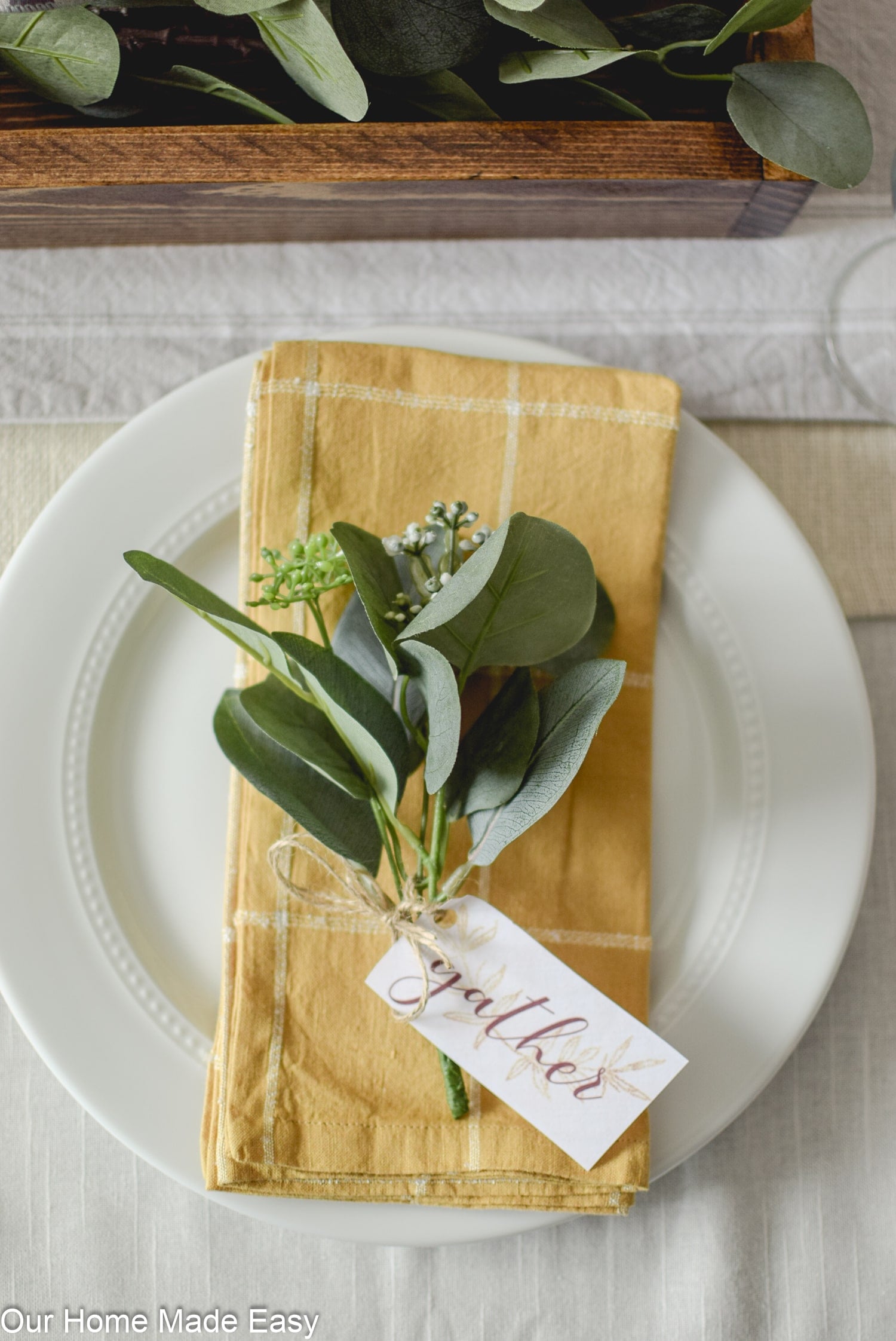 Lastly, top off each white plate with a colorful cloth napkin. The cloth napkins are instantly festive (my kids were marveling at them 😉 ) and a simple way to add color with zero effort. I  chose these yellow ones since there is yellow on the edge of my tablecloth and they could be used in the spring or even summertime!
One thing I avoided?
Large centerpieces that needed to be moved. I am a big fan of the drop and set into place. Each night, I shamelessly scoot the wood tray at the end of the table when it's dinner time. Once everyone is cleaned up, I carry it back into place. Zero effort.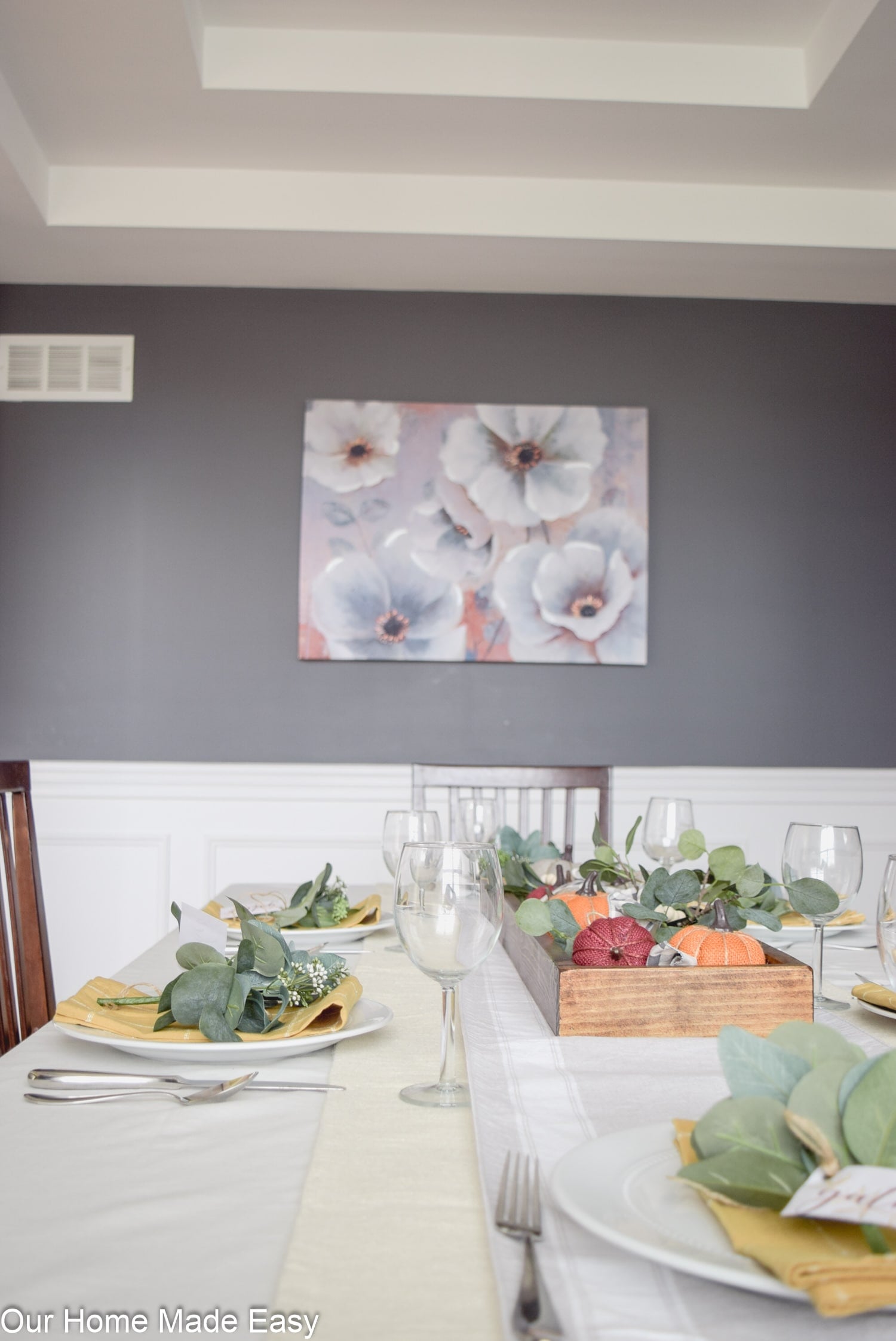 SHOP THE SPACE:
[show_shopthepost_widget id="3324986″]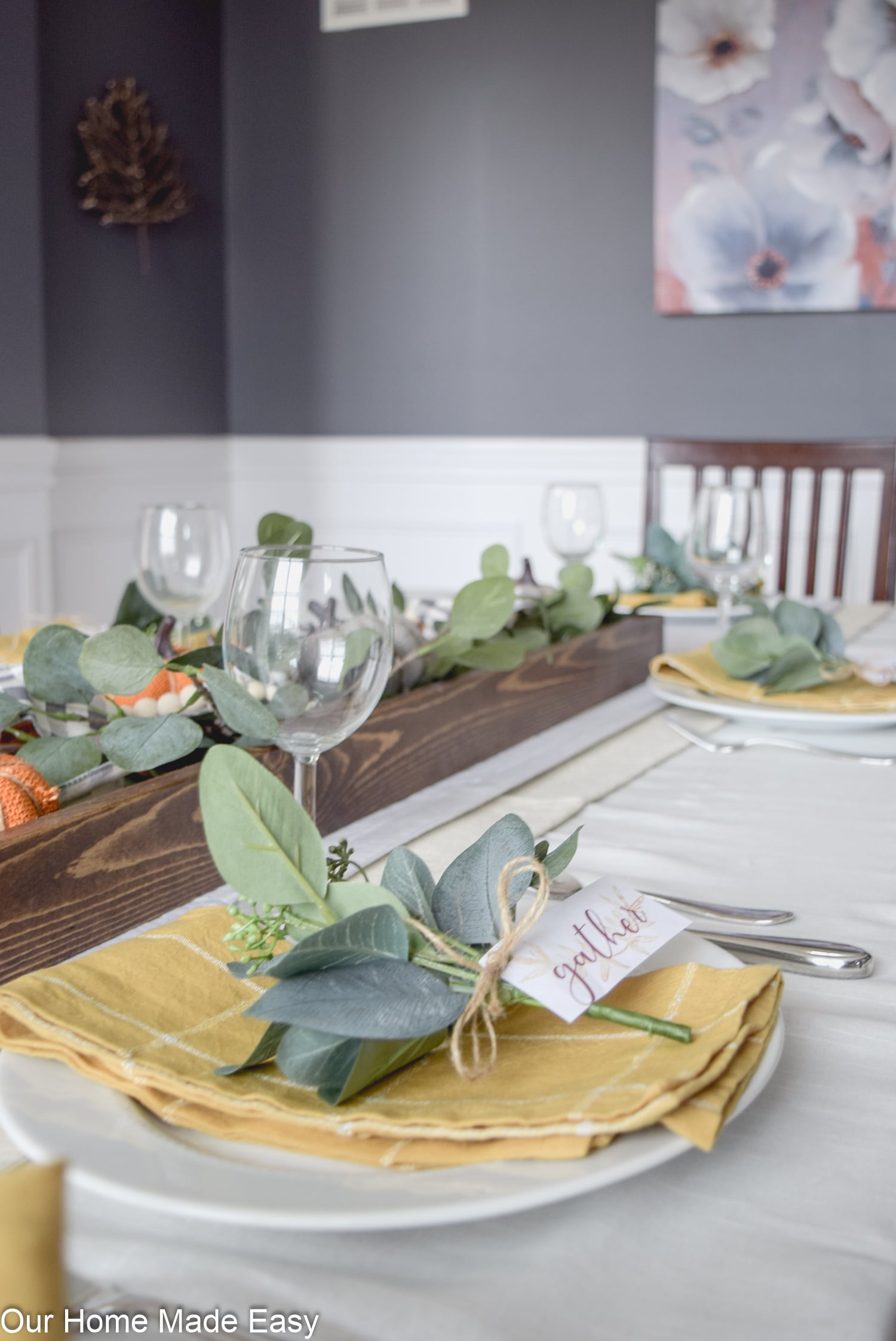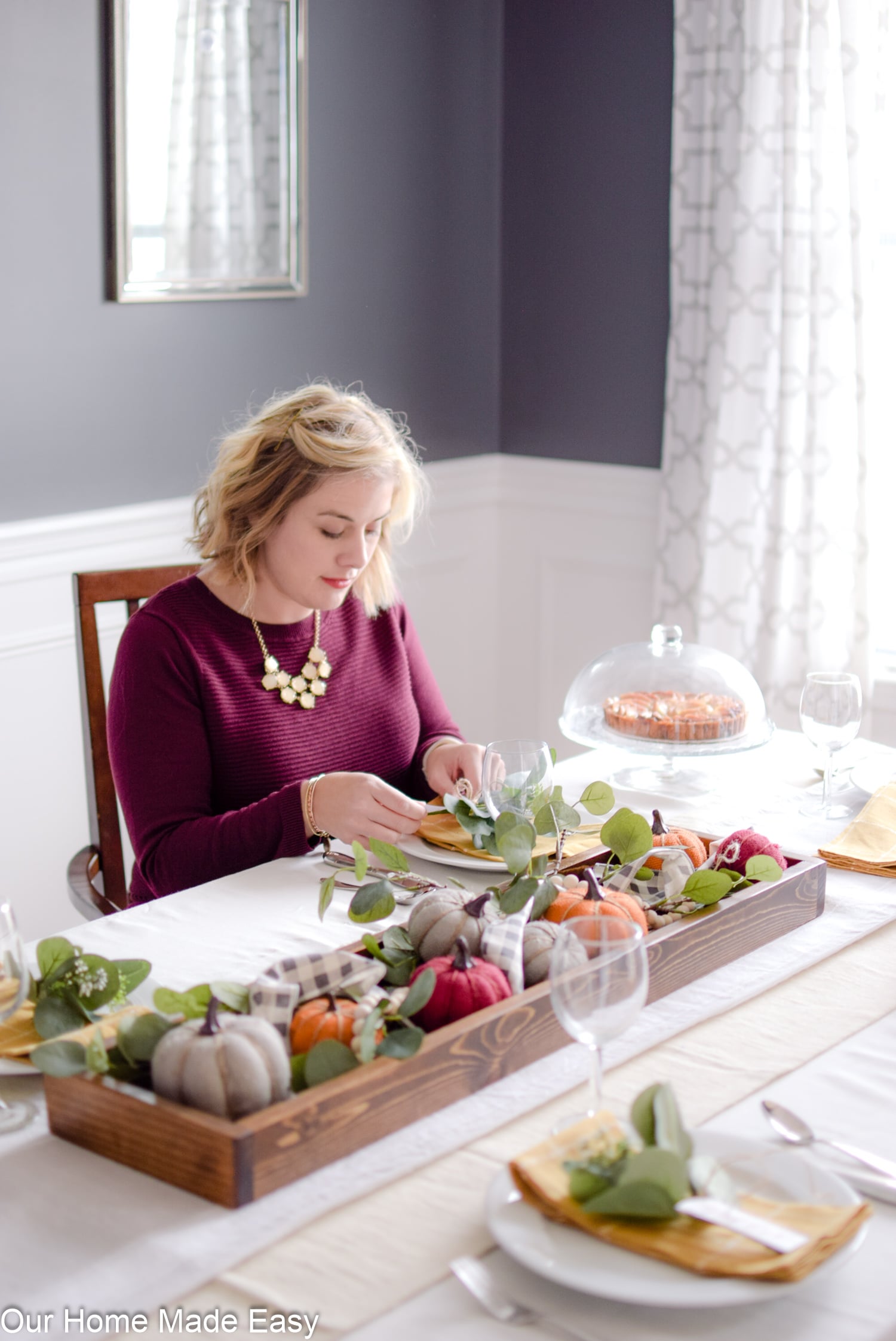 Easy Thanksgiving Place Setting Idea
All you need is a little greenery, some twine, and a fun message! [Scroll to the bottom of this post to grab those tags for free!]
I found these little eucalyptus snippets from the Hearth & Home by Magnolia. You could even buy 1-2 greenery stems, clip them and use them. For super cheap, you can make these in no time. I spent about $8 for the 6 pieces. It seemed like a great deal for greenery.
My favorite part about the greenery?
You can use them just about anywhere in your home after Thanksgiving dinner is over!
Since real life is that my family eats on this table every night, I've already tucked the 6 pieces into the centerpiece.
Back to making a fun place setting…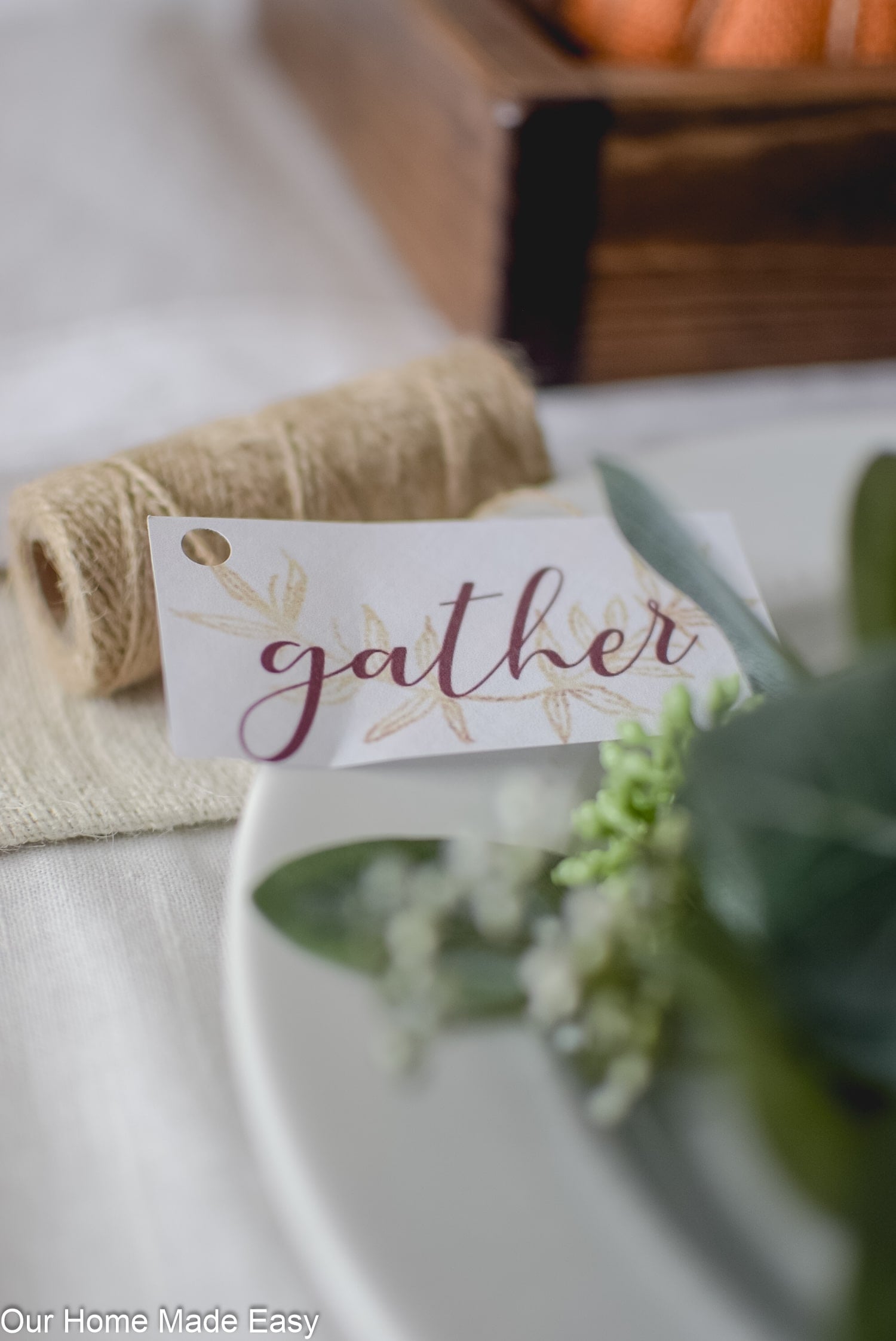 Lie your greenery on your table.
Find a cute message printable or even cut out a blank piece for a name tag.  [Scroll to the bottom of the post to grab this 'Gather' tag!]
Cut it out in any shape you'd like and use a hole punch to make a hole in the upper left corner. Using a piece of jute twine, double it up to give it a little bit of heft and loop it through the tag. Wrap as many times you would like around the greenery. Tie in a bow to secure.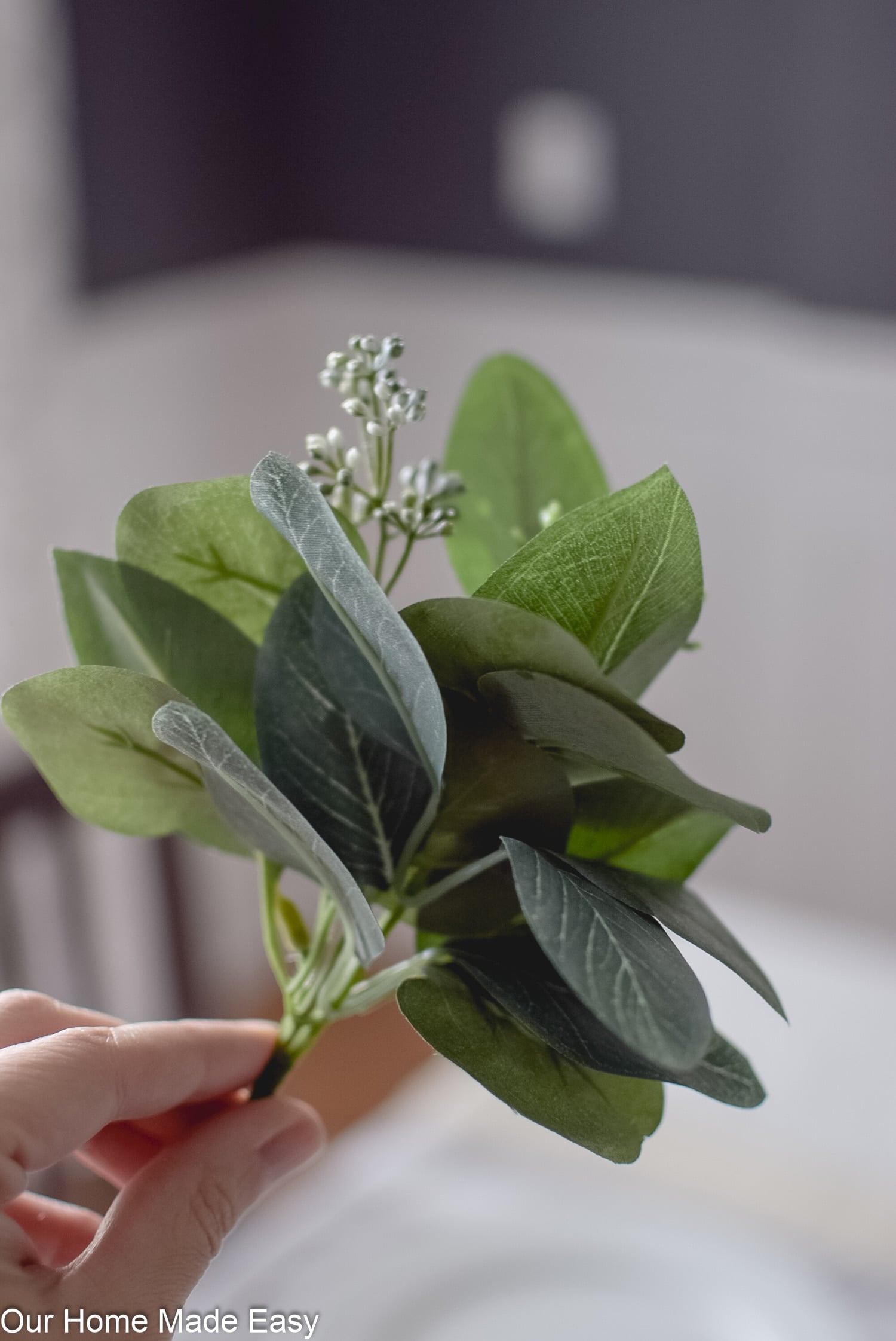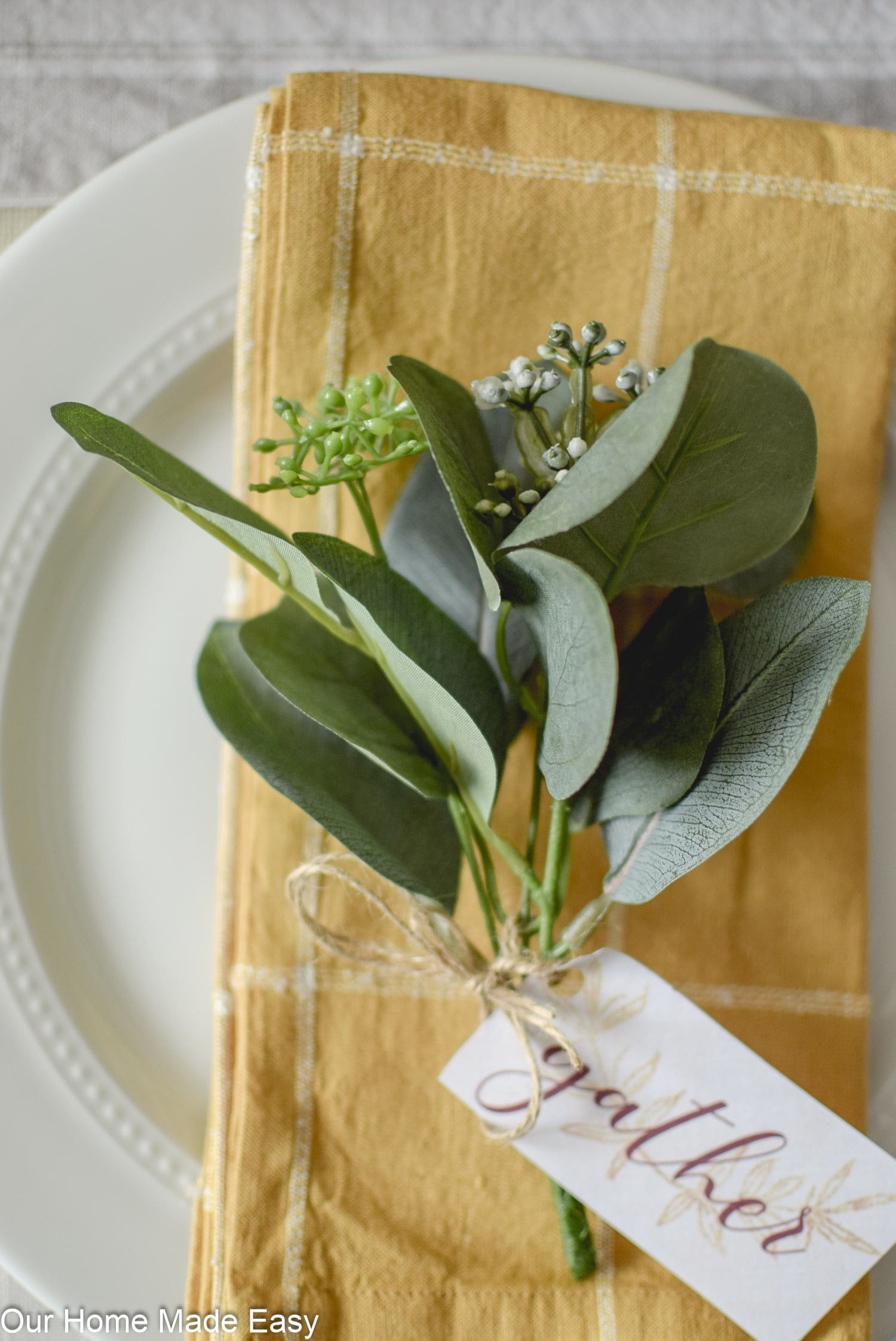 Lay your greenery bundle on top of a colorful fabric napkin. That's it! Insta pretty decor in less than a minute apiece!
Thank you for joining me today! I hope that setting a fun table is one less thing for you to think about this holiday season! In the meantime, I'm going to sit here and enjoy the clean dining room before anyone arrives home. 🙂
 GRAB YOUR FREE GATHER TAGS HERE!
---
PIN FOR LATER: