Use this quick tip to decorate your fall entryway home decor without using too many seasonal items! Save money & time. Have fun decorating without feeling overwhelmed!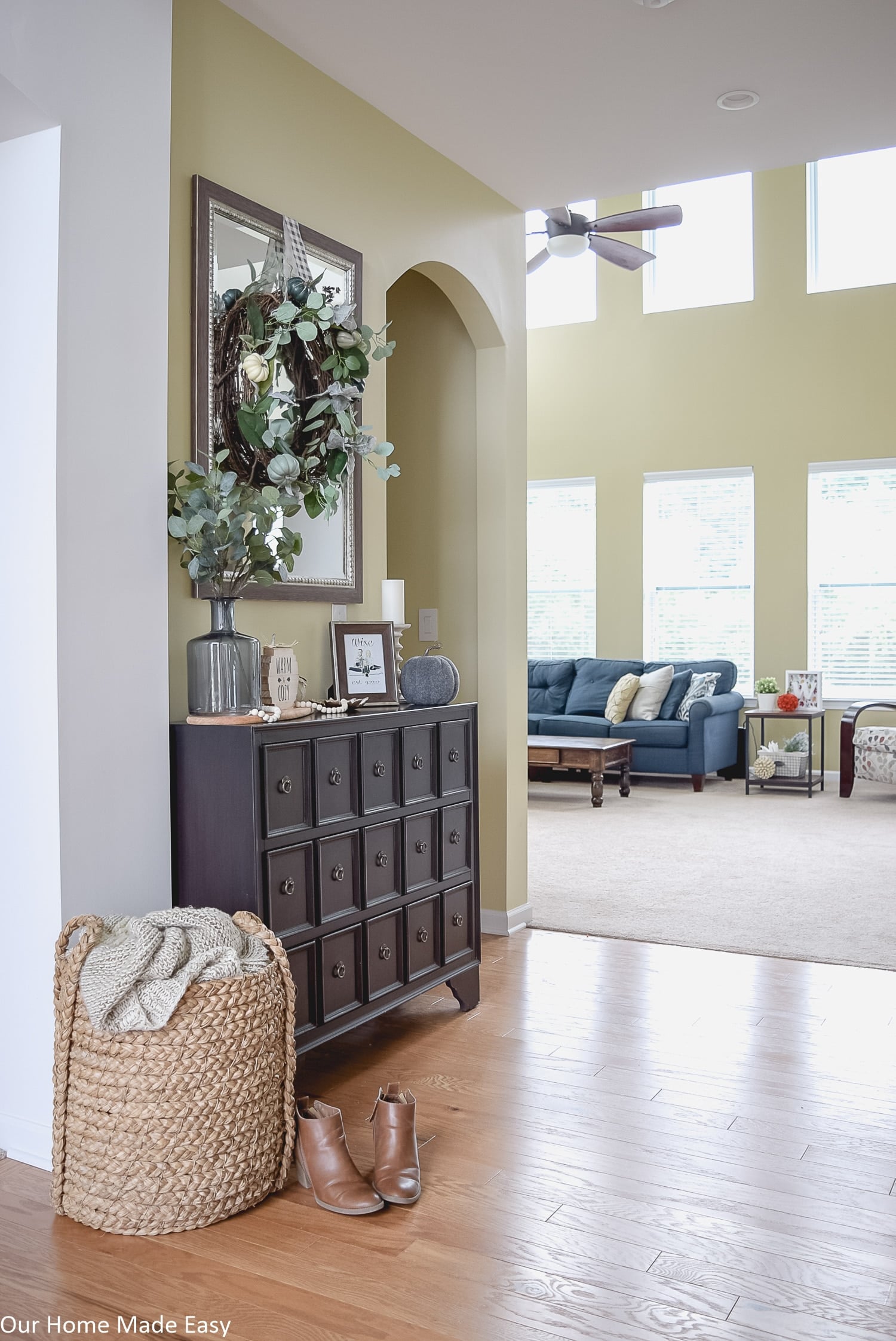 (This post contains affiliate links. Please see my Disclaimer for more information)
This year I am cutting on back on all the pumpkins from last year's great room and instead focusing on blues, greens, and grays!
I wish I could have you over for coffee, really.
But since I'd need to dust quickly and our Keurig machine is on the fritz, I will say "Come on into our home, it looks a little spruced up for Fall…"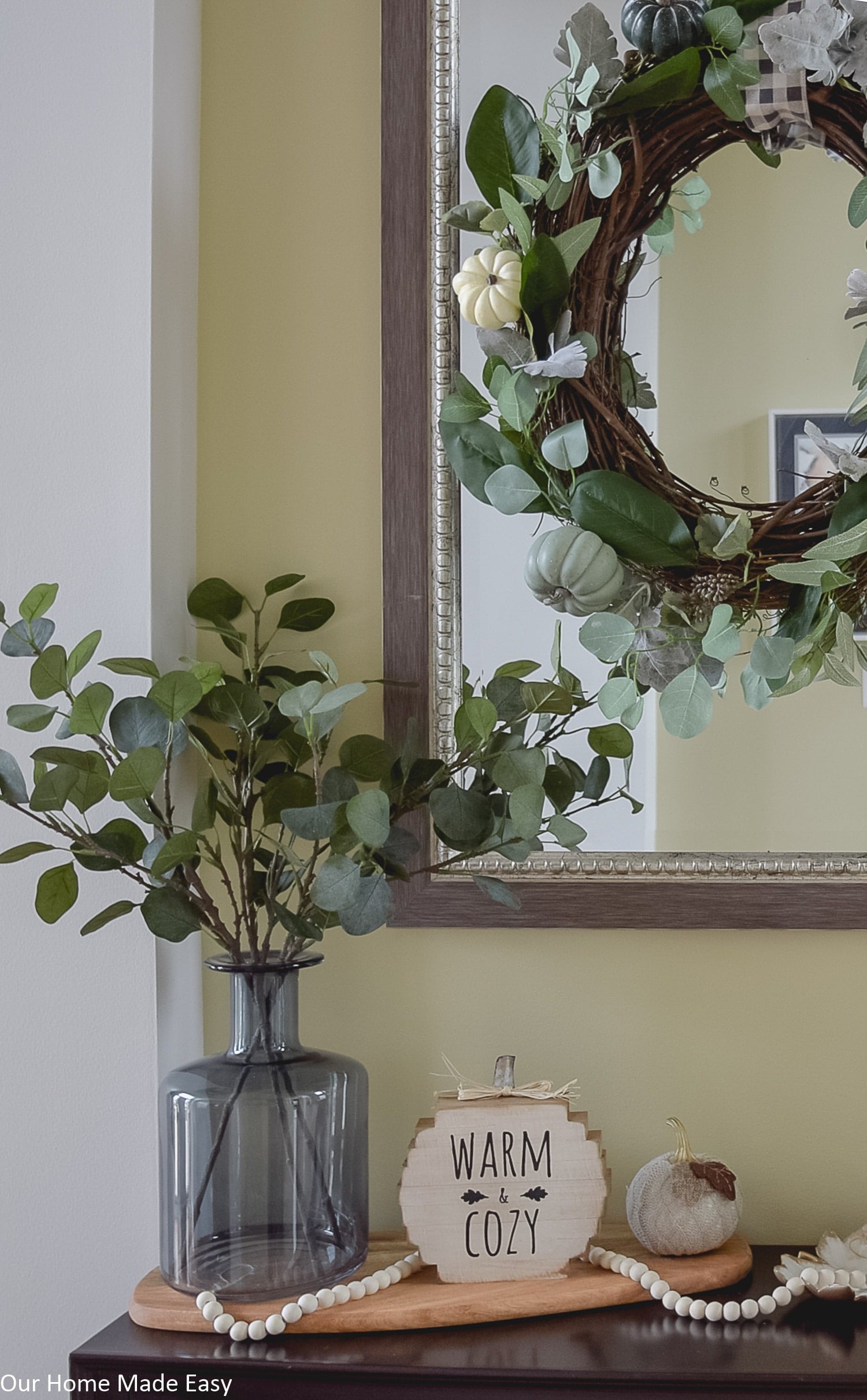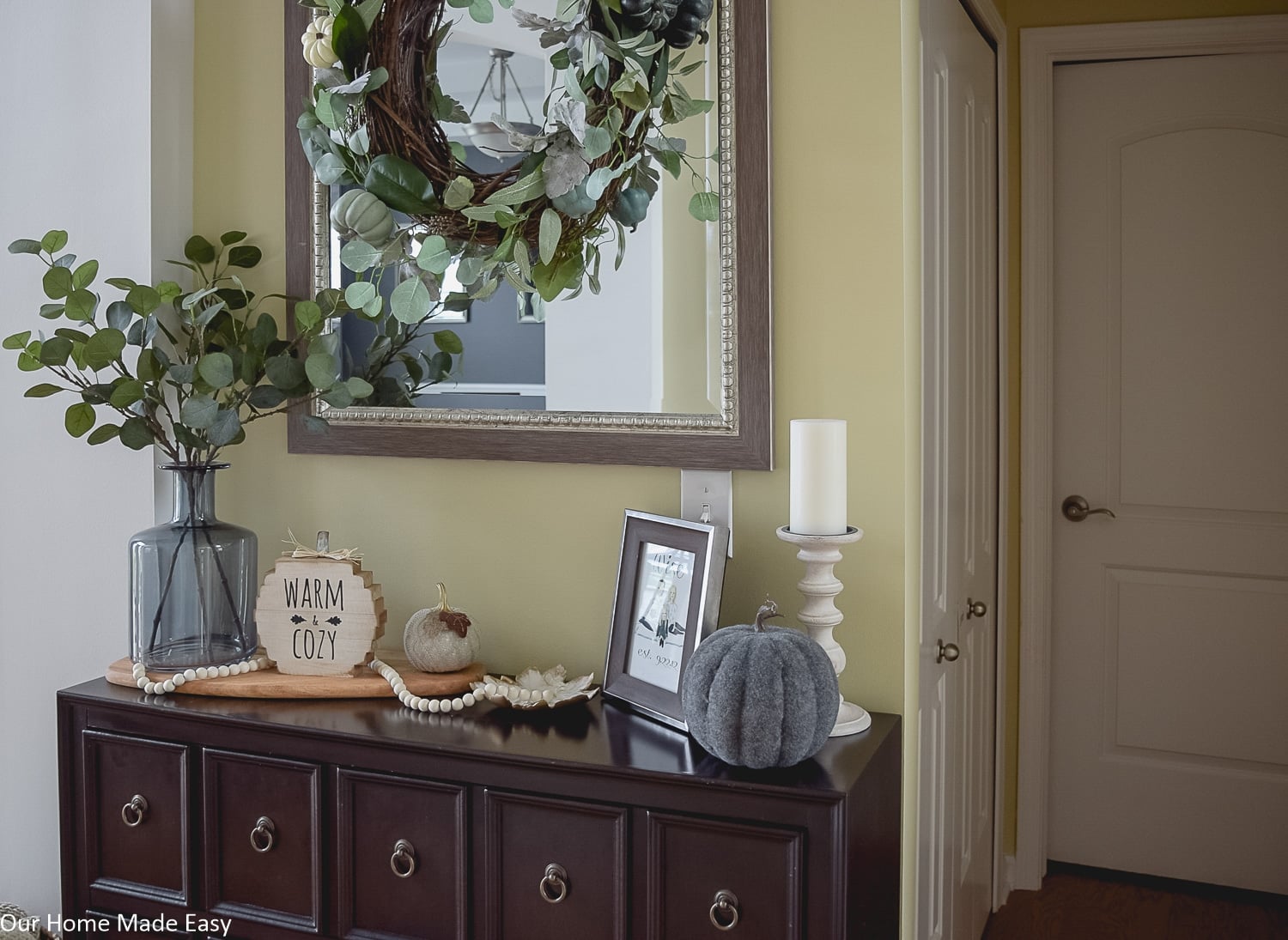 We've been experiencing several 60 degree days lately, however, I am headed to Orlando this afternoon. Before I headed out, I wanted to share our entryway for Fall with you.
This year I kept the same Quick 2 Step Wreath above the mirror. It's a goodie. I swapped out last year's burlap ribbon for this pretty gray buffalo check.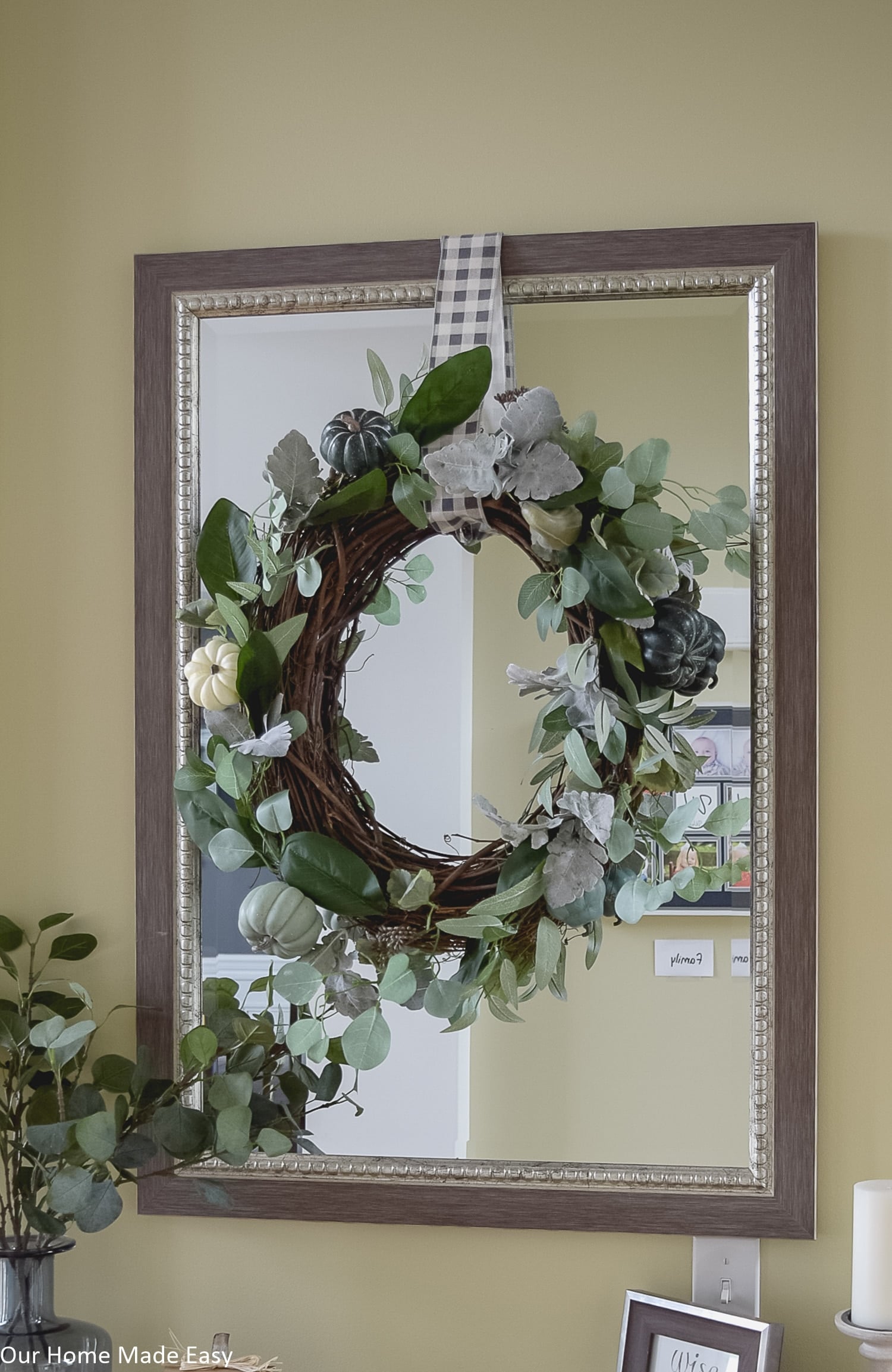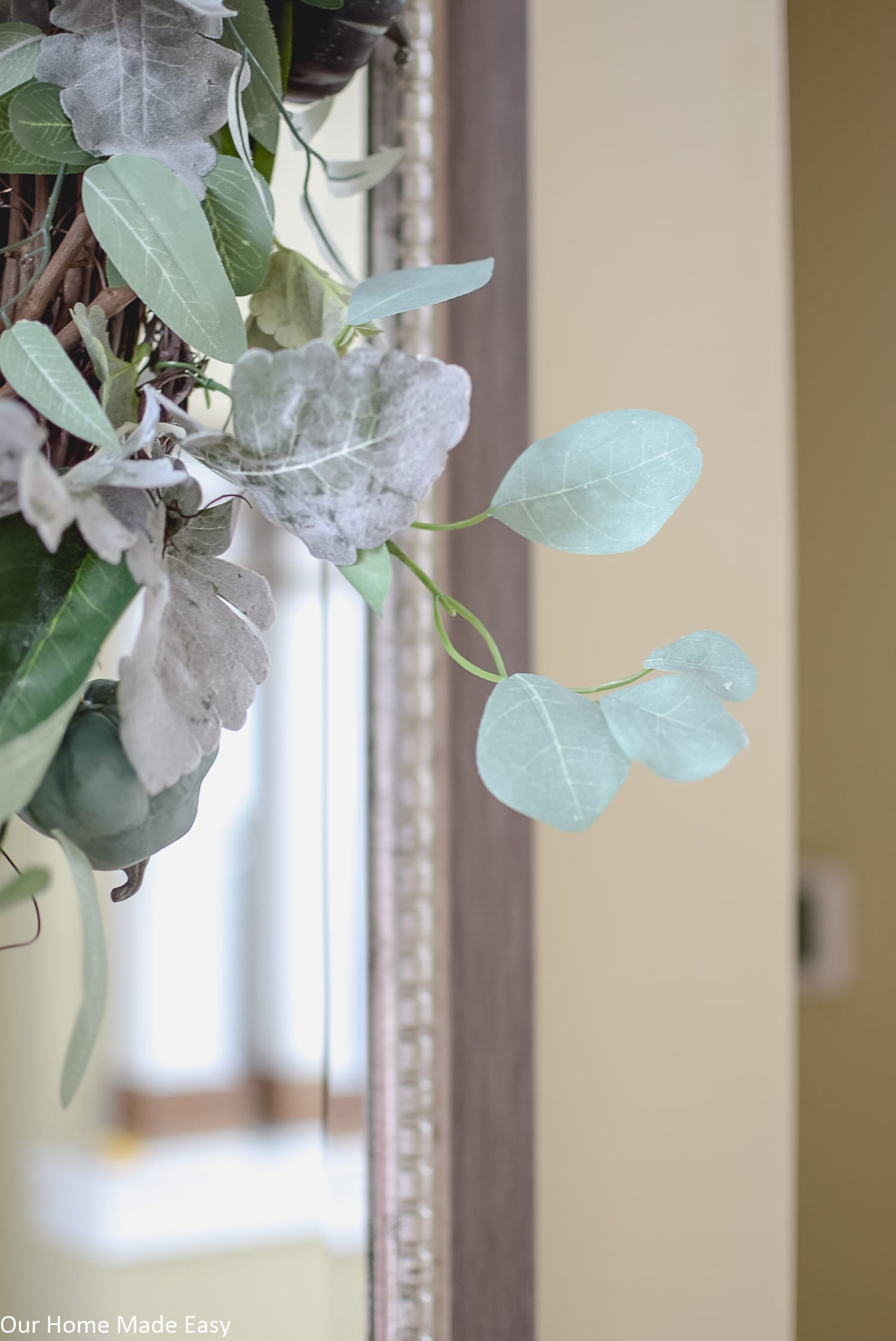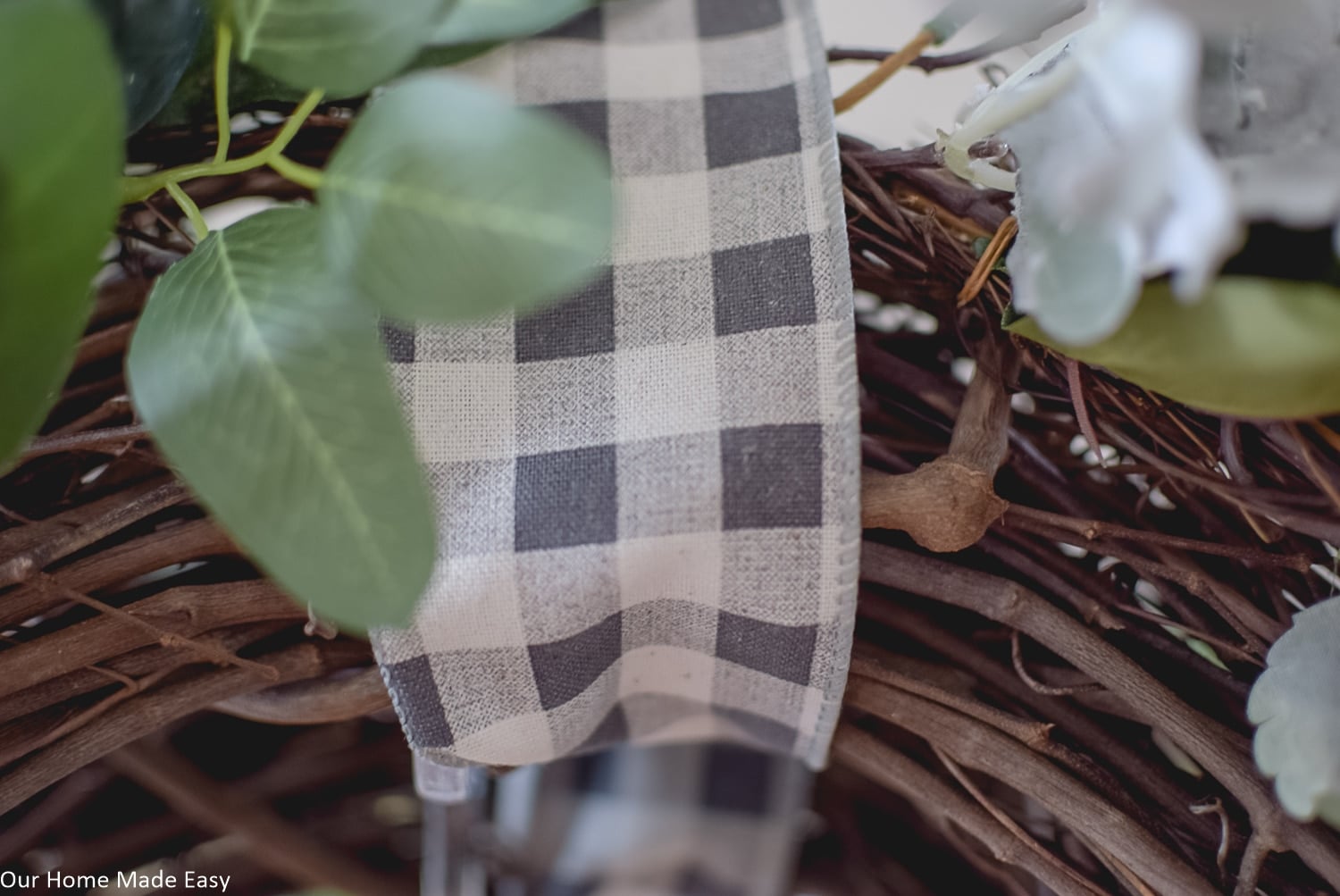 The entire decor for this space wasn't based on Fall at all— it's from this blue vase I found at IKEA over the Summer! When I saw it, I thought I need this… and the rest is history #best10dollarsSpent
In addition to the vase, I also found these pretty Eucalyptus branches for $5 apiece at IKEA. Total win and they work for every single season.
That wood board? It's a cutting board from IKEA, too!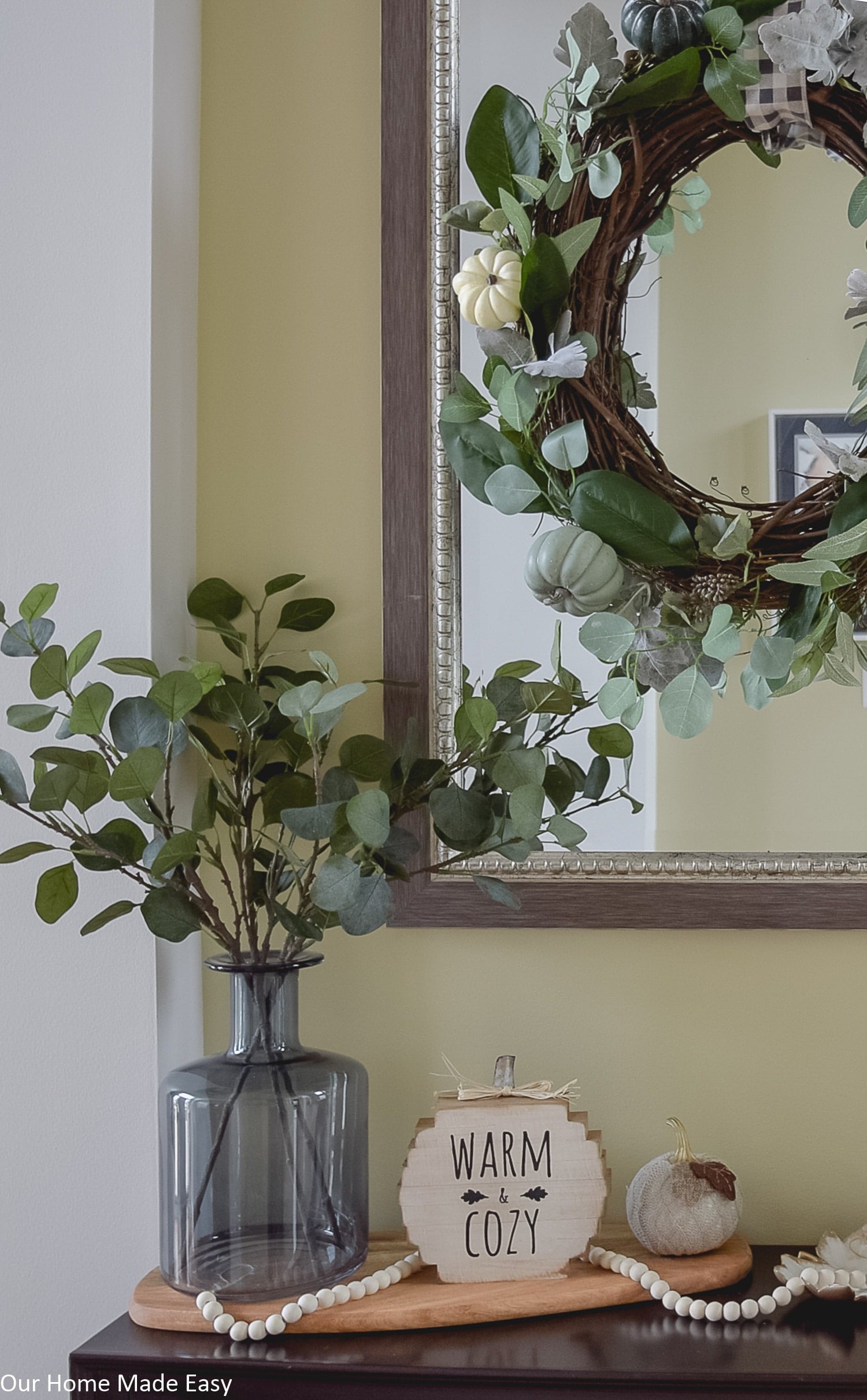 I promise this post is not sponsored by IKEA. They don't know who I am, I just spent like $30 one afternoon and was super happy with my finds. 🙂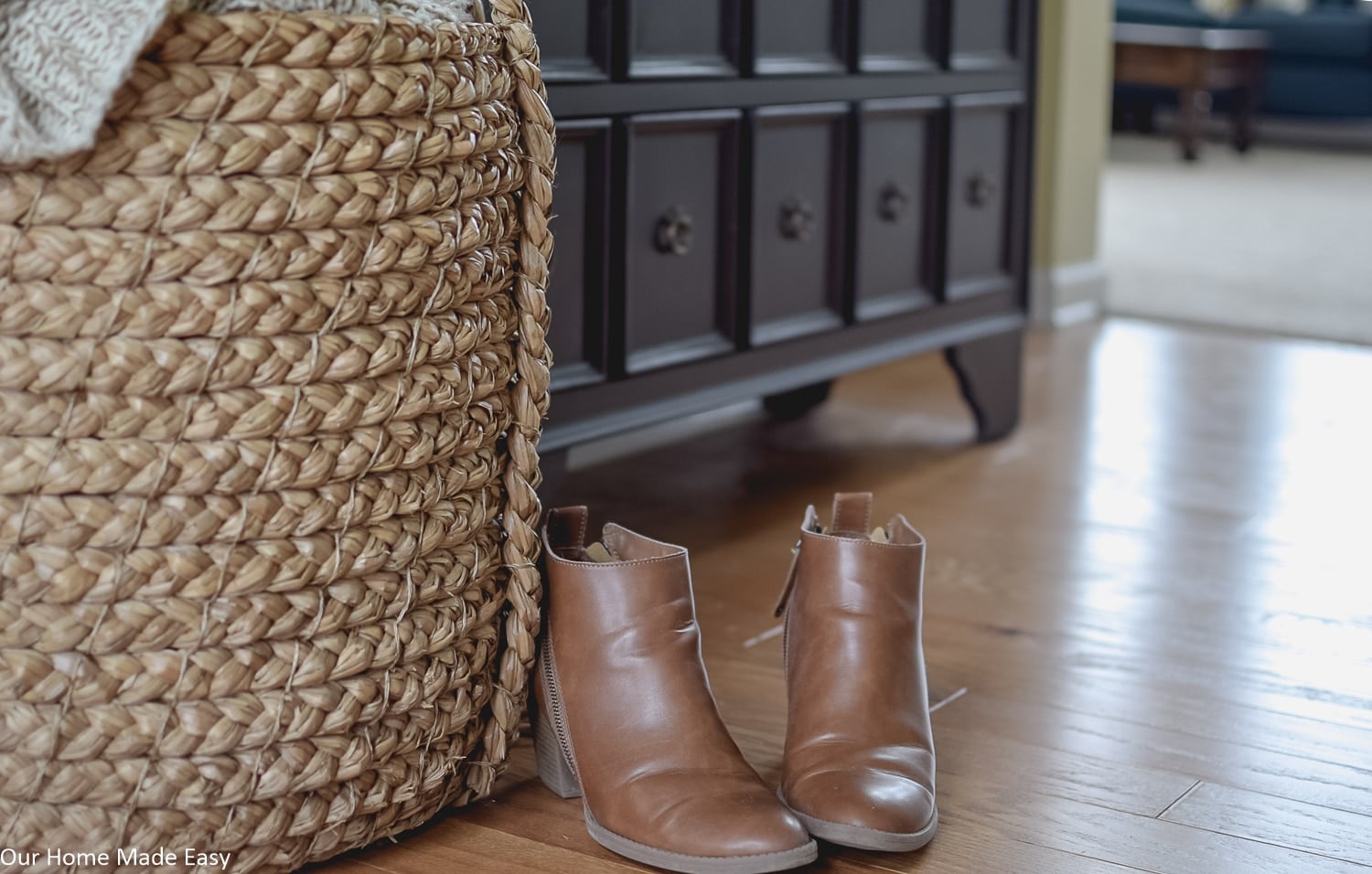 Most importantly about this setup is that I was able to use non-traditional decor and add a few seasonal pieces. It was quick & simple to look for colors as a guide rather than trying to find as many seasonal pieces as possible at Jo-Ann's or Michael's store.
Let's stock up on pieces we love this year over pieces we will only use for a few months.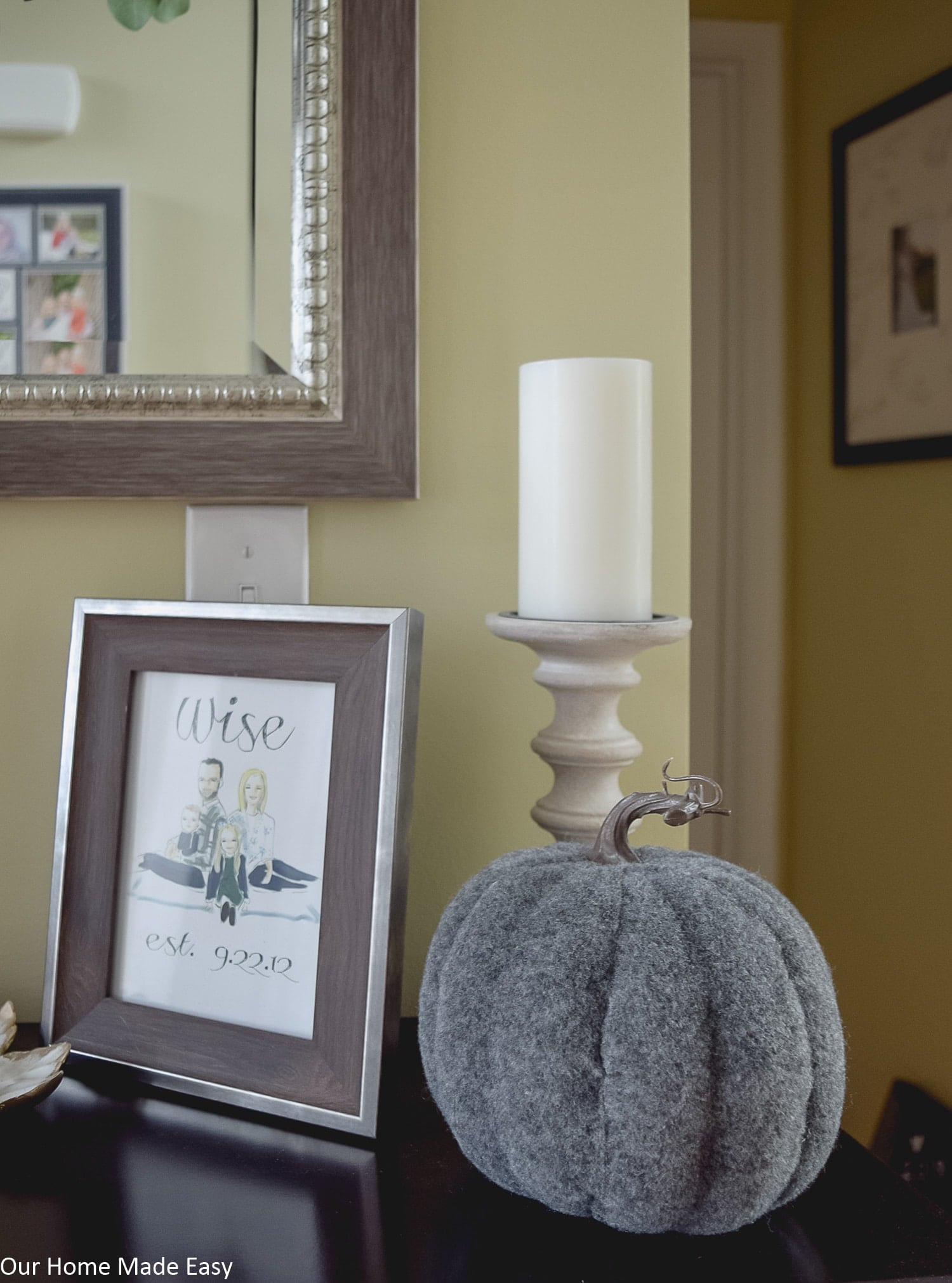 The white wood candle holders move around the house (they are some of my favorites!). I set them up with one of our favorite family photos that we received as a Christmas gift last year. Definitely not fall decor, right?
If you've been thinking about how you can stretch your decorating skills (& budget), think about colors rather than stuff.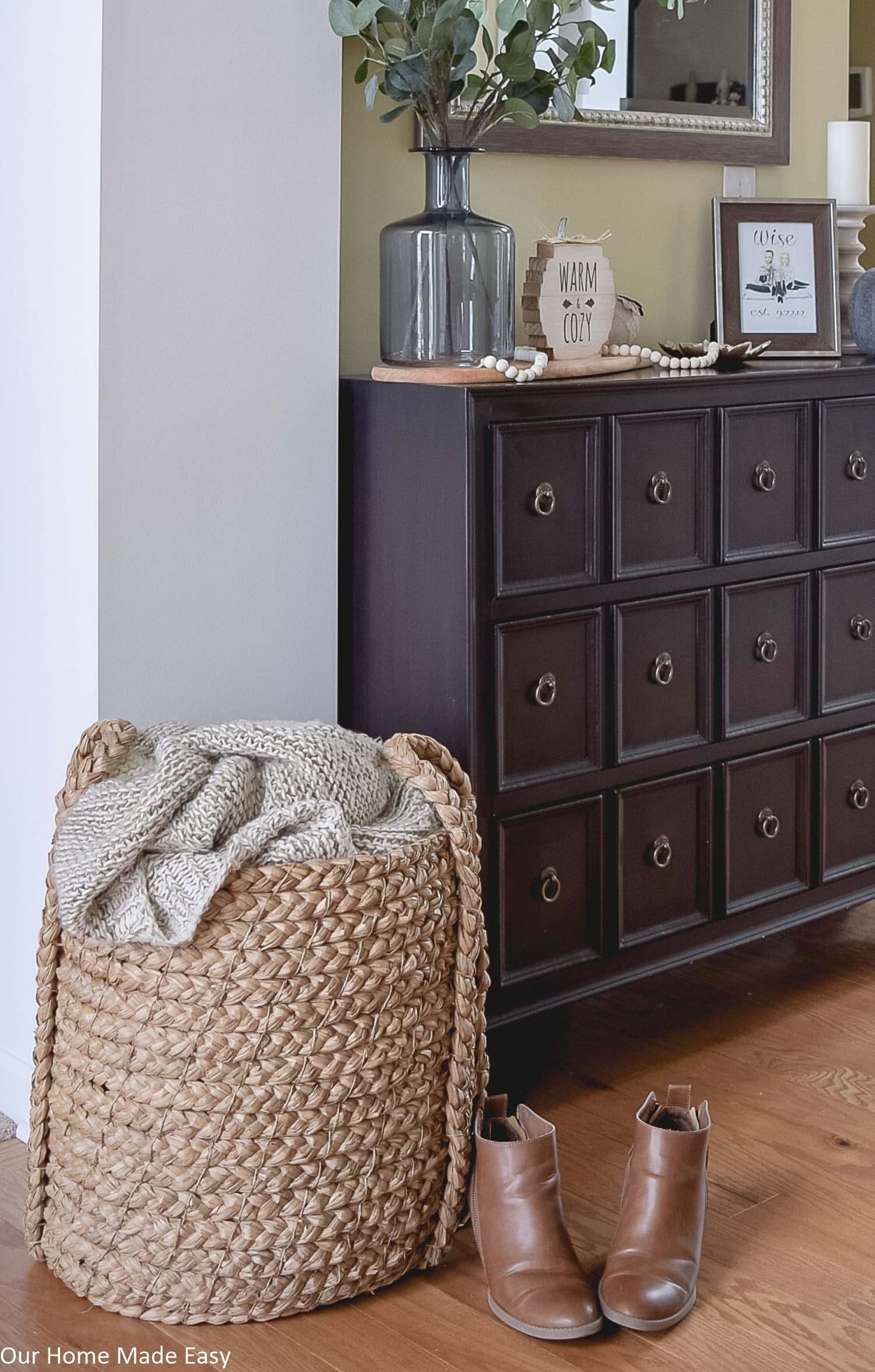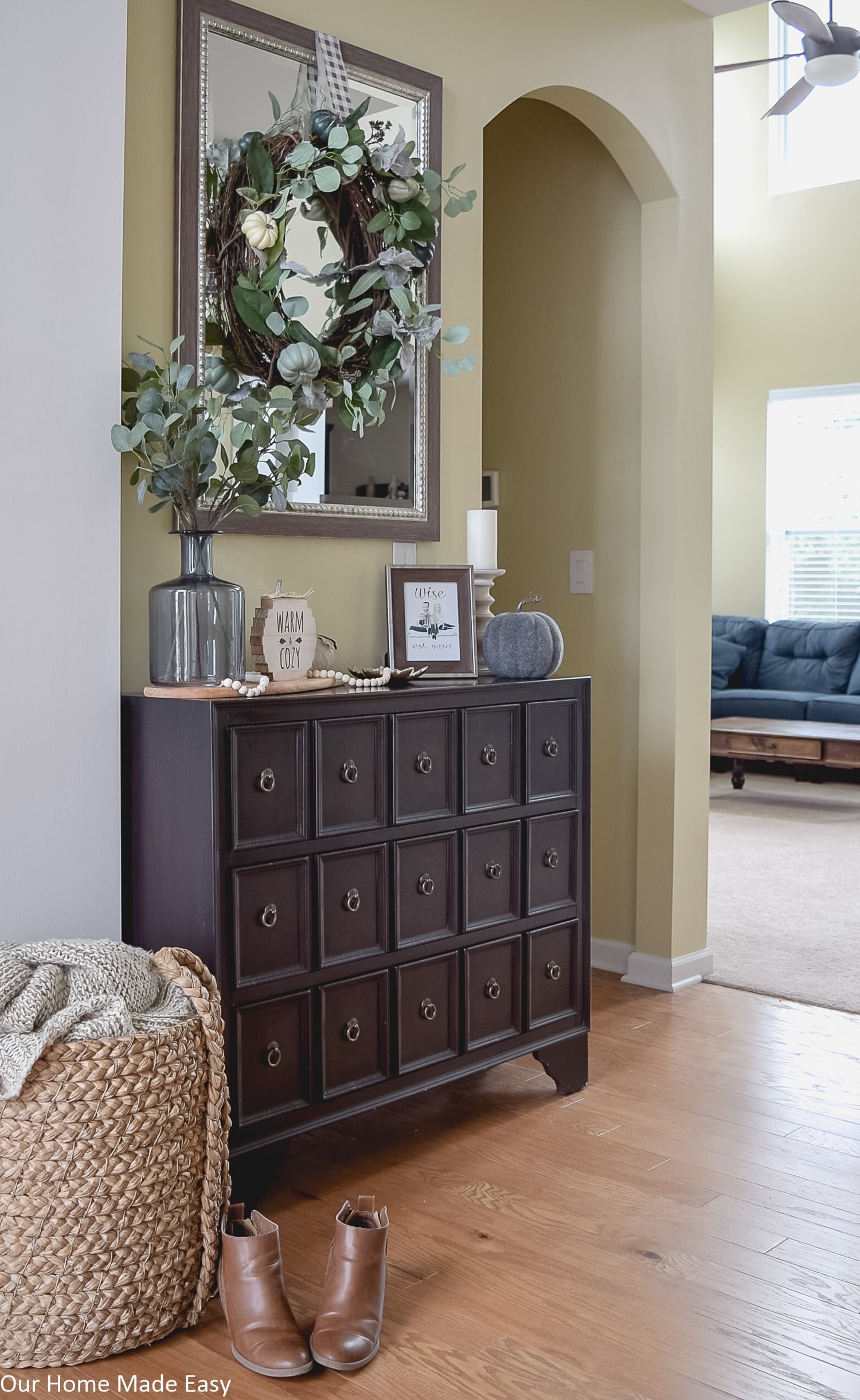 If you are digging the neutral decor this year, I wanted to share some easy links to where I found them.
Fall Entryway Decor Sources:
Have you already started decorating for Fall? Thank you so much for stopping by our home today. I am hoping I can find time to share our dining room with you soon! I'll catch back up with you when I return from Florida!
PIN FOR LATER: