Make this super easy bold flavored homemade chex mix recipe! It's perfect as a snack or for sharing at a party. It's a childhood favorite that continues to be so good– only bolder!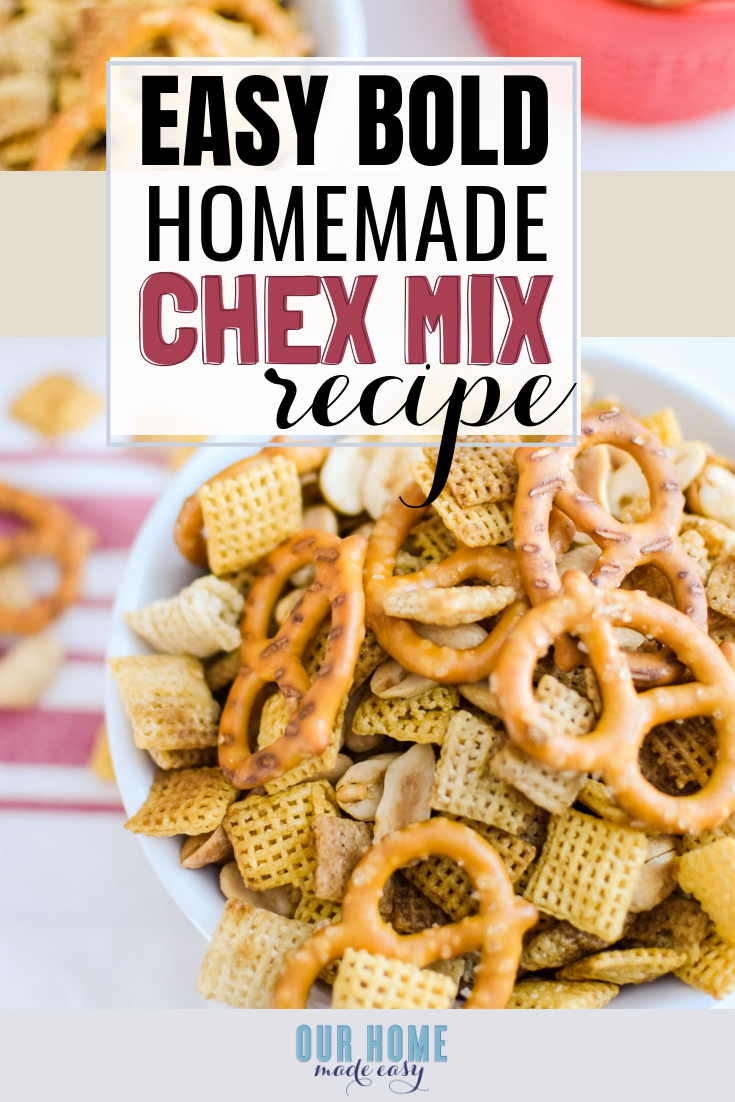 (This post contains affiliate links. Read my disclaimer page for more information.)
One of the best things about cooler weather is not just the fun décor…. but the recipes I get to bring out that are exclusive to cool weather and brown boots.
Which one is a classic?
Yummy homemade chex mix! It's so popular in our house and when I make it our whole house smells like a fancy candle… minus the open flame part (the hazards of living with young kids).
My mother in law introduced me to oven-baked chex mix and over the past 9 years, I've developed my own seasoning ingredient amounts to give it a nice bold flavor.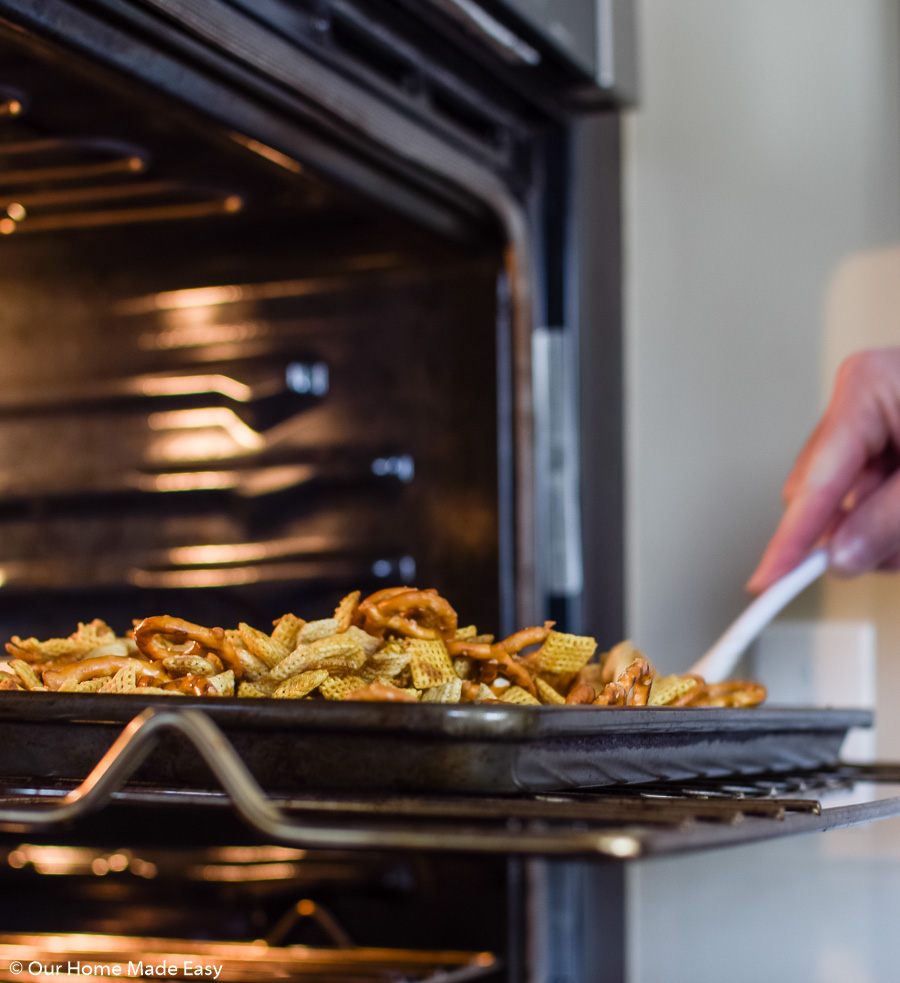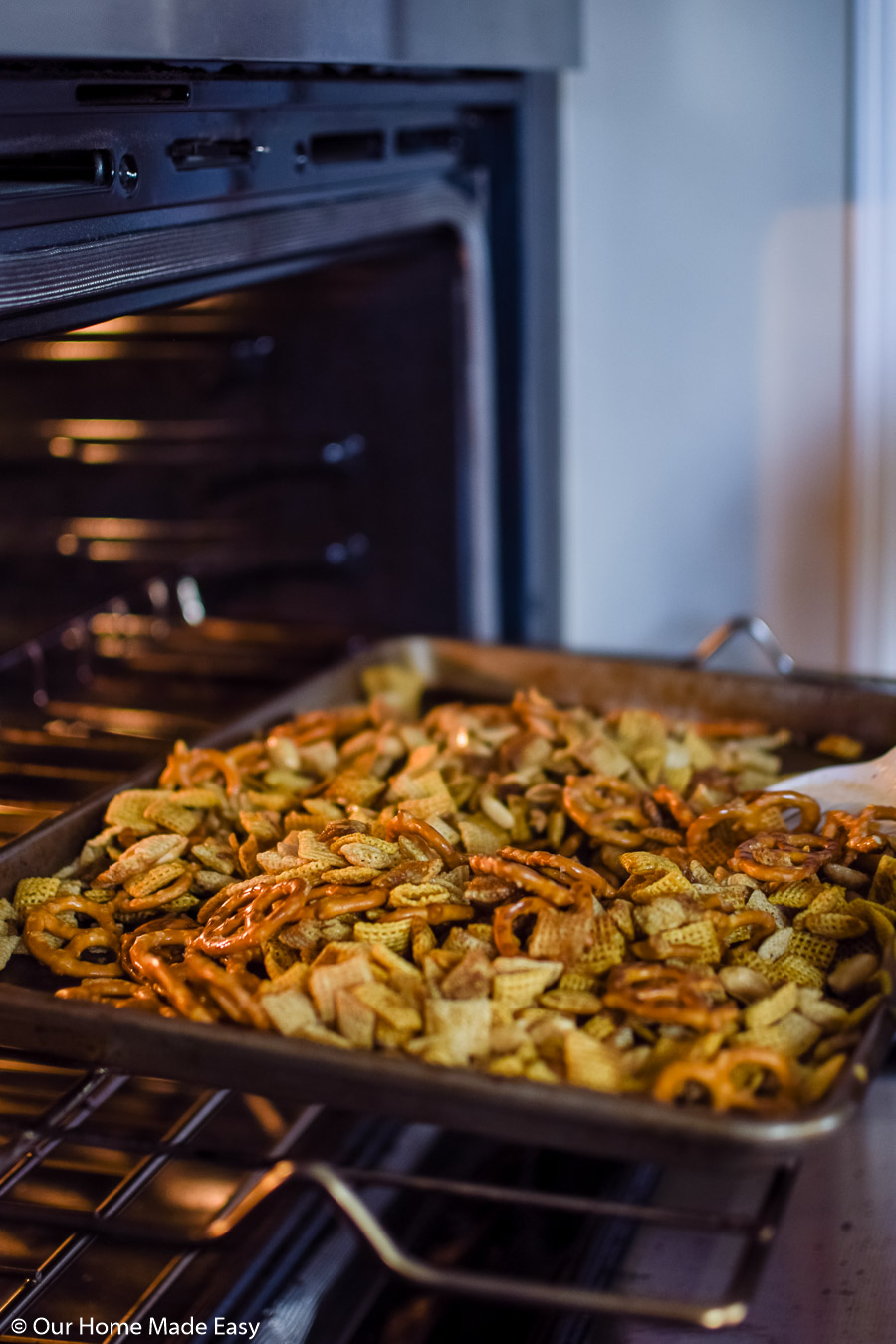 Easy Bold Homemade Chex Mix Recipe
Each batch takes an hour to bake. Usually, I start baking after lunch, while the kids are napping. In order to make it worth my time, I make at least three batches. Sure, it's three hours near the kitchen home, but if college football is on, we'll be home regardless. 😉 #gobucks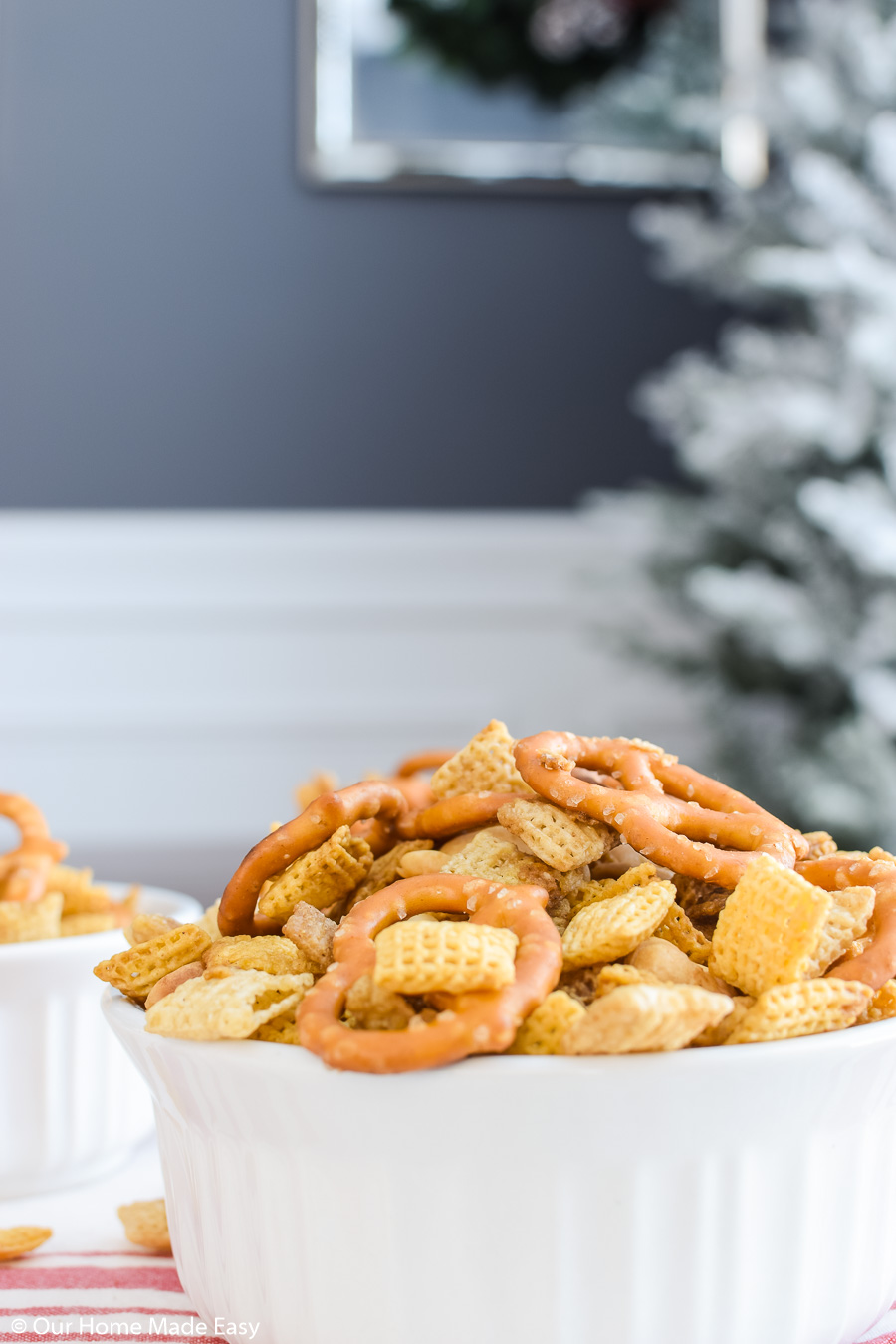 For this recipe, be sure to use name brand Worcestershire Sauce. Anytime a generic is sneaked in, my husband can immediately tell. Seriously… it's that fantastic. 🙂 When I'm doing 3 batches, I can count on using one box each of the corn, wheat, and rice chex. I usually pick them up on sale and make my first batches as soon as the calendar turns Mid-September! 🙂
For the Seasoned Salt & Worcestershire sauce, I usually buy them up in bulk at Sam's Club. It makes baking these relatively inexpensive and you won't mind making up several more batches as sweet gifts for the holidays (chex mix freezes really well).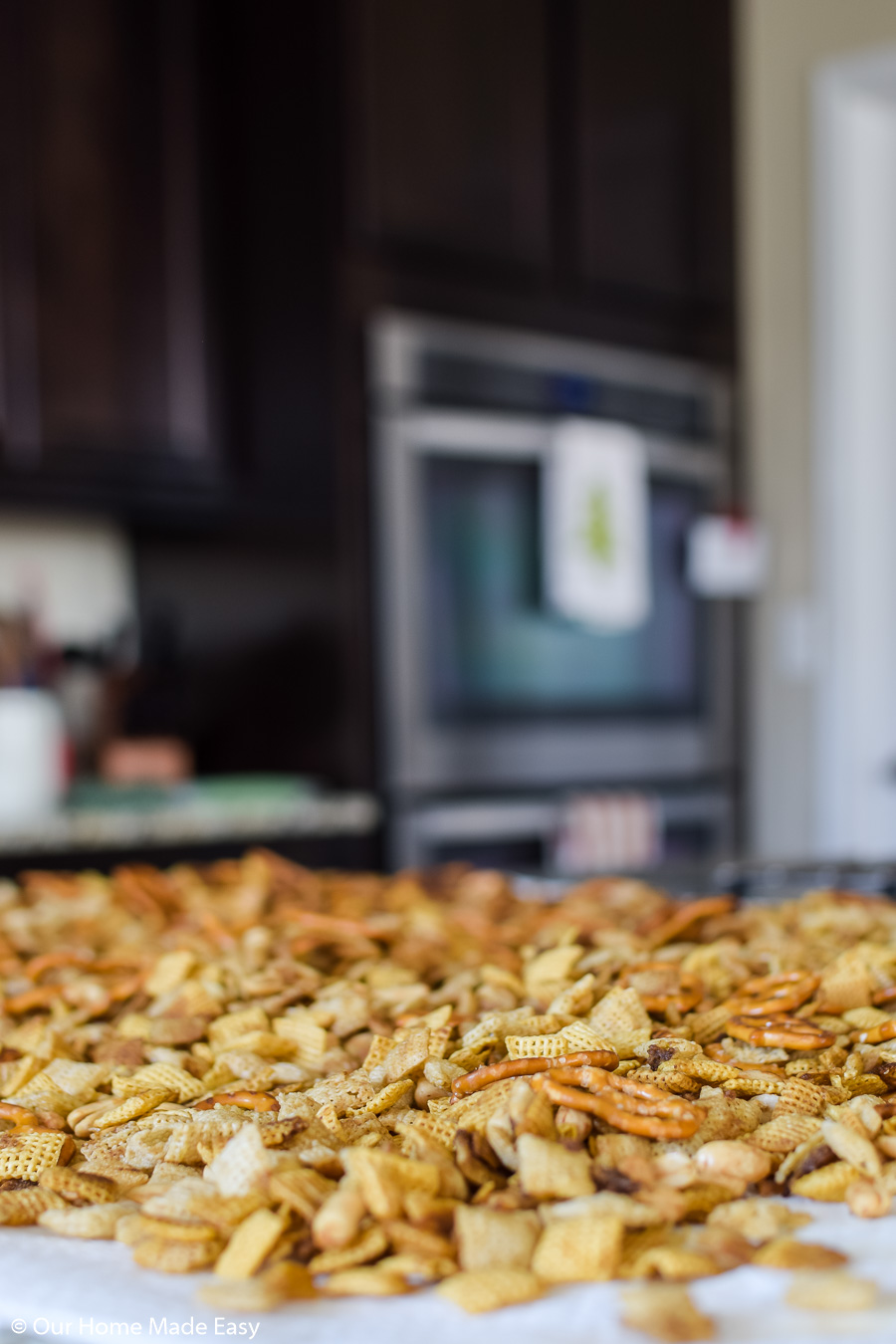 When I make multiple batches I will set out a large swath of paper towels to cool the chex after baking. I'll lay each batch out in a long straight line, a'la flipping the pan over and scraping off all the crumbs and liquids. As I do this I'll sneak a taste of the batch to see if I need to add more seasoning to the butter mixture for the next batch.
Sometimes the wheat Chex soak up more flavor and are a little burst of seasoning. If you don't use the wheat kind, I've found that the taste is pretty mellow throughout each batch.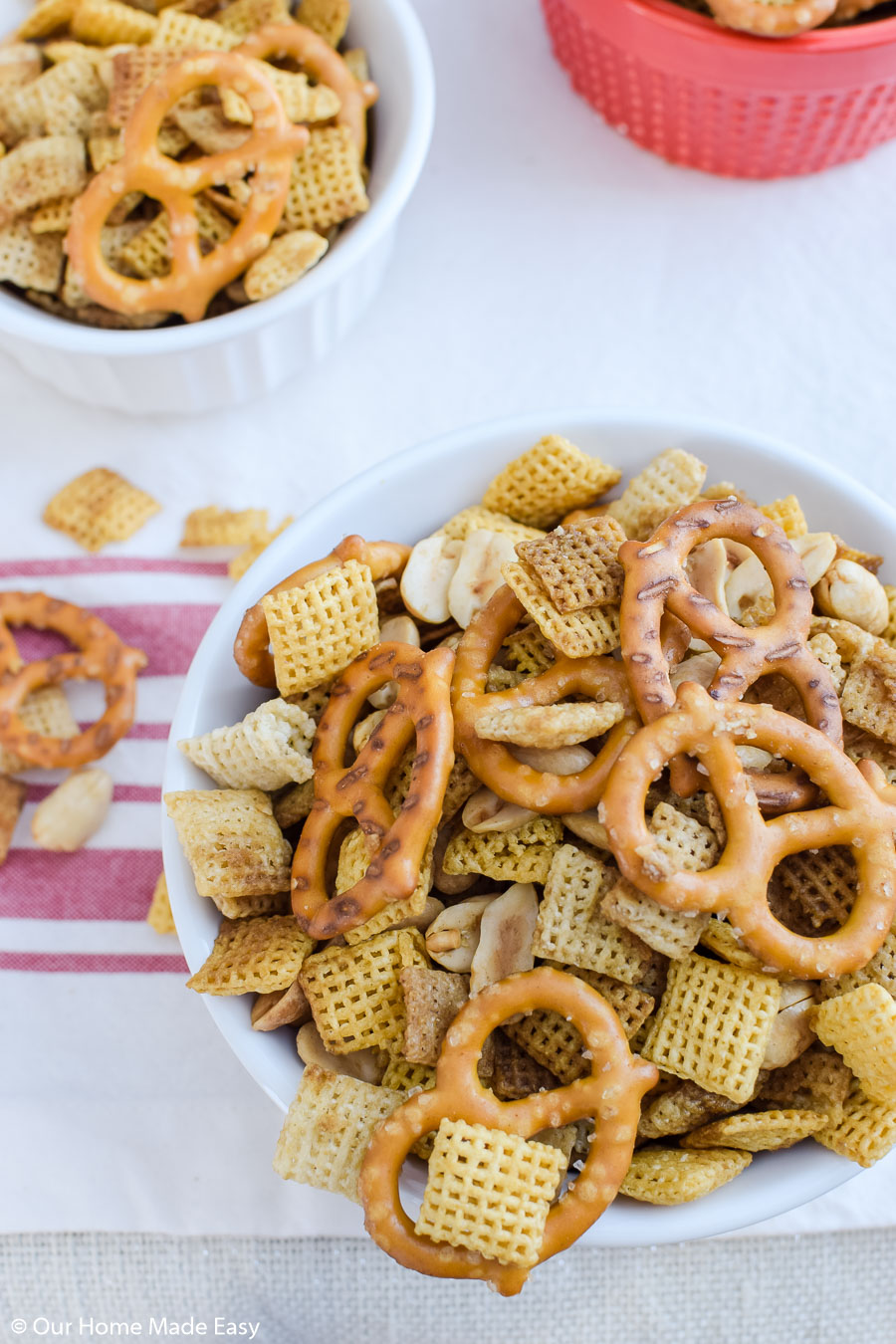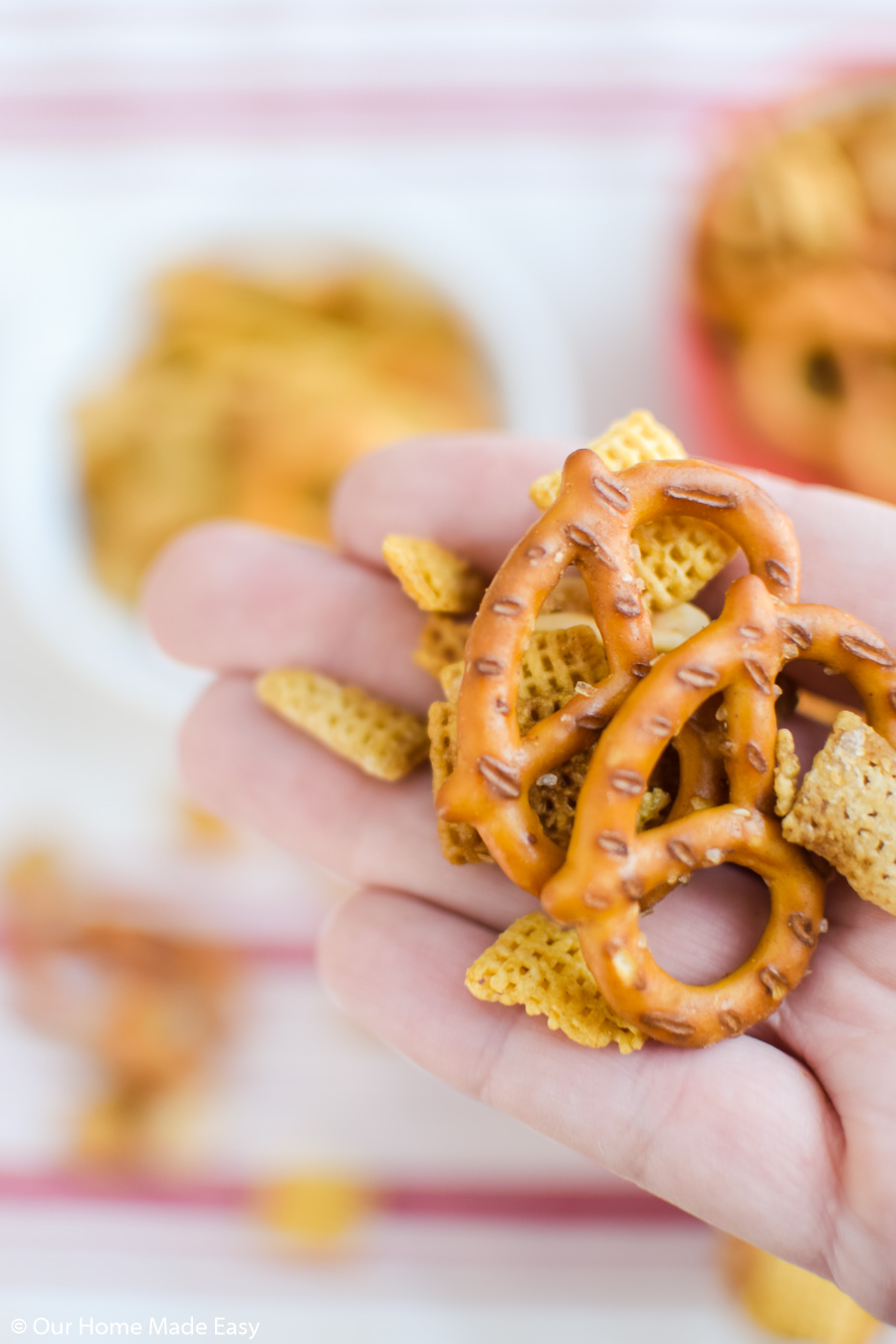 When I go to pack up the chex mix, I will store the batches in gallon zip-loc bags. I pack them in thirds the opposite way of how I dumped them. Odd, right? This allows me to mix together all three batches so that if one is stronger than the others, it all balances well. <– Just a small tidbit from this chex making veteran. Bonus if you lay the paper towels in a way that funnels them into the bags. 🙂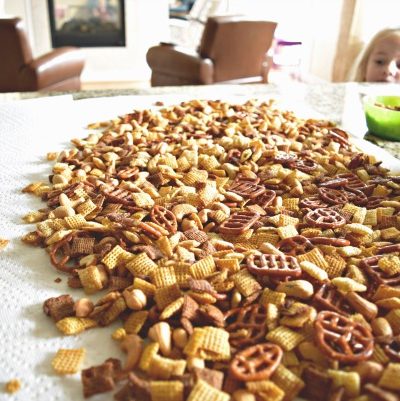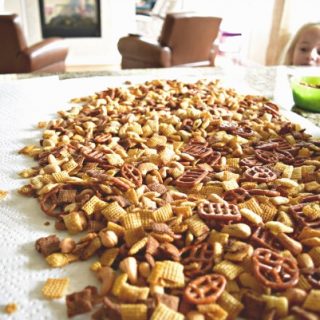 Yummy Chex Mix Snack Recipe
Yield: 10 + Cups

Prep Time: 10 minutes

Cook Time: 1 hour

Total Time: 1 hour 10 minutes
Ingredients
8 Tablespoons Margarine, (1 stick)
2 teaspoons seasoned salt
2 Tablespoons Worcestershire Sauce, (I only use Lea & Perrin's)
2 1/3 cups of each Chex, (rice, corn, and wheat)
1 cup of nuts, (Cashews or Virginia Peanuts)
1 cup pretzels
Optional: Pumpernickel Pretzel Sticks, , Rye Chips, More nuts
Instructions
Preheat the oven to 250 degrees.
In a small sauce pot melt the stick of margarine.
In the meantime, in a large mixing bowl, mix together the chex, nuts, and pretzels.
Once the margarine is melted, stir in the seasoned salt and Worcestershire sauce. Mix well.
Pour the butter mix over the cereal mix. Lightly coat well.
Pour the entire mixing bowl onto a large baking sheet.
Scrape any remaining liquid over the chex mix.
Bake for 15 minutes.
Lightly stir the chex.
Repeat 3 times.
After 60 minutes of baking, pour chex mix over paper towels to cool.
Store covered for 2 weeks or freeze immediately.
Repeat for additional batches.
Notes
Sometimes I add additional nuts, etc.. The limiting factor is the amount the baking sheet can hold.
PIN FOR LATER: