"We Do it for the Memories" – Sugar Cookie Cut-Out Decorating with Toddlers
Baking can be fun… but with a toddler? It's an adventure. My motto for baking with our little girl is "We are doing it for the memories… we are doing it for the memories…" I hope other parents can relate. Or if it's just me and my strong dislike for chaos in the kitchen, I will continue my private motto. After all, it is important that we have positive memories of doing things together!
This post was intended to be about a great and easy go-to sugar cookie recipe. Really, it is a terrific recipe. In fact, you can find it here. But I think this post is evolving into how to handle toddlers when things don't go to their own plan. Last weekend I wanted to do something for Easter. Our toddler likes to help in the kitchen and sugar cookies seemed like a great idea!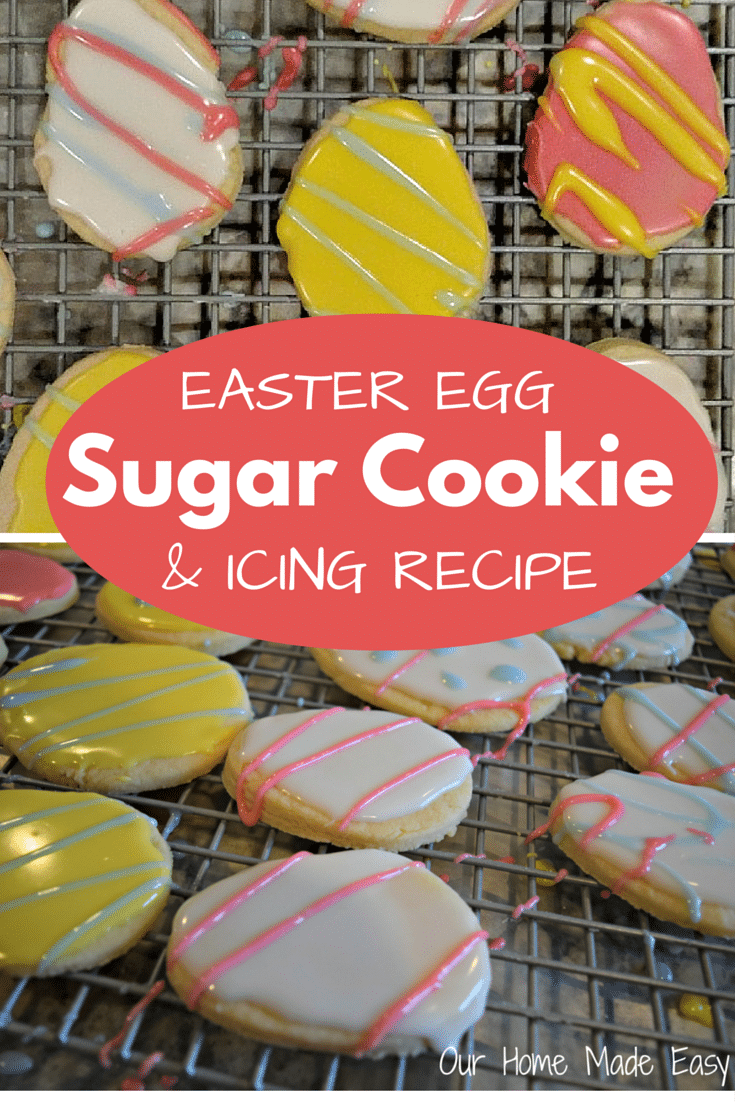 As you can imagine, things are hectic with an active two-year old. All she wants to do is help! Usually it's pretty adorable and makes us laugh. But this afternoon we were running without a nap and she REALLY wanted to help! Cue the fun! 🙂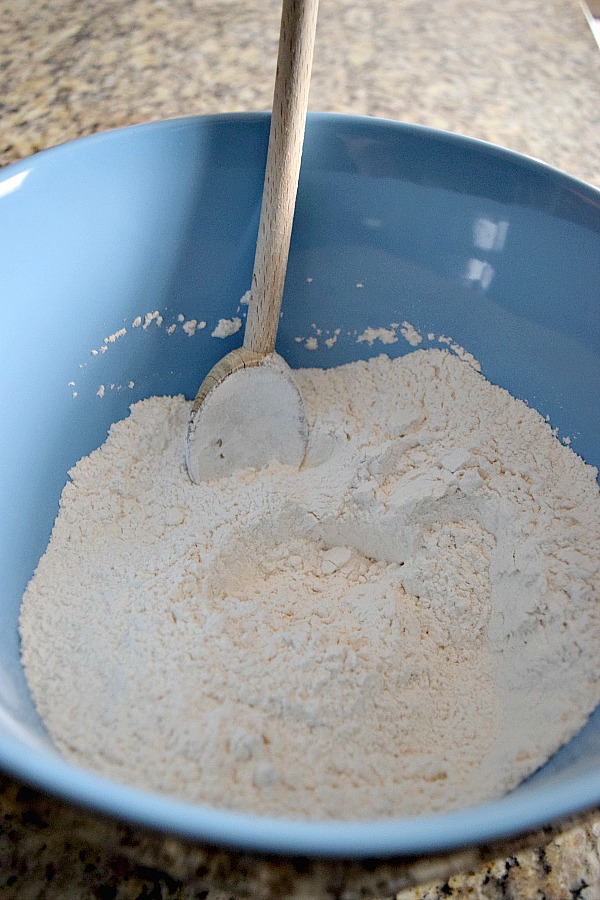 Mixing up the dry ingredients. I am pretty sure there is a substantial amount of flour on the countertop. If you know me, you know that I err on the side of being a clean-freak. My toddler is always a lesson in patience and understanding that the house will never be as clean as the time I've spent cleaning it. 🙂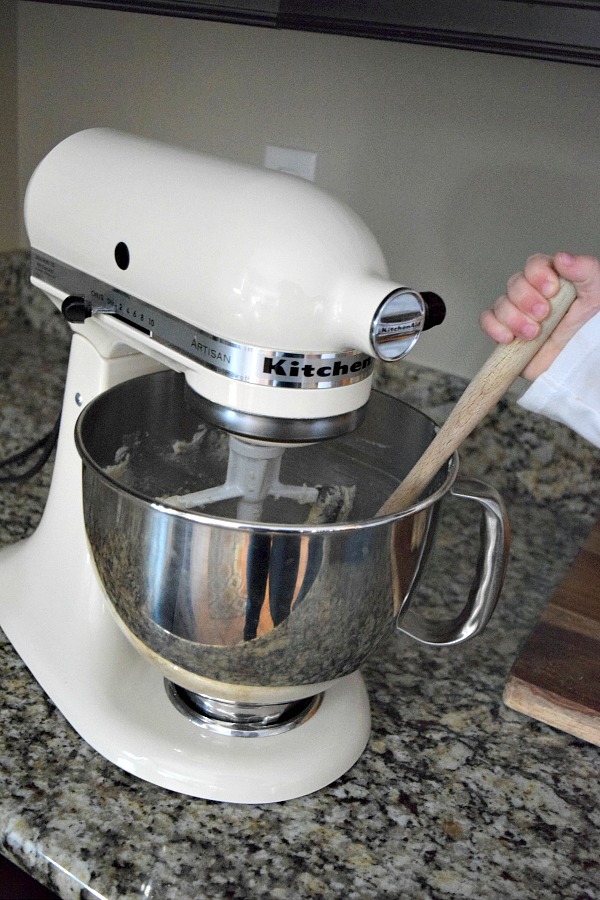 See? I told you she was adamant making sure she did it herself.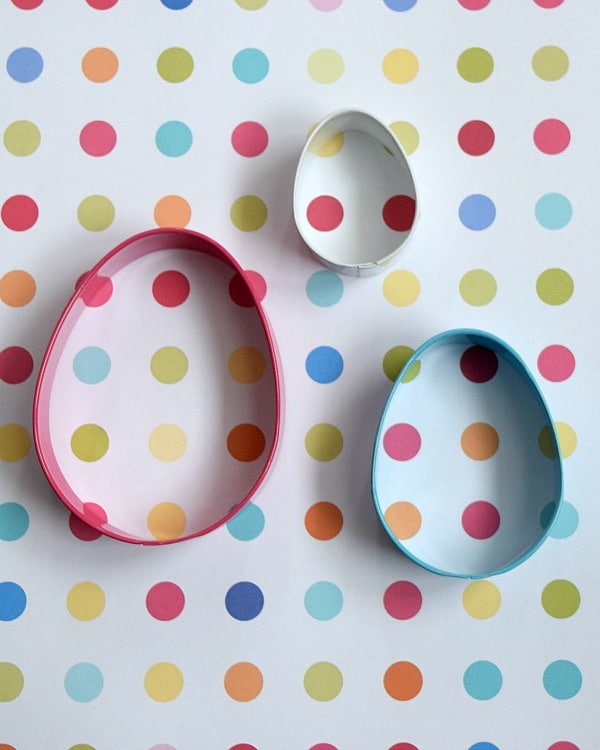 I picked up the cookie cutters from Michael's one evening. They were the perfect size for little hands.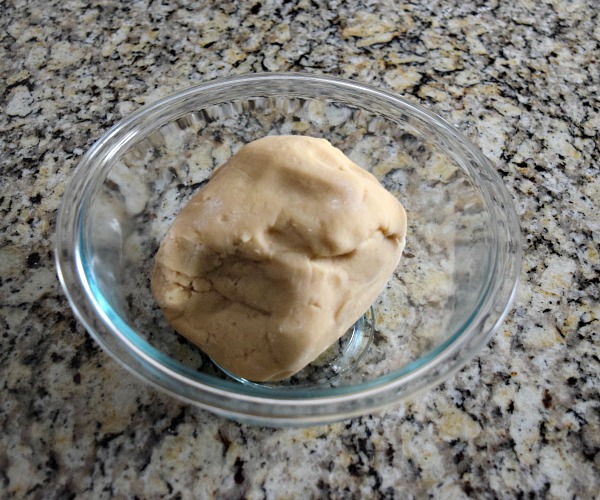 Now this is where things became very "loud" in the kitchen. While the directions don't call for it, I like to cool the dough in the refrigerator for at least an hour. Some people may not want to do this, but I think the dough holds up better. So you can imagine the frustration of having fun and making dough and then not doing anything with it. It's a tough life for little people!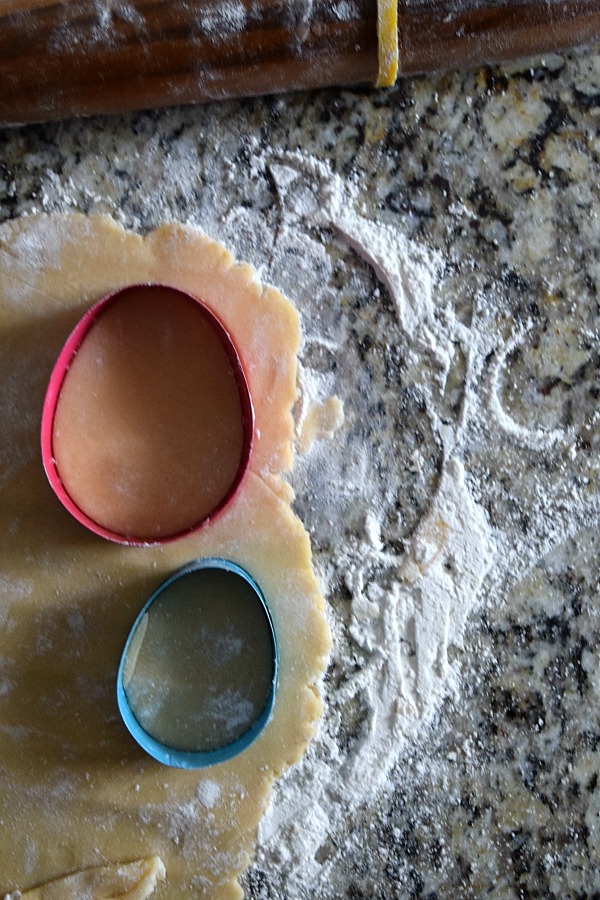 We had fun rolling out the dough and cutting the shapes! I usually bake them for 8-9 minutes to keep them soft. It's just a personal preference.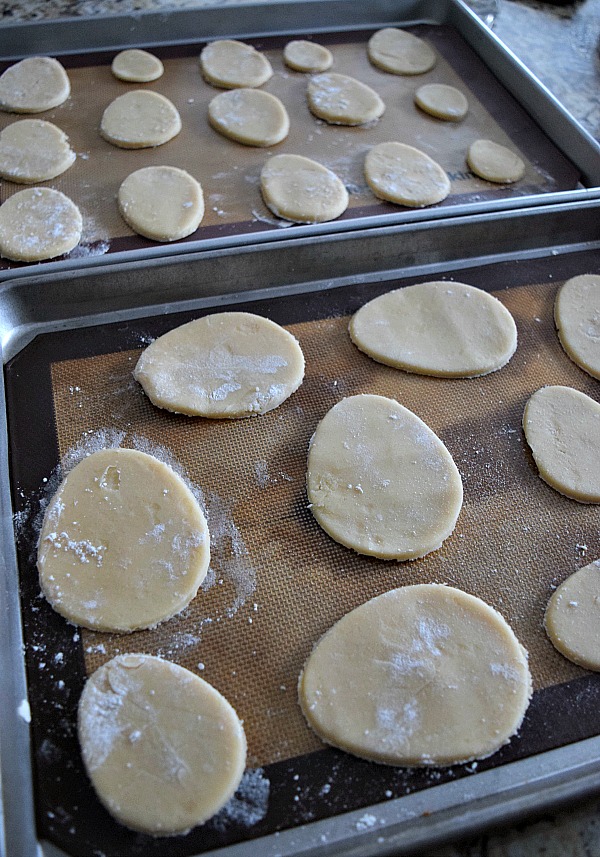 Those are a lot of Easter eggs!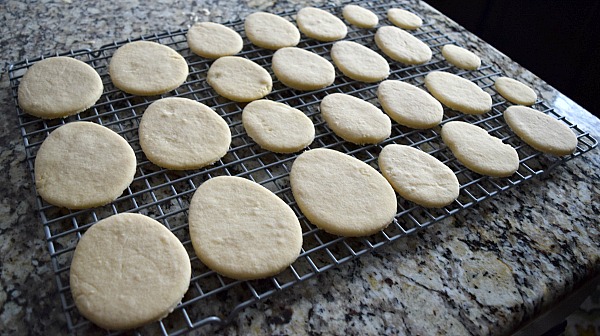 Well, I thought the breakdown after making dough was bad. But it wasn't much once our little girl found out she couldn't ice the cookies immediately. To help quicken the process, I placed the semi cool cookies and set them in the refrigerator to harden quicker. In the meantime, the two of us made a quick glaze frosting. You can find the recipe here.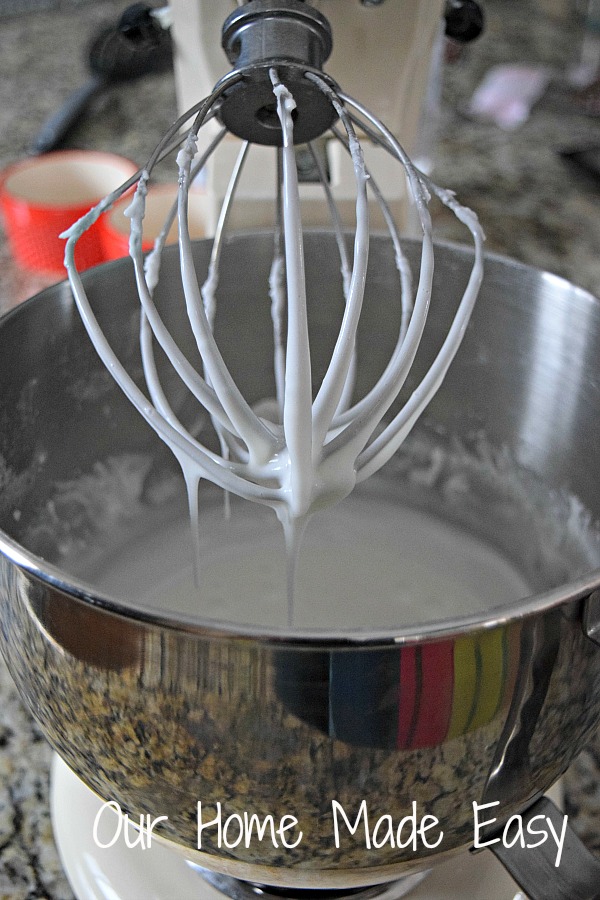 To make the glaze a little creamier, I added more milk than the recipe called for originally. And it does harden quickly, so keep the milk nearby!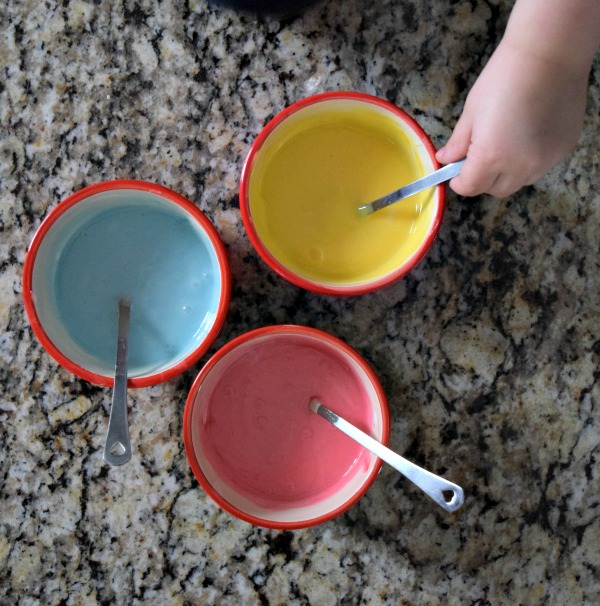 We divided the frosting into four sections. I colored 3 of them in little bowls. I left the rest white. Since we have two babies, I am confident that we have an endless supply of baby spoons. In this case, they were exactly what I needed!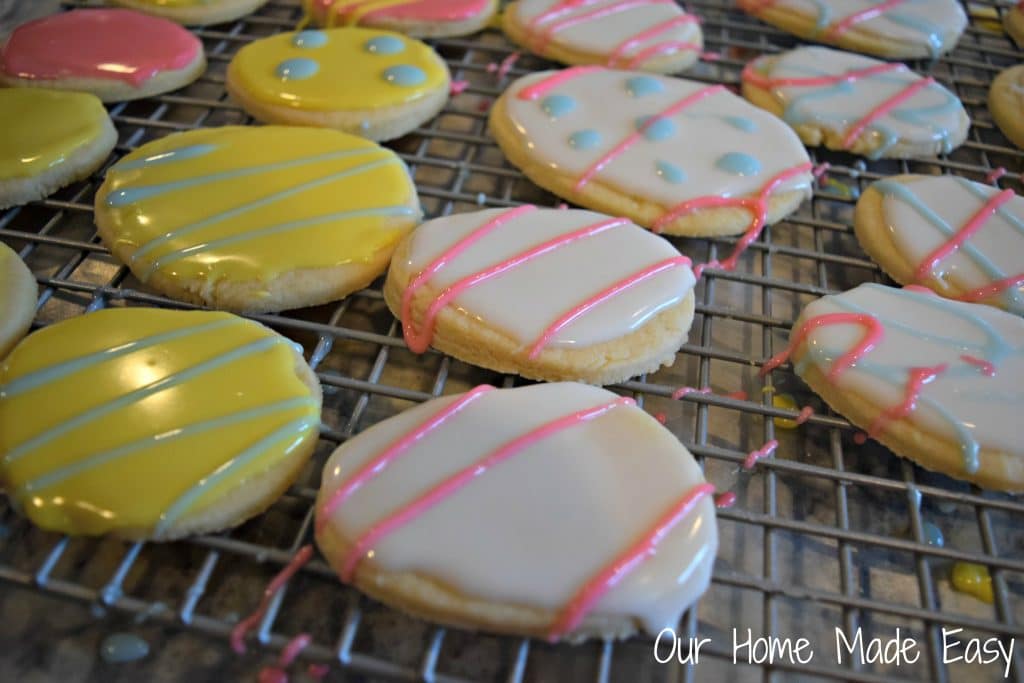 I like to put wax paper under the cooling rack to catch-all of the excess frosting.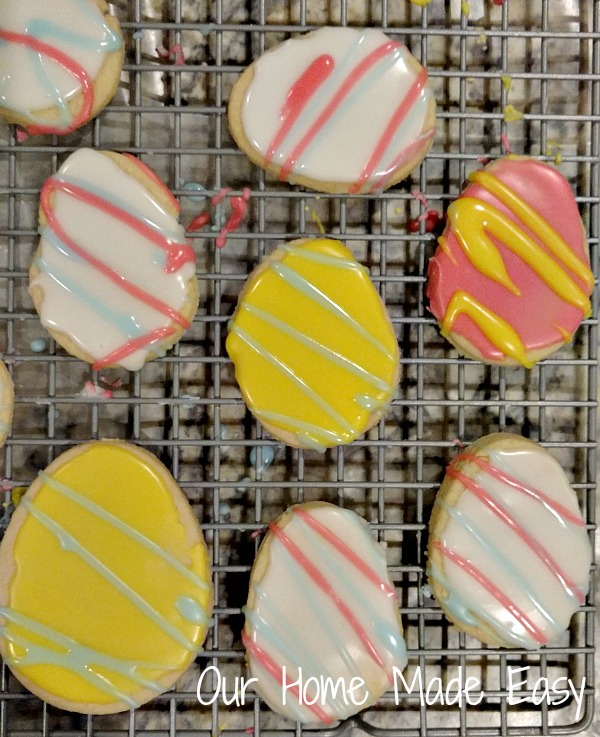 Now, are these finished cookies "Pinterest-worthy?" Definitely not. Should I have broken out all of my Wilton decorating tools, sprinkles, and decoration? They would've made for a better picture. No, I decided that isn't always our home. Not everything needs to be perfectly staged and picture perfect. We do messes, we have fun twirling icing over cooled cookies, and we love snacking on them mid-decoration. This is a snapshot of our home. 🙂
But seriously– keep this sugar cookie dough handy. It's delicious and holds up very well for cutouts. I am sure you will see them again in a future holiday blog post!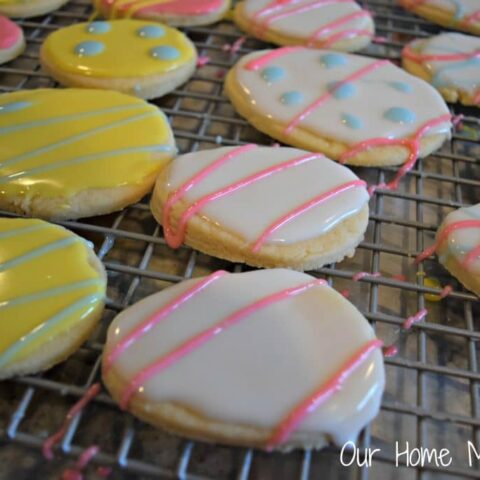 Easter Egg Sugar Cookies with Homemade Icing
Additional Time:
15 minutes
These adorable Easter Egg Sugar Cookies are a fun treat for kiddos to make and decorate! Make a simple sugar cookie dough and sweet icing, then let the kids get creative!
Ingredients
Here is what you need for the Sugar Cookie Dough:
1 cup of butter
1 cup of sugar
1 large egg
1 1/2 teaspoon vanilla extract
3 cups of flour, lightly spooned into measuring cups and leveled
1 1/2 teaspoon baking powder
1/2 teaspoon salt
Here is what you need for the Icing:
5 cups of confectioner's sugar (sifted)
1/4 cup of milk
1/4 cup of light corn syrup
Optional: 1 teaspoon of Wilton butter flavoring (Almond or Vanilla would be great, too)
Instructions
Cookie Directions:
Cream butter and sugar until light and fluffy- about 2 minutes. Add in egg and extract and mix to incorporate.
In a separate bowl, combine flour, baking powder and salt. A very important note: It's important to correctly measure your flour or you will end up with dry, crumbly dough. Never, ever use your measuring cup to scoop up the flour. Use a regular-sized spoon and spoon the flour into the cup and then level it off with a knife.
Slowly add the flour mixture to the butter mixture and mix until completely combined.
Optional: Cool dough in the refrigerator for at least an hour up to overnight.
When you're ready to roll out dough lightly sprinkle flour onto your work surface and roll out dough with a rolling pin.
Bake at 350 for 8-12 minutes. The baking time really depends on how you like them. If you like them really and slightly chewy, about 8-9 minutes does it. If you like them slightly crisp and buttery, then go for 10-12.
Icing Directions:
Place sugar and milk in bowl. Stir until mixed thoroughly.
Add corn syrup & flavoring and mix well. For filling in areas, use thinned icing (add small amounts of light corn syrup until desired consistency is reached). I add extra milk as needed
What fun cooking with kids traditions do you have with your family?