This is a sponsored post written by me on behalf of Kohler. All opinions are 100% mine.
We've been in our new home for just over a year now. It's our second new home build and we've slowly become used to updating the builder grade items that come along with the house. Our weekends are usually spent as a family at the Home Depot. It seems like we go in for one small item and walk out with a new project or spend time at the Kid's Workshop!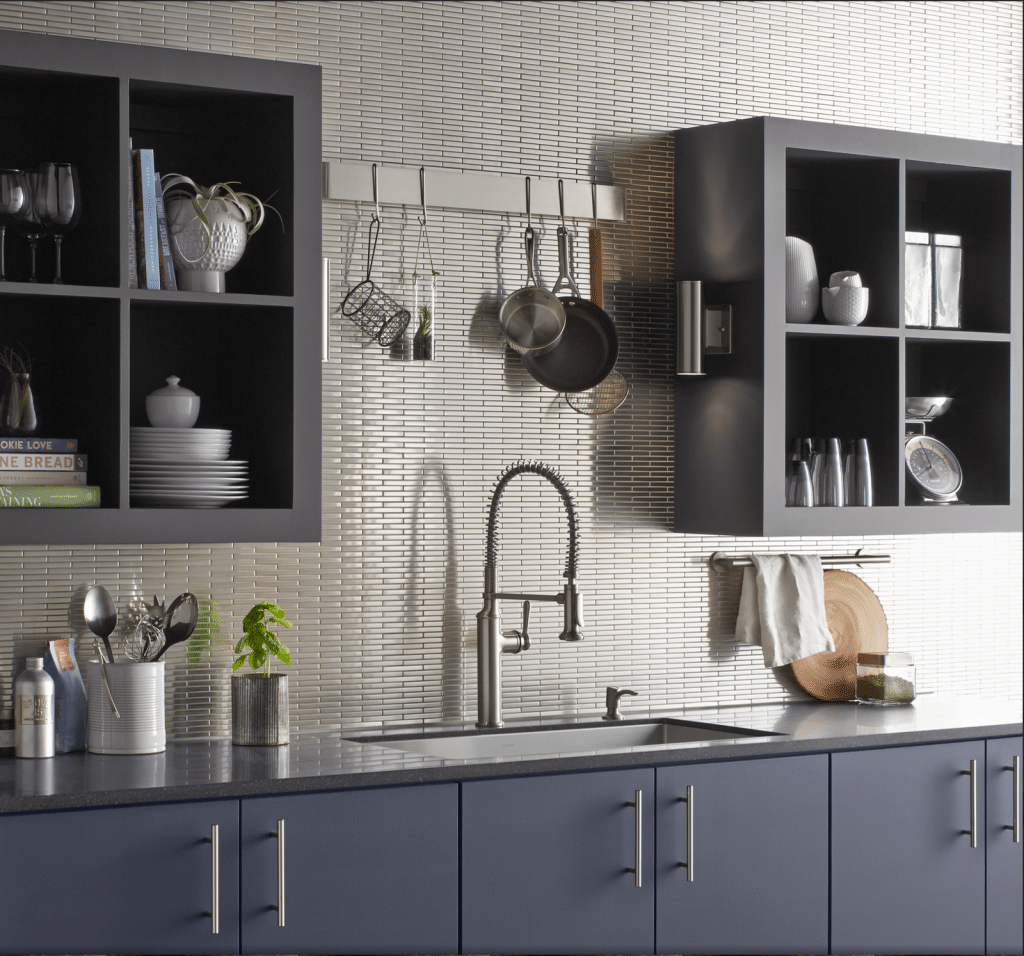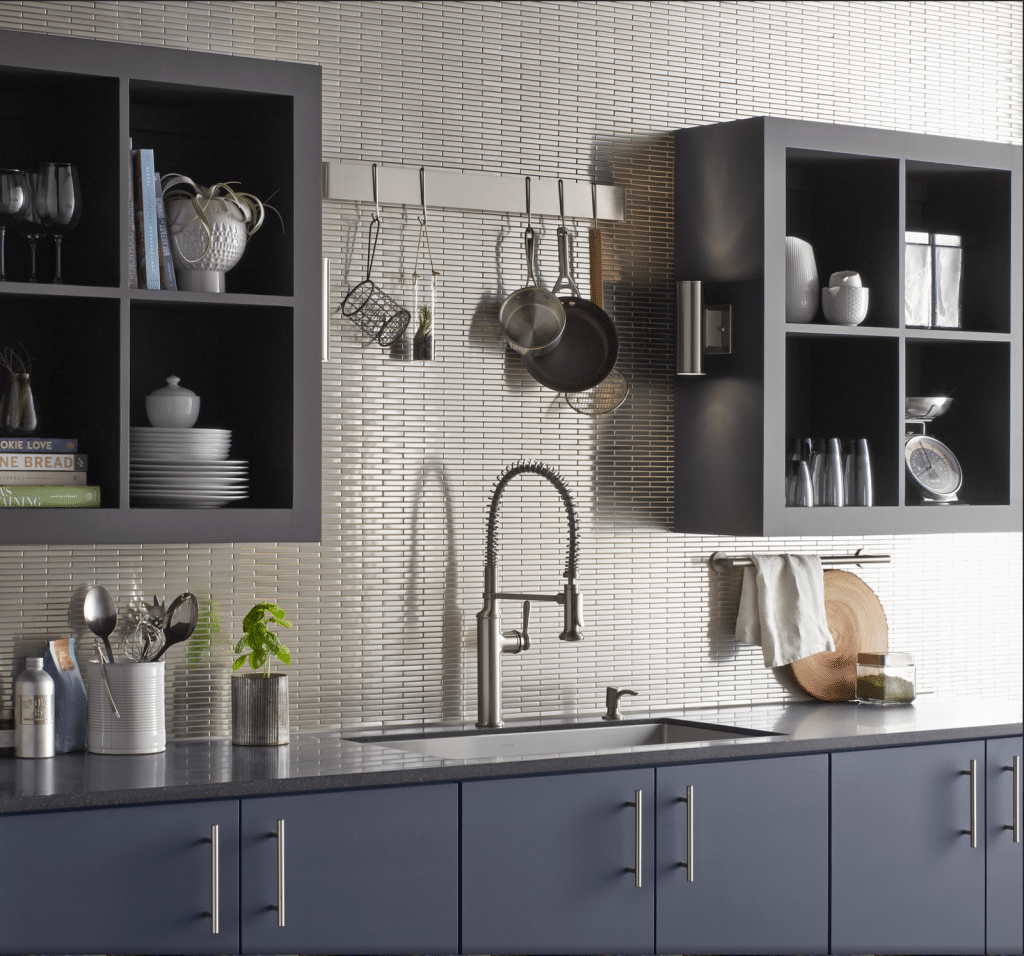 Our next project around the house is in the kitchen! We want to upgrade our kitchen sink faucet. This homeownership stuff is exciting stuff these days. But to us, it truly is! Our current faucet is actually a builder upgrade, however it's unattractive and is already showing signs of wear. Sigh. A new one is definitely warranted. When our house was built, the builder included a separate soap pump in the faucet area. It has a hole drilled through the granite, therefore any potential faucet upgrade needs to include this flexibility. The options below are flexible in configurations and include a 3-hole sink adapter plate. Trust me, these details become important when you go to install something you just spent hours picking out it doesn't work because you overlooked a few small details. I am usually the one insisting, "But, it's pretty!" and my husband is usually managing my options.
Another requirement for a new faucet is that it HAS to be able to withstand our household. We are not easy on things. Delicate & fragile are a foreign language in a house with two toddlers. These options all include scratch shield technology that helps the faucet withstand the toughest daily use. My husband appreciates that all three of these options are designed with ceramic disc valves that exceed industry standards by 2x for a lifetime of durable performance. I am looking for something that wont look dated and can withstand daily use for several years. The Home Depot has three faucets that have piqued our interest. Let me know if you prefer one over the others.
The Kohler Sous Single Handle Faucet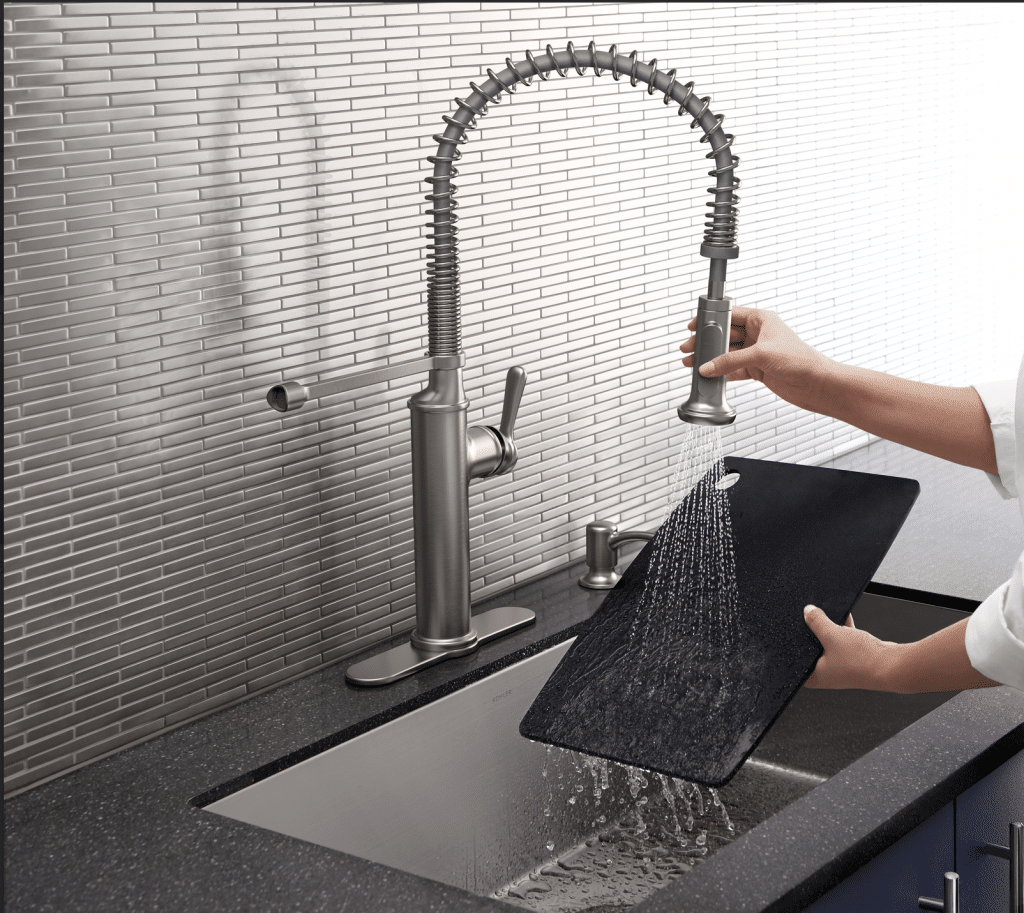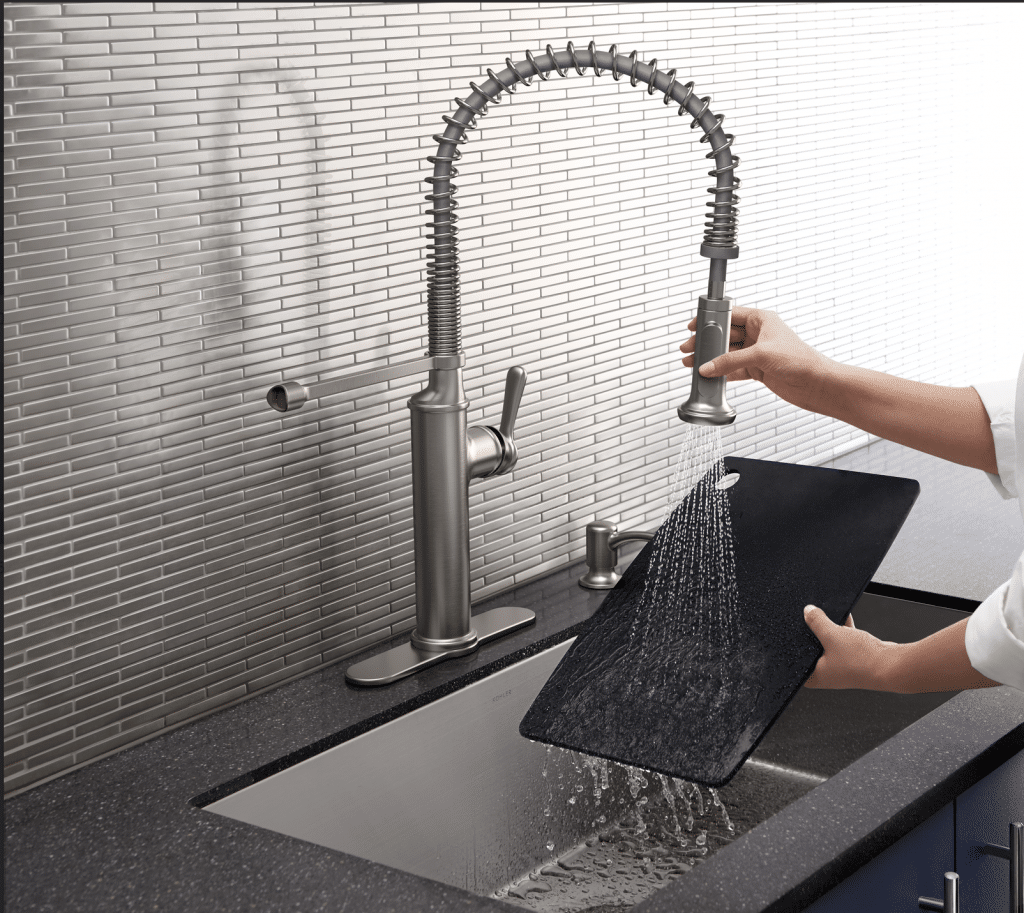 The first one is the Kohler Sous Kitchen Faucet . Does this faucet look like I know what I am doing in the kitchen or what? I feel like I could successfully cook a Thanksgiving dinner in the kitchen and not break a sweat! It is so beautiful yet industrial looking. I'd like to think this is our style. This faucet was inspired by the design of professional kitchens. I love the high arch and exposed-spring design exceptional control and flexibility.
We learned that the Sous faucet has magnetic docking arms that keep the spray head securely in place. It also has a 2-function spray head that features stream and sweep: a wide forceful spray that facilitates all the various tasks of the kitchen and a detachable spring and spray head that facilitates cleaning to keep your faucet always looking new. Our current faucet has the 2-function spray head and I like it, so the Sous has something I am already familiar with featured. My husband is extremely handy around the house, but plumbing is new territory. Luckily, the Sous is DIYer-friendly when it comes to installation thanks to flexible hoses and quick-connect fittings!
The Kohler Worth Single Handle Faucet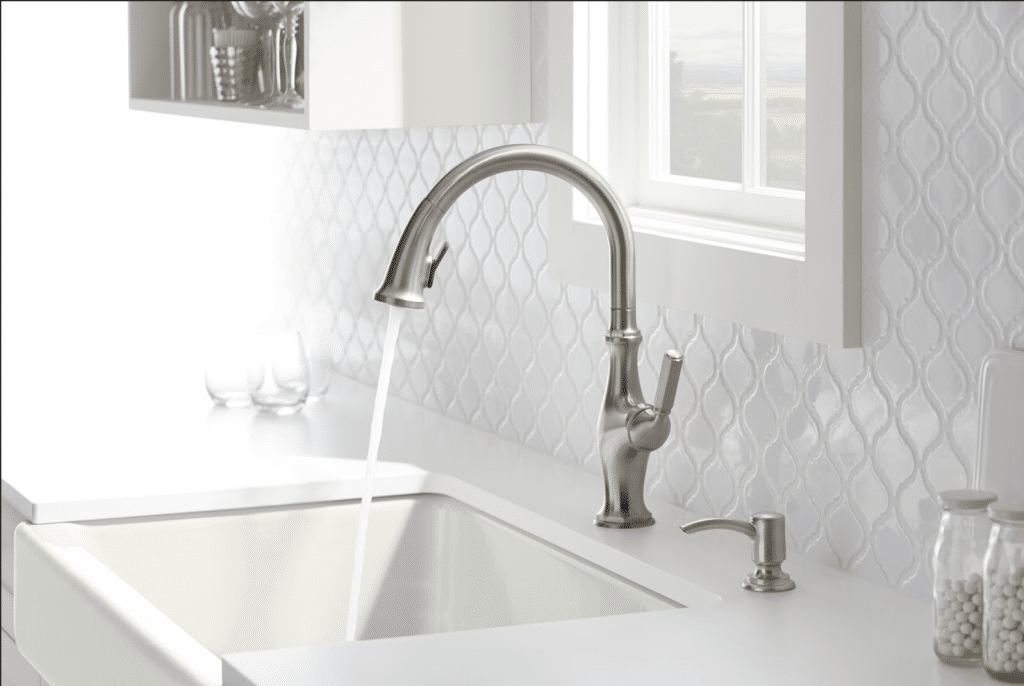 Another option for our update is the Kohler Worth Kitchen Faucet . This one ranks high on my list as I think it looks very timeless! I want to upgrade to something with more visual height and I feel like this may be a great option and it isn't distracting to the eye. It's just… pretty. The Worth faucet was inspired by vintage loving urbanites. It's like they saw my Pinterest boards or something! The Worth features bold facets on the handle, at the base, and a swivel point to give standout design. Its unique look complements traditional décor as well as modern designs that embrace retro elements. I feel like the Worth may be a great combination of our home décor. We want to be classic, but have a little fun by adding some vintage touches. Like the Sous above, the Worth faucet has a magnetic docking system. It also has a 2-function spray head that features stream and sweep: a wide forceful spray and a MasterClean spray face that features flexible nozzles to make it easy to clean. The Worth faucet also has ProMotion technology that provides smooth spray head control with minimal effort. Easy to clean and requires little effort on my part? Bonus for this busy family!
The Kohler Trielle Single Handle Faucet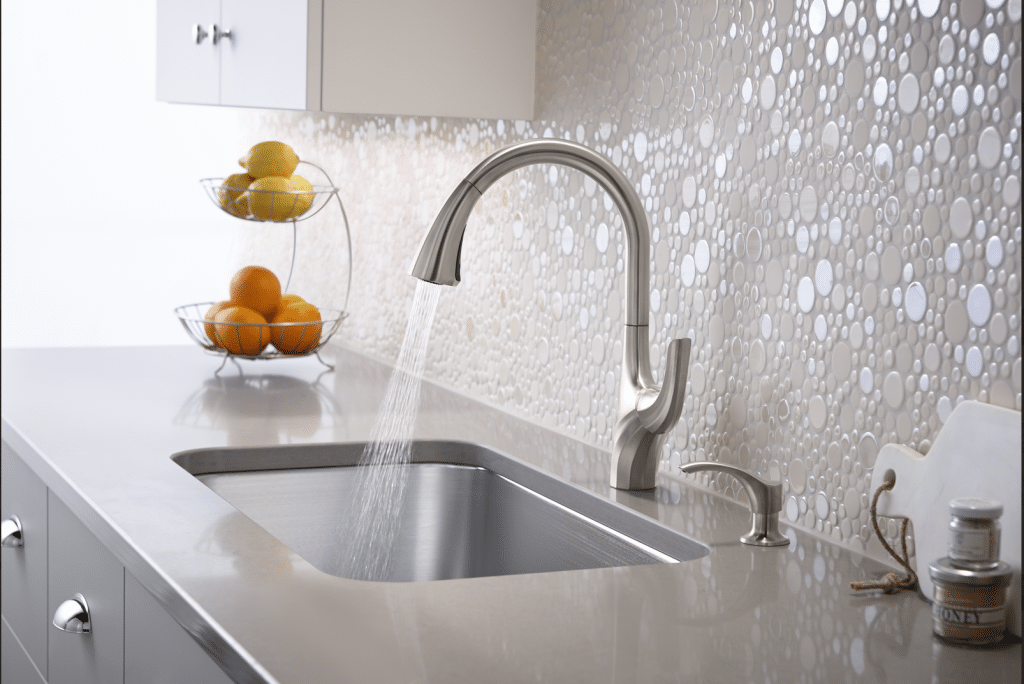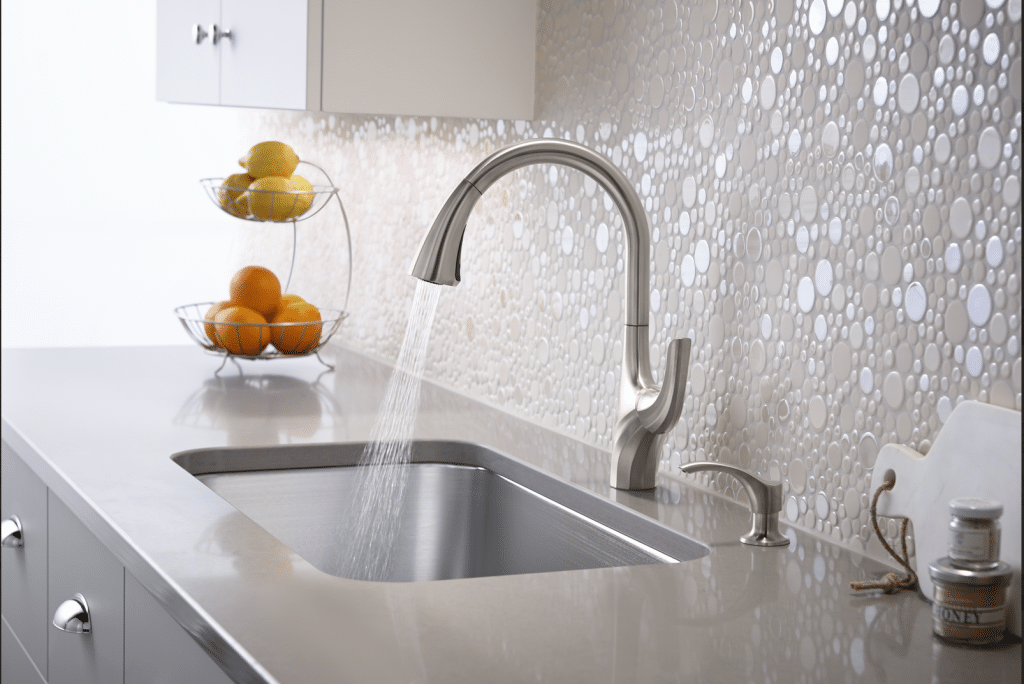 Our third option is the Kohler Trielle Kitchen Faucet. This design looks so modern. It would've been perfect in our last house! With subtle lines emanating from its handle, the Trielle faucet brings a touch of glamour to contemporary design. Like the two other Kohler options, DockNetik technology secures spray head in place through the signature magnetic docking system. Two-function spray head features stream and Sweep: a wide forceful spray that facilitates all the various tasks of the kitchen space and a MasterClean spray face that features flexible nozzles to make it easy to clean. Again, a bonus for this household! I am loving the Sous & Worth designs for our home. My husband prefers the Sous! Luckily for us, any option will be easily enough for him to install, hint…hint…
Which faucet do you like the best?