Last weekend my little guy turned one year old. Oh dear. He is super mobile and seems closer in age to his big sister than to the newborn we arrived home with only a year ago. Please excuse me while I go grab a tissue. Sigh. To help celebrate his birthday, his daycare welcomed us bringing in a small treat for him to share with his friends. The mom in me wanted something easy, inexpensive, and low mess! Hello, mini cupcakes. Perfectly sized for little hands and vanilla cake with pure white buttercream frosting– maybe other parents won't hate me for staining their kid's clothes 😉 While the cake mix is super easy , it's the buttercream frosting that makes them so darn delicious. Before you groan and say "Who has time to make homemade frosting?!" I promise, it's so worth it and can be made up in only a few minutes!! (This post contains affiliate links. If you shop from my blog, I may be compensated for clicks or purchases that you make. Read my disclaimer page for more information.)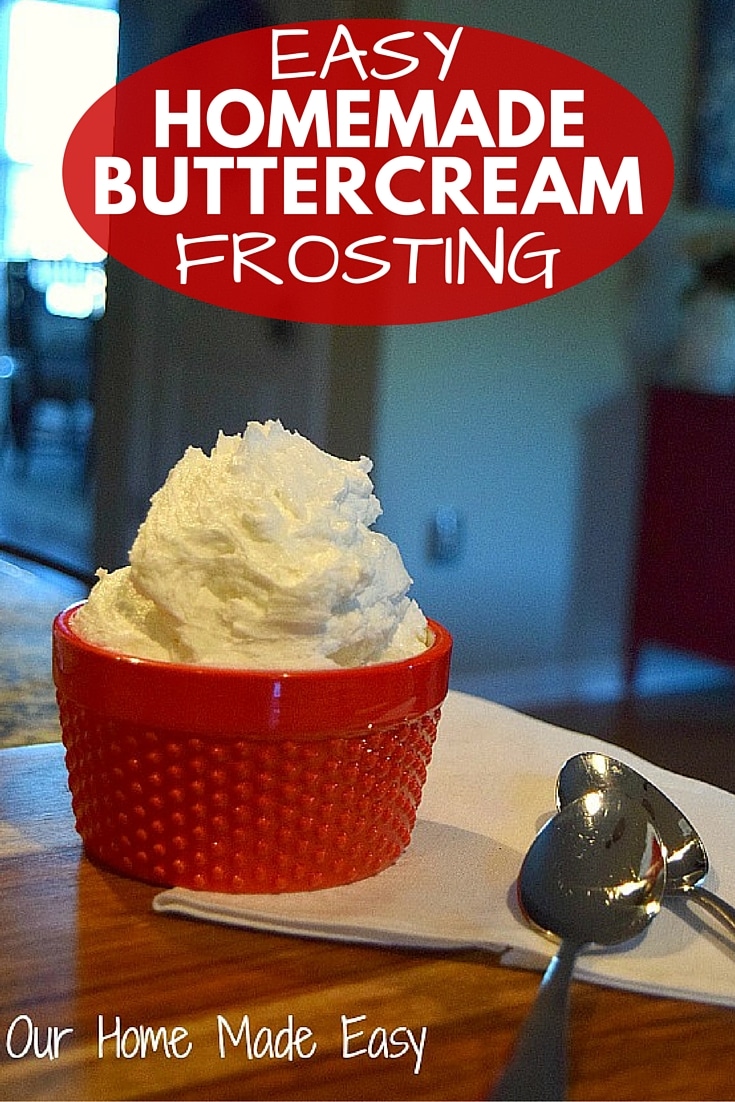 For this batch I made up the frosting after the kid's went to bed one night and the night before I needed to decorate the cupcakes. You know how I like to plan and not be in a time crunch. Whipping it up without a tight timeline makes it so much less stressful. This recipe is my base for both vanilla buttercream frosting and chocolate frosting. For the chocolate I add cocoa powder.
In order to make it pure white in color, it's so important to use white solid vegetable shortening, not the butter flavored shortening. It's also important to use clear flavoring. I used this Wilton Butter Flavoring
. You can whip up several froting batches using one flavoring jar, as it goes a long way!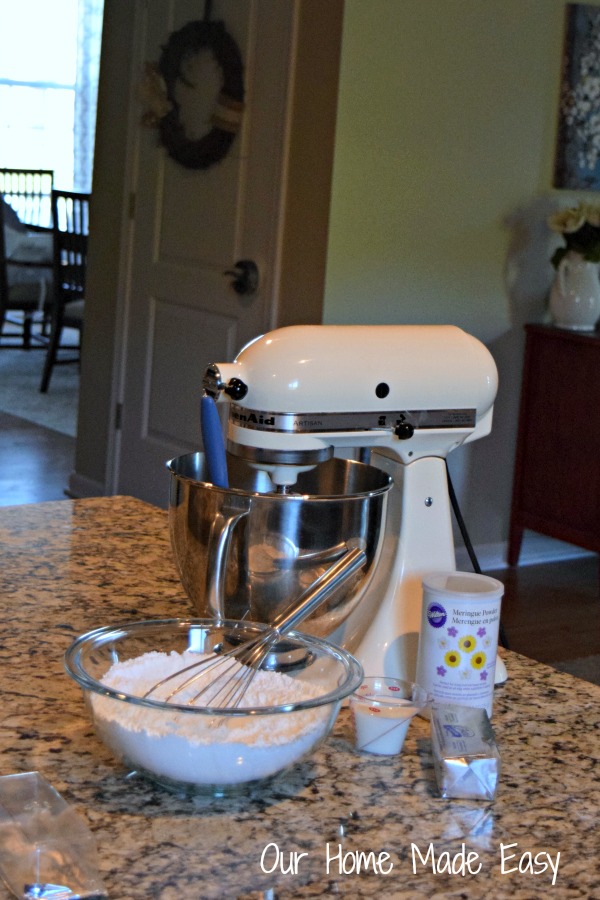 This time I used a tablespoon of the Wilton Meringue Powder
. I feel like the meringue powder stabilizes the buttercream better and looks more professional when applied to the cake. It makes the frosting more stiff and less 'melty' looking. Do you absolutely need it? Not technically. But it's one of those products that doesn't have an expiration (seriously) so it lasts for a really long time if you buy a small jar. You'll also see that I use milk in my frosting. Since I immediately put the frosting in the refrigerator or use it right up, it's not a concern. If you know that you're going to not use the frosting right away or it wont be refrigerated for several days, substitute water in place of the milk. It may be less creamy, but not too noticeable.
[magicactionbox id="1680″]
If you don't regularly use powdered sugar, buy a one pound box at the store. It's usually pre sifted and ready for use. I'm really bad at taking time to sift dry mixes. Like super bad. Maybe next year, I'll be a bit more professional. Save yourself some time, buy it already sifted for you!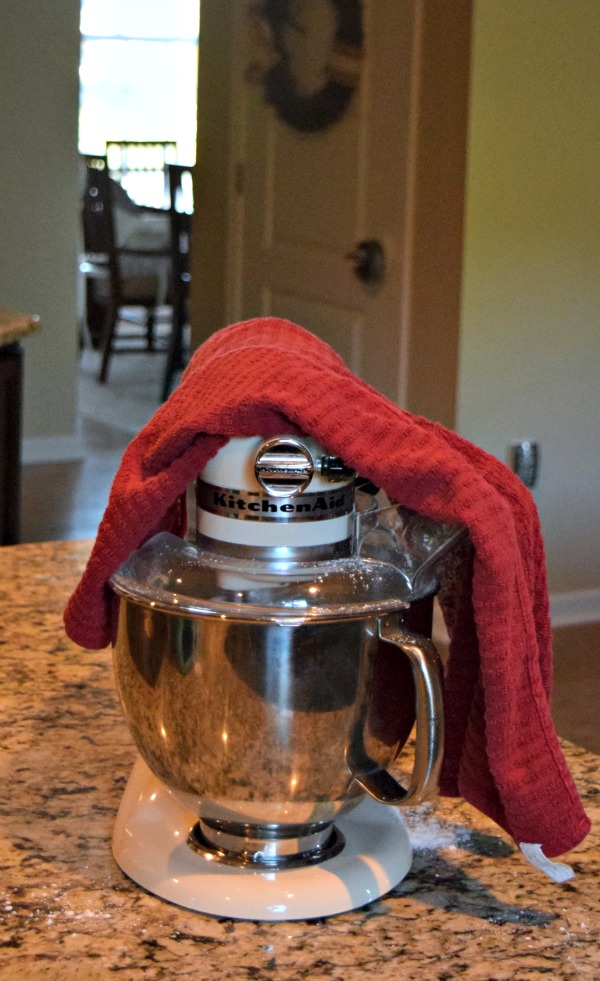 This is real life. How else can you manage to pour one pound of powdered sugar into a mixer and hope for the best? Use a clean tea towel to cover your mixer and while there is some mess, it could be much worse. Trust me. On a side note, can I tell you how much I love my Kitchen-Aid Mixer? It was one of the best wedding gifts we received. Not only is it beautiful, but the thing is a workhorse. I use it ALL THE TIME. Thank you Hausers and Wares. 🙂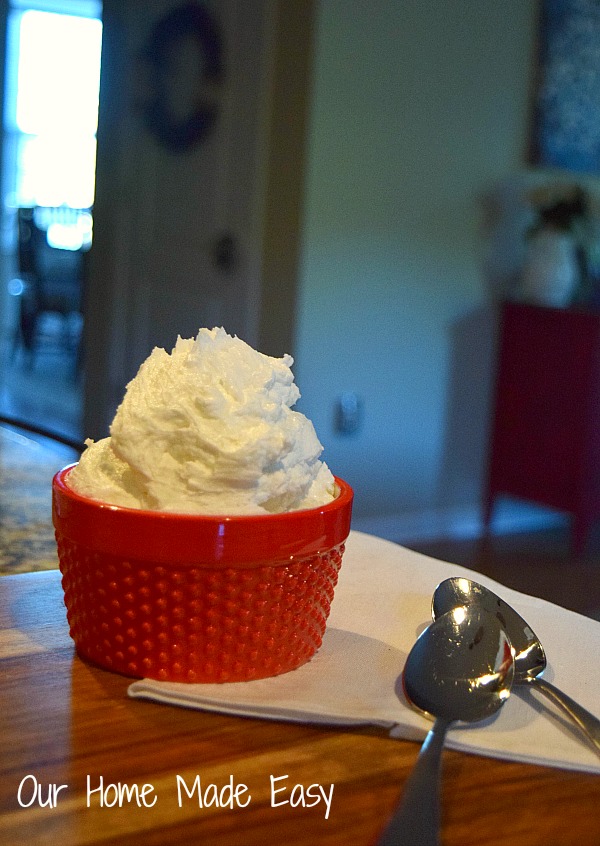 Once you make the frosting, store it or prep it for actually frosting a cake! Once you have it mixed up, keep adding milk to get your desired consistency. For this step I like to find the right consistency by mixing it by hand with a spatula. Add the milk in by teaspoons at a time. You'll be surprised how quick it becomes thinned. Don't worry, if it's too thin, add a teaspoon of powdered sugar to get it back where you want it. It's totally forgiving, and that is why I love it! Oh… it tastes so delicious, too!
The Best Homemade Buttercream Frosting
Makes about 2.5 cups
adapted from Wilton
Here is what you need:
4 cups powdered sugar (1 pound)
1 Tablespoon Meringue Powder (optional)
1 cup solid vegetable shortening
1 teaspoon of clear butter flavoring
2 Tablespoons Milk
1/4 cup Milk for thinning to desired consistency
Directions:
In a large bowl, mix together the powder sugar and meringue powder (if added).
In a large mixing bowl cream together the solid shortening, butter flavoring, and 2 Tablespoons of milk. Beat for approximately 2 minutes on medium speed until its well combined.
Slowly mix the sugar into the wet mixture. Mix together on medium speed for 3-5 minutes.
Store frosting in the refrigerator for up to 5 days. If using immediately, thin to desired consistency with remaining milk.
Items Used to Make Homemade Buttercream Frosting
(affiliate links included for convenience)
Plastic Storage Container