Good morning! You guys, I'm so excited to have Carolina from A Butterful Mind sharing a new recipe today. Let's leave Carolina to her food photography magic (I'm drooling over here!)….
– – – – – – –
I'm Carolina, a guest today on Our Home Made Easy! Brittany and I have similar interests when it comes to taking care of our homes and making systems work for us. That's why I have a particular interest in easy snack recipes that don't hold back on flavor like my honey nut bars and simple snack mix. But today we're gonna tackle that sweet and savory tooth of yours with a great on-the-go goodie. I give you pecan cranberry nut bars!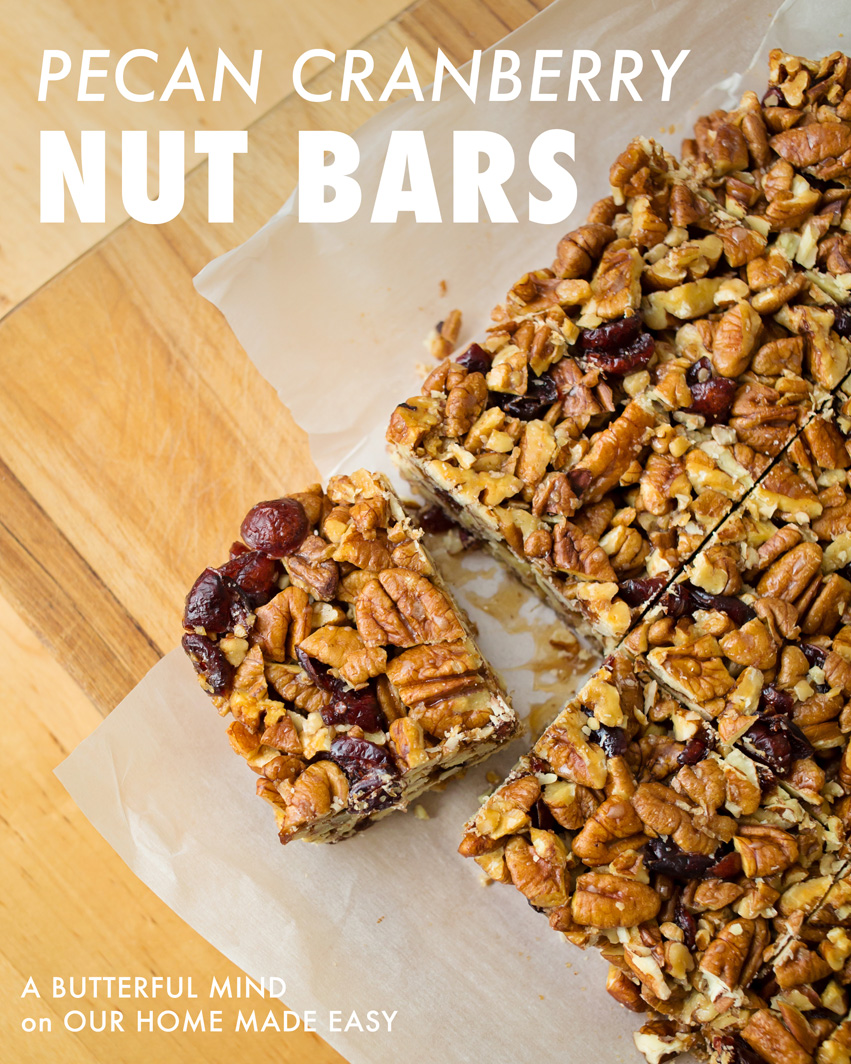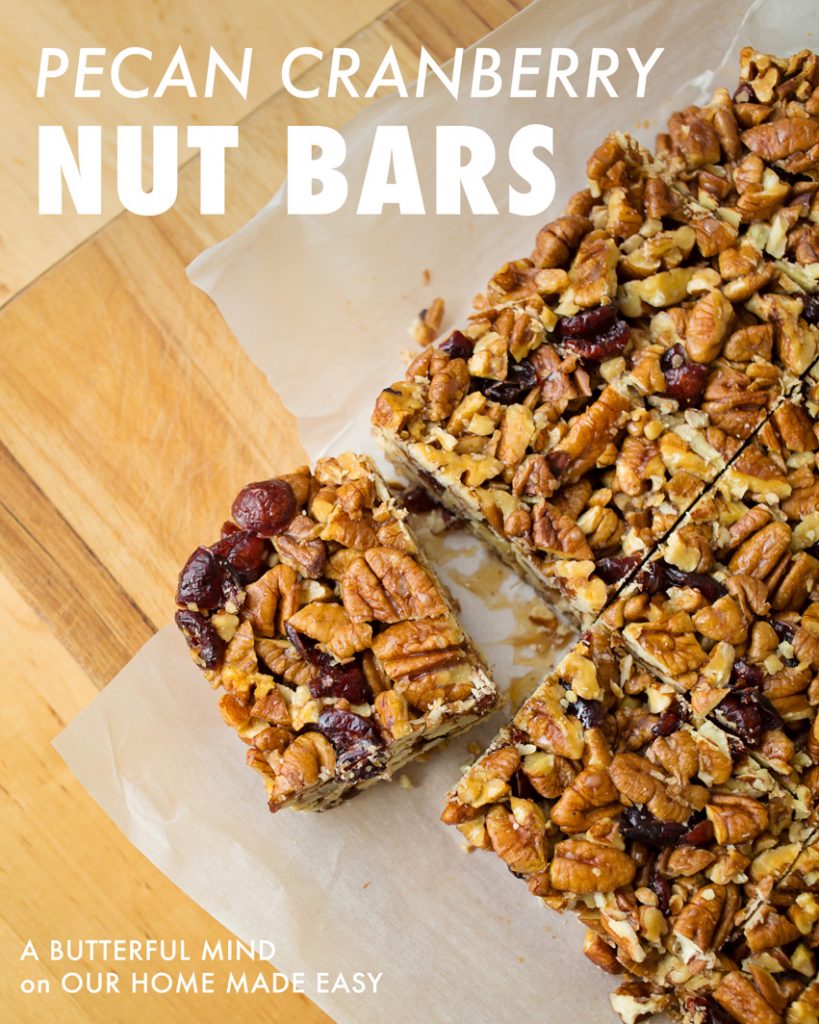 Rough chop about 3 cups of pecans (easy-peasy). Toss them into a large mixing bowl and add ½ cup dried cranberries. I'm picky about my dried cranberries, ya'll. Some brands are tastier and more pleasantly textured while others are so dry and wrinkly that it reminds you of beef jerky. No ma'am, only perfectly tasty-soft cranberries for me!
Set that mixing bowl aside while you break out a small saucepan on the stove. Bring to boil 1/4 cup honey, 2 tablespoons brown sugar (I like dark brown), 1 tablespoon coconut oil, and ¼ teaspoon salt. Once it comes to a boil add ¼ teaspoon vanilla extract, give it a stir, and set aside to cool slightly.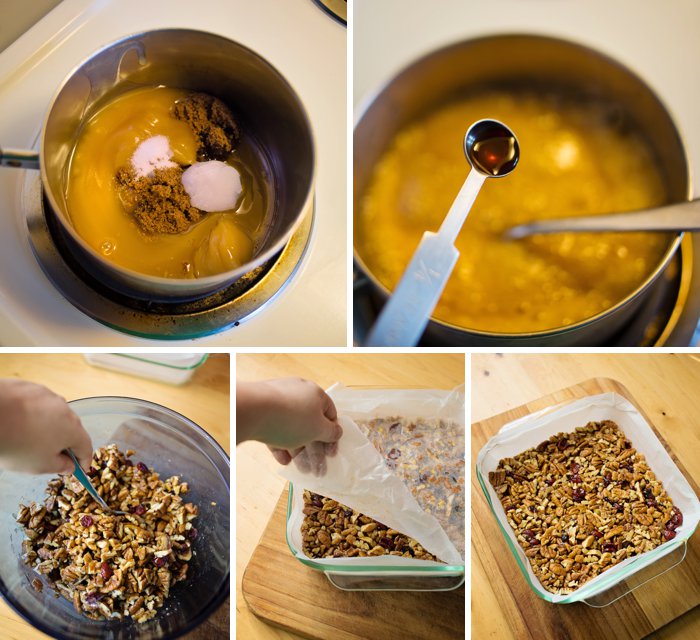 After a couple minutes you can pour the slightly cooled golden mixture over the pecans and dried cranberries. Toss it all together and then dump it out into an 8×8 baking dish that is lined with parchment paper. If you don't have parchment paper then I suggest aluminum foil with a touch of cooking spray.
Now you need to smoosh the pecan cranberry nut bar mixture! The easiest way to do it is to cover the top with a sheet of wax paper and use your hands or the bottom of a glass to pack it down. Look at how lovely and uniform it looks! You almost wanna eat it right now, but good things come to those who wait.
Bake the pecan cranberry nut bars in a 300 degree oven for 25 minutes. Then take them out to cool for several hours – I know, I know, that's the worst part. You can speed the cooling process up by popping it into the fridge, just make sure you let it set for at least 30 minutes in the fridge before you go cutting through these puppies.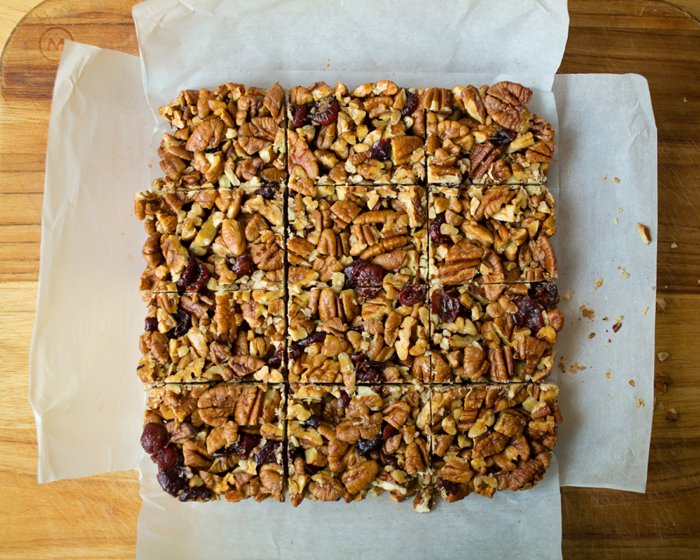 And now you can cut them any old way you like but I usually do it like the image above to give me 12 pecan cranberry nut bars. I won't lie, they are sticky! So I usually wrap them individually in wax paper first and then put that into a small plastic bag to send with my son to school.
On a warm day you'll be thankful you double wrapped! Otherwise, keep them in an airtight container for up to a week.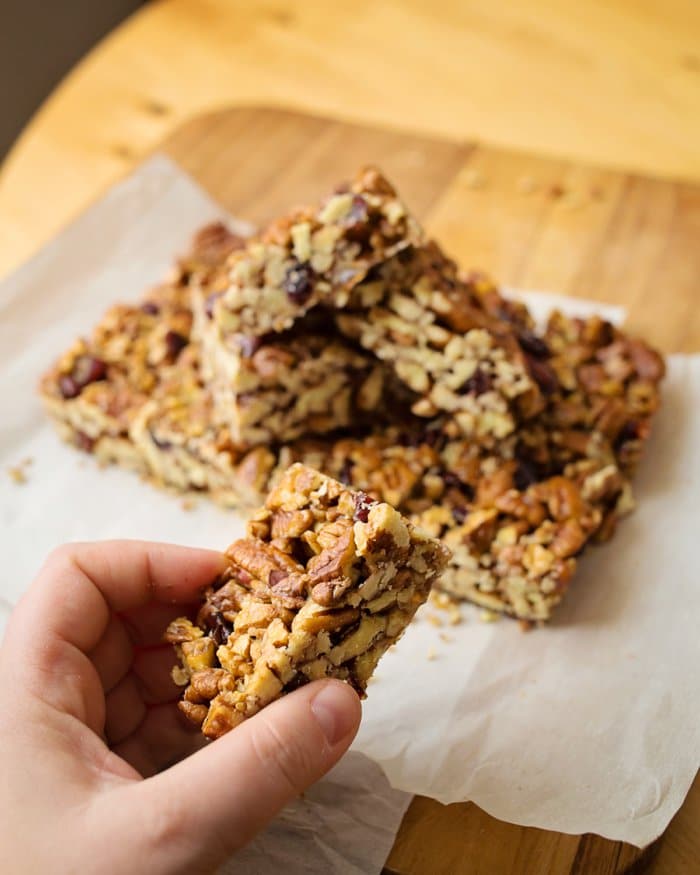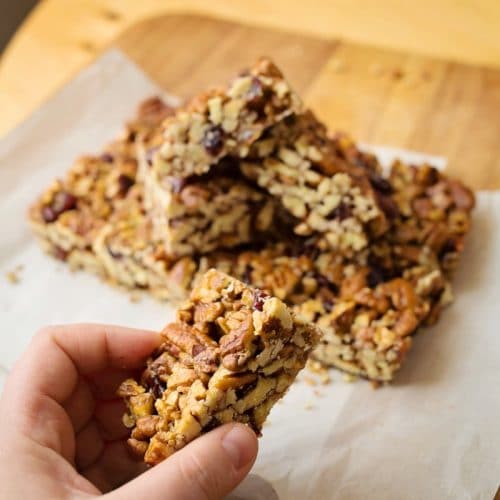 Pecan Cranberry Nut Bars
Yield: 12 Bars

Prep Time: 15 minutes

Cook Time: 25 minutes

Total Time: 40 minutes

These sweet and salty pecan cranberry nut bars are the perfect on-the-go healthy snack, and they're ready in just minutes!
Ingredients
3 cups pecans
½ cup dried cranberries
1/4 cup honey
2 tablespoons brown sugar
1 tablespoon coconut oil
¼ teaspoon salt
¼ teaspoon vanilla extract
Instructions
Roughly chop 3 cups pecans and toss into a large mixing bowl. Add ½ cup dried cranberries and set aside.
In a small saucepan bring honey, brown sugar, coconut oil, and salt to boil. Add vanilla extract, stir, and remove from heat to cool 3 minutes.
Pour slightly cooled wet mixture over the pecans and dried cranberries. Toss together and then dump out into a pre-lined (parchment paper or aluminum foil with spray) 8x8 baking dish.
Pack it down using a sheet of wax paper to cover the mixture (to protect your hands from stickiness) and make sure everything is nice and compact.
Bake in a preheated 300 degree oven for 25 minutes.
Let cool for 3 hours OR in your fridge for 30 minutes before cutting into the bars. Enjoy!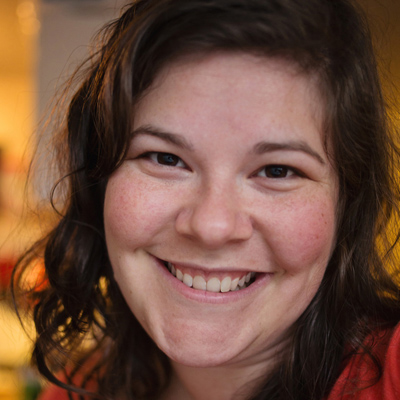 Carolina Weick is the creator of A Butterful Mind, a food blog with step by step recipes and kitchen tips. She lives in South Carolina with her husband and two kids and is all about the local food scene in Charleston. She's a goofball who loves Jesus and hates chocolate.