5 Easy Ways to Keep Your Home Clean Everyday!
This is a sponsored post written by me on behalf of The Clorox Company, Georgia Pacific, &/or Sun Products. All opinions are 100% mine.
Good morning! Can you believe that February has flown by? I wish the Michigan weather would keep up with the calendar. 🙂 Spring time makes me want to open up the windows and do a deep clean–on the weekends. But during the week, I don't have that kind of time or energy.  This morning I am so excited to share a few tips with you on keeping your home clean all week long– and it's super easy (naturally)!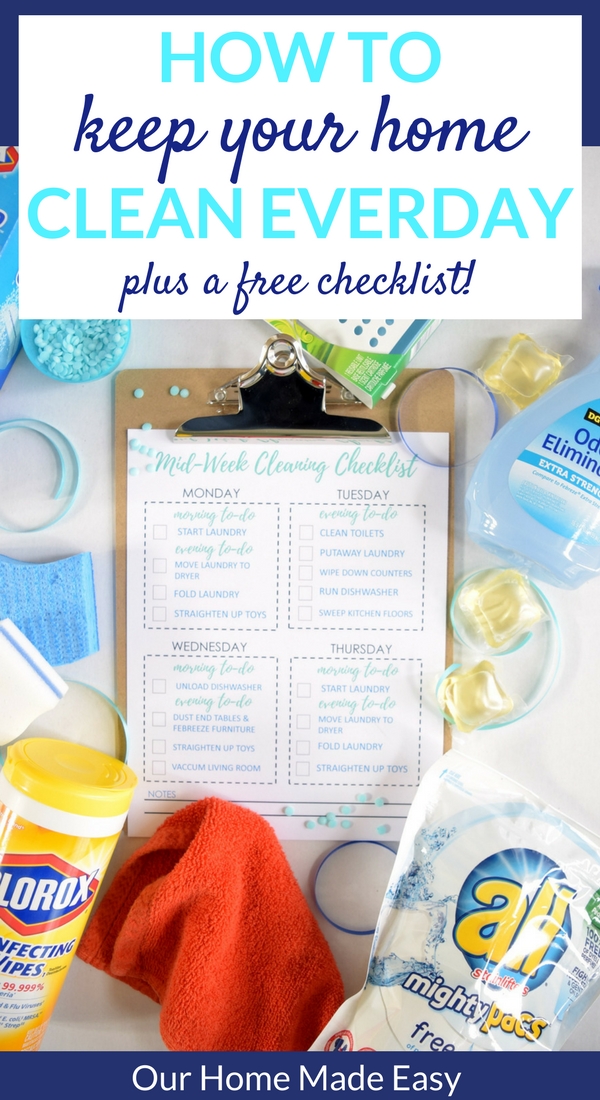 Scroll to the bottom to download the free cleaning checklist!
Since Jordan & I both work all day long, it's important that we find products that help us keep the house clean and do it quickly. We don't have hours each night to devote to cleaning and a cleaning service isn't in the budget!
While we could wait until the weekend to clean, it just isn't practical. If I waited until Saturday, our home would look like a tornado spun through by Friday. We need to stay on top of the mess.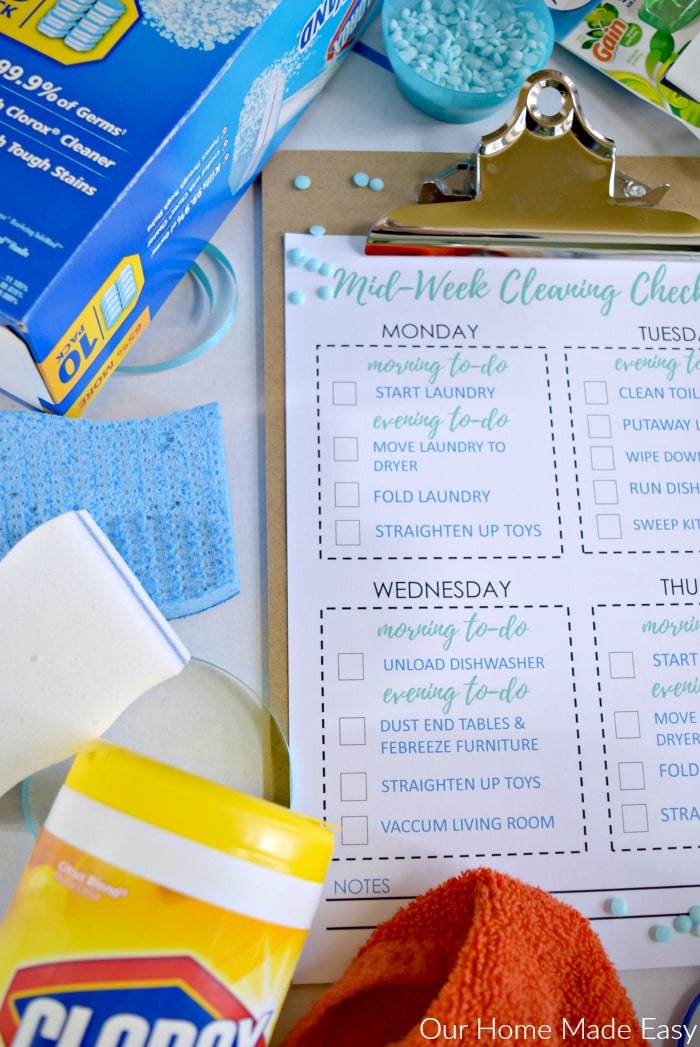 How to Keep Your Home Clean All Week
Stay on Top of the Mess In order to avoid feeling overwhelmed, take 10 minutes after bedtime and straighten up the toys. Everything doesn't need to be perfect. Once you reach 10 minutes, stop. You'll feel like you hustled since you'll naturally work a bit quicker than if you thought the clean up was going to take all night long. Push in the chairs at the dinner table, push the toys into one corner, place the dishes in the sink, and then relax.
Use Your Mornings Use the time that is available during the day to do your work. Like the laundry! Start a load in the washer before you leave If you can delay the wash, do so, but give yourself an extra hour to finish up. Just in case the washer needs an extra rinse or spin, you won't be waiting for it to finish when you arrive home [that is the time for you to pop it in the dryer!].
"Don't Do it All" Don't wear yourself out by thinking you need to clean every single room each night! Break down your highest traffic areas, the kitchen and the family room, and clean them over the week. You can use your weekends to deep clean, but keeping up on those two areas will make it less of a task come Saturday & Sunday.
Use Items that Help You I love using laundry pods and the Unstoppables Laundry Freshener. When I pop in a laundry load, I don't have to worry about detergent sitting in the bottom of the tub pooling around the clothes for 8 hours. And I'm super messy. So I appreciate that I don't have to spend the extra time measuring out the liquid for both detergent and laundry softener. And can we talk about the toilet? I hate cleaning the toilets. But I don't mind it as much when I use the cleaning wand. It's completely touch-less…. which almost makes the job tolerable. And I like the personal satisfaction of popping off the toilet wand into the trash can when I'm finished. So lugging around a bowl brush set and holding the bowl cleaner under the lip of the toilet!
Fake a Clean Home My mom always said that she wished there was a candle fragrance for 'just dusted.' So you can say that I've picked up my easy street to cleaning-dom from her. 😉 During the week, I love to use fabric deodorizers to freshen up the couches and curtains. With the cooking we attempt to do, it's nice to not have linger-ing smells. And you'll find lots of plug-ins around the house. I learned from my mom– if you walk in and instantly smell clean, well that's half the battle isn't it?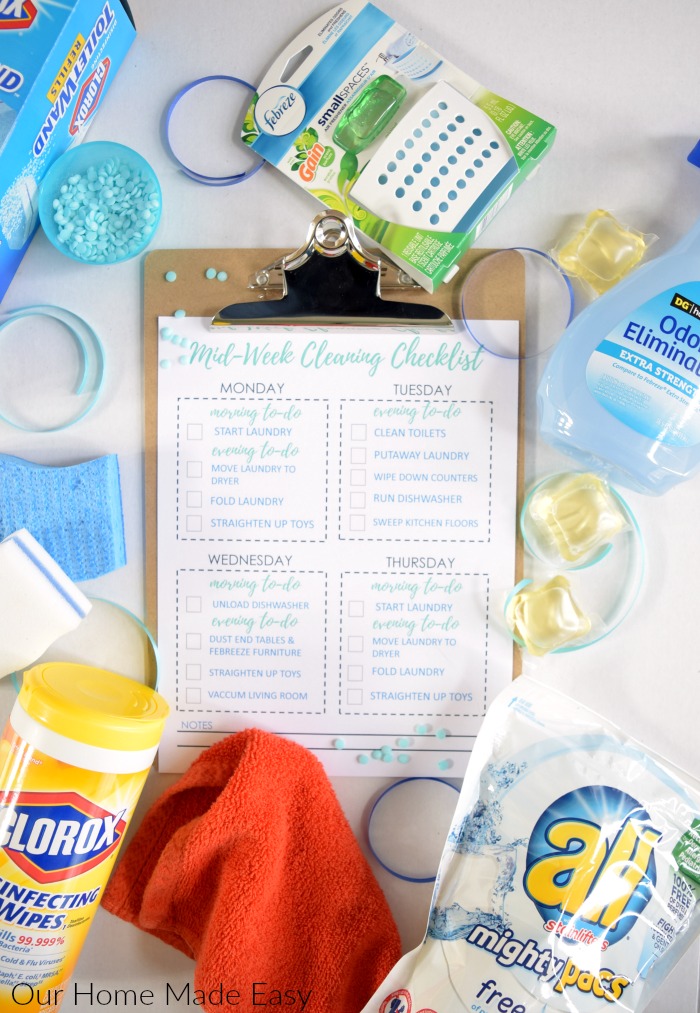 When the folks at Dollar General asked me about what I loved the most about their cleaning supplies, I immediately thought of their convenience. I love how easy it is to get in and out of Dollar General stores. Last Wednesday, I signed up to pick up some supplies for Owen's classroom.
It was really easy to zip into Dollar General after I picked up the kids, find what we needed, and check out quickly. Plus, I tend to be picky about cleaning products. I'm always happy with the choices Dollar General has (including the name brands).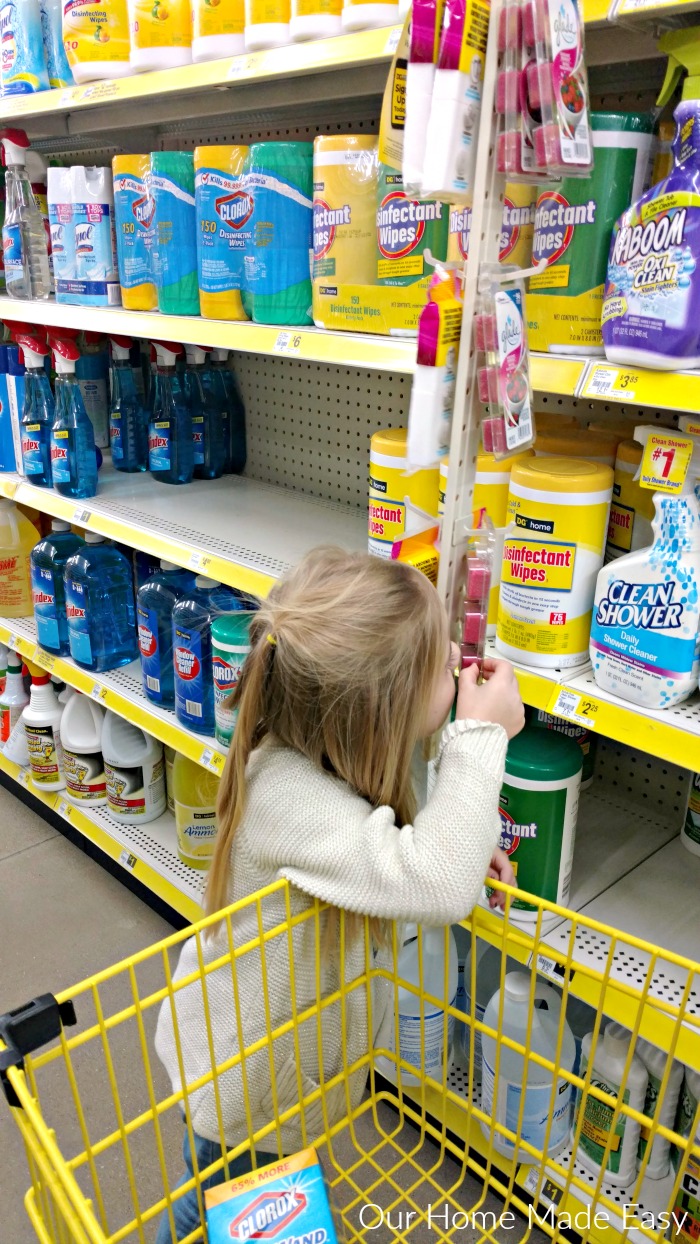 We love to stop and smell candles any chance we get! Candle melts aren't excluded from sniffs. 🙂
Do you love Dollar General, too? From February 19th until March 19th, 2007, they are offering $5 off a $15 purchase at Dollar General! Take advantage of their cleaning products and stock up! 🙂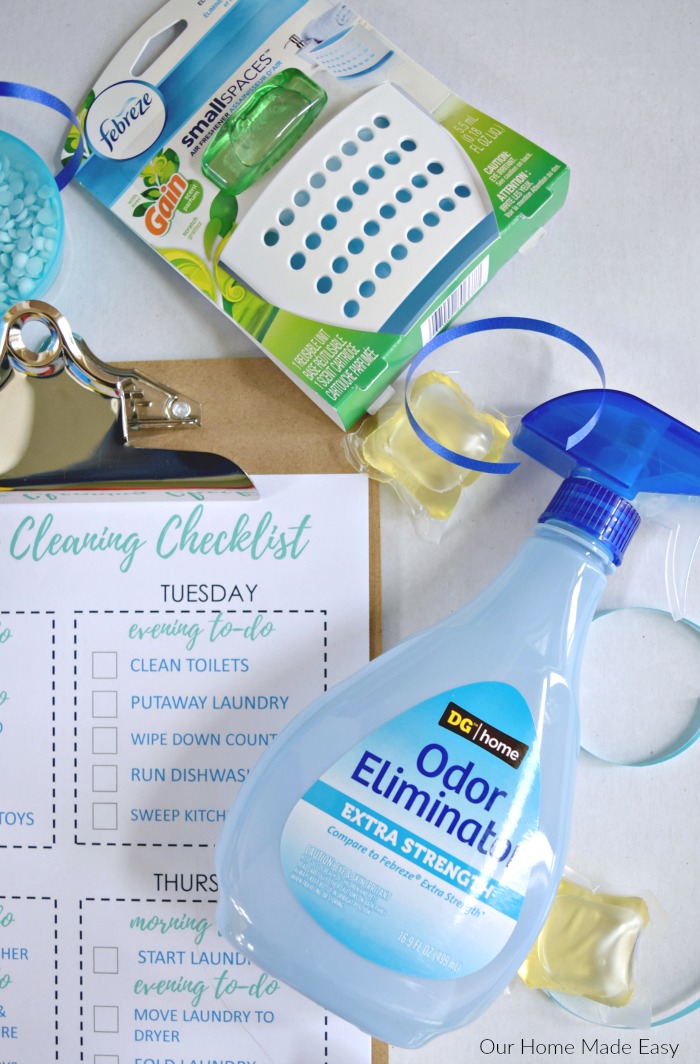 I'm always overly paranoid that visitors will walk into our home and smell what our last dinner. But not in a good way.
One way I avoid this worry (and mimic a clean home), is to spray odor eliminator over the dining room curtain panels and our couches. It's such an easy thing to do and makes me feel more comfortable welcoming in our neighbors.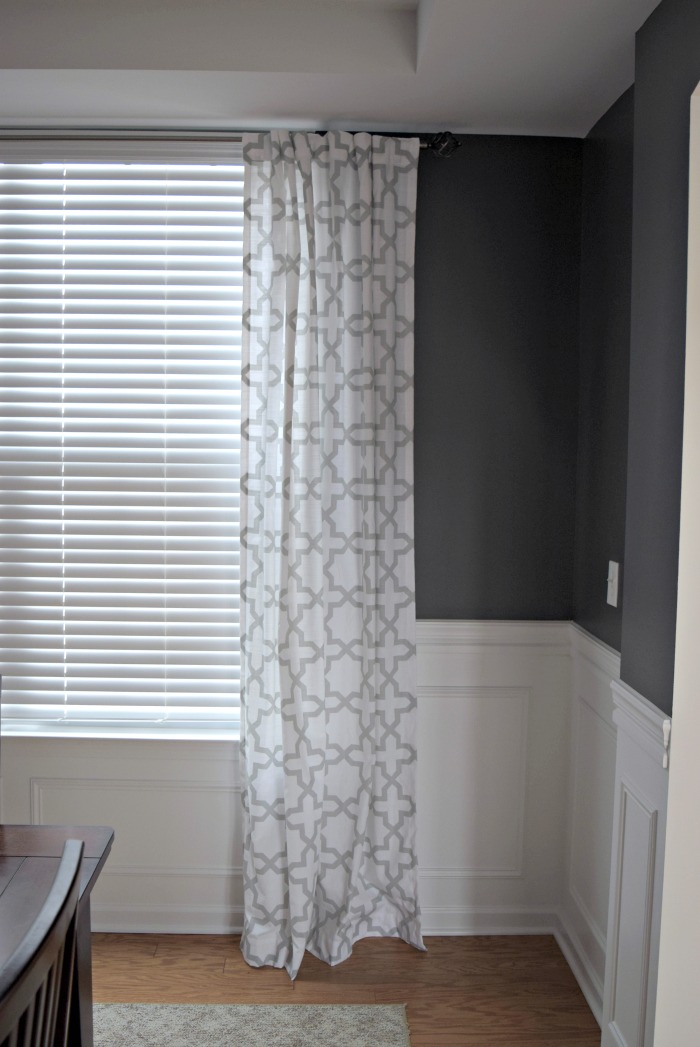 I was hesitant to give up the ol' liquid measure and pour. But, in the past 3 years of using the laundry packs, I'm a believer. The convenience is total win-win.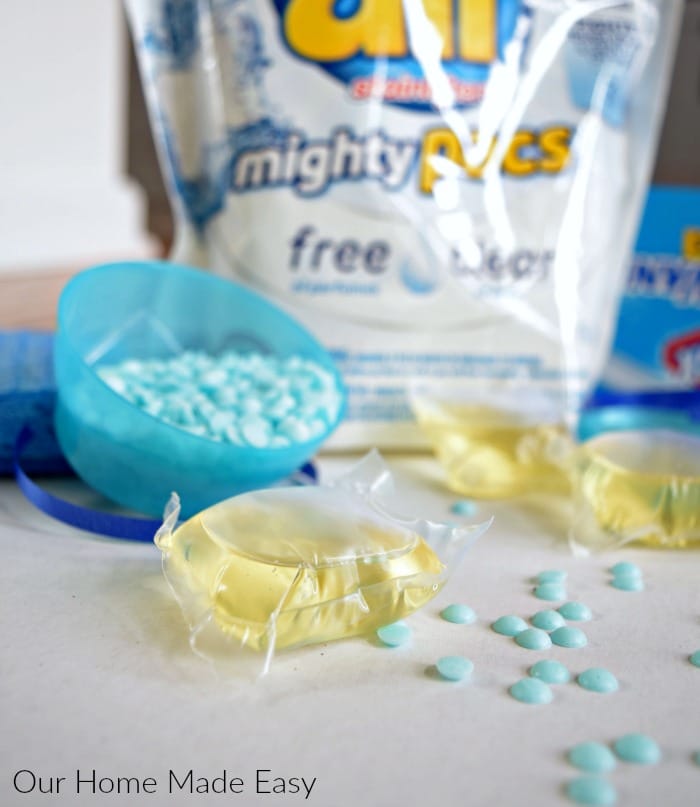 To help you get started on tackling your cleaning throughout the week (and not all at once on the weekend), I created a cleaning checklist. Click below to receive instant access! Don't forget to Check out the savings at Dollar General!