How to Get Ready for Germ Season in 4 Easy Steps
This shop has been compensated by Collective Bias, Inc., Breathe Right, DIAL®, Halls, Kleenex, Theraflu and TYLENOL®. All opinions are mine alone. #HappilyStocked #CollectiveBias
Just like busy moms everywhere– we are usually running around every day just managing. Very rarely am I ever thinking ahead of the game. It's like we make it through one hurdle with one little one and soon enough we are tackling something else that was never on our to-do list. Sound familiar? For us, I am making a decision to be proactive this year. I am preparing a tote full of get-better supplies before Jordan & I are hit with germ season.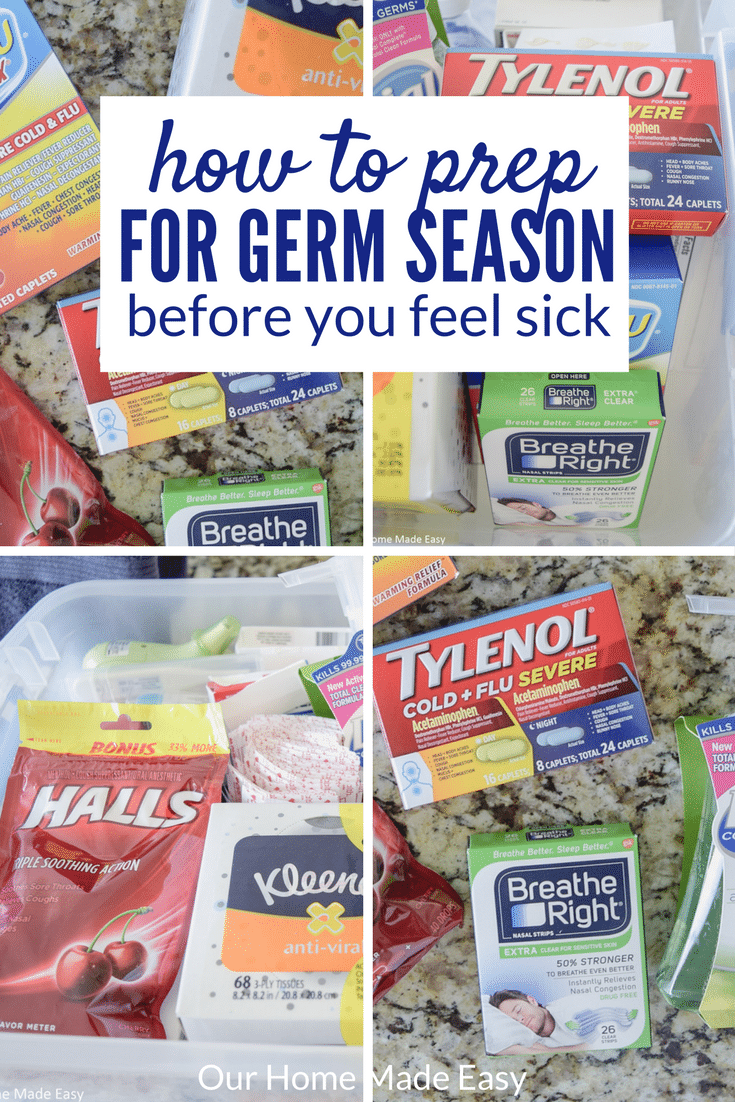 Between the little ones, myself working in a hospital, and just living our lives, one of us will inevitably start a chain reaction of germs. It's just the way life is with these little guys. And it's so important that that Jordan & I are at least prepared for the germs rather than running to the store late at night when one of us is miserable. After all, parents aren't really allowed sick days, are they?
How to Get Ready for Germ Season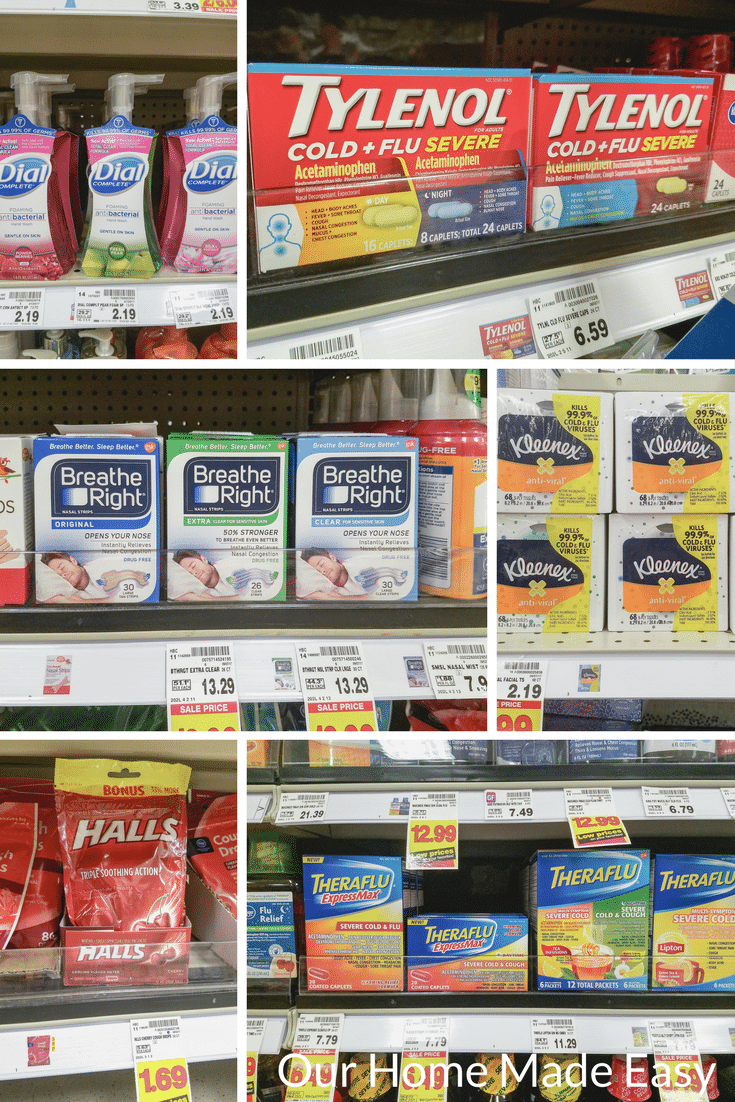 1. Gather Your Go-To Products Ahead of Time
Now that November has arrived, it's time to get serious about planning. For Jordan & I's medicine box, I like to keep a lot of different medicines on hand simply because I never know what we will need for our first under-the-weather bout of the season. For everything that we need, I can pick up at Kroger, which is less than a mile from our house. It's super convenient to hop over to the store, pick up what I need and checkout.
This November, be sure to take advantage of the savings on these products at Kroger! Just in time for your own germ season.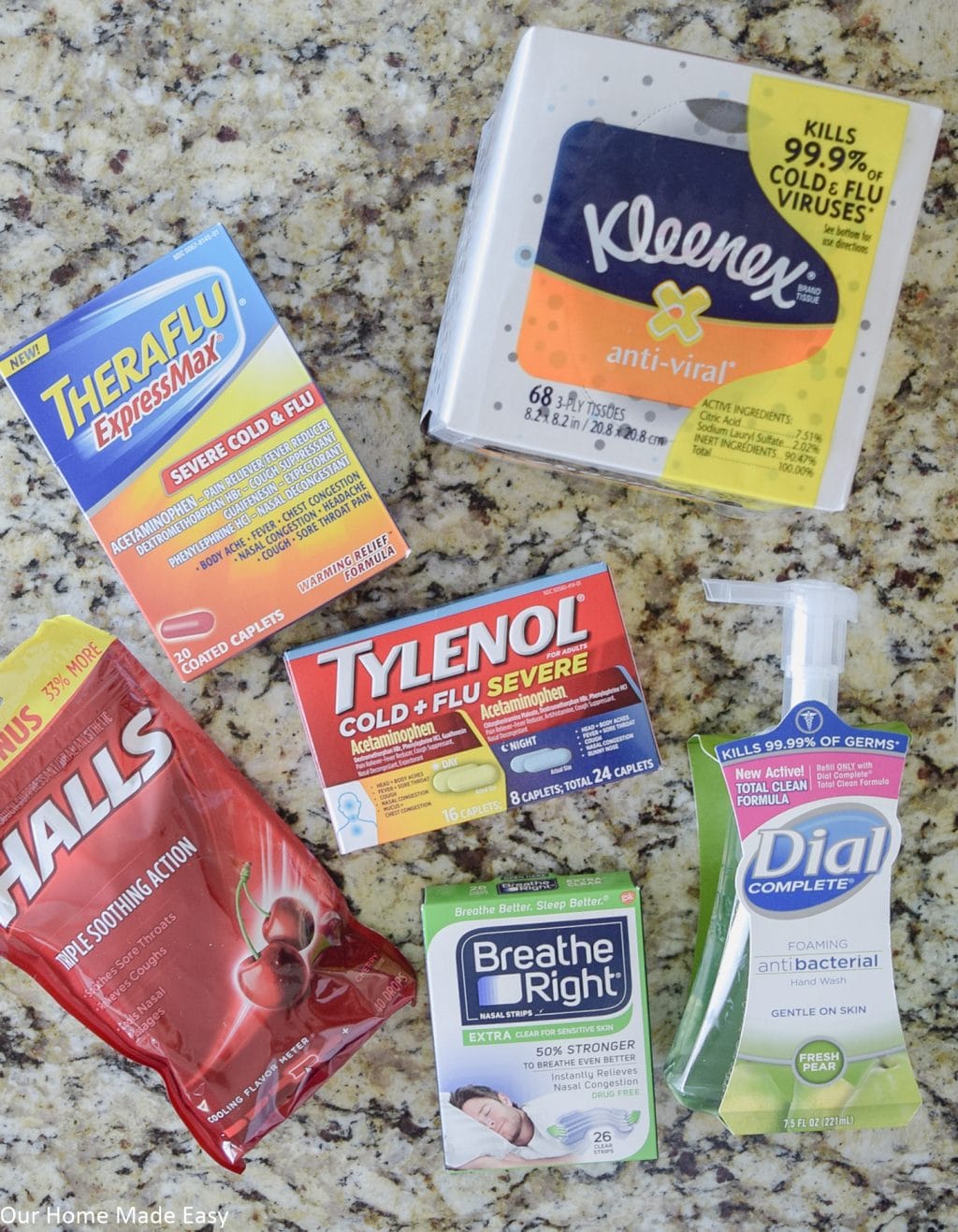 Some of my favorites for this year include:
Breathe Right Strips— As I posted in 60 things I'd tell myself after 5 years of marriage, it isn't always perfect. Marriage means we need some relief when we aren't feeling 100%. I like these because they both Jordan & I breathe better and receive some congestion relief.
Dial Hand Soap— This isn't purely for the two of us. I load up on the antibacterial soap throughout the entire house! Right now we have Aubrey singing "Happy Birthday" to wash her hands. Whether it's long enough or not, it's making sure she thinks to soap up her hands every single time. But I know that with Dial Hand Soap we are killing 99.9% of germs.
HALL Cough Drops— This is probably the most used item in our box. The HALL Cough Drops soothes our sore throats. So I like to stock up with cough drops and throat lozenges. For me, I like to have them taste great, so I'm a sucker for cherry. 🙂
Kleenex® Tissues— Maybe I lied, these are used more than the Cough Drops. I like to stock up for us to keep the germs at bay. Jordan loves that they aren't scratchy.
Theraflu— this is for when we don't have a prescription, we can still find some relief…. because we are parents. 🙂
TYLENOL® Cold + Flu Severe Day / Night— This is one of my own favorite products. I use the TYLENOL® products when I need medicine that is pretty much all in one for Cold and Flu symptom relief. To keep me on-track during the day, I'll take it as soon as I wake up so that by the time I get in my car I'm already starting to feel better. My caveat— only take it as directed.
You get more germ season prep inspiration over at the social hub. Check it out here.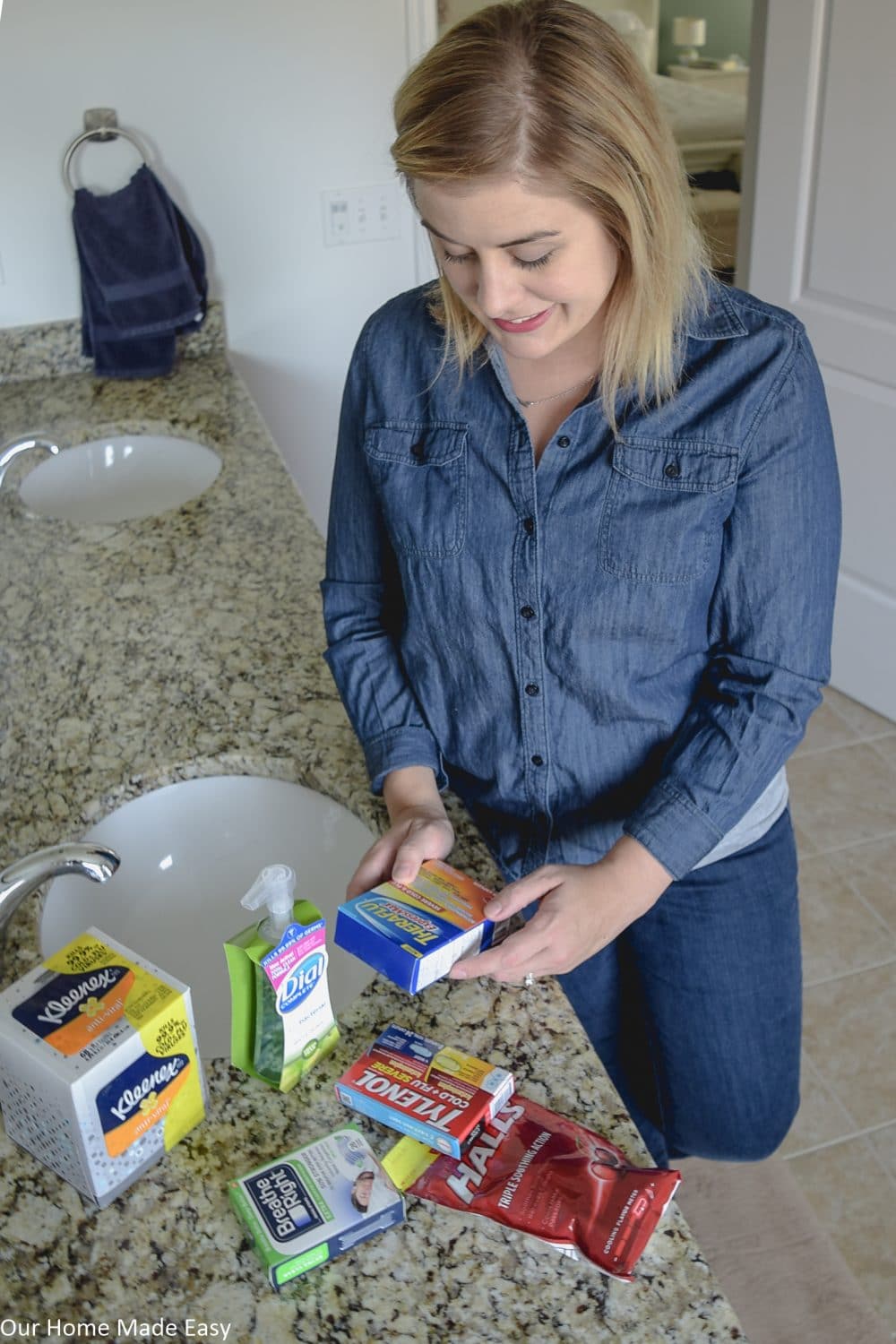 2. Place Them Together in a Tote
To keep our medicine accessible, I like to store everything together, so that I can find what I need quickly. To make it easier, I like to store everything orderly to avoid having to rummage through boxes to find what Jordan or I need. there is nothing worse than not feeling well and not finding some relief!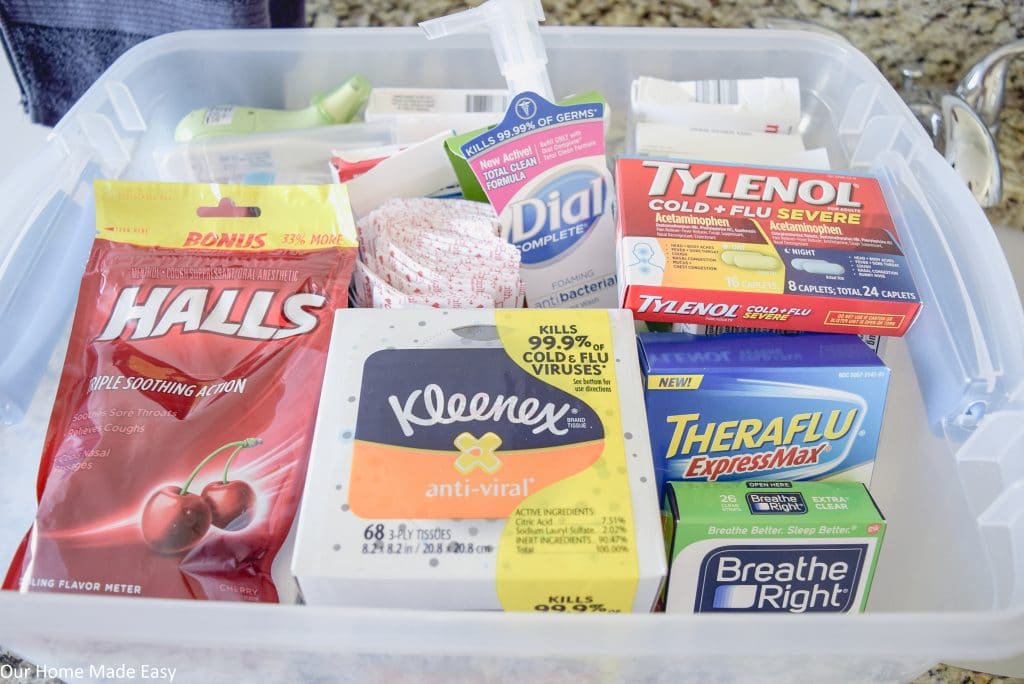 3. Keep the Original Box for Every Dose
Do you ever have times when you don't feel well and need to find medicine, but end up finding one random packet in the bottom of a tote? Avoid this by making sure to place all your meds back into its original box. Even if you only have one dose remaining place it back into the box! Doing this will help keep you organized and you'll know what when you're sick, you're taking medicine that is designed for your symptoms.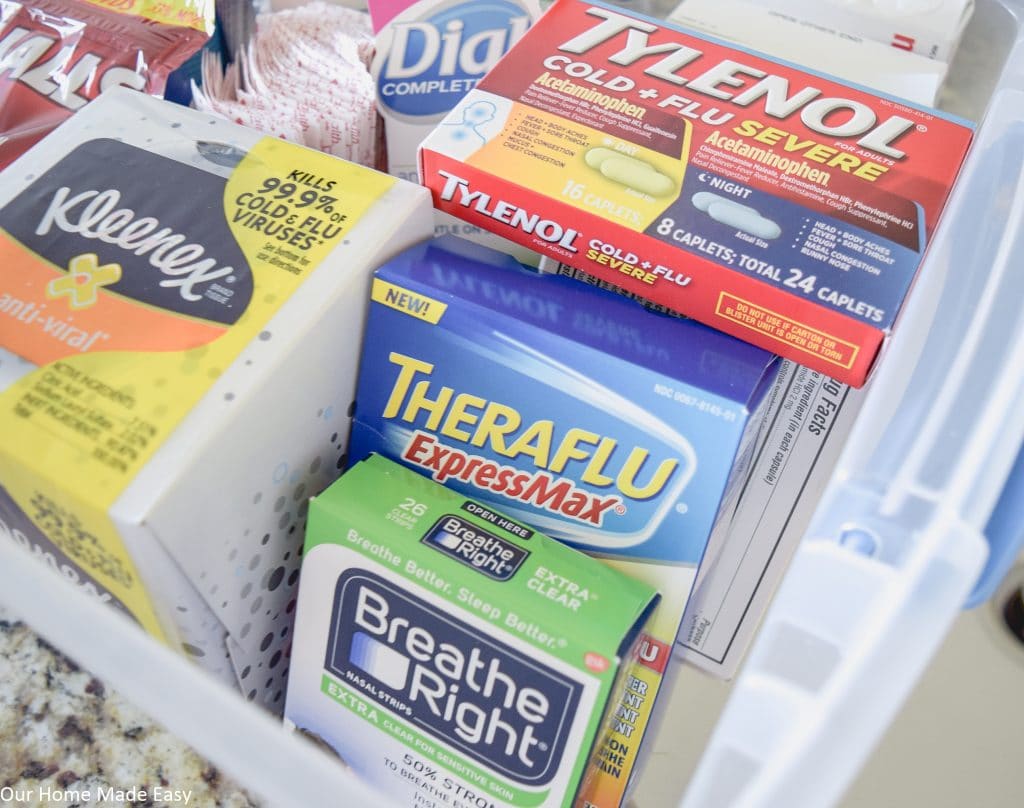 4. Store Them Away From Little Hands
As with any medicine, it's so important to keep these out of reach. I like to place our medicine in our linen closet, up high enough where I don't have to worry about Aubrey & Owen grabbing the box. I almost feel silly for saying this, but never leave your medicine laying out for as a "just in case." Simply grab what you need out of the box and slide it away.
How about yourself? What items do you need in your medicine box for germ season? Tell me in the comments. And don't forget to take advantage of the savings at Kroger!
Disclaimer: Breathe Right Read and follow label directions. Dial © The Dial Corporation, a Henkel company * Based on unit sales of soap products in last 52 weeks scanned data Kleenex: ® Registered Trademark of Kimberly-Clark Worldwide, Inc. © KCWW. Halls HALLS Cough Drops temporarily soothe sore throats. Theraflu Read and follow label directions. Theraflu is for use in adults 12 years and older. Use products only as directed. TYLENOL® Use products only as directed