This post is sponsored by Cost Plus World Market. All opinions are 100% my own. This post contains affiliate links.
One of the best parts about the cooling temperatures is embracing the change and enjoying the best parts of it— making our homes feel cozy and welcoming. And when you spend so much time bundled up on the couch, it's all about loving your space. Even if you've always thought it was out of your skills– I want to show you how to create your own cozy fall mantle, not by buying tons of seasonal decor, but by selecting transitional neutral that will carry you through fall, Christmas, and Winter!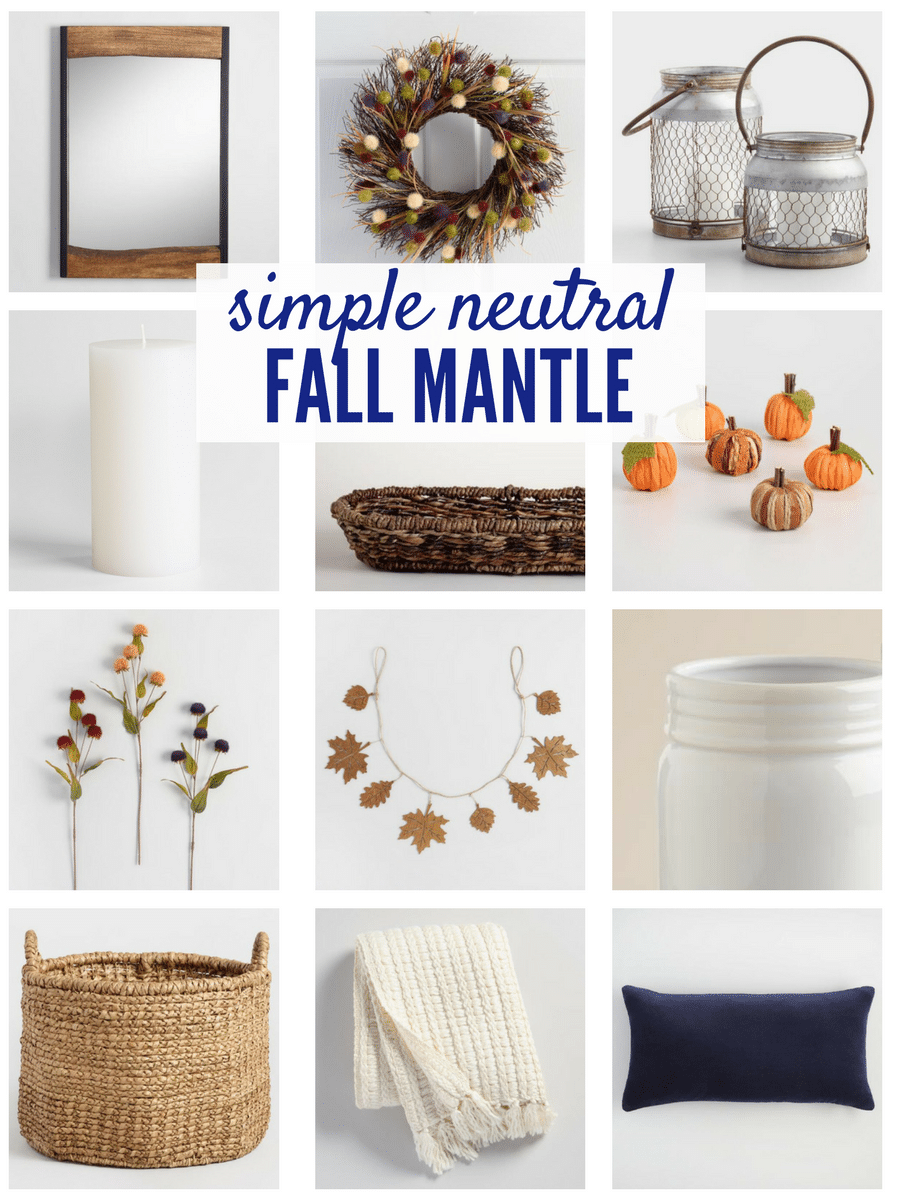 When the temps drop, I excitedly turn on the fireplace. There is something about a roaring fire that makes sitting on the couch feel like I am exactly where I am supposed to be with Jordan & the kids. So it was a no-brainer when I thought about how I could share some of the best Fall & Thanksgiving decor from World Market with you. It's perfectly warm, cozy, and easy enough for us non-designers to put-together!
Start with Building Up the Mantle

First, you want to think about building your mantle back drop. This is where beautiful, but classic pieces are essential. I love the Leaner Walnut Wood Mirror to lean vertically in the center of your mantle. Leave it up all year and add decor to the mirror. I'd hang this neutral Fall Twig & Puff Ball Wreath over the mirror, towards the top. But building up isn't always "up," silly, right? Think of it as adding some height down below and drape a neutral garland across the center of the mantle. I chose the Wood Leaf Garland to add some texture and holiday festivities, but without being too distracting.
Add the Anchor Pieces

Once you have a mirror, in place, start adding anchor pieces to either end of your mantle. These essentially "contain" the mantle and you're decorating everything in-between. I love the Wire Galvanized Lanterns because I could use them September through February. Paired with a pop of spring color, you could even get more wear out of them!
On the left side of the fall mantle, I would take a classic white ceramic vase and throw in a 2 sets of the Puff Ball Stems. The stems add some great height and coordinate well with the wreath.
Fill in The Empty Spaces

One of the best parts about decorating a fall mantle is adding more texture using basic baskets and items that you may already have tucked away. By placing this beautiful Madras Oval basket at the bottom of the leaner mirror, you are visually adding some interest on the base of the mantle in between the anchor pieces.
Fill in the basket with pillar candles and a few seasonal accents. I am feeling inspired by the Mini Natural Fiber Pumpkins. You have two options with adding the seasonal accents. I think they would look nice either in the basket with the candles or sitting directly on the mantle, filling in the area between the basket & anchor pieces.
Don't Forget About the Hearth!

When it comes to finishing a perfectly cozy & comfortable mantle, you have to bring out your throw blankets and pillows. Don't be afraid if it isn't perfect. Pick up this Extra Large Hyacinth Tote Basket and fill it with an Ivory Chunky Woven Throw Blanket (it's machine washable!) and Navy Blue Velvet Pillow. It's still classic, but adds so much more texture and warmth to your entire mantle space.
I hope that you are feeling inspired with adding some small but easy touches to create your own fall mantle! To help you get started on your designing your own mantle, check out your local World Market (see all their stores here)! We have one here in Ann Arbor and it's one of my favorite places to stop by when I need something just right for our home.
Friends & Family Weekend at Cost Plus World Market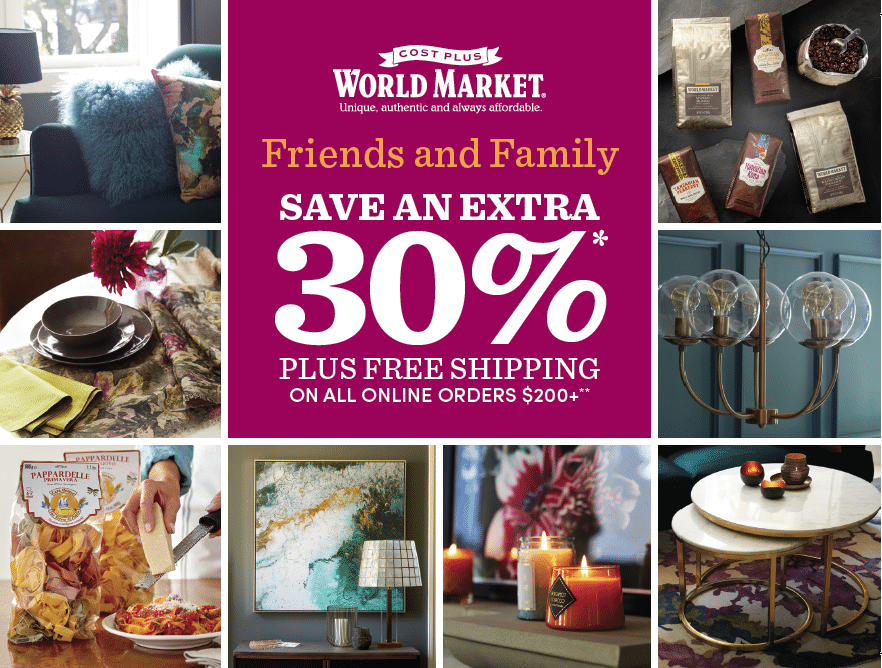 Start shopping for your fall mantle by taking advantage of the Cost Plus World Market's Friends and Family Event! It begins this Friday 10/6! Save an extra 30% on home décor, furniture, entertaining essentials and more. Save 10% on food and beverages. Sale ends 10/9/17. Get your coupon right now!
If you are loving this rustic & neutral décor, definitely take advantage of the Friends & Family event. You can stock up on Farmhouse Décor to use all year long!
Shop The Fall Mantle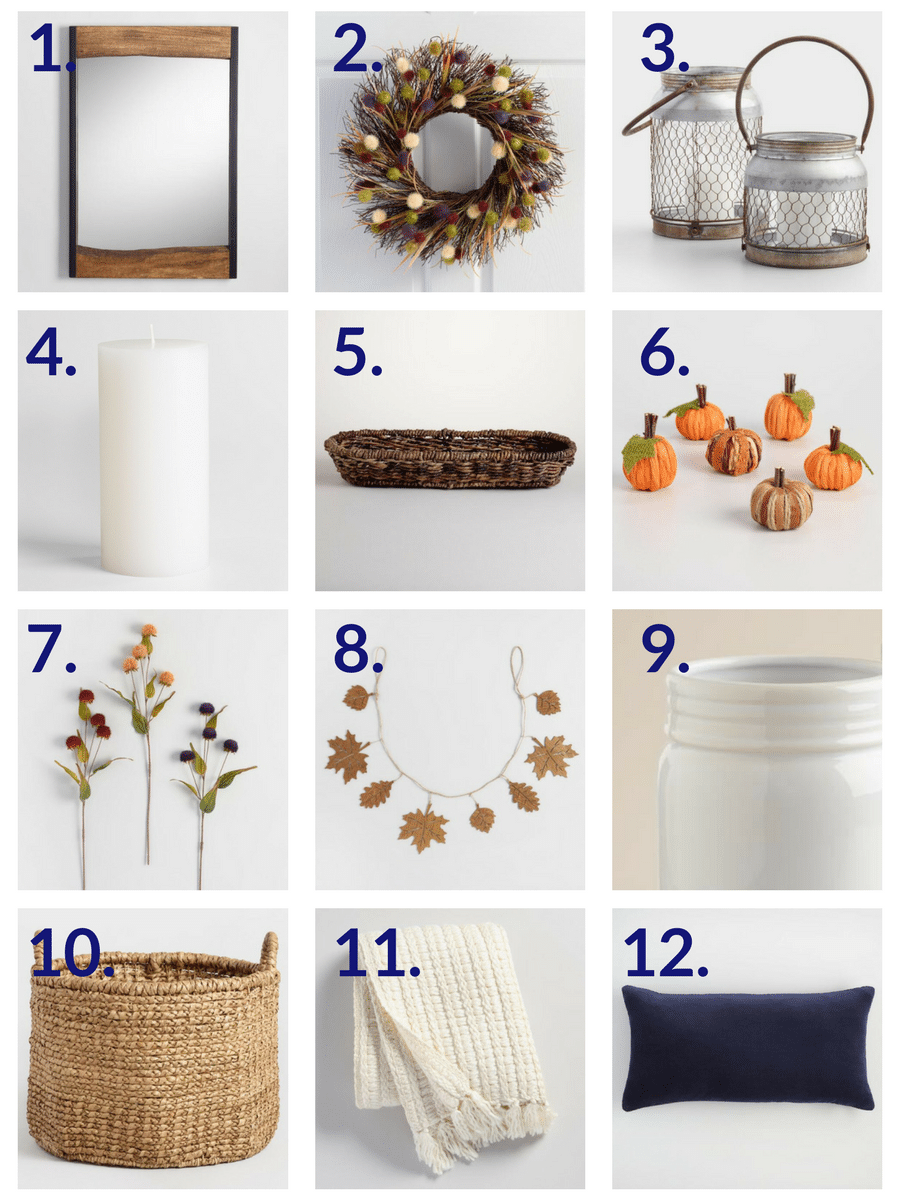 1 | 2 | 3 | 4 | 5 | 6 | 7 | 8 | 9 | 10 | 11 | 12
[show_shopthepost_widget id="2839695″]