Easy 20 Minute Salty and Sweet Leprechaun Bark!
Are you looking for a simple Pinterest worthy treat but without the actual effort of a Pinterest treat? You know what I'm talking about– those yummy looking desserts, but they actually take all afternoon to create? Yes! Here is a super easy dessert that you can have cooling away in less than 20 minutes. Score! Let's get to making this yummy Leprechaun Bark….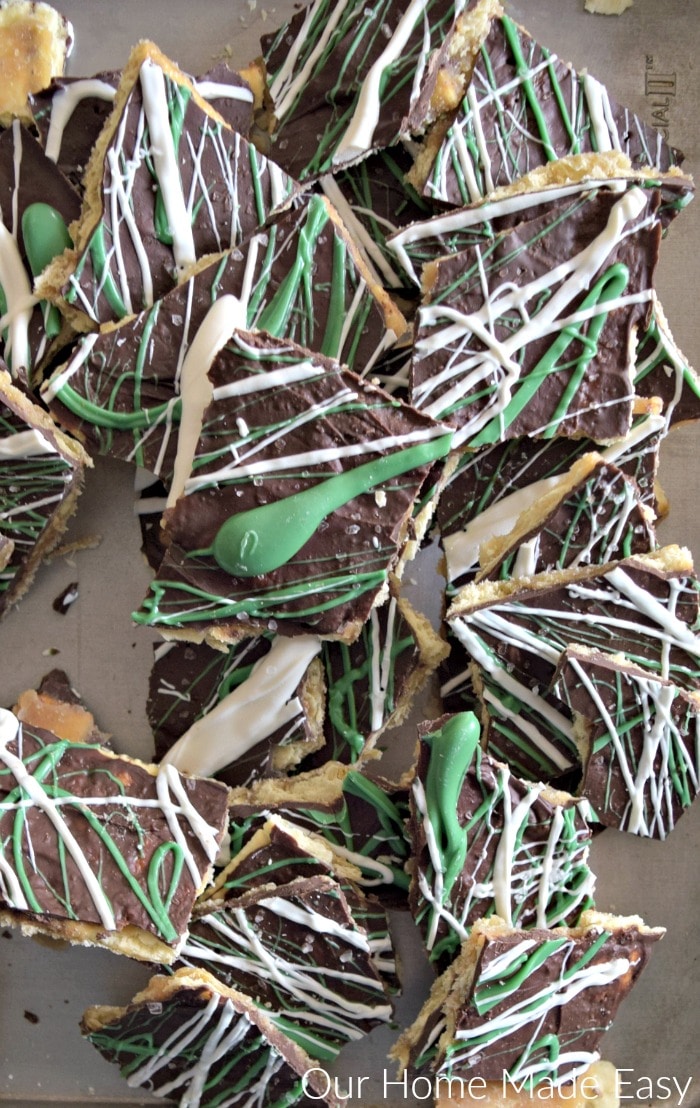 This post contains affiliate links. If you shop from my blog, I may be compensated for clicks or purchases that you make. Thank you for supporting 'Our Home Made Easy!' Read my disclaimer page for more information.
Holidays with the kids are fun– but thinking of ideas or celebrating with lots of effort IS NOT. Aubrey & Owen have great teachers at school who are patient and really take the time to "pun"-ny pictures of each holiday using their hands or feet.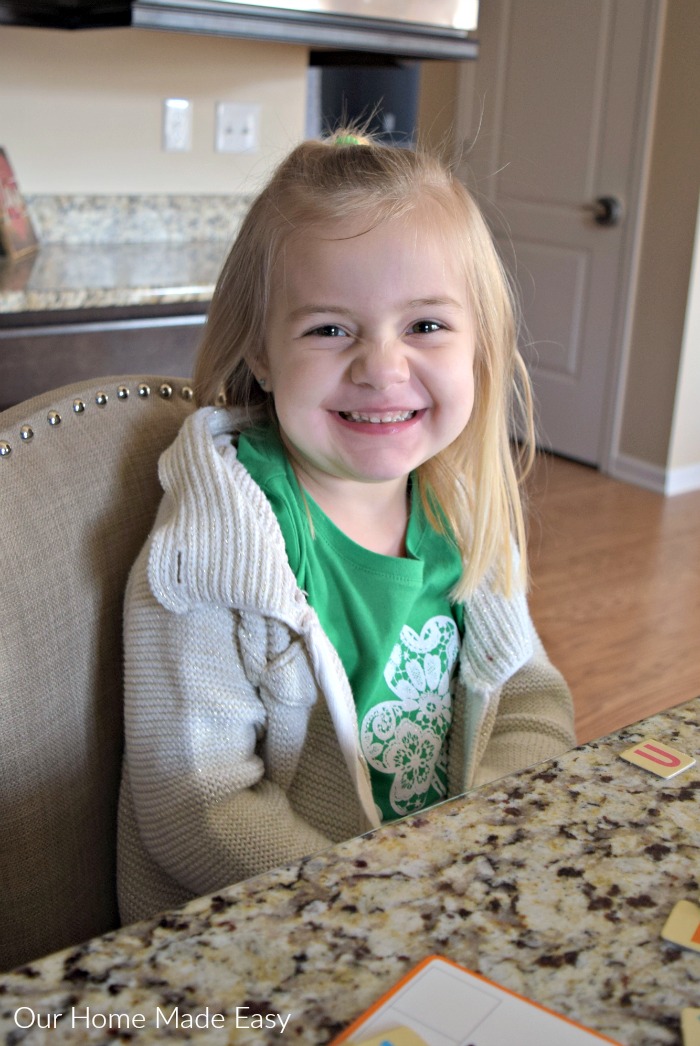 Unfortunately, we don't have that kind of time on the weekends. And neither do you!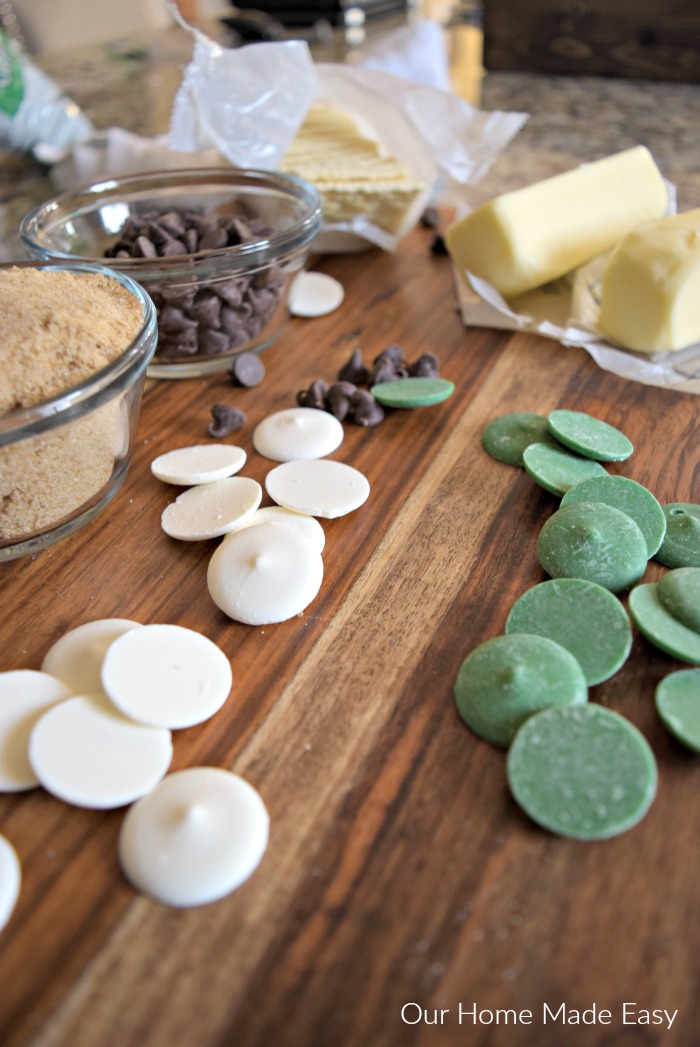 So anytime I can pass along a fun way to celebrate an upcoming holiday, I want to give you something that doesn't take too much time.
This treat uses coarse sea salt to give it a nice sweet and salty taste that any parent will appreciate. The fun colors are perfect for each holiday. Essentially you can create a treat everyone will eat and think is cute– major busy mom win.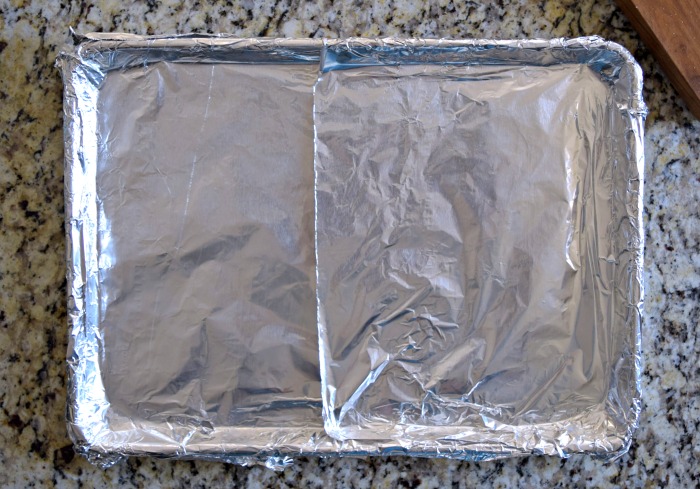 Recipe hack: Instead of placing one long sheet of aluminum foil down the center, use shorter pieces to cover it horizontally. Now you won't have to worry about cleaning a mess on the sides.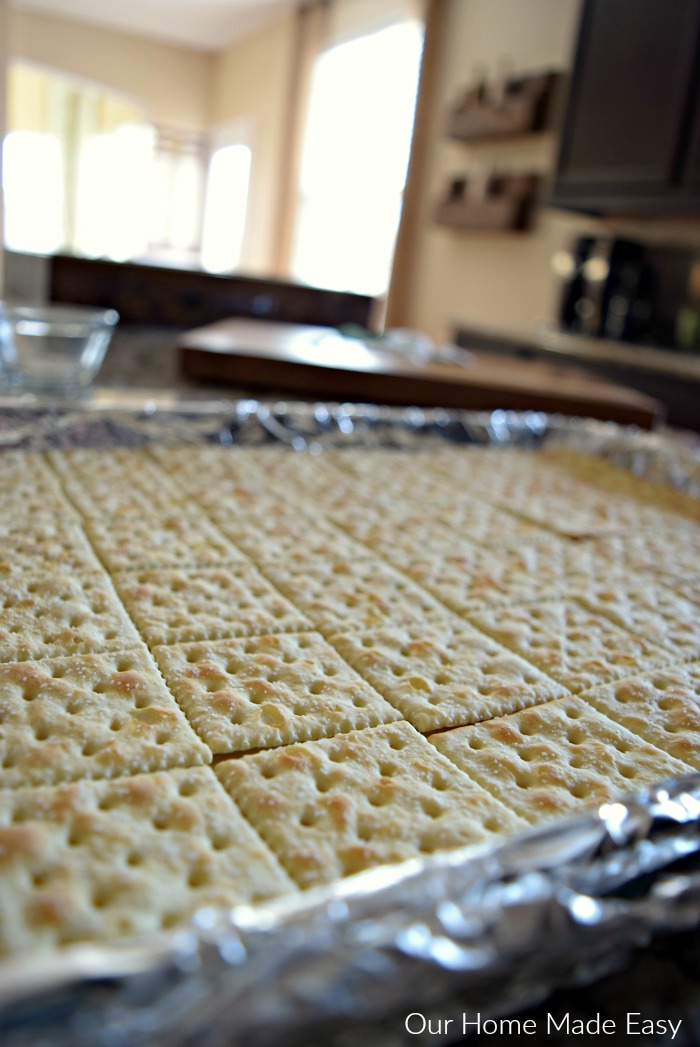 Make sure to line the saltines in an evenly across your pans. Plan on using 2 sleeves of crackers for this treat. You'll need that many plus enough to satisfy any 'snacks' you need to share with onlookers (see my helper above 😉 ).
Jordan usually only makes this bark at Christmas time (no colorful swirls included) and I thought– "It's been 2+ months! We need some this, today!" Seriously, you'll be bedazzling it red, white, and blue before long. 😉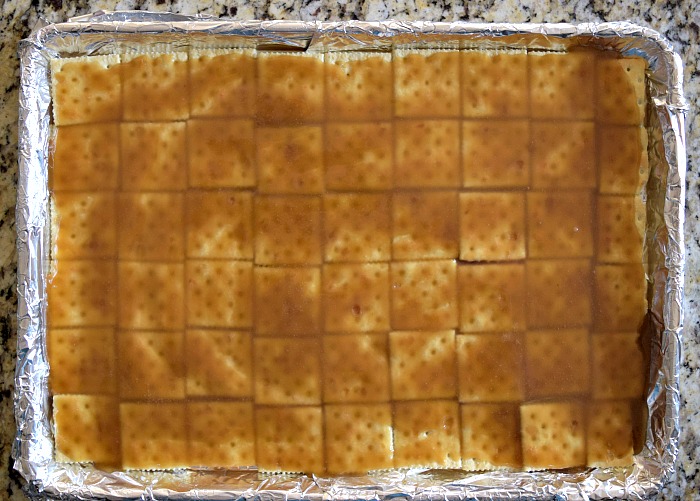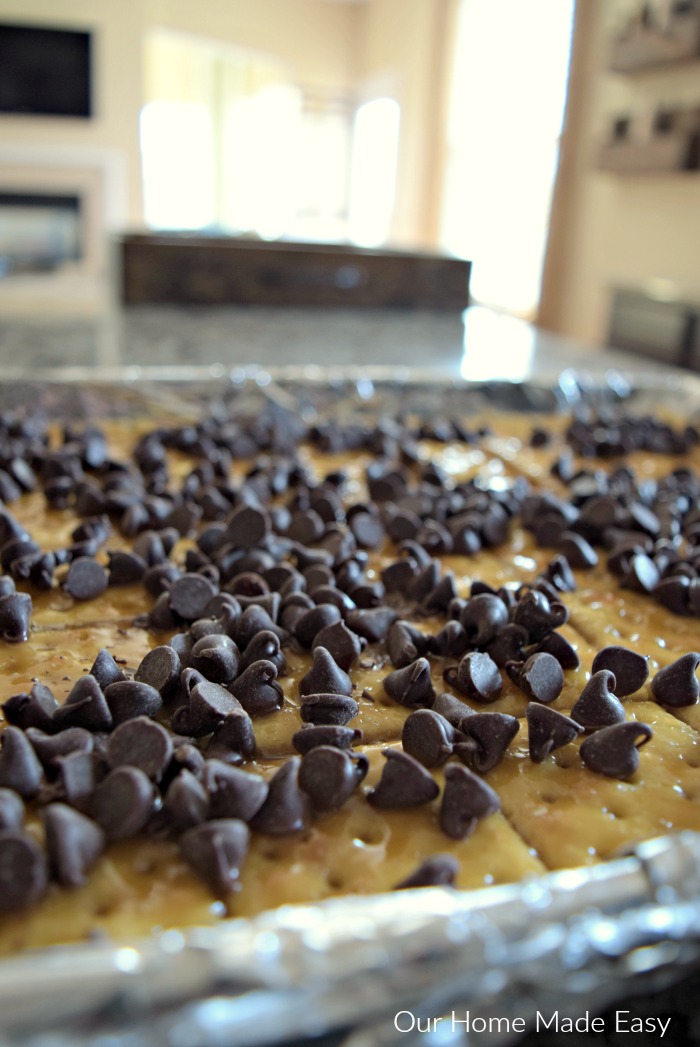 You won't have enough chocolate chips to cover the entire pan, but it's plenty! Once it melts in the oven, spread using a firm touch. You'll see that there is more than enough chocolate to fully cover the pan. It's really easy!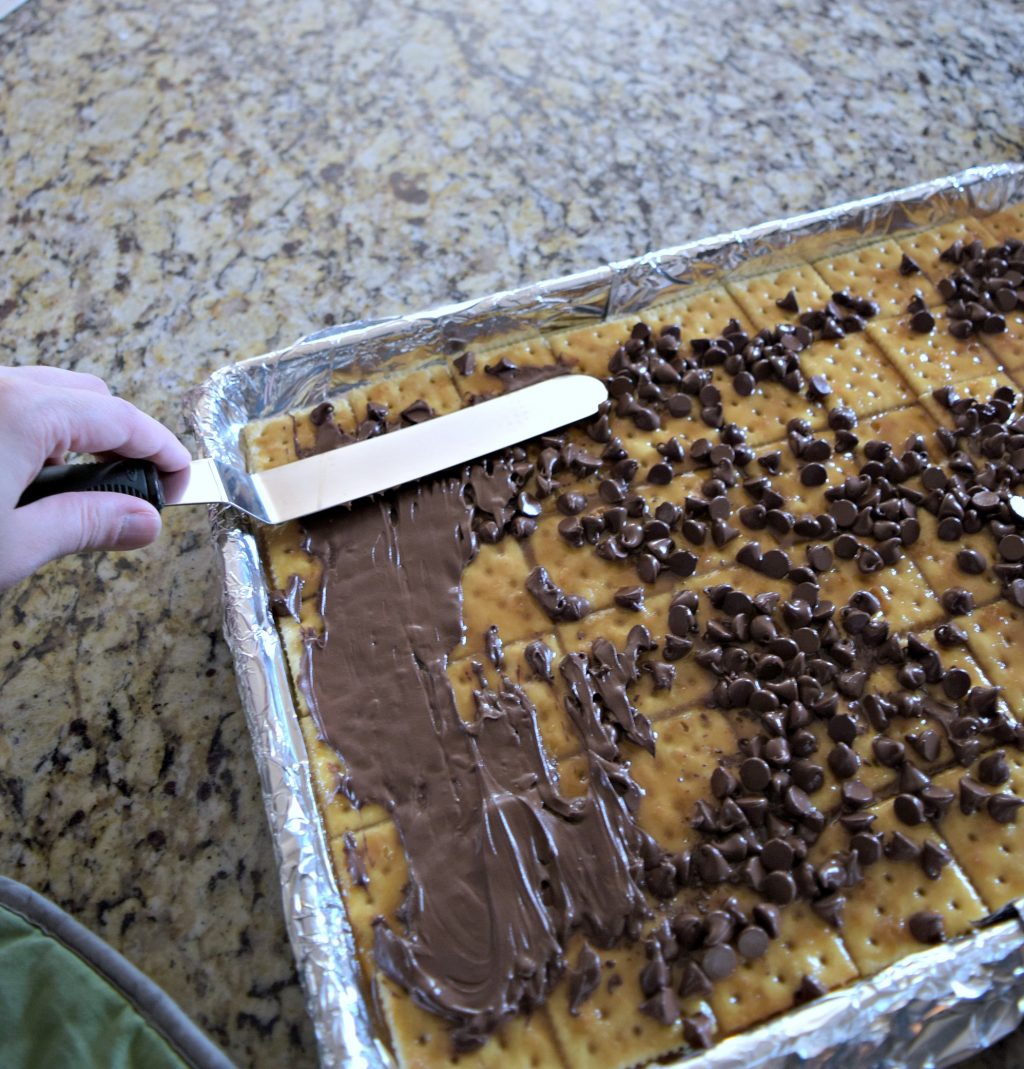 Doesn't this look so pretty (and like something you'd actually eat)?
To add the leprechaun bark charm, drizzle candy melts off a spoon. You only need to use a small handful for either color. I used these colors for the bark (Wilton Green Candy Melts & Wilton Bright White Candy Melts)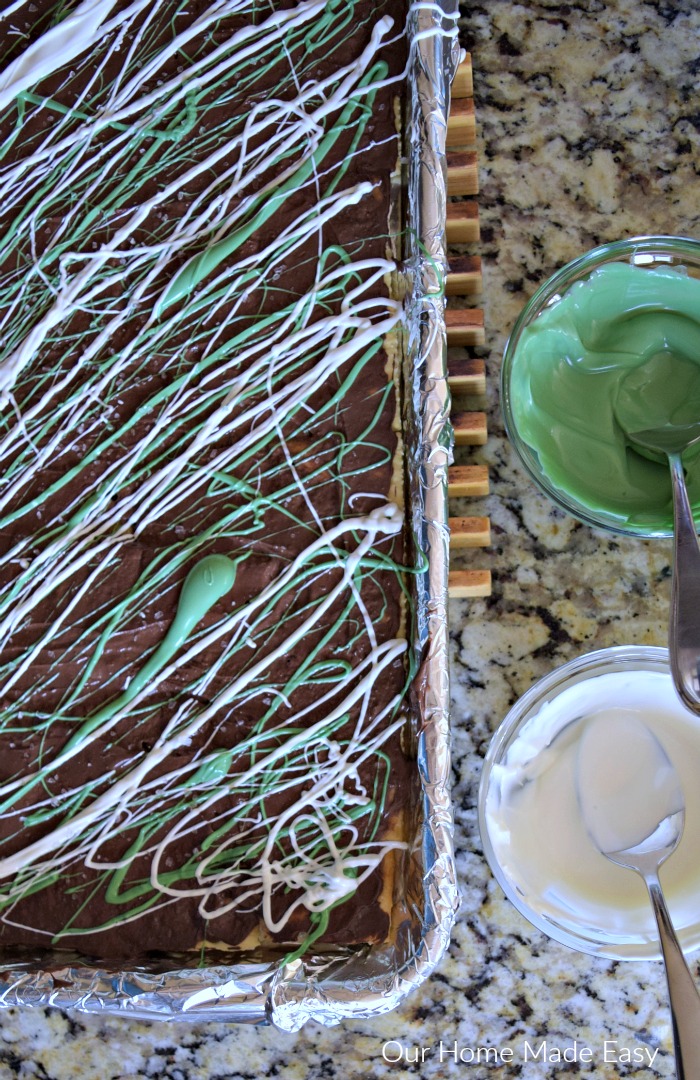 After 3 hours, remove the bark from the refrigerator and pop out the bark to remove the foil. Be sure that you capture any pieces that may separate from the larger piece of foil.
Jordan considers it a challenge to pull it all off at once. I, on the other hand, take a few extra minutes.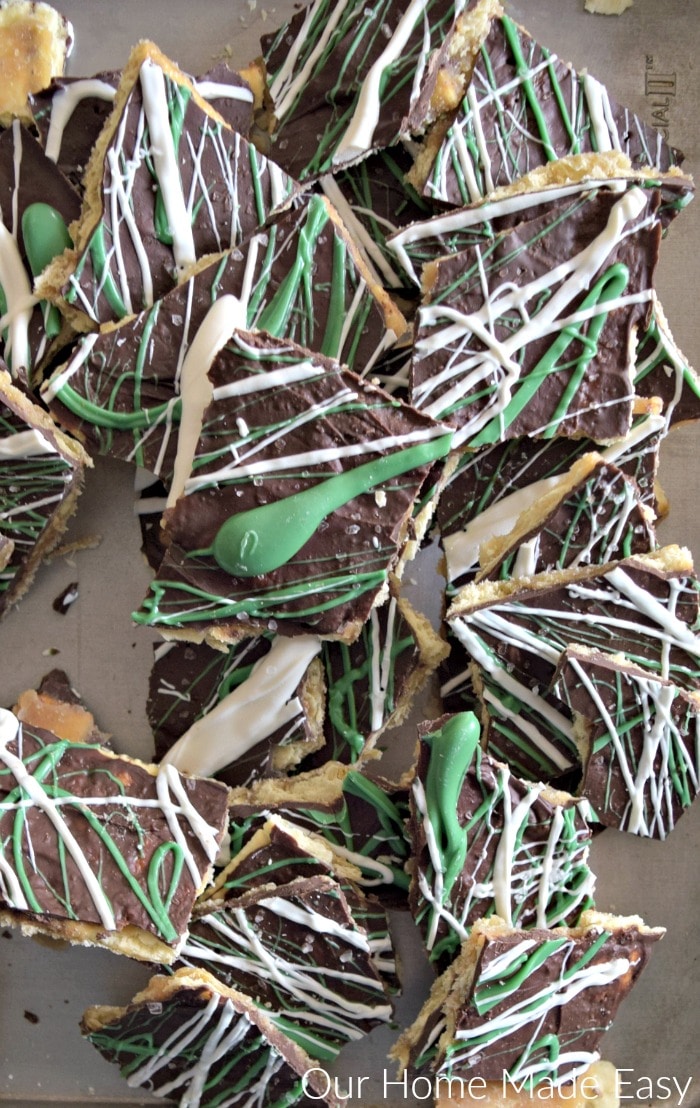 My favorite part of this is breaking it up! << but wait as long as you can for maximum for firmness.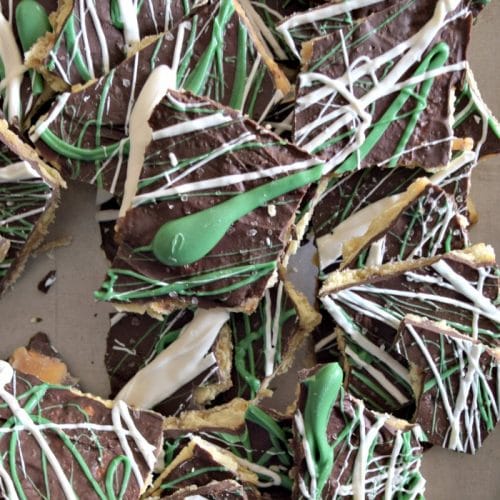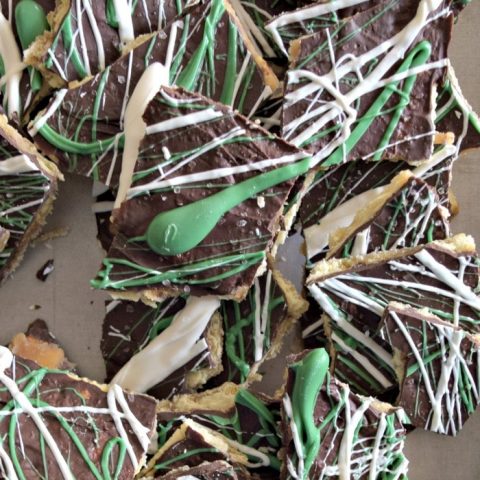 Easy 20 Minute Salty and Sweet Leprechaun Bark!
Ingredients
12 oz or 2 Cups Chocolate Chips
1 Cup of Salted Butter
1 Cup Brown Sugar, , packed
35-40 Saltine Crackers
Coarse Salt
Wilton Candy Melts for Topping
Instructions
Preheat oven to 325F.
Line jelly roll pan with foil.
Arrange saltines on top of foil. Make sure the saltines are flat and cover entire pan.
Melt Butter and Brown Sugar together in a small pan over medium heat.
Bring butter and brown sugar to boil for 3 minutes stirring continuously.
Pour brown sugar and butter mixture on top of saltines gently and spread the mixture out over all of the saltines.
Bake for 5-6 until the brown sugar starts to bubble again.
Meanwhile, melt the candy melts in microwave, stirring every 30 seconds.
Remove from oven and evenly sprinkle chocolate chips on top.
Return to oven for two minutes.
Remove pan from oven and spread out chocolate evenly over the entire sheet.
Sprinkle coarse sea salt across the bark.
Drizzle melted candy over the bark.
Let the bark cool for at least 2-3 hours in refrigerator.
Break apart into pieces.
Making a fun treat for St. Patrick's Day doesn't need to be hard or take you all afternoon. Make this bark in the morning while you're enjoying coffee. It will be ready to be broken up (and enjoyed) by lunchtime! Have fun celebrating the holiday and eating delicious "leprechaun bark."