This is a sponsored post written by me on behalf of Kohler. All opinions are 100% mine.
Hey there! This morning I wanted to talk to you about design paralysis…. I'm a victim of it. Like all the time. And Jordan is guilty of it, too. 😉 We are always so scared of pulling the trigger on anything design related because we always think "What if it won't look good?" Or "What if we spend too much money and we decide we don't like it with our home's style?" This is a struggle, you guys! Piecing together colors and tiles, and paint can be so overwhelming. Thankfully, the folks over at Kohler have a solution to our design paralysis… the new Kohler Choreograph Shower system. And I'm over here swooning. The Choreograph collection is a comprehensive shower system that allows you to design a shower around your needs. The shower walls come in a range of colors, patterns and textures to match your style. The accessories of the collection were designed to be placed anywhere in the shower to better help you personalize and organize your space. <<< So you know I'm a fan!
If you're like me and need to see the entire finished product ahead of time, join me as I step you through some really neat options for the Choreograph shower. I made my dream shower using the shower planner found here: Plan your shower with Kohler Choreograph Shower Planner. Let me know what you think! If you're feeling completely design adverse or don't know where to start, Kohler provides lots of inspiration photos. I picked out this one as one of my favorites because I'll never get tired of the white! I love the wavy tile and the fixtures.
See more Kohler Choreograph shower spaces if you love looking at pretty shower systems. 🙂 I also liked staring at the 'Urban Loft.' As I was exploring the inspiration options, I felt like I was choosing a high end, sophisticated shower.
Back to designing. Once I looked through the inspiration, I decided I wanted to give this a try for myself. And I may have enjoyed myself a little too much (sorry Jordan, can we plan a remodel?) So the first step in designing your own system is to look at the wall panel designs. You can choose your colors, textures, and even change it up across the three panels! These are definitely not boring. In the Choreograph collection, the shower walls and accessories can work separately, but they are designed to work together for a complete showering experience.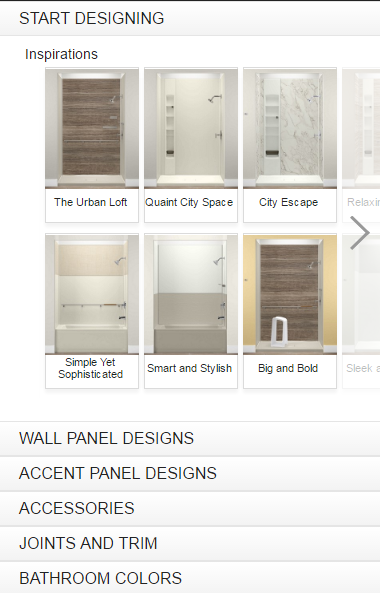 Now the fun part– you can choose your accent panels. Or you don't have to, but for my dream shower, I went for it! For the accent options, you can choose to have a stripe at the top of the shower, in the middle, or at the bottom. I chose to have a stripe at the top.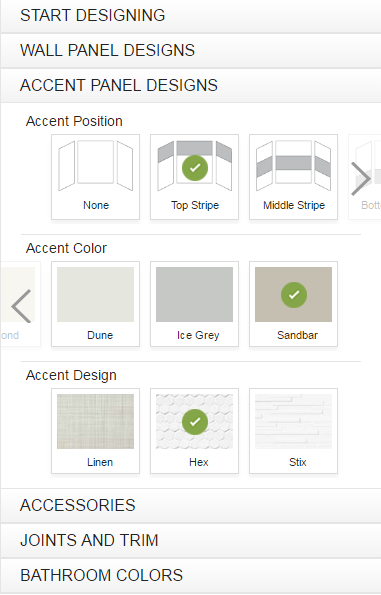 Then, I chose my dream accessories. I went for a large floating shelf, a shower barre, with a teak wood shelf (because why not?), a stool, and a shower hook. All of the accessories are in Anodized Dark Bronze. If you don't like the bronze, they have 5 different finish options. The accessories were designed for easy cleaning; many are adjustable, removable and dishwasher-safe. Lastly, I chose the color of my floor base and then the color of the edge trim. The edge trim is has a joint system helps keep installation simple and quick. The walls can be trimmed on site for custom cuts and can be installed over tile. And each wall is manufactured from durable Serica™ material. The joints of the Choreograph™ collection leave a minimal seam for a finished look that conceals the silicone. This makes it easy to clean the shower walls and maintain them over time.
And to help reduce any final design paralysis, I loved that you can change the outer wall color to have an idea what this shower would really look like in your home. You can go as exciting as an electric blue or as neutral as me. I really enjoyed using the Shower Planner as a way to design what I like and then see the finished product.
What would you choose? Are you a fan of the dark wood look, or is all white what attracts you the most? Tell me in the comments!
If you like my design, here is what I chose–
Wall Panels
All 3 Panels in Solid Smooth in VeinCut Dune
Accent Panel is Hex Texture in Sandbar
Accessories
36″ Shower Barre in Anodized Dark Bronze (added the Teak Shelf)
21″ Floating Shelf in Anodized Dark bronze
Hook in Anodized Dark Bronze
Freestanding Shower Stool
Joints
Fixtures
Purist Rite-Temp pressure balancing shower faucet trim with lever handle in Vibrant Brushed Bronze
Single drain base in Sandbar