Easy Valentine's Day Cookies
Do you have a Valentine's Day party and you want to bring a fun treat? These Valentine's Day cookies are super easy to make and are really yummy, too! You can make the dough ahead of time, chill it, and bake when you have a few minutes. Changing out the cookie cutter shape & sprinkle colors make them festive for any holiday!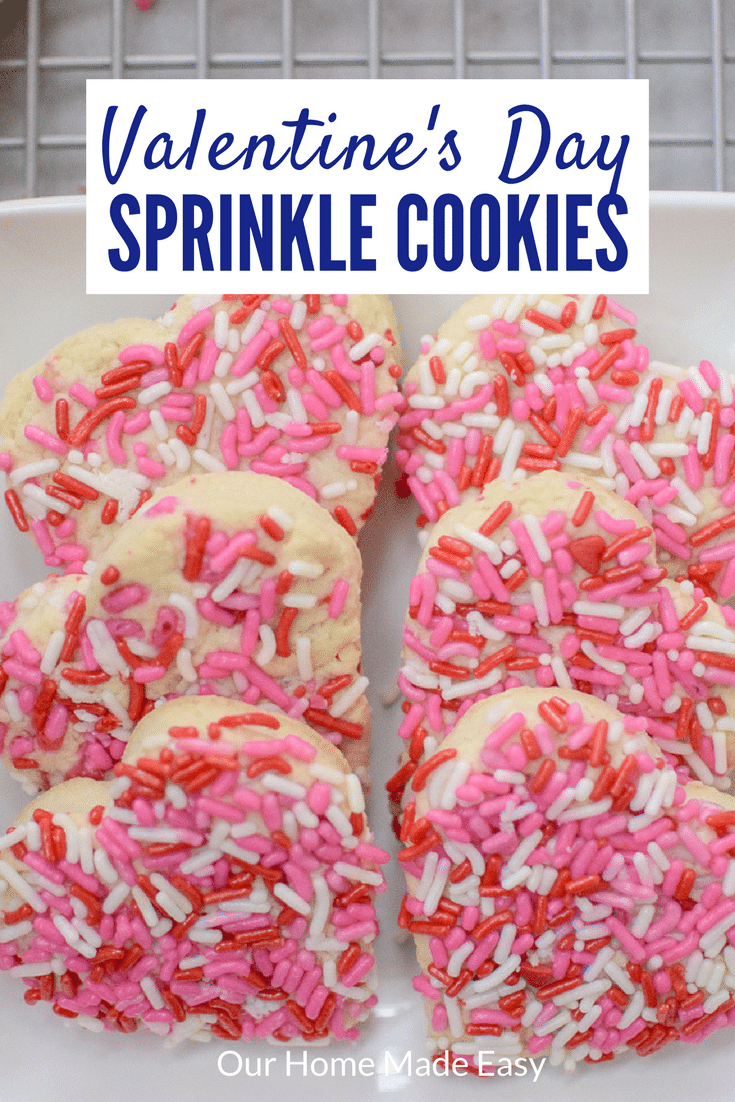 (This post contains affiliate links. See my Disclaimer for more information)
When it comes to fun treats, I try to find a balance between super cute and ability to actually finish them. Like every other project around our house, you can be guaranteed I'll be distracted several times, have 1 or 2 helpers along the way, and the endless requests for treats. 🙂
So I love maximum Pinterest-worthy for least amount of effort.
And gosh, they better taste good, too.
Thus, these Valentine's Day cookies!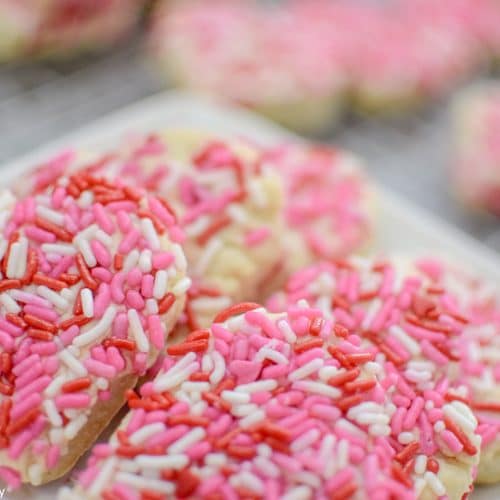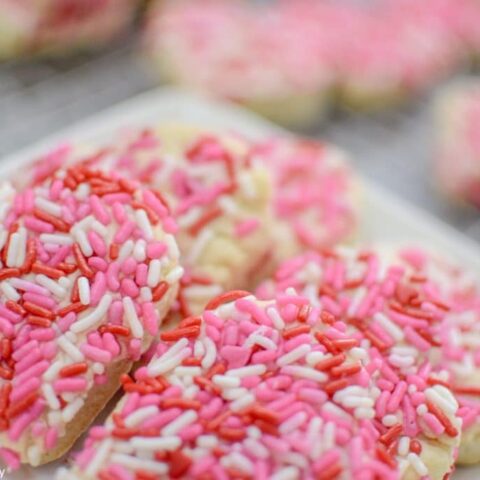 Easy Valentine's Day Cookies
These sweet and soft sugar cookies are coated in pretty Valentine's sprinkles for a treat that touches the heart!
Ingredients
6 cups all-purpose flour
2 teaspoons baking powder
1/2 teaspoon baking soda
1 1/2 teaspoons table salt
2 cup 4 sticks unsalted butter
1/2 cup 1/2 of an 8-ounce brick cream cheese
2 1/2 cups Splenda, or granulated sugar
2 large eggs
4 teaspoons vanilla extract
1/2 teaspoon almond extract, optional
1-1.5 Cups of Pink, Red, & White Sprinkles (Jimmies)
Instructions
Preheat oven to 375 degrees
In a very large bowl, combine together the flour, baking powder, baking soda, and salt.
In a mixing bowl, cream together the butter, cream cheese, and Splenda (or sugar)
Add in eggs, one at a time.
Add in vanilla and almond extract (if using)
Add the dry ingredients into the wet ingredients. Mix until just combined.
Cool dough in the refrigerator for an hour.
Roll out half the dough on parchment paper (or floured surface) until its about 1/4" thick.
Spread a heavy layer of sprinkles across the dough, cover the entire surface. Using your hands or the rolling pin, firmly press the sprinkles into the dough.
Using a cookie cutter, cut out shapes and transfer to a baking sheet. Bake for 9-11 minutes, checking after 8 minutes. Pull out before any browning occurs.
Let cool on baking sheet for 3-5 minutes and transfer to a cooling rack.
Repeat with leftover dough.
Notes
This recipe is adapted from The Smitten Kitchen.
You can reuse leftover dough scrapes by combining and re-rolling out. Use any leftover sprinkles to cover the top.
To minimize mess, use a tea towel over the stand mixer when adding in the dry ingredients into the wet.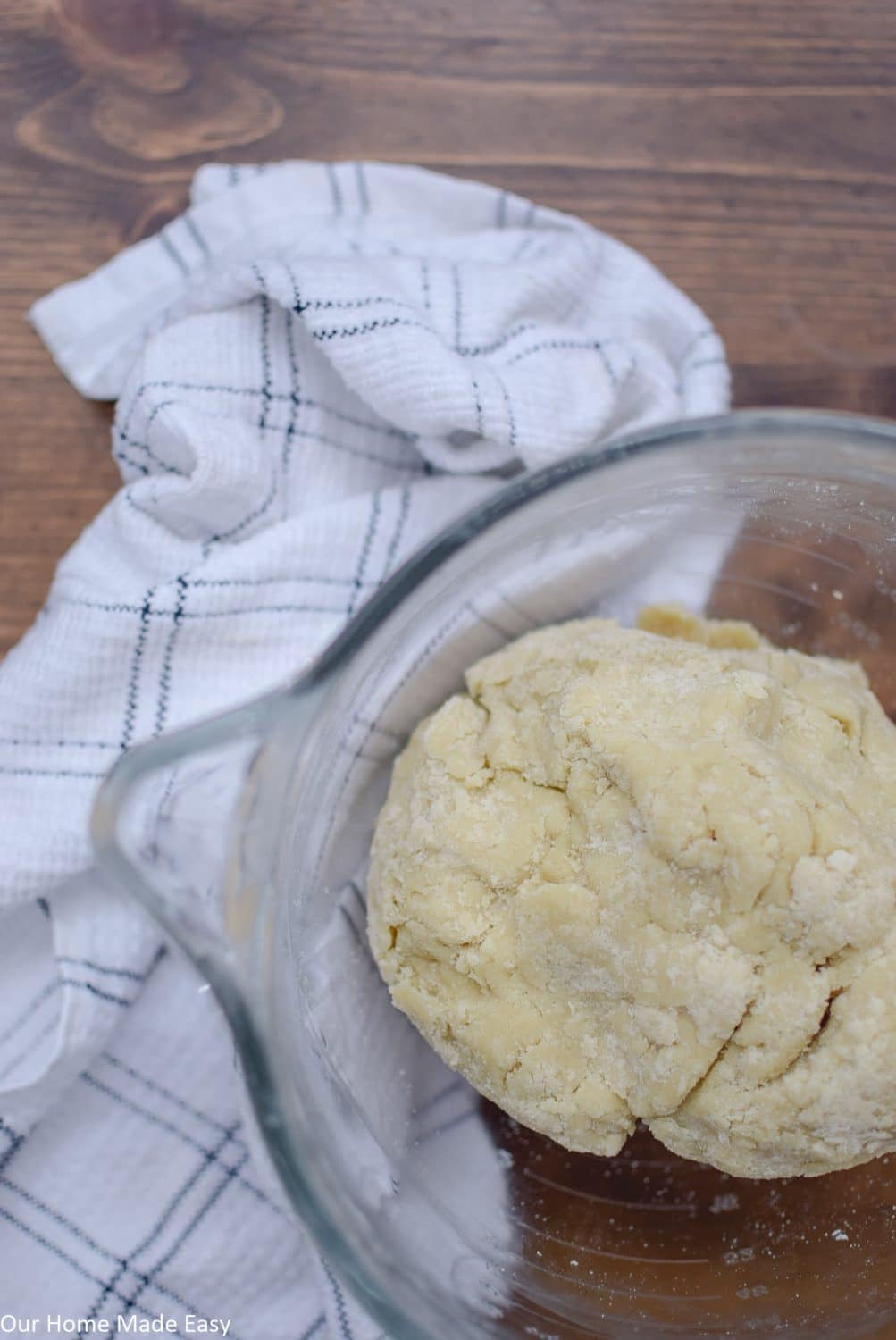 I've made these confetti cookies from The Smitten Kitchen several times now. They are so good and such a fun way to celebrate a birthday at school– without the mess of cake & icing. The kids love them and they are SO GOOD that even adults have a few. 🙂
However, for Valentine's Day I wanted to add some "heart" to these fun cookies! These are perfect for an upcoming school party or if you want to make something with the kids, but without a lot of dirty bowls. You can omit the almond extract if you want them nut-free.
Rather than rolling the cookie dough like I've always done, I rolled out the dough, and then added the sprinkles. Once I spread out a layer of sprinkles, I took my rolling pin and firmly pressed the sprinkles into the cookie dough!
Once the dough was flat & sprinkled, I used a cookie cutter to make the hearts.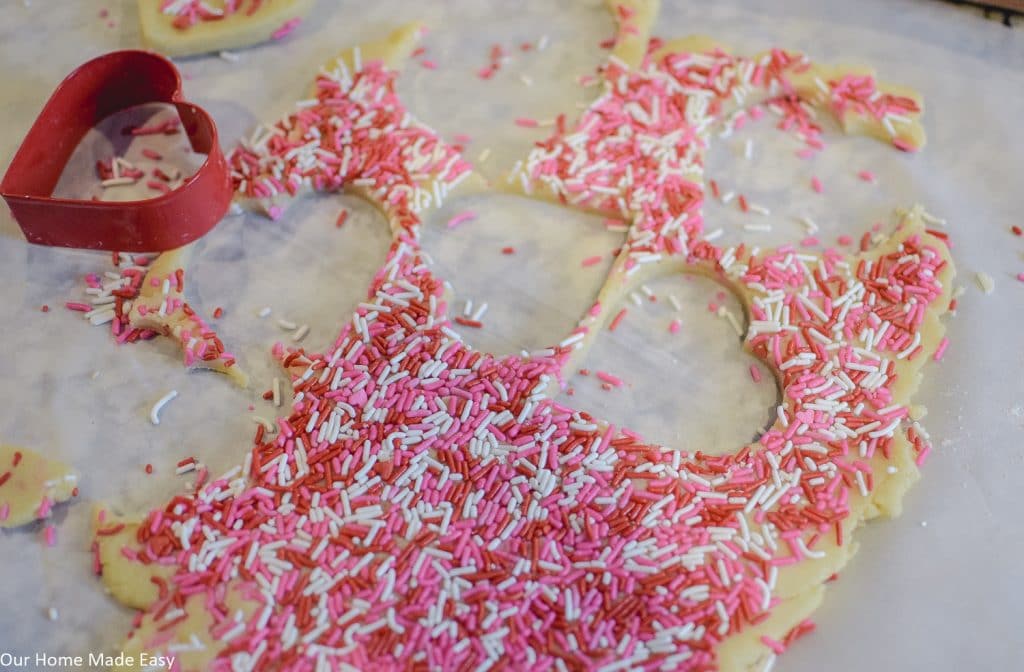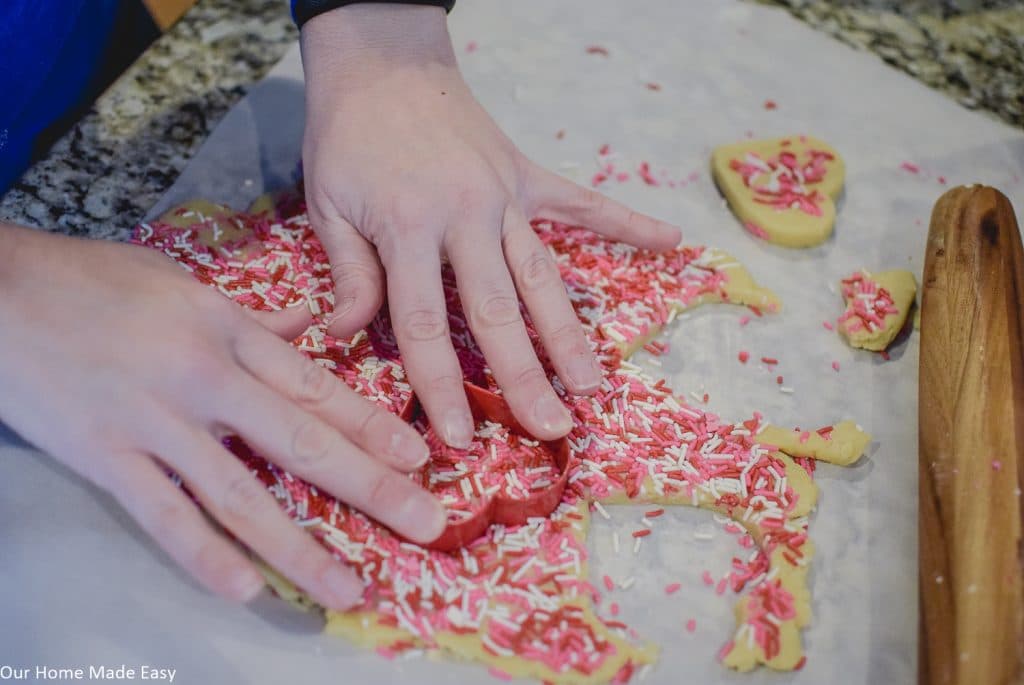 Since I pressed the sprinkles into the dough, they will bake right into the cookie. You don't need to spend time frosting them or worrying about sprinkles falling off afterwards.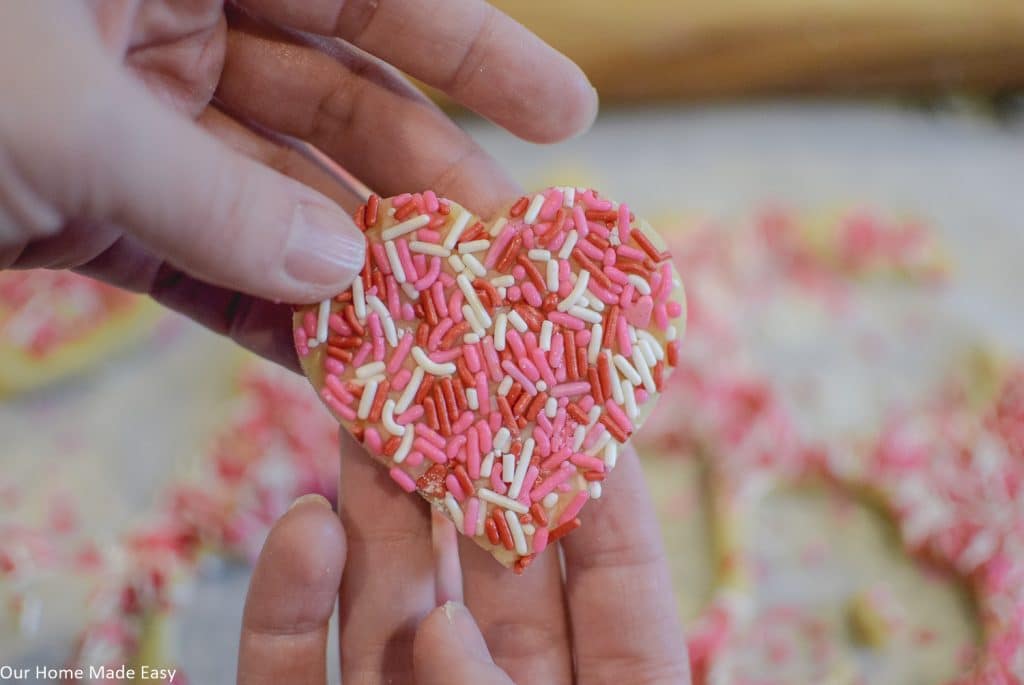 While I know you really shouldn't pack in cookies on baking sheets, but I'll share with you– they don't spread! So if you need to save time, and fit as many as possible, go ahead, it can be our secret.
I love using my silicone baking sheets. While not necessarily the prettiest things ever, they make clean up a breeze.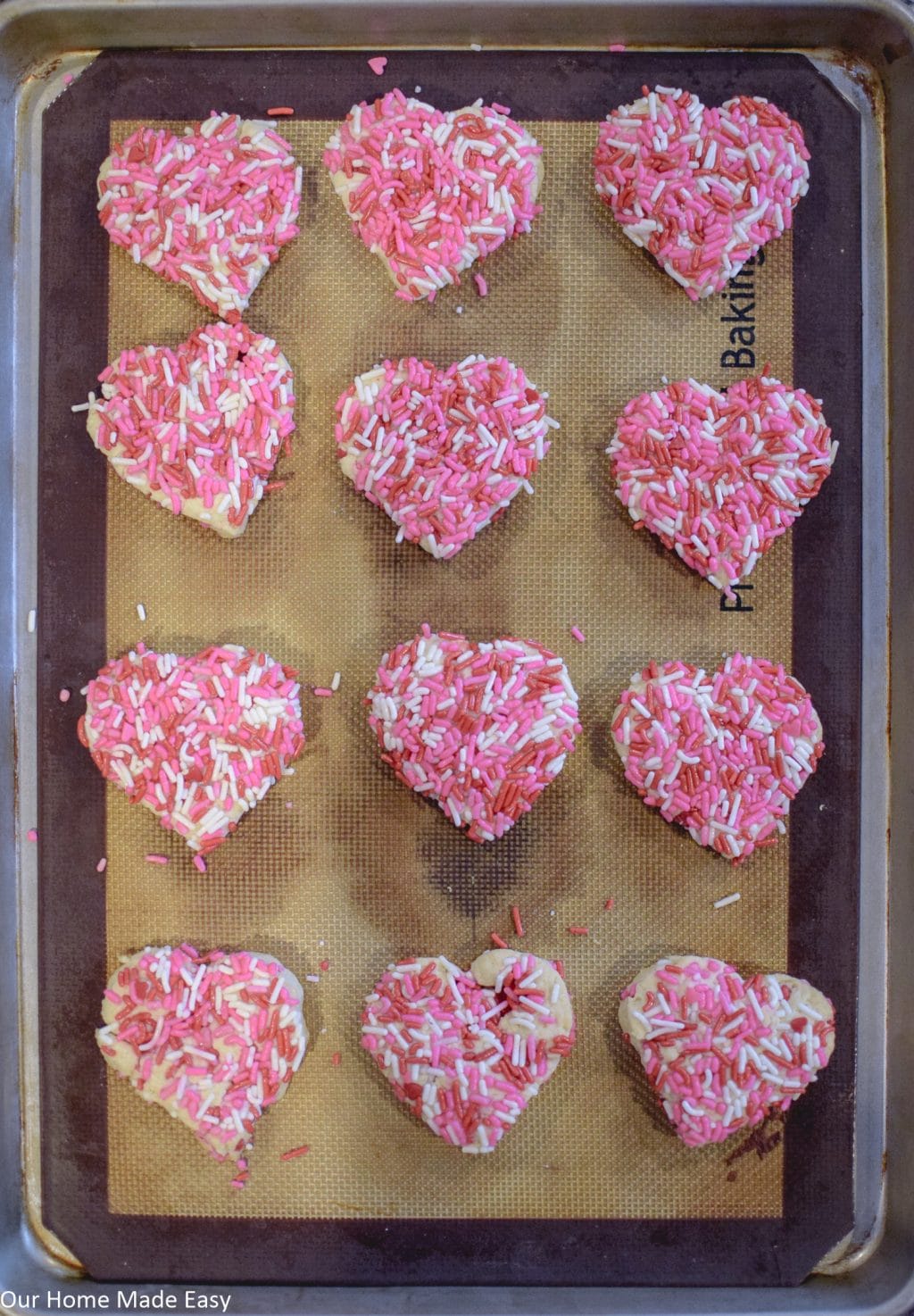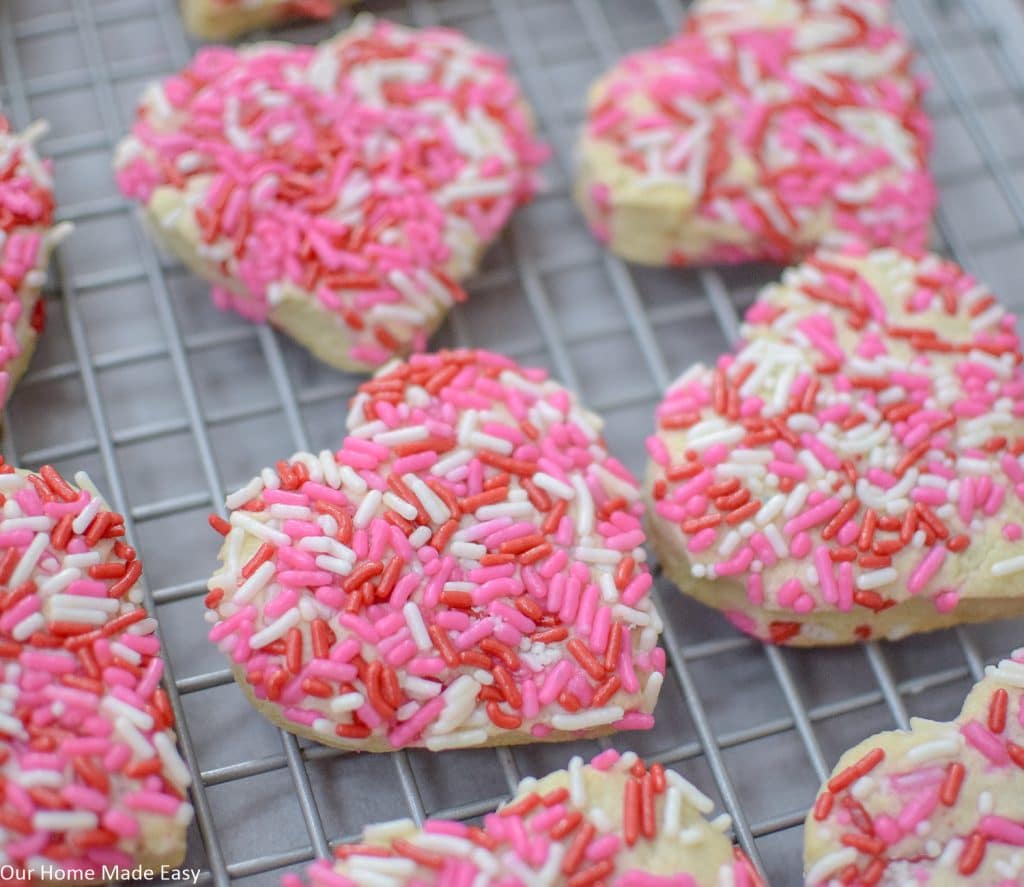 For the sprinkles I mixed together red, pink, and white jimmies! If you can scoop up a pre-mixed Valentine's Day variety, definitely grab it!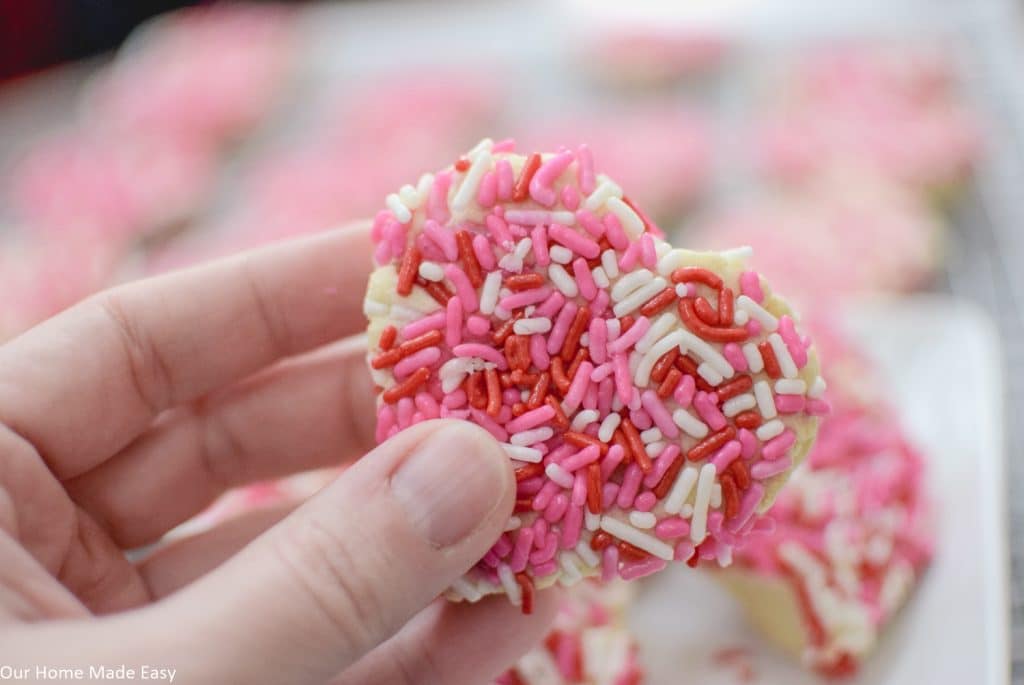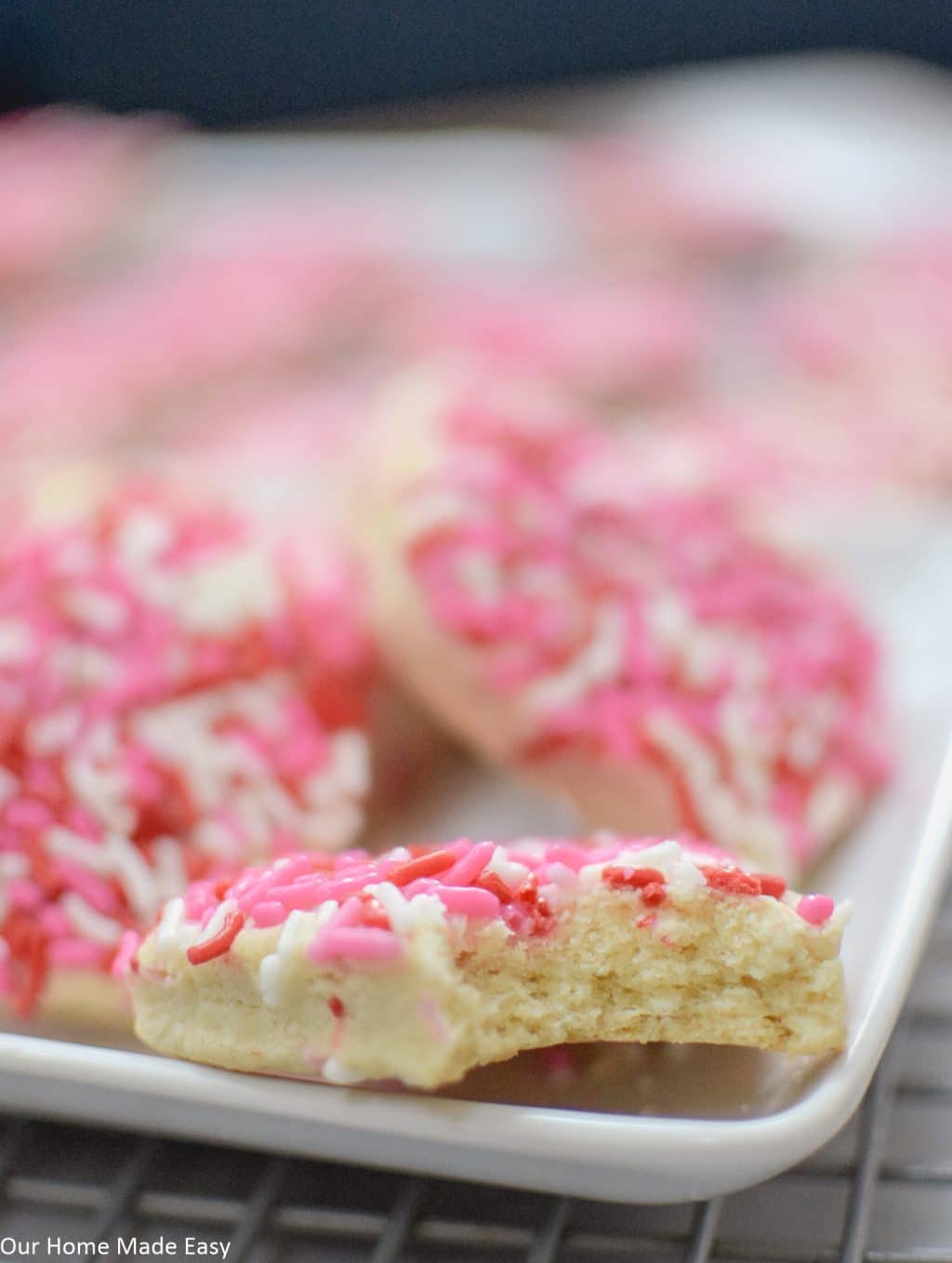 Don't they look festive sitting in the kitchen? But don't let the moment fool you, the kids grabbed one as soon as they finished dinner!