Easy & Festive Easter Cookie Recipe (It Only Needs 3 Ingredients!)
Make this easy Easter cookie recipe with only 3 ingredients! Busy mom win and you'll still get to make memories but without the effort! Find more easy Easter treats here!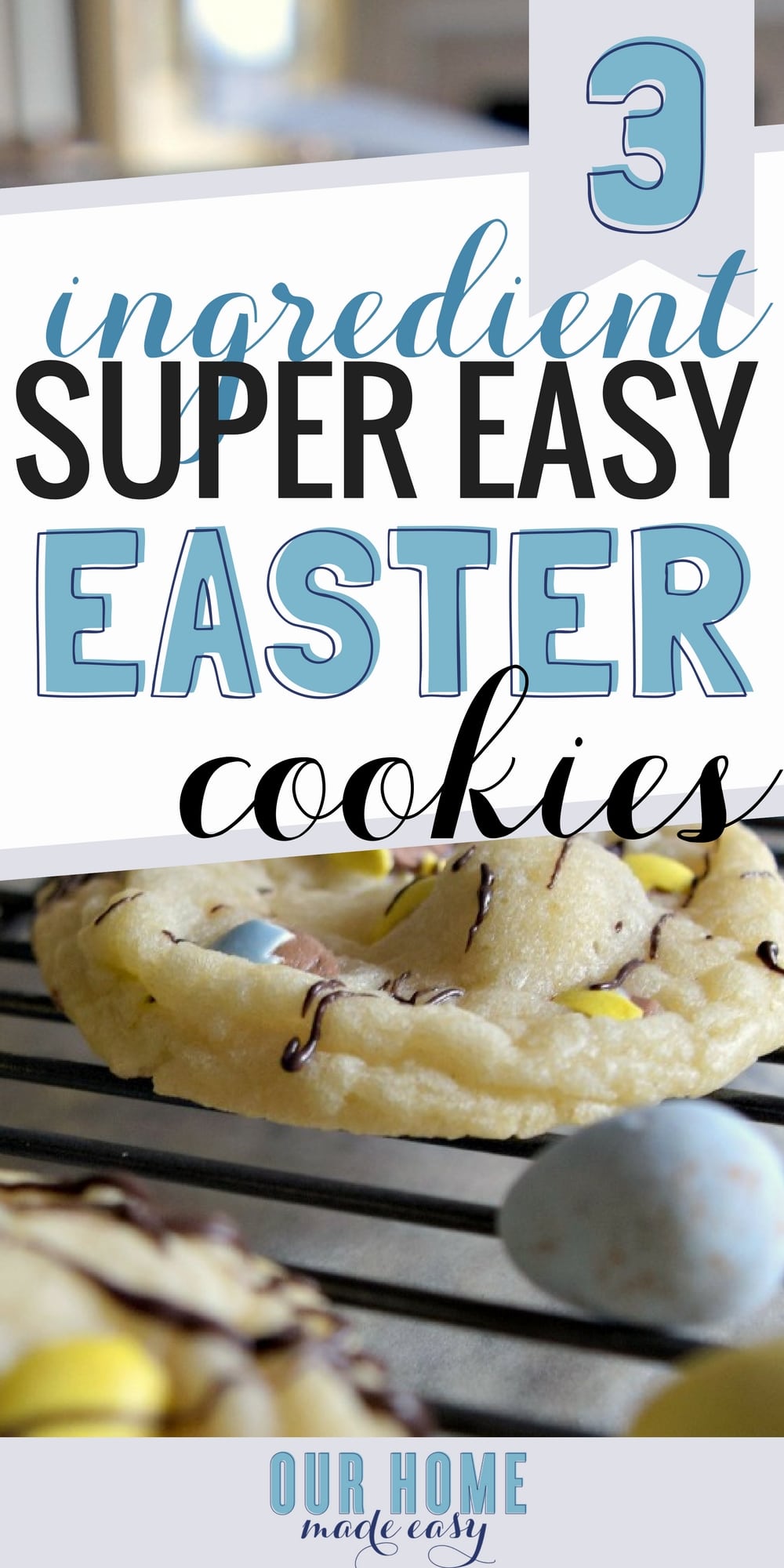 (This post contains affiliate links. If you shop from my blog, I may be compensated for clicks or purchases that you make. Read my disclaimer page for more information.)
It's no secret that baking is a form of stress relief for me. These little cookies are perfect for quickly relieving stress (there is a mallet involved) and actually getting the rest of your to-do list done for the afternoon.
Spoiler– they are super simple. So easy that you can whip them up with only 3 ingredients! Busy mom score– and best of they are so good!
My favorite recipes are easy ones! As Aubrey gets older, she is always wanting to help me in the kitchen with my latest baking project. These are perfect for her short attention span and easy enough that I'm not worrying about keeping her occupied AND trying to stay on top of the recipe.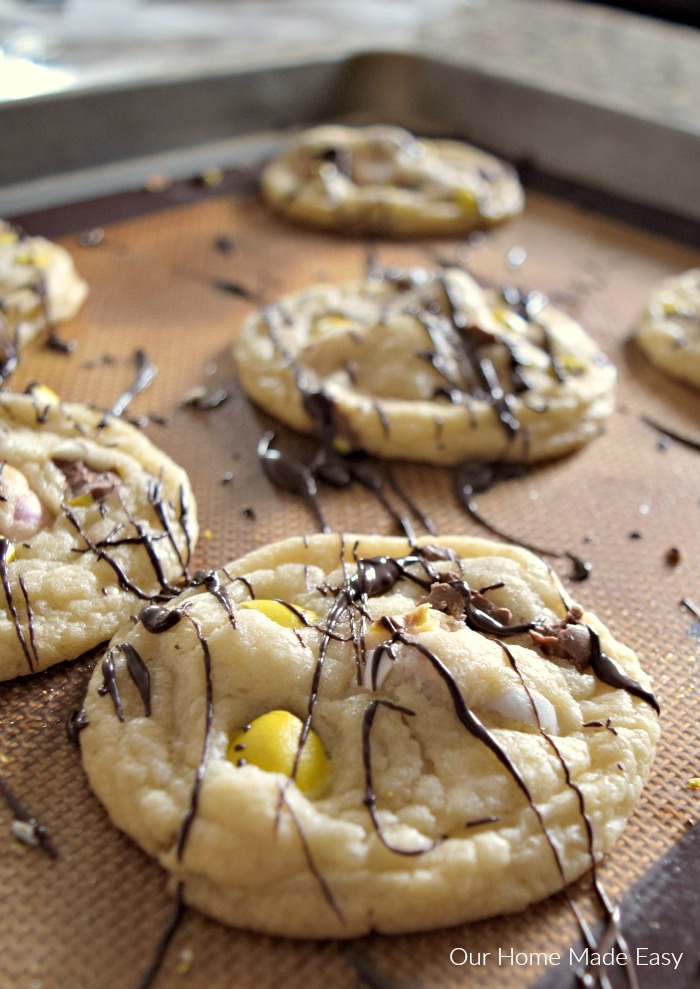 This recipe is so easy because you are skipping the pouring and measuring and getting straight to fun, festive part! Simply add a roll of sugar cookie dough to your grocery list this week and you are ready to bake.
My favorite candy of the year are the Cadbury Mini Eggs. It's probably for the best that they are only available for Easter (for my waistline). I used a whole bag for this recipe only because I nibbled mid-baking and was forced to share with curious toddlers. 😉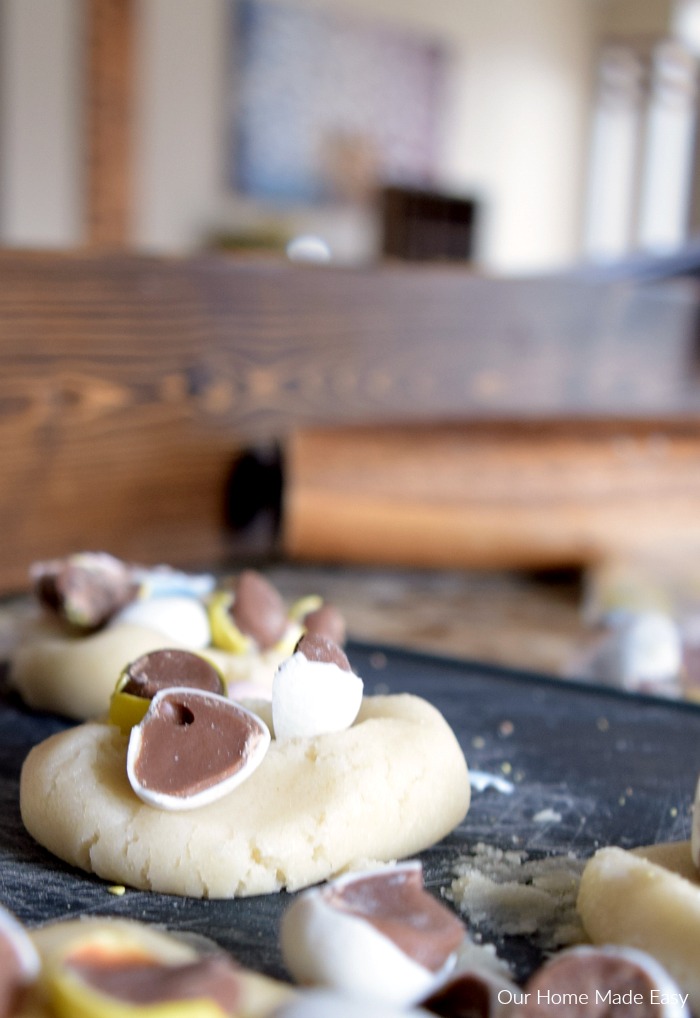 Finely chop your Cadbury Mini Eggs. Feel free to use your stress and really take it out one the little eggs! To save time, I placed a handful of eggs into a quart Ziploc bag, sealed it, and went to town with my rolling pin.
The finer the pieces, the better.
Once you have your cookies rolled back into a ball, lightly cover each cookie dough with fragments / leftover candy bits.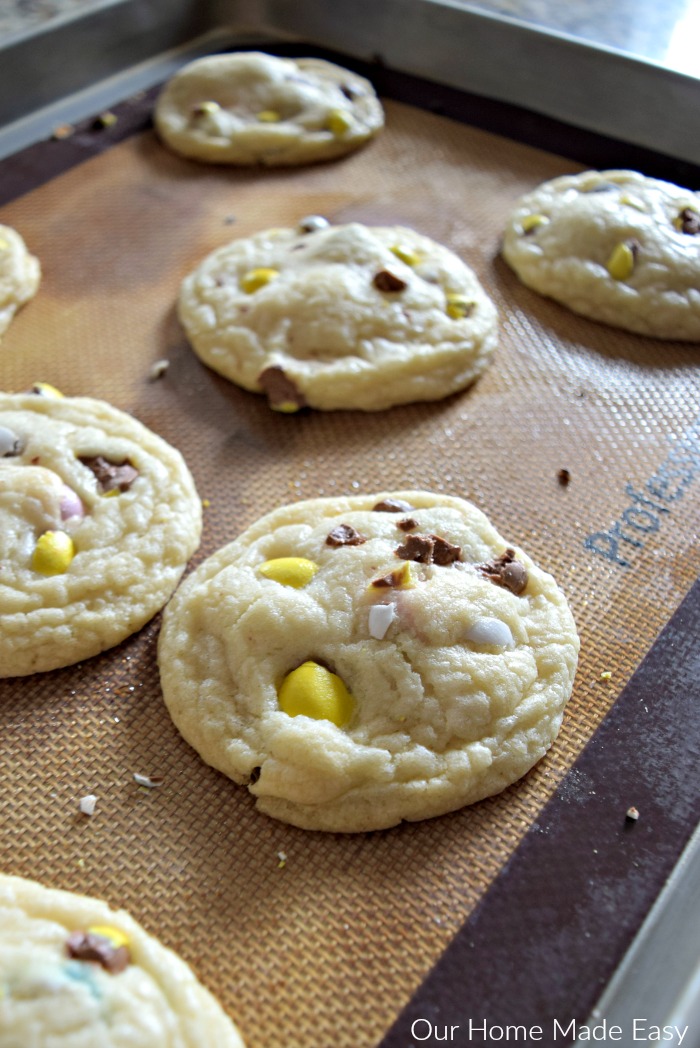 Aren't these cute? I wanted to add some extra flair by using a third ingredient– the chocolate candy melts!
I melted the wafers for about a minute (stirring after 30 seconds) and drizzled the chocolate over the cookies. If you want to make them even more festive, you could use different colored wafers, like white or pink (they are vanilla flavored).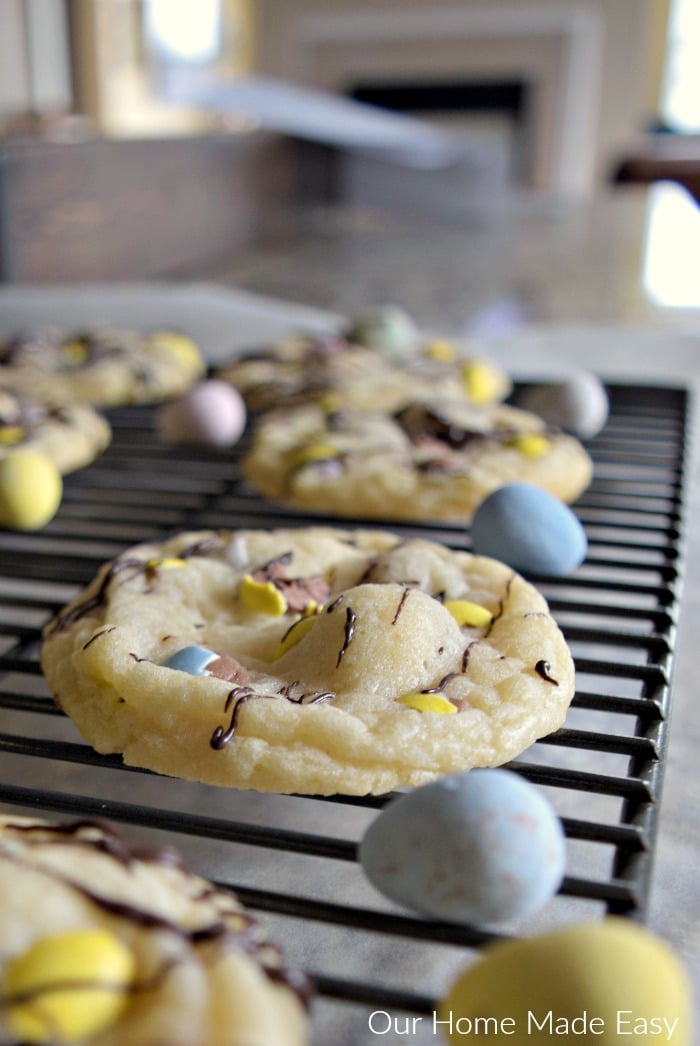 My favorite candy plus buttery sugar cookie? So darn good!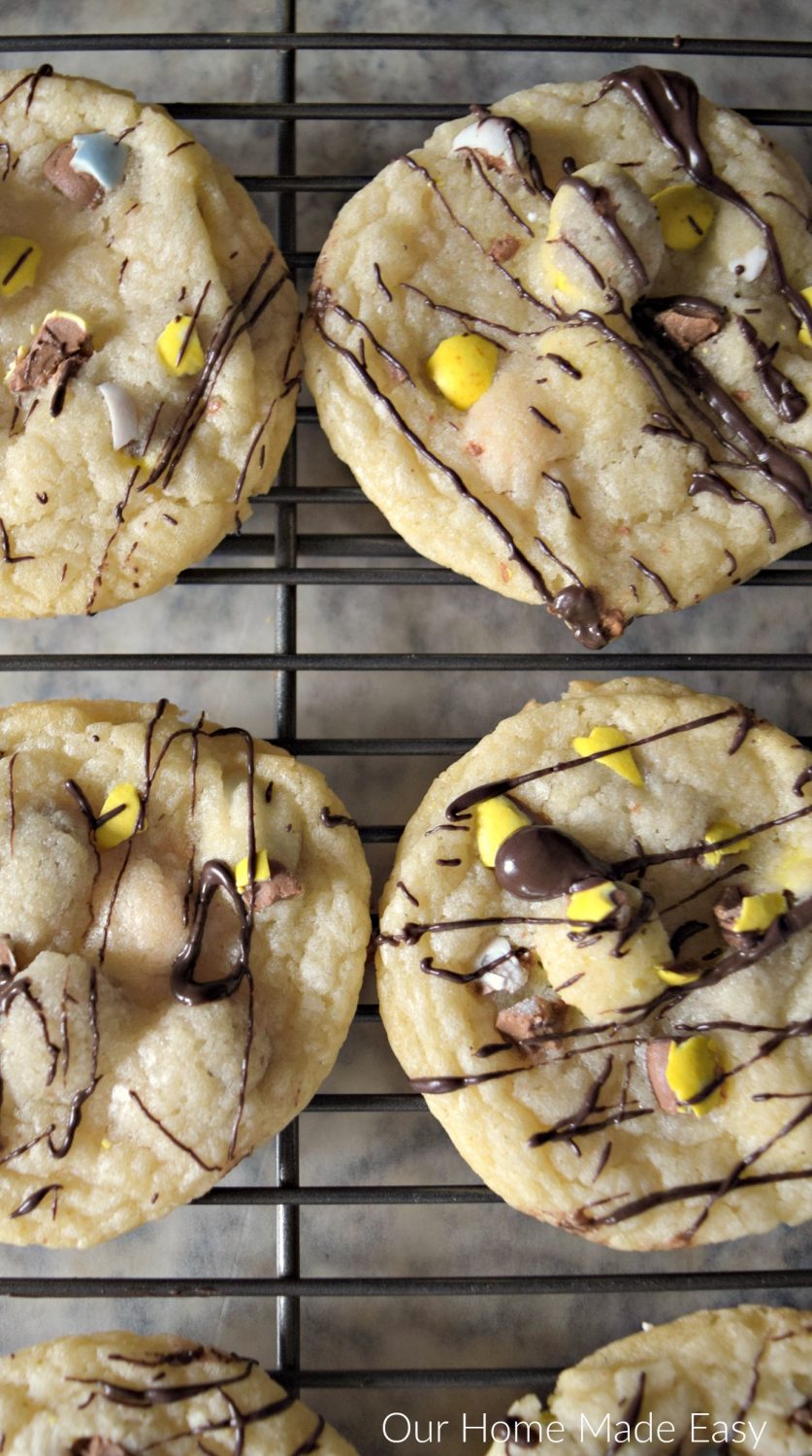 Regardless if you have 3 hours or just 30 minutes, having a bit of fun in the kitchen doesn't need to take a lot of effort. You can whip these up in no time and actually enjoy the free time you have left on a Sunday afternoon!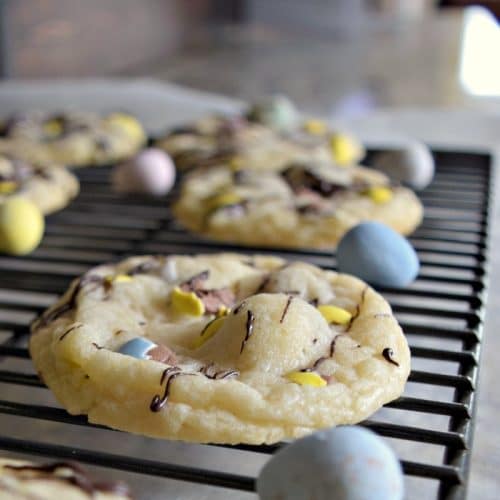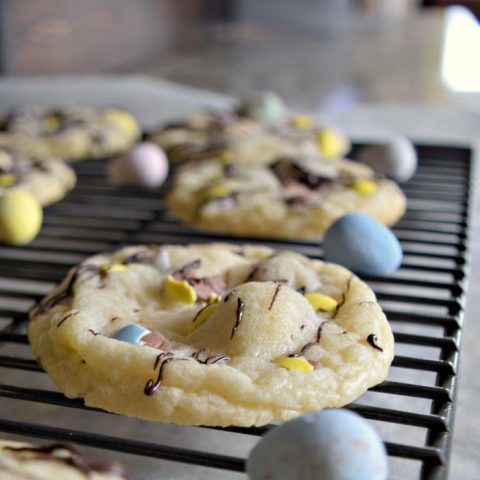 Easy & Festive Easter Cookie Recipe (It Only Needs 3 Ingredients!)
This simple 3-ingredient sugar cookie recipe has bits of Cadbury chocolate eggs in every bite. It's a sweet, simple treat for the Easter holiday!
Ingredients
Roll of Sugar Cookie Dough
10 ounce package of Cadbury Mini Eggs
20 Chocolate Candy Melt, (~ 1/4 of package)
Instructions
Preheat oven to 350 degrees.
Cut Sugar Cookie Dough into 16 slices.
Place them flat on counter-top.
Place Mini Eggs into a resealable bag.
Using a Mallet or Rolling Pin, crush mini eggs.
Heavily sprinkle mini eggs across all cookie slices.
Roll Cookie slices into balls.
Press remaining mini egg pieces on top of cookie dough.
Bake for 10-12 minutes.
Melt the chocolate candy.
Drizzle chocolate candy over cookies as desired.
Wait 10 minutes and remove from cookie sheet.
PIN FOR LATER: